February 19th is Skate Shop Day, a holiday which began in 2020 to celebrate brick-and-mortar shops around the globe and their integral role. This year, Slam City has buddied up with over 40 stores across the UK on a Skate Shop Day T-Shirt representing skater-owned and operated havens across country.
Slam City Skates and everyone else for Skate Shop Day 2022 – available here
Over the years, Slam City Skates has resided in various locations around London. It's been a constant evolution to where we are now and we're humbled to be part of a wider story in skateboarding for countless staff, team riders and even brands. As it's Skate Shop Day, what better opportunity to reminisce and take stock of our homes over the years?
This year, we've teamed up with over 40 skater owned stores throughout the UK on a t-shirt to celebrate Skate Shop Day. Any of our contemporaries on there will attest to the highs and lows of running a skateboard shop for the love of it. We're more than grateful for having been able to weather the storms. It's taken a lot of hard work, committed staff members and a consistent effort to try and learn where we can improve.
Being able to adapt has meant we're still here welcoming you through our doors, 35 years after first opening as a concession in 1986. Here's a timeline of Slam City Skates shops, past and present.
Talbot Road, 1986 – '88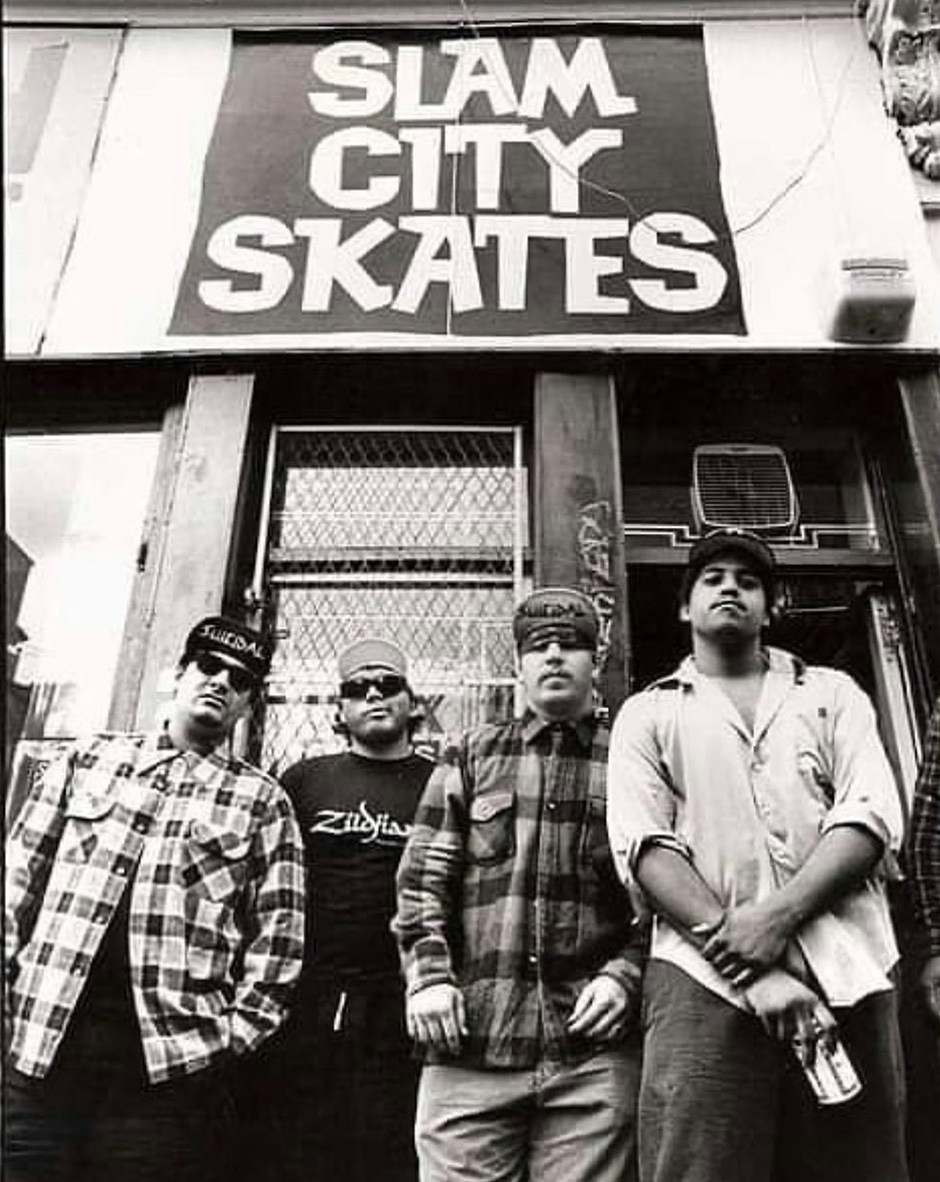 Suicidal Tendencies outside the original Slam City Skates on Talbot Road, 1987.
Inset Below: the shop's board wall adorned with classic graphics from Tony Hawk, Natas Kaupas and more.
Slam City Skates started life in 1986. It was the vision of Paul Sunman, a freestyle skater who'd landed the cover of TransWorld the previous year. Partnering with the group who opened Rough Trade Records on Talbot Road in West London, the first incarnation of Slam was in the basement of the famed record shop.
At this point, there were only a handful of skate shops throughout the UK. The last shop in London carrying skateboarding products, Alpine Action had closed in 1985. Paul found it inconceivable that there was nowhere to buy skateboards in London especially as the culture was developing exponentially.
His passion was informed by early Californian visits where he saw Del Mar and Upland before their demise. Paul knew that a shop needed to exist to not only supply product but also provide a focal point for the future of the culture which was being driven by the US. A store was a way for the UK to keep up with this progression.
"A tight knit UK scene was emerging, cross pollinated and inspired by what was happening across the pond."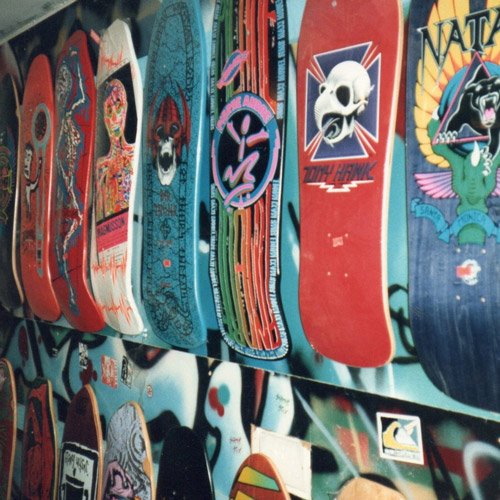 Slam's humble beginnings were started on a shoe string and business was a learning curve. However, Paul would enlist and employ local artists and talent as Slam grew organically with a DIY ethos at it's core.
The coupling of Slam City and Rough Trade was serendipitous. The Rough Trade partners were acutely aware of the culture around skateboarding and the independent music scene developing on the West Coast of America. (Largely due to the messages beamed over the Atlantic from Thrasher Magazine). Fittingly, the main photo of Slam City's Talbot Road shop which still exists is of Suicidal Tendencies outside the store during their 'Join The Army' tour in 1987. 
Back then, the music scene was inseparable from Thrasher's mission and Suicidal Tendencies themselves were championed by the publication. We're stoked the image is still in circulation, reappearing on Instagram every so often to bring us a smile. It sums up an exciting time where skateboarding's evolution was blossoming and a tight knit UK scene was emerging, cross pollinated and inspired by what was happening across the pond.
Neal's Yard, 1988 – 2015
By 1988, skateboarding was thriving and Slam City had outgrown the subterranean space at Talbot Road. An exciting new move was on the cards and we opened our Neal's Yard shop in Covent Garden. Another shared space but a role reversal saw Slam occupying a ground floor space with Rough Trade holding court in the basement.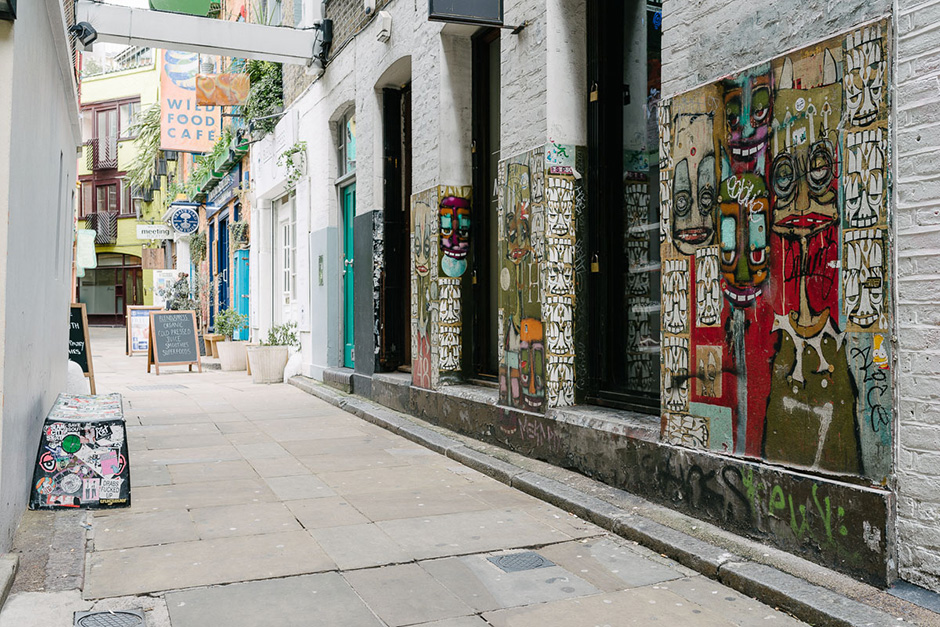 The view from "Jake's Alley" – Slam City Skates at 16 Neal's Yard where the shop would exist for 27 Years.
We enjoyed cohabiting with the best record shop in London for 19 amazing years at Neal's Yard. Many incredible moments took place in that shop. Rough Trade hosted hundreds of in-store shows with significant standouts including Nirvana playing there in 1990 and The Beastie Boys in '94.
Our shop became a home for the London skate scene as well as for skateboarders around the globe. Tours, video premieres, signings or events that took place in our city always involved the Neal's Yard space as a hub.
In our interview with Chad Muska, he recalls: "I didn't know how to take the tube or anything. Then the Slam guys showed us love and took us in and treated us like we were family."
With people like Chad continually passing through our doors, there was never a dull moment. This time period also included Slam operating as a distributor from Latimer Road in West London for Toy Machine, Zero, Foundation, Lakai, DVS, Circa, Zoo York and Shorty's to name a few.
A panoramic visit to Neal's Yard just before Slam relocated one street away in 2015
In 2007 Rough Trade records evacuated the basement to open a new store at The Old Truman Brewery, East London. For the next eight years, Slam occupied both upstairs and downstairs at Neal's Yard.
More space saw us host art installations and partner with different brands to create unique, shared retail spaces. We worked closely with Emerica and Altamont, KR3W and Supra, Nike SB and Vans. This timeframe also saw us open a basement shop of our own beneath the WeSC shop on Carnaby Street, our own shop on the ground floor of NikeTown London and a concession in Selfridges.
Neal's Yard played a vital role in our growth and gave us a base to evolve and develop while working with our favourite brands. Phil Frost's artwork outside the shop made it an iconic and often photographed London landmark. While we were still occupying the Neal's Yard shop, we expanded further and opened a second shop in East London…
Bethnal Green Road, 2013 – 2017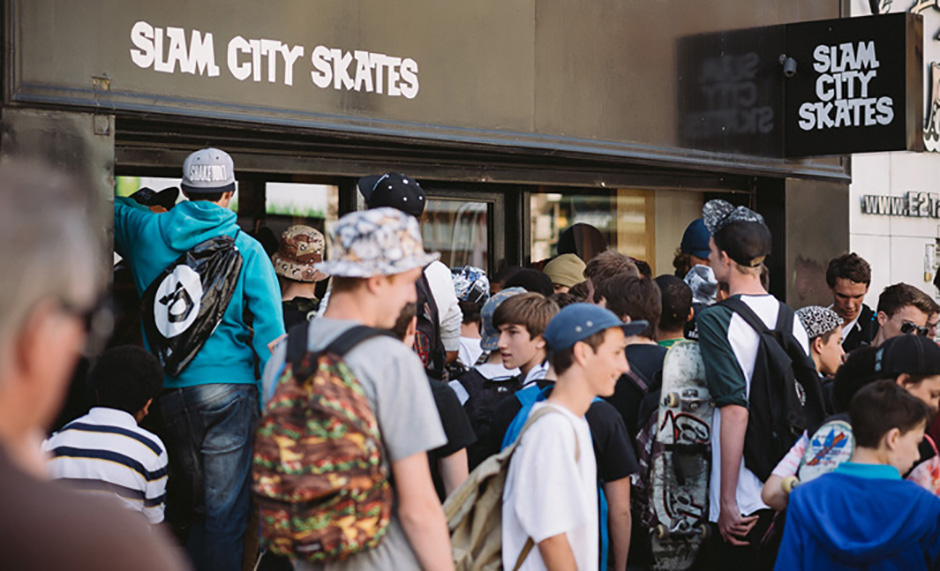 Crowds outside our first East London shop on Bethnal Green Road – Go Skateboarding Day, 2015
Slam City's second shop opened on Bethnal Green road in 2013 and we were excited to have a whole new space to work with. The interior was fitted out by Slam team alumnus Toby Shuall and former Slam shop manager Dan Callow. The move to the East drew a whole new community and we are proud of everything we did from there.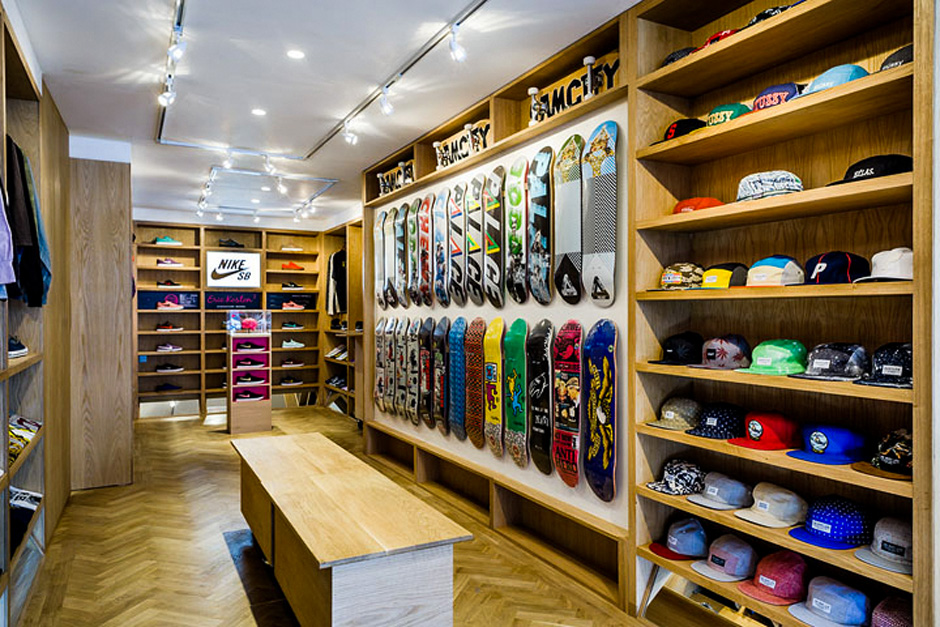 The fresh interior of our Bethnal Green Road Shop when it first opened in 2013
We ran some memorable events from that space which included working with James Jarvis, collaborating on the Polar Surf 'N' Turf tour and hosting some unforgettable Go Skateboarding Day shenanigans.
At the same time, our warehouse moved to the East End and it was exciting growing a new branch of the business as Palace Skateboards were also situated in our basement evolving theirs.
Further changes would come whilst running these two shops concurrently. After a 27 year stint at our Neal's Yard address, we announced that we were moving in 2015. Our new central London shop would only be a stones throw away, next to our favourite pub, The Cross Keys, on Endell Street.
Endell Street, 2015 – 2020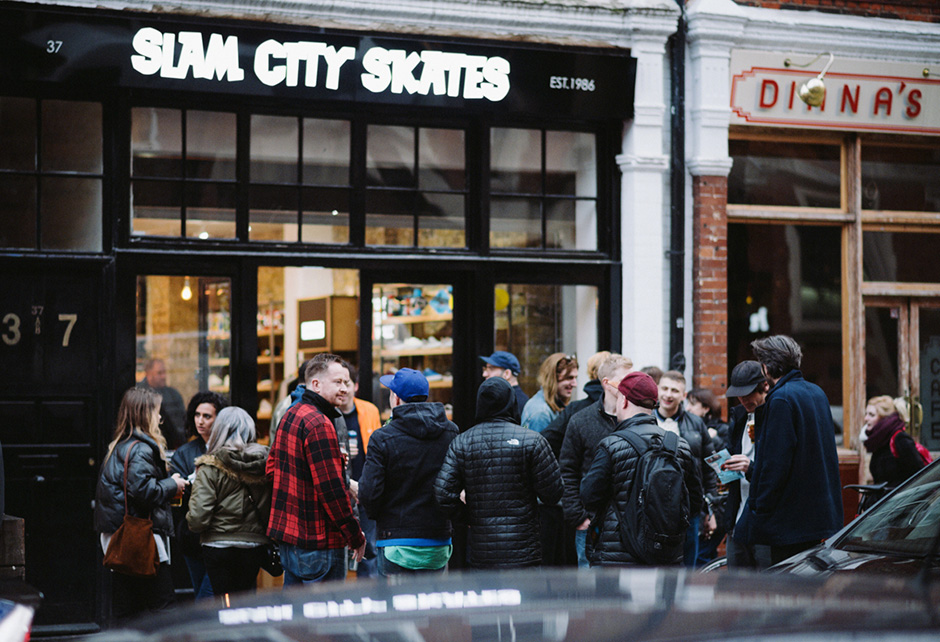 Slam City Skates on Endell Street, Covent Garden opening its doors in 2015.
"The meeting point for anyone skating in the city was now about thirty seconds closer to Southbank"
Endell Street would become a new hub and have a rich history all of it's own. Once again, we shared our basement space with the Palace Skateboards family and the shop fit was taken care of by Toby and Dan. Whilst we were sad to leave the Neal's Yard spot where many of our stories began, we were excited for the new chapter and a bigger space to house all of the projects we had in mind.
Former Slam manager, David Atkinson speaks to Hypebeast to mark the opening of our Endell Street store
So many amazing memories were made at Endell Street from welcoming the Vans Family, to surprising Casper Brooker and Marek Zaprazny with pro boards. We also had many great visits from people passing through to see us from Sean Cliver to Rodney Mullen, the Diamond team, to Josh Kalis and Mike Blabac.
The meeting point for anyone skating in the city was now about thirty seconds closer to Southbank. We called it on a nearly three-decade Covent Garden residency due to the pandemic in 2020. However, having migrated the East London Bethnal Green shop to The Old Truman Brewery on Brick Lane, two years prior, we found ourselves alongside some old friends once again…
The Old Truman Brewery, 2017 – present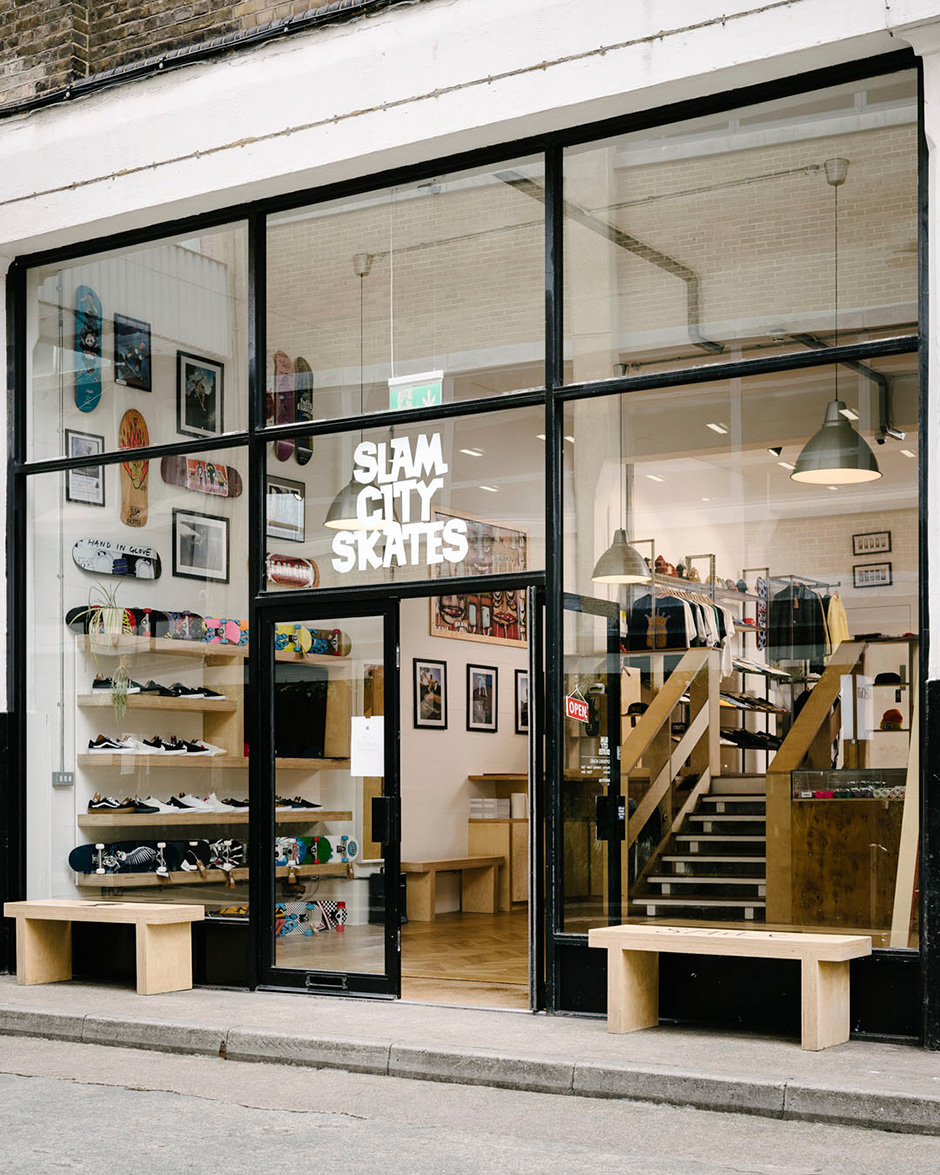 Slam City Skates East at The Old Truman Brewery, 91 Brick Lane
The main shop we greet you from today has also formed its own narrative and community. One poetic thing about our location here is that we are once again united with Rough trade Records. The record store are literally opposite the shop in their own space (and we're both above ground).
We opened the shop on Go Skateboarding Day 2017 with a visit from Paul Rodriguez which we organised with Nike SB. We even built him a TF for the day and invited everyone to come and skate with him and other members of the Nike squad.
Although events have slowed to a halt lately, our Brick Lane store led to events like the Mile End Meltdown with adidas, the High Tea Party with Nike SB and launch nights for projects such as our Slam City x RaD Capsule Launch which brought together members of the skate community with deep ties to our very beginning including Paul Sunman himself.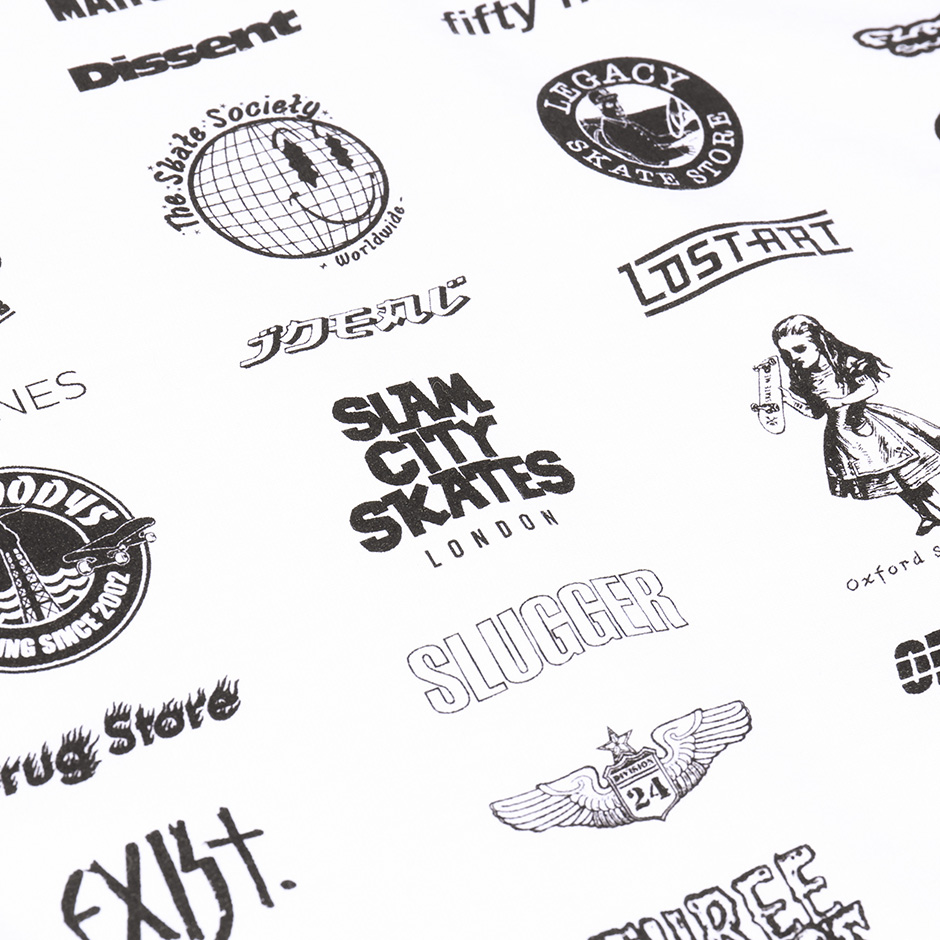 Slam City sat alongside Liverpool's Lost Art, Birmingham's Ideal, Wakefield's Division 24, Darlington's Legacy and many more. The Skate Shop Day t-shirt is

available here

.
That's a brief history of our journey as a brick-and-mortar shop, one which has involved some twists and turns. We're beyond grateful to still be here and to have just celebrated 35 years dedicated to the thing we all fell in love with in the first place. We're stoked to share a little of our story and to appear alongside other shops doing the same thing for the good of their communities. Support your local skateshop because they are there to support you. For us, Skate Shop Day is every day.
---
In 2011, the story 'Slam Scores Quarter Century' appeared in Grey Skate Mag newspaper called 'The Edition' covering our history up until then. Visit the piece, penned by Will Harmon, to learn more about the shop with voices from many involved over the years.
Enjoy more Slam City history in interviews with our friends Mike Manzoori and Oliver Payne.
More from our Slam City collaborations archive – 2021: Slam City Skates X Oliver Payne, Thrasher X Slam City Skates, Blast Skates X Slam City 2019: Slam City X RaD Archive, Slam City X RaD Launch Gallery, Slam City X RaD Archive – Curtis McCann by Winstan Whitter 2018: enjoi X Slam City with Ben Raemers, Gonz and Toby by Thomas Campbell and Mark Gonzales, Anti-Hero X Slam City with Raney Beres 2017: Dickies X Slam City – Fall 2017 with Tom Knox, Darius Trabalza and Neil Smith, Krooked X Slam City, DC X Slam City, DC X Slam City Southbank Gallery, DC X Slam City: Josh Kalis & Mike Blabac Interview, DC X Slam City: Josh Kalis 'Memory Screen' Remix 2016: Vans x Slam City 'Lampin Pro' & 'Native American Pro', Vans x Slam City Launch Gallery, HUF x Slam City Skates, HUF x Slam City Skates Launch Gallery, Slam City "Artists" Decks with Tod Swank, Fos, Don Pendleton and Nick Jensen, Slam City Skates X Spitfire Wheels, Dickies x Slam City Skates (Summer 2016) 2013: Vans Syndicate x Slam City, House of Billiam X Slam City, DC Kalis x Slam City 2012: Slam City x Converse CTS, Silas X Slam City Skates, Real x Slam City Skates, Slam City Skates x Spitfire Classics 2010: Emerica x Slam City "Laced", Toy Machine x Emerica x Slam City 2008: Penfield x Slam City Skates 2007: WeSC x Slam City Skates 2006: Etnies x Slam City Skates 2005: Nike SB x Slam City Dunk