In support of 'RaD: The Book of The Magazine', we've teamed up with the folks at the Read And Destroy Archive. With a collection of t-shirts featuring iconic skateboarders from the publication's era, and all proceeds heading towards the book, we spoke to photographers behind the images emblazoned across the Slam City X RaD capsule.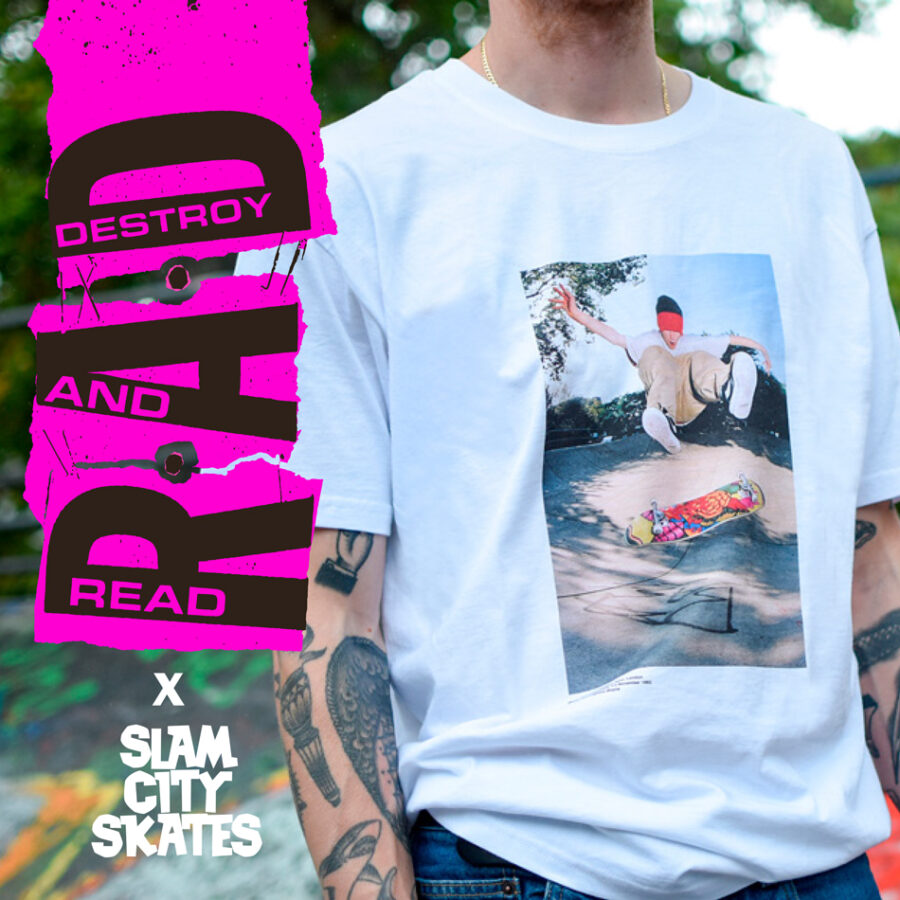 Slam City X RaD Archive – Winter 2019. Photography by Jacob Sawyer.
An unused photo of Simon Evans set things in motion. Flashes of Curtis McCann and Will Bankhead quickly followed.
The photographs encompassing the Slam City X RaD collection are striking images which stand the test of time, just like the parts they were captured at: Kennington, Meanwhile 2 and Stockwell. The following quotes from Read and Destroy photographers, Tim Leighton-Boyce and Jay Podesta provide a window into the magical time they preserved, now proudly immortalised on a Slam garment.
Slam City X RaD Archive: Simon Evans by Tim Leighton-Boyce
Simon Evans – Kennington Bowl, London. Outtake from RaD #114, November 1992.
"Simon Evans was one of the most creative people I collaborated with. One of the best things about RaD Magazine for me was that I got to work with some astonishing people.
Simon brought a massive amount of enthusiasm, new ideas and new directions to the magazine. It was like a new injection of life and energy. This extended way beyond the features he actually wrote or the pictures he appeared in. But he definitely appeared centre stage in the most obvious and extreme example: his interview which played with idea of "the skateboard magazine interview".
Working with Simon was a huge amount of fun for me. Stressy sometimes, but massive fun." – TLB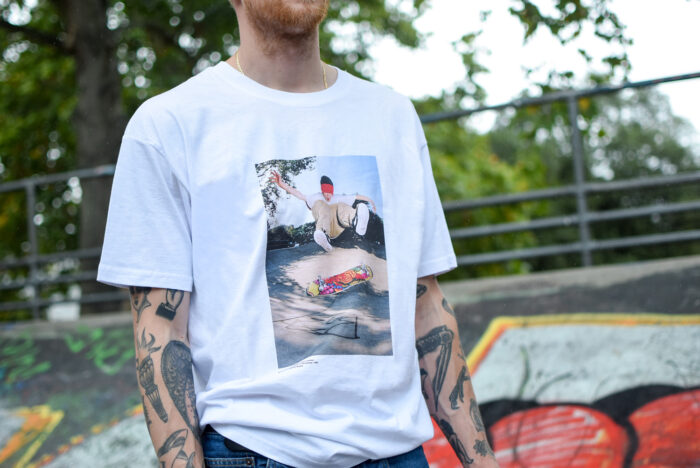 The Simon Evans t-shirt, featuring photography by Tim Leighton-Boyce
Slam City X RaD Archive: Curtis McCann by Tim Leighton Boyce

Curtis McCann – Meanwhile 2, London. Shot by Tim Leighton-Boyce in December 1990, published in RaD #91, February 1991.
"Curtis was one of the most remarkable skaters I ever photographed. He was so stylish. All I really had to do was point the camera in his direction and the picture would look great. This is a classic example, just look at the shape.
I didn't get to photograph him as much as I would have liked. I have the feeling that he was slightly reticent and always kept to himself more than a lot of people I worked with. I admired that. There was an enigmatic quality to him.
All that doesn't quite match the facts, since he was a prominent part of the skate scene from when he was quite young, through M Zone and their mad adverts. But that's my impression, looking back over the decades. An astonishing skater, extraordinarily distinctive, who also seemed to have yet more in reserve." – TLB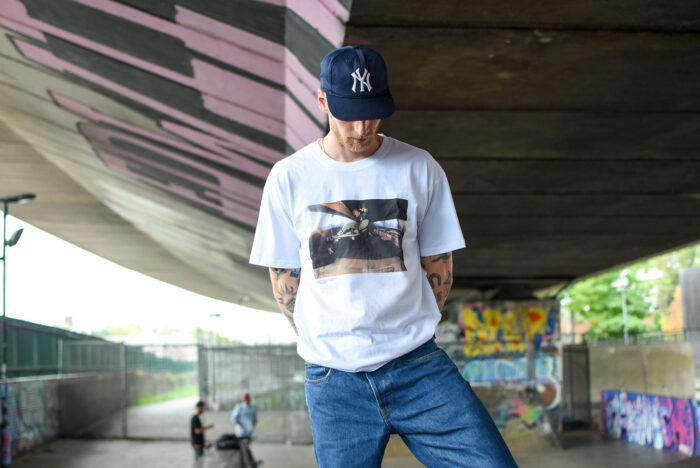 The Curtis McCann t-shirt, featuring photography by Tim Leighton Boyce
Slam City X RaD Archive: Will Bankhead by Jay Podesta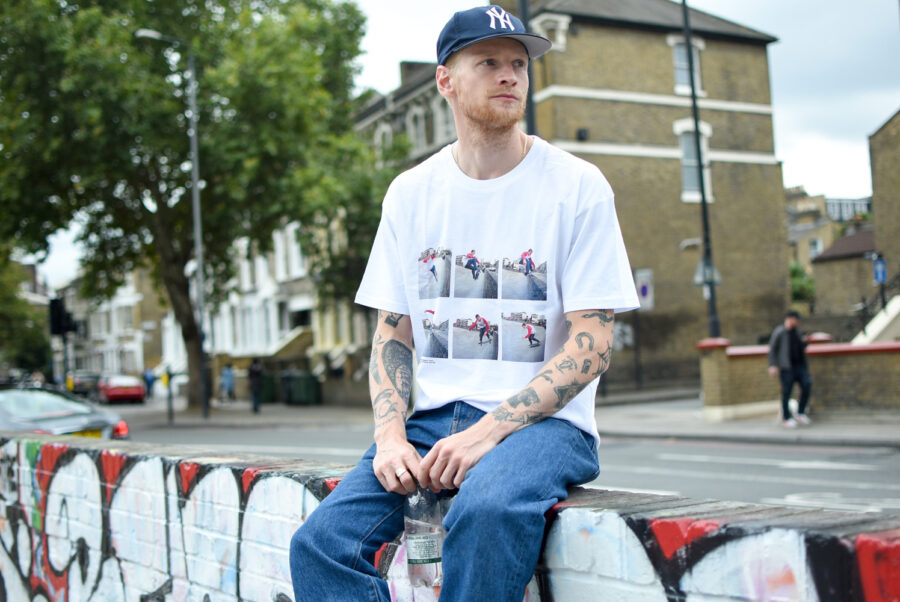 Will Bankhead – Stockwell Skatepark, London. Sequence by Jay Podesta. Published in RaD #97, June 1991.
"Whenever I went shooting street pictures with different skaters, you kind of had a plan. Usually, they'd found some new spot or wanted to visit a place that was well known. Once there, quite a few would want to repeatedly hit one thing over and over. A rail, maybe, 'til you had the shot of the trick or tricks they could make on it then move on, ignoring anything else in the vicinity.
But whether shooting pics or skating with Bankhead, he'd just skate everything. Charging around on the way there or once at the spot, riding anything that presented itself. You'd get a variety of shots from each place and the feeling you were just out skating, not trying to get what would now be termed "content" for the mag.
His style of riding meant that when shooting this sequence at Stockwell he seemed to just pop up onto the wall with ease. No a struggle at all. At least that's how I remember it. Understated but super impressive, for sure." – Jay Podesta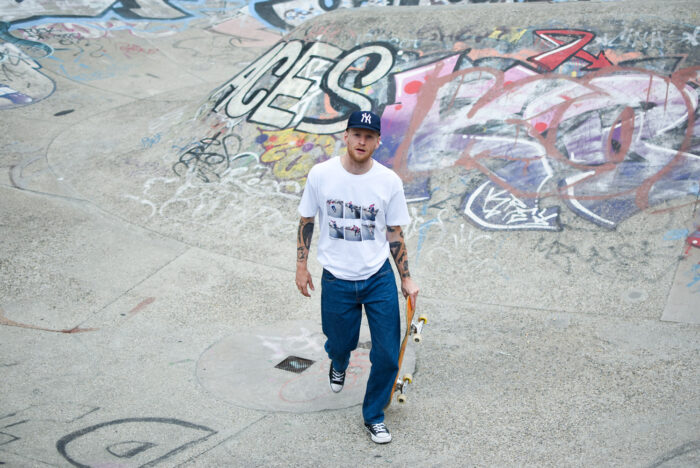 With thanks to Dan Adams for working so closely with us on this one, alongside the vital work he is putting in archiving gold dust from the pages of Read and Destroy. The Slam City X RaD collection only scrapes the surface.
---
Support the cause and pick up your favourite t-shirt, check out our recap from the collection's launch night and our Curtis McCann mixtape put together by Winstan Whitter.
More from the Read and Destroy Archive alongside an insightful interview with Dan Adams by our friend, MacKenzie Eisenhour about the RaD Book project.
The Slam City collaborations archive – 2022: Skate Shop Day 2021: Slam City Skates X Oliver Payne, Thrasher X Slam City Skates, Blast Skates X Slam City 2018: enjoi X Slam City with Ben Raemers, Gonz and Toby by Thomas Campbell and Mark Gonzales, Anti-Hero X Slam City with Raney Beres 2017: Dickies X Slam City – Fall 2017 with Tom Knox, Darius Trabalza and Neil Smith, Krooked X Slam City, DC X Slam City, DC X Slam City Southbank Gallery, DC X Slam City: Josh Kalis & Mike Blabac Interview, DC X Slam City: Josh Kalis 'Memory Screen' Remix 2016: Vans x Slam City 'Lampin Pro' & 'Native American Pro', Vans x Slam City Launch Gallery, HUF x Slam City Skates, HUF x Slam City Skates Launch Gallery, Slam City "Artists" Decks with Tod Swank, Fos, Don Pendleton and Nick Jensen, Slam City Skates X Spitfire Wheels, Dickies x Slam City Skates (Summer 2016) 2013: Vans Syndicate x Slam City, House of Billiam X Slam City, DC Kalis x Slam City 2012: Slam City x Converse CTS, Silas X Slam City Skates, Real x Slam City Skates, Slam City Skates x Spitfire Classics 2010: Emerica x Slam City "Laced", Toy Machine x Emerica x Slam City 2008: Penfield x Slam City Skates 2007: WeSC x Slam City Skates 2006: Etnies x Slam City Skates 2005: Nike SB x Slam City Dunk