For our 35th Anniversary, we're proud pair up with skateboarding's longest running publication and present the Thrasher X Slam City collection.
A key component of the U.K.'s transatlantic takeover and longstanding member of the Slam City family, Jacob Harris in the Thrasher X Slam City Bulldog Hood.
"It's raining, you have to work for it. It's the opposite of the spoiled California kid. That rings true as a connection with San Francisco and that's the connection with Thrasher."
– Michael Burnett, editor-in-chief of Thrasher Magazine
From a downturn which saw the then-leading Skateboarder Magazine abandon ship, Thrasher Magazine debuted in 1981 – founded by Eric Swenson and Fausto Vitello. Forty years later, having survived print publishing's (digital) wilderness years, Thrasher now encompasses a unique cultural space as the seminal skate mag, a last bastion of monthly print, an online media empire and cult clothing brand.
Still operated from San Francisco, the city that gave way to the magazine has long occupied its pages. The first issue featured an ode to S.F.'s kerbs alone whereas over the years hills, bowls, DIY, handrails and the wider Californian landscape all became typical 'Thrasher' hallmarks. Spurred by Geoff Rowley's appreciation, a European presence took root during Flip Skateboards' Sorry era as Rowley won their 'Skater Of The Year' award in 2000. Arto Saari, his Finnish brother-in-arms, landed it in 2001 off the back of his definitive "would still be amazing if it was released today" video part.
Slam riders Jeremy Jones and Jak Pietryga in the Thrasher X Slam City Bulldog longsleeve tee.
Michael Burnett, current editor-in-chief, believes that period and the connection Rowley gave to his ilk, was integral in shaping Thrasher's post-millennium incarnation. Fast forward, and the success of Tom Knox's Vase part would launch Jacob Harris' 'Atlantic Drift' series, drawing further eyes to the U.K. and instigating a shift of focus for Thrasher towards platforming scenes and crews outside of the United States. 
"British skaters, I always thought of them as kindred spirits with Thrasher," says Burnett. "Those I met early on were Howard Cooke, Geoff Rowley and Jagger [Dan Ball]. Tough, salt of the earth types, who appreciate what Thrasher appreciates – raw skating, taking great pride and joy in being a skater, and loving all the things that come with it. Traditional 'thrashers', basically."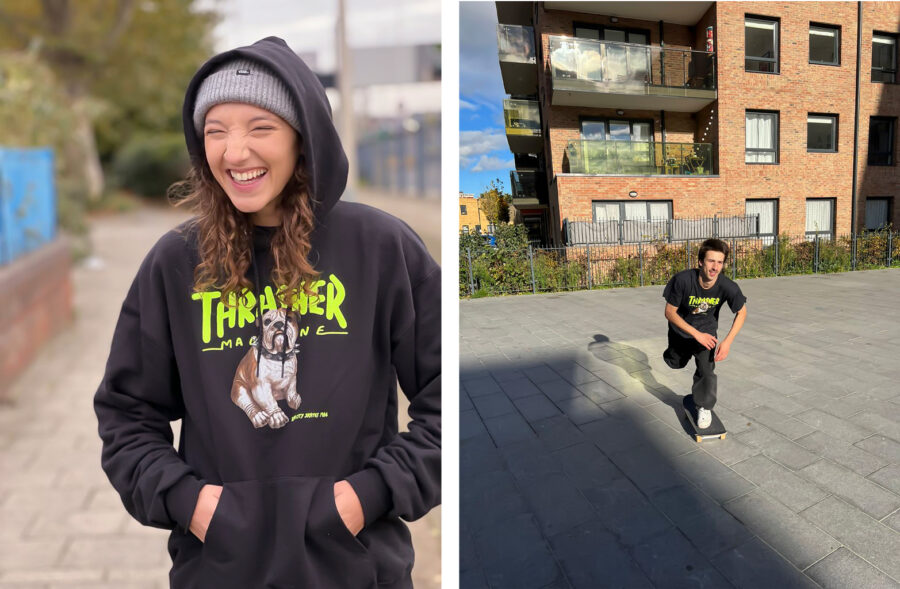 Recent Slam shop team additions, Helena Long in the Thrasher X Slam City Bulldog Hood and Dougie George in the Thrasher X Slam City Bulldog T-Shirt. Below: Jak Pietryga in the Thrasher X Slam City 

Bulldog Cap

.
A staple London souvenir, the bulldog is a piece of British iconography which too encapsulates notions of toughness and resilience, yet one whose sterner connotations are offset by thoughts of friendly slobber and kitsch figurines of the creature finding a home on grandparent's mantelpieces.
Drawing on Slam City's musical heritage from our days above Rough Trade Records, the Thrasher X Slam City collection reconfigures the bulldog to pay tribute to skate videos of the early 1990s and one of our culture's most celebrated musical contributors, Dinosaur Jr. The pet bulldog of frontman J Mascis takes pride of place on the cover of their 1991 compilation, 'Whatever's Cool With Me' and the handwritten lettering accompanying Beefy's image informed the typographic queues for our name and timestamp across the Thrasher X Slam City collection.
Comprised of a black t-shirt, hoodie, navy long sleeve t-shirt and strap-back dad cap, the Thrasher X Slam City collection is available now at slamcity.com and our Brick Lane store.
Dougie George, Jak Pietryga, Jeremy Jones, Helena Long and Amanda Perez for the Thrasher X Slam City collection. Video and photography by Kevin Parrott.
---
Related: Michael Burnett Interview: "I couldn't help myself, I wanted to do it all day long", Jake Phelps Interview: "It's called gumption, elbow grease."
The Slam City collaborations archive – 2022: Skate Shop Day 2021: Slam City Skates X Oliver Payne, Blast Skates X Slam City 2019: Slam City X RaD Archive, Slam City X RaD Launch Gallery, Slam City X RaD Archive – Curtis McCann by Winstan Whitter 2018: enjoi X Slam City with Ben Raemers, Gonz and Toby by Thomas Campbell and Mark Gonzales, Anti-Hero X Slam City with Raney Beres 2017: Dickies X Slam City – Fall 2017 with Tom Knox, Darius Trabalza and Neil Smith, Krooked X Slam City, DC X Slam City, DC X Slam City Southbank Gallery, DC X Slam City: Josh Kalis & Mike Blabac Interview, DC X Slam City: Josh Kalis 'Memory Screen' Remix 2016: Vans x Slam City 'Lampin Pro' & 'Native American Pro', Vans x Slam City Launch Gallery, HUF x Slam City Skates, HUF x Slam City Skates Launch Gallery, Slam City "Artists" Decks with Tod Swank, Fos, Don Pendleton and Nick Jensen, Slam City Skates X Spitfire Wheels, Dickies x Slam City Skates (Summer 2016) 2013: Vans Syndicate x Slam City, House of Billiam X Slam City, DC Kalis x Slam City 2012: Slam City x Converse CTS, Silas X Slam City Skates, Real x Slam City Skates, Slam City Skates x Spitfire Classics 2010: Emerica x Slam City "Laced", Toy Machine x Emerica x Slam City 2008: Penfield x Slam City Skates 2007: WeSC x Slam City Skates 2006: Etnies x Slam City Skates 2005: Nike SB x Slam City Dunk