We enjoyed a big turnout for the launch of the Slam City X RaD capsule of Friday evening. Here's a snapshot of the evening.
Dan Cates and Matthew Worland of 'Wig', RaD and Sidewalk fame at the Slam City X RaD capsule launch.
It was wonderful to see so many faces out for the launch of our Slam x RaD capsule on Friday night. Heavy heads were in attendance, including the photographers who sparked our imagination back in the day and made everything possible later down the line with this collaboration, particularly Tim Leighton-Boyce and Jay Podesta.
With thanks to TLB and Jay alongside to Dan Adams for framing the prints on display and his hard work which inspired and facilitated the project. A final cheers to Gipsy Hill Brewing Company for keeping us in good supply of beverages. Big up to everyone who made it down to Slam East. And if you didn't, hit play on our mix from the night and vicariously through the crop of photos below shot by our man, Jacob Sawyer.
Slam City X RaD Capsule Launch
Slam East, 11th October 2019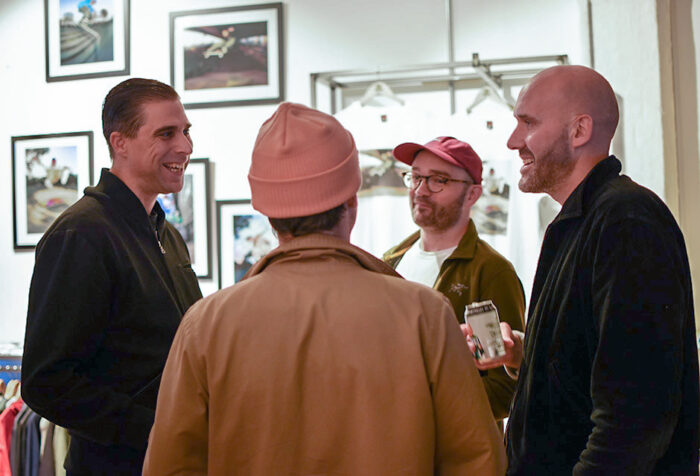 Tom 'Rum Coke' Richardson, Olly Todd's beanie, Sam Griffin and Mark Jackson

Mark Jackson speaking to TLB while the shirts he shot hang behind him
Jason Hart and special guest Jay Podesta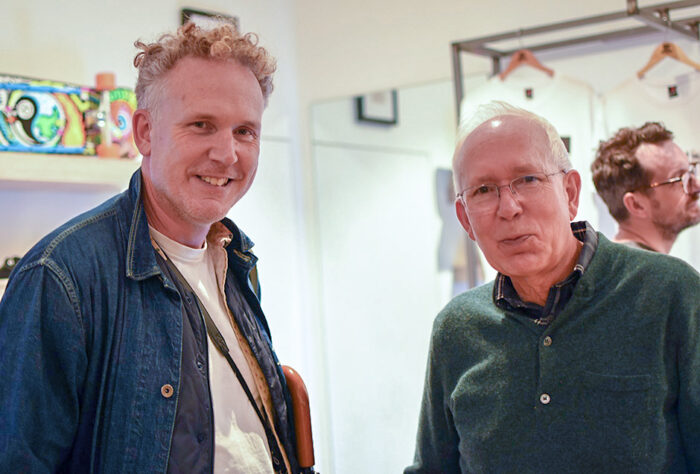 Wig Worland and TLB on the other side of the lens
Dan Adams and Dan Cates
Slam Mail order maestro Matt Boyce AKA Pure and Assistant Manager Mikey Patrick
Winstan Whitter's edit of Curtis McCann and Simon Evans on loop. We will post later this week

Paul Sunman, Mike John and TLB recreating a RaD photo team shot from 1992
Rare photo of Andy Simmons with Wig Worland
Winstan Whitter and Jay Podesta
Olly Todd showing TLB outtake from his first photo in RaD shot by the man himself in 1991 – a nosegrind attempt at Barrow Skateshack (the photo which ran was a one foot tail grab over the hip).
Barometers of a top notch turnout Nick Zorlac and Seth Curtis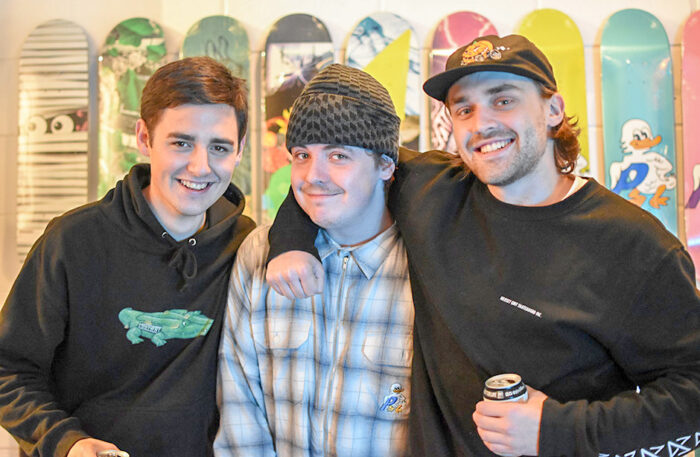 Liverpool in the house. Fergie, Rauiri Jones and Fred Lambert
Hannah and Slam alumni Andy Humphreys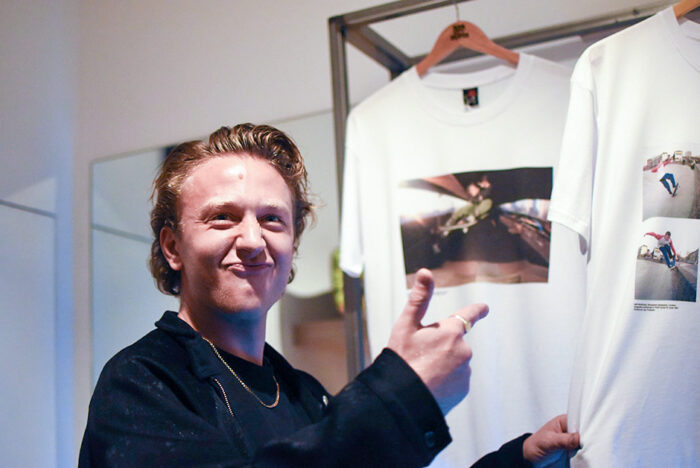 Mikey Patrick, Fred Lambert, Amadeusz Jozwiak and Monse
Outstanding human beings Wig Worland and Winstan Whitter
Dan Adams and Sam Griffin in front of the Simon Evans image which gave birth to the whole idea
The man who started it all, Slam founder Paul Sunman with his daughter Edie.
Epic line up. Laurie Sherman, Dan Cates, Nick Zorlac and Stu Cantellow
Cheers, that's time at the bar.
---
Previously: Slam City X RaD Archive
The Slam City collaborations archive – 2022: Skate Shop Day 2021: Slam City Skates X Oliver Payne, Thrasher X Slam City Skates, Blast Skates X Slam City 2019: Slam City X RaD Archive, Slam City X RaD Launch Gallery, Slam City X RaD Archive – Curtis McCann by Winstan Whitter 2018: enjoi X Slam City with Ben Raemers, Gonz and Toby by Thomas Campbell and Mark Gonzales, Anti-Hero X Slam City with Raney Beres 2017: Dickies X Slam City – Fall 2017 with Tom Knox, Darius Trabalza and Neil Smith, Krooked X Slam City, DC X Slam City, DC X Slam City Southbank Gallery, DC X Slam City: Josh Kalis & Mike Blabac Interview, DC X Slam City: Josh Kalis 'Memory Screen' Remix 2016: Vans x Slam City 'Lampin Pro' & 'Native American Pro', Vans x Slam City Launch Gallery, HUF x Slam City Skates, HUF x Slam City Skates Launch Gallery, Slam City "Artists" Decks with Tod Swank, Fos, Don Pendleton and Nick Jensen, Slam City Skates X Spitfire Wheels, Dickies x Slam City Skates (Summer 2016) 2013: Vans Syndicate x Slam City, House of Billiam X Slam City, DC Kalis x Slam City 2012: Slam City x Converse CTS, Silas X Slam City Skates, Real x Slam City Skates, Slam City Skates x Spitfire Classics 2010: Emerica x Slam City "Laced", Toy Machine x Emerica x Slam City 2008: Penfield x Slam City Skates 2007: WeSC x Slam City Skates 2006: Etnies x Slam City Skates 2005: Nike SB x Slam City Dunk