For winter 2007, the work of photographer Henry Kingsford takes centre stage on a WeSC x Slam City Skates t-shirt.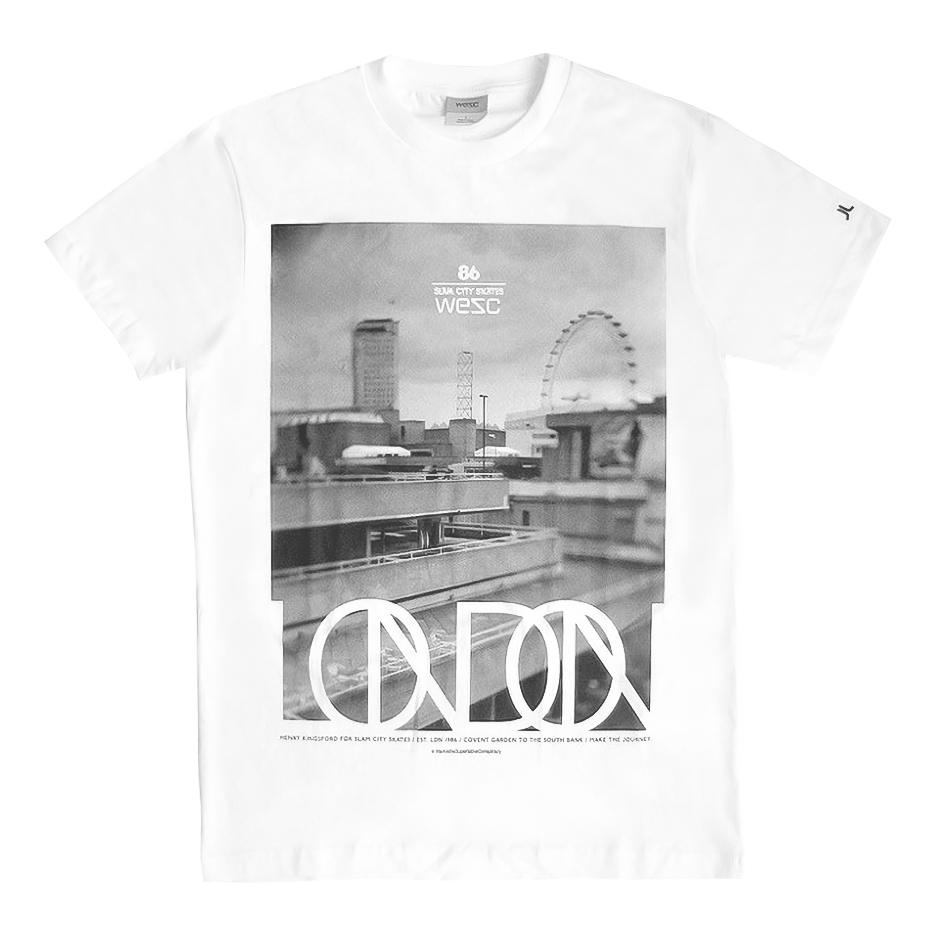 WeSC x Slam City Skates featuring photography by Henry Kingsford
The WeSC x Slam City Skates t-shirt is our version of a tramline tourist souvenir with a twist.
It celebrates our vision of London, the beauty we see that escapes the masses. We have long been a hub for skateboarders from all over the world visiting the UK for the first time. As well as playing host, we also spend a lot of time giving directions to skate spots scattered around our city. Nowhere is more of an essential destination for visiting skateboarders than Southbank and we explain the 7-minute skate route to this legendary spot on a daily basis.
The London Eye appears in the background of the WeSC x Slam City Skates tee but it's the brutalist architecture of the Southbank centre that Henry Kingsford's lens is drawn to. This place is hallowed ground for skateboarders around the globe and the historical relevance of this amazing spot is what is being acknowledged.
The text below the print is a call to action like London underground ads from decades past. "Covent Garden to the Southbank / Make the Journey."
It's a journey we have made many times and you should too. Swing by to pick up one of these limited shirts or grab yours online.
---
The Slam City collaborations archive – 2022: Skate Shop Day 2021: Slam City Skates X Oliver Payne, Thrasher X Slam City Skates, Blast Skates X Slam City 2019: Slam City X RaD Archive, Slam City X RaD Launch Gallery, Slam City X RaD Archive – Curtis McCann by Winstan Whitter 2018: enjoi X Slam City with Ben Raemers, Gonz and Toby by Thomas Campbell and Mark Gonzales, Anti-Hero X Slam City with Raney Beres 2017: Dickies X Slam City – Fall 2017 with Tom Knox, Darius Trabalza and Neil Smith, Krooked X Slam City, DC X Slam City, DC X Slam City Southbank Gallery, DC X Slam City: Josh Kalis & Mike Blabac Interview, DC X Slam City: Josh Kalis 'Memory Screen' Remix 2016: Vans x Slam City 'Lampin Pro' & 'Native American Pro', Vans x Slam City Launch Gallery, HUF x Slam City Skates, HUF x Slam City Skates Launch Gallery, Slam City "Artists" Decks with Tod Swank, Fos, Don Pendleton and Nick Jensen, Slam City Skates X Spitfire Wheels, Dickies x Slam City Skates (Summer 2016) 2013: Vans Syndicate x Slam City, House of Billiam X Slam City, DC Kalis x Slam City 2012: Slam City x Converse CTS, Silas X Slam City Skates, Real x Slam City Skates, Slam City Skates x Spitfire Classics 2010: Emerica x Slam City "Laced", Toy Machine x Emerica x Slam City 2008: Penfield x Slam City Skates 2007: WeSC x Slam City Skates 2006: Etnies x Slam City Skates 2005: Nike SB x Slam City Dunk