Released as part of our 35th anniversary celebrations, the Slam City Skates X Oliver Payne board series wanders through our past guided by an old friend.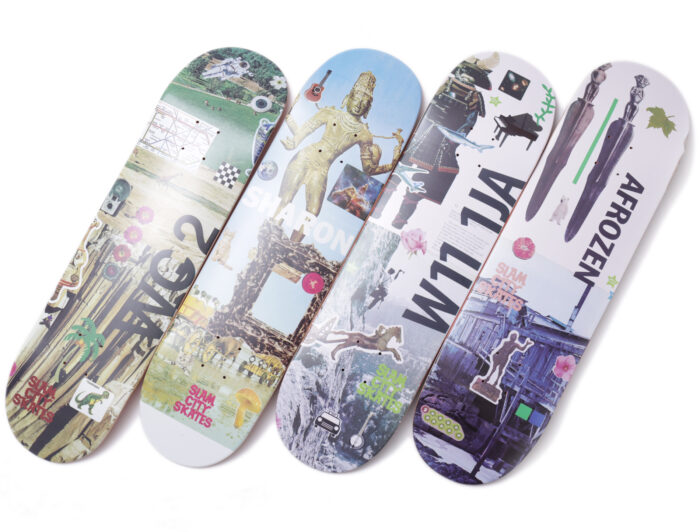 Slam City Skates X Oliver Payne 35th Anniversary decks
This year, we celebrate our 35th anniversary of serving London's skateboarding community. As we look back, grateful to those who have both supported and been a part of the journey, we've marked the occasion with a range of new shop boards designed by artist Oliver Payne whose personal narrative is interlaced with our own. His appreciation, respect and love for nostalgia informs much of his artwork and the preservation of what he holds dear, this coupled with his sentimental ties to Slam City, made him the ideal artist to collaborate with.

Slam City Skates X Oliver Payne 'W11' deck in 8.375″
Over the decades, there have been many stages in our evolution. Slam City Skates began as a basement fixture beneath Rough Trade Records in Talbot Road back in 1986. A piece of his West London childhood, Oliver would visit shortly after starting to skate. Two years later, Slam would go on to open above ground and our Neal's Yard address in Covent Garden would be the shop Oliver came to frequent once skateboarding in the city was a driving force in his life.
Concurrently, Slam existed as a distributor from Latimer Road for the likes of Toy Machine, Zero, Foundation, Shorty's, Zoo York, Circa, DVS and Lakai to name a few and our paths formally crossed in the early 2000s when Oliver began working at the Slam warehouse. Happily, we've always been a refuge for Oliver and destination on his visiting list throughout the years and the graphics he's designed to mark our 35th anniversary honour exactly that.

The Slam City Skates X Oliver Payne 'Sharon' deck in 8.25 and the top ply detailing featured across the series.
Slam's original Talbot Road basement location is referenced by the shop's W11 1JA postcode, the location which still houses Rough Trade Records today. Oliver's regular visits in the '90s began when Sharon Tomlin was the Neal's Yard shop manager, he immortalised this time period in her honour with the 'Sharon' board. The 'WC2' also pays homage to this location and many happy times spent in London's West End. The 'Afrozen' board references a Marc Bultitude marker pen sketch which lived behind the counter of the shop for decades surrounded by a frame.

Slam City Skates X Oliver Payne 'WC2' in 8.125″
"I've always known I'd never be good enough at skateboarding to have my name on a skateboard. But I'm honoured if anyone thinks I'm good enough to have my art on a skateboard," says Oliver, regarding his excitement to work on graphics. "If somebody rides a board with my artwork on it, I feel involved in the process of skateboarding. Even if only superficially or tangentially, it's still contributing in some small way to the culture. I get stoked about that."
Slam City Skates X Oliver Payne 'Afrozen' in 8.5″
Stay tuned for an interview with Oliver about the board series and his history with Slam.

---
Read our interview with Oliver about his artwork and history with Slam here and explore the Slam City Skates X Oliver Payne here.
The Slam City collaborations archive – 2022: Skate Shop Day 2021: Slam City Skates X Oliver Payne, Thrasher X Slam City Skates, Blast Skates X Slam City 2019: Slam City X RaD Archive, Slam City X RaD Launch Gallery, Slam City X RaD Archive – Curtis McCann by Winstan Whitter 2018: enjoi X Slam City with Ben Raemers, Gonz and Toby by Thomas Campbell and Mark Gonzales, Anti-Hero X Slam City with Raney Beres 2017: Dickies X Slam City – Fall 2017 with Tom Knox, Darius Trabalza and Neil Smith, Krooked X Slam City, DC X Slam City, DC X Slam City Southbank Gallery, DC X Slam City: Josh Kalis & Mike Blabac Interview, DC X Slam City: Josh Kalis 'Memory Screen' Remix 2016: Vans x Slam City 'Lampin Pro' & 'Native American Pro', Vans x Slam City Launch Gallery, HUF x Slam City Skates, HUF x Slam City Skates Launch Gallery, Slam City "Artists" Decks with Tod Swank, Fos, Don Pendleton and Nick Jensen, Slam City Skates X Spitfire Wheels, Dickies x Slam City Skates (Summer 2016) 2013: Vans Syndicate x Slam City, House of Billiam X Slam City, DC Kalis x Slam City 2012: Slam City x Converse CTS, Silas X Slam City Skates, Real x Slam City Skates, Slam City Skates x Spitfire Classics 2010: Emerica x Slam City "Laced", Toy Machine x Emerica x Slam City 2008: Penfield x Slam City Skates 2007: WeSC x Slam City Skates 2006: Etnies x Slam City Skates 2005: Nike SB x Slam City Dunk