Following his board series marking Slam City's 35th anniversary, we catch up with artist, filmmaker and our old friend, Oliver Payne.

Words and interview by Jacob Sawyer. Self portrait by Oliver Payne.
Originally from West London and now residing in Los Angeles, you may be familiar with Oliver Payne from the Driftwood, House and Garage, and Jungle series of films produced with Nick Relph.
There's also his work for Supreme, Palace, Cav Empt and the band Hot Chip alongside his personal projects, safe crackers zine and Chill Out Relaxing Clothes. Maybe you saw his Day In the City part in 2001 or his 'A Brief History Of Slime' video projection – currently playing in a screen-printed pizza box in the Meredith Rosen Gallery, whilst another show exhibits at Parco Museum Tokyo.
Oliver began skating aged 9 in 1986 – the year we opened – and wandered through the door of our Talbot Road incarnation a couple of years later. A little further down the line, after we'd relocated to Neal's Yard in Covent Garden, years of shop lurking and/or working ensued. This drew up a dual history which served as a cornerstone for his series of 35th anniversary Slam City boards.
While making and curating his work, Oliver is also a father who teaches, rock climbs, squeezes in time to play video games, and keeps a keen eye on all things skateboarding. Oliver knows a lot, has done a lot, and continues to do so. It was amazing to connect about Oliver's own story, Slam City history, skateboarding today and the way the West End was. 

Oliver Payne with an early grab, surrounded by early Hammersmith, wearing a Public Enemy shirt
"Skate videos were essentially home movies, by Californian teenagers, at a point when the main representation of America, on TV, is a completely artificial construction."
When you first started skating who were the people you looked up to and where did you localise?
At first, I skated with a few kids at school and one of their neighbours, Ross Cummins – who'd later sing in the band Symposium. He was well good, as it happens, doing impossible tailgrabs and massive one foots. We'd get a two litre bottle of the Hubba Bubba drink, bum-board down the Novotel Spiral in Kensington, try to do tiny nosebonks on handrails and dress like Armando Barajas.
Later, through reading RaD, I looked up to the South Bank skaters like Simon Evans, Will Bankhead, Ed Loftus and Sam Silverstone. Then once I met Fos [Mark Foster – Heroin Skateboards owner], I'd skate with him a lot as he'd encourage my style of skating and was down to skate weird spots.
I'd like to mention that Simon Evans was my favorite skateboarder and still is, in many ways. I related so strongly to him. A fellow goofy boy with an interest in British literature and culture. He was this perfect mix of EMB and Hancock's Half Hour. His 'Yellow' interview is a huge inspiration.
Did that open up a new world? What were you obsessed with before skateboarding?
I was really into 2000 AD, horror films, books and music. Through skateboarding, I developed a greater understanding of American culture in general. Skate videos were essentially home movies by Californian teenagers, at a point when the main representation of America, on TV, is a completely artificial construction.
I can't think of any other examples in which you're seeing carparks, strip malls, schoolyards and the homes of everyday Americans in this way. Of course, you're watching for the skateboarding but there're this interesting byproduct of cultural information that occurs. You develop an innate understanding of American culture, simply by paying attention to what's going on in the background of a skate video.
Can you paint the picture of visiting Slam for the first time? Who was working there?
I first visited the Talbot Road shop about 1988 with my mega-grom neighbour and his mum. It was super intimidating and had a sort of grebo/thrash vibe, more crusty than you might imagine. There was a heavily tattooed guy working, whom I've always assumed was Chris Turner as I got to know him years later.
As I lived in West London, I was closer to shops like Subway in Kensington and Buddies in Ealing. I didn't start going to Slam in Covent Garden until a bit later. When I did, Sharon Tomlin was the manager and the staff was loosely comprised of Ben Sansbury, Chris Turner, Andy Hartwell, Dave Cushway, Teru, Nick Phillips, and Henry Kingsford. Skate clothes were really popular with non-skaters at this point so every stylist in London would regularly be shopping at Slam to get outfits for boy bands and TV presenters. Some people in the rest of the country who have a thing against London would say it wasn't a "real" skate shop because of things like this. Which is sad, weird, and very wrong. I suspect they were threatened and confused by it having a female manager.
After a few lineup changes came the period with Seth Curtis, Chris Pulman, Chris Massey, Mark Jackson, and yourself. These were the checkered shirts, brown cords, and brown shoe years. Not for me though, I was dressing like a nutcase around this time, probably. Everyone was doing nollie flips and tech stuff on ledges. Again, not me. I can't skate ledges to save my life. Thankfully, nobody seemed to hold this against me.

Oliver Payne 
wearing the Zelda beanie cousin of Jagger's Super Mario hat and (soft) r
ock n' rolling at Mount Hawke, 1994
"They've tried on all the trousers, listened to all the records, watched all the videos. Trust them!"
What are your favourite memories of the shop?

Strangely, helping Andy Hartwell organize the snowboard sale one year. It had to be done through the night, when the shop was closed, as snowboard gear takes up so much room. We listened to The Mollusk by Ween and Arise Therefore by Palace Music on repeat. There was something really strange and fun about being in such a busy place when it's totally still and quiet.
How important do you feel these physical spaces still are? I know wandering around town is vastly different now to growing up when going shop-to-shop in itself could be a culturally enriching adventure.
Immeasurably. They're so very important. That's how the bands and brands come together. Over the years, Slam has produced bands like Bugger Sod, Position Normal and Fabric and brands like Insane, Holmes/Silas, Oeuf, 176, Palace, Kind Beanies, Heroin Skateboards. All of this stuff comes from hanging out in shops and pubs and chatting breeze all day.
I'm part of a generation of very cool shop assistants. Everyone I knew worked in retail and everyone they knew worked in retail. You spend all day in whatever shop you work in, being visited by various people from nearby shops, and you end up spending your lunch break or day off just hanging around in other shops. Skate shops, clothes shops, record shops, comic shops, book shops, bike shops – these people are around this stuff all day and have figured out what's best.
They've tried on all the trousers, listened to all the records, watched all the videos. Trust them! It's also worth mentioning that the Neal's Yard branch was a short walk from Central Saint Martins College of Art. It would be quite common for kids to come from different parts of the country to study illustration, graphics or fine art at Saint Martins, go to Slam and Rough Trade every day, and spaff their student loan on Droors jeans, jungle records, pairs of Duffs and eight minute long skate videos. Lots of these sorts of people would go on to shape the culture by starting brands, labels, and companies of their own.

Oliver in an ad for 'Superhero, a short lived company by Fos, prior to 
Heroin.
It's the mid-90s and you're dropped in central London for the day. Where do you stop off and visit?
Read a chapter of a book on the tube and get off at Piccadilly Circus, go through the Tower Records exit and peruse the import magazine section for graff magazines. Then, walk through the back streets to Soho and Berwick Street and pick up a bottle of poppers at one of the sex shops. Quick pint at the Coffee House, do the record shops quickly, see all the people outside Black Market and another quick pint at the Glasshouse. Now, over to Covent Garden – but first swing by the Peniel Eye and look at the mad Jeremy Scott gear. Pop into Hit and Run say "hello" to everyone there.

No time to get a trim so we'll just have to walk straight past Cuts, but get an espresso from Bar Italia. I'm getting a bit hungry now so I could head back over to Wong Kei's on Gerald Street and pay £3 for mountains of fluorescent, MSG-laden Chinese food and verbal abuse from the waiters. But I I'll just wait a few years for them to invent Pret A Manger and open them on every corner.
Now, let's walk past Cyberdog over by Seven Dials. How I love you crazy cyber goths with your plastic dreads, gas masks and pierced platform boots. I can't afford a coffee from Monmouth and, besides, I'm saving money for a bottle of Purdy's from Holland and Barrett. I'm now beginning to smell a remarkably strong odor of cheese, which means we're getting very close to Neal's Yard, and here we are at Slam City Skates, next to a cheese shop. I'll hang around here for a while, look at records downstairs at Rough Trade, pick up the latest issue of Big Brother and head to the Cross Keys to read it over a pint.
Look in the window of The Great Frog at all of the mad rings, pop into the Duffer Of St. George and let them know you'll be in the pub, around the corner. Wait for all your mates to finish work and meet you. Let's pretend it's 'Fantasy Ashtray' at Madame JoJos or 'Smashing' at The Eve Club on Regent Street so have a mad night then eventually stumble to the bus stop. Get the N97 home but fall asleep and wake up at Heathrow Airport.
Sounds like a good day. You spent some time with a latter-day Slam warehouse dream team. How was working with that squad?
Chris Massey – rest in peace, Jagger [Dan Ball], Duncan Carr, Ben Bodily, Brent, Timmy Tight-trucks, Real Dave – what an exceptional selection of young men.
Duncan once drew this picture of Timmy Tight-trucks with a welding mask, taking a flame-gun to his trucks. I think about that picture quite often. To be fair and for the record, Timmy actually rode his trucks far looser than mine! This was during the absolute height of skate shoe sales. It seemed like most British teenagers were wearing skate shoes of some description and as such we were distributing huge amounts of shoes around the country.
The workload was heavy but the payoff was immense. Filling all your orders meant clearing the warehouse of boxes which left a perfect flatground arena. The end of each working day, or 'Chas O'Clock', would involve a visit from Chas-One, a banging skate session, tunes on the stereo, beers, zoots and a generally lovely time with friends.
Is there a time in skateboarding you hold particularly dear and for what reason?
I think everybody's favourite time in skateboarding is the point in their life they were most engaged with it. For me, that's the mid-90s. Lavar McBride's part in Trilogy from 1996 is probably a good timecode as to what I thought was a high point in skateboarding. I loved the big pants, small wheels era but the "simple tricks done big and clean" era was probably my favourite. But just because it's my favourite certainly doesn't mean it's the best.

The best Of Times. Sal's and a Zoo York-induced shinner
"It's anybody, anywhere in the world who loves riding a skateboard."
What's happening within skateboarding now that you find exciting?
I genuinely believe skateboarding is the best it has ever been. The progression is awe-inspiring and I don't mean tricks, I mean skateboarding as a whole. Where it's happening and who is doing it.
It's finally, completely opened up and has slipped from the clutches of  "core" old timer elitists and young men that are really good at tricks. Contest skaters like Rayssa Leal and Sky Brown are a totally different type of skater to most of the girls I see on the brilliant, inspiring Unity Skateboarding and There Skateboards accounts. I don't think any of them should have to care about Gino's push, why I think Brian Lotti's part in Now N Later is the greatest, or anything irrelevant rad-dads like me are so passionate about.
Being a skateboarder isn't synonymous with being a young man in North America or Europe. It's anybody, anywhere in the world who loves riding a skateboard. That includes people in Uganda and Palestine, differently-abled and physically challenged people like Dan Mancina and Felipe Nunes, and older people like Mister Kinoshita [81] and the absolutely extraordinary Elaine Shallcross, rest in peace. These are the people who have inspired me most.
On a slightly more traditional note, I think that the Tom Knox part that came out during lockdown [Atlantic Drift Episode 11] is one of the best video parts I've ever seen. It's the Burial Untrue of skate videos.

Oliver Payne climbing at Joshua Tree National Park. PH: Matthew Nauser
You're a man of many diverse interests which converge and inform your work. What are you obsessed with right now?
I've been climbing a lot the last few years. A bit like skateboarding: the perfect combination of being outdoors and physically challenging, has a fascinating history to nerd out on and dope gear to obsess over. The documentary, Valley Uprising is a great place to start but check out Statement Of Youth to see the scene in the U.K. during the '80s. There are some pretty wild books like Hangdog Days by Jeff Smoot.
I play a lot of video games and watch a lot of anime. I'm slowly making my way through JoJos Bizarre Adventure and it's simply the greatest anime series ever made. And don't sleep on Berserk. It's a total masterpiece, the manga and the 1996 anime series. Especially for fans of the Dark Souls games – another thing I spend a little too much time thinking about.
What artistic projects are you working on right now?
I have been making lots of large collages using imagery from older video games and valuable pop-cultural objects like rare toys and sneakers. The film I just made is called A Brief History Of Slime and it is an investigation into slime, thrash metal, and the Cold War. It's projected inside a pizza box.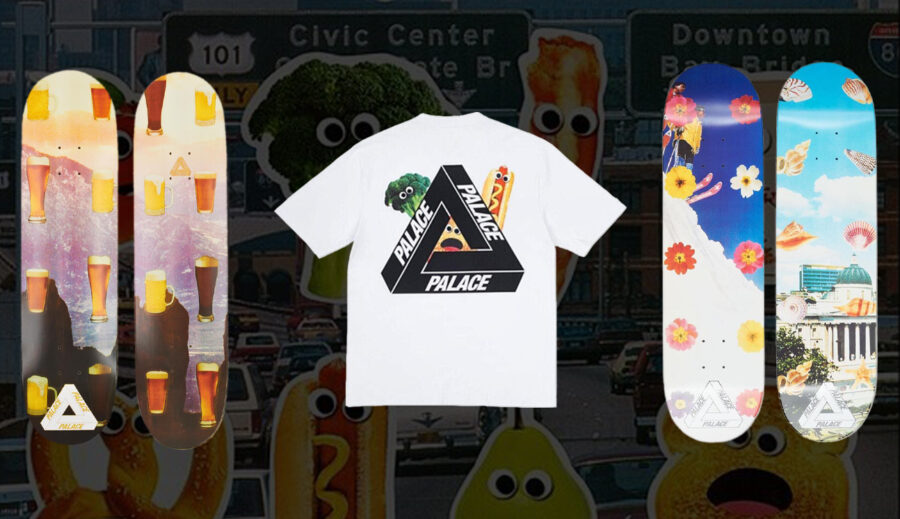 "A skateboard is a remarkably affordable way to put art on the wall. Especially given how inaccessible and financially prohibitive it is for most people to own art."
It's been great seeing your artwork appear as board graphics. How do you find designing within those constraints?
I greatly enjoy working within tight parameters, that's partly why video games are so attractive. I'm interested in seeing how you can maximise something with distinct limitations. Doing skateboard graphics will always be exciting. I've always known I'd never be good enough at skateboarding to have my name on a skateboard. But I'm honoured if anyone thinks I'm good enough to have my art on a skateboard. If somebody rides a board with my artwork on it, I feel involved in the process of skateboarding. Even if only superficially or tangentially, it's still contributing in some small way to the culture. I get stoked about that.
What are your different approaches to art for different medias, between physical objects and dematerialised, digital art? Skateboards are meant to be destroyed so do you think differently about them than something that belongs in a gallery or on a computer screen?
I tend to approach everything the same way: idea first and then figure out how to do it. As for board graphics, I think wall hangers are great. Of course, skateboards are made to be skated but having one, or many, on your wall because it's meaningful in some way is fantastic. It's not depriving anyone else of riding a skateboard. There are enough of them to go around.
In a sense, a skateboard is a remarkably affordable way to put art on the wall. Especially given how inaccessible and financially prohibitive it is for most people to own art. Furthermore, if the money goes to a skate company and not an art gallery, it can help pay riders and allow companies to do rad stuff. Have you seen the amazing work that Alltimers have been doing? Check out their boards with Creative Growth and New Vision Art School. Seriously inspiring. I'd love to see more companies doing stuff like this.
How important is it for art itself to simply exist? A lot of contemporary concept art doesn't even need to – as long as the idea exists and the opportunity to create the piece is available. Will we reach a point where art is just idea-claiming, or will every concept need to be realised even just once, briefly, for it to 'exist'?
Some ideas can simply exist just as ideas because they gain nothing from adding form to them. The idea conveyed in written text is enough. But there will always be a place for material, composition, balance, weight and all of these things.
I'm increasingly interested in how shapes can complement each other and how angles of lines intersect with each other. A lot of my favorite artists are probably seen as illustrators and graphic designers.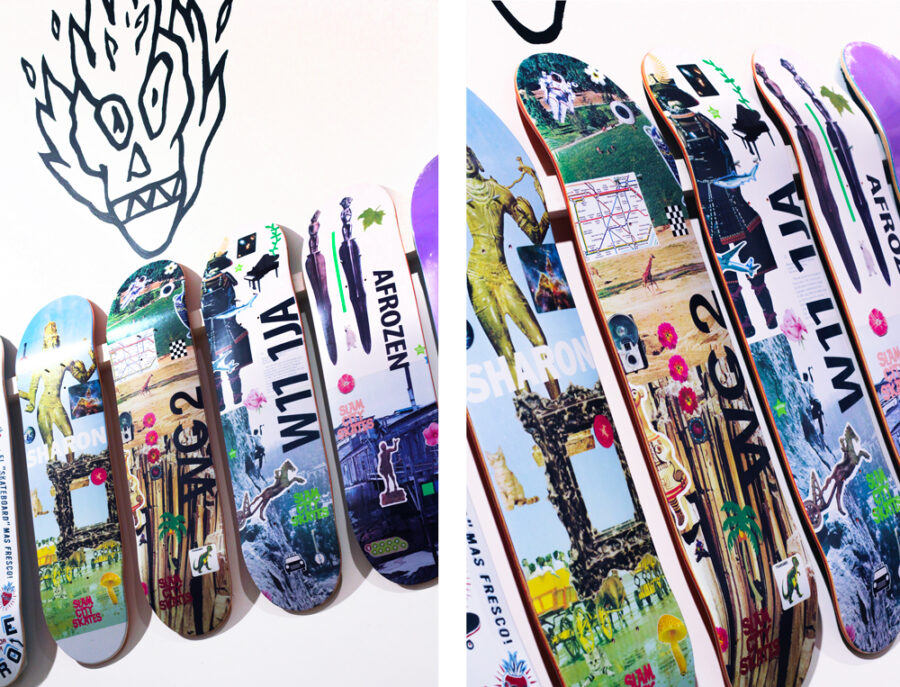 'Sharon', 'WC2', 'W11' and 'Afrozen' – the Slam City Skates X Oliver Payne series on the wall at Slam East. ph: Josh Nice
I wanted to discuss the relevance of the imagery appearing on the boards you've designed for us. Let's start with the 'Afrozen' graphic…
'Afrozen' was a drawing that had been very loosely framed, which hung behind the Slam counter for many years. Anyone who made a purchase would be facing it so it must have been seen by thousands of people over the years. It depicted a very cold young man with an afro. Above him, was simply the word 'Afrozen'.
I don't think I ever heard anyone make reference to it a single time it was there. But if you were to make a model replica of Slam, there is absolutely no way you could leave out the Afrozen drawing.
I have no idea when it was done, who it was depicting or who the artist was. But I totally had to include a reference to it on one of the boards. A bit of investigation lead me to discover that it was by Slam ripper Marc Bultitude, who I also learned, is the other figure in the Slam ad with Simon [Evans]. I'd never known who that was either, so it was cool to discover it was all Marc Bultitude.
What other art from the shop sticks in your mind?
There was a brilliant photograph of a very young Toby Shuall on Gonz's shoulders. The swinging, bouncy, bungee chair was great as it took up a lot of room in a very small shop and I was particularly fond of how somebody had written "Jonny Robber" on the screen of the CCTV monitor over the changing room area.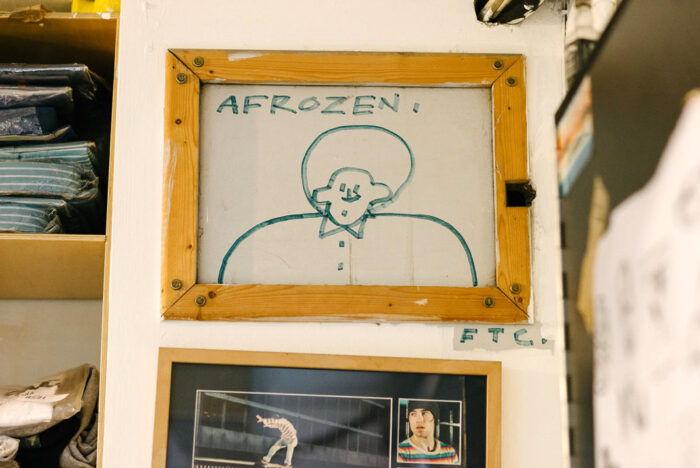 You dedicated another board to Sharon Tomlin who managed the Neal's Yard shop in the '90s. Did she inspire and encourage you when you were younger?
If you were interested in youth culture coming out of New York and California in the early '90s, you were pretty much guaranteed it would be passing through Slam before it got to you. No matter what you're into. Hardcore punk 7 inches, new skate videos, Sassy Magazine, Ben Davis pants, Nike ACG's, Bay Area hip-hop, Mark Gonzales fanzines… Whatever it might be, Sharon had seen it first.
We didn't actually become friends until many years later. But, at the time, she was remarkably cool, stylish and I totally looked up to her. I used to skate with a couple of girls and I think Sharon was a huge inspiration to them, and lots of other girls who skated or were otherwise part of a fairly skate-centric music scene. Her presence, and the fact that you'd regularly have riot grrrl and punk bands playing in the basement, prevented the shop from ever being too "boys club".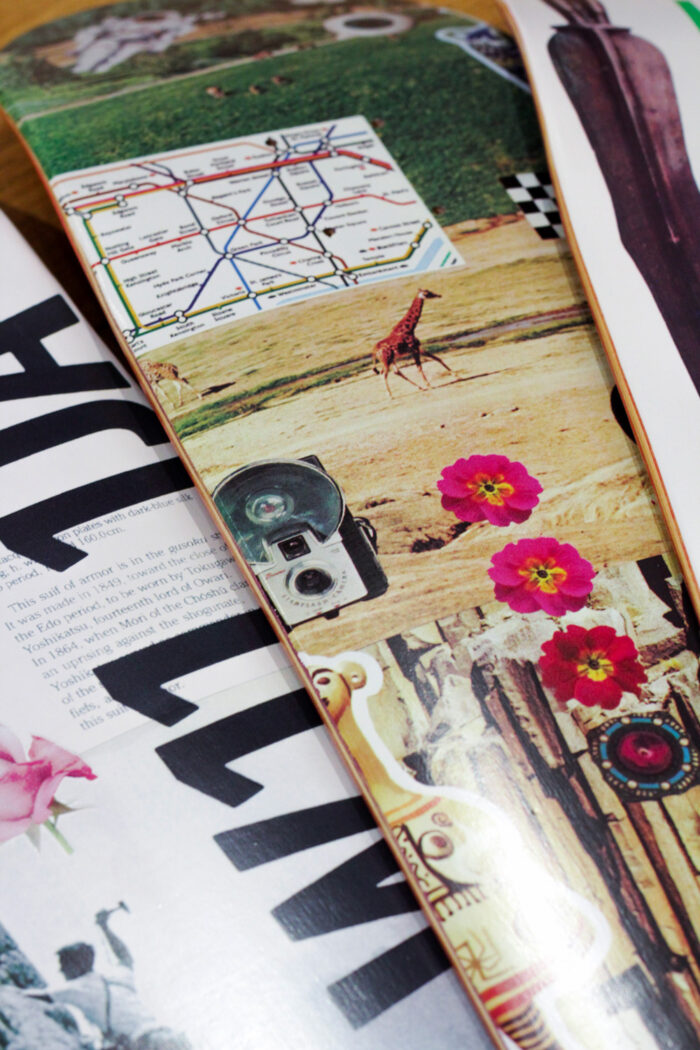 Are you guys neighbours now?
Not quite but she's close by. She's a big animal lover, has lots of fuzzy friends and I think she's very active in the community and helps housing rescue animals. So big her up. Sharon is a legend
The next two boards honour the postcodes of the OG shops. Could you talk a little on the importance of the 'W11 1JA' postcode and Slam's brief existence there?
The Talbot Road branch was home to the original Rough Trade Records. Not just the shop but the label itself and any subsidiary labels such as Wiiija – pronounced Ouija and named after the postcode.
They put out records by Jacob's Mouse, Silverfish, Loveblobs, Terminal Cheesecake, Blood Sausage and many others. But it was the 7"s by Huggy Bear and Cornershop that I was most excited about. Huggy Bear were at the centre of the U.K.'s riot grrrl scene and were a really important band who I saw live, many times, and still love. Cornershop were an absolutely brilliant, and brave, band and a very preferable alternative to the oncoming onslaught of nationalistic, brit-pop bands. I was so happy for them when they got massive a few years later.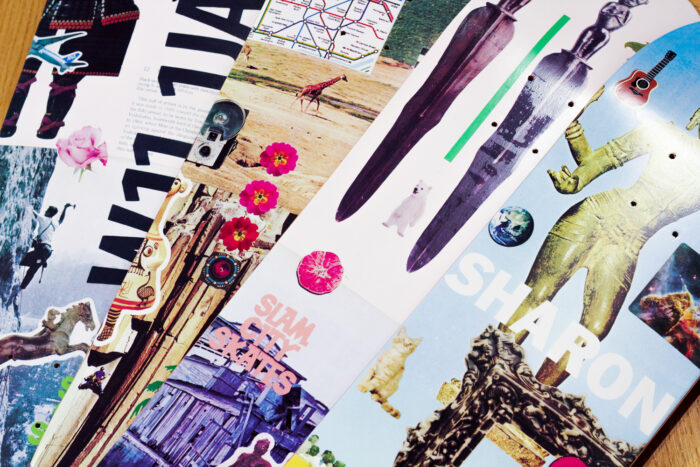 Slam City Skates X Oliver Payne: 'W11' in 8.375″ / 'WC2' in 8.25″ / 'Afrozen' in 8.5″ / 'Sharon' in 8.25″
A few fun ones to wrap up with. Can you bless us with a good memory of [Slam founder] Paul Sunman?
I really didn't work closely enough with him to have any funny, first-hand stories. But I would like to say that Paul always employed skateboarders to do basically everything. Which meant 'Mission: Rent Possible' for people like me.
He was also the first U.K. skater on the cover of TransWorld, I think. Given how professional freestylers ended up running the industry in the early '90s, it's great that England has its own contribution to this legacy.
What's your favourite Slam ad or historical graphic?
Probably the one I mentioned before with Simon and Mark. I love anything with Will Bankhead, whether he's skating or taking the photo. I also really liked the 'Goodbye Teru' advert, because it's just cool to take out a full-size ad to say goodbye to your friend.
Most people probably like the OG Todd Swank graphic the most, but I like the chunky Slam logo that came later and was on the carrier bags for many years. I'm assuming the other side of that bag was designed by James Jarvis. It was a very basic graphic representation of a little man with baggy jeans and all the individual components of a full setup.
The adverts James did for Slam and SIlas, using real London skate spots, are my all-time favourite. James fully understood exactly what was so cool about all that. His characters looked better in any of that gear than anybody could reasonably hope to.

Bird Shit Banks immortalised by James Jarvis for a Slam City ad published in Sidewalk Magazine, April 1996
"James fully understood exactly what was so cool about all that. His characters looked better in any of that gear than anybody could reasonably hope to."
When we first started talking about this interview, I found a zine you made with Mark Gonzales. He was over for the Mo' Wax show in 1999 so did you spend a week with him in London?
One of my first tasks at Mo' Wax was getting Mark Gonzales to hand paint the remaining 900 of the first 1000 ceramic priest statues. They weighed an absolute ton and took over the entire office. We only had one week to do it so, basically, it required us staying awake for days, living in the office.
Mark liked to hear me sing 'Sun Is Shining' by Bob Marley so for two days straight I kept singing, "Sun is shining. Weather is sweet, yeah. Make you want to move your dancing feet, now. When the morning gather the rainbows, yeah. Want you to know I'm a rainbow too".
Eventually, I went out to Honest Johns Records and bought a copy. For the next few days I just had to play it on repeat. Lifting the needle and putting it back to the start of the song every 4mins and 58 seconds. We also talked a lot about Coco Santiago. If you got a priest statue that has a Coco or 'Sun Is Shining' reference on it, know that you got a special one.
What is on your immediate radar that you're excited about and can we expect to see you in the U.K. anytime soon?
I have a solo show of new work that just opened in New York. I also have some work in a group show about Mickey Mouse that has just opened in Tokyo. You can see various works on my website, safecrackers.com.
I'm planning a trip in March so I look forward to catching up with old friends and family, visiting Slam and a few old haunts, and hopefully getting introduced to some new things, places and people.
Any last words?
Basically, skateboarding is the wickedest thing and big up absolutely everyone that does it. Encourage and support others.
Big up to the Ben Raemers Foundation for all the amazing work they do; big up to Palace for continually supporting organisations that are very dear to me such as the NHS and Stephen Lawrence Foundation.
Lastly, I want to give the biggest, shout-out imaginable to the extraordinarily brave, hero skater Ignacio Echeverria. Ignacio was a lawyer and banker from Spain – see how skaters come in all shapes and sizes? Tragically, he lost his life defending others from a terrorist attack in London, in 2017. His actions saved peoples lives. People he had never met. Next time you're out skating and you land a dope trick, make it for Ignacio.
The Slam City Skates X Oliver Payne collection is available

online

and at our Brick Lane store.
---
We'd like to thank Oliver for the time he spent with us, working on this interview and his amazing board series. Thanks also to Science Vs Life for contributing questions to this piece.
Also by Jacob Sawyer: Daewon Song Interview: "It's never too late to progress and never too late to come back", Benjamin Deberdt: London / Paris / New York, LIGHTBOX: Karl Watson by Mike Blabac, Catch Up with Pontus Alv, Ode to Victoria Benches
Related: Dan 'Jagger' Ball Interview, Mark 'Fos' Foster: Dickies X Slam City Interview, Fos Interview (2013)
---