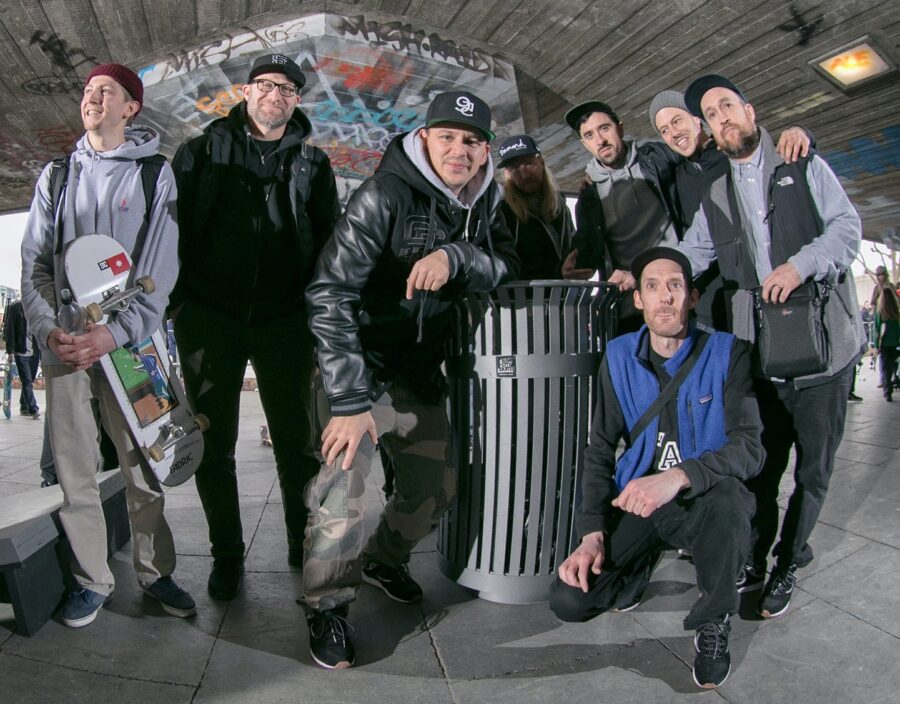 James Bush, Mike Blabac, Josh Kalis, Dave Snaddon, Jamie Hooper, Andy Willis and Jacob Sawyer at the DC x Slam City Skates Southbank kicker-to-can jam. Photography by Andrew Horsley.
A lot of ideas were thrown around whilst figuring out our DC x Slam City collaboration. We're stoked we managed to make a proposed dream spot – literally the best case scenario – a reality.
Having Josh Kalis and Mike Blabac join us was incredible enough. Recreating the iconic Love Park kicker-to-can set up, immortalised by the pair with that 360 flip, a whole different ballgame.
Despite watching it all happen, the event still seems a surreal. Andy Willis was given the exact specifications of the trash can and jacked up slab. Two weeks later, he'd created a perfect replica – even fabricated the can from scratch.
Bizzarely, Josh mentioned he'd never actually watched someone skate this set up, having been too engrossed in each session. This time he got to enjoy it go down. DC's John Shanahan blasted the inaugural ollie over the can, captured below in the first of a gallery of photographs shot by Sidewalk Magazine's Andy Horsley.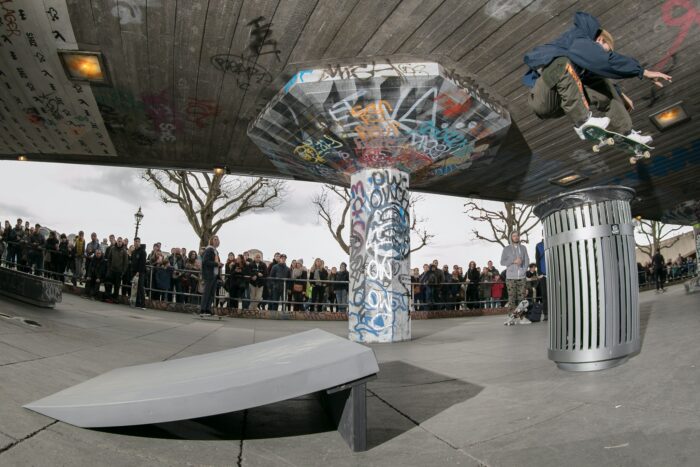 John Shanahan blasts off.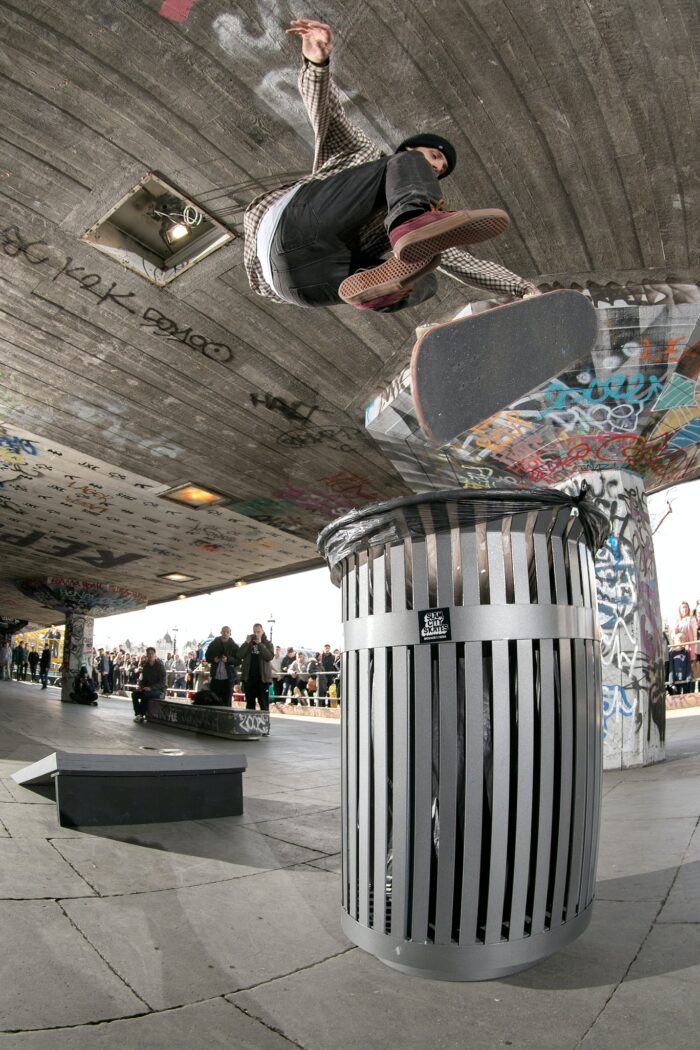 U.K. skateboarding nobility, Chris Oliver 360 flips in a knowing nod to the crown prince of Love Park. (Be rude not to, really.)
Safe to say it was well received
 Kicker and can standing tall and admired, like monkeys and the obelisk from 2001: A Space Odyssey
James Grindley has become a firm fixture at events all over the country. He has a tight bag of unusual tricks at his disposal. He did this backside flip in no time, before anyone was even down there. It was super easy for him to do again. He also hoisted a lofty a hardflip revert.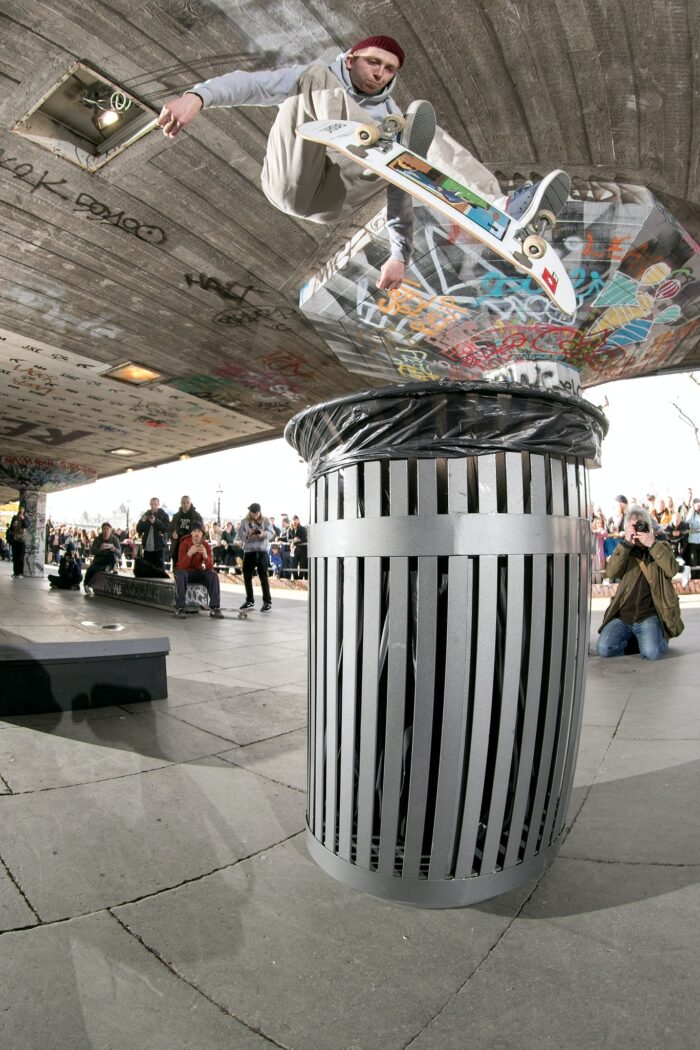 U.K. DC connect James Bush with a frontside heelflip
Another choice move for a Love Park throwback, Chris Oliver with a variel heel. The abruptness of the replica kicker left many floundering but Chris had no problem skating this awkward set up. . He also ollied this replica obstacle to manual, popping down the Southbank seven when he reached it
…and an unconventional use for the can you wouldn't see in Photosynthesis, Chrolover front boards to fakie
Slam team rider Blondey McCoy catches an impossible tailgrab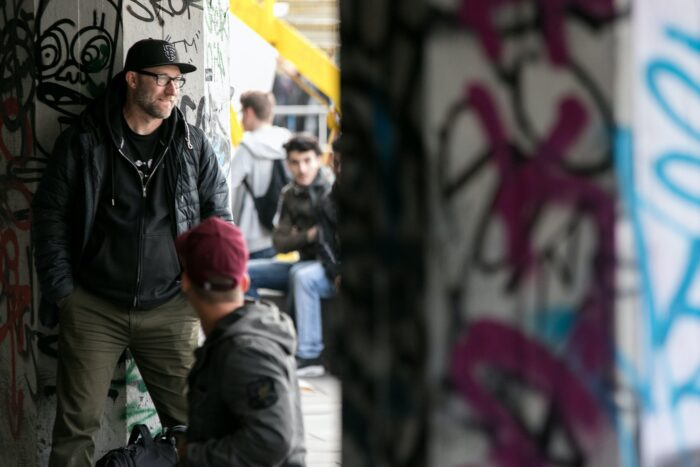 The man who had a camera in hand in the kicker-to-can's original setting, Mike Blabac (cue applause)
Josh Kalis watching it go down during our ode to a spot he helped immortalise
---
With thanks to everyone who came down to this one of a kind event, to DC for making this happen and, of course, to Josh Kalis and Mike Blabac. This was undoubtedly one of the most memorable events we've ever hosted. The DC x Slam City collection is available online and at our Covent Garden store.
The Slam City collaborations archive – 2022: Skate Shop Day 2021: Slam City Skates X Oliver Payne, Thrasher X Slam City Skates, Blast Skates X Slam City 2019: Slam City X RaD Archive, Slam City X RaD Launch Gallery, Slam City X RaD Archive – Curtis McCann by Winstan Whitter 2018: enjoi X Slam City with Ben Raemers, Gonz and Toby by Thomas Campbell and Mark Gonzales, Anti-Hero X Slam City with Raney Beres 2017: Dickies X Slam City – Fall 2017 with Tom Knox, Darius Trabalza and Neil Smith, Krooked X Slam City, DC X Slam City, DC X Slam City Southbank Gallery, DC X Slam City: Josh Kalis & Mike Blabac Interview, DC X Slam City: Josh Kalis 'Memory Screen' Remix 2016: Vans x Slam City 'Lampin Pro' & 'Native American Pro', Vans x Slam City Launch Gallery, HUF x Slam City Skates, HUF x Slam City Skates Launch Gallery, Slam City "Artists" Decks with Tod Swank, Fos, Don Pendleton and Nick Jensen, Slam City Skates X Spitfire Wheels, Dickies x Slam City Skates (Summer 2016) 2013: Vans Syndicate x Slam City, House of Billiam X Slam City, DC Kalis x Slam City 2012: Slam City x Converse CTS, Silas X Slam City Skates, Real x Slam City Skates, Slam City Skates x Spitfire Classics 2010: Emerica x Slam City "Laced", Toy Machine x Emerica x Slam City 2008: Penfield x Slam City Skates 2007: WeSC x Slam City Skates 2006: Etnies x Slam City Skates 2005: Nike SB x Slam City Dunk