Team rider Blondey McCoy takes one of the new Krooked x Slam City boards for a lap of Covent Garden whilst Gonz watches from a far.
Krooked x Slam City Skates with Blondey McCoy. Video by Mark Jackson. Music by Kit MacArthur.
We've stocked Krooked boards since Mark Gonzales started founded the company under DLX in 2002. When the first black 'Zig Zaggers' arrived at the shop, they were unlike anything available at the time. Yet Mark Gonzales' unique approach to street skateboarding has long been coupled with experimentation of of different board shapes.
All these years later, the Cruiser shape has become more common; from the secondary set-up for a lifelong skateboarders to primary plank of the more casual skateboarder.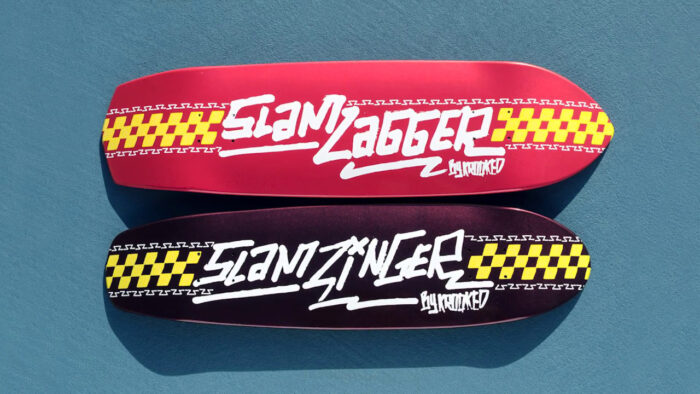 Krooked x Slam City 'Zip Zinger' (black) available in 7.62″ and 'Zip Zagger' (red) in 8.6″
Our collaboration with Krooked harkens back to those early memories of seeing the 'Zip Zinger'. Both it and big brother, the 'Zip Zagger', feature an the OG racing stripe in metallic red or black. Gonz's unmistakable lettering tops it off with our shop name incorporated alongside the shape of choice.
Slam City team rider Blondey McCoy has struck up a friendship with the Gonz after many adidas trips together, making Mark's appearance in the above video more of special. Mark Jackson helmed the camera, taking a short trip from our Covent Garden shop, and may have even informed Blondey's ender…
We hope you are as stoked on these boards as we are. The Krooked x Slam City 'Zip Zinger', 'Zip Zagger' and collaboration wheels are available from our Covent Garden store and slamcity.com
---
The Slam City collaborations archive – 2022: Skate Shop Day 2021: Slam City Skates X Oliver Payne, Thrasher X Slam City Skates, Blast Skates X Slam City 2019: Slam City X RaD Archive, Slam City X RaD Launch Gallery, Slam City X RaD Archive – Curtis McCann by Winstan Whitter 2018: enjoi X Slam City with Ben Raemers, Gonz and Toby by Thomas Campbell and Mark Gonzales, Anti-Hero X Slam City with Raney Beres 2017: Dickies X Slam City – Fall 2017 with Tom Knox, Darius Trabalza and Neil Smith, DC X Slam City, DC X Slam City Southbank Gallery, DC X Slam City: Josh Kalis & Mike Blabac Interview, DC X Slam City: Josh Kalis 'Memory Screen' Remix 2016: Vans x Slam City 'Lampin Pro' & 'Native American Pro', Vans x Slam City Launch Gallery, HUF x Slam City Skates, HUF x Slam City Skates Launch Gallery, Slam City "Artists" Decks with Tod Swank, Fos, Don Pendleton and Nick Jensen, Slam City Skates X Spitfire Wheels, Dickies x Slam City Skates (Summer 2016) 2013: Vans Syndicate x Slam City, House of Billiam X Slam City, DC Kalis x Slam City 2012: Slam City x Converse CTS, Silas X Slam City Skates, Real x Slam City Skates, Slam City Skates x Spitfire Classics 2010: Emerica x Slam City "Laced", Toy Machine x Emerica x Slam City 2008: Penfield x Slam City Skates 2007: WeSC x Slam City Skates 2006: Etnies x Slam City Skates 2005: Nike SB x Slam City Dunk