Following a collection for our 30th anniversary last year, we've teamed up again with the workwear giants for a second Dickies X Slam City capsule. Darius Trabalza, Neil Smith and special guest Tom Knox hit the streets in the new gear.
Dickies X Slam City Skates featuring Tom Knox, Darius Trabalza and Neil Smith. Video by Mark Jack featuring music from Sod & The Comic Opera.
After a great reception to our previous Slam X Dickies collection, we were excited work on another capsule with Dickies. Representing what our staff, team and locals are interested in, we fixated on one of our most popular Dickies choices again…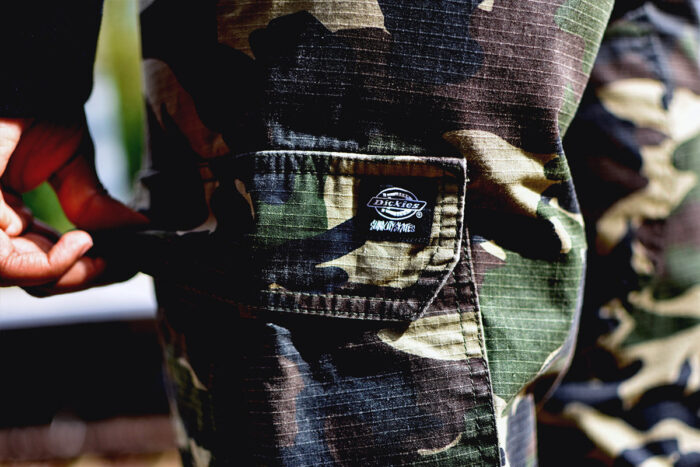 The Dickies X Slam City New York Cargo Pant in Camo.
Previously, we opted for a Dickies 874 whereas this time around we've worked the New York Cargo Pant into three colour choices. Lightweight, hard wearing and a good fit, the cargo is available in olive, black and camo and feature a subtle Dickies X Slam City branded tab.
One our oldest friends Mark 'Fos' Foster – the brains behind Heroin Skateboards, helped us tie this together. Fos worked for Slam when he started the company which has gone on to become a U.K. skateboarding institution. We're proud to see the company's reach, even expanding with an impressive State-side team, making him a fitting artist for this transatlantic partnership.


The Dickies X Slam City Skates

'Neal's Yard' t-shirt

alongside the

Martinsville Bag

. Artwork and type by Mark 'Fos' Foster.
Fos designed the custom 'Slam City Skates' typeface found across the collection. Delving further into our history, an illustration of our Neal's Yard storefront graphic appears as a back print on both t-shirts. The collection is topped off by handy Martinsville Bag again featuring Fos' custom Dickies X Slam City insignia.
---
Related: Mark 'Fos' Foster Interview, A Quick Chat With HypeBeast About The Collaboration
The Slam City collaborations archive – 2022: Skate Shop Day 2021: Slam City Skates X Oliver Payne, Thrasher X Slam City Skates, Blast Skates X Slam City 2019: Slam City X RaD Archive, Slam City X RaD Launch Gallery, Slam City X RaD Archive – Curtis McCann by Winstan Whitter 2018: enjoi X Slam City with Ben Raemers, Gonz and Toby by Thomas Campbell and Mark Gonzales, Anti-Hero X Slam City with Raney Beres 2017: Krooked X Slam City, DC X Slam City, DC X Slam City Southbank Gallery, DC X Slam City: Josh Kalis & Mike Blabac Interview, DC X Slam City: Josh Kalis 'Memory Screen' Remix 2016: Vans x Slam City 'Lampin Pro' & 'Native American Pro', Vans x Slam City Launch Gallery, HUF x Slam City Skates, HUF x Slam City Skates Launch Gallery, Slam City "Artists" Decks with Tod Swank, Fos, Don Pendleton and Nick Jensen, Slam City Skates X Spitfire Wheels, Dickies (Summer 2016) 2013: Vans Syndicate x Slam City, House of Billiam X Slam City, DC Kalis x Slam City 2012: Slam City x Converse CTS, Silas X Slam City Skates, Real x Slam City Skates, Slam City Skates x Spitfire Classics 2010: Emerica x Slam City "Laced", Toy Machine x Emerica x Slam City 2008: Penfield x Slam City Skates 2007: WeSC x Slam City Skates 2006: Etnies x Slam City Skates 2005: Nike SB x Slam City Dunk