We have teamed up with some good people to introduce a Silas x Slam City Skates capsule for spring/summer 2012. We are stoked to have had the opportunity to co-create clothing with the team over there and bring you these items ready for better weather.
The Silas X Slam City collection.
Our collection arrives with all of the new Silas clothing for this season. Skateboarding in the city was at the forefront of our minds when working on the clothing pieces for this collaboration. From a wide range of T-shirts, work shirts for layering, shorts, and the amazing Road Jacket we tried to produce something for everybody.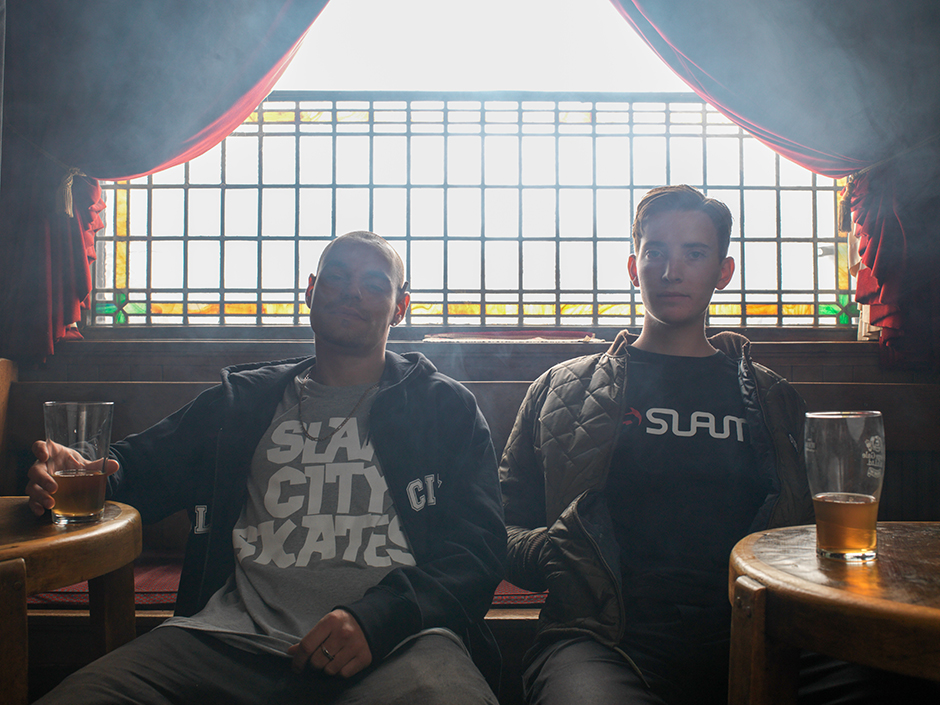 Silas x Slam City at The Cross Keys.
The Road Jacket was a pleasure to work on, we chose to make it in Black and Camouflage. This sturdy piece of outerwear is made up of a heavyweight printed cotton outer which is backed up with a plush poly lining. It is workwear inspired and will be a welcome addition to anyone's summer kit.
The collar has a belt fastening and brass snap closure buttons are used throughout the pockets and over the zip from the neck to the hem. It's basically the perfect summer jacket.
All of the T-Shirts are the Silas shape we know and love with a ringer neck and made of 100% premium cotton. The standard T-Shirts feature Silas x Slam City Skates co-branding.
Our Camo Pocket T-Shirt is available in white or navy and features a chest pocket made up of the Silas camouflage which appears on the jacket and the shorts.
The Work Shirt is available in Olive and Navy. This medium-weight overshirt is made of high-quality cotton twill. The button-down chest pockets feature subtle, tonal Slam City Skates embroidery.
Like the jacket, our collaboration shorts are available in Black or Camouflage. The shorts are made up of a medium weight cotton twill and feature button-down hip and rear pockets with a zip fly. Slam x Silas co-branding appears in contrast embroidery above the back pocket.
Team riders Karim Bakhtaoui, Nick Jensen and Patrick Jones pictured after hours wearing some Silas x Slam City garments.
---
The Slam City collaborations archive – 2022: Skate Shop Day 2021: Slam City Skates X Oliver Payne, Thrasher X Slam City Skates, Blast Skates X Slam City 2019: Slam City X RaD Archive, Slam City X RaD Launch Gallery, Slam City X RaD Archive – Curtis McCann by Winstan Whitter 2018: enjoi X Slam City with Ben Raemers, Gonz and Toby by Thomas Campbell and Mark Gonzales, Anti-Hero X Slam City with Raney Beres 2017: Dickies X Slam City – Fall 2017 with Tom Knox, Darius Trabalza and Neil Smith, Krooked X Slam City, DC X Slam City, DC X Slam City Southbank Gallery, DC X Slam City: Josh Kalis & Mike Blabac Interview, DC X Slam City: Josh Kalis 'Memory Screen' Remix 2016: Vans x Slam City 'Lampin Pro' & 'Native American Pro', Vans x Slam City Launch Gallery, HUF x Slam City Skates, HUF x Slam City Skates Launch Gallery, Slam City "Artists" Decks with Tod Swank, Fos, Don Pendleton and Nick Jensen, Slam City Skates X Spitfire Wheels, Dickies x Slam City Skates (Summer 2016) 2013: Vans Syndicate x Slam City, House of Billiam X Slam City, DC Kalis x Slam City 2012: Slam City x Converse CTS, Silas X Slam City Skates, Real x Slam City Skates, Slam City Skates x Spitfire Classics 2010: Emerica x Slam City "Laced", Toy Machine x Emerica x Slam City 2008: Penfield x Slam City Skates 2007: WeSC x Slam City Skates 2006: Etnies x Slam City Skates 2005: Nike SB x Slam City Dunk