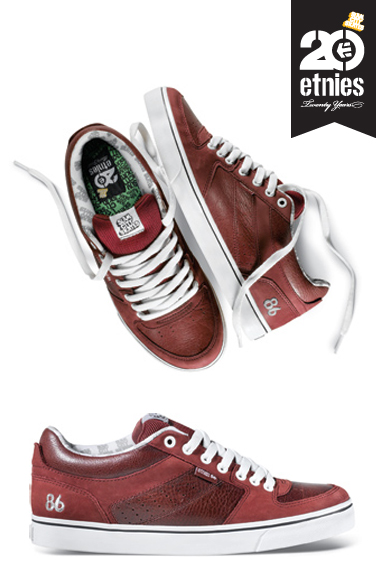 Etnies – Faction Slam Colourway
Limited Edition 300 pairs
Only available from Slam City Skates
Etnies Slam Collaboration
Celebrating 20yrs of Etnies and Slam City Skates
FACTION:
– Vulcanised construction
– Triple-stitched toe cap
– Elastic tongue-centering straps
– Padded tongue and collar
– System G2tm inserted into heel
– STI Foam cushioning footbed
– 400 NBS rubber outsole with internal EVA midsole
ADDITIONAL FEATURES:
– White metal eyelets (not on the original Faction) with 'Slam City Skates' stamped in.
– '86' logo embroidered on the heel, a nod to the classic 'Sal 23'.
– The 'etnies 86' tab on the side, which incorporates the etnies stencil logo, with the Slam '86 logo. The original Faction doesn't have a tab on the side.
The Alabama tumbled leather and premium nubuck used in the upper on this collaboration shoe are high-end materials which have never been used on the Faction before. The Etnies logo which appears on the insole is an amended version of the Etnies '20 years' logo; however the gold crown which appears on the original logo has been substituted for a gold Slam City Skates logo. The tongue logo (also repeated in bright green all over the insole and in grey on the in-sock) is the classic Slam City Skates logo.
Our vision was to bring you a high-end version of one of our favourite shoes in the Etnies range while referencing the past and our shared 20 years together. This release marks a milestone for both of us.
---
The Slam City collaborations archive – 2022: Skate Shop Day 2021: Slam City Skates X Oliver Payne, Thrasher X Slam City Skates, Blast Skates X Slam City 2019: Slam City X RaD Archive, Slam City X RaD Launch Gallery, Slam City X RaD Archive – Curtis McCann by Winstan Whitter 2018: enjoi X Slam City with Ben Raemers, Gonz and Toby by Thomas Campbell and Mark Gonzales, Anti-Hero X Slam City with Raney Beres 2017: Dickies X Slam City – Fall 2017 with Tom Knox, Darius Trabalza and Neil Smith, Krooked X Slam City, DC X Slam City, DC X Slam City Southbank Gallery, DC X Slam City: Josh Kalis & Mike Blabac Interview, DC X Slam City: Josh Kalis 'Memory Screen' Remix 2016: Vans x Slam City 'Lampin Pro' & 'Native American Pro', Vans x Slam City Launch Gallery, HUF x Slam City Skates, HUF x Slam City Skates Launch Gallery, Slam City "Artists" Decks with Tod Swank, Fos, Don Pendleton and Nick Jensen, Slam City Skates X Spitfire Wheels, Dickies x Slam City Skates (Summer 2016) 2013: Vans Syndicate x Slam City, House of Billiam X Slam City, DC Kalis x Slam City 2012: Slam City x Converse CTS, Silas X Slam City Skates, Real x Slam City Skates, Slam City Skates x Spitfire Classics 2010: Emerica x Slam City "Laced", Toy Machine x Emerica x Slam City 2008: Penfield x Slam City Skates 2007: WeSC x Slam City Skates 2006: Etnies x Slam City Skates 2005: Nike SB x Slam City Dunk