A compilation of Curtis McCann footage from the archives of Winstan Whitter and more. Ahead of his time, Curtis took pride of place for our Slam City x RaD Archive collaboration in 2019 and this mixtape was put together for the launch night.
Slam City X RaD Archive: Curtis McCann by Winstan Whitter (YouTube version here)
"Legend" is a term used liberally nowadays but Curtis McCann is bonafide. Ahead of his time, at the forefront of progression, and one of the most stylish skateboarders this country has ever produced.
When we teamed up with the RaD Archive in 2019, we celebrated his legacy with a Tim Leighton-Boyce photo of Curtis at Meanwhile 2 on one of the capsule's t-shirts. On launch night this edit by Winstan Whitter, incorporating timeless and previously unseen footage, was playing on loop. However, we recently realised we never actually got around to sharing it after the night itself…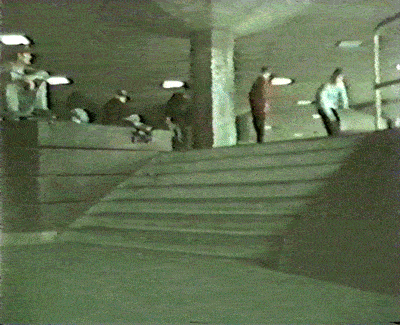 Curtis McCann on a Southbank 7 spree from Winstan Whitter's Slam City X RaD Archive edit.
This Curtis McCann footage is folklore in motion and a window into another London. His technical ability and style translated to all terrain, from nonchalant mini-ramp mastery to 180 fakie nosegrinding the Shell Centre handrail. Anyone who witnessed Curtis skate in the flesh was impacted, it was glimpse into the future.
"Skateboarding with Curtis McCann was amazing. He was so influential to me and many others within our Southbank crew," says Winstan, reminiscing. "Light years ahead at consistently landing tricks. He always pushed his boundaries and was an inventive. Curtis was tech and burly but his style made his tricks look effortless. He was incredible on a mini-ramp, good on vert, and a ridiculous street skater. Curtis is my favourite skateboarder I have had the pleasure of knowing and skateboarding with over the years. A competitive perfectionist."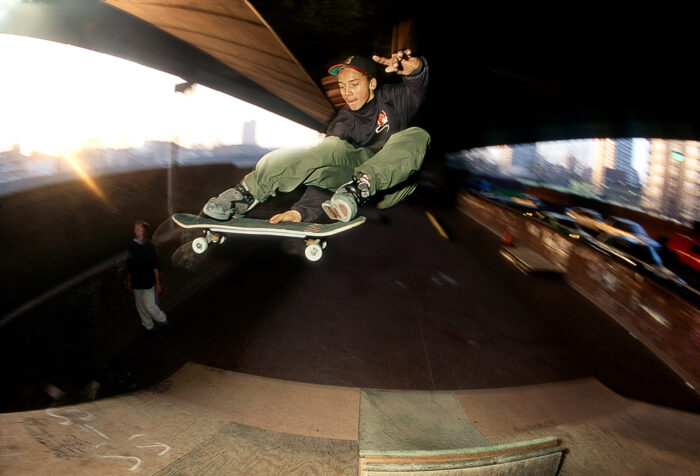 Curtis McCann at Meanwhile 2 by Tim Leighton-Boyce, featured as one of our Slam City X RaD Archive tees
Many thanks to Winstan for editing this clip and raiding the Rollin' Through The Decades archives. We know that front row seats for this time capsule, of a master at work, will brighten the day of many. The magical energy of those Ewer Street sessions is tangible and, hopefully, it has you heading to your nearest indoor part to get some yourself.
With thanks to TLB, Simon Casey, Corin Casey, Ben Wheeler for contributing footage, alongside Winstan Whitter for editing the piece. Curtis McCann's raw talent was influential and significant; cited as such in many interviews, including a few of our own. Read on below to learn more about Curtis once you're done with Winstan's retrospective…
"So many things Curtis did were decades ahead of everyone else and nobody saw any of it unless they were there. To this day, Curtis McCann is one of the best skateboarders I've ever seen in my whole life … I remember getting on Powell and calling Frank Messman, saying, "Hey. Thanks for putting me on Powell, mate. But you should really be putting Curtis on, he's way better than I am."
Curtis used to talk about tricks, then go home and think about them in bed – maybe dream about doing them. Then come out the next day and just do them. He described the process of learning exactly like that to me. We were skating a mini ramp one day and he turned up and did a back smith, 270 one-footed ollie out. That was so shocking for the time, we're talking probably 1990/'91.
Nobody did that kind of stuff and he'd do it regularly and he'd do it all first try. When you'd ask how, he'd reply, "I thought about it before I went to bed." Like, "What the fuck! You're 14! Who thinks like that?"
"[Curtis McCann] was on another level and his style was so different to anyone else's. Just unbelievably fresh. He'd done every nosebluntslide variation at Mach-10, with the best steez before, we'd even thought about it … I put him up there with Mark Gonzales, Tom Penny, Mike Carroll, etc.
"Curtis was one of the most remarkable skaters I ever photographed. He was so stylish. All I really had to do was point the camera in his direction and the picture would look great."
"Back then, the scene was way smaller and being a skater was something that was looked down upon. We were hated by most people in society. This made it special to me at the time. It was really rare to see any sponsored skaters but when I did, I'd be hyped mostly on Curtis McCann. Then a little later, Simon Evans. These guys were way ahead of their time and no one came close to what they were doing, in my eyes. Curtis looked like he was born to be on a skateboard. His style stood out above everyone else."
---
Related: Slam City X RaD Archive, Slam City X RaD Launch Gallery, Slam City X RaD Archive – Curtis McCann by Winstan Whitter
The Slam City collaborations archive – 2022: Skate Shop Day 2021: Slam City Skates X Oliver Payne, Thrasher X Slam City Skates, Blast Skates X Slam City 2018: enjoi X Slam City with Ben Raemers, Gonz and Toby by Thomas Campbell and Mark Gonzales, Anti-Hero X Slam City with Raney Beres 2017: Dickies X Slam City – Fall 2017 with Tom Knox, Darius Trabalza and Neil Smith, Krooked X Slam City, DC X Slam City, DC X Slam City Southbank Gallery, DC X Slam City: Josh Kalis & Mike Blabac Interview, DC X Slam City: Josh Kalis 'Memory Screen' Remix 2016: Vans x Slam City 'Lampin Pro' & 'Native American Pro', Vans x Slam City Launch Gallery, HUF x Slam City Skates, HUF x Slam City Skates Launch Gallery, Slam City "Artists" Decks with Tod Swank, Fos, Don Pendleton and Nick Jensen, Slam City Skates X Spitfire Wheels, Dickies x Slam City Skates (Summer 2016) 2013: Vans Syndicate x Slam City, House of Billiam X Slam City, DC Kalis x Slam City 2012: Slam City x Converse CTS, Silas X Slam City Skates, Real x Slam City Skates, Slam City Skates x Spitfire Classics 2010: Emerica x Slam City "Laced", Toy Machine x Emerica x Slam City 2008: Penfield x Slam City Skates 2007: WeSC x Slam City Skates 2006: Etnies x Slam City Skates 2005: Nike SB x Slam City Dunk