As Vans celebrate their 50th anniversary in 2016, we celebrate our 30th. The Vans x Slam City capsule draws together a joint timeline, resurrecting silhouettes from Slam's halcyon days.
 Vans x Slam City featuring David Atkinson, Oscar Oneim, Tom Tanner and Denis Lynn. Video by Mark Jackson.
With this year being our 30th anniversary as Vans celebrate their 50th, working together on a project was something we were keen to make happen. David Atkinson (featured above) worked closely with the Vans design team and we called upon Slam staff member Oscar Oneim, past mail-order aficionado, Tom Tanner and guest Vans team rider Denis Lynn as the crew to put these shoes through their paces.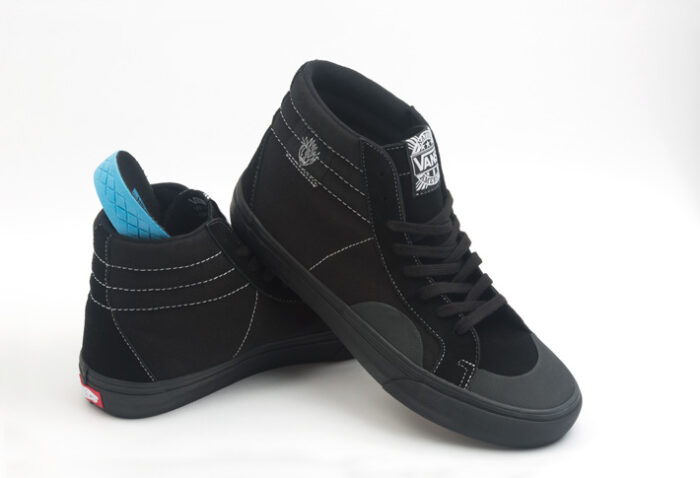 The Vans x Slam City 'Native American' Pro.
Both shoes are plucked from the Vans archives for their relevance to key moments in our history. One of the lesser seen silhouettes is the 'Native American' released in 1988 – the year our original Covent Garden shop opened.
We've been fans of the shoe for many years and the Madrid Skateboards collaboration with the flies adorning the Native's upper is etched in to our memories.
This monochromatic, Slam incarnation nods to that. The silhouette's unique shape is accentuated by white contrast sticking and subtle adorned with Savage Pencil's 'Flamehead' logo. Edwin Pouncey's artwork is heavily intertwined with our early days and used fondly on both shoes.
The Vans x Slam City 'Lampin' Pro.
The Lampin was released in 1993. For many of us, this period is golden for many different reasons with the era's soundtrack and visuals bound to our souls.
The Lampin was well loved but it's inclusion in the Vans line short lived. We brought it back in a Marshmallow/White colourway and with the 'Flamehead' appearing again on the inside heel.
Both the Native American and Lampin have been updated with current Vans technology, making them better than they ever were. For the first time, these shoes feature Duracap underlays to extend their life span and Ultracush footbeds for increased support and cushioning.
Slam City Skates Ad from RaD Magazine, June 1989.
Finishing touches which celebrate our history are the inclusion of Tod Swank's text which appeared on a Slam advert in 1989. Tod has been a good friend to Slam over the years and recently designed a board for us. His text about the store appears on the insoles and on the box of both models.
We are stoked to have worked on shoes with Vans once again and to celebrate our anniversary this way. Both models are available tomorrow morning at 9am here.
---
Check out the Launch Gallery for the collaboration here.
The Slam City collaborations archive – 2022: Skate Shop Day 2021: Slam City Skates X Oliver Payne, Thrasher X Slam City Skates, Blast Skates X Slam City 2019: Slam City X RaD Archive, Slam City X RaD Launch Gallery, Slam City X RaD Archive – Curtis McCann by Winstan Whitter 2018: enjoi X Slam City with Ben Raemers, Gonz and Toby by Thomas Campbell and Mark Gonzales, Anti-Hero X Slam City with Raney Beres 2017: Dickies X Slam City – Fall 2017 with Tom Knox, Darius Trabalza and Neil Smith, Krooked X Slam City, DC X Slam City, DC X Slam City Southbank Gallery, DC X Slam City: Josh Kalis & Mike Blabac Interview, DC X Slam City: Josh Kalis 'Memory Screen' Remix 2016: Vans x Slam City 'Lampin Pro' & 'Native American Pro', HUF x Slam City Skates, HUF x Slam City Skates Launch Gallery, Slam City "Artists" Decks with Tod Swank, Fos, Don Pendleton and Nick Jensen, Slam City Skates X Spitfire Wheels, Dickies x Slam City Skates (Summer 2016) 2013: Vans Syndicate x Slam City, House of Billiam X Slam City, DC Kalis x Slam City 2012: Slam City x Converse CTS, Silas X Slam City Skates, Real x Slam City Skates, Slam City Skates x Spitfire Classics 2010: Emerica x Slam City "Laced", Toy Machine x Emerica x Slam City 2008: Penfield x Slam City Skates 2007: WeSC x Slam City Skates 2006: Etnies x Slam City Skates 2005: Nike SB x Slam City Dunk