The Nike SB x Slam City Dunk is now available featuring a reinforced toe, scratch-off Swoosh and map to Southbank from the shop.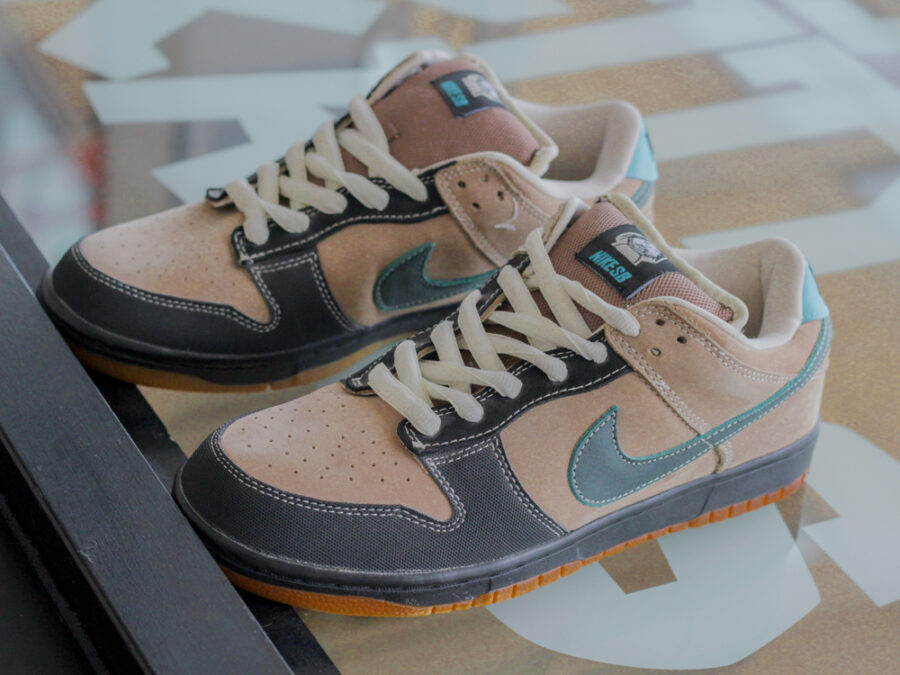 The Nike SB X Slam City Dunk Low
With input from the whole of our shop family, we're proud to present the Nike SB x Slam City Dunk.
With a desire to make a Dunk by and large for skateboarders specifically, we've added a rubber toe cap for durability. As black Swoosh is roughed, it reveals a teal colour beneath. This is our nod the notion of skate shoes' destiny to become beat up. (And our longstanding, "do a kickflip and get a fiver back" offer on Nike purchases.) The silhouette sits ontop of a gum rubber sole for grip and board feel that's second to none and timeless in appearance. Simon True's Jesus character lives on the tongue however the golden detailing of the shoe lives inside. The left insole features maps to Stockwell and Meanwhile Gardens. A map to Southbank from Slam appears on the right insole, drawn up by shop manager, Chris Pulman. We've explained this seven-minute skate so many times that it had immortalised on such an important project.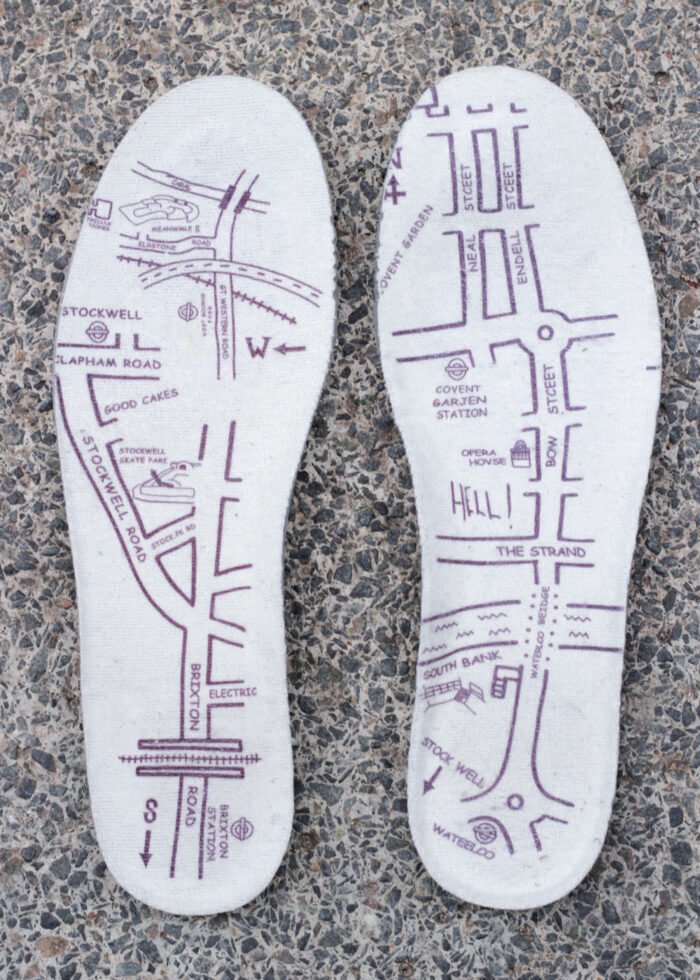 From Endell Street to Southbank, insole detailing on the Nike SB X Slam City Dunk. artwork: Chris Pulman
Receiving the long-awaited delivery of pink boxes, the shoes launched in-store to a busy queue Saturday morning. To reward the faithful, the first hundred pairs came as part of a limited pack consisting of the shoes, a badge, stickers, and a one-off Simon True 'Jesus' t-Shirt in teal, presented in a Slam City Skates tote bag.

The Nike SB x Slam City Dunk limited edition pack. Image courtesy of Sneaker Freaker Magazine and added here retrospectively.
We wanted to make this shoe a reality way back, when we received our very first Nike SB delivery in 2002. We were already fans of how the Dunk performed even before Sandy Bodecker launched Nike's skateboarding division with Gino Iannucci, Richard Mulder, Reese Forbes and Danny Supa in tow.
When Nike SB integrated a padded tongue and collar to this basketball mainstay, coupled with a Zoom Air insole, many of us fell in love with it as a skate shoe of choice. We realised early on that a "Slam Dunk" had to happen – the collaboration had already named itself.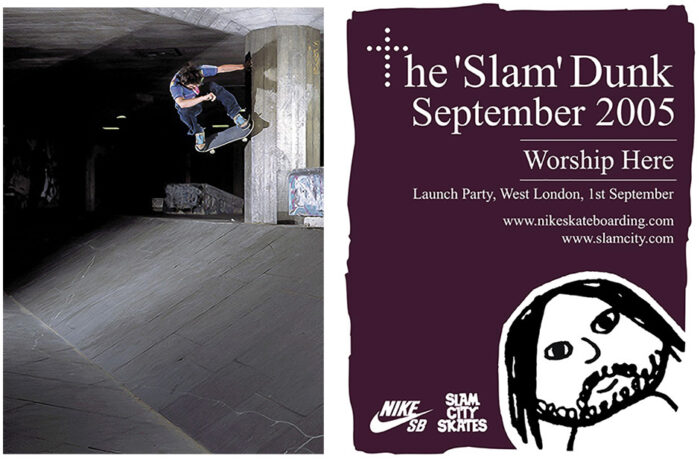 Charlie Young follows the insoles to Southbank for a wallride nollie out, photo: Sam Ashley
Slam team rider Charlie Young was the first person to reveal the teal. Before anyone had even seen the shoes, he'd taken a pair on their maiden voyage from Southbank. (See above treating Sam Ashley's lens to a lofty wallride nollie out.)
Our private launch took place on September first and saw free booze, frivolity, and music courtesy of The Smyths. (Morrissey was either unavailable or had qualms that we'd made a Dunk with a predominantly suede upper, take your pick…) Regardless, their gladioli-wielding frontman killed it and the small Sheperd's Bush venue made the whole experience as close to seeing The Smiths, back in the day, as you can get.
For those of you questing for these shoes, we hope you managed to get a pair. With thanks to Nike SB and Seb Palmer for making our vision tangible. We are hyped, and proud to be a part of the Swoosh's story.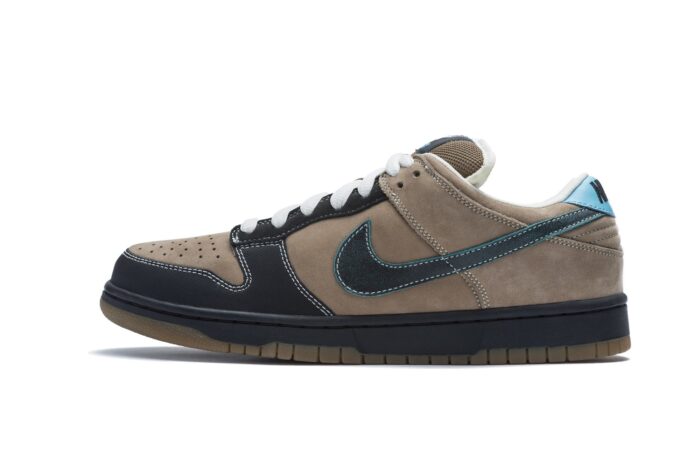 The Nike SB x Slam City Skates Dunk, courtesy of the Nike SB Vault.
---
The Slam City collaborations archive – 2022: Skate Shop Day 2021: Slam City Skates X Oliver Payne, Thrasher X Slam City Skates, Blast Skates X Slam City 2019: Slam City X RaD Archive, Slam City X RaD Launch Gallery, Slam City X RaD Archive – Curtis McCann by Winstan Whitter 2018: enjoi X Slam City with Ben Raemers, Gonz and Toby by Thomas Campbell and Mark Gonzales, Anti-Hero X Slam City with Raney Beres 2017: Dickies X Slam City – Fall 2017 with Tom Knox, Darius Trabalza and Neil Smith, Krooked X Slam City, DC X Slam City, DC X Slam City Southbank Gallery, DC X Slam City: Josh Kalis & Mike Blabac Interview, DC X Slam City: Josh Kalis 'Memory Screen' Remix 2016: Vans x Slam City 'Lampin Pro' & 'Native American Pro', Vans x Slam City Launch Gallery, HUF x Slam City Skates, HUF x Slam City Skates Launch Gallery, Slam City "Artists" Decks with Tod Swank, Fos, Don Pendleton and Nick Jensen, Slam City Skates X Spitfire Wheels, Dickies x Slam City Skates (Summer 2016) 2013: Vans Syndicate x Slam City, House of Billiam X Slam City, DC Kalis x Slam City 2012: Slam City x Converse CTS, Silas X Slam City Skates, Real x Slam City Skates, Slam City Skates x Spitfire Classics 2010: Emerica x Slam City "Laced", Toy Machine x Emerica x Slam City 2008: Penfield x Slam City Skates 2007: WeSC x Slam City Skates 2006: Etnies x Slam City Skates 2005: Nike SB x Slam City Dunk