With Josh Kalis a lifelong, we're proud to present the DC x Slam City Skates collection lead by colourway of the Kalis Lite Slim.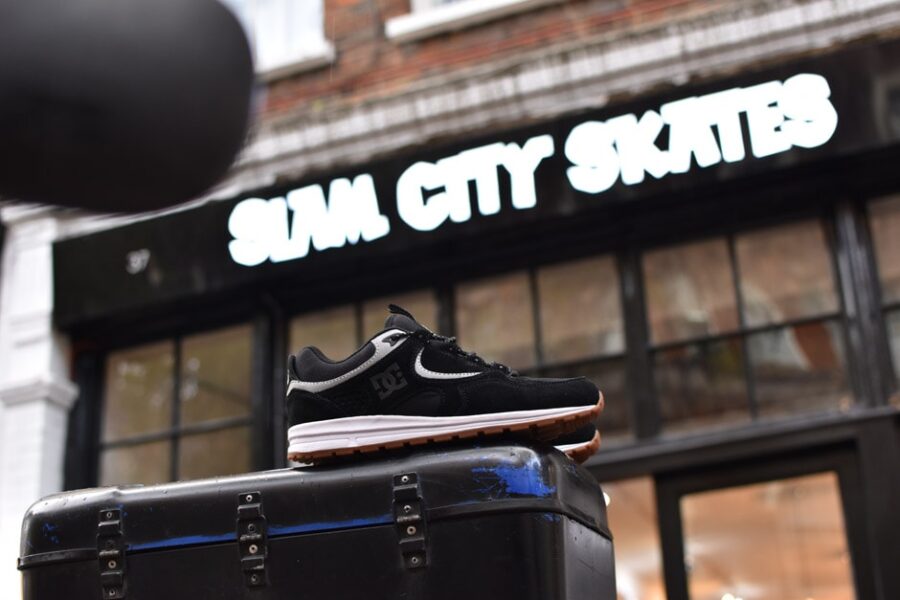 The DC x Slam City Kalis Lite Slim outside our Covent Garden Store. Lookbook photography by Jacob Sawyer
When we first began discussing a collaboration with DC, there was no doubt we wanted to work with Josh Kalis once again. His back catalogue of footage is synonymous with DC and resonates with generations of our staff and team.
The Kalis Lite Slim is a new silhouette engineered with 1990s DNA. Our take on it for the DC x Slam City colourway consists of a suede upper with Slam detailing on the tongue and an embroidered '86' on the heel. DC's classic pill pattern tread provides additional grip on a scaled back sole for board feel. The shoe is finished off with 3M accents and feature a classic DC Gillie lacing system.
Accompanying the DC x Slam City Kalis Lite Slam is a clothing collection. The capsule takes cues from the shoe with a windbreaker, longsleeve t-shirt, backpack and strap cap. The following photos where taken within a one mile radius of the shop. The collection is our little piece of Love Park in Covent Garden.
The DC X Slam City collection is are available Friday 3rd March at 9am in-store and at slamcity.com. We're hosting the first of our 'Spread The Love' events the same evening with a photo show curated by Mike Blabac. The following day, join us at Southbank from 2pm for a bump to can session hosted by Josh Kalis.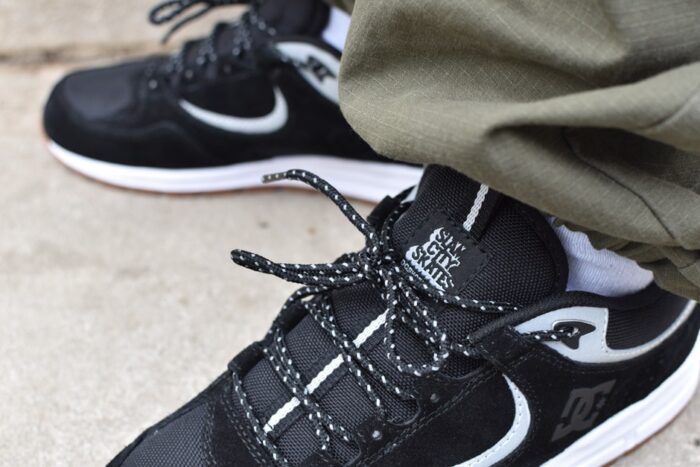 Close up with the DC x Slam City Kalis Lite Slim


3M detailing throughout the DC x Slam City Kalis Lite Slim alongside the shop's birthdate of 1986 on the heels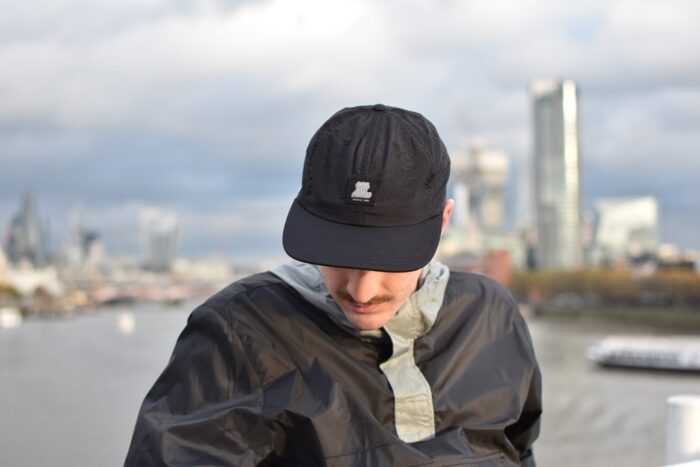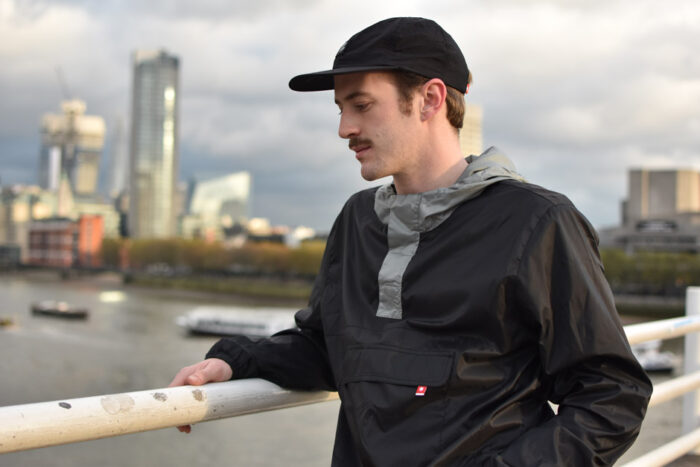 The DC x Slam City Strap Cap and Windbreaker
The capsules longsleeve t-shirt features DC's multi-weight Helvetica wordmark on the sleeve a Slam logo on the left breast.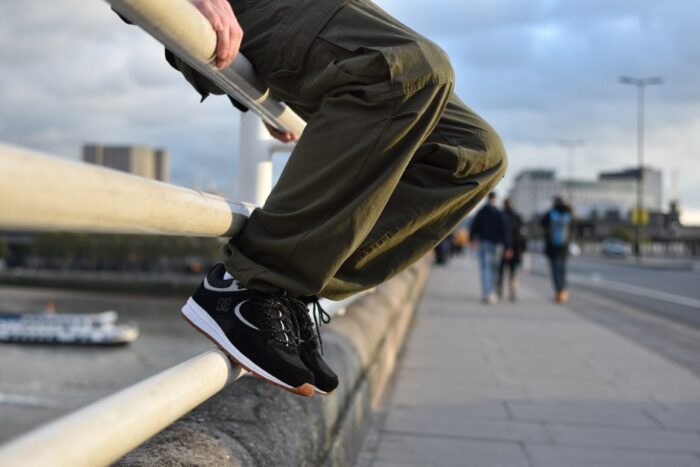 The DC x Slam City Kalis Lite Slim a stone's throw from Southbank. Join us on Saturday 4th March for our 'Spread The Love' event with Josh Kalis and Mike Blabac.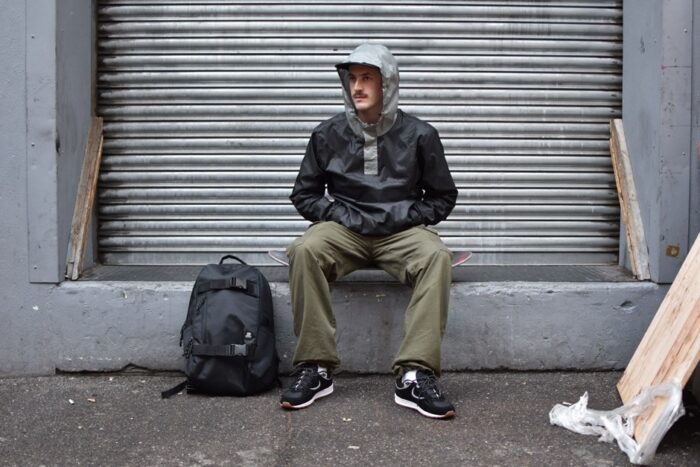 Head to toe on the with collaboration collection.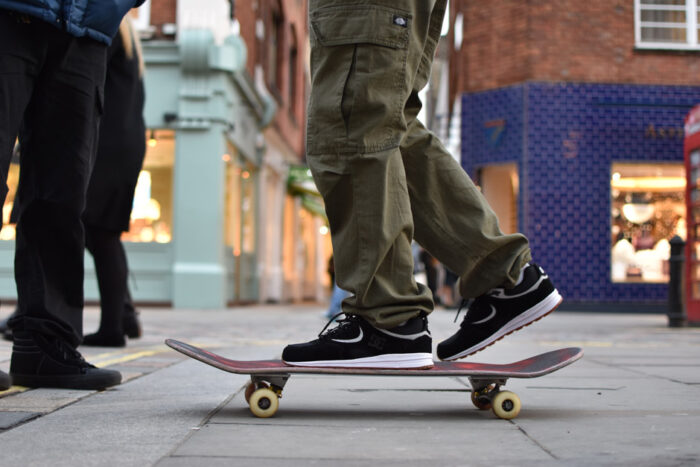 Kalis' new shoe well pairs well with the Dickies New York Cargo Pant.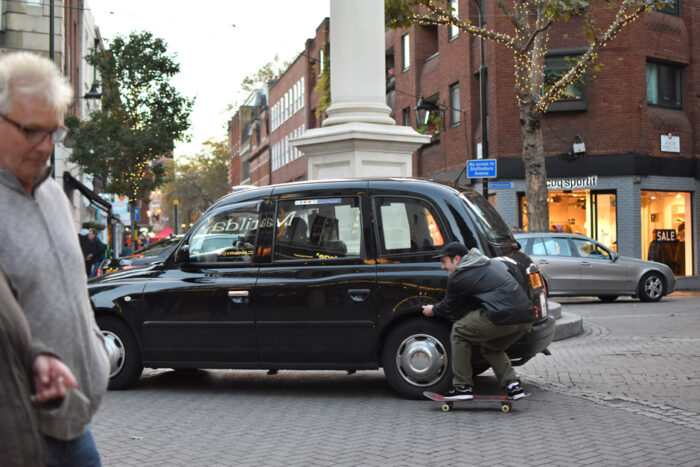 The only cheap taxi ride you'll get in central London…
DC X Slam City Kalis Lite Slim available 3rd March 2017
---
Related: Kicker to Can Southbank Gallery, Josh Kalis & Mike Blabac Interview, Josh Kalis 'Memory Screen' Remix
The Slam City collaborations archive – 2022: Skate Shop Day 2021: Slam City Skates X Oliver Payne, Thrasher X Slam City Skates, Blast Skates X Slam City 2019: Slam City X RaD Archive, Slam City X RaD Launch Gallery, Slam City X RaD Archive – Curtis McCann by Winstan Whitter 2018: enjoi X Slam City with Ben Raemers, Gonz and Toby by Thomas Campbell and Mark Gonzales, Anti-Hero X Slam City with Raney Beres 2017: Dickies X Slam City – Fall 2017 with Tom Knox, Darius Trabalza and Neil Smith, Krooked X Slam City 2016: Vans x Slam City 'Lampin Pro' & 'Native American Pro', Vans x Slam City Launch Gallery, HUF x Slam City Skates, HUF x Slam City Skates Launch Gallery, Slam City "Artists" Decks with Tod Swank, Fos, Don Pendleton and Nick Jensen, Slam City Skates X Spitfire Wheels, Dickies x Slam City Skates (Summer 2016) 2013: Vans Syndicate x Slam City, House of Billiam X Slam City, DC Kalis x Slam City 2012: Slam City x Converse CTS, Silas X Slam City Skates, Real x Slam City Skates, Slam City Skates x Spitfire Classics 2010: Emerica x Slam City "Laced", Toy Machine x Emerica x Slam City 2008: Penfield x Slam City Skates 2007: WeSC x Slam City Skates 2006: Etnies x Slam City Skates 2005: Nike SB x Slam City Dunk