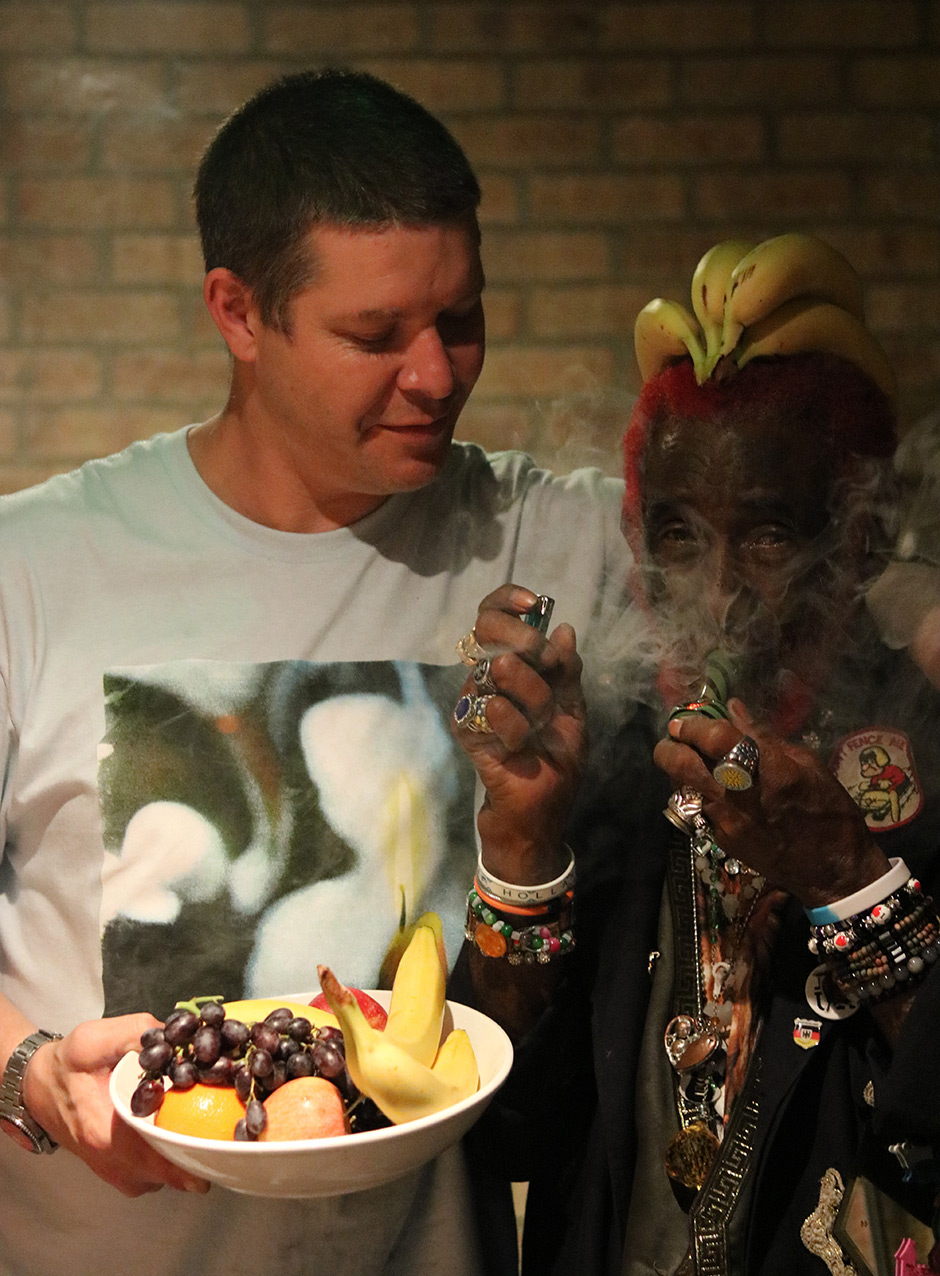 Jagger & Lee "Scratch" Perry. Photo: George Stewart Lockhart
The following interview was conducted via email, one question at a time, over the period of a few months stretching back into 2019. The logic behind this method was to recreate a conversation between four adult men with children and full time occupations that are all still totally obsessed with skateboarding culture.
Asking one question at a time allowed the four participants, (Daniel 'Jagger' Ball, myself, Jacob Sawyer and Oliver Payne) to reflect on each response and ask additional questions so as to approximate the level of detail we would have got if the very same conversation had been held in the pub.
What you're about to read is one of the most dense and rich interviews that I've ever had the pleasure to be involved in.
Jagger's life-time of experience has taken many turns over the period discussed and as such, whether you know him personally or not, there ought to be plenty to digest here.
We had planned to release this months ago but circumstances intervened numerous times, leaving the unfinished piece languishing in our collective inboxes until the global pandemic that we're currently living through pressed 'pause' long enough for us to finally get it finished.
I would like to thank Jagger personally for this opportunity to mine his brain for the many gems that lie within, and also to Oliver and Jacob for their invaluable assistance in making this happen.
All that remains to be said is this: we are all in this together and right now, any distraction from the chaos outside should be welcomed with open arms. As such, I'm extremely grateful for the opportunity to hopefully brighten up your day with this colossal interview focusing on one of the nicest people you could hope to meet.
Be kind to each other. Be sensible and most of all – take care.
See you on the other side.

Interview by Ben Powell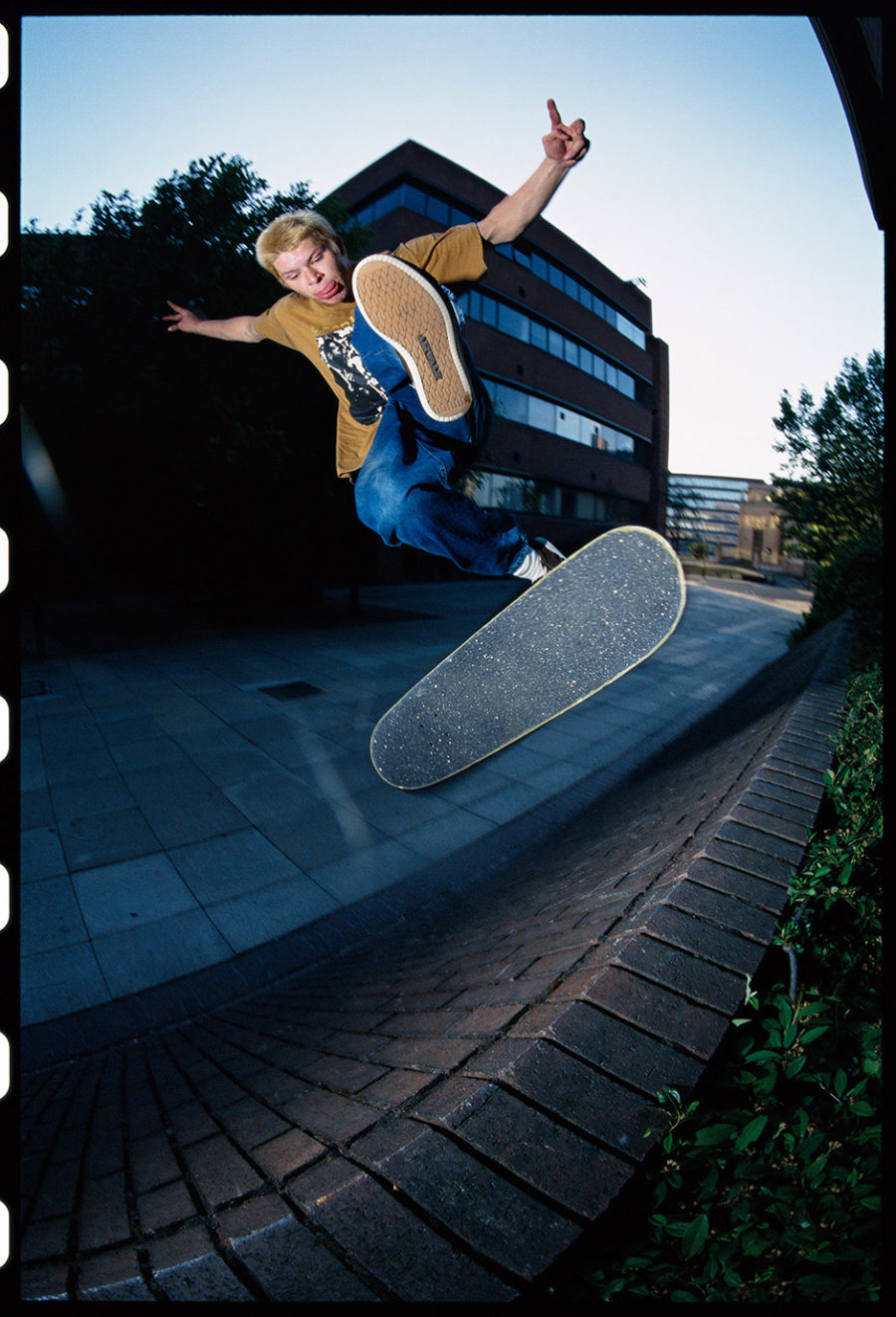 Jagger 360 Flips in Wolverhampton. Photo: Wig Worland
So to begin – a lot of people associate you with Birmingham Jagger, but you're originally from Wolverhampton. There's a very distinct cultural difference between the two places – can you explain the difference between a Brummy and a Wulfrunian to the uninitiated?
Well Wolves is in the Black Country- Brummies call us Yam Yams, but Wolves is a very big town, it's big enough to be a city in itself. I never really thought of it as the Black Country myself as it had its own kind of vibe from the rest of the Black Country, which is a bit more 'rural' shall we say. It's quite similar to Brum in a lot of ways, very diverse, rough, and no nonsense.
As soon as I was out and about skating I was on the train to Brum: to me it's a bit like being from Croydon and going into central London, the train takes 15/20 minutes. I was also going into Brum to listen to music and go to clubs from a very young age so to me I never felt like Brum was very far away or much different to Wolves
I'm assuming that your first introduction was possibly connected to the infamous Wolverhampton Civic skate spot. Is that where you first saw skaters? What era was this in?
Civic was definitely in the picture early on but it was more just local streets and my school which had some banks in the car park at first. This must be 85ish. I'd been into BMX and it was that time when the transition was happening with BMX Action Bike covering a bit of skating.
What kind of a scene was there in Wolves and Brum at the point when you first got interested in skateboarding?
There was a kid I grew up with called James who got a Variflex complete; that was the first time I'd seen a big wide wooden board with graphics, as opposed to the small seventies plastic boards.
I was blown away. Then I remember seeing Benny walk by my house and he had a Kryptonics board. I remember hearing about the first Bones Brigade video but no one ever got a copy.
I remember James had a Thrasher mag, and then Future Primitive came out and he got a copy of that, that was it then. Tommy G's section had us very excited. All the while BMX Action Bike was covering more and more skating and I ended up getting a Variflex Ramp Rat complete, proper dogshit board. That set up was run over by a Ford Capri when I failed to make an ollie up a curb, luckily it was when my dad was visiting me for my birthday the next day, and I managed to persuade him and my mom to get me a deck for my birthday. Vision Gator.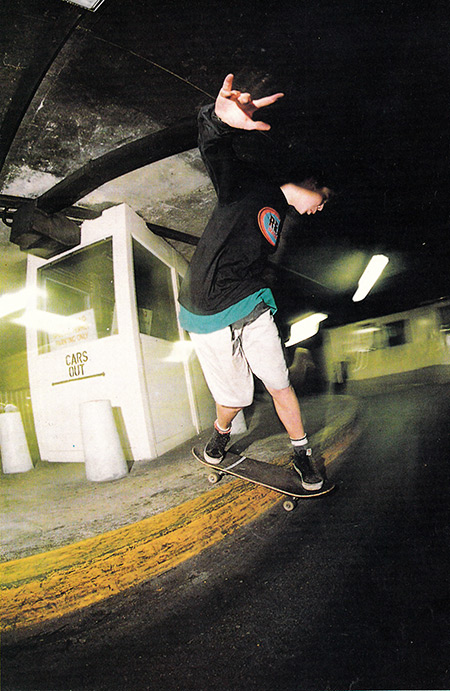 The only place to get proper stuff was Stechford (Sketchford) Skates, run by the legend Gog. That was on the other side of Birmingham near to where the (Birmingham) Wheels Park was. Going there was our first introduction to the Brum skate scene. Those guys were all way older and looked like the Alva/Zorlac team.
I vividly remember Justin in his leather jacket with Indy crosses painted on the shoulders giving me so much shit for wanting the orange Gullwings rather than Indys. We were total grommets and the older Brum guys seemed really gnarly and advanced. This was when I would have first visited Birmingham Wheels after visiting Sketchford. Wheels had a vert ramp and a proper scene with guys like Chris Harris and Jim the Skin who were bona fide vert rippers. Magnum (Chris Harris) was like a god to me at this time. He could do proper big backside airs and we were in awe of those guys and that scene.
I guess around this time Yah Dude Skates opened in Brum city centre in Oasis, which was this indoor market place, Public Domain came out and we were all very gassed on that and skating Brum city streets more.
From then on me and Benny were on missions every weekend and probably skating Wolves during the week, Civic sessions at night. I used to stay at his one Friday then him at mine the next week and we'd be going somewhere every weekend and maybe staying in Brum Saturday night.
This is back in the halcyon days before the change in Sunday Trading laws where the entire city basically belonged to skateboarders once a week – where were the hotspots and who were the people leading the charge at this point?
Oh man. No Sunday shopping, what a blessing. Brum city centre was seriously amazing then. The Brutalist architecture of Central Library and The Bull Ring was designed with cars above ground and pedestrians underneath so there was lots of indoor spots when it was raining and skaters would come from all over the surrounding areas so there was a serious amount of kids there on Sundays. Central Library was the meet up spot, Monument Banks, then Aston Banks, which was an incredible spot looking back. We were just left to it. Us and the tramps.
I can't remember getting kicked out of spots very much back then. This was when street skating started to really advance and there were a few serious rippers around. The main one that comes to mind is Rich Holland, not Side Effects of Urethane/Badger Rich Holland who was also amazing but an older-from-Worcester-Rich Holland. He is the first guy I saw boardslide a bench, first to ollie into a grab off jump ramps rather than early grab – he was really ahead of his time for back then. As things progressed there were lots of rippers coming up.
If my memory serves me right, your first published photo in a magazine was a nose stall to fakie at Birmingham Wheels – how important was that place to you as a youth? Indoor parks with good tranny were thin on the ground at that point so it must've attracted some pretty heavy sessions from anybody skating in the UK at that point. Do you have fond memories of the place?
Birmingham Wheels was everything to us then, a converted rubbish dump in Bordesley Green next to the Birmingham City ground. At first it was just a vert ramp but progressed to a street area and then the indoor mini bowl in an old factory building called Dickers.
The advent of the mini ramp was a big thing for our generation, we were skating street and dabbling with getting padded up to skate vert, which was fun but terrifying and quite serious with all the gear and the scene/getting heckled etc – that division between vert and street was starting to happen and mini ramps meant you could skate ramps without all the gear and feel like a street skater still.
We all started to progress and get accepted by the older crew. We would go to Wheels and session Dickers every Wednesday night, have a curry on the ramp and then go the Pot Of Beer Pub afterwards and were at Wheels every weekend without fail. Yeah that pic was my first one, nose stall lol. I remember a bunch of Londoners coming up that day- Will Bankhead was there. Stampy ran the shop there with Zip and Chris and it was a proper rad scene.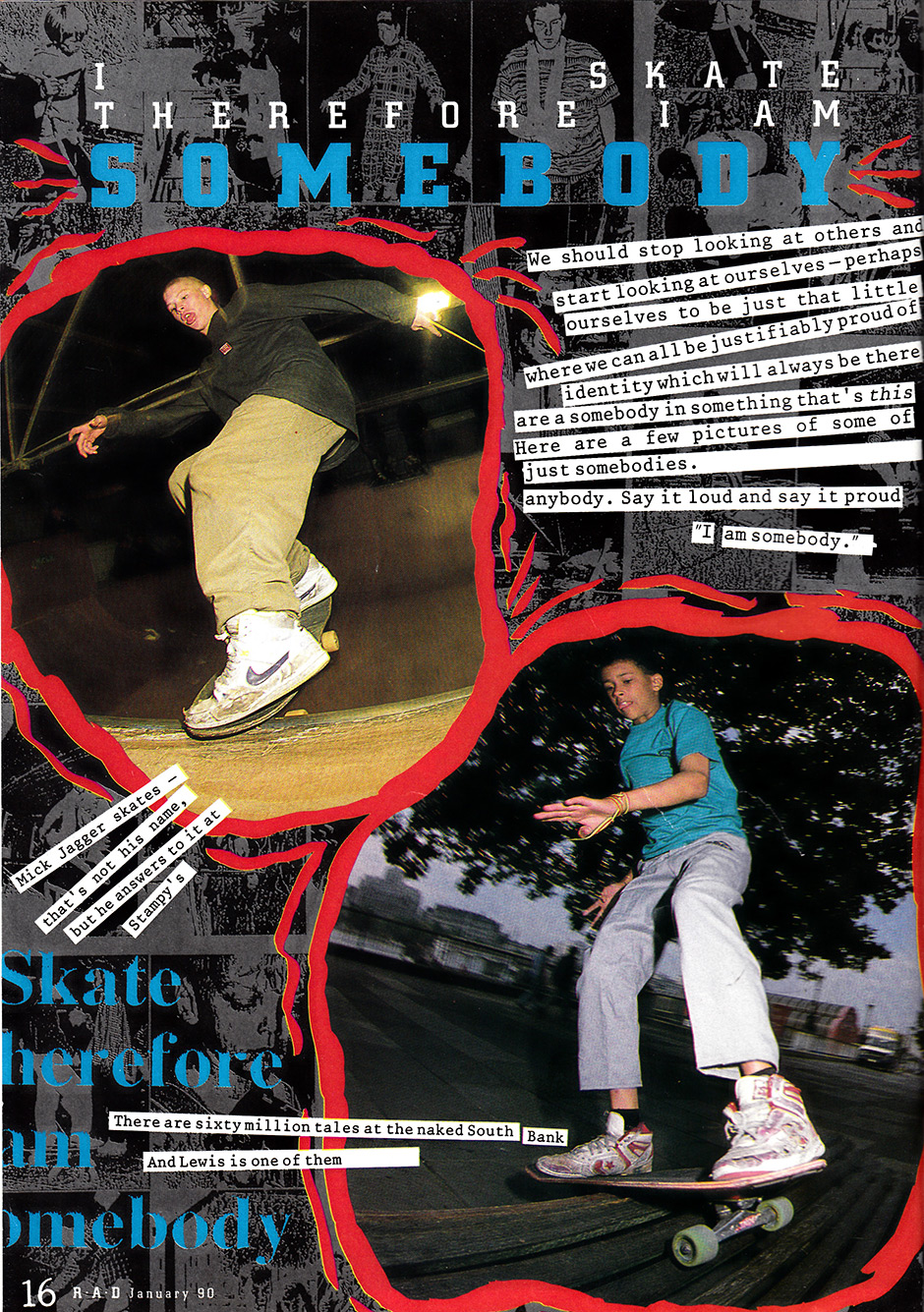 Jagger nose stalls in Birmingham next to a Lewis Goodyear Southbank boardslide. photo: TLB
It had some heavy visitations back then too – Dressen, Alva team, Powell crew – which skateboarding luminaries were you privileged to witness back then? Who blew your mind as a youth?
The first pros I ever saw was a demo with Bill Danforth, Jeff Hartsell, John Thomas and Eric Dressen. Eric absolutely blew our tiny minds that day. I've spoken to him quite recently about it and he said it was one of his most memorable demos, which was rad. What a ledge.
Then there was a Powell demo with Lance and Cab etc (see below), but the real life changer was Gonz. He was still on Vision but had Blind written on his helmet, so I'm saying it must have been summer 89.
I've never since been so amazed at someone's skateboarding as I was that day. It was like he was from another planet – not just the tricks he was doing, but his stance and lightness of touch – how his whole sensibility came through in his skateboarding. I think that day totally altered how I perceived skating – like it became this creatively limitless thing if that doesn't sound too wanky.
I've never since been so amazed at someone's skateboarding as I was that day. It was like he was from another planet – not just the tricks he was doing, but his stance and lightness of touch – how his whole sensibility came through in his skateboarding
I was fanning out on him so badly and asked him to do a stalefish on the ramp. He said something along the lines of how he, 'wasn't a performing monkey', quite rightly, and I was absolutely crushed. Then a few minutes later he did the sickest Gonzed out stalefish right in my face – happy days.
Was it during this era that your nickname 'Jagger' was first coined? What's the back story there? Are you surprised that it stuck with you?
Yeah it was my concentrating face when I was skating – Gog used to heckle me with " lips of a Jagger " while I was taking my runs and it just stuck. Then when I had a few pics in the mags it was always 'Jagger' and that perpetuated it. Later on when I moved to Chicago I made an effort to just be called Dan, so no one in Chicago knows me as Jagger really which is funny, they called me English Dan there.
Right then – you mentioned above about how you started going out to clubs in Birmingham early on and those people who know you will be fully aware that your twin passions of skateboarding and music are very much intertwined. Can you tell us a little about how you came to be going out at a young age like that, where it was you were going to and what kinds of music you were being exposed to?
Well I was born in 72 which put me perfectly in the frame of hip hop's emergence in the mid-late eighties, but I was always kind of transfixed by music from an early age. I remember playing my nan's seven-inch singles when I was very young, maybe 7 or 8 and playing Hound Dog by Elvis over and over again. I was always strongly taken by it.
We had a little breakdance crew and would travel around to battles etc. Goldie was a total local hero to me, he was already going to NY and doing all kinds of stuff with his graf which made Wolves feel like a pretty happening place at the time.
Around 87 onwards I started going out in Birmingham more. Birmingham had an incredible club scene in the eighties and the crowd/music was a mish mash of the remnants of the punk/post punk/new romantic scene and hip hop/rare groove/James Brown/JB's and reggae, that scene was a pre-cursor to the house/rave explosion in the late 80's/1990. When the clubs closed at 2am everyone would go to a blues/shebeen run by Jamaicans in their houses/flats. I have very fond memories of Brum and Wolves at this time.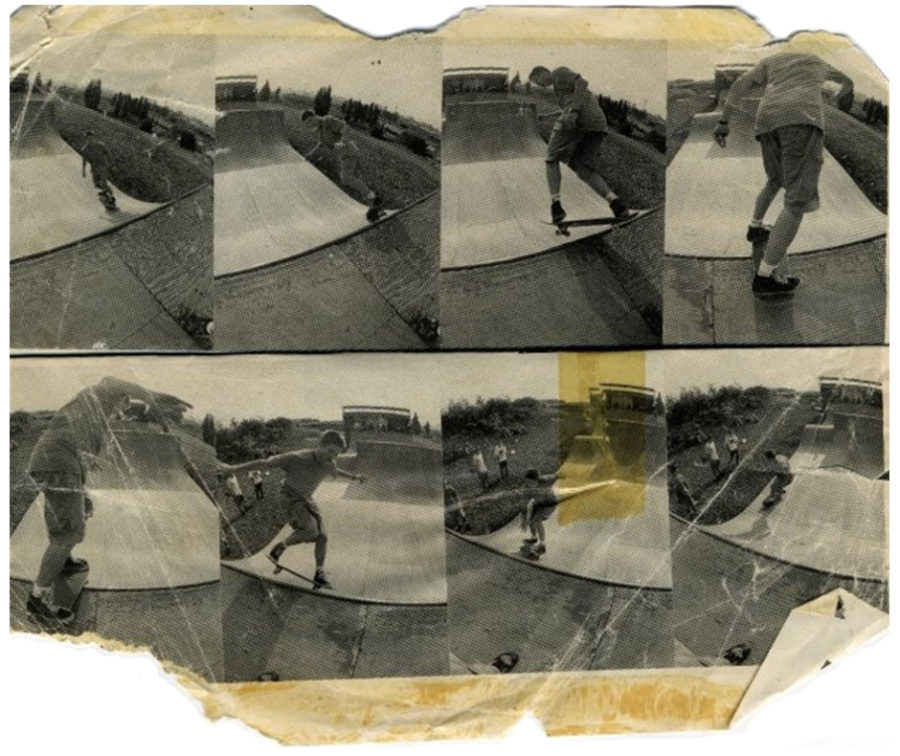 Different type of Dizzy foot work. Back Lip Revert cut from Skateboard mag. Photo:Meany
I can't let mention of you being a member of a Breakdance crew pass without further questions – did the crew have a name?
Ha – 'Dizzy Foot Work' was the name of the initial squad, but I was just a little junior. There were two big crews in Wolves – the B Boys who were Goldie's crew and were top of the food chain. Birdie from the B Boys was the best. They were incredible. Then there was the Inter City Playboys, who I was really aspiring to join but it never happened. There was a Caribbean community centre called the Culture Centre – under St Peters Church where they would have big reggae dances.
They would give us a side room that we'd put lino in and do our thing. My friend Clinton was in the ICP and was this crazy prodigy – just an incredible gymnast/athlete, so I would tag along with him and just watch.
They'd also have battles at children's homes that people would travel to. This only lasted a few years I suppose and from then on was more into going to clubs and dancing.
You've mentioned to me that both of these passions inform your appreciation of the other – can you explain that a little for us please?
I've always found skateboarding more enjoyable when I do other things and then come back to it, rather than it being your whole social circle all the time. I think things were naturally a bit more like that back then anyway, but I've always kind of maintained that as I grew older
So you're 15/16 going to clubs and after-hours Jamaican parties in Brum – I'm assuming that it's safe to say this definitely opened your eyes and mind to Jamaican culture and the music scene in particular which is still very much a passion of yours today. That must have been a formative experience and a half at such a young age…
Looking back it really, really was, but you're not conscious of it like that at the time like that. It wasn't like " I'm into reggae " that was just all that was on after 2am. I was much more obsessed with hip hop and whatever else was the thing at the time, I always loved reggae and bought a few LP's like Steel Pulse and things that were big or crossed over a bit – but it's only been the last 15/20 years or so that I've really explored it and found that it's my real true love in music. It has really helped me deal with not being able to skate these last ten years or so.
Besides the US skaters you mentioned seeing at Wheels, Brum also saw a pretty heavy (especially for the time) turn out for an event at the Brum NEC back in 1989. I remember watching this live on telly and I couldn't believe what I was seeing. Neil Blender nollieing over spines before noses on boards existed (never mind nollies), Jim Thiebaud ripping around etc – were you there for that one Jagger? If so, what can you remember about it?
Yeah that was an amazing one. Seeing Jim T and Blender was great, I was also very psyched on Steve Claar who was with Blender. Dreamy backside fastplants. Also Davie Phillip. I vividly remember skating the vert ramp when it had quietened down later on and Lucien Hendricks heckling me saying I wanted to be Gonz, which I absolutely did. I was horrified though. I had a laugh about it with Lucien a while back – we're pals now and his son Akin is a great young skater.
Also – alongside your exploration of clubs and the music scene of Brum, you were also an early adopter of the skate road trip – popping up at events all across the country at the point where any skate event anywhere pretty much attracted every skater old enough to know somebody with a driving licence in the UK. What was your first road trip and which destinations were regular places that you found yourself at?
Yeah, we were constantly on the train to Brum or somewhere around the West Midlands at an early age so it wasn't long before we went further afield. It was probably either Manchester or London first, can't remember which. I remember coming down to skate that mini ramp at Kings Cross around the time of Public Domain, and going to SB for the first time.
I can vividly remember Matt McMullen (RIP) in full Vallely kit post Public Domain, combats, Airwalks, elephant board, absolutely ripping. So there was London and we would go up to Manc to skate the mini ramp at Bury, Goshen Leisure Centre with Andy Scott, Wingy etc. Would stay up there and go on missions with that crew. There was that Dundee comp. Barrow in Furness. All very glamorous destinations.
Backside disaster published in Skate Action in 1990. Photo: Shane Rouse
So you're a teenager traveling the UK, going to events and whatnot at a time where much of what was going on was undocumented outside the pages of R.a.D mag.
Despite that – this era was one of the most progressive periods in UK skateboarding. Tricks were being invented on the regular, people starting to become known nationally: you mentioned Matt McMullen and Scotty already but me, like everyone else, wants to hear Curtis McCann stories from that period.
You and he have been good friends for decades, a friendship presumably beginning through trips to London/Bury etc. What can you remember about the first time you saw Curtis skate? When I spoke to Mike Manzoori his memories of the amount of skill that Curtis had back then were pretty mind-blowing. What can you add?
The first time I saw Curt skate was at the comp in Bury, and following that it was coming down to London and then when Ewer St appeared I got to know him. I was down for one of those St Albans comps and got caught with an amount of hashish when we were pulled over in South London. This led to me having to come down to London to go to court lots of times, it kept getting adjourned.
The best part about the ordeal was that the court was near Curt's place so I would stay at his. This was just when he left Powell and got his board on Underworld Element and he was just on fire at this time, he was so ahead of the curve with what he was doing.
This was when switch skating and nollie flips first appeared, I'd come back down to London two weeks after the last time and he'd have learnt everything already and be adding variations or doing it down the 7 at SB.
I don't think any video footage really captured him, which is a shame. That mini ramp footy in Celebrity Tropical Fish with the fakie hang ups gets a tiny bit.
He was just on another level, and his style was so different to anyone else's, just unbelievably fresh. He had done every noseblunt slide variation at mach 10 with the best steez before we'd even thought about it. It was such a shame when he broke his ankle so badly at Wallenberg, he never came back from it. I put him up there with Mark G, Tom, Carroll, etc.



He was just on another level, and his style was so different to anyone else's, just unbelievably fresh. He had done every noseblunt slide variation at mach 10 with the best steez before we'd even thought about it
Oliver Payne: Jagger – I grew up skating London suburbs and city spots. I looked up to guys like Simon Evans, Ed Loftus, Winstan Whitter et al. I know there was a lot of bad vibes towards the London scene and Simon touches on this in the Yellow interview.What was your impression of London at the time? I know you love it now of course, did you always?
Yes I always loved it. Birmingham isn't the north or the south, so I always felt happily immune to a lot of that. London was always exciting to me, and it still is. I can see how Simon could have felt that, he was also kind of the poster boy for the big pants small wheel phase and was getting a lot of coverage so was an easy target. I don't remember it being much of a big deal though and he was undeniably great.
I never really felt that much of a vibe between skaters geographically, TLB was so democratic with the way he covered scenes all over the UK. I think that really encouraged all of us to travel a lot so it wasn't like everything was London-centric at all to me. London would obviously have a lot of shit going on as it's the capital city.
I feel like there's actually more of that kind of thing these days, people have more of an idea of what London is now, or what they think it is. I love Simon, I stayed at his house in Morden once, his folks were great and his dad did a banging fry up.
I never really felt that much of a vibe between skaters geographically, TLB was so democratic with the way he covered scenes all over the UK. I think that really encouraged all of us to travel a lot so it wasn't like everything was London-centric at all to me

You mentioned Ewer St earlier – a place that, despite only being in existence for less than a year, is infamous in UK skate folklore. Dave Allen told me that it's the place where smashing your boards against the coping as applause was invented – from what I know of it, it was in parts sketchy (i.e. nobody ever paid to get in) and equally a crucible of progression at a point in time before Radlands when indoor skateparks basically didn't exist in the UK. What memories do you have of the place?
I was coming down to London as much as possible during that time. It was unheard of to have an indoor park like that in London – parks were rarer then – like when Northampton opened and there was such a big buzz around it: London Bridge was kind of a precursor to that.
It was just buzzing – having vert, street and a mini together was great because it catered to everyone – there were gnarly vert sessions going on as well as everything else. It was definitely under some questionable ownership, I don't really know the details but it was used as a nightclub as well as a park during the day. We used to go to the raves there and stay all night skating the ramp in pitch darkness, literally pitch black, it would take an hour for your eyes to get used to it.
It was probably the most progressive period in skateboarding ever really when you look back at it -1991. New tricks were being invented every week it felt like – every time I got there you'd just watch what Curtis was doing basically, that mini ramp was very whippy which made it harder to skate than it looked.
I think everyone knew it wasn't going to last and wanted to make the most of it at all times. Some of the best sessions ever. The board banging thing definitely became a thing there – probably not the first time someone had smacked coping with their board but definitely a thing – just very high times. Shouts to Lewis and Reuben's mom and dad for opening their house in Brixton up to us all every weekend- that was the clubhouse.
You and Tom Penny have been friends for many years, was it during this period that your paths first crossed?
Yeah definitely, at Leamington Spa ramps, when he was a proper little nipper that pushed mongo. That place had a vert ramp and a midi ramp and we went there a lot. It was kinda midway to Oxford the other way for Tom so would see him a lot and he would come skate Brum or be going to wherever the destination was whatever weekend.
How early on were Tom's wizard skills apparent? He was already destroying mini ramps at this point, right?
The skills were definitely apparent early on, but he was such a shaggy mess of a kid that we didn't take it that seriously or think he was going to be a big pro. As time went on and he grew, it was more obvious that he was something special.
So at this point you're regularly traveling the country but Birmingham and Wolverhampton were on the map as places to visit for other people too, and you started to become something of a fixture in R.a.D – TLB and co were visiting you too, right? How did that come about initially?
TLB would just come through every so often – more in Brum than Wolves though, I don't remember shooting with TLB in Wolves, it was Wig later on, but yeah just Tim coming though occasionally and he would always be at whatever the event or comp was, or the new spot that everyone would travel to.
You always struck me as somebody more interested in the experience of skating than as someone who was chasing the sponsorship dream Dan – did that come into the picture during the early 90's era?
I definitely wasn't so interested in chasing sponsorship – but this was also because I knew I wasn't a pro skateboarder. I had people like Curt, Mike and Tom around me to show me what a pro skater was, so I think I reconciled that pretty early on in myself.
I started to get boards from Faze 7, the classic one-board-a-month and make-believe that you're on an US company thing – it was H-Street at first – then 101 ha. Russel at Slam used to give me Fuct packages too, which was really nice of him at the time.
It never really went beyond that, I probably had potential to be a man am but I didn't want to jump through any hoops for a board a month. I used to snap boards so often that my tab in Ideal was always out of hand. Thanks Zip and Chris.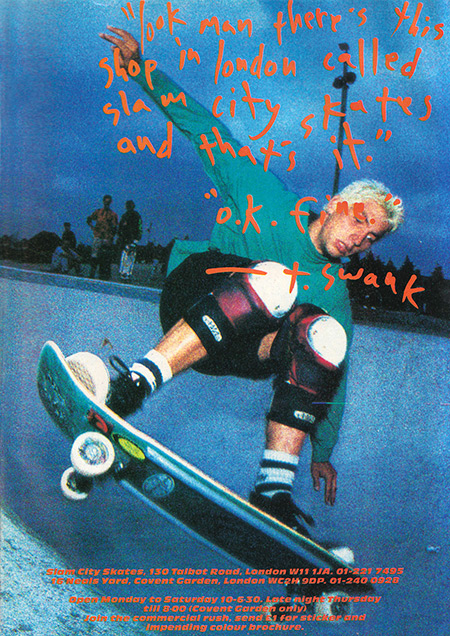 You mentioned Russel sending you Fuct packages. What was the link there, what are your earliest memories of the Slam shop?
The link was Ideal and Kris and Zip up there at first – them and Russell were definitely on the same wavelength as far as music went, and I think Russell was trying to be a bit less London-centric with what he was doing with distributing Fuct at the time. He even got me and Ideal in that Fuct ad, although I think most people thought it was referring to Mick Jagger.
My first memories of Slam were the great ads in BMX Action Bike/RAD and the whole connection with Tod Swank etc. I was definitely digging it and then naturally when I started coming to London more regularly the Covent Garden shop was the community centre in central London.
You mentioned Mike Manzoori there – another good friend of yours stretching back decades – how did you first meet Mike? He was one of the first people to point a video camera at you too, right? Tell us a good Mr Magoo story…
Ah Magoo – what a fine young man – one of the best humans I can think of. I don't remember him filming me so much, maybe here and there. We did get robbed with a machete for his camera in Brum once, that was a hairy one. Mike begging the guy for the tape but he couldn't get it out so he fucked off with it – gutted.
I love Mike so much; he's one of those friends that is always the same whether it's been two weeks or two years. We had some great times when I lived in Chicago and staying with him in San Clemente when he was running ATM was a wicked time. One of the best skateboarders on the planet but an even better human.
Aside from all the UK travel you were doing back then – did you jump on the Euro circuit too? Ever go to any of the early Munster contests?
Yeah I did a month Euro Rail trip in 91: £170 quid for a month on trains anywhere in Europe. That Munster contest was incredible that year and loads of us went over. That was when Snoz rode his mom's Shopper bike all the way there from Leeds. Then went to that Le Grand Bornand comp, which was also eventful to say the least.
That was the month the Marseille park opened too, those rail trips were great – instead of a hotel you just get a night train somewhere. I remember we arrived in Marseille late at night and eventually found the park. Sitting on the beach at 1am having a zoot and we see this figure coming out of the water. It was Lee Ralph – there didn't seem to be anyone else around and it was literally like he'd swam there and just arrived. So funny.
Sitting on the beach at 1am having a zoot and we see this figure coming out of the water. It was Lee Ralph – there didn't seem to be anyone else around and it was literally like he'd swam there and just arrived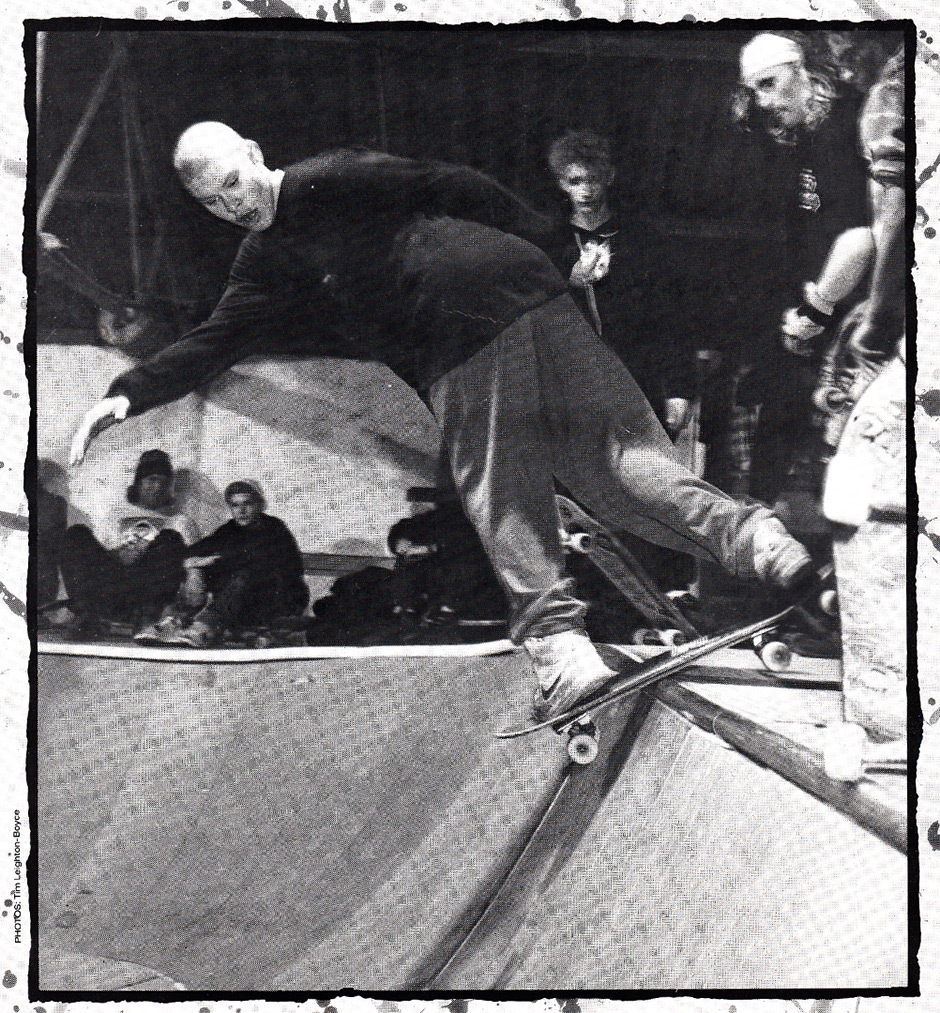 30 year old freight train backside lipslide. Like a fine vintage wine. Photo: TLB
I, like many other people, associate you with the backside lipslide – I can remember watching you skate at Radlands long before we knew each other and seeing you fly into back lips at high speed with that unmistakable freight train stee. From your perspective – what is it about that trick that makes it so much fun to do and who are the greatest exponents of the back lip in your opinion?
I dunno – I just always liked how they felt and they came quite naturally early on. Who's got a good one? Chris Miller for sure, Julien… I would have to credit Arron Bleasdale actually too – him at Kings Cross was definitely an early inspiration, Mike (Manzoori) as well.
You ended up in SF sometime around this mid 90's period, right? Was that your first experience of the US?
So on the aforementioned euro trip – or actually just before that at the Southsea Shut Up And Skate comp – the one that Ben Schroeder absolutely annihilated, I met Jesse Driggs, aka Wheatberry.
He was a character to say the least and we ended up hanging out all over Europe for that month. He kept saying I should go and stay with him in SF, so I saved up a grand and went out there for the first time in October 92, for three months.
I get there after staying in a hotel the first night and then got hold of Wheat and met him at the Safeway curb. With him were Julien Stranger, Coco Santiago, Shawn Martin and Noah Peacock and that became my squad amongst a few others for those three months, which was an eye opener when it came to skating the hills to say the least.
I get there after staying in a hotel the first night and then got hold of Wheat and met him at the Safeway curb. With him were Julien Stranger, Coco Santiago, Shawn Martin and Noah Peacock and that became my squad amongst a few others for those three months, which was an eye opener when it came to skating the hills to say the least
It was pretty terrifying but after a few weeks I started to get into the hills and really enjoyed it. It's pretty incredible how it seems so un-doable at first but learning to be in control of it was the best feeling. This was when Julien was on Element so we kind of had Curtis as a connection too. Those guys were really good to me considering I was broke and sleeping on their couches for 3 months.
I was totally wet behind the ears, broke, and didn't understand the concept of getting the beers in properly, but they took pity on me and put me up for some reason. Julien and various people had this house on Oak St which was a classic skate house with an interesting cast of occupants/guests to say the least.
Rad. This must've been right at the point where SF was leading the charge of progression too, right? Did you spend anytime at Embarcadero during this trip too?
Yeah fully. I think that was peak EMB time – vividly remember the first time, it was when they had that ledge there, some kind of art installation, that Henry Sanchez does a fakie five-o flip out on in a Plan B vid if memory serves. Jamie Thomas was sleeping rough there at that time too.
I saw Skin and tried to shoot a photo but couldn't land it. After that I tended to pass through there with Julien or whoever which meant I was treated a little better than some other transplants by Kelch etc.
It was incredible the progression down there every day – seeing Carroll was always a real treat. Scott Johnston was incredible too – I remember watching him doing switch tailslides and having trouble telling which way he was skating. It was perfect to dip in there and then go skate the rest of the city – and not be part of the hype down there so much. Union Square at night was my favourite spot downtown.
Is this the same trip where you had that nasty slam that took half your skin off? Was that a hill bomb gone awry?
Yeah – there was these girls that had a crib at the mid point between upper and lower Haight St – at the top of the steep part before Divisadero, which is a four-lane street off the freeway or whatever. There was a party at that crib and I'd stayed over – funniest night with Harold Hunter actually – not sure some of those details are suitable for here… Anyway I woke up early hungover and skated down the hill to get coffee – timed the Divisadero light but it was just changing as I approached – I had to gamble that the car had seen me as you're going too fast to jump off. It was a waiter in his uniform eating noodles while he was driving – perfect.
All I remember is the car coming in front of me and trying to jump the whole thing: proper life flashing before your eyes moment. The car clipped me and threw me really high in the air over the crest of the hill and I landed on my face and knees – I only know this because a woman that witnessed it saw me a week or so later and was really happy because she thought I might have died. She said she had her period and it was the worst bummer ever for her ha. I was very lucky.
I had a brand new pair of Half Cabs on and somehow my foot ripped through the front of the shoe and broke/dislocated all my toes. They thought I'd broken my neck at first. In the end I had severe bruising/lacerations and that was it apart from the toes.
I got out of SF general that night and a 7 grand bill came to Wheat's place. I remember getting back to Wheat's that night and everyone watching Tobin's footage of Julien from the day for Skypager – the stuff at Miley. It felt a bit like when Henry gets pinched for the first time in Goodfellas- " you broke your cherry! "

I got out of SF general that night and a 7 grand bill came to Wheat's place. I remember getting back to Wheat's that night and everyone watching Tobin's footage of Julien from the day for Skypager – the stuff at Miley. It felt a bit like when Henry gets pinched for the first time in Goodfellas
Jesus! Ok, so you've been in SF for the first time, you're skating with Stranger, Coco, etc, hanging out at EMB and shooting the hills and then it's time to come home, (back to Wolves I assume).How did that trip change your outlook on skating and on your life and what effect did it have on how you lived when you were back in the UK?
I wanted to go back! It really, really improved my skating being there, and I was just more resolved to dedicating all my time to skateboarding, no matter what. It was also a time when a lot of fucked up things were happening at home – this was the time after Ecstasy and the whole summer of love thing had kicked in – a lot of the people I grew up with were very heavily involved in this – and what had been this happy kind of club revolution in 1990 was changing into people doing a lot of cocaine and crack – this kind of culminated for me with my friend Denny being murdered which really affected me and made me want to distance myself from the UK and escape back to the States.
I'd also fallen in love with an American girl and had a long distance thing going. She moved to Chicago from SF to go to the Art Institute there, so I decided to go there. There was quite a long gap where I was in the UK before going a back – like two years – I was broke. This was right when Northampton was opening and allthat was happening so there was great stuff happening here too. Those Northampton days were the best.
Northampton opening really changed the UK skate landscape in a way that hadn't really happened before then, (at least in terms of a permanent space that wasn't going to disappear overnight like Ewer St). Did you spend a lot of time in Chris Ince's palace in the two years before you moved out to Chicago? Any particular memories of that time that stand out?
Yeah loads – weekends and Wednesday nights. Unbelievable sessions – that pool table on top of the roll in made it like a pub. Very, very zooted. I had this thing with Tom and a few others where we'd get warmed up before we smoked – then we'd smoke and Tom would just go Zen wizard mode and pull anything he tried – he somehow would never run into anyone in the heaviest snake sessions.
I have this one memory of him doing a huge ollie to fakie on the tall quarter pipe – coming down and colliding with two people coming in other directions but somehow doing a switch backside flip on the flat in the middle of the collision and carrying on his way. He wouldn't flinch in the closest shaves. Him and Rune were just something else.
I have this one memory of him doing a huge ollie to fakie on the tall quarter pipe – coming down and colliding with two people coming in other directions but somehow doing a switch backside flip on the flat in the middle of the collision and carrying on his way. He wouldn't flinch in the closest shaves. Him and Rune were just something else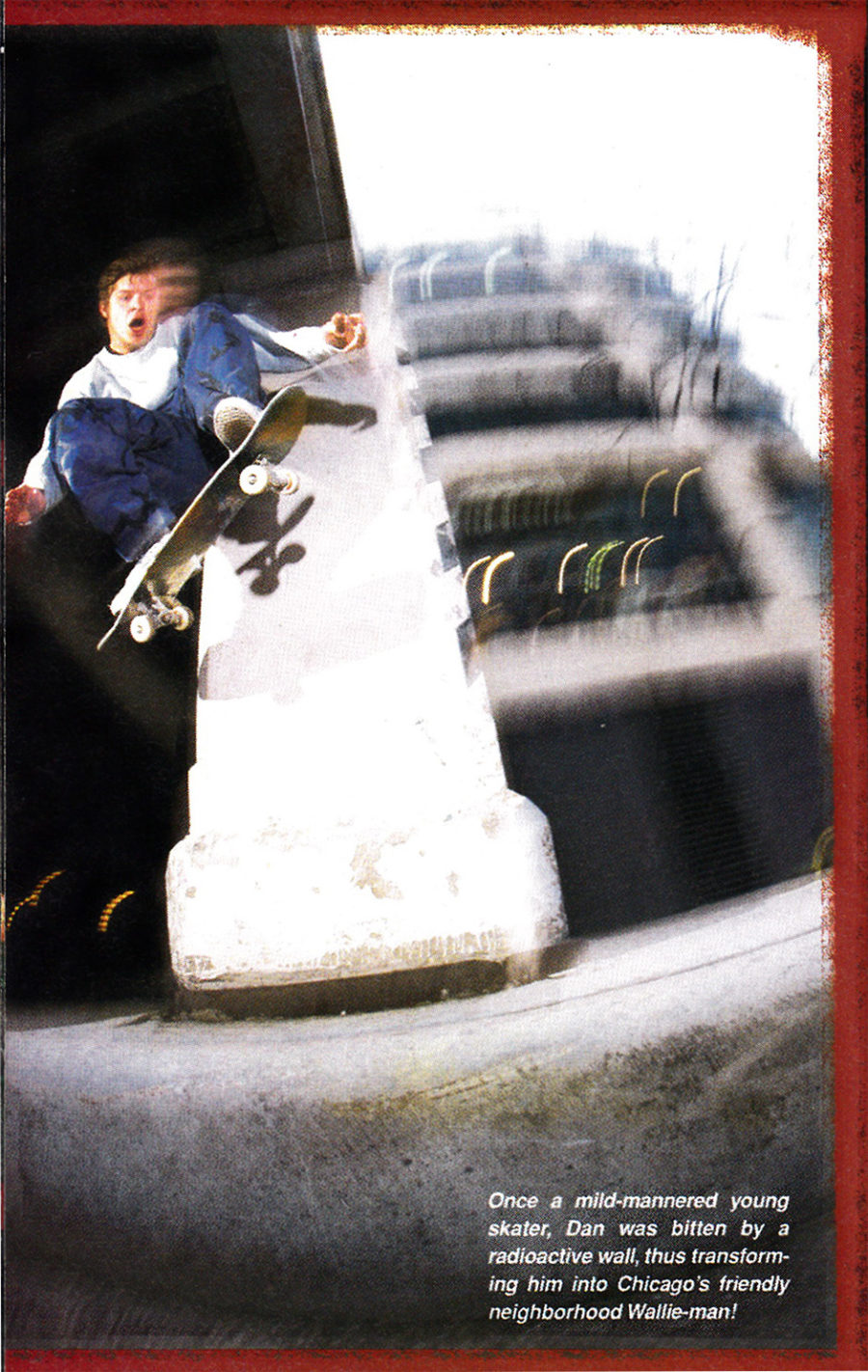 Lofty Wallie in Chicago from Big Brother. Photo: Tobin Yelland
So following a couple of years in the UK during this period, you moved back out to the States as you mentioned. Where did you end up this time and were you planning on being there for good at this point?
I went to Chicago before I went back to California. My girlfriend moved there and the plan was to stay with her there for 3 months. I ended up really loving it and extending to six months, then I broke up with my girlfriend and stayed anyway, which turned into over 3 years. I'd travel to SF and LA in winter and at odd times.
Having lived in Chicago myself (for a month or so in the mid 90's) I know that it has an amazing skate scene – people like Jesse Neuhaus etc making things happen and a load of really good spots.Chicago weather is definitely more like the UK than SF. Hensley even lived there for a while, (I bought a Hensley board from him when he was working in Sessions without even realising it was him). Did you make a lot of friends there? How was the skating side of Chicago compared to what you'd experienced in SF?
I never knew you'd spent time there Ben. I love Chicago, I was already fascinated with it musically – the history it has. It's always been the Birmingham of America to me, both second cities but sort of overlooked, or the underdog.
The weather is way more extreme than here – super cold winters and blisteringly humid summers, spring and fall are the best times there. The skate scene there was/is great. No one was there to get sponsored or whatever, which was the opposite of SF at the time – there's just a great group of people that have each others back there. Incredible downtown spots and some great skateparks in the suburbs and Wisconsin that we'd drive to.
After I split up with my girlfriend, Jess Neuhaus put me up for a while, and after doing many shitty under the table jobs, I found a solid gig at a bar/restaurant and was fully set up with a nice crib that was 250 dollars a month. I ended up feeling like it was my home and I'm still in touch with my friends there. Dave Ruta who people know as Koolmoeleo on Instagram, his brother Uriah who does Uprise skateshop. Nate Lyons. All the best people. Manzoori would come and stay with various people and it just had a great feeling at that time.
Rest in peace Reggie Destin.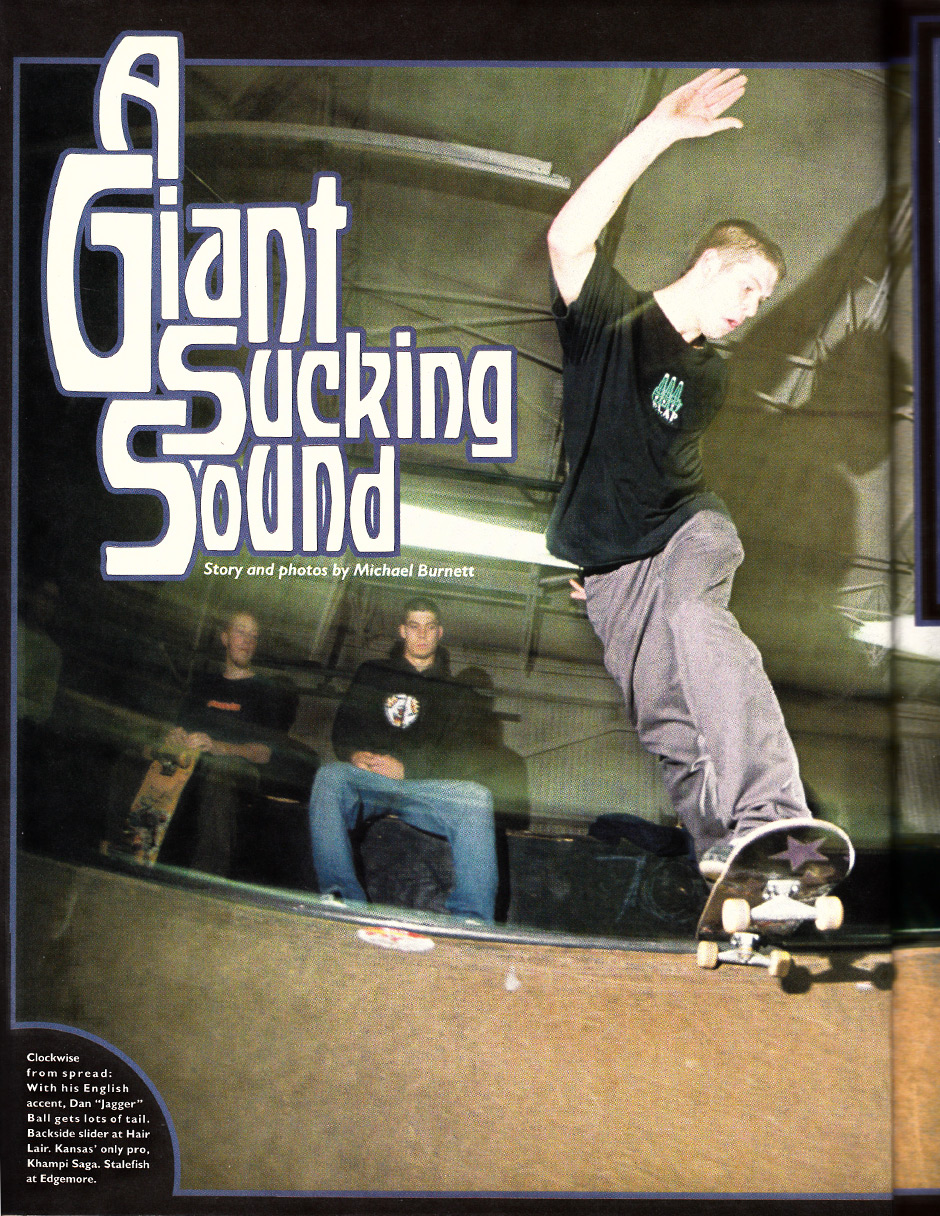 Backside tailslide in Thrasher 1997. Photo: Michael Burnett
So you ended up staying in Chicago for three years, making good connections there and basically forging a life for yourself in the USA. What made you decide to come back to the UK and did it feel different when you returned? I'm guessing that you came back around 97/98, right?
Yeah, well I wasn't in Chicago the whole time but would go to Cali to get away from the winters. I stayed with Mike in San Clemente when he was running ATM Click, which was a rad time. Then I was in SF for about 7 months in 98, came back to Chicago for a month or two then came home.
I was starting to have real problems with my ankle at this point, and my passport was also running out so I knew I had to come back reluctantly. It didn't feel different as such, but I missed a lot of stuff. Britpop (quite happily), Labour getting in, Lady Di. It was quite nice to come back to a Labour government. Looking back it was a very optimistic time in the UK compared to today.
An appropriate time to ask about the ankle nause now then I guess – was the initial injury related to the slam you talked about earlier? Or was it just an ongoing thing?
No it was ongoing, and I definitely compounded it by being in the US and not being readily able to go to a doctor unless in an absolute emergency. I always had a problem with rolling my ankle, my front foot. For years and years and I thought it was just a ligament issue but when I got home and had an x-ray I had a break in it that I was unaware of, and they said my ligaments were so stretched out that they were basically unattached in terms of doing their job.
I had what was called an Evans reconstruction where they re-attach the ligaments and had the bone cleaned up, bone spurs removed etc. I had some time off skating back in Wolves and then moved to Birmingham and was skating that indoor park they had there for a while – but was having a hard time street skating from this point on. I was enjoying ramp skating more anyway, and wanted to skate bigger transitions more than anything and that ramp was fun.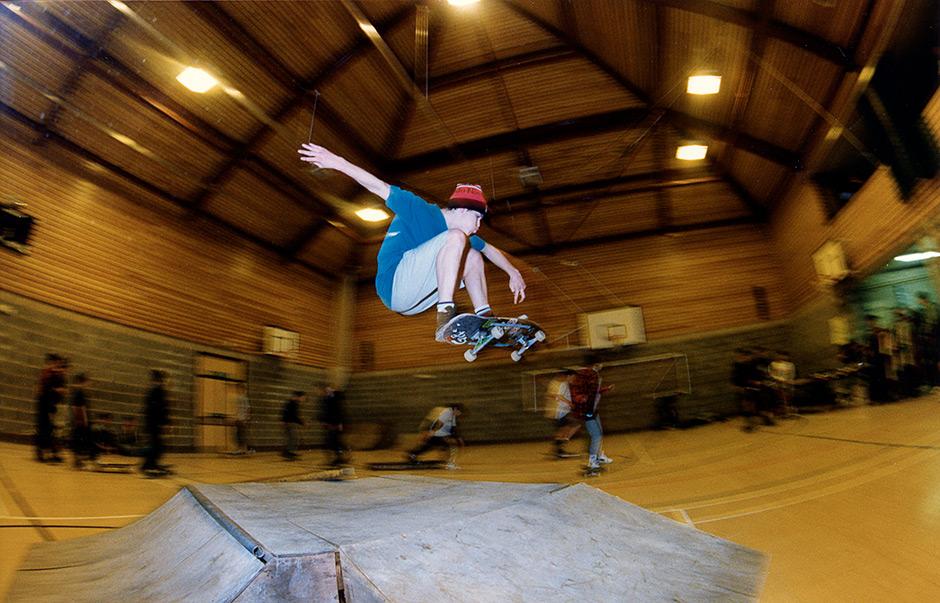 Altitude test on a Welsh road trip in 1991. Photo: TLB
What were you up to work-wise and lifestyle wise for that period?
Well I came back to Wolves for a bit, then moved to Brum. I had relationship stuff going on that I don't want to go too deeply into here, but was dealing with that and started to work in restaurants waiting tables. I'd done that in Chicago in a few busy restaurants, and found I was pretty good at it. My first job was at TGI Fridays (ha ha), because it was the only place I found that let you keep your tips. I ended up moving to this fine dining restaurant and became the assistant manager. Then Raymond Blanc opened a restaurant in Brum and I worked there for a while.
I was slipping into going out on the sesh a bit too much at this point. I was coming down to London here and there again and then my friend Jess had a room come up at her place in Kensal Green and I just moved down on a whim. I was going through a messy break up and it all felt claustrophobic in Brum, and I knew I could easily find restaurant work in London so moved down here in Fall 2000.
You'd spent a lot of time in London already before moving there so I'm guessing that you knew it would inevitably become your home, right? How long after moving to London did you end up working for Slam? What period was this in terms of Slam's life cycle and who else was working there at that point?
Yeah it was always in my mind. Slam came quite a bit after I moved down, I think 2003 or 2004, can't quite place the time. I was working in restaurants at first. My ankle was really getting worse at this point, and didn't have the strength to do flip tricks any more or ollie onto stuff like I used to do, so I was pretty much skating without the use of the ollie at this point.
Your front foot isn't doing so much when skating transition really so I was still really enjoying skating and was enjoying living in West London. Meanwhile bowls was happening and we had a great crew down there. That gave me a bit of a second wind because I was getting worried that it might be over skating wise. The Retirement Home.
Meanwhile bowls was happening and we had a great crew down there. That gave me a bit of a second wind because I was getting worried that it might be over skating wise
I'm interested to hear more about you working in restaurants in London Dan. Where were you working and what exactly were you doing?
At first I worked at this Italian place near Piccadilly, I went from being assistant manager in Birmingham to just being a waiter in London as I discovered you actually earnt better money as a waiter. As a manager you get a better basic but a lot of times no tips, so you really have to budget your money well. As a waiter you always have a bit of walking around money on you, and less responsibility.
After that I worked at this place Beach Blanket Babylon (yeah I know) in Notting Hill. I started to get tired of the hours though, you get into the routine of working really late, having a drink after to wind down, and sleeping till 1 every day then going to work at 4 or 5 again. I decided to get a daytime job and worked in a clothes shop for a while, and I think the Slam Warehouse job came up not too long after that.
In a way I feel like the restaurant work really helped me with what I do at Supreme now – multitasking and dealing with the public.
My time in the States gave me a work ethic that I didn't have before as it got the dole out of my system. I left school the year Thatcher took away the dole for 16-18 year olds. You were supposed to do an YTS (Youth Training Scheme) – basically a full time job for 27 quid a week. Nearly everyone I knew signed on then, it was just kind of what you did and it was much easier than it is these days.
Not having that as a back up for those years in the States was really good for me as when I came back it wasn't really an option in my mind and it was a novelty to be a legal tax paying citizen again. From then on I never signed on, aside from after surgeries when I was laid up.
As you've mentioned surgery a few times now – what's the current status of your ankle?
I haven't been able to skate for over ten years now, my ankle was really bad but I was still skating, which was fine when the adrenalin was going. Then out of nowhere I tore my ACL at Meanwhile one day. I had surgery and did all the physio etc for 6-9 months, and was starting to feel like I could go again.
Then I went to Marseille to the Bowlriders thing, the one Tony T destroyed. Got over excited in the big bowl at 1am and ripped the ACL real bad – worse than before. Surgery again. The knee hasn't felt great since then, but after that my ankle was giving me a real hard time, like trouble walking around being normal – the doc said my talus had become diseased and they had to fuse it – a triple sub talar fusion – which means your ankle is basically like a brick and you lose all movement, so I can't ollie at all anymore and it feels really sketchy – like someone else's leg.
That leg and the fucked ACL on the other leg made skating feel like impending doom – I just wasn't enjoying it. I hate it when fuckers say you could skate if you want to, because I really can't and I do want to. I could plop around on a tiny mini ramp for a minute but it isn't cutting it, so I'd rather remember really having it.
It was really hard for a long time to be honest: I had too much energy. The kids and work have really helped with it – and music, being in touch with skating through work is great – I'm still a total nerd for it. That feeling of satisfaction and knowing where you are in life that skating gave me was very hard to replace. I guess I haven't replaced it, there's a feeling after a day's skate that I haven't felt since then – but people have worse problems and it's part of life.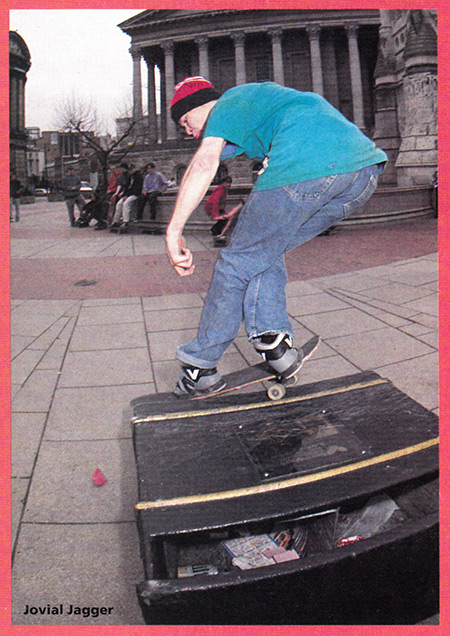 Oliver Payne: It was around the point you had stopped working in restaurants and were working in the clothes shop that I first met you. Of course I'd known who you were for years and seen the pictures in R.A.D when I was a kid. I remember you wearing a Nintendo beanie in one of the photos. I had the Zelda version.
These next few years in London were a lot of fun. I feel like we were surrounded by loads of very talented people – skateboarders and otherwise. Some were quite big names and others were lesser known.
Who do you think were making London exciting and pushing things forward around this time?
Ah yeah, that puts the time frame into context for me actually, must have been 2001 when I met you Ollie as I remember you going to NY when 9/11 happened not long after we met at Slam.
I was just skating Meanwhile bowls pretty exclusively then, so my skating crew was Jon Robinson, Fraser Campbell, Neil Kirby – we had a real good few years down that place and a really funny local scene.
I was constantly broke and trying to make ends meet, I remember my rent was 325 quid a month, which seemed extortionate after Birmingham, but it sounds like nothing these days.
The clothes shop was just round the corner from Slam so I was seeing that crew and having a drink in town and going out to clubs/see bands etc. That was when Seth was still there, I met Bankhead around this time as he'd be West working at Honest Jons. I was just basically finding my people in London around that time. Can't believe it's been nearly 20 years since I moved down now.
So once you were installed in London and your ankle situation was deteriorating, was your involvement in the music scene and DJ'ing increasing? Where were you going to see/listen to music and what kind of venues were you playing at?
Yeah, I wasn't DJ'ing at all then: I still don't consider myself a DJ really. I was just obsessed with music like always, it was Will Bankhead who initially got me more into reggae as time went on.
I started buying dancehall 45's through him. I had no idea about how it all worked with rhythms, producers and labels until then.
Will is a sage of music and has an unreal appetite for music of all kinds. As time has gone on I just went backwards from the dancehall stuff and explored all the eras of reggae – there's so much that you can never get near the end of it. Will used to put these nights on in Brixton – I caught the tail end of those days, and there would always be people putting on little nights in pubs etc over the years.
I couldn't mix a rice pudding compared to Will and others though – I'm not a technically great DJ I just love the music. It's fun to do but I've never felt like doing it regularly or professionally. I like the ephemera surrounding music and I buy records more as a collector than thinking about DJing, but it is really fun too and if I had more time to dedicate to it I could see myself doing it more.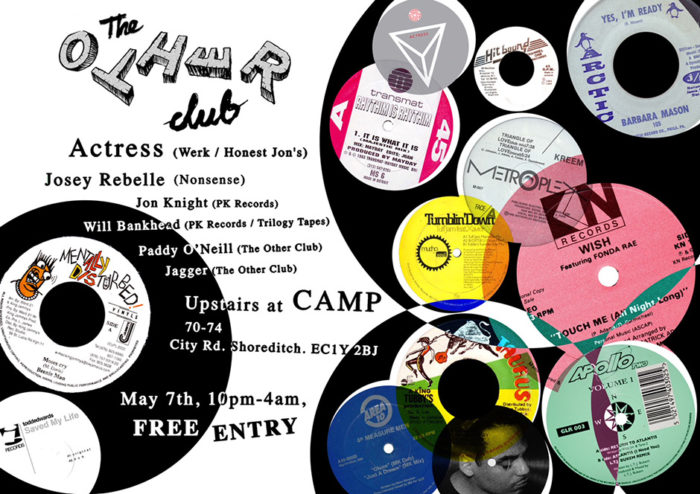 How long did you work at Slam for and who with? Is this how you first came to be friend with Chris Massey? Can you tell us a little about that era?
Must have been about 3 years at the warehouse – this was at Latimer Road doing the distribution stuff. I actually remember mini Chris Massey from the Northampton days but I didn't get to know him until this time. He was working at the shop when I was around the corner at the clothes shop. I started out just helping a bit at the warehouse and then was assistant warehouse manager with Duncan Carr – then Oliver worked there, Ben Bodilly, Mark Jackson, French, Joey Crack and of course Paul Sunman.
Just for the record, I'd like to say here that working at Slam Warehouse was one of the happiest periods of my life: amazing group of people and such a good vibe.
Just for the record, I'd like to say here that working at Slam Warehouse was one of the happiest periods of my life: amazing group of people and such a good vibe
Going back to the ankle question – did you have a definitive 'last session' before finally throwing the towel in before you had the fusion surgery?
Not really, I kept trying to get back on it for quite a few years. After the fusion it felt really foreign, like I had someone else's leg and my whole stance on a board felt completely different and un-natural. The combo of that on the left and totally fucked knee on the right just made it really difficult. My knee goes out if I run out on anything bigger than a five-foot ramp and I just wasn't able to do what I used to be able to do.
Downer. Like you said though – you're still a total nerd for skating and through your job are still directly connected to it. Are you still an avid consumer of skate media? Quite a lot of our generation like to complain about the way things are currently but honestly, if I was 15 and able to watch new amazing skate videos and see amazing photography on a daily basis, for free – I'd be hyped. Which side of the fence are you on when it comes to the current over-saturation situation?
Yeah I definitely keep up on video's etc, probably a lot I'm out of the loop with too but I definitely keep up on the things I like.
As far as the over-saturation, I can see both sides. I'm wary of old guys complaining about the state of things these days, I think skaters were always bitchy, it was just kept more private back in the day, which I guess is a good thing in some ways. Saying that, it's great to have access to so much content so it goes both ways.
It's a similar thing with music. Things get blown out before they have the chance to develop sometimes which can be a negative. Kids are over things so quickly these days. I do find the trends in skating a bit odd, I can't remember certain things being un-fashionable or ironic to do like they are now. Like wallies or no complies. People that are good will break all the rules and it will be fine.
Anybody who knows you, or has an awareness of your online presence will know that you're an avid collector of vinyl. When did you start collecting and how many do you have presently? I'm assuming that genre-wise your collection is all over the place, right?
Not that long really, bit over 15 hears pretty avidly, I used to buy records when I was much younger, but sold the best of that stuff when I lived in Chicago. I started buying again in the early/mid noughties as skating was starting to taper off. I definitely got the bug from Will Bankhead when it comes to reggae buying – him and a few other people, Toby Etheridge, John Knight.
Will has an incredible ear for many types of music. As time's gone on I focused more on reggae stuff, I buy all sorts but really love the late sixties, seventies and early eighties periods. Not sure how many I have, never counted, it's gotta be a few thousand but it's not that much compared to some people.
I know you already said that you don't really consider yourself a DJ, but when you do play out, what makes up your average set?
I buy records because I like to have them at home, I'm not trying to be a DJ, it's just fun here and there. I guess the goal in DJing is to present or tell a story with the music you choose that makes sense to you and hopefully others. I just think reggae when it's played well is some of the best music ever made in any genre, so that's what I focus on – older stuff from the 60's through till the 90's mostly.
Oliver Payne: The barrage of daily skate content is overwhelming but it has opened up the space for different types of skateboarding and skateboarders to be seen and shared. The clips that have gotten me the most hyped and make me love skateboarding are of people who wouldn't be in company videos – people learning, people with physical challenges, groups of girls. (Can we agree that Dan Mancina is one of the gnarliest and most inspirational skaters out there?) Are we at a point in skateboarding where watching someone drop in for the first time is way more exciting and genuinely rad than a good guy doing a good trick at a skatepark?
I totally agree with this. It makes me think of Gonz. Ever since I've known him, whenever we've been skating he always ends up skating with beginners or the total randoms you get at skateparks. This isn't because he feels sorry for them or is trying to teach them, he just genuinely gets the most psyched on that feeling when you're learning – this is the greatest part of skateboarding.
It makes me think of Gonz. Ever since I've known him, whenever we've been skating he always ends up skating with beginners or the total randoms you get at skateparks. This isn't because he feels sorry for them or is trying to teach them, he just genuinely gets the most psyched on that feeling when you're learning – this is the greatest part of skateboarding
I had this discussion with some dude commenting on that Girls Shred Insta the other day – he was talking about it being a double standard that girls get paid or get product when they physically might not be as good as some guys – like it genuinely angered him that a girl was somehow taking up a spot on a team that should be taken by a more technically proficient boy.
What a sad, sad way to view skateboarding and the world. He hadn't figured out that people get stoked because they're just nice people. I get more stoke from that Instagram than a lot of others, and it doesn't make Primitive any less or more valid.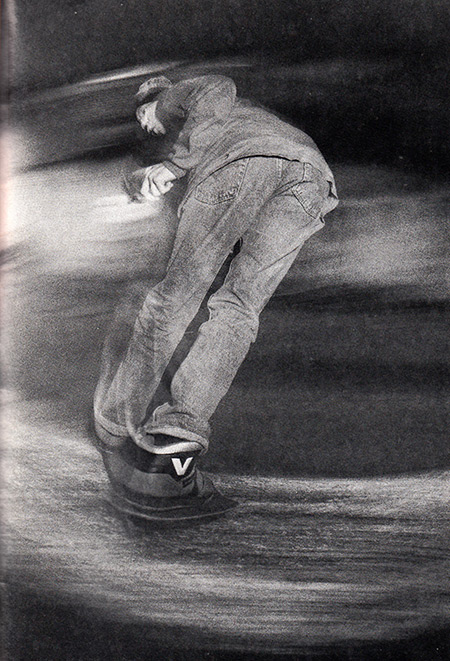 Oliver Payne: For a time under the Obama administration, you were the resident DJ at the American Embassy. This is obviously totally amazing. What would you play?
Ha, that was such a good gig for a few years. Well the ambassador's wife is from Louisville, Kentucky, and very much into arts and music from around there. I met a friend of hers at an Endless Boogie gig, who she had a connection to through Will Oldham and my buddy Matt Sweeney. I think I was recommended to them and they asked me to do one and then had me back for a good three-year period.
Matthew the ambassador has really decent music taste, he had Jason Spaceman and Belle and Sebastien play there amongst others. I would play a mix of US R&B/Soul, rock n roll and reggae. It was a laugh. I played Dennis Brown for Joan Collins once, ha, ha. I definitely had some zoots whilst being watched by secret service snipers too. Very different with Trump's lot in there now.
Jacob Sawyer: Can you tell us a good story from the warehouse days?
Man, there are so many. Those days were just the most golden, innocent of times and the revolving door of interesting staff members made it such a hoot. I'm not sure how many are printable here, or embarrassing for someone in some way though.
Can you tell us a good Massey story?
Ah Massey – there's the one where his one-time Mrs left her Myspace open on his desk and he found out she'd been cheating on him with the lead singer of Razorlight: maybe not so funny for him at the time but this was typical of that boy at the time.
Living with Scottish Louise in the big shared house in Kilburn – the period when Tom Penny lived there. Me, Massey, Bobby Gillespie and Mani watching Tom's Sorry part at 5am together, hard to explain some of the levels. I still can't believe he's not with us. Miss you mate
I'm afraid that I'm not going to let that anecdote go without further questions Jagger – were Bobby Gillespie and Mani already aware of who Tom was at that point, or were you and Massey trying to educate them?
No they'd just met him that night. They had supported the Rolling Stones and had come back for a drink afterwards with my roommate. They were a bit fascinated with Tom I remember so I was trying to explain his career to them.

Which genius created the magical box facade at the warehouse, which facilitated zoot breaks and could house a few humans?
Ah you're referring to the Peter Cushing. There was a back fire-escape door at the warehouse that led to some scrub ground next to the train tracks. It had been forgotten about as it always had boxes piled up against it – one day we went back there and decided to cut down all the overgrown brambles and make a nice bowling green.
Duncan made a stack of empty Circa boxes and attached them to the door which opened inwards so you would have no idea the door was there. I'm not sure Paul ever knew it was there, but we'd just pop back there for a Satori meeting when we felt like it.
You mentioned working at Mo' Wax and for Honest Jons record store prior to taking up your current job at Supreme. What did you do at Mo' Wax and Honest Jons and how was it going into the music world after a few years slinging skateboards at Slam? Was there much crossover in terms of what you did on the day-to-day?
A little bit at Mo Wax – I was doing sales to shops but also was thrown into production work, which was all new to me. I ended up going to the Far East to talk to factories etc and learning about clothing production on the fly. James's deal with the label came to an end so my role did too, and that's when I worked at Honest Jons for a few years which was doing their mail order. Surrounded by records you want all day – a blessing and a curse.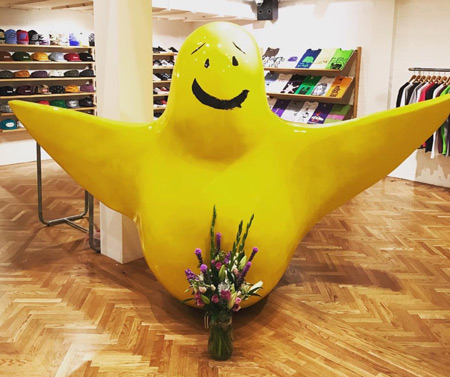 So how did you go from there to your current job at Supreme? Did you have a connection to the place already?
I always knew a fair few people from NY that are involved over the years, but probably Gio Estevez was the person that helped the most when the opportunity came up. I don't want it to sound like nepotism though – it's hard work.
The store sits in a really interesting part of London with a plethora of interesting characters nearby – do you enjoy being surrounded by that context on a daily basis?
Yes, Soho. I love it, we've been there 9 years now so are pretty embedded in there with the locals. Berwick St Market has a lot of history and although people love to complain about gentrification there are plenty of characters still around with deep roots that go back decades. Not sure I want to give a list of names but they know who they are! There's a lot of musical history here too, I love to learn about all that stuff: NY and London are very similar in that way.
Could you see yourself ever relocating outside of the UK at any point in the future? Or are your travelling days done (at least in terms of uprooting your family) now that you're a dad?
Since I've had the bairns it's been all about providing a solid thing for them – Supreme came along at a time when that was where my life was going anyway. My daughter was born when we were going through the build out of the store. I'm definitely not leaving the UK while they're young but I would love to do some travelling in my retirement, and I do get to travel intermittently through work, which is great – all the stores are close with each other so it's definitely a family vibe. I was going to NY quite a lot anyway which helped.
In a lot of ways skateboarding is kind of based on Peter Pan syndrome where your teenage years can continue forever. Like yourself and many of our friends, having kids puts a full stop on the lifestyle enshrined in skate culture to a certain extent. From a parent's point of view – do you think living that way in your earlier life gives you any tools useful as a parent?
In some ways yeah. I went through the whole thing of having to stop skating through injury a few years before the kids, that was a blessing in many ways. I'd not known what to do with myself without the physical act of skating for a few years, just felt totally lost, like I'd lost my vocation in life, that feeling when you feel like you've done a day's work and feel your place in everything.
Gradually that eased off and music really helped – along with working and having a routine. Then when the opportunity at Supreme and my daughter came along it's just been heads down. Oliver said this once and it always stuck with me: when you have a kid it's like updating your operating system – IOS update.
Supreme was a new level of hard work and dedication from the start, but very rewarding at the same time. It keeps me in touch with skating and the young crew at the shop keep me in touch with things whilst being an old fart that goes straight home every night.
I don't really get down with the Peter Pan thing, life is short and there is no reason to give up the things that are fun, things just change naturally. I don't buy into there being things you shouldn't be doing when you're older, although one may not feel like it either.
Supreme was a new level of hard work and dedication from the start, but very rewarding at the same time. It keeps me in touch with skating and the young crew at the shop keep me in touch with things whilst being an old fart that goes straight home every night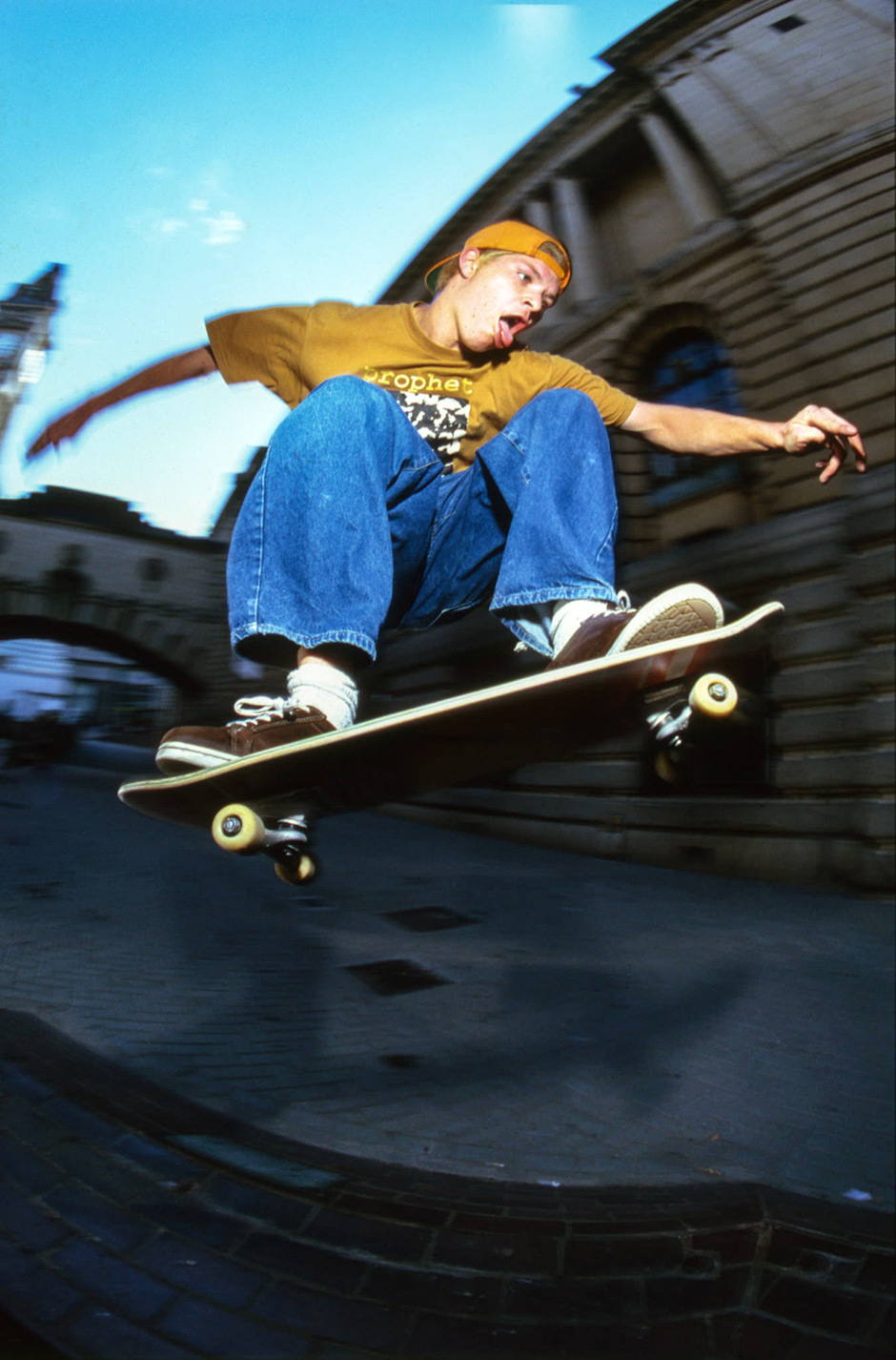 Birmingham levitation in 1994 on the same day as the tre flip we opened with. Photo: Wig Worland
Have either of your kids shown an interest in skating yet?
My daughter's more into it than the boy at the mo, she goes to the House Of Vans, she's dropping in on the bowl there – he's into it too but not so much as her just yet. I'm not trying to push it that hard – if they get into it properly that's fine, and it's fine if they don't. The boy just dropped in for the first time the other day too.
So as someone for whom skateboarding has played a huge part in shaping who they are – are you still able to look at it as the magical thing that first attracted you when you were young? Does it still seem as fantastic and alluring to you as an adult in so far as you'd be happy if your daughter decided to fully immerse into it?
Well not with regards to me doing it – which has been a big change, but I'm still a total nerd for it, yeah. I definitely think it's just as alluring as it ever was, and would be stoked if either of the kids pursued it – how could you not be? It seems like skating is a bigger part of everyone's consciousnesses these days, there's room for all different facets of it. I'm much less precious about a lot of aspects than I was too, I think. I miss frontside five-o grinds like a motherfucker still.
Oliver Payne: From the lines at EMB to the lines outside the shop, you've seen a lot of different sides of skateboarding. You were friends with Jake Phelps and I'm sure you'll be reminded of him every time you see a Thrasher T-shirt in the high street. Does anybody own skateboarding – or is it a children's toy from America that anyone is allowed to interpret and use in anyway they want?
Nobody owns skateboarding – that can be the only answer surely! Just like no one owns music. But there are rules to the shit, or guidelines. It definitely needed people like Jake (RIP), it definitely needs people to care for it in the right way.
Nobody owns skateboarding just like no one owns music. But there are rules to the shit, or guidelines. It definitely needed people like Jake (RIP), it definitely needs people to care for it in the right way
What does today's skateboarding landscape look like to you these Jagger? Do you think we're in a good place now?
It looks fun! I seriously wish I could still get some, there are so many sick parks everywhere these days. I feel like we're all getting used to the Internet still, and there's probably a lot to talk about good and bad within that but we've got to get on with it. Things are still the same in many ways – you can't tame it.
The questions above were posed and answered a little while back now during simpler times. Where do these closing ones find you? Do you want to end on a message to those reading this right now and trying to stay sane?
Christ, simpler times a few months ago! Covid is making Brexit seem pretty mellow at the minute isn't it? I took the kids out of school a week early as people still don't seem to be taking it that seriously.
It does feel like Mother Nature punishing us for taking the piss and there has to be a lot of positive that comes from it, but that feels like a very far off thought today. I'd like to tell all my pals that I love them, and that we'll get through this.
Thank you to: Sarah and the kids, Mom, Kate, Cass and Che. James Jebbia, Kyle Demers, Todd Jordan and everyone at Supreme NY. Jin, Sam, Karim, Seth and all the crew at Supreme London who know who they are. Benny, Willy B, Chrissy Bress, The Blue Posts. Clifford Price, Oliver Payne, Relphy, Crook, Teemo, Damhave, Briggs, Rory Milanes. Jake and all at Slam. Gareth, Lev, Stuart and all at Palace. Alan, Mark and all at Honest Jons. Ox Man. Too many people that I love and am thankful for.

Many thanks to Neil at ScienceVersusLife for the scans. Thanks as always to Dan Adams and Wig Worland for shots from the Read And Destroy archives. All uncredited photos shot by TLB.