UK Skate Mags: A Brief History explores the magazines which brighten our days. Integral to preserving our history and progressing the culture, we take a look at UK skateboard magazines from the days of R.a.D., throughout the Sidewalk years and into the current countertop roster of Grey, Free, Vague, North and The Skateboarder's Companion.

OG Slam City rider, Nick Jensen backside nosegrinds above Southbank for the inaugural issue of Grey. photo: Henry Kingsford
At Slam City, we believe printed media and magazines are inseparable from skateboarding. R.a.D. ('Read and Destroy'), Skateboard!, Sidewalk Magazine, Document and Kingpin are all UK-based titles who strived to put an issue on the counter every month. They helped to build and represent our scene throughout the decades and were all important to us. 
Each magazine had its nuances, and a singular vision, yet one thing they sadly now have in common is that they all cease to be. Media consumption and times change, publishing houses had to cut costs and – at different points in time – our favourite editorial teams all took a hit. This downturn isn't exclusively English. Slam proudly stocked copies of every skateboard magazine we could get our hands on and their delivery meant work stopped for a bit as we flicked through their pages.
At one time it was unthinkable US titles like SLAP, TransWorld, Big Brother or The Skateboard Mag would no longer exist in physical form. Thrasher is the exception to the rule, a 'biblical' publication which has weathered the storm and continues to land on our counter monthly.
While it's bleak that some of the mags we all held dear are no longer with us, things run their course and skateboarding always finds a way. Skatepark closures in the early '80s birthing street skating is a good example of how our culture is predisposed to evolution and adaptation under pressure. When the mags we looked to and absorbed slowly disappeared it left space for new developments and the advent of the free skateboard magazine was truly born. Our friend Henry Kingsford put himself out there and pioneered how this format could work with the excellent, London-grown Grey Skate Mag. This paved the way for other mags to follow suit and present their vision to the point where we now stock a wealth of free publications. 
Running a magazine is no longer how it used to be and requires a lot of anyone undertaking that task way beyond the magazine itself. In such a heavily digital age our consumption of what's new is still largely created and curated by our favourite titles. Luckily, we have the best of all worlds thanks to some brilliant humans, magazines to flick through and entertainment beamed to our screens. Here we take you through the various skateboard magazines we stock. These can always be added to your basket (for free) online or picked up from our Brick Lane store.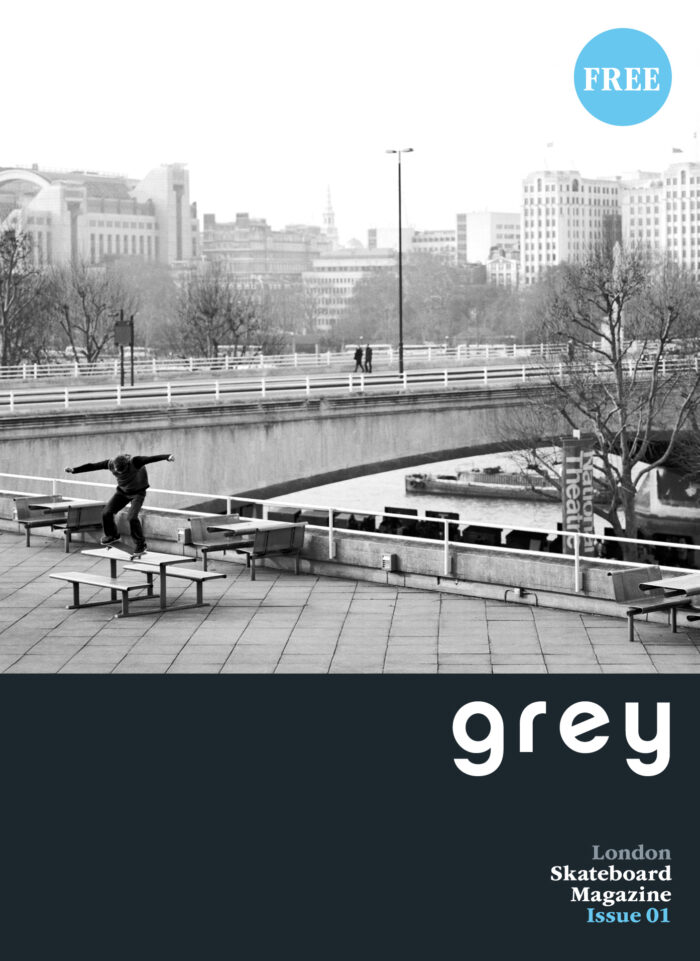 Grey Issue #1. cover: Nick Jensen – backside nosegrind, Southbank, London. photo: Kingsford. published: May 2010
Grey Skate Mag is the vision of master lensman Henry Kingsford. Before and while studying photography, Henry worked at Slam for many years and put in some serious weekends in our old Neal's Yard shop. 
Henry cut his teeth as a photographer on the streets of London which is why Grey began life as a free, pocket sized, London-centric magazine in 2010. Henry's love of skateboarding took him inter-railing around Europe many times whilst working for us and he always had a keen eye for what was happening in other cities. In its early days, Grey was inspired by a Berlin-based magazine AnzeigeBerlin and, although the magazine is no longer exclusively focused on London, we're always treated to amazing photos of what's happening in our city, each issue, via photos shot by Henry himself, Rafal Wojnowski, Lex Kembery, Joel Peck, Rich West and James Griffiths. 
We fondly remember the first issue landing on the counter and are stoked that Henry's passion continues to be realised over a decade later.
www.greyskatemag.com / @greyskatemag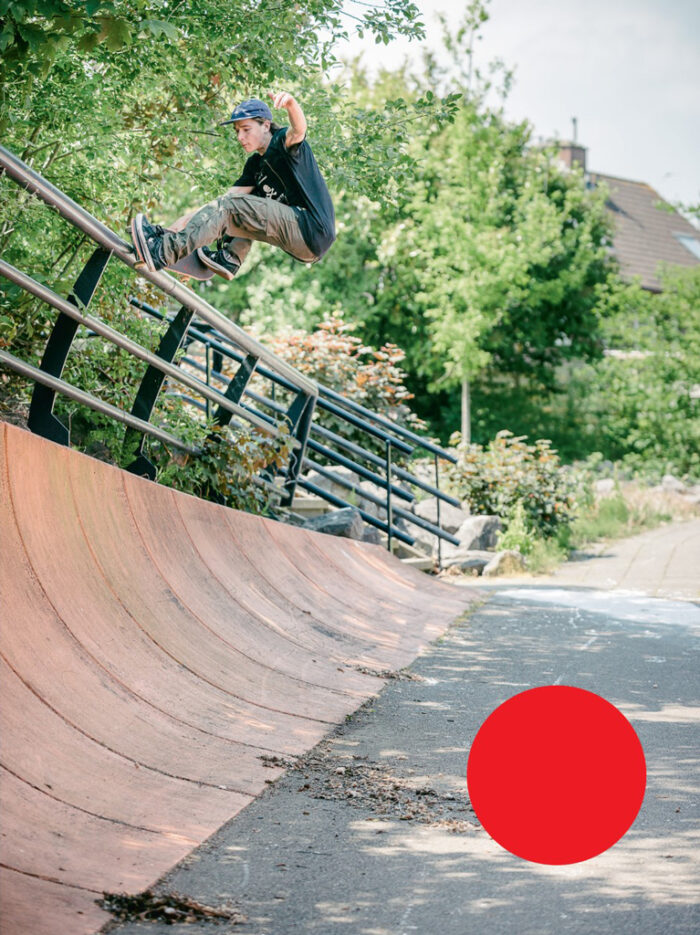 Free Issue #1. cover:
 Felipe Bartolmé – nosepick, Hoofddrop, Netherlands. photo: Sam Ashley. 

published: July/August 2015
"Part of our role as a skate magazine publisher is archiving skateboard history." – Will Harmon, editor of Free 
Free Skate Mag editor, Will Harmon; photo editor, Sam Ashley; and assistant editor, Arthur Derrien were the creative force steering the ship at Kingpin Magazine with Free quickly emerging after their former publication ceased to exist in print form.
Free is driven by Will, Sam and Arthur's love for skateboarding and their belief in the importance of the printed page and the pivotal role magazines play in our culture. The bimonthly publication focuses on showcasing the best skateboarding coming out of Europe and the U.K. with amazing photography, interviews and compelling editorial. Their 'The American Dream' series of interviews, exploring the careers of various notable Europeans, is testament to the breadth of knowledge and historical importance which the mag carries whilst maintaining it's pan-European focus. Slam contributing writer, Ben Powell can also be occasionally found within the pages of Free and his story on the intricacies of 'Already Been Done?' is as amusing as it is observational and informative.
"At Free, we view our print mag, website and social media [channels] as equally valuable assets, working hand-in-hand towards the promotion of skate content in a creative and effective way," explains editor, Will Harmon. "Part of our role as a skate magazine publisher is archiving skateboard history. With a print magazine you have a physical record of what went down in that particular era of skateboarding. Try finding an Instagram clip from five years ago!" 
Selected pieces published in the mag are later featured on their site alongside Free's own video output and carefully curated productions from elsewhere, making the Free website a staple of our 'bookmarks' tab.
www.freeskatemag.com / @freeskatemag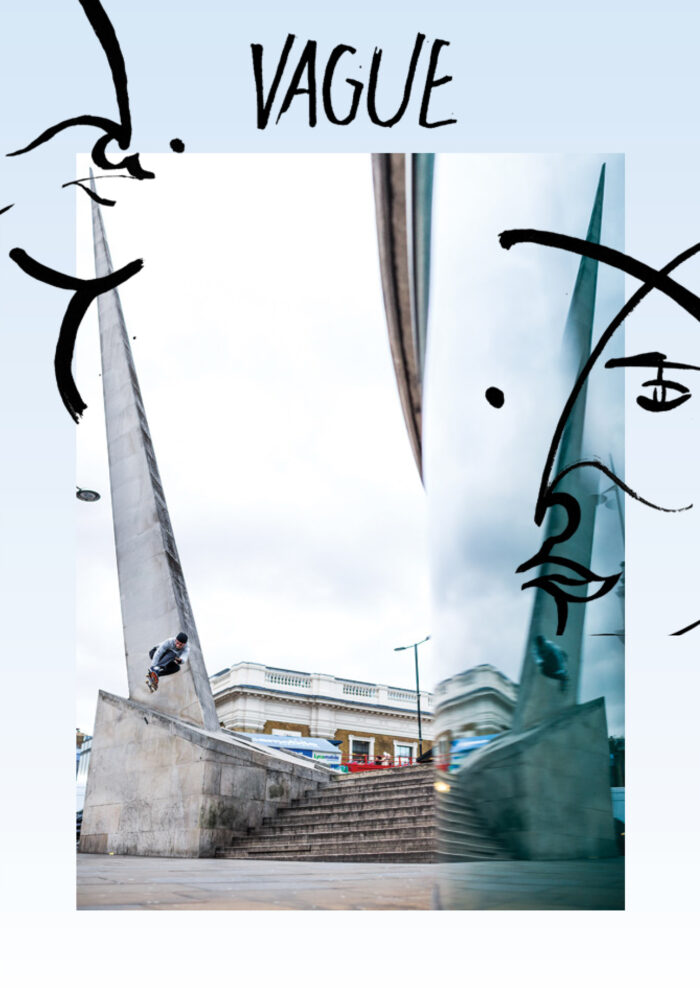 Vague Issue #1. cover: Kyron Davis – wallie backside grab, London Bridge. photo: Reece Leung, illustrations: Mark Pritchard. published: September 2017
"Artists, writers, skateboarders, breweries and everything else: we just want the world to appreciate them as much as we do." – Guy Jones
Vague Magazine is the culmination of Guy Jones and photographer Reece Leung's combined passions: skateboarding, photography, art and beer. "Vague is a vessel to showcase the amazing contributions of others," summarises Guy, the nominal-yet-position-refusing editor-in-chief. "We don't really have titles but Reece really dons it all whilst shooting an overwhelming amount of incredible photographs. I can't thank or appreciate him enough, it's very inspiring. Even if it does make me feel pathetic that I can't match his work ethic."
Guy, Reece and regular editorial contributor, Jono Coote all have Sidewalk backgrounds which, naturally, is in the DNA of Vague as they aim to cover skateboarding around the country, fostering an inclusive environment topped off by wit. "Without the previous and current publications, Vague wouldn't exist," explains Guy, pointing to many of the aforementioned print predecessors in this article alongside various zines, books and comics outside of skateboarding. "I found an old Viz with a Slam City advert in it recently, how sick is that?"
Interviews with skateboarders and artists are equally the backbone of Vague, complimented by tour articles, curated art and photo galleries and a deep reverence for breweries. Each issue concludes with "It's Not Where You're From", a column explaining the slang of various U.K. cities – another commitment to Vague's broad and lighthearted documentation of U.K. skateboarding.
"I guess the initial intention was to just try and give exposure to people we think are rad," says Guy, adding one one of his most rewarding experiences was that Liisa Chisholm secured a gig with CHPO Brand – "a day one supporter" of Vague – after they discovered her work through an interview in the magazine itself. "I'm not saying it's entirely down to her being in the magazine because her talent is endless,"  Guy asserts. "But when we interview an artist and they say how they sold more work because of an interview – that stokes us out. Artists, writers, skateboarders, breweries and everything else – we just want the world to appreciate them as much as we do."
The vibrancy of Vague covers reflects their tone, attitude and community created around the magazine since launching in 2017. "It's nice to have the freedom of what will be featured and how it changes month to month. One issue we had Nick Brown's Lizard Force gracing the cover – these mad lizard models he puts into war scenarios, then another cover will feature Lizzie Heath's incredible Manga," explains Guy. He also highlights Hannah Martin's early inspiration behind the magazine's curation as something which remains intrinsic. 
"I feel every magazine has at least one photo, or bit of text, or artwork that justifies the whole issue being printed. It's an important physical archive to look back on, something to feel, to give an issue to a kid who has just started skating and they get hyped. Passing issues around a living room and everyone giving their two cents  good or bad, background history or just general conversations which you can't do as easily on a screen. Getting a photo in a magazine is still very appreciated and we feel this will always be the case," concludes Guy, regarding the significance of printed matter in skateboarding. "Also, magazines smell rad."
www.vaguemag.com / @vagueskatemag

North Issue #1. cover: Daniel Nicholas – frontside blunt transfer, Edinburgh, Scotland. photo: Graham Tait. published: May 2012
"I loved the feeling of having a window to something new, and different, and magazines were a way to be involved. That feeling has stuck with me all this time." – Graham Tait, North founder
The vision of North founder Graham Tait was to create a magazine exclusively featuring film photography. Headquartered in Edinburgh, Scotland – unlike many of the U.K.'s other mags which are based or have some rooting in London; next year North will celebrate a decade of living on the counters and bookshelves of shops and skateboarders the U.K. over, and further afield.
Each issue features Graham's photography, submissions from some of the best skateboard photographers from all over the world and spotlight's on some of our cultures all-time greats including Lance Dawes, Joe Brooke, Michael Burnett, Mike Blabac, Dave Swift and Dave Chami.
We're grateful that the formative experience of delving into skate magazines has inspired Graham, and everyone else we've highlighted, to recreate the same opportunity for new generations. "I started skating in the first half of the '90s where magazines were the only regular accessible media," explains Graham, asked about the importance and impact of print. "I'd stand in John Menzies for hours reading R.a.D. cover-to-cover and looking at all the photos. I loved the feeling of having a window to something new, and different, and magazines were a way to be involved. That feeling has stuck with me all this time. Magazines can be archived and enjoyed forever."
Publishing a magazine, especially one shot entirely on film is a mean feat and why we always look forward to receiving each quarterly released of North.
www.northskatemag.com / @northskatemag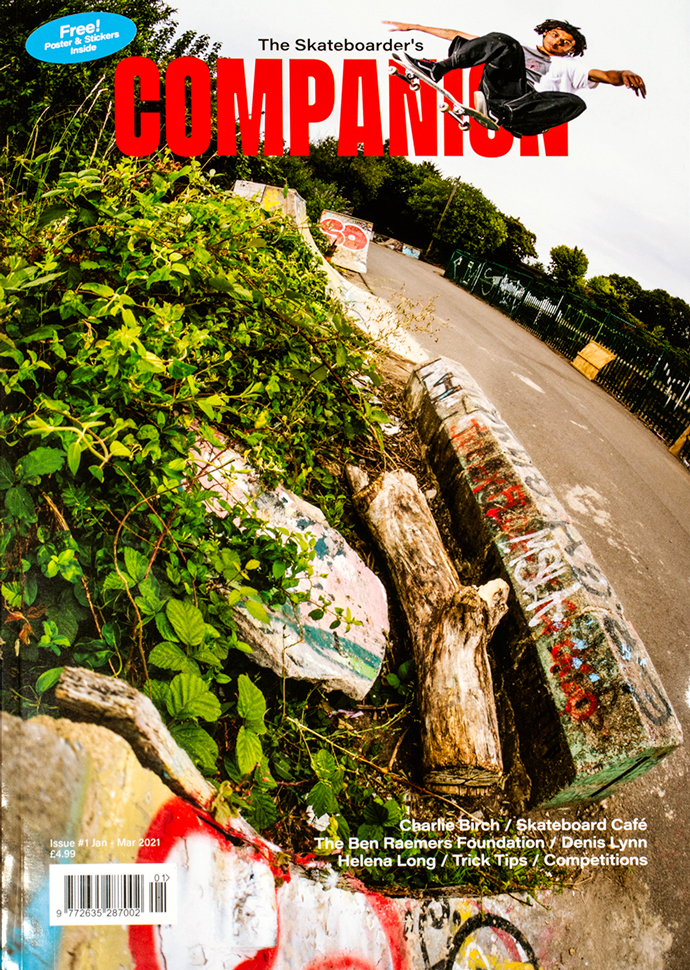 The Skateboarder's Companion Issue #1. cover: Jordan Thackeray – frontside channel ollie, Bristol, UK. photo: James Griffiths. published: January 2021
The Skateboarder's Companion is the newest addition to the grip of publications from our small island. Right off the bat, it was certain the magazine was going to deliver as it is helmed by former Sidewalk Magazine staff Ryan Gray and Leo Sharp, taking the role of editor and photo editor, respectively.
Their belief in the ever-strengthening U.K. scene, and decades spent collectively championing it, made starting this new endeavour a natural development. In editor Ryan Gray's words, their aim is "Providing the skateboarders of the U.K. with a national-focused, 100% skateboarding magazine that follows on in the inclusive footsteps of Document, Sidewalk and R.a.D." 
We're stoked to see the continuation of British coverage through their lens. The addition of another magazine is also an exciting development, showing the U.K.'s scene is flourishing enough to duly warrant several titles, broadening the amount of endemic skateboarding being presented to a global community.
The Skateboarder's Companion is available free from our online shop, as are all the other mags in this article. However, the magazine is also available to buy at newsagents around the country. Whilst part of their drive to make the magazine easily accessible to skateboards everywhere, this also provides an overwhelming feeling of nostalgia and pride; reclaiming the long lost joy of flicking through a copy of a skate mag in WHSmith as a kid or whilst passing through an airport for those of a certain generation. 
The Skateboarder's Companion is another quarterly release and their first four issues landed throughout in 2021.
www.theskateboarderscompanion.com / @theskateboarderscompanion
---
We hope you enjoyed UK Skate Mags: A Brief History. All of the titles above can be added to your basket for free or picked up in our shops while stocks last. Check out all of the latest issues in our Books & Magazines category.
More on print skateboarding media: Michael Burnett Interview: "I couldn't help myself, I wanted to do it all day long", Sam Ashley Interview – "I think things are moving in the right direction", LIGHTBOX: Jake Johnson by Jonathan Mehring – "The talk of the town", / Karl Watson by Mike Blabac / Gino Iannucci by Ben Colen, Andrew James Peters Interview, Pete Thompson Interview, Tobin Yelland Interview, Seu Trinh Interview: Creative Destruction, Dominic Marley – 5000 Words, Slam City X RaD Archive, Milton Keynes Skateboarding History with Leo Sharp and Wig Worland, Steve Kane Interview