Our Toy Machine x Emerica x Slam City collaboration just landed and we're hyped to bring it to you.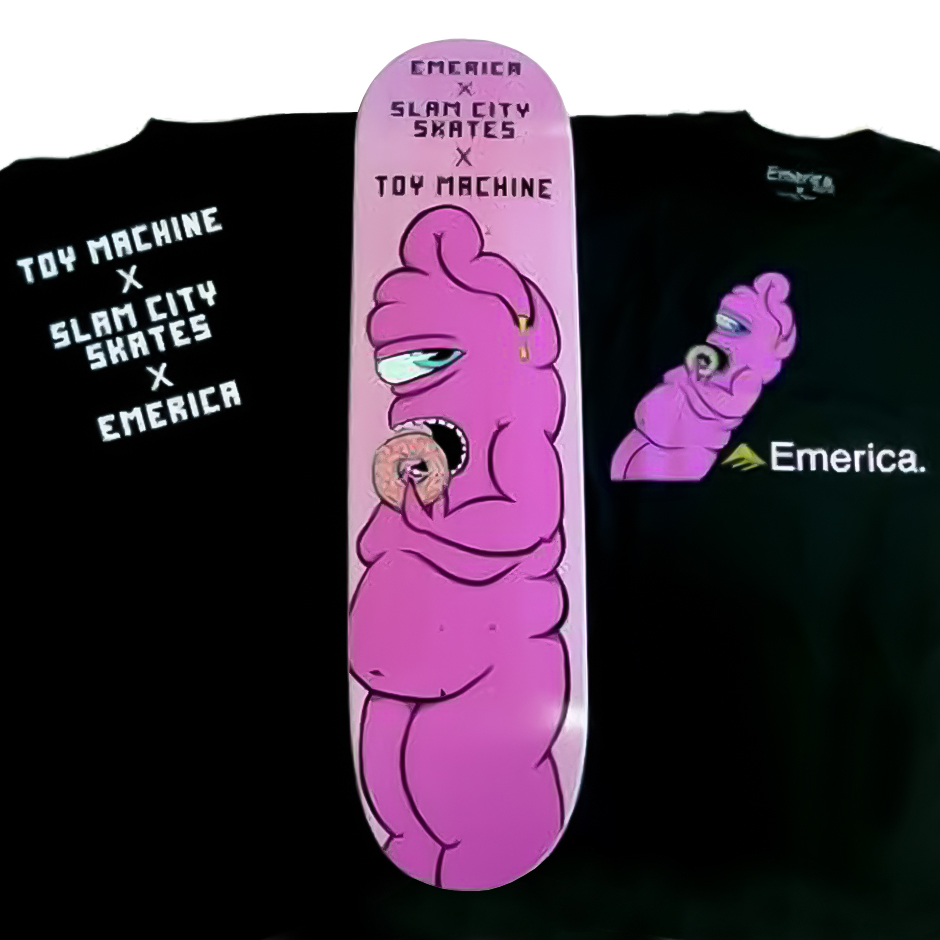 We have always loved and supported Toy Machine and Emerica so to be able to tie this whole thing together with artwork by Ed Templeton is a dream come true. When Slam also existed as a distributor we worked closely with Toy Machine for many years and Emerica shoes have been on our shelves since the brand's inception in 1996. This team up is a celebration of our shared heritage, to see it all come together is a special moment we're super excited about. The graphic Ed created for us is available now on an 8″ Toy Machine board and also a T-Shirt. The shirt features the Emerica logo and Ed's character on the front and the three brands are called out together on the backprint. This limited release is available now from our Covent Garden shop or online. It coincides with the opening of the Emerica x Altamont concept store which just opened in our basement where Rough Trade records once resided…
Drop by to pay us a visit, check out our new basement and pick up a piece from this collaboration. You can also shop online for Emerica and Toy Machine.
---
The Slam City collaborations archive – 2022: Skate Shop Day 2021: Slam City Skates X Oliver Payne, Thrasher X Slam City Skates, Blast Skates X Slam City 2019: Slam City X RaD Archive, Slam City X RaD Launch Gallery, Slam City X RaD Archive – Curtis McCann by Winstan Whitter 2018: enjoi X Slam City with Ben Raemers, Gonz and Toby by Thomas Campbell and Mark Gonzales, Anti-Hero X Slam City with Raney Beres 2017: Dickies X Slam City – Fall 2017 with Tom Knox, Darius Trabalza and Neil Smith, Krooked X Slam City, DC X Slam City, DC X Slam City Southbank Gallery, DC X Slam City: Josh Kalis & Mike Blabac Interview, DC X Slam City: Josh Kalis 'Memory Screen' Remix 2016: Vans x Slam City 'Lampin Pro' & 'Native American Pro', Vans x Slam City Launch Gallery, HUF x Slam City Skates, HUF x Slam City Skates Launch Gallery, Slam City "Artists" Decks with Tod Swank, Fos, Don Pendleton and Nick Jensen, Slam City Skates X Spitfire Wheels, Dickies x Slam City Skates (Summer 2016) 2013: Vans Syndicate x Slam City, House of Billiam X Slam City, DC Kalis x Slam City 2012: Slam City x Converse CTS, Silas X Slam City Skates, Real x Slam City Skates, Slam City Skates x Spitfire Classics 2010: Emerica x Slam City "Laced", Toy Machine x Emerica x Slam City 2008: Penfield x Slam City Skates 2007: WeSC x Slam City Skates 2006: Etnies x Slam City Skates 2005: Nike SB x Slam City Dunk