Enjoy The Suzuki Banks with Jef Hartsel & Ed Templeton, a romantic look back at an iconic spot…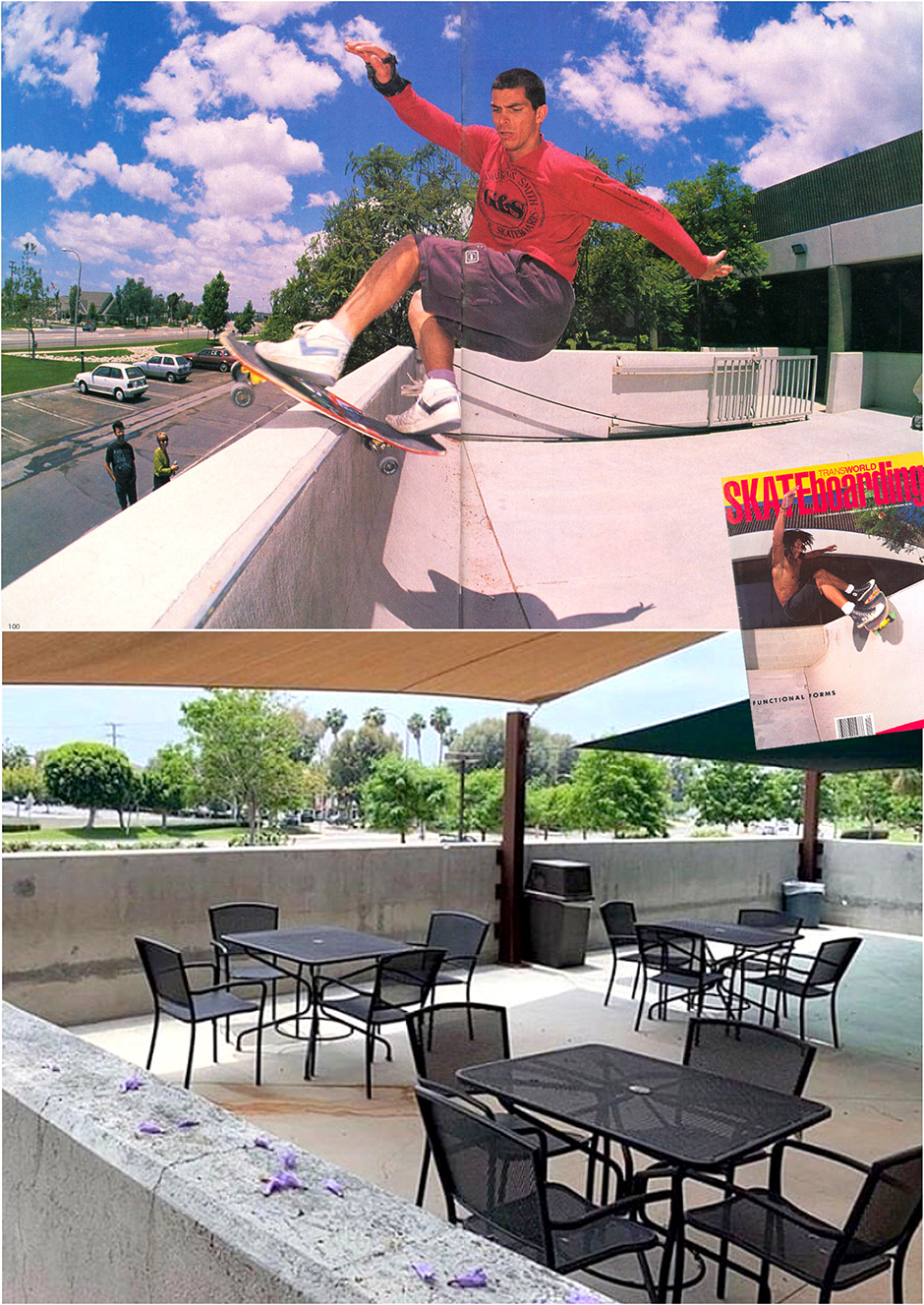 The Suzuki Banks Star Maps post from June 2019. Top photo: Blender by O, bottom spot photo: @skatevandal 2019
In the winter of '88 I managed to scrounge a copy of the Dec. 1988 issue of Transworld SKATEboarding from a classmate at the American International School of Nice, France. It was the first skate magazine I would take home and study on my own. I was 11. On the cover, a grinning, shirtless skater with dreads and Chuck Taylor's appeared to be attacking the top of a cement ramp, or so it appeared¬—with the words 'Functional Forms' etched across the ground below him.
Inside the issue, a feature article by the same name revealed that the perfect looking ramp on the cover was in fact not a ramp at all. It was the US headquarters for Suzuki. The skater's name was Jef Hartsel, the photos were all shot by "O", and those perfect looking quarterpipes were a fluke—accidentally perfect for skateboarding¬. They were "Functional Forms", and these were called the "Suzuki Banks". Immediately, it seemed like the coolest place I had ever read about. That was confirmed a few months later when Neil Blender had one of the most memorable photos in the Sept. 1989 TWS Photo Special front rocking them.
Cut to June of 2019. I'm a 42-years-old Contributing Editor to the same magazine I first discovered skateboarding in (TWS). I'm living in Los Angeles, raising two children, and posting old skate spots to an Instagram account named @deadhippie. I randomly get a DM one day of a cement enclosed corporate lunch terrace in Brea, CA. Right away, I know. It's the Suzuki Banks. But those beautiful cement quarterpipes are long gone—victims of the skatestop crusades.
Upon posting the remains of the spot along with Hartsel and Blender, I quickly learned I was not alone in placing the spot on a pedestal—even without the 'banks'. Ed Templeton quickly commented that the Suzuki Banks were "Valhalla" to him and the Huntington Beach kids. Tony Hawk wrote that the Blender front rock photo was "one of the best pics of all time". And Kevin Wilkins shared with me that the pedestrians below—looking up at Blender's frontside rock n' roll were actually Andy Jenkins (of Wrench Pilot fame) and his wife.
Locked down at home like the rest of the planet in May 2020, I decided to reach out to Ed and find out why they held this spot in such high regard. After speaking to Ed, it became clear I should also reach out to Hartsel or Neil. I first spoke to Jef for a feature on the Alva Posse in Skateboarder back in '01. We had reconnected a few times since for columns in TWS. But this time was a little different. Buckle in for a long read—not only covering the Suzuki Banks—but unearthing some biblical skate history gold for the ages; all from that same smiling, shirtless skater with dreads that I admired on that cover so many moons ago. Hail Harts.

Words: Mackenzie Eisenhour.

Ed Templeton, blunt at Putnam's Ramp from the same Orange County article as Jinx's front rock at Suzuki Banks. Photo: O, TWS Oct. 1989
Ed Templeton.
Huntington Beach, CA.

When did you first hear about them?
Living in Orange County the Suzuki Banks were legendary, and I think the famous Blender photo is what started it, and the Hartsel cover.
What made the spot "Valhalla" as you called it? What made it so special to you guys aside form the obvious amazing natural transitions?
It was upstairs which added a strange secret element to the spot, like it was kinda hidden away and you had be "in the know" to find it, because from outside it looked like there was nothing there. If I recall it was sort of an atrium in an office building, so you could just walk up the stairs and then go to it, but you could only try on weekends when the offices were closed.
Your favourite photo there?
The Blender photo, and the Hartsel photo are the classics. The Jinxy one is sick too. I don't even remember seeing the (Chris) Cook corner one, that is tough to do there.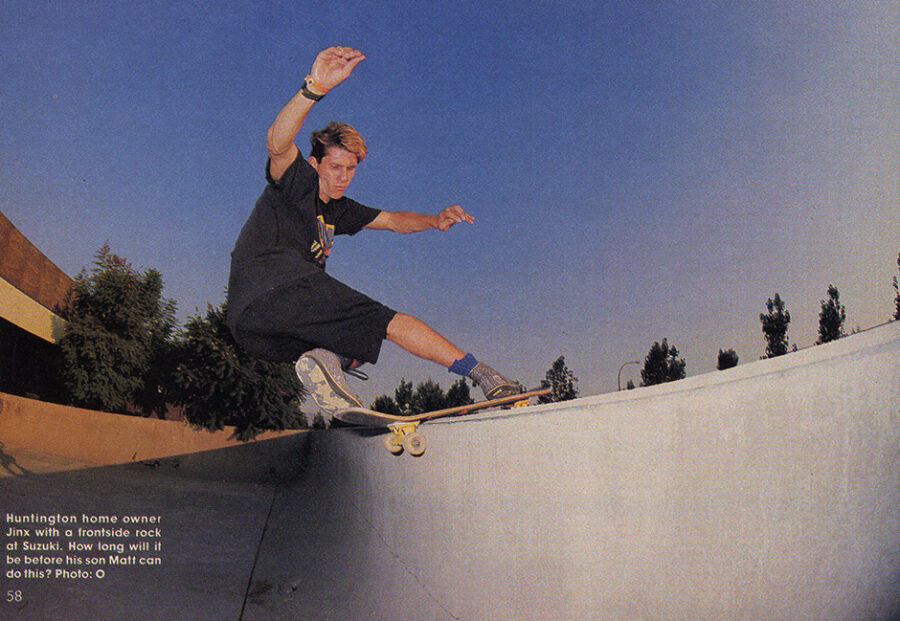 Jinx front rock at Suzuki. Photo: O, TWS Oct. 1989
Did you get to skate it?
I skated it once, maybe twice? I found it daunting! Tight tranny with lots of vert. I don't remember being there long, maybe we got kicked out. I think I was able to get a rock to fakie. I can't remember if I was able to get my trucks on the lip.
Did you guys ever see (Neil) Blender around back in the day? Was he as mysterious then as now?
That's funny, I don't actually recall ever seeing Blender in person or at a spot come to think of it. Hard to believe I didn't see him even once back in the day. Probably did but my memory has been wiped, he really is mysterious.
Last times you heard about the spot? Anyone hit it later in the '90s? '00s?
I remember hearing that someone made them unskateable, they did the same to Sadlands. Bummer.
Are these former locations important to you and to our broader culture? Is it still Valhalla in some respects even as a non-spot?
It's a special place even with no tranny. Sadlands was Valhalla for us too in Orange County. I wish I went there more at the time.
Blender has had a direct impact on most skaters even if they don't know it. His graphics and attitude are part of the skateboarder DNA, a strain I was always happy I got a good dose of.
How would you describe Neil Blender's influence on your life, skating, and artwork?
Blender has had a direct impact on most skaters even if they don't know it. His graphics and attitude are part of the skateboarder DNA, a strain I was always happy I got a good dose of. Learning that he did his own graphics along with some other pros was what inspired me to do my own when I got the chance. And his legendary contest runs in the NSA videos was watched nonstop and certainly had an influence on me.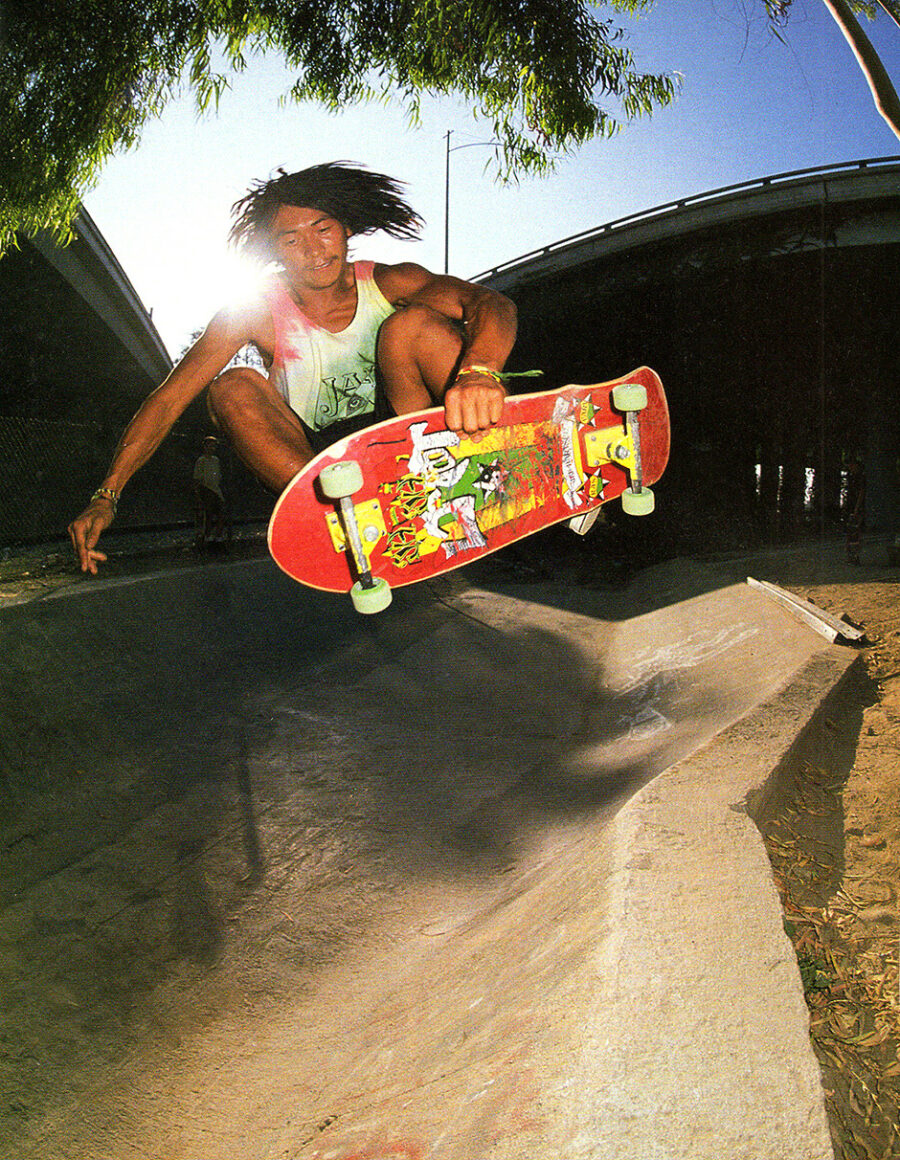 Jef at Flower Street ditch the same day his cover was shot at Suzuki Banks. Photo: O, 1988, reprinted in TWS Feb. 2003.
Jef Hartsel.
Honolulu, HI.

Hey Jef, did you get the photos I texted?
Hey Mackenzie. I did. How rad is the Cooksie (Chris Cook) photo? He's an animal.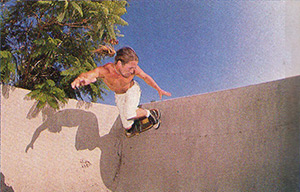 Ed was saying that hitting the corner was almost one of the gnarliest things there.
Looking back, Cooksie should have been the cover (laughs). I remember looking at it back then and thinking it was rad. It ran pretty small. Looking at it now, that's actually gnarlier than what Blender, me or anybody else was doing over there.
I think I sort of glazed past that Cooksie photo too and even the Blender backside air photo because it ran in the middle of the spine. I feel like if the Blender backside air photo was shot like the front rock it would be fucking insane.
Yeah. For sure. This jars my memory seeing this now. I see the cover shot all the time because people post it and stuff but I haven't physically looked at that Functional Forms issue and article in years. But that's a great backside air photo just for really showing what that area looked like. You know what though, this picture makes that area look like a football field compared to what it actually was.
Oh yeah, one of those.
Yeah, the width of it from corner-to-corner—from where Cooksie is hitting it, that whole Blender backside air wall—that thing is maybe three parking lot spaces, or four spaces wide total.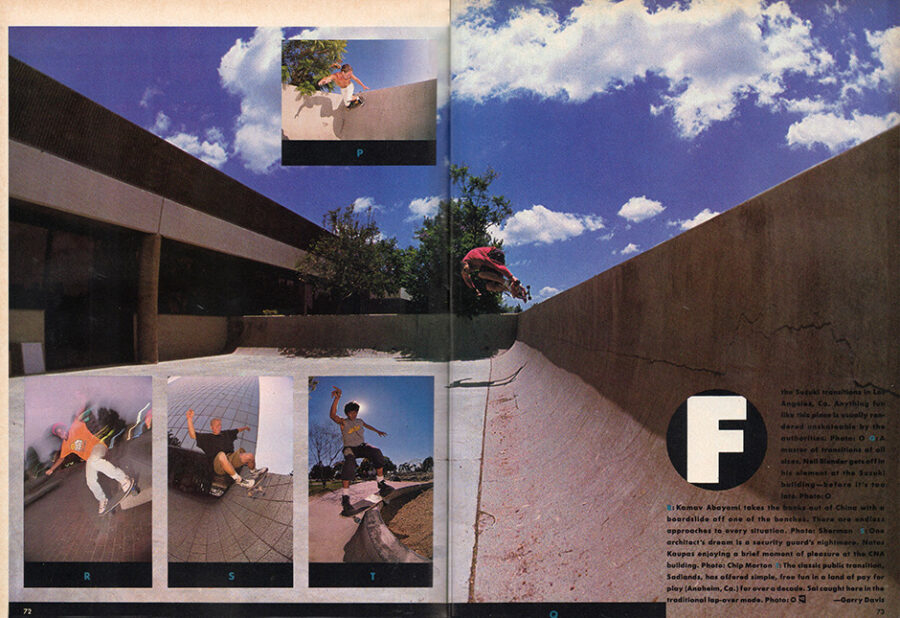 Functional Forms spread – Main photo: Neil Blender, backside air at Suzuki Banks. Top inset: Chris Cook aka Cooksie corner carve at Suzuki. Both Photos by O, TWS Dec. 1988.
Wow, yeah so way tighter than it looks. The wall you're hitting is the one on the far end there correct?
I think so because I remember those trees being part of the spot. It has that building behind me too.
It looks like there were only two skateable walls. The one behind Blender in the front rock photo is flat correct?
On the Blender front rock photo you can see the street below and you can't really see the staircase but right there was where you entered. You couldn't see it from the street. But I remember walking up the stairs and as soon as you stepped into that area it actually all looked like the shallow end of a pool.
Just gleaming.
Yeah, gleaming. There you go.
Let's take it back, when was the first time you saw or heard of the spot?
I believe I saw the Blender front rock somewhere or it's possible O told us about it.
You were saying how Neil had sort of influenced you guys to skate natural street spots?
I just wanted to mention Neil because for years before I was even sponsored or anything, he was always depicted skating natural terrain—city streets and architecture. Basically, 99% of what skateboarding is today—we had seen Neil skate Berdines in Orlando, the Bart photos (from the Bart station in Oakland), San Berdoo Banks, Sadlands of course, and all these other natural spots and that's what made this spot so exciting. To see our hero doing the same stuff out in Cali that we were doing back in New Jersey when I lived there just confirmed that we were on the right track.
Can you break down the shoot with O?
There was never any mention—I don't even think O knew that it would become the cover. I remember being super excited to link up with him that day. I remember taking JT along (John Thomas, Alva teammate). I might still have been working at the Alva factory at that point. I don't remember Cooksie being there with us, but at the same time I can't imagine going there at another time. He must have been with us or maybe met us there. Which makes sense because we were 'THC' — Thomas, Hartsel, and Cooksie (laughs).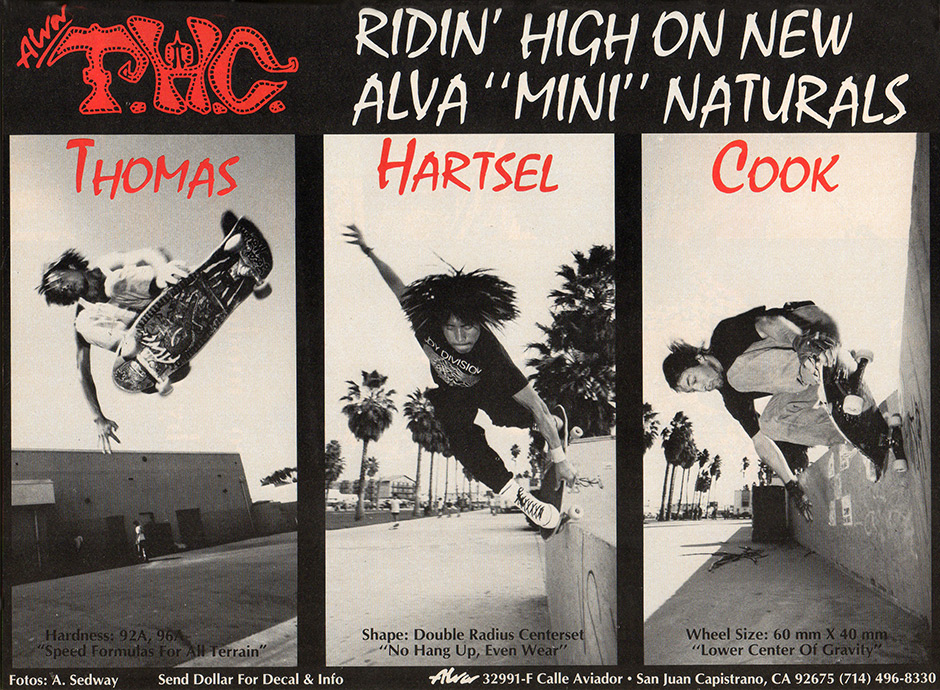 Team T.H.C. aka John Thomas, Jef Hartsel, and Chris Cook. Photos: Sedway, Alva ad, TWS April 1988
We lived together, skated together, did everything together—so I probably took them. This was an Orange County spot so I'm thinking maybe we met up with O somewhere down there and then all piled into his car. I knew that he was taking us to the Suzuki banks and I had never been there. I think he mentioned that Blender had gotten the shot there so I was super excited to get there.
Did you guys know it was called Suzuki Banks?
I knew it was called Suzuki Banks because I remember tripping out that I was going to Suzuki headquarters. It just sounded dope. It was just the name of the spot but it added even more mystique along with Blender. And being born and raised in Japan before I even moved to America and became an American—it struck a chord with me.
Like it was meant to be.
(Laughs). I don't know. But I remember being very excited to be going. When we got there, you couldn't really see the spot from the street below. I remember O taking us up that flight of stairs and then walking into that open atrium area, and like I said, it was like getting out of a car and walking up some stairs right into the shallow end of a pool. It was beautiful. Almost surreal, like in your mind you're going "That's not supposed to look like that." But it is.
I remember O taking us up that flight of stairs and then walking into that open atrium area, and like I said, it was like getting out of a car and walking up some stairs right into the shallow end of a pool. It was beautiful.
As a kid looking at it, I couldn't believe something that good to skate wasn't made for skating. I thought it was a skatepark. I kept reading it confused like, "They're saying it's not a skatepark. It says it's at Suzuki." You said right away though, the transitions were way harder to hit than it looks.
Yeah, I'm sure on the drive there with O, I must have been imagining what I was going to do there too. I'm sure I was imagining all kinds of things (laughs). But getting there and getting in the first few hits, suddenly the reality and the rude awakening set in like, "This thing is a lot harder to skate than it looks." My imaginary trick list probably went out the window.
I probably just went into pool mode. Like hitting a shallow end. I felt exactly like that. I just couldn't get on top of it to do any real lip trick. Looking at the cover now, if you look at that cinder block wall behind me in the back, each cinder block is 12 inches, a foot. So that's like two-and-a-half/three-feet of vert.
You mentioned you consciously had set up the red Alva board, yellow G&S trucks, and green wheels—and then without you knowing, they used that Rasta color way for the whole cover.
Yeah, exactly. I had chosen that red board and matched it all up with the stickers. So just that experience of seeing it for the first time was crazy. I had no idea. I was coming back from a skate trip, landing at LAX solo. You walk out of the plane and through the gates, and past the main hall with the stores and bookstands.
I remember walking by and glancing at the newsstand and seeing it right there. It was crazy. Not even browsing for it, I was just walking past and it caught my eye. Noticing that it was a Transworld. And then I saw myself on the cover, with all those colors too—It just blew me away.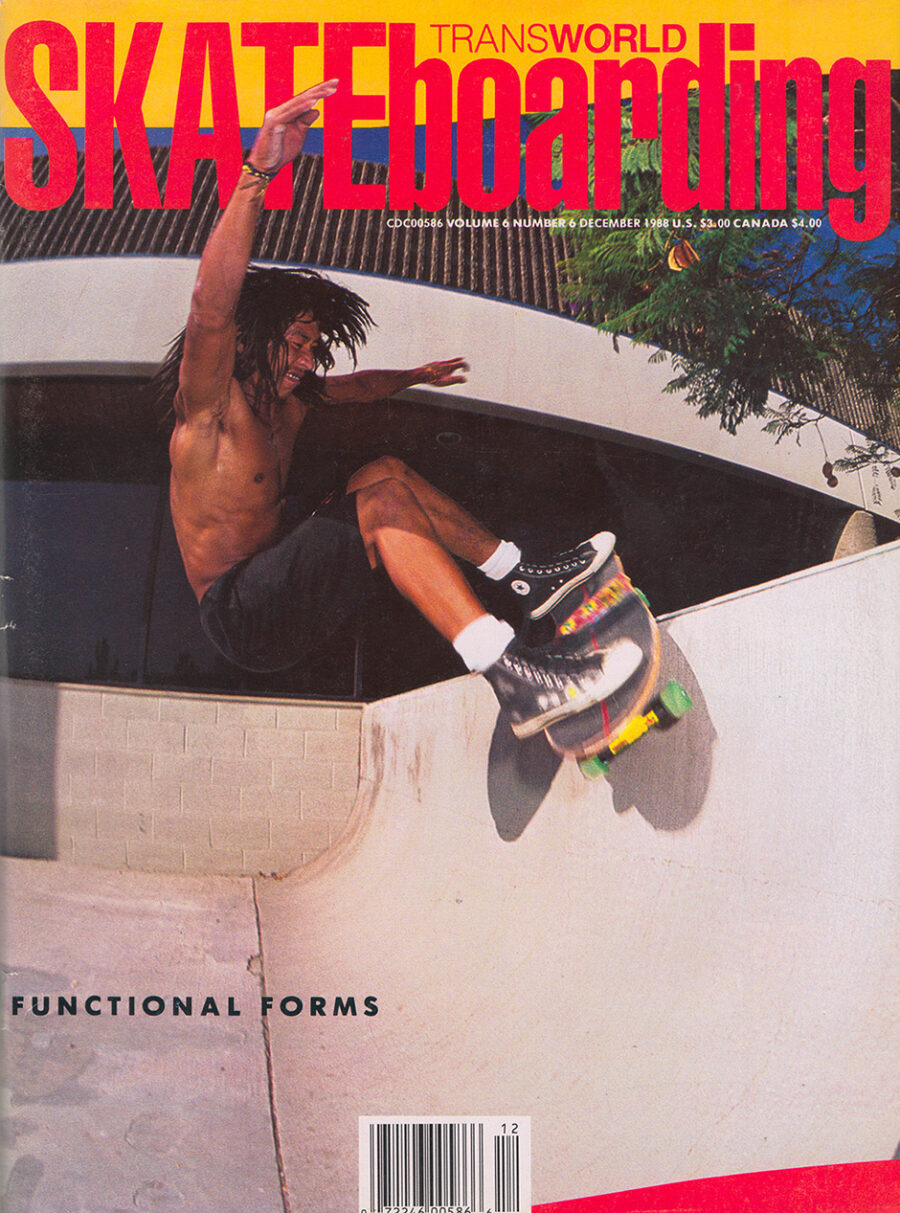 Jef Hartsel, the cover at the Suzuki Banks. Photo: O, TWS Dec. 1988
I was just walking past and it caught my eye. Noticing that it was a Transworld. And then I saw myself on the cover, with all those colors too—It just blew me away.

I mentioned to you that this was the first mag I owned as a kid and I always loved how you look like you're smiling on it. You mentioned you guys were 'giving thanks'.
(Laughs) Yeah. We were definitely smoking that day. If you look at my hand too you can see that probably took some slams. I have dust all over my hand. One of the things I like most about the cover now is those Chuck Taylor's with all the ollie holes. Those were the days. These days I couldn't put an ollie hole in my shoes if I tried (laughs).
You guys didn't get kicked out that day?
No. We didn't get booted. That was another thing O had the inside scoop on when you could get in there and skate it. He had done all the recon. It wasn't a stressful bust situation. I remember from Suzuki Banks we went to the Flower Street ditch right afterwards. That's still one of the best ditches I've ever skated.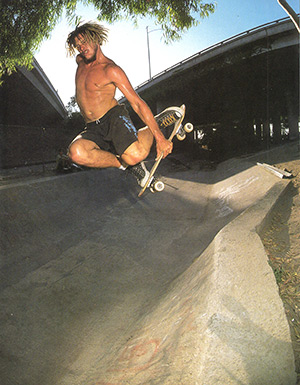 There's a sick JT photo at Flower Street by O and one of you that might be from that day. Was Flower Street near the Suzuki Banks?
I'm thinking it wasn't that far. But I mean to us it was all in Orange County. As far as us Venice locals were concerned, Orange County might as well have been Egypt. Going back to the early Dogtown days it was always about beating the 'Vals' or the people from the Valley. Then in mainstream media there was all this 'Valley Girls' cultural trends and all that. Not growing up in Cali I always wondered about 'the Vals" and the Valley.
When I finally moved to Venice from Hawaii in the '80s and lived amongst the heaviest Dogtown dudes, one of the first questions I asked was "Hey man, what's the Valley? Where are the 'Vals'?" I think it was Monksy who answered. He said, "That's anything East of Lincoln" (laughs). So Orange County was like another planet (laughs).
I live near the West LA Courthouse but I guess I'm a Val now. Lincoln is like 20 blocks West.
Yeah, you're a Val bro. But you're nowhere near the valley (laughs). The first person that took me to the Courthouse to skate was Tony Alva. Alva was skating that before anybody.
Did you guys ever skate the roof on the Courthouse pavilion? I always heard people skated that back in the day? It's like a little mellow ditch up there.
I never did but that makes sense to me. There's the famous drop off right there. That was our regular spot though. We would skate there for sunsets. TA lived in an apartment barely a block from there when he got married.
That makes sense. I see him around that area all the time. So TA was a Val just like me?
(Laughs) Also across the street, the last time I was in LA I went to check it and it was still there on Sepulveda and Santa Monica—but that marble (Eric) Dressen bank was right there too.
Yeah, that thing is covered up now with bushes and they remodeled the bank. I got to skate it right when I moved to LA in 94. I think it got taken out maybe in like '98. It was hard to skate that thing. It was steep and quick.
It was. It had a really tall corner. We would hit that and the Courthouse.
Did you ever go back to the Suzuki Banks?
No. That was the only time. I was actually shocked to hear from you that they had taken the tranny out. That doesn't make sense to me.
Yeah, somebody sent me the present day photo because I post all those spots on my Instagram.
I love that stuff. I was tripping on the recent one of the crusty Scottish banks in Aberdeen. The funny thing is—that looks like a present day spot in Hawaii that we would be stoked on (laughs).
What was the Blender boardslide story you mentioned?
It started from this Thunder ad. Jesse (Martinez) had this full-page black and white Thunder ad doing a boardslide. He was riding a Powell board. He rode for Powell at the time. He's doing an ollie up to bench slide on these benches that were all put in out of nowhere. They showed up everywhere. Like a gift from the heavens—all put in after the 1984 LA Olympics.

They showed up everywhere. Like a gift from the heavens—all put in after the 1984 LA Olympics.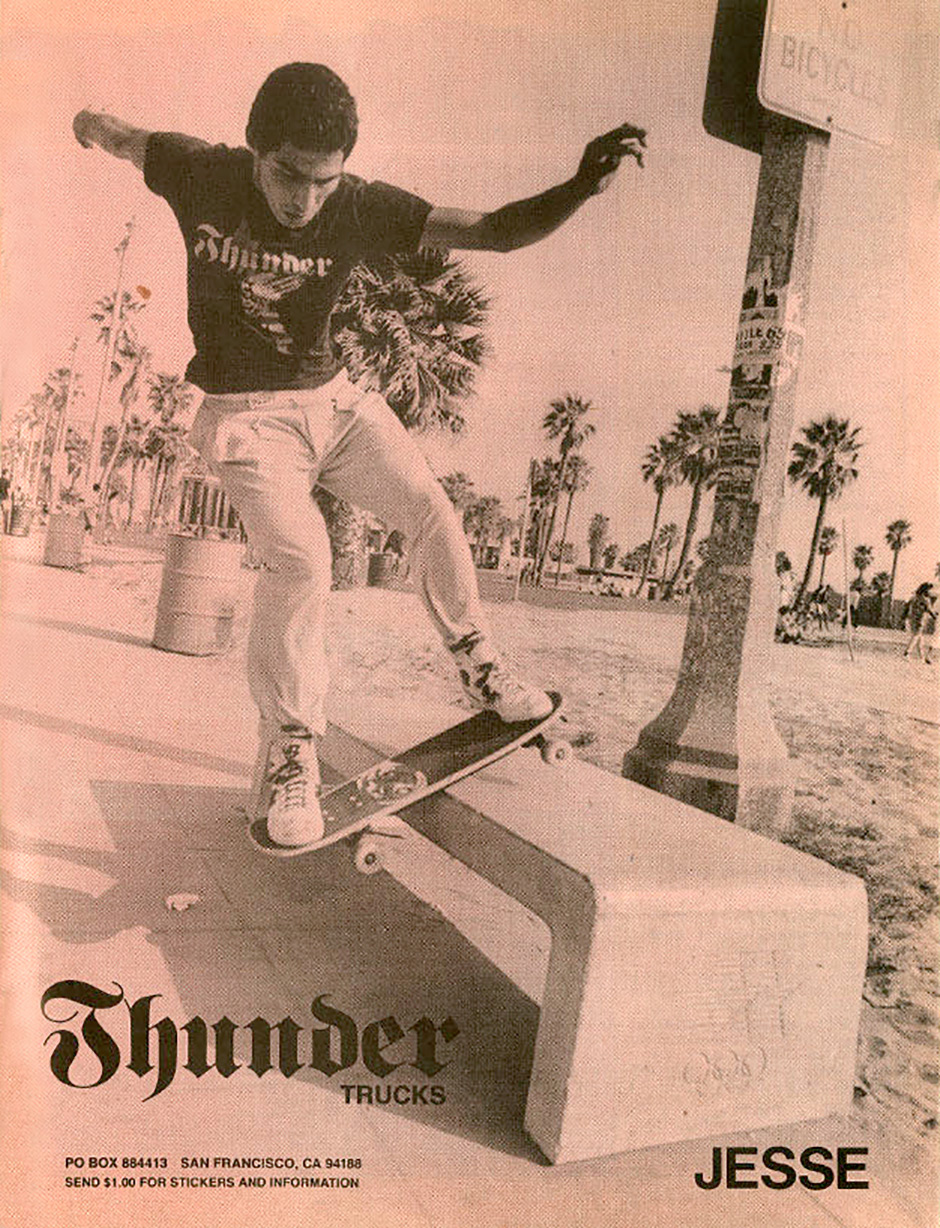 Jesse Martinez, Thunder Trucks ad. Photo: unknown, Thrasher July 1986
Are they the ones with the Olympic circles and stars on them? They still have a bunch down at the LA Coliseum spot. People still skate them.
Yeah, that's exactly what I'm talking about. They put those all around LA. They were the perfect height and they even have the rounded edges that are so forgiving to ollie on. But it was still considered kind of high for the day.
So the LA Olympics basically launched ledge skating?
They kind of did. Because those benches became the obstacle that we all learned how to do the bench slide on. While we were all still doing rock n' roll slides on curbs, Jesse (Martinez) went to do a demo in Alaska with Blender. He came back and he was like, "Hartsel, check this out man. Neil ollied up onto this bench, rock n' roll slid it and came off." I was like, "What? What do you mean? Like he kickturned off of it?" He was like, "Yeah. He did a boardslide and turned off." So we all set out on a mission to do it. Natas was off doing it on his own. Then guys like me and Jesse and Cooksie and Julien Stranger all tried to figure it out on those new benches.
Was Julien more the youngster in the crew?
We were all good homies. Julien was a full skate rat. He was a lot younger than me and Cooksie. He was also best friends with Natas. Even though Natas was getting photos at Venice, Natas pretty much stayed in his little cuts in Santa Monica. Julien would skate with Natas in Santa Monica and then come skate the rest of the day with us in Venice. So whatever Natas was cooking up it would rub off on Julien and we would see it through him.
Julien would skate with Natas in Santa Monica and then come skate the rest of the day with us in Venice. So whatever Natas was cooking up it would rub off on Julien and we would see it through him.
That's sick.
Like at one point we had all figured out frontside 180 ollies on street. We all thought we were like 180 ollie experts by then. When Rodney's sequence of straight ollies came out on his freestyle board, we all had to learn straight ollies. But even before that, we were all doing frontside 180 ollies and landing four wheels down. Almost like a power slide where you jumped and scooped.
One day Julien shows up out of nowhere and he's all, "Check this out." He fucking pushed as fast as he could did a frontside 180 ollie but landed with the front wheels first. Which is like the only way to do it now, but we were just like, "Whoa!" But he would bring these little things he would pick up.
What was the story with Julien making fun of Jesse's boardslide ad?
(Laughs) Basically when that Jesse Thunder ad came out I just remember being stoked on it because it that was our new trick, on the new benches that we had on lock. As far as we were concerned we were the only ones doing it outside of Neil. But I remember looking at that ad when it came out and Julien mentioning something about the photo making Jesse look like he had an egghead (laughs).
I remember Julien coming down to skate with Dressen still in the late '90s. It felt like both of those guys, along with Jesse, yourself and a whole bunch of others got left in the cold during the early/mid '90s.
I hate to even make reference to it, but back then it was common knowledge amongst the insiders that the skateboarding industry always goes in a ten-year-cycle. And around that time ('91-92) was the second time that skateboarding was dying. So the skateboarders that had hopped on the bandwagon all hopped off. But for the lifers, it left you in a really fucked up place. We weren't ready to stop skating.
Around that time was the second time that skateboarding was dying. So the skateboarders that had hopped on the bandwagon all hopped off. But for the lifers, it left you in a really fucked up place. We weren't ready to stop skating.
It almost took another decade for it to come back around and for them/you guys to get celebrated again.
That and also, around the time that us older cats were crumbling and going through hard times, the majority of our peers weren't skating. They were gone. And the ones left that were passionately doing it, they were so much younger than us and were on a whole different trip. Suddenly, you were kind of left alone.
I remember that huge generation gap in the older guys when I started and the younger kids.
The cool thing now is that it has gone full circle. Everything is accepted again. Because mind you, those hard times for the lifers and the old timers–that was going into the peak of tech skating. If you even touched your board, grabbed, if you did a no comply—you were a kook!
Yeah, even a Smith grind, you were banned. Lipslides were illegal.
Exactly. Now, these days if you can't do that on top of your tech tricks you're a kook.
Yeah, if you can't do a no comply or an early grab now you're a kook.
(Laughs) Exactly.
One thing though, some of those guys that got hot during that flash in the pan triple flip noseslide tech window got screwed worse than the old guys. With the New Deal revival and stuff like that now, some of those guys like Ron Knigge are finally getting some shine back after decades of being forgotten.
Yeah, if you really want to understand skate history, you can understand it best just by studying skate tricks. Because it was an evolution. On that note, nobody that contributed is going to be excluded forever. At the same time, these days almost everything has been done. There is really nothing new now.
It's kind of down to how you present it at this point? It's like music, when you've done everything; you've done the fastest heavy metal guitar riff you can do. Where do you go?
Exactly, and a lot of those heavy metal bands would end up including like a piano ballad or something because "what else can you do?" When I said there's nothing new in skateboarding that's half-true because really there's always something new in skating. What's amazing now for example is that they can consistently do that shit.
Like triple flip noseslide a handrail every try basically.
(laughs) Right. Because the guy who did triple flip noseslides on a curb back then it probably took 300 tries to do it. Now things almost as technical go down on handrails first try.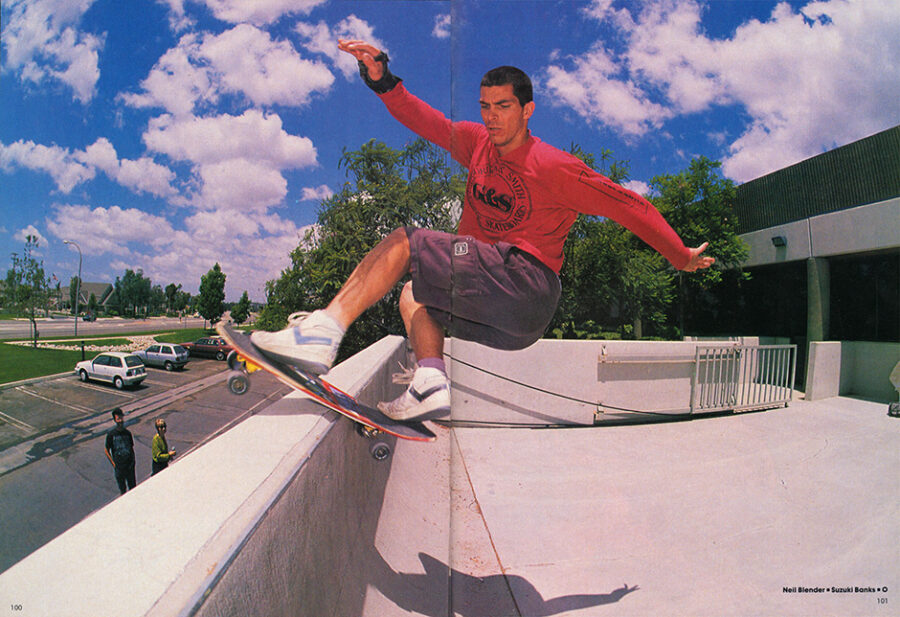 Neil Blender, front rock with Andy Jenkins and his wife Kelley below. Photo: O, TWS Sept. 1989.
The things that Neil has always been associated with were a little more subtle and sophisticated. We knew from the get that Neil was unique.
That's evolution like you said. Circling back to Blender. When I posted that front rock photo, even Tony Hawk commented like, "That's one of the best skate photos ever shot." You could tell he was genuinely a Blender fan. It seems like Neil himself really doesn't want the credit, he doesn't want to be celebrated—but behind almost every pillar—from the No Comply, to tricks on the nose, to all the handplants, lip tricks, to drawing your own graphics, to ollie boardslides on benches like you said—how wide is his influence really?
Neil from the get has always wanted to be involved and connected to the uniqueness of skateboarding. Like it was easy back in the day to look at a blasted backside air photo and go "Rad!" The things that Neil has always been associated with were a little more subtle and sophisticated. We knew from the get that Neil was unique. It was more the different things that he was doing.
We all got the same board with two trucks and four wheels. But we all ride it differently. Even on the frontside rock photo, one thing that struck me was that he was wearing Pony's. That alone is off. This is pre-skate company shoes or in the early phases, so we were all wearing athletic shoes like Nike, Converse or Adidas. But Neil had the Pony's.
Any other details that stand out?
It looks like Neil is riding Tracker Magnesium baseplates on his board too, which were yellow. Going back to my cover shot, I remember being super stoked when I rode for G&S, because I got these yellow trucks that I'm riding on the cover. Growing up, I always wanted yellow Magnesium Trackers but they cost double the price of the silver ones. The grom in Harts finally got his yellow Magnesium's (laughs). Looking at the photo of Neil too, I'm probably clueing in on those types of details.
Yeah, you studied the colour ways.
There's actually a rad picture of Julien wearing the full on blue Tracker star sweatshirt doing like a leaned plywood wallride.
No. (Laughs). He told me about that. That shirt actually says 'Destroy Tracker'.
Oh. It does?
Yeah, I posted it to my Instagram a few years back like, "Tracker sweatshirt never looked so good." And he commented like, "No dude, it says 'destroy Tracker'" or something.
(Laughs) Gotchu. That makes sense now. When I saw that picture, who knows it might have been from you, I was tripping going like, "I don't ever fucking remember Julien riding Trackers— ever (laughs)."
He went out of his way to comment and say "nope".
You must have been stoked.
I was actually.
Like, "Sorry Julien" but this is rad.
Yeah I wrote back like, "Even radder!" but then I just felt like a kook (laughs). Since I worked for Transworld he probably thought I'm like pro-Tracker. (Laughs) Did you say that you actually wanted the O Flower Street photo from that day on the cover instead?
Oh yeah. It was years afterwards that I saw the Flower Street photo pop up (It ran as a Relapse photo in TWS in '03). I was like, "Wow, that's from the same day." I remember thinking I wished that one was the cover. But like I shared earlier about the difficulty of skating those Suzuki Banks, I might have been bummed out back then.
Like I almost wished I could have done something better. When I saw that cover of course I was psyched and stoked—mostly because it was red, gold, and green and I'm rocking dreads (laughs)—but I always wondered if I couldn't have gotten something harder.
It's so pure though. If it were a harder trick… I think it's meant to be man.
Maybe you're right.
I mean what else would it have been? Like a Texas plant or something? What would your dream trick/cover have been on those banks?
Well, back then there no such thing really as "someone already did that there". So I probably went there wanting to do what Neil did (front rock). But suddenly realized how fucking gnarly that was. So it wasn't even about the trick that I didn't get, it was almost more, "Whoa, that trick got me on the cover?" You know what I mean?
But over the years so many people, like yourself have told me that that cover was there first magazine, how much it means to them and I've gotten so much Irie feedback. Which was impossible to get back then. No internet. No social media. I didn't know what people thought of it. If anything, I thought people thought it was whack.
Hell no. I mean, that whole thing is like religious artifact to me. It's everything.
It's a surprise to me, even in this moment talking to you, that it actually fuelled and sparked people. That's really what stokes me out today.
It's a surprise to me, even in this moment talking to you, that it actually fuelled and sparked people. That's really what stokes me out today.
I just want to slash that thing. I want to be you right there (laughs). I want to be in that position, and feeling that truck hitting.
Well Mackenzie, staring at it right now—it looks different to me talking to you now and looking at it than I've ever seen it before.
I guess we all see what we want to see.
Exactly and that's the beauty of it. In the eye of the beholder.
Did you skate Southbank on that second Rollermania trip Dressen took?
Hell yeah. Southbank was sick. That was another place that was hard to skate. I had seen the photos of Eric there skating it and the footage of Gonz too. But when we got there it, you could tell generations of skating had already gone down there. It was already super thrashed and worn and slippery.
Yeah, it was already a historic spot from the '70s from what I understand. I mean it's natural tranny, covered from the rain. That's golden in London.
That makes it even more magical. I was super stoked to see recently that they were able to save a portion of it.
Was the bank-to-wall still there when you went? Did you hit that?
Of course! The bank to wall was the thing that I enjoyed the most actually. That was no credit to me because it was all I could do there (laughs). Actually, I give credit to Dressen to this day because he helped me learn how to ollie hips on that trip. At one of the old '70s skateparks, Dressen was killing it.
I remember saying like, "Eric, what's up? How do you ollie those hips so good." We were both standing when I asked him. He looked down at his feet and all he did was—he just took his front foot and cocked it and pointed it towards his back foot. Almost like a pigeon toe. This might actually help your skating.
He looked down at his feet and all he did was—he just took his front foot and cocked it and pointed it towards his back foot. Almost like a pigeon toe.
I need all the help I can get.
So he showed that and I tried it on that trip and it worked. Basically, you're over compensating from the get, so just that slight pigeon toe kept my foot straight once the ollie started. That said, moving on the most technical innovative skateboarder there is Rodney Mullen—Rodney is pigeon toed. My image of every encounter with Rodney, and I've hung with Rodney a lot, but I can picture him looking over his shoulder, seeing your face and going (high-pitched voice) "Oh Jef!" With his hand already out ready to shake your hand—walking pigeon toed, like almost knock-kneed.
So that's the ollie secret.
(Laughs) So yeah. I think the ollie secret is being pigeon toed. And remember Rodney's roommate at that time was Steve Rocco. Now Steve Rocco's dad told me a story that when Steve was born they told him he would never walk. Steve Rocco grew up in these gnarly leg braces because he was born like that—pigeon toed. So I'm thinking, is that the secret to tech skating?
(Laughs) Were you tripping on UK culture when you visited?
To me, I've been infatuated with English culture way more than American culture. Mind you when Dressen came back from that first trip he came to Venice rocking fucking fresh Doc Martens. Doc Martens were already in the punk/fashion scene in Santa Monica. We used to go to this shop Nana's that was like how every store now is like an Urban Outfitters. There were three stores all owned by Nana's. One with a hair salon, one with a record store, and one with a clothing store.
That was like our Kings Road or Soho because of the British influence. We would hang there all the time. I loved hanging in there. It reminded me of Tokyo or London. I'd see Mark Mothersbaugh of Devo there and people like that. They sold Doc Martens and that was the only place. So that trip when we went to England for the first time with Dressen, one of the first things we asked Mr. Coffee of Rollermania was "Hey, can you take us to a Doc Marten shoe store?" I remember them laughing at us and saying "What? You want to go to a factory worker shoe store?"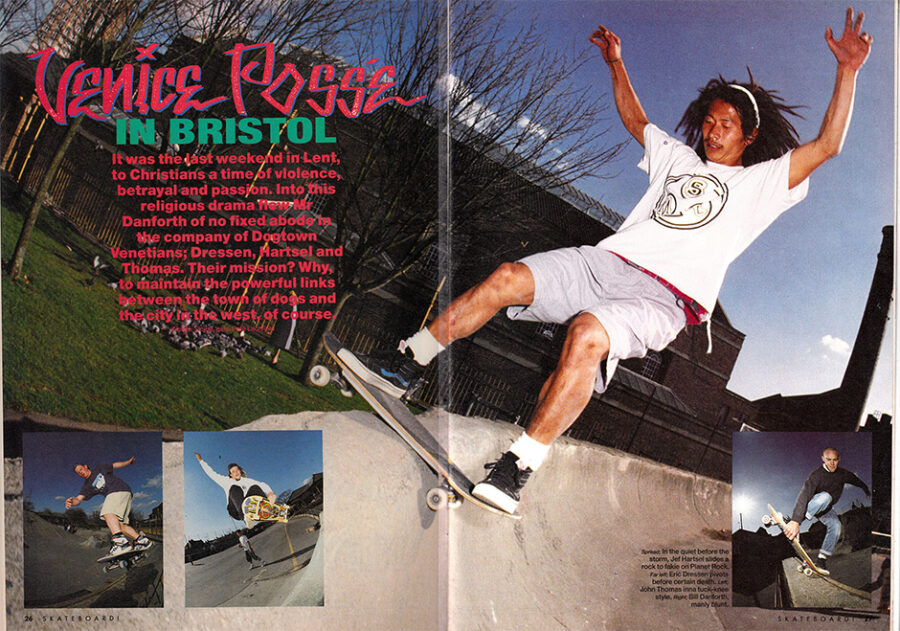 Jef Hartsel sliding a rock to fakie at Planet Rock in Bristol. Photo: Pete Litchfield, Skateboard 1989
You guys were feeding off that culture?
Yeah, it was all because of The Clash, The Sex Pistols, Joy Division and all that. I always say that the best thing that came out of the punk rock movement was all the good music that came afterwards. All the stuff coming out of England, are you kidding me? My favorite graphic designer—Peter Saville of Factory Records and all that shit. All I wanted to do was go to Manchester and hang out at the Hacienda, the Porter Club and all of that. So for me, I might as well have gone to Kingston, Jamaica.
How did you get into Reggae from punk?
We got into reggae in the late '70s and at the turn of 1980. Me and my friends in New Jersey—we all shifted suddenly from listening to Metal and Punk Rock to Reggae and Dub. Basically it was because Johnny Rotten and The Clash and those guys were smoking Ganga and hanging out with U-Roy and all these gnarly Dreads. People kind of trip on me sometimes, like "Man, you went from punk to Rasta." I'm like always like "Dude, it's all rebel music." Reggae is totally anti-government, anti-establishment. That's why Bob Marley was recording songs like "Punky Reggae Party". But yeah, England was a treat.
Outro?
All love and respect to the Slam City Skates guys for even having interest in this stuff. They haven't changed and they still keepin' it lit out there in the UK.

End notes: After completing the interview with Jef, it quickly dawned on me that the Blender photo of the front rock ran (Sept. 89) almost six months after the Hartsel cover (Dec. 88) came out. Meanwhile, Blender is wearing the exact same outfit as in the front rock photo in the backside air photo that ran in the Dec. 88 issue. So it looks like the same day. All the photos are shot by O. Jef was sure he knew about the Blender trick or photo before he went to the Suzuki Banks. I reached back out to Jef explaining the breakdown and he was still sure he knew somehow. I reached out to Grant Brittain and O. Still waiting to hear back from O but Grant said it was possible the front rock photo was shot before the Hartsel cover and they held the photo (a spread) for the Photo Special (It had tons of epic spreads). It's possible O told Hartsel about the front rock when he took him to the spot to shoot the cover. Either way, O holds the answers to that mystery.

Keep up with Jef at: @art_is_tree
Follow Ed: @ed.templeton
Follow O and purchase prints: @otisserie
Follow TWS at: @transworldskate
Follow my old unskateable spot guide: @deadhippie
Thanks to: Jef, O, Ed, Neil, Grant, Kevin Wilkins, Andy Jenkins, GSD, TWS, Slam City Skates and Science Vs. Life for the Skateboard Magazine scans.

Previous articles by Mackenzie Eisenhour: Sebo Walker Talks Quarantine. Dressen at Southbank 1987