We have just released some exclusive Spitfire x Slam City Skates Formula Fours to mark our 35th year serving the skateboarding community. Here is a good look at the wheels and the video which announced their availability…
The video for our Spitfire x Slam City Skates Formula Fours filmed by Sirus F. Gahan
The above video features Slam team riders Jeremy Jones, Dougie George and Amanda Perez. It was filmed for us by Sirus F Gahan, capturing the first night those Formula Fours touched down on London streets fresh from San Francisco. Getting to work with DLXSF is always a pleasure and we are elated to have our very own Spitfire wheel in the cabinet again. Spitfire have helped us celebrate previous milestones as a brick and mortar shop, releasing a Spitfire Classic on our 25th anniversary and a previous Formula Four pack when we reached our 30th year. When we first began discussing artwork for the project we knew instantly that we wanted to enlist Slam team rider Jeremy Jones to handle that side of things. We couldn't be happier with how they look.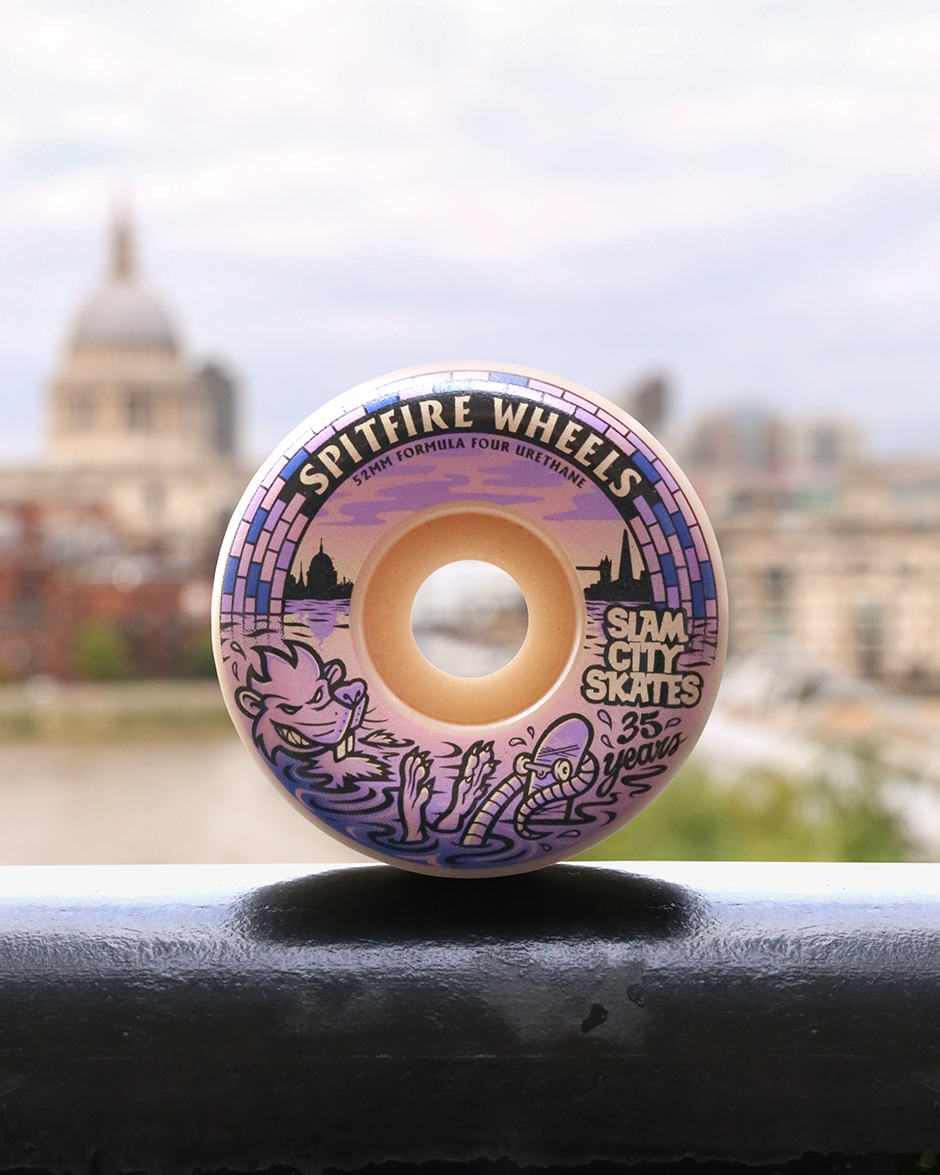 Our new Spitfire x Slam City Skates Formula Four Wheels in front of the skyline they contain
Jeremy's playful aesthetic and cartoon mastery lent itself perfectly to the task in hand which was to design the wheel graphic while reimagining the Spitfire Bighead. Rat imagery became synonymous with the shop via Rat Signals and later our City Of Rats video. Inspired by this element of Slam's heritage Jeremy morphed Spitfire's iconic logo into a rat head. With the addition of tube station tiling, the St Paul's skyline and our rat cooling off in the Thames, Jeremy managed to fill skateboarding's smallest canvas with a graphic story we're proud to bring you in two sizes. We decided to work on a 52mm wheel and a 53mm wheel. Our wheels use Spitfire's incredible Formula Four urethane in a 99DU hardness and are the Conical shape favoured by many for the added lock factor they offer.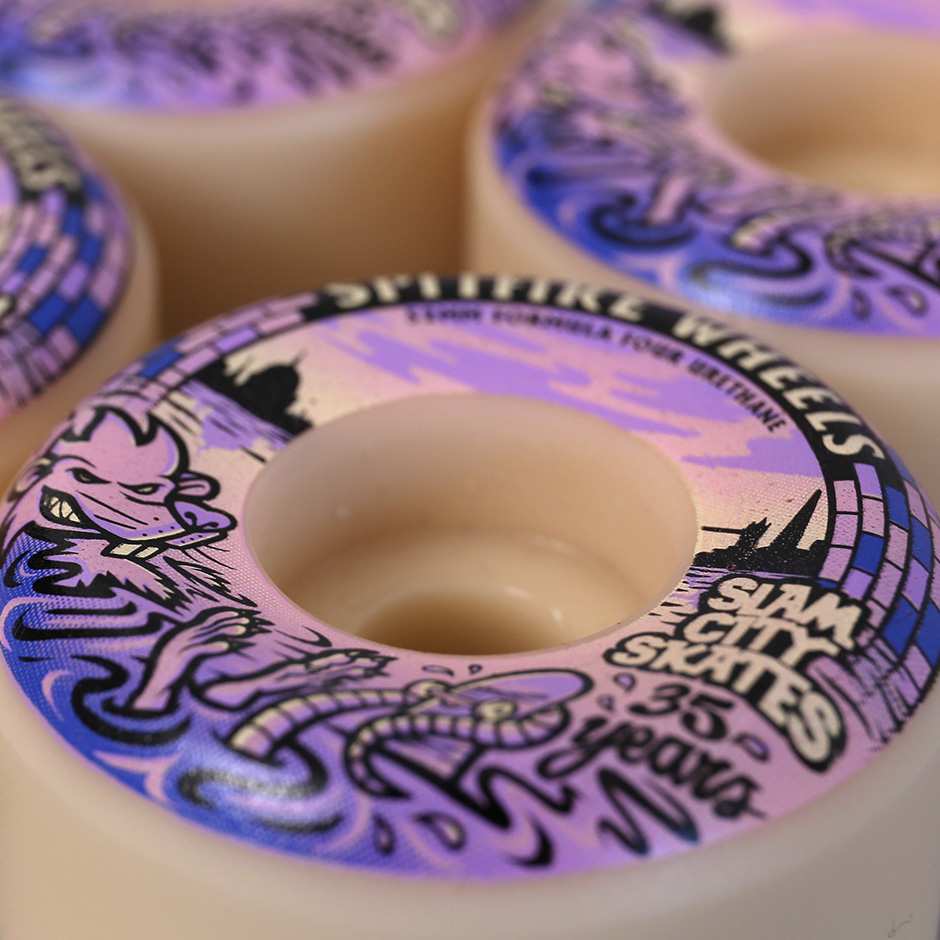 Our new Spitfire Formula Four Conicals are available in 52mm and 53mm
When Spitfire launched their Formula Four urethane compound in 2013 it was a game-changer and staff, team and customers alike were won over. These wheels outlasted their counterparts, coned less, and resisted flat-spotting. They are formulated for a harder, faster ride, offering more speed and control wherever you are with a smooth anti-stick slide you can rely on. The conical shape we opted for has a wider riding surface with a cutaway shape for unmatched control and lasting speed everywhere.
If you haven't tried out a set of Formula Fours then you need to see what you're missing and we hope this Spitfire x Slam City Skates 35th anniversary collaboration changes your wheel buying habits for good. If you're already on board then consider adding this special wheel to your arsenal for the coming year. Each set comes with a sticker immortalising the Slam Rat Flamehead which marks our 35-year milestone. This was something we were as overjoyed to see as the wheels themselves. Shop for our new wheel and more from Spitfire HERE.
---
Find out more about Spitfire shapes, sizes and compounds in our Spitfire Wheels Buyers Guide.
Stay tuned for an interview with Jeremy Jones discussing the design process for these wheels and much more
The Slam City collaborations archive – 2022: Skate Shop Day 2021: Slam City Skates X Oliver Payne, Thrasher X Slam City Skates, Blast Skates X Slam City 2019: Slam City X RaD Archive, Slam City X RaD Launch Gallery, Slam City X RaD Archive – Curtis McCann by Winstan Whitter 2018: enjoi X Slam City with Ben Raemers, Gonz and Toby by Thomas Campbell and Mark Gonzales, Anti-Hero X Slam City with Raney Beres 2017: Dickies X Slam City – Fall 2017 with Tom Knox, Darius Trabalza and Neil Smith, Krooked X Slam City, DC X Slam City, DC X Slam City Southbank Gallery, DC X Slam City: Josh Kalis & Mike Blabac Interview, DC X Slam City: Josh Kalis 'Memory Screen' Remix 2016: Vans x Slam City 'Lampin Pro' & 'Native American Pro', Vans x Slam City Launch Gallery, HUF x Slam City Skates, HUF x Slam City Skates Launch Gallery, Slam City "Artists" Decks with Tod Swank, Fos, Don Pendleton and Nick Jensen, Slam City Skates X Spitfire Wheels, Dickies x Slam City Skates (Summer 2016) 2013: Vans Syndicate x Slam City, House of Billiam X Slam City, DC Kalis x Slam City 2012: Slam City x Converse CTS, Silas X Slam City Skates, Real x Slam City Skates, Slam City Skates x Spitfire Classics 2010: Emerica x Slam City "Laced", Toy Machine x Emerica x Slam City 2008: Penfield x Slam City Skates 2007: WeSC x Slam City Skates 2006: Etnies x Slam City Skates 2005: Nike SB x Slam City Dunk