Slam City advert from R.a.D. Magazine, March 1989. 
Words by Neil MacDonald.
That's the Slam City Skates advert that ran on the inside cover of R.a.D. Magazine in March 1989. Death Box pro Pete Dossett's on the cover of that issue, nose-pivoting on an indoor wooden ramp in full pads. Inside there are ads for momentarily monolithic mega-brand Vision Street Wear, U.K. board brand Pacer's Chuck-a-like Hogs high-tops and Australian surf outfitter Mambo. Duncan 'Wurzel' Houlton, another Death Box pro of the time, gets the centre spread poster with a nosepick, also padded up, and also on an indoor wooden halfpipe.
While shoots of the portentous street skating revolution were visible inside with Alex Moul's mind-boggling-at-the-time kickflip, no-comply and handrail sequences, it'd still be another year or so before anything resembling street skating as we know it graced the title's front cover. R.a.D. was an incredible magazine and this issue is a crystal-clear snapshot of what was happening in skateboarding at that very time, but quite different to a magazine of 2020.

Alex Moul helping pave the way for UK street skating. From RaD, March 1989. Photo: Tim Leighton-Boyce
Some lucky kid at school being blessed with a family holiday to America and returning with reports of skating with Tony Hawk ("Dad's camera fucked up, sorry"), playing the new unreleased Nintendo console, seeing the secret new Star Wars movie and hearing of griptape that could double the height of your ollies–and whatever else they could come up with under post-holiday playground pressure–were points of interest, but actual magazines were an infinitely more reliable source for up-to-date skate happenings
At that time VHS skateboard videos were a rare joy, usually costing the equivalent of a month's newspaper-round wages and consequentially shared amongst the whole town, often with nobody really knowing if the footage was recent or not, or even who those people were, or where they were skating. Powell Peralta's epic Public Domain was released in 1989 being an appropriate example – aside from Mike Vallely's part and the opening 'Rubber Boys' street-ams section, this was a big-budget production showcasing some big-budget skateboarding, almost entirely under the Californian sun.
Magazines, on the other hand, were frequent, up to date, affordable and available from every provincial high street. The UK titles were relatable and sometimes even had free stickers on the front. Magazines were a vital part of the UK scene, giving us an accessible, approachable insight to the goings-on across the country and the wider world, and when you got one you studied every picture and read every word.
Amongst RaD's March 89 ramp-comp coverage articles were the product-listing shop ads where the names of the newest imported US pro boards, protective plastics, Cell Block IIIs, fingerless gloves and an ever-expanding range of Rip Grip were laid out in columns of microscopic type, ready to be crudely circled in felt-tip and thrust towards a fed-up parent come Christmas time. Every conceivable product in stock or coming soon, now-classic artwork reduced to tiny single-word descriptions, the most current of shoes identifiable only by an inflated price point and usually embellished by the shop staff's zine-like biro in-joke doodlings.
That's what the other shop ads looked like then and for years after, anyway. Slam did it once, for the very first ad–this half-page in the May 1987 issue of BMX Action Bike–then moved on, taking Chris Long's seminal text-block logo with them.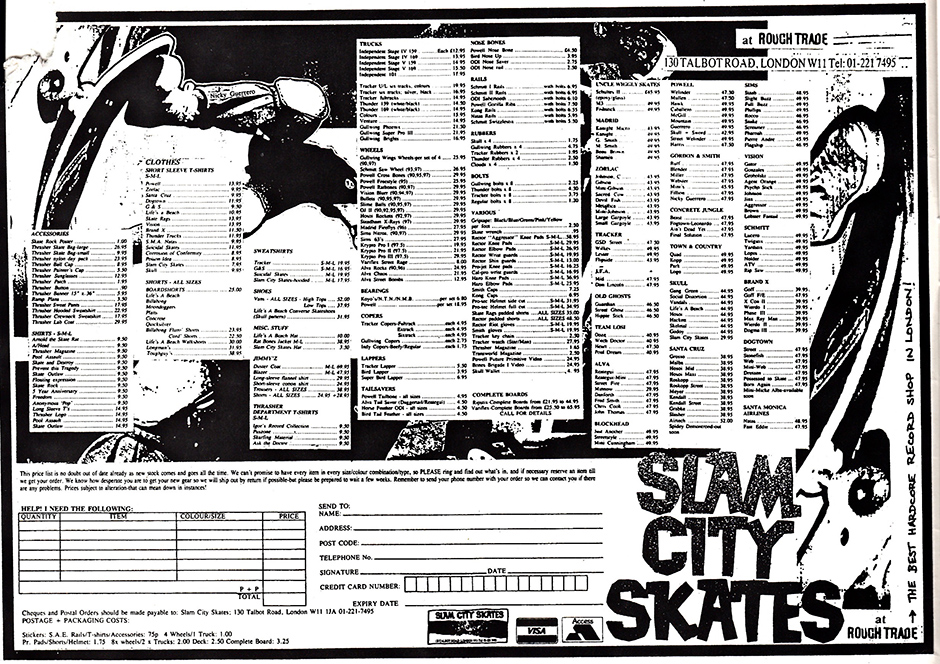 May '87 was the first issue of BMX Action Bike to have the words 'Read and Destroy' on the cover, signalling the beginning of the year-long transition period of the BMX monthly morphing into Tim Leighton-Boyce's epoch-defining RaD. Eight months later, with the BMX Action Bike nameplate reduced to thumbnail-proportions underneath that big neon RaD logo, Slam ran their second magazine ad, offering up some shop-branded hoods, shirts, and money-holders. All illustrated with a soon-to-be-very-trendy nosepick…
Over the months and years, every Slam ad was different, too. Sometimes they had a skate photo, sometimes they did not. Sometimes they hinted at product, most of the time they did not. They still always looked like Slam ads, and they made this little skateboard shop tucked away in a Covent Garden alleyway seem immeasurably modern, slightly mysterious and infinitely interesting.
This assuredness, the confidence in the idea that an ad could be art, rather than just a means to announce free shipping on orders over £50 or an anticipated Airwalk arrival meant that these pages felt like as much a part of RaD magazine as the editorial. There was occasionally a crossover between RaD and Slam staff working on these ads, but that's what happens when you want the best people involved. Slam ads sat comfortably alongside the writing of Gavin Hills or Simon Evans, the photography of TLB or Spike Jonze and the design of Nick Phillip or Dan Adams, and like all the best stuff from that time, those things still look cool as fuck today.
they made this little skateboard shop tucked away in a Covent Garden alleyway seem immeasurably modern, slightly mysterious and infinitely interesting

This is not what adverts in skateboard magazines looked like. Slam ad from RaD, December 1989, by Paul Sunman and Dan Adams
Chris Long's bold text cube from 1987 remains the shop's signature piece of branding, despite artwork and design from Slam founder Paul Sunman, Foundation's Tod Swank, Edwin 'Savage Pencil' Pouncey, Insane's Ged Wells, RaD man Dan Adams, designer Andy Holmes and artists Pete Fowler and James Jarvis all gracing Slam ads, bags, shirts and stickers over the years.
For the Covent Garden skateboard shop that shared its front door with Geoff Travis' genre-defining Rough Trade record store during some of the most culturally relevant times in modern history and birthed Holmes, Silas and Palace, it's entirely understandable why so many of these designs are as memorable as they are. Slam ads were as important a part of a skateboard magazine as the pictures of skateboarding, and aesthetic definition/identity has rarely been achieved so brilliantly since.

Will Bankhead in the Sk9-Hi, 1990, amongst Tod Swank's star, Savage Pencil's flamehead and Chris Long's text. Photos by Paul Sunman and layout by Andy Holmes
With that in mind, it makes perfect sense that Slam would want to put something from one of these ads on some Vans shoes, so it's especially cool that they've dug deep, all the way back to Chris Long's flaming, barbed-wire bound heart from that 1989 inside back page, for this release.
Like Slam, Vans haven't changed much about the way they do things over the years. Sometimes it's better to do what you know, and do it well, while everything else comes and goes. Doing something right is a pretty certain way to ensure longevity, after all. Having faith in what you do is a big part of getting it right.

Simon Evans and Marc Bultitude, Simon is one of the most important skateboarders to ever come out of the UK. This is the Slam ad that ran in Phat in August 1993, the month the Lampin appeared on our shores. Layout by Will Bankhead
In 1992, when lower-tops ruled and shoe companies were panicking (or going out of business) trying to keep up the practice of skateboarders cutting down high-tops, Vans followed on from the success of the previous year's lower-profile Half Cab with a mid-top release of their iconic Style 38—the Sk8 Hi. Still everything people wanted and expected from a pair of Vans, but evolved into a lower profile shoe, much more suited to the times. It is the Sk8 Mid which Slam have chosen to work with.

Two Slam ads featuring skating, exactly 31 years apart. Shop riders Rob Dukes and Danny Brady, both going backside on legendary London inclines. Rob shot by Paul Sunman at Wandsworth Road after the Public Domain premier (and on Dan Adams' board) for Slam's November 1989 ad, and Brady shot by Sam Ashley at the Archway banks a couple of weeks ago, in the Slam x Vans Sk8-Mids
The Lampin, released in 1993 to a world ready to move on from fiddling with flip tricks on flimsy flat boards and keen to start pushing a bit more was perfect. Its release was unexpected, and yet it immediately complimented–even accentuated–the times perfectly. It was Vans sticking to what they do and yet still experimenting and innovating with aesthetics, just like Slam.

Matt Reason with a Lampin assisted 360 flip in 1993. Photo: Dave Schubert
The new version of the Lampin brings an often overlooked low-profile classic right up to date by ditching the OG's extra-fat laces and adding the 'All your Heart Desires' Vans Pro insole to a triple-black build, with contrasting white stitching and the burning heart logo embroidery on the heel counter.The Slam Sk8-Mid comes in clean all-white with black laces to compliment Chris Long's burning heart art embroidered on the side, with a Slam branded Vans Pro insole inside.

The Slam City Skates Sk8 Mid Pro and Lampin Pro
---
These two new shoes and an accompanying clothing pack will be released on Tuesday November 17th at 9am when they will be available alongside our current range of VANS. Thanks to Neil Macdonald (@scienceversuslife) for the kind words and for perfectly describing the landscape these early ads appeared in. Special thanks to graphic visionary Chris Long and of course to Vans for making this idea a reality.
The Slam City collaborations archive – 2022: Skate Shop Day 2021: Slam City Skates X Oliver Payne, Thrasher X Slam City Skates, Blast Skates X Slam City 2019: Slam City X RaD Archive, Slam City X RaD Launch Gallery, Slam City X RaD Archive – Curtis McCann by Winstan Whitter 2018: enjoi X Slam City with Ben Raemers, Gonz and Toby by Thomas Campbell and Mark Gonzales, Anti-Hero X Slam City with Raney Beres 2017: Dickies X Slam City – Fall 2017 with Tom Knox, Darius Trabalza and Neil Smith, Krooked X Slam City, DC X Slam City, DC X Slam City Southbank Gallery, DC X Slam City: Josh Kalis & Mike Blabac Interview, DC X Slam City: Josh Kalis 'Memory Screen' Remix 2016: Vans x Slam City 'Lampin Pro' & 'Native American Pro', Vans x Slam City Launch Gallery, HUF x Slam City Skates, HUF x Slam City Skates Launch Gallery, Slam City "Artists" Decks with Tod Swank, Fos, Don Pendleton and Nick Jensen, Slam City Skates X Spitfire Wheels, Dickies x Slam City Skates (Summer 2016) 2013: Vans Syndicate x Slam City, House of Billiam X Slam City, DC Kalis x Slam City 2012: Slam City x Converse CTS, Silas X Slam City Skates, Real x Slam City Skates, Slam City Skates x Spitfire Classics 2010: Emerica x Slam City "Laced", Toy Machine x Emerica x Slam City 2008: Penfield x Slam City Skates 2007: WeSC x Slam City Skates 2006: Etnies x Slam City Skates 2005: Nike SB x Slam City Dunk