Our Penfield x Slam City project was a treat to work on. Open up their Messenger bag in you'll be in for a surprise…
The Penfield x Slam City Skates "Messenger" Bag
We have been working with Penfield for a good while now, having been fans of the outdoor clothing produced by this long-established company from Massachusetts for a long time.
Some of the hidden gems in each season have always been in the luggage department as Penfield make great bags. This is why when the opportunity to collaborate on something arose, we picked out their Messenger bag and decided to make it functional and understated with a surprise inside.
This heavyweight canvas satchel has leather straps and a leather trim with a cotton webbing shoulder strap. The bag features a co-branded patch on the centre of the front panel and a round Slam City Skates London patch on the back. Undoing the leather straps and opening the front panel reveals two concealed front pockets and the lining inside…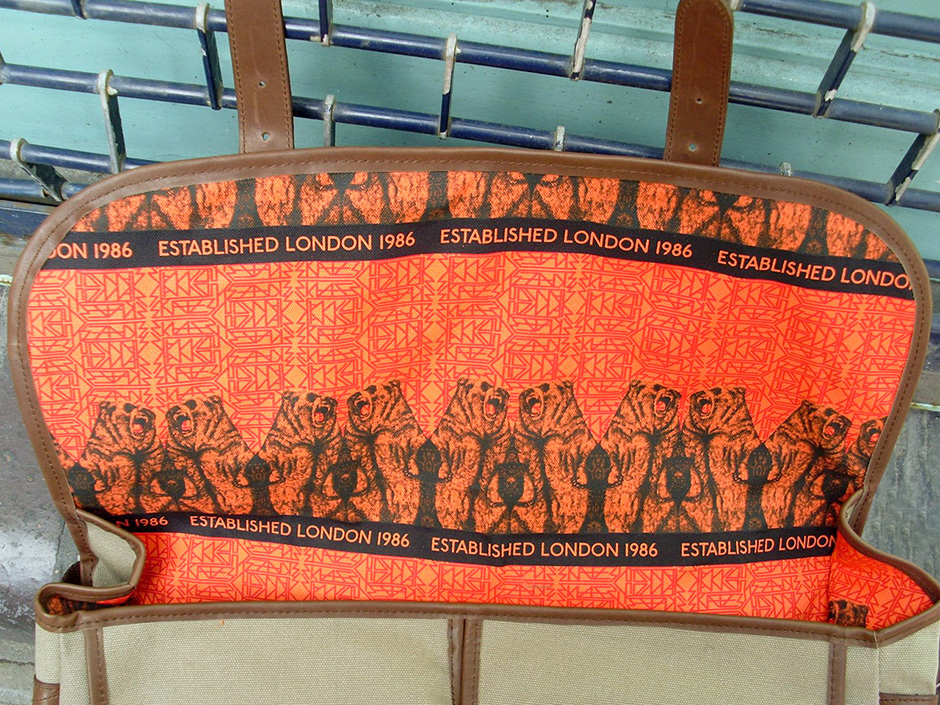 Arran Gregory's Bear Safe graphic on the inside of the Penfield x Slam City Skates "Messenger" Bag
The bag lining is a repeat pattern of Arran Gregory's popular 'Bear Safe' graphic which appeared as a Slam t-shirt recently. This lining appears throughout the spacious main compartment. The back panel of the bag also has another outer compartment sealed by a central brass popper. We are happy we were able to produce this piece of essential kit ready for work, school or a day out skating in the city.
---
The Slam City collaborations archive – 2022: Skate Shop Day 2021: Slam City Skates X Oliver Payne, Thrasher X Slam City Skates, Blast Skates X Slam City 2019: Slam City X RaD Archive, Slam City X RaD Launch Gallery, Slam City X RaD Archive – Curtis McCann by Winstan Whitter 2018: enjoi X Slam City with Ben Raemers, Gonz and Toby by Thomas Campbell and Mark Gonzales, Anti-Hero X Slam City with Raney Beres 2017: Dickies X Slam City – Fall 2017 with Tom Knox, Darius Trabalza and Neil Smith, Krooked X Slam City, DC X Slam City, DC X Slam City Southbank Gallery, DC X Slam City: Josh Kalis & Mike Blabac Interview, DC X Slam City: Josh Kalis 'Memory Screen' Remix 2016: Vans x Slam City 'Lampin Pro' & 'Native American Pro', Vans x Slam City Launch Gallery, HUF x Slam City Skates, HUF x Slam City Skates Launch Gallery, Slam City "Artists" Decks with Tod Swank, Fos, Don Pendleton and Nick Jensen, Slam City Skates X Spitfire Wheels, Dickies x Slam City Skates (Summer 2016) 2013: Vans Syndicate x Slam City, House of Billiam X Slam City, DC Kalis x Slam City 2012: Slam City x Converse CTS, Silas X Slam City Skates, Real x Slam City Skates, Slam City Skates x Spitfire Classics 2010: Emerica x Slam City "Laced", Toy Machine x Emerica x Slam City 2008: 2007: WeSC x Slam City Skates 2006: Etnies x Slam City Skates 2005: Nike SB x Slam City Dunk