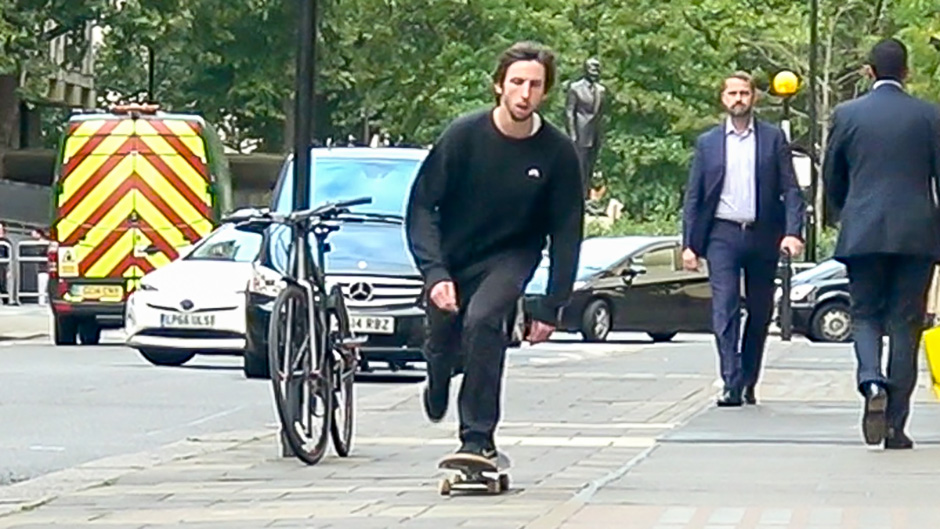 Jak skating passed snooker legend Stephen Hendry whilst filming for his Slam welcome clip
Jak Pietryga is a man of many hats. He manages our warehouse and kills it in on a skateboard – sometimes doing both at once. A part of the London landscape for what seems like forever, Jak's videography begins almost two decades ago in Morph's Long Live London, throughout his years riding for The Harmony and countless more since in the likes of Cover Version and Rugged Raw 3.
When he's not on the streets he's filming heavy clips solo in our warehouse or redefining what's possible within the framework of his local park in Walthamstow. Jak's skateboarding speaks for itself, every clip he puts out there is full of the quick-footed technical wizardry we have come to expect. Jak has been skating at a high level for years but instead of that passion dwindling he is constantly ramping things up and continues to progress, often right in front of our eyes.
We still remember Jak and Morph visiting Slam every Sunday when they first started skating the city. We are stoked they are still out there doing it all these years later and proud Jak is part of the team.
Hometown: Walthamstow, London
Video Parts
RUGGED RAW 3, 2021
Film/edit: Jake Martinelli
Blips – Cover Version, 2019
Film/edit: Kevin Parrott, Dan Magee
ALBION, 2014
Film/edit: Kevin Parrott, Ryan Gray, Morph
YAM DAT, 2014
Film/edit: Morph
Grey Skate Mag part, 2014
film/edit: Mark Kendrick
River's Edge, 2009
film/edit: Adam Mondon
Wolfstadt, (The Harmony Skateboards), 2007
Film/edit: Adam Mondon
Routes, 2005
Film/edit: Morph
Long Live London, 2003
film/edit: Henry Edwards-Wood
Reading Material
ADS
Thrasher x Slam City SKates, 2021
Film/edit: Kevin Parrott
Slam City SKates Welcome Video, 2017
Film/edit: Mark Jackson
---