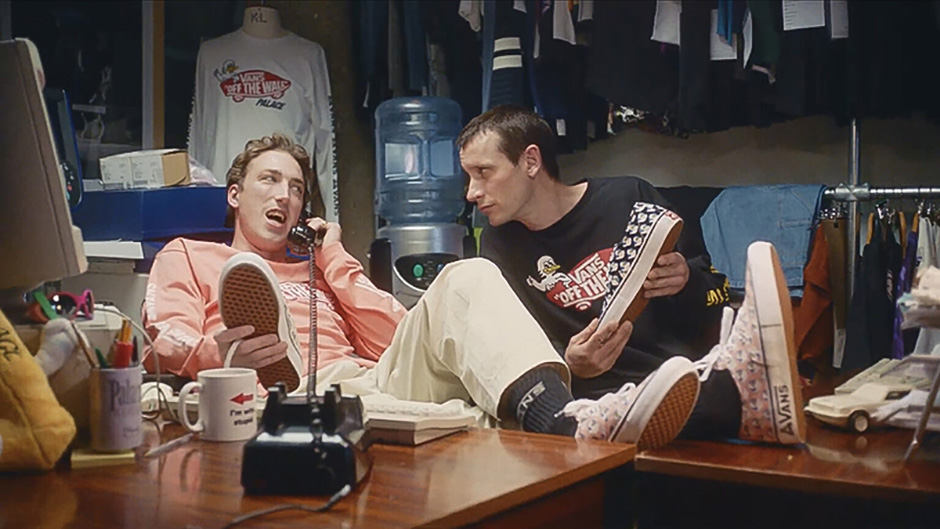 Danny Brady and Palace teammate Rory Milanes on a conference call with Vans.
Danny Brady joined the Slam team only a few years after Nick Jensen when his visits from Blackpool to the Blueprint HQ in Boston Manor morphed into him becoming a London resident.
Brady is another huge part of the UK skateboarding timeline and an integral part of the Slam team and story. His skateboarding continues to refine like wine, consistently putting out the fan favourite parts in Palace videos (of which he organised the trips for through his newfound TM duties).
From bookending Blueprint's Lost & Found, their years as Lakai's 'Royal Family', to being behind incredible projects for Palace and Isle (on either of the lens). It is so sick to see what Danny and Nick continue to achieve
Hometown: Blackpool, Lancashire
Video Parts
'Lotties X Burning Man' (2017)
film/edit: Daniel Wheatley
Palasonic (Palace Skateboards, 2017)
Filmed by: Lev Tanju, Michael J Fox, Jack Brooks, Austin Bristow, Adam Toddhunter, Morph / edit: Tanju
'Definitely Brady' (Palace Skateboards, 2013)
Make Friends With The Colour Blue (Blueprint Skateboards, 2010)
film / edit: Dan Magee
Fully Flared (Lakai Limited Footwear, 2007)
Lost & Found (Blueprint Skateboards, 2005)
film / edit: Dan Magee
Reading Material
Ads
Palace x Vans, 2021
Danny Brady for the Lakai Salford, 2016
filmed by: Sean Lomax / edited by: Daniel Wheatley
Slam City Skates X Spitfire, 2016
Film/Edit: Mark Jackson
---