We are pleased to bring you this First & Last interview with Wade DesArmo, the result of an unexpectedly in-depth, and insightful conversation. Wade has been a Slam favourite for years now, his It's Official part for DGK used to grace our temperamental Neal's Yard TV on the daily. It is slightly disconcerting that we first played that disc over 17 years ago, even though it seems like yesterday. That does serve as an impressive timeline, Wade has been blessing us with some of the finest technically precise footage for two decades and as his part in the recent Primitive offering DEFINE attests, he is still pushing his skateboarding as hard as ever.
It was amazing to connect with this Canadian legend about his Ottowan roots and the incredible journey that has unfolded for him. He has been part of the industry for a long time but has managed to maintain the same passion, and obsession, as when he first started out. This shines through with anything he puts out there. Throughout the course of the interview, it was illuminating to hear him unpack the processes and inspirations that fuel his skateboarding, and him as a person. Describing our exchange as unexpectedly in-depth was in no way underestimating Wade as a conversationalist. We knew from past interviews that he is an articulate and compelling storyteller. However, we didn't expect him to take so much time out of his schedule to entertain these questions and are incredibly grateful for what this grew into.
From martial arts being replaced by a fascination in his Canadian winter-curtailed first Christmas complete to now, this interview format gave space for our time on the phone to evolve into a discussion that spans his career. It found Wade escaping the tail end of those very same winter months on a trip to Barcelona on his own dime. He delayed the mandatory late-morning MACBA mission to give us this window into his world and we're glad that he did…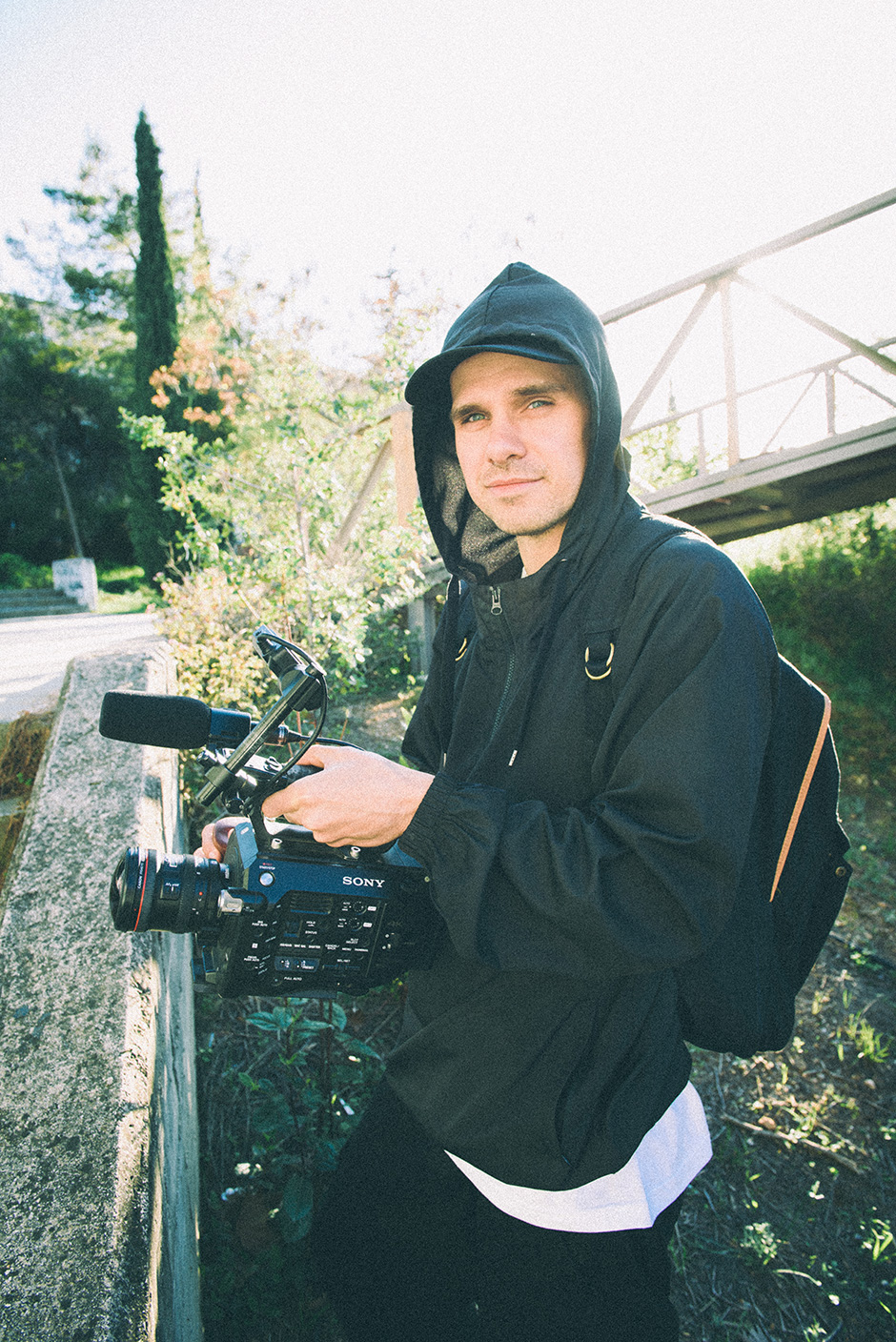 Words and interview by Jacob Sawyer. Wade Desarmo on the other side of the lens. PH: Oliver Barton
First board you received, first board you chose everything for?
The first one I got is easy, my parents got it for me for Christmas when I was eleven. That would have been in 1995. It was an Alien Workshop 'Believe' board. I think the board was grey. It had Venture Lows, 52mm Ben Liversedge ATM wheels, and REDS bearings. That thing collected dust for a while until I saw my friend Ben skate down the street. It would have been summertime when I first picked that thing up, I was twelve by then. I remember buying a Rodney Mullen Chemistry set board, just the board. I was really curious about his skating and liked the concept of that graphic. I bought it from Skate City in St. Laurent Shopping Centre and I'm not even sure if I skated it, it sat there for a long time. I remember skating in my mum's basement as a little kid, maybe I was thirteen or something. It was the only year I could skate down there, I had a little box, and that was my getaway for one winter. The first boards I remember setting up with a shape and knowing the size, would have been from the Girl and Chocolate era. I remember setting up a Keenan [Milton] Chocolate board that was 7.4". Then I had a 7.25" Jayme Fortune Think board. I made my shop order four of those when I was about fourteen.
First obsession before skateboarding?
I was very active, I would say martial arts was my first addiction. I was very into the Ninja Turtles and that time frame. I won the World Karate Championships when I was eleven. That was right around the time I made the decision to start skateboarding. Karate changed after winning that tournament, it wasn't as fun anymore, or as pure as it once was. I noticed that at a young age, I would go to tournaments and everyone wanted to beat me. I'm not even talking about winning, they wanted to hurt me. Martial arts had never been about that for me. It was a game of chess, figuring out someone's style and technique. What they gravitated towards mostly, and trying to decipher that code. It was about finding an opening and scoring those points. The divisions we were fighting in were semi-contact but I was never out there trying to hurt someone, it was always about the process.
"I love techniques, and the precision that some things require. I'm also very interested in calligraphy and penmanship, the purity of that, and the strokes and forms it takes"
Most sports unfortunately mean you have to depend on a dance partner or a team to be involved with. For a bunch of people who skate for the length of time we do, it says a lot about the type of people we are. I'm an only child, I like my alone time, and I can go and skate by myself all the time. I appreciate it. I grew up in a golden era where my friends would knock on my door and you would be out in the streets until you heard your parents call you for dinner. Martial arts was my first real passion, it's very similar to skating. I would go to class maybe four times a week and I loved it. You would have fun with your friends while you were at class, it was only an hour. Then you got to go home and practise on your own. You could excel as much as you wanted at it, or just go to class and have fun doing the bare minimum.
I found that I truly enjoyed it and loved it. I love techniques, and the precision that some things require. I'm also very interested in calligraphy and penmanship, the purity of that, and the strokes and forms it takes. It's the same with skating, everyone can do a kickflip but everyone does it differently. Technique is fascinating to me. I always loved hockey but being on a team would suck. Playing with your friends though, or skating around and shooting the puck on your own, I still do that to this day and it's so much fun. I'm a kid at heart and I never want to lose that ability to view things with innocence.
First skate video you rinsed?
You're not going to like this answer but I don't really remember. I didn't see my first video until after nearly a year of skating or more. I was with my best friend Ben every day but I never went to his house to hang out. He introduced to me my friend Assen. They were older than me by a lot so I'd never hang out at their house. One day I went to this younger kids house and he showed me a video, I think it was 411VM #17. Then I told my friend Ben that I had seen a skate video. He couldn't believe I had never seen one so he sat me down and showed me Europe 95 with Tom Penny. As soon as I saw that I was addicted to Tom Penny footage.
This was a different age and a lot of people won't understand. Now you could just sit there and do your research on Tom Penny. Back then there was no Youtube, our exposure was limited to VHS and magazines, and for me, it was limited to what my friend Ben had. I didn't even know magazines existed, I was green, wet behind the ears, brand new. I would honestly get videos from that point on and absorb all of it, it was super interesting to me. Skateboarding was so fascinating. It was innocent back then too because there was no right or wrong. It was a tight-knit thing to be interested in, more guarded, definitely not as open as it nowadays. The video that keeps coming to mind is Europe 95 and specifically the clips Tom [Penny] was involved in, the Radlands portion, and some brief appearances at Munster. He was mystical. If that era had Youtube, Tom Penny would have been the biggest name to have ever existed. His legend still precedes him now, and I see kids fan out on him to this day. Somebody DM'd me the other day to ask me my five favourite styles. I came back with Tom Penny, and Gino Iannucci straight away, and said I would get back back about the other three because It's those guys for me all day. Back in the day Tom's legend grew through word of mouth, and rare video and magazine appearances.
"If that era had Youtube, Tom Penny would have been the biggest name to have ever existed. His legend still precedes him now"
I was obsessed as a teenager, I had the Tom Penny beanie. For two reasons, girls would always compliment me on my eyes and I don't like attention so I would pull it down low the way he wore it. I'd wear that to school with my eyes barely showing. I remember so many sessions just mimicking Tom. The clothing, trying to get my hands on TSA gear, wearing my shoes like him. I told my mum the other day I was with Tom Penny and she could fully appreciate how crazy that was. It's crazy, you put that energy out into the world for so long, and it will come full circle. I was very passionate about skating, it's weird how the world works man. To anyone reading this, have fun and be passionate about what you love, you really never know where it's going to take you. If you do things for the right reasons, the world will make it happen. If you do this for the wrong reasons, it won't. Energy is real bro, not to get weird. If I am to narrow this down to a video I watched the most though let's just say TSA Life in the Fast Lane. Tom Penny, Ronnie Creager, [Chad] Muska, [Peter] Smolik. That's a great video.
First skate crew?
I remember skating the downtown core and branching out with my original crew which was Ben [Burtnyk], and Assen. That's when I met Dylan Cousineau, Dave Ellis, Milton, Triple, Shawn Naylor, and Misko [Dave Miskowicz]. Then I got introduced to Darcy Cooke, Pat Vaillant, Tom Wrecks, and Adam Vederall. They were from the west side of the city and we cam from the east. That was the crew I skated with all the time until I started travelling a bunch. I was always the youngest one out of everybody. Being from where I'm from, I never expected to be in the industry, I just skated. The thing I would never do is compare myself to local people, I wanted to be like the people I looked up to. I wanted to be like [Ronnie] Creager, [Eric] Koston, [Tom] Penny, [Guy] Mariano, and Gino [Iannucci]. I wanted to mimic their tricks and whatever I saw from them, I didn't give a fuck what Joe Schmo was doing down the street who was the best in the city. It took off quickly, it felt like literally the next day that I went from there to being out in California with Gailea [Momulu] and [Aaron] Snyder. Being out there skating with them. The next thing I knew I was in the industry and the trips were no longer to Montreal or Toronto to stay with a friend, they were to California, or Europe.
So I don't know how to answer this question, the first crew I ventured out of my blocks with was Ben, and Assen. Then I got sponsored by a shop, started getting more product and skating with Dylan Cousineau, and all the guys I mentioned before. That was the crew, and we started making local videos with a Hi8 camera to see what we looked like on a board. Emmet, and Adam [Vederall] would edit these little videos of mixed footage with no set direction. Toby Robinson was also in the west side crew and filmed and edited little vids. Misko and I both had Hi8 cameras too but never made any edits.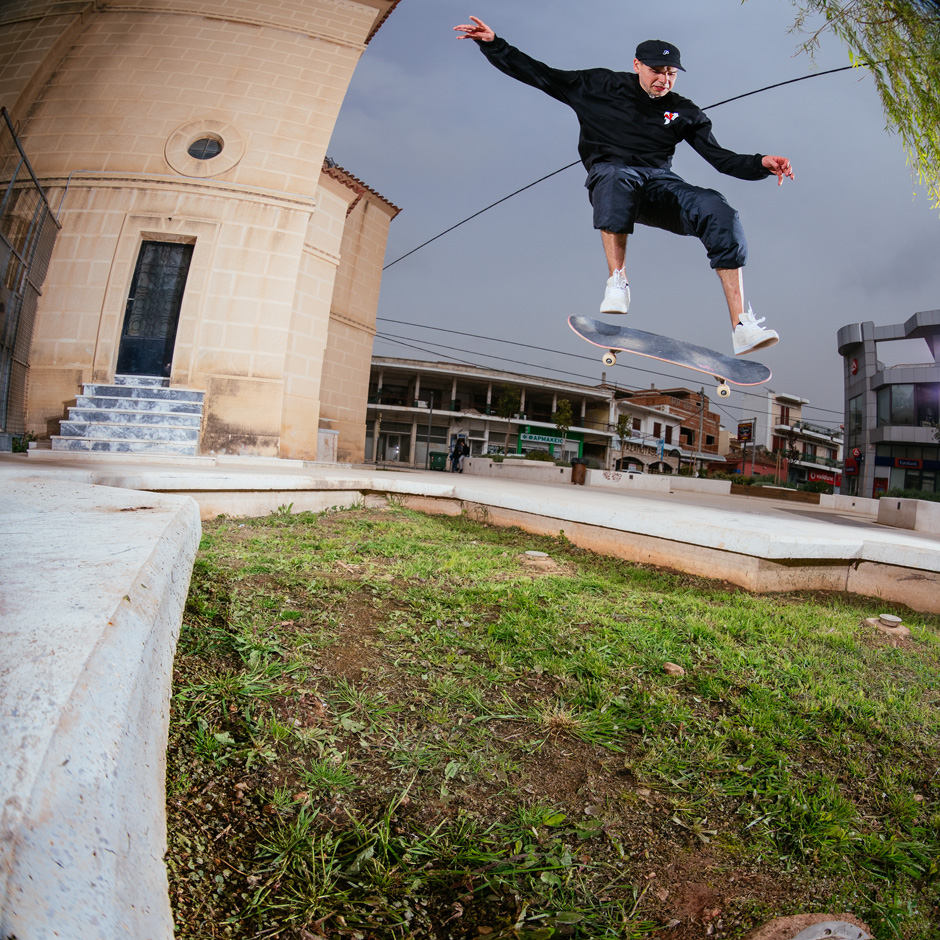 Nearly 8000 KM from Ottowa. Classical Switch Backside Flip in Ancient Greece. PH: Oliver Barton
First coverage which made you hungry to do more?
There was never a turning point where I thought "this is it" because it always had been, I just knew I loved doing this shit. I'm 38 years old now and I still love it, I wouldn't be doing it if I didn't. I always say this to anyone who asks. If I had found something I was just as passionate about while skating that could be a "career" I would have taken the necessary steps to follow that path. Skaters always think about what comes next. I've thought about it for the longest time and the only thing that fulfils me, challenges me, and gives me a purpose, is skating. Thank god I've been able to sustain myself with it as a living for this amount of time. I'm very grateful for that and thank god every day for it.
To answer this question, I can't think of a specific time. The transition was from filming random shit on a Hi8 with my friends in Ottawa to filming in Vancouver for this 5 Foot 12 video project. That's when I met Mike McDermott, Travis Stenger and that whole crew. We were filming for a video called Frame of Mind, that's the section where I skate to Michael Jackson. Straight after that was filming for the Top of the World Top Dollar video. It was crazy having budget from a shop to film and make a big video like that. We wanted to do it for our community and put our city on the map. Ottawa is small, it's in between Montreal and Toronto which are the two biggest cities in Canada, so Ottawa gets overshadowed. That video was a turning point, it was so fun being able to travel outside of Canada to make it, driving to Philly, driving to New York, and having a good time as a teenager. That then led into filming for It's Official which was very random. So in short there wasn't a click for me, that click would be just loving skating to begin with, no epiphany moment. I have had moments where I'm in LA or in Europe, and I think "holy shit, I'm out here and I'm skating". There are moments of realisation and gratitude where I realise how awesome what I'm doing is. What would the twelve year old Wade thing about this?
"There are moments of realisation and gratitude where I realise how awesome what I'm doing is. What would the twelve year old Wade thing about this?"
I did have a camera that year when I was skating in my basement and I'm very attentive to technique. I would watch those tapes back to see what I was doing wrong, or how I could execute a trick better if I was having difficulties with it. With everything in my skate career, and I tell this to my friends and my parents, it's crazy how naturally everything happened. It's also slightly worrisome because I don't want anything else in this life. I worked hard for everything I've done but there was never a specific goal or path. I didn't even think, or learn about getting paid until I was about 16. Then magazine coverage started coming out and I was curious about that because you could make money from photo incentives. I was at school but if I got a photo in a mag I could get $500, or $750 for a double-page, or $1000 for a cover. That's good money when you're going to high school, just for skating, and you're in the mags which is dope. I remember the first photo I had, it was a nollie-back-heel down seven stairs, I was wearing the Koston 2's. It was surreal, like I had already won, it was in a mag called Concrete Powder. It was different back then, and I don't think younger readers will ever be able to understand how those times were so different. But for me, as soon as I started skating everything else took the rear-view, and I knew that I wanted to skate for as long as possible.
"as soon as I started skating everything else took the rear-view, and I knew that I wanted to skate for as long as possible"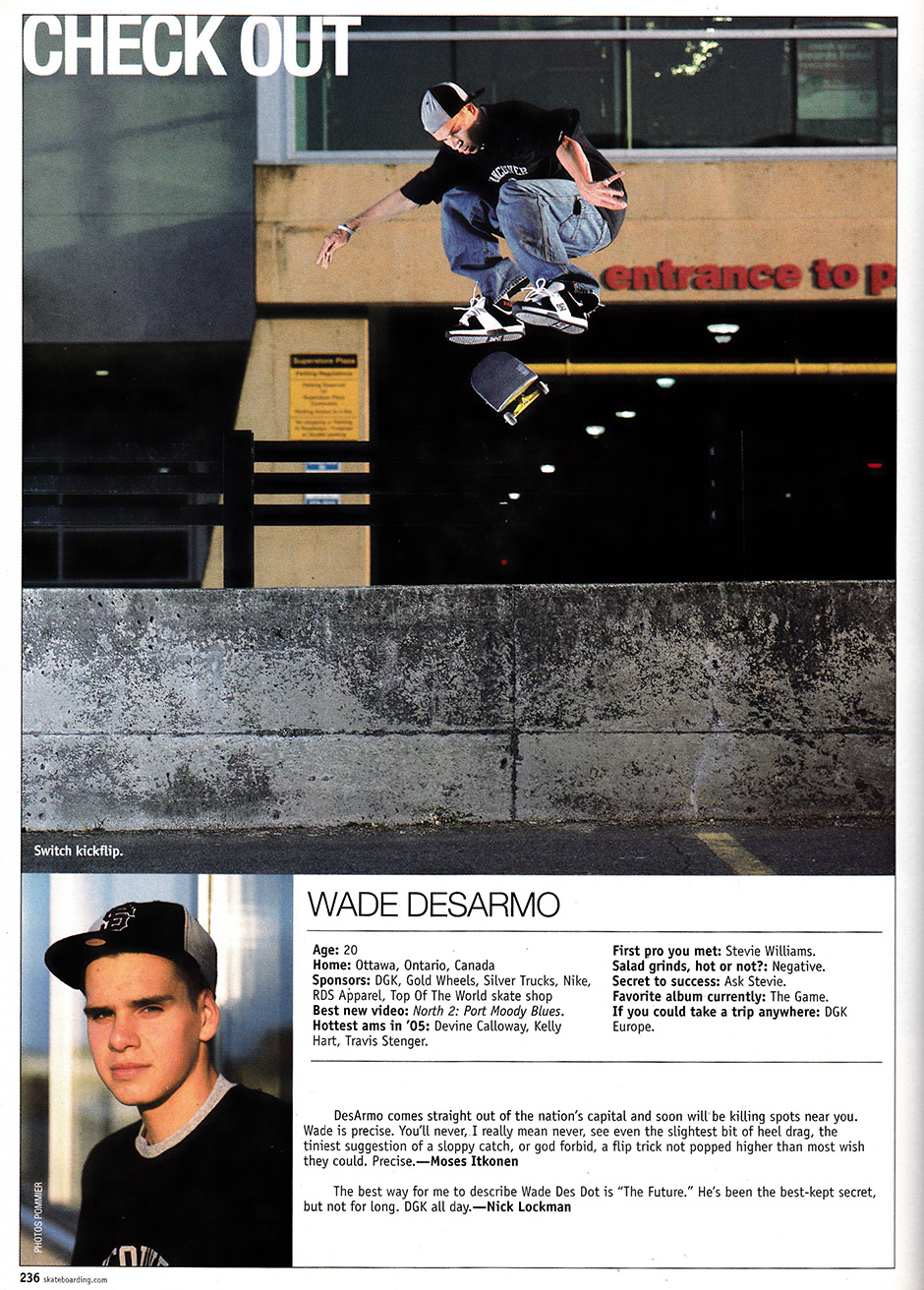 An early magazine moment. Switch flip for Wade's TWS Check Out in 2005. PH: Scott Pommier
I was sponsored early on by a shop called EQ. I was the young kid so I wasn't treated as well as the older guys on the team. When I rode for them we would always skate Orleans park. I remember being there one day when Darcy Cooke and Dylan Cousineau showed up. Dave Miskowicz was there with us and he already rode for Top of the World shop. Dylan showed up with Darcy, they were both a year older than me. Both of them had a Top of the World backpack filled with goods. They had new setups, an extra board attached to their bag, wheels, shirts, hoodies, everything. I remember it clearly. I got on EQ originally because of a competition this guy Martin Morris convinced me to skate in. I won that competition when I was 12. I had the choice at that time to ride for Top or EQ but I chose EQ because a lot of the older street skaters that I admired rode for them. I would always go to EQ because it was closer to where I lived. It was right by my school, so it made more sense to me at the time. Then fast forward to the day I see them at the park showing up with all these goodies. I didn't get that, I just got discounts.
They convinced me to call Eric Dionne and ask if I could be on the team. It's funny because he now owns the store. This is pre-cellphones. I went into the sports arena which is the hockey rink to use the phone, a very Canadian scenario. I called Eric and he said yeah, to come in whenever I was available and they would set me up, he welcomed me to the team. I called up EQ and quit, that conversation sucked. Then I went to Top of the World and got laced with the same goodie bag. I got a complete setup, and an extra board because they made their own shop boards. You would get one pro board per month and then a shop board if you needed it. You would get a set of wheels every month. It was crazy, looking back at that shit, Top of the World really went above and beyond for so many of us. The way they laced product was insane, to this day I don't know how they could afford it. Five shirts, a hoodie, bearings, they made beanies and everything. You got gear for free, and at the time we didn't know any better. It was Christmas every month for sure. They still do that for the city, and the community, and the team. I still ride for them and will always support them, they made it easier for me to take that next step. Even though I didn't know I was doing that at the time, It was thanks to them.
"They still do that for the city, and the community, and the team. I still ride for them and will always support them, they made it easier for me to take that next step"
First Canadian winter escape?
That would have been the first time I went to California. I was only there for a month. Gailea Momulu was out there, without him I wouldn't have been able to open some of the doors I have opened, I'm very grateful to him. He's from Ottawa and is a couple of years older than me, he has always looked out. He lived in Huntington Beach at the time with Aaron Snyder, that's where I met Aaron and he's still a really good friend. Dan Opek was another friend I met out there, he started Capix. Through those three I met Chet Thomas when he was on Darkstar and I met a some of the Dwindle guys too like Ryan Kenreich, and Chad Tim Tim. They weren't people I skated with every day but it was that era of Huntington Beach skaters. I spent a month there and it was good and bad. I didn't really like it to be honest. I wouldn't say I was homesick but it was very eye-opening at that age, and I saw the difference between Americans and Canadians. Saying that, I was going from a small town in Canada to LA, one of the biggest cities in America. It's obvious, that culture shock was bound to happen. Nowadays I love it, I've spent so much time out there that I know which pockets to avoid, what areas I like, and what areas flow at my kind of speed. It's probably my outlook on things too, as I get older. I'm more confident and know who I am so I'm more comfortable now in any situation.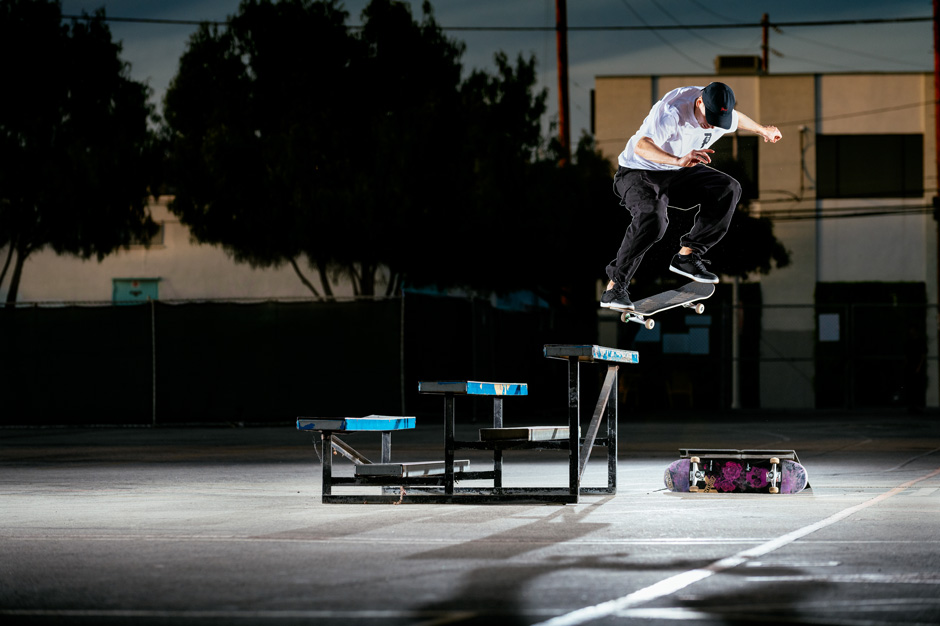 Wade heelflips into crooked grind in Los Angeles. PH: Oliver Barton
First trip to Europe and the UK?
My first trip to the UK was recently! My first trip to Europe was to Barcelona for DGK. I got DGK to let me bring my friend Jay Bridges who filmed the Top video out there to film me. That is what enabled him to come out there, the Top video was finished, and had just come out. They saw that and didn't have a staff filmer at the time. Different times, you didn't have this whole company production line. You figured out a trip and worked out who you could get to film so Jay came out with me. Then Chany [Jeanguenin] and Kelly [Hart] from Expedition joined us, as did Karl Watson and Adelmo Jr from Organika. Quim Cardona came out a bit later too. That was my first trip to Europe, I was nineteen years old.
I don't know if you have read this, or if I have ever even said it but I love the UK. If you asked me ten years ago if there was one place I would move to tomorrow ,that's where it would be. I would have said London and I had never been there. I know partially why, my favourite move is Hook, so the whole Peter Pan thing that takes place over there is a factor. I also love the aesthetics, the architecture, and I had always wanted to go. The opportunity never arose to go until I got on Primitive so I think 2018 was my first visit there. We were there for a Street League trip. Trent McClung was in Street League, I was there, and then we met Marek Zaprazny, and Roman Lisivka. Kev Perez was out there to film. I met Charlie Munro on that trip and I had always been a big Charlie fan from growing up watching those Get Lesta videos. Meeting him didn't disappoint, he is a good solid English lad, on and off the board. London blew me away, I would love to go back to London at any point in time. The weather is reminiscent of Vancouver though. I didn't always think that even though Blueprint videos promote and reference that side to skating there.
Victoria Benches was one of the places I wanted to go because of Nick Jensen, and all those boys from the Blueprint videos. Also after watching Lucien Clarke's part in Palasonic. I'm glad I got to skate there. Your spots have something to them, you can feel the skating when you watch it. When I watch things I want to feel it. I'm infatuated by the architecture and how everything is laid out in London but also by how people talk. The accent has always been amazing to me, it's rad to hear it. Coming from North America we don't get that. The accent adds to how proper and regal it all is. I remember telling Charlie that he sounds so regal when he talks. I genuinely love it, I'm not clowning on it, I think it's dope.
"Victoria Benches was one of the places I wanted to go because of Nick Jensen, and all those boys from the Blueprint videos. Also after watching Lucien Clarke's part in Palasonic. I'm glad I got to skate there"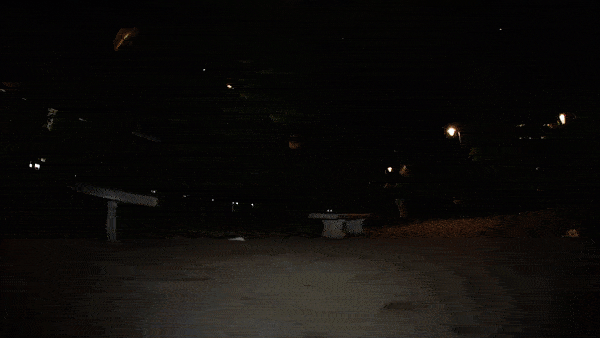 Wade's first trip to London had to include a trip to Victoria benches. From the Grand Collection video
First city outside of Canada where you felt at home?
For the longest time I would say Philadelphia, I still love Philadelphia but a lot has changed now. It was very different to where I grew up but in terms of people it was similar. People would acknowledge you in the street there, ask how you are, say have a good day, and keep walking. That was dope because that's the way I grew up. I like talking to people, I talk to everybody, and that pisses my friends off sometimes if we are at a spot. Philly is the City of Brotherly Love though, and it lived up to that. Especially the era, and the spots, that were there in the timeframe when I was really going there with the Top guys. I don't want to call DGK a Philly-based brand but Stevie [Williams] was a big influence on me growing up and that whole era. I was getting shoes from DC at the time too so there was this connection to an era of skateboarding that was so pure. I got to experience that a little bit after, but there is that feeling in the air in Philadelphia whenever you go. There is definitely a difference between people from the West coast and people from the East Coast. People from the East Coast are real. By saying that I'm not insinuating that people on the West Coast are fake because I know a lot of them, and they're not. But there are certain things that slide on the West Coast that wouldn't on the East Coast. There are no fake handshakes and I appreciate that because that's just the type of person I am.
First enduring musical influence that skateboarding gifted you?
This one is easy, Xzibit from all of the 411's. I was into Wu-Tang but didn't know about Xzibit, there are three tracks on those 411 videos and they are all my favourites. Issue 18 has "Papparazzi" on the Paris Metrospective, in issue 19, Lavar [McBride] has "The Foundation" on his Profile, and Jim's Ramp Jam in Issue 20 has "Enemies & Friends". They are all off the At the Speed of Life album. I remember running that one out heavy, that's the easiest question of this whole interview.
First part of yours that comes to mind as the one you are the most content with?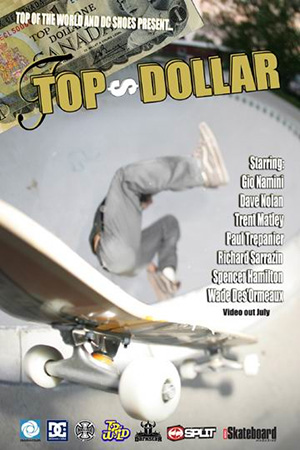 There are none I would ever say I'm content with, maybe Top Dollar comes to mind off the top of my head. To this day people always reference my It's Official part, even younger people which is weird. I'll pick the Top of the World video because the time filming that for me was just different, it shows my skating as being more well-rounded in a way. I have more stairs in that part than any other. There are rail tricks like the nollie noseslide at Dows lake too. We were filming everything and there was less thought behind it. Now it's more a case of having tricks I want to do and hoping to come across spots that will afford them to happen. I get stuck a lot of the time because of that. Now I have a set idea of what I want to do and how the part will look. Back then we just filmed, we were happy to go to a spot and just skate it, we didn't have an ideas because we probably hadn't been to the spot before. Many of the spots in that video we only skated one time, so you filmed what you filmed and that was it. We went off what was feeling good at the time so it's more natural. Certain skaters do that nowadays but a lot more is premeditated.
First and foremost I'm a student of the game, I wouldn't be in it if I wasn't infatuated with it. I wake up and want to do kickflips and crooked grinds. I think about that stuff still, I'm a kid, and I don't want to grow up. For my generation there was no skate career past thirty. So it was always already a worry of mine by the time I was 21 or 22. I thought I'd be lucky to get to 28, and then I started having surgeries, I had one at 23, and another at 25. After each one it felt better. It was a different time for lifestyles too and what people promoted. I didn't take care of myself during my twenties, I'll be the first to admit that now. I drank and smoked and that happened for a long time. I wish it hadn't but that was the time. It wasn't about health, you didn't workout or take care of yourself. It was about how fucked up you could be alongside how productive you could be, and that's a fast track to be out of the industry.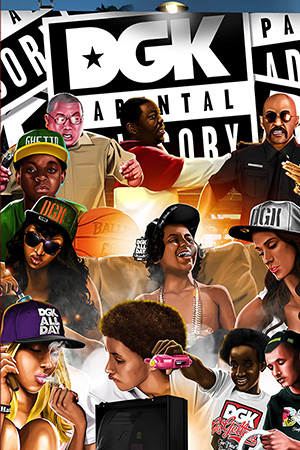 As 30 began approaching I started to think differently. After Parental Advisory came out I said I was going to take three months off to take care of myself. Anyone reading this, you need this, it's good information moving forward. I don't classify skating as a sport but look at any other sport. Let's say hockey, they have a season that lasts 6 months, 7 months potentially if you win the Stanley Cup. Then you have the off-season. For the off-season for any sport, the athletes usually take a month off, they have a vacation, eat whatever they want and relax. Then it's back to the drawing board, eating properly on a diet, lifting weights, taking care of their body, rehabbing. You're focusing on your skills and preparing your body for the season you're about to put it through.
Then look at hockey, the game, you're on the ice for maybe 60 minutes but your shift time is probably 1 minute max. The best people in the league probably play for 25 minutes per game, so you're looking at a total of 25 minutes a night. Skateboarders skate all day, every day. We skate for hours on end, and we push ourselves beyond the brink. The important thing I'm getting at is that we never take time off to get our muscles back to the point where they should be. When I started taking care of myself I lost 15 pounds in three weeks just from watching what I was eating. That opened up my eyes to nutrition, things I thought were healthy before definitely weren't, especially the portion sizes and the ingredients I added to things. Alcohol is also so bad for everything. Do what you want, I'm not a poster child for anything, and I drank until two years ago, I abused it. Make your mistakes, it's not good though, and you'll soon realise that at some point in your life. All of the pro athletes you look at who have such demanding jobs, and sports, take care of themselves and go into it. They spend four of five months of training to go into a schedule of 30 minutes a night for maybe three or four nights a week. We abuse ourselves, we throw ourselves down stairs. I'm sure you saw Lebron James roll his ankle and be carried off by six of his teammates. You see a skater roll their ankle at the spot and ask if they're alright. They'll be testing out how bad it is, have a beer, and you'll see them skating on it a week later.
"You see a skater roll their ankle at the spot and ask if they're alright. They'll be testing out how bad it is, have a beer, and you'll see them skating on it a week later"
We don't take our health seriously, at least we didn't back in the day. Nowadays there is more of that and it's good to see it. It's just another example of different times. I'm happy to see it at the forefront now, skaters going to the gym, doing yoga, and thinking about nutrition. People are posting themselves watching what they eat and cooking. We need more of it, and things can only get better moving forward, we're on the right path. When I turned 30 I changed my thinking. I'm not [Guy] Mariano, or [Eric] Koston, or Tom [Penny]. Those guys carry so much weight they will always be in the industry and can bow out whenever they like. From 30 I had it in my head that one day my body will break down and I won't be able to maintain it to do the things I need it to do, at the level I want. That is such bullshit! Whoever is reading this, ignore that way of thinking, age is nothing but a number and it's all about how you think in your head.
"We don't take our health seriously, at least we didn't back in the day…I'm happy to see it at the forefront now, skaters going to the gym, doing yoga, and thinking about nutrition"
I started to think about what I wanted to do rather than what my video parts should look like. I started to have more fun, I wanted to learn, and achieve the tricks I had in my head. I wanted the remaining years of my career to be spent having fun. The more I did that, the more I prolonged my career. More contracts started coming in, the opportunity to ride for Primitive. It's weird the way the world works, I put love first, put myself first with my skating and it rewarded me. Not in a monetary way but my career got prolonged and I can keep doing this. I'm very grateful for it but it all goes hand in hand. I think I'm having more fun skating now than I ever have, it's a blessing, skateboarding doesn't owe us shit.
First board graphic you had a hand in you were stoked on?
When I got on DGK I said if I ever turned pro I wanted my graphic to be like the jersey series they release when it first came out. So the graphic was the back of a jersey, Stevie had the Philadelphia Eagles, the Flyers, and the Phillies. I'm from Ottawa and we have one professional sports team in the NHL which is the Ottawa Senators. They came out of expansion again in 1992 and I have been a fan since then. So I always said I wanted a graphic that was an ode to that team to show my respects to my city, for everybody. That was the only real way to do that without it being corny, our colours flying on a board. It was special to me too in a way and I haven't ever said this anywhere before. That was the first DGK board I ever had to actually skate the first one I ever set up was from the Jersey series. I vividly remember skating the Stevie Williams one, and the Marcus [McBride] one. Marcus had the Oakland and Frisco teams. I set that Stevie board up when I was seventeen, not being on the team or affiliated with them in any way. I just thought the company was dope from the beginning, so that board is very special.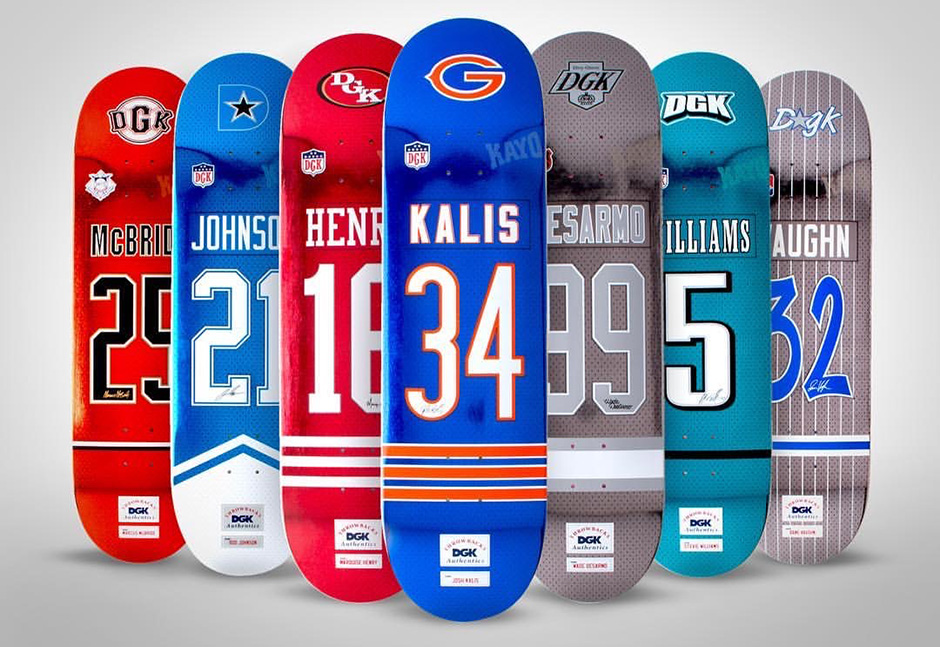 DGK throwback series from 2017 referencing the jersey graphics wade first rode when he was seventeen
First person you saw skate on another level who blew you away?
The first person who blew me away was Richard Mulder. He came to that Orleans park I mentioned earlier for a Christian demo, randomly enough. It was him and Shawn Mandoli. I watched Mouse a lot growing up, I was very studied when it came to videos, and my generation were very Girl and Chocolate influenced. He came to my hometown of Ottawa, Ontario, and skated my local park which was terrible. Terrible ground, with a terrible box. The floor is asphalt with concrete blocks that aren't smooth. Nowadays there are metal edges on the ledges but back then there weren't and they were so crusty. I remember him there, he was wearing shorts, his calves were popping out, and he had a brand new complete, new DVS's, and man, the way he would skate! Everything was first try, if not second. He wasn't doing the hardest tricks but I remember the technique, the way he was executing them, and the power with which he skated. I vividly remember him doing a fakie ollie-fakie manny on the high block we would skate. It was first try and it will forever have a place in my head. Everything about it, that trick is hard enough as it is and you don't see people do it so much nowadays. But back then to see someone casually do it like he did, with the power, grace, and execution was incredible. He was doing switch 5-0's, switch tailslides, switch crooks, nollie noseslides. He was one of the first pros I ever saw, the first glimpse of pro skating showed me that level, it was very special to see.
First person who was a regular game of S.K.A.T.E opponent who made you up your flatground game?
Dylan Cousineau, we would play games all the time and he was always better than me. As the years went on Travis Stenger, and then Morgan Smith. With those two there is no chance that I could beat them. I've got lucky a couple of times with Trav. I want to say I've got lucky playing against Morgan but I'm not sure he would agree and he's got a great memory. PJ Ladd changed the game and was a big influence on us, I was lucky enough to skate with him and it was incredible to see. He had so much talent but he also put in the work. Lots of people get gifted with the term natural talent, I'm not saying he isn't naturally talented but seeing how much he skates, and Morgan, and Trav. Those people who are that good on a board. I used to say this about Ronson Lambert too when I first started skating with him. Those people who can do so much, they are always fiddling with their board. Even if they're not moving, not skating flat, they're fiddling with it, that's the only word I can come up with. They are messing around to understand all the different pockets of the board, understanding the pressure their trucks are under. It's impossible for me to explain, they have this natural talent but they also have this excitement and curiosity to want to learn more about it. I don't want to use the word master, any of them will tell you that the more you mess round with it the more there is to learn. Also once you start getting good at one thing another one leaves. One of the best things about skateboarding is that you can't win it too, it's all subjective.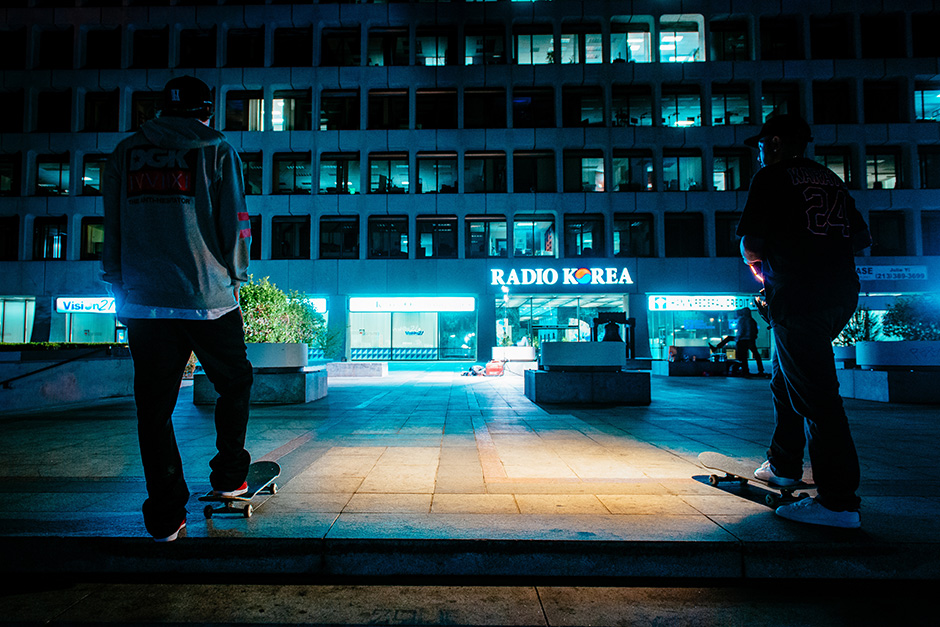 From regulating slidables to filming nights at JKwon. PH: Oliver Barton
First trick you lost your mind over learning?
The first one which gave me the hardest time until I was about 18 was backside bigspins. Holy shit, I couldn't understand the scoop, it would always half flip. Respect to [Erik] Ellington because he was doing that shit back in the day, it didn't get its respect until later on. I remember battling my teammate Dave Nolan who also skated for Top of the World. We went to New York and battled backside bigspins over the Flushing [Meadows] grate because we both wanted that in our part. I think he had that in his part in Top Dollar. I battled it with him countless times but couldn't figure it out. The day I figured that trick out was like an epiphany, thank god I did because that shit would still be driving me nuts. It took me at least a year to learn it.
First street spot you localised?
This spot in Ottawa called slidables. This shitty set of marble indents in this building. I don't even want to say it had smooth ground because it didn't, normal Canadian sidewalk ground. We called these indents slidables because they were always there, then one day out of nowhere we started waxing the shit out of one and realised that it slid fairly decent. I'm not saying it slid well. I've been back recently and was shocked that we would frequent and regulate that spot every day. They barely grinded and they mostly just slid. I remember filming there and doing my first switch flip backtail on a fresh Kennan Milton Chocolate board with éS Muska shoes, the navy and white ones. It was the first spot we would go and learn more stuff at because there weren't really any ledges in Ottowa unfortunately.
First highlight from your time on DGK that comes to mind?
The first highlight is before I was even on the team. I would go down and stay at Eli Soto's house, he was the owner of Gold and he lived in Cardiff [CA]. It's so random now thinking about that, Eli was older than me and didn't skate but he'd take me to Kayo. That's how I met [Ryan] Gallant and PJ [Ladd]. On one of those trips I remember battling Stevie [Williams] in the parking lot after going to a bar down the road from where I was staying with Eli and all the boys. Rasul [Allah] was there, and we were using Stevie's board because I didn't even have a setup with me. This was around the time I was trying to switch bigflip the Chino four block, I must have told him that was something I was trying because he said he was trying to get one too. I would have been nineteen so he was no older than twenty four, he had the Benz so he was already well-established. It ended up being just two fucking people bullshitting and chirping each other. We went try for try, first person to land a switch bigflip in the parking lot on his board. I remember the banter man, it was fucking dope. Him asking if I was going to land this or not, me saying "bro, you're pro, I'm flow, aren't you supposed to have this shit?", I remember it vividly. He ended up landing it first, and I clearly remember the form, it was vintage Stevie, so good! Then he focused his board and put it in the trunk, hahaha. I thought it was sick, definitely different. I wasn't even on the team.
"He ended up landing it first, and I clearly remember the form, it was vintage Stevie… Then he focused his board and put it in the trunk"
The main highlight would be just travelling. Going to Asia for the Reebok x DGK launch was pretty crazy. We left on a Sunday and came back the next Sunday. We went to China, Korea, and Japan. We all flew first class, we all had our own hotel rooms, and the Per diem was fucking gnarly. It was my first time in Asia, it was the first time for Lenny [Rivas], and I think Jack [Curtin] had only been to a couple of places before. Fly into a city, dinner, party, wake up, demo, signing, dinner, party, wake up, take a plane to the next place, and repeat until we flew home. I remember being out for dinner with my girlfriend of the time, one of her friends asked me if I had ever been to China and I said no. She had to remind me that I had been there, for a day and a half! That shit was so crazy, good times though. Marcus McBride was there too; to this day he remains a major influence on me. He is better in person than I could ever have imagined, his personality. I remember playing Battleship with him in first class on the plane. I remember him sinking one of my battleships, looking back, reclining his seat and giggling and smiling. That way Marcus lights shit up, that was another surreal moment, like is this actually happening?
"Without them I wouldn't be in this position, I owe a lot to DGK. I'm thankful to them and always will be"
Lots of good times on DGK. Even though I set the record straight on the Nine Club people still ask me about this. I didn't leave DGK because I wasn't getting paid, I was. They missed three cheques in fifteen years, it has nothing to do with money, that isn't why I left. I honestly thought I was going to retire on DGK, we just ended up going in different ways. I was just with Brad [Rosado], Will [Mazzari], and Brian [Reid], they have been out here. I skated with Nick Diaz, and Liam Annis the other day, I'm a fan of those guys, I love the company and I love the owners. Troy [Morgan] and Leila [Morgan] are the reason I'm in this industry and can still do this. They took a chance on a kid from a little-ass town in Ontario and gave me this opportunity. They paid for the surgeries that meant I could still skate and contribute to the company. Without them I wouldn't be in this position, I owe a lot to DGK. I'm thankful to them and always will be. My relationship with Troy and Leila is good so people can think what they want. I know what my relationship is like with them and I'm gonna put this out there one more time, hopefully it puts that whole misconception to bed.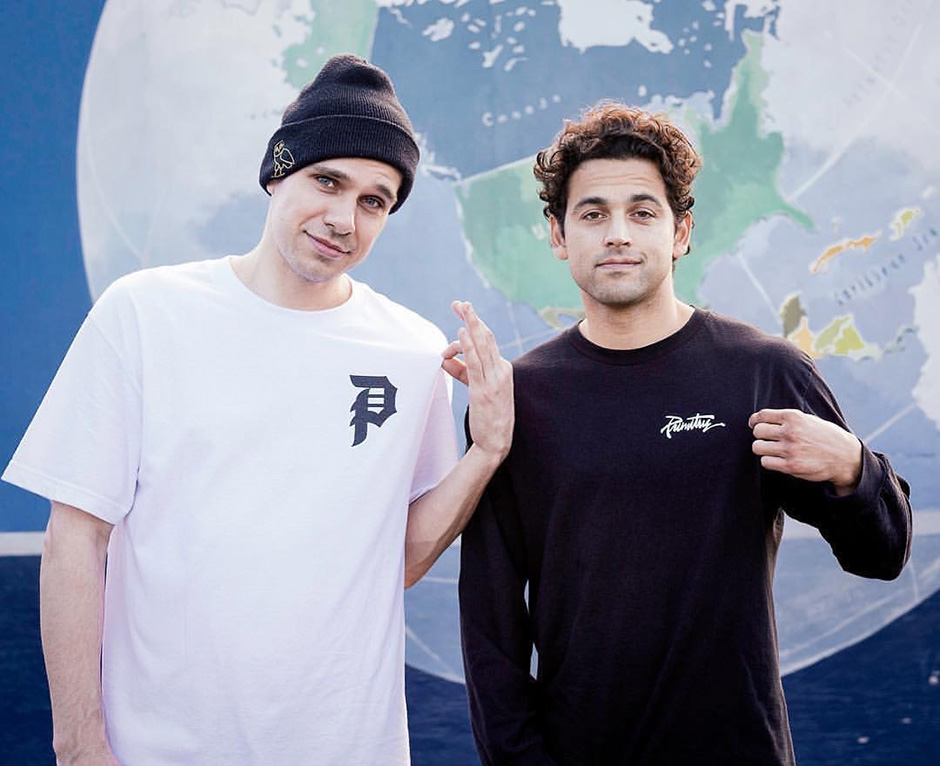 Wade with Paul Rodriguez when he was announced as part of the Primitive team in 2018. PH: Oliver Barton
First time Primitive felt like home?
This sounds corny but day one. As soon as I started hanging out with Paul [Rodriguez] again and the team. The industry is small you know. For people who aren't in it they need to realise it's smaller than they think. People reach out in my DM's to ask if I have ever seen or skated with certain other people. The answer is usually yes, we are all friends, just to different degrees. Most people in the industry are students of the game as well and keep up to date with who is doing what and who rides for who. I don't want to say it's like a big club, that's a terrible analogy but it kind of is. I know who people have on flow for instance. Being in the industry you are always in the loop. You have to be on top of it, your sponsors have to be knowledgeable too. We are all in this industry because we love it, there's a lot of bullshit that comes along with that too, and there's no way to navigate that without truly loving it. I've known most of the guys at Primitive for a long time. I met Tiago [Lemos] at the Dime contest when I was still on DGK and I kicked it with him and Yuri Facchini after the contest. Tiago's English wasn't great at the time but we were chopping it up, talking about Brazil, similarities in how we grew up, video parts, and our plans for the year ahead. Just talking shop you know what I mean? So even when you're out with your clique you see these guys at spots. LA is big but you're always running into people at different spots. You always end up chopping it up with them, especially if you don't really know them. It's almost more of an opportunity to get to know those people because you're out there in your element. You're skating together, having fun, bonding over what you do, and talking shop. You don't know everybody but you have an acquaintance and an affiliation with most people.
"I told them that I just want to film and do projects. They said that's all they want me to do and that they would give me every opportunity to do that"
Primitive has always felt like home to be honest. It took a while that process though. The conversation took off two years before I was even on the team. It started out as a "what if?" conversation. Then Paul and I started really skating together more. We are the same age and we fed off each other, motivated each other, and kind of battled each other in the same way. Everything aligned itself naturally for that to come to fruition. As I said, I thought I was going to retire on DGK and I was psyched to do it. I'm sentimental, I like those awesome stories where professional athletes spend their whole career on one team and get to retire in the same jersey they started out in. It would have been special to me to do that. I obviously didn't like quitting DGK and affecting that business but I'm happy with where I am at right now. The transition was easy as far as becoming part of the team, it felt natural, the hardest part was getting used to a new shape at first. Everyone on the team is on the same wavelength, they just want to skate and be productive, it's an awesome thing to be a part of. When I signed over to the team I was clear that I was turning 34 later that year and I asked what they expected from me. I remember Heath [Brinkley] telling me that they weren't signing me up to put me out to pasture and rinse me for every drop I have left in me. I told them that I just want to film and do projects. They said that's all they want me to do and that they would give me every opportunity to do that, which they have. For me it's been a blessing and a great opportunity. They have a lot in the pipeline for the future which I'm excited to be a part of. I'm trying to pull my weight and keep up with the young bucks.
First defunct spot anywhere you would bring back and re-visit and with who?
Love Park with Travis Stenger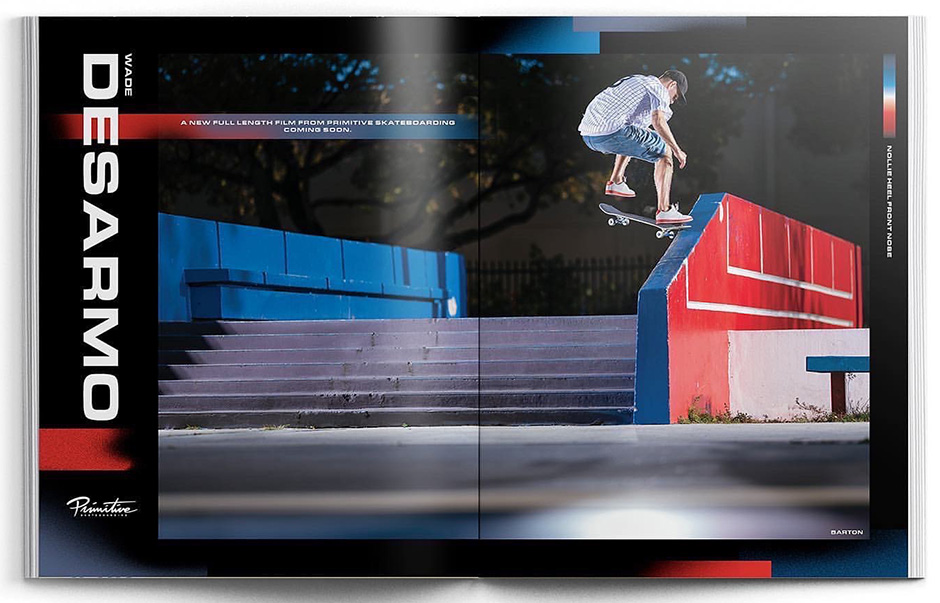 Nollie Heelflip Fronside Noseslide in Miami. Double page ad for DEFINE. PH: Oliver Barton
Last skate video that warranted a re-watch from you?
Today I woke up to some shitty news about Robbie McKinley, unfortunately he passed away. So this morning I watched his Yeah Right part and I started it off with Keenan [Milton]. That's the last video I watched, I didn't watch it front to back. Rest in Peace Robbie, love you, miss you. He was a great guy.
Last trick you battled?
The last one I clearly remember was in 2022. I don't think the footage ever came out. It's the Texas ledge which goes out, the shoot-out ledge. Carlos [Ribeiro] switch front blunted it in a line after a back nose blunt pop out. I did a switch back nosegrind on it. We were in Texas and a couple of people were skating it. I wasn't going to skate it because it's a high drop but we were there for a long time. It always happens like that, I'll say I'm not going to skate something at the start and then that's the thing I end up battling. I was there with Carlos [Ribeiro] and Tiago [Lemos] and started just fooling around, Taylor [McClung] got me to 50-50 it. We both did it and you kind of land in a little bit of a downhill, it wasn't as bad as we thought. So I started pushing myself and did a switch backside 50-50. That thing grinds like nothing else, you don't even feel it when you're in the right grind.
Having switch back 50'd it I started going straight on, going super slow, and switch back nosegrinding it. Then I went a bit faster and landed it within a few tries. Then it was kind of fun just to do switch back nose grinds. I remember looking at Alan [Hannon] who was the closest one filming it and asking him if he was filming what I was doing. He was, so I said "film this next one" and I tried to fakie flip out of it. I felt it, it was so doable if I could just take the impact. That turned into maybe a three-hour battle where I didn't land it. Then we went back the next night when Carlos wanted to do the switch front blunt. That was when Oli [Barton] took some photos of the switch back nosegrind and I'm not sure where that ended up, I don't think it ever made it to print.
"It always happens like that, I'll say I'm not going to skate something at the start and then that's the thing I end up battling"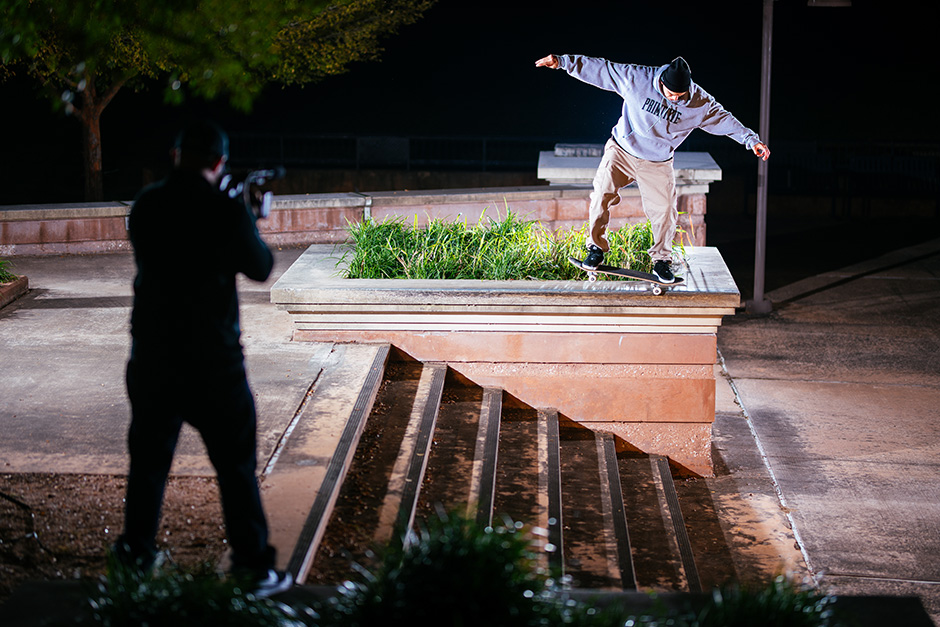 Alan Hannon filming Wade beginning his switch backside nosegrind battle with this texan ledge. PH: Oliver Barton
I decided to battle the switch nosegrind fakie flip again. It was a rough warm-up. Carlos ended up doing his trick, he obviously fucking hammered it. Then I put in another two or three hours, I tried until the generator ran out. I lost my mind trying that. I can snap sometimes, I try not to do it anymore. I'm sorry for anyone who sees it happen, I'm passionate, but believe me, I'm so embarrassed when it happens. I'm a forty-year-old man throwing a tantrum over a piece of wood with some wheels on it. I do it way less these days, once in a blue moon, but this was one of those times. It happens, and it usually happens when I'm filming. When I had the skatepark, we had cameras in there and only owners had access to the cameras. When I was in there by myself I would turn them off, because I probably look like a crazy person, I'm sure I do. Talking to myself, talking to my board.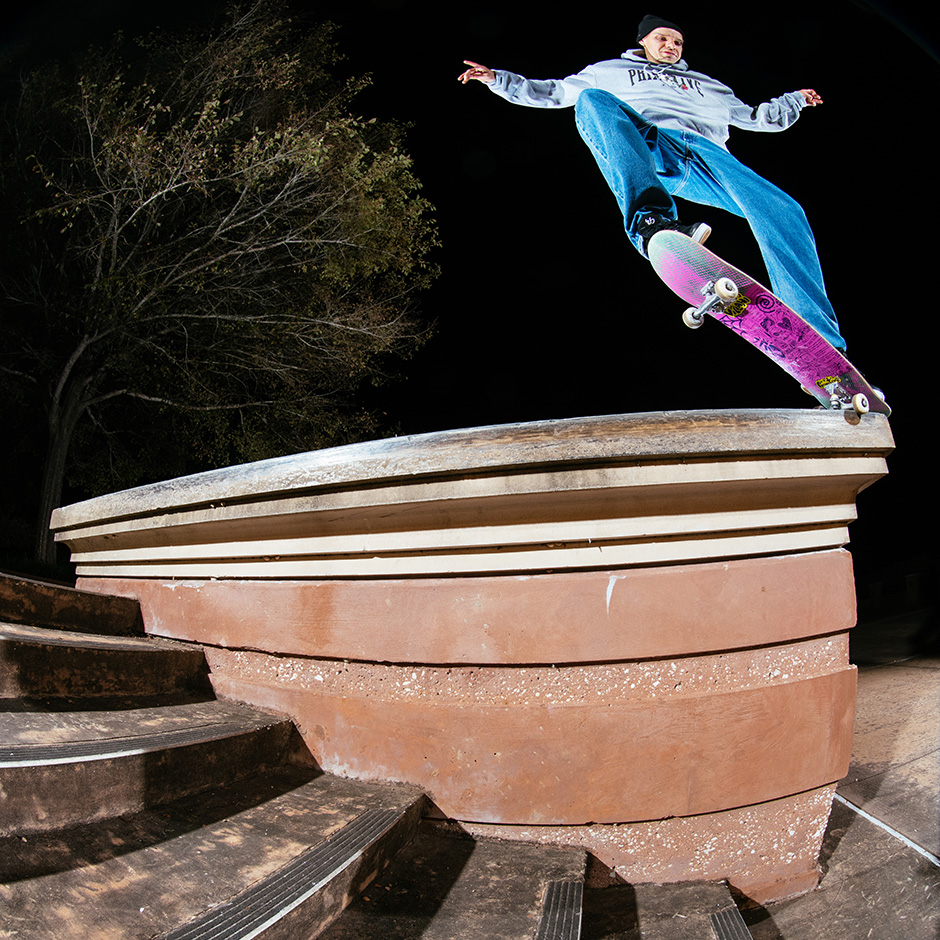 The calm before the storm. Altenative angle of the switch backside nosegrind. PH: Oliver Barton
So that was the trick which was a battle. I landed it a few times where I tap right before I pop the fakie flip. That trick took me to the cleaners mentally and physically and I went back there again too! I went back to Texas on a kill mission with Miles [Silvas]. We went there for a weekend to get our last tricks for the video. We wanted to skate the gold rail and I was going there to do that trick. It was such a botched mission because the wind on that trip was insane and getting back into the switch nosegrind didn't go well. My grip was so new, I clipped, had trouble getting my foot off and basically ended up doing a cartwheel off the edge. I landed on my side thank god. There's a clip of that somewhere, I'm dreading Primitive putting out any kind of behind the scenes of filming the DEFINE video that shows how crazy I am, it would be a whole episode. That was a battle I unfortunately didn't win.
Last person who made you learn something?
The biggest part of everything for me nowadays is trying to get out of my comfort zone. Trying to push myself out of that zone, whether that's skating or anything. I would say David Goggins maybe, a lot of what I'm alluding to, and the way he helped me, was in learning to push myself when things are uncomfortable. To callous your mind because you have to do shit you don't want to every day. Do something uncomfortable every day so when those situations arise it's business as usual. It's not necessarily affiliated with skating, I've just been skating MACBA. I spent three months off my board with an injury so I'm just trying to feel good on my board again. Tomorrow we will be getting back on the grind. I would really like to learn how to swim, that would be really pushing myself out of my comfort zone, we'll see, the ocean is a big place and it would be nice if it wasn't an ice bath right now.
"Do something uncomfortable every day so when those situations arise it's business as usual"
Last trick you made you were stoked on?
Anything that feels good, the last trick I landed. For the longest time I have ended any session on something that feels good. I tell that to other people too, especially when I'm at the parks, and even if it's just an ollie. Usually it's a manual or a 50-50 because that feels great. I'll 50-50 the flat bar or 50-50 the ledge. I'll do a kickflip sometimes or maybe a front shuv. Honestly, anything that just feels good. Those that know me, know I'm crazy and that I will do the same trick over and over. Looking back at footage of myself, the trick will often look pretty much the same, but for anyone who skates, they know the feeling is completely different when it's right, and you always want that feeling. Actually just the other day I was doing nollie frontside noseslides on the MACBA ledge, they were feeling good, and it was fun to do. That place is hard to skate, those ledges are so tough, so when you figure out something that works it's a great feeling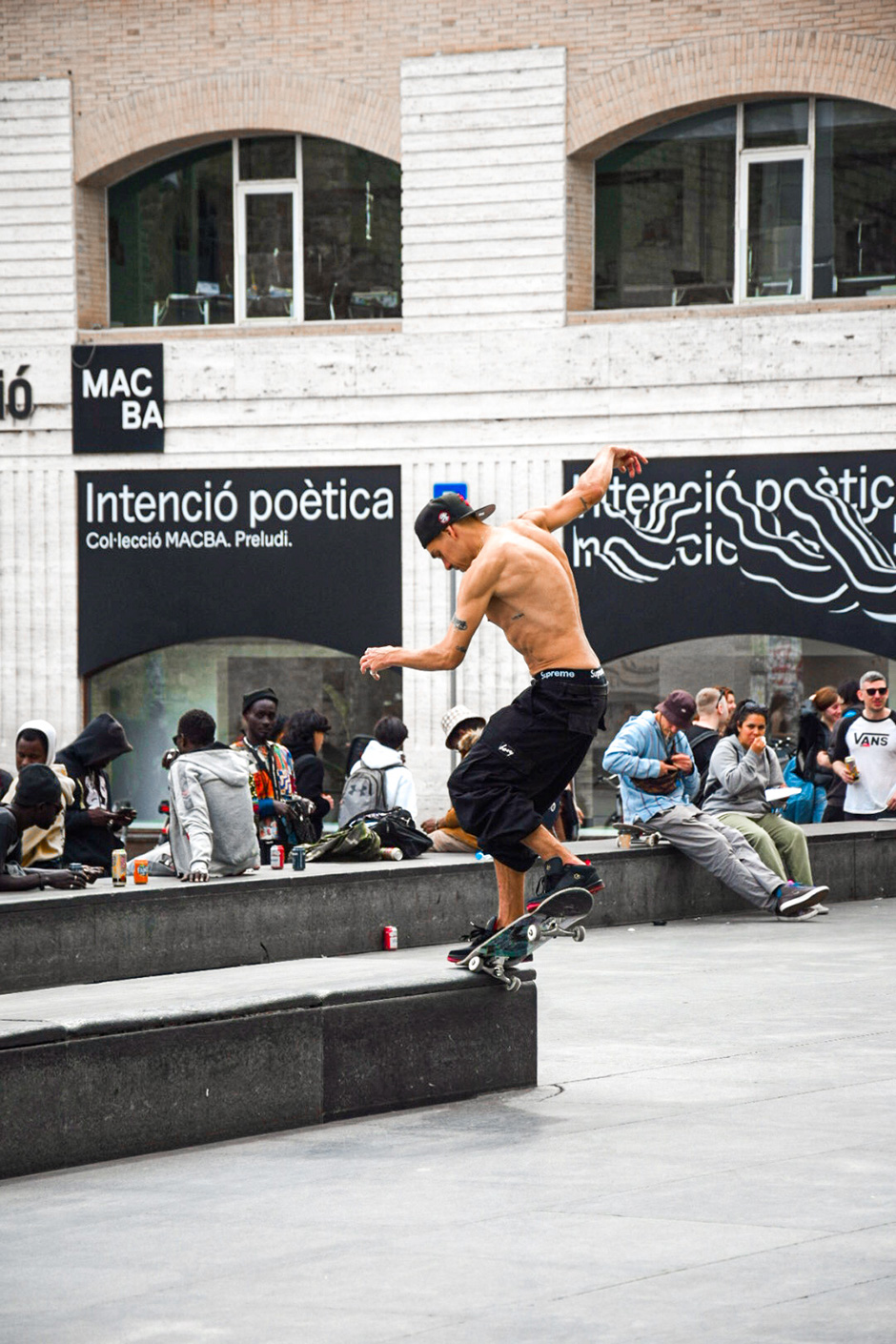 Nollie Frontside crooked grind meditation at MACBA. PH: Indy Makkinje
Last thing you implemented that has helped your skating?
I don't want to say sobriety because I still smoke weed but no alcohol 100%. No alcohol and no cigarettes but the effects of no alcohol are way more noticeable. It's night and day for me, I have an addictive personality and I can't control it. One turns into two, and two turns into eight. Then I'll enjoy the time I drink so much that I'll make an excuse to do it again the next day. It's bad, I don't want to say this, but I pissed away my twenties and most of my thirties. I was having so much fun skating at the same time. Just because I maybe didn't have footage coming out, doesn't mean I wasn't skating. I skate every fucking day. I never moved out to Cali for that reason, I want to skate with my friends, have fun, and live what this meant to me early on. I want skateboarding to stay as pure as possible while maintaining the "professional" side of it.
It's so bad, for a lot of those video parts I wasn't sober, and that's terrible to say. But in this industry, no-one is really looking after you as long as you're being productive. You don't have anyone checking in on you, you have complete control of what you want to do with your life on a day-to-day basis. That equals a lot of free time and all you've got to do is skate. So for a lot of people, especially back in the day, your crutches and vices could often overtake your fucking passion. I'm so glad it didn't consume me, or I was on the right sponsors. I didn't have anything to work on specifically so I could just skate and enjoy it, and be a fucking pile in my spare time.
"I pissed away my twenties. I think that's why I've been so focused in the later years of my thirties"
It's unfortunate and I will say it to my close friends, I pissed away my twenties. I think that's why I've been so focused in the later years of my thirties. I never thought I would be in the position I'm in, still having this as a career. I also didn't think I would be in the shape I'm in, still able to skate the way I want. I can still skate the same things I was during my whole career. I may be sorer after doing certain things but I can still do it. It's so noticeable for me now once I took a step away from drinking. It ruined a lot of my life, everything that was bad probably came from alcohol. Maybe I will elaborate on that at a later date. I've been thinking about it because I see it destroying a lot of other people and the industry can be a tough place. There's no-one looking out for you, you have to look out for yourself, and can feel very alone. I'm passionate about it because I don't want other people to do the same thing. I'm sure I may be in a different position if I was more focused, but my career went the way I wanted it to, so I can only be mad at myself. I don't regret anything, I am where I am, and I'm content with where I'm at.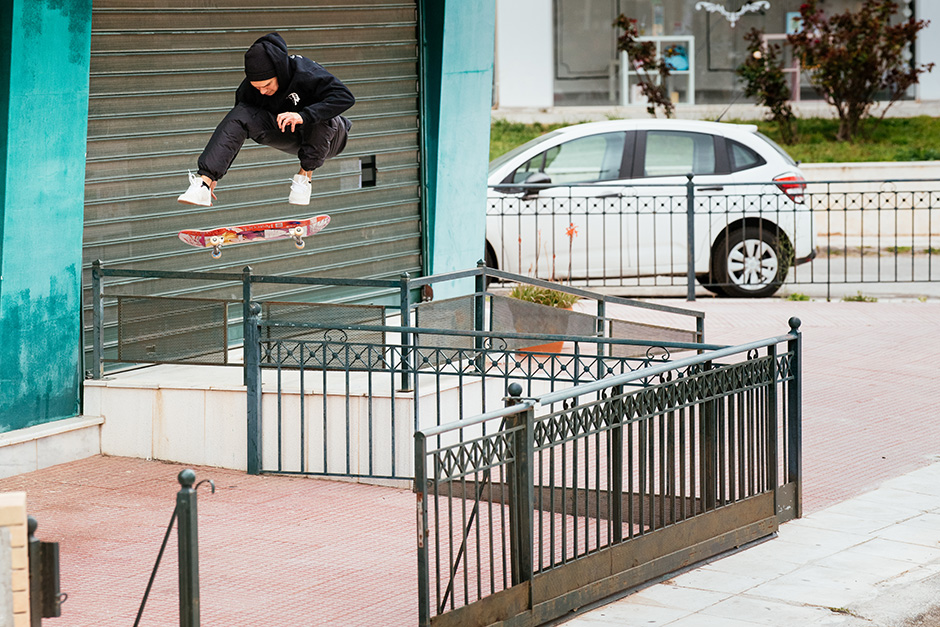 Athens plays host to Wade's frontside heelflip. PH: Oliver Barton
Last thing you saw happen in the flesh you were blown away by?
I'm trying to think of a hammer but I'm on my own ones and don't go out on the craziest missions anymore. I don't see gnarly skating happen every day, and that's not what I enjoy. I'll go and support my friends like Paul [Rodriguez] when they're out. The last thing that was amazing to see has been watching Roman Lisivka skate flat at MACBA everyday. That to me is poetry in motion, that's art, and that's what I enjoy seeing. Maybe it's not a coincidence that it's happening outside an art gallery
Last album you played from start to finish?
The last Pop Smoke album called Faith. Also I just dowloaded the best of DMX a week ago which I listened to front to back, walking around Barcelona and skating.
Last book you read?
I re-read The Art of War by Sun Tzu recently because it's so small. Atomic Habits by James Clear was good. I'm reading the newest Alex Hormozi book right now $100M Offers but it's just about business. I don't know why I'm doing that but I'm a fan of Alex Hormozi, and the way he gets points across. He's an interesting character to me. I read both [David] Goggins books numerous times. I'm trying to branch out. Sometimes I will only make it a few chapters in depending on the book but I'm fascinated by autobiographies especially about athletes. I read the [Michael] Jordan book, Goggins, Gordie Howe.
The business one is the weirdest choice for me. I'm such a perfectionist which is something I'm working on. At the end of the day we're not going to be here forever, and I don't give a fuck what people think about me either. But for some reason I have an issue with posting things when they're not perfect to me. It's not about how people will perceive it but about how I want to present it to other people. If it doesn't feel perfect to me I won't put it out. So I have a lot of ideas when it comes to business, certain things I won't get into, but they get derailed because until something is perfect in my eyes I can't proceed with it. You've got to start somewhere though so it's good to read other people's perspectives.
Last film you enjoyed?
Maverick, the best movie of 2022, hands down. Top Gun is one of my top five movies of all time so that movie being as good as it is, was incredible. That soundtrack is one I listen to over and over again too, especially in the gym.
Last thing you did for your local community you're proud of?
Probably the things we used to do with the skatepark that I had. Skate camps, events, movie premieres, fundraisers. The local movie premieres we would have at the park. It was sick, that was the first and foremost reason to go into the park, to give kids the outlet that I wish I had as a child. To get them out. There are so many issues nowadays with kids, they're faced with so many problems, so to give them a place, especially during the Canadian winters, to get away from the bullshit and out of their own head was amazing. Somewhere they could just come and skate, focus on themselves, an outlet. To me that is crucial and it's overlooked.
Last concert?
I haven't been to a concert in so fucking long. It's funny because the first one that comes to mind was so long ago, it was Devin The Dude when I was probably about 21. Concerts are different nowadays. Jeru the Damaja was here the other day and I regret not going to that. The concerts stamped in my mind as being great would be Devin the Dude and Rod Stewart when I was ten years old. He was kicking soccer balls off stage, it was amazing.
Last time you did something you never thought you would do?
Probably learning manuals. I was always so impatient, so probably every manny I have ever done up until my DEFINE part would have been within ten tries because I had no patience for it at all.
exercising patience. switch flip-switch nose manual-Fakie Varial Flip from Wade's DEFINE part
Last time you filmed something you're stoked on?
I filmed a clip, a nollie backside flip down a gap. I've never filmed a nollie backside flip. So for me it's about the things I have never filmed, that's what excites me about video parts. Filming things I can do but no-one has ever seen me do. I pride myself on being able to do a lot of tricks but things I film don't always necessarily show that. So it's a nollie backside flip and I just like the kit I was wearing too. You'll see the clip eventually, it's nothing special. I like the way it's filmed, I'm wearing black jeans again, some brown Accel slims which always brings me back to Tom Penny, my jacket is sick, the spot's cool. I like the way that clip turned out and it wasn't hard, within ten tries.
Last purchase which enhanced your life?
Anything to do with my home gym or that benefits my overall health. Last year I bought a flat bench, a workout bench so I could do that at home. Everything I do workout-wise is for skating. I've tried to incorporate more upper body stuff because I have always been a wet noodle. For the longest time it was about maintaining lower body strength and my cardiovascular health so I could skate for longer periods of time. So anything that helps with my health, that's all you've got in this world so take care of it.
Last time you were involved in a design session at Sole Technology?
I was last there about a year and a half ago. We were all out there looking over the next couple of years, all the shoes that were in the pipeline. Honestly with all the sponsors I'm on, if I have a set idea or concept I will approach them with it. For the most part though I trust my sponsors and let them have free reign. The most I do with éS is working on the colourways for my shoes. It's the same with Primitive, my boards will come out and people will be stoked on them but I can't take credit for any design. I'm blown away by the graphics. My new graphic for Primitive is one of my top five favourite graphics I've ever had and I had nothing to do with it. The way it came together was sick, it says "Trying to find peace of mind" on there. It couldn't be more relevant to who I am as a person now, and my outlook on everything.
I trust the creative geniuses who work for all of my sponsors. With éS I like different shoes for different reasons, they have pros and cons, and certain shoes are better for certain things for me. The sole of the Swift is the grippiest out of the bunch, but the top is so grippy that the first kickflips take some breaking in, whereas with the Accel the first kickflips out of the box are immaculate and you're not going to miss. The other model I'm skating is The Stylus which looks like a Jordan. They're a bit harder to break in but offer more support and their functionality overall makes them a good shoe. Every shoe is a bit different, I skate a handful of models but always of back to The Swifts and the [Accel] Slims. Something éS brought to the table which is different is the toe piece material on the Swift, it looks like it's painted on. Once you go through that, after 40 or 50 kickflips your shoe will be broken in, and once that layer is gone you're at the suede. Now you have a full-functioning suede shoe and you made it through this super grippy phase. éS have been at the forefront of innovation from when they began but for me simplicity is still everything. In my teenage years before I was even on the team I remember the Swift being a shoe I would always go and buy. I always wanted the brown Accel because of Tom Penny. Before I even got free shoes I was buying éS. I clearly remember buying the Koston 2's, again it's funny how things come full circle if you put enough energy out there into the world. I never thought I would be on the team in my thirties but here we are.
"Before I even got free shoes I was buying éS…it's funny how things come full circle if you put enough energy out there into the world. I never thought I would be on the team in my thirties but here we are"
I've been talking about this recently, skateboarding has become so talent driven. Everyone is so fucking good, the skill level has been magnified and turned up to infinity. I got caught up in thinking my kickflip has got to be good, my switch flip has got to be good, everything needs to be on point. I tended to focus more on that instead of going and feeling what's right, what feels good on that day. I remember being pissed on days when my switch flip wasn't working, or my nollie flip. That's just certain days, it is what it is, some things don't always work. With my mind I get so lazer focused on things that it can be bad if I enter that realm. But I've been talking to my friends about it. With certain shoes you can lose functionality over certain tricks because of the way that they are, maybe if they're too bulky, that can be the case for me. I'm used to a functional shoe where I can feel and control everything.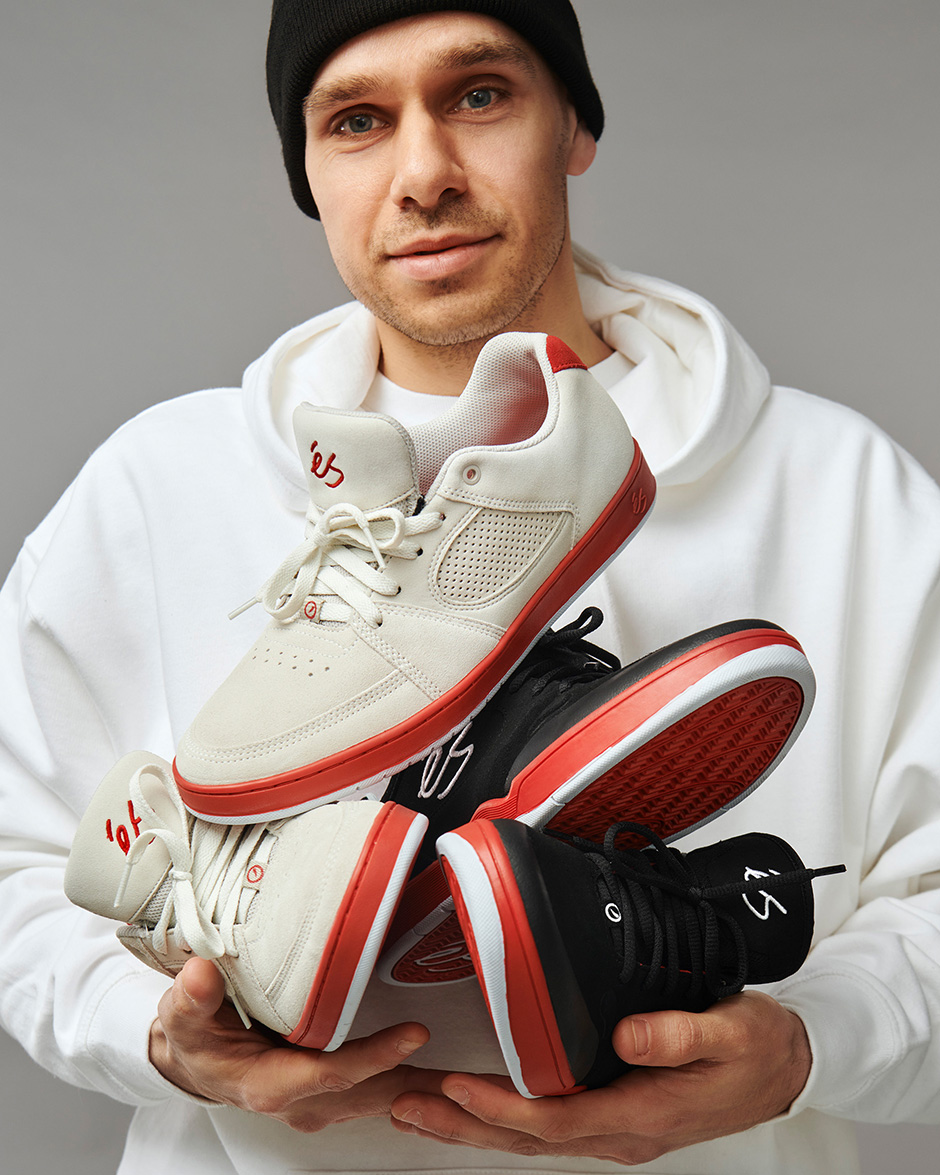 Wade with his signature éS Skateboarding collection from 2022. His take on the Accel Slim and Swift 1.5
Sometimes I will skate another shoe because I like the aesthetic of it, that's how I used to look at shit back in the day. That's why I skated in Jordans, it made me feel some kind of way to look down and have J's on my feet. There are shoes like the Silo SC where it's possible I will miss some tricks because of how it feels on my foot but TJ [Rogers] prefers something bulkier. He loves that shoe but can't skate in the Slim for instance. So for me it's about a feeling, that's what skating is. I'm gonna start doing that again, doing the shit that feels good. I think skateboarding needs more attitude again, that's what I think personally, it's lacking individuality. We know what it was like to skate when it wasn't accepted, we were outcasts. Now everyone is accepted and we are cool. I don't necessarily want that.
Last new city you visited for the first time?
Milan, Italy, amazing place. Great people, great food, and the spots were dope. I didn't expect to like it as much as I did, I fucking loved it. I would recommend visiting there to anyone.
Last time a hardware tweak made any difference to you?
I have been riding the same shit forever. This is going back some time but the last noticeable one would be changing my bushings to Bones mediums and taking out the bottom washer. I leave the top washer, I don't use the little black ones they come with because I don't like the aesthetic of that. I'm very visual, everything has to be aesthetically pleasing to me or I can't do it. I also can't ride the black and yellow Bones bushings, they have to be white and yellow. The most important part of my setup is my hardware. Sounds crazy but it has to be all black 7/8" Phillips bolts. If they are 1" I wouldn't be able to pick up my board and look at it, I couldn't do that, it looks gross. Weird right? Aesthetics is what led me to riding for Ricta, one day I decided I really want some white wheels. Coincidentally Kelly [Hart] hit me up to see if I'd ride for them. They sent me some white wheels, they skated well, and I said 'let's go". I never want to start tweaking my board shapes. I've seen PJ [Ladd], Spencer [Hamilton], and Trent [McClung] all go through it. It's the never-ending hunt for the perfect board and once you get into that realm I honestly don't think you're going to find it. Thankfully what I skate has always worked out and I'm going to keep it going.
Last random encounter that made your day?
Seeing Tom Penny the other day, seeing him at Paral-lel. Seeing a childhood idol in the wild, randomly. Especially now, knowing him, and how kind, and mellow he is. It sucks, I've met so many people, and the quote that it's sometimes better not to meet your idols is so true. I hate knowing the some of the people I looked up to in the industry aren't as kind as I wanted them to be, but Tom exudes everything that you think he is and more. He has an aura around him, you feel like you are in the presence of someone different. Everytime I have the opportunity to have dinner with him, or a drink, or bump into him walking to the beach, it's special and makes you feel a certain way.
Last thing that made you proud to be Canadian?
It's where I was raised, it's a great country, not perfect by any means. We have our shit that we have to deal with and a terrible leader. I say that word reluctantly because he's not my fucking leader. I guess travelling gave me more Canadian pride. We have a good reputation around the world for being kind, polite, and respectful. That makes me proud to be Canadian because that's all I ever want to be.
Last thing skateboarding gifted us you think the world needs more of these days?
Inclusion, inclusivity. It goes back to how I would describe owning a park. It's surreal to see it in the flesh right in front of you. Skateboarding is the only thing in the world that breaks down every barrier there is and I don't think people realise that. Ethnicity, colour, background, age, sex, gender, monetary status, everything, it's the only thing that includes everybody.
"Skateboarding is the only thing in the world that breaks down every barrier there is"
No matter what your background is, or what your beliefs are, it doesn't matter, it cuts down all that shit. None of that matters, you check that shit at the door, which is beautiful. It's the only community where you can go around the world, meet a skater, and feel at home, feel that connection. It may sound like a cliché but it's the real deal. The way the world is going, how separated we are, especially North America, we need more of that for sure. Everyone needs to come together and realise that we're all the fucking same.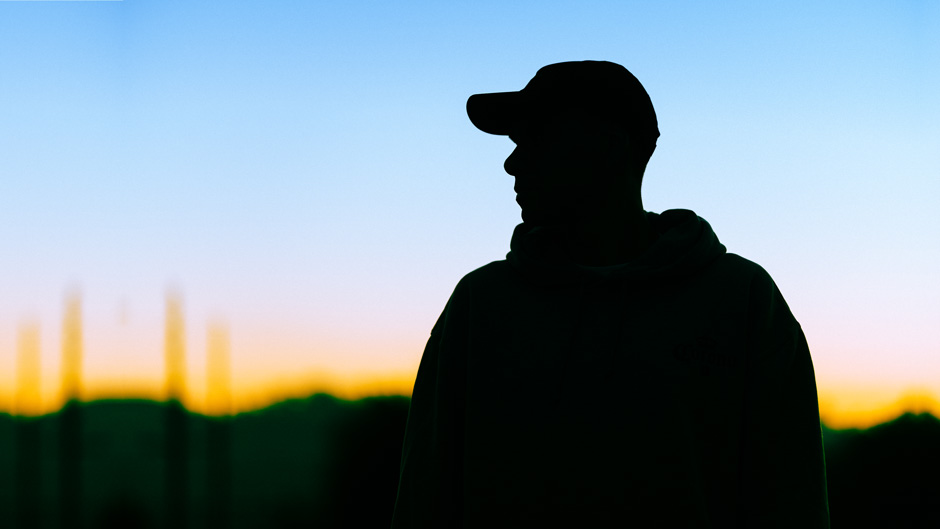 Silhouetted in Los Angeles. PH: Oliver Barton
Last words?
Thank you for this interview and the opportunity to do it. Have fun, skateboarding don't owe you shit, never will. Appreciate every day like it's your last.
---
We would like to thank Wade for the time he took out to do this, and the care and consideration he approached it with. We're looking forward to seeing more video evidence from his Spanish spring.
Thanks to Oliver Barton for coming through with so many photos, and to Indy Makkinje for the recent MACBA shot. Thanks to Neil Macdonald ( @scienceversuslife ) for the TWS scan. Thanks to Alan Hannon and Gez Curran for support and big thank you to Kevin Parrott at Sole Technology for helping to make this happen.
Previous First & Last interviews: Jarrad Carlin, Colin Kennedy, Henry Sanchez, Mike York, Amanda Perez, Mark Gonzales, Lance Mountain, Brian Anderson, Danny Brady