Our latest First & Last interview is with Danny Brady. Danny has been a friend of ours here at Slam since the very beginning of his career, when an encounter with Paul Shier led to him being flowed boards by Blueprint. This naturally evolved into regular London visits, couch stays at the Cawdor Crescent Blueprint HQ, and city exploration with Dan Magee and his VX1000. As Brady recalls in this interview, any trip into town on the Piccadilly line would begin with some quality Slam-time at our old Neal's Yard shop. He was always a welcome visitor, full of energy and excited for the day ahead. London was electric back then, Waiting For The World had ignited scenes countrywide and we were happy to be a base for all of those filming trips, and new faces.
This interview delves into those early days when the native Lancastrian was juggling his time between Blackpool and London, and further back into the scene and the spots that moulded him. It was great to get some insights about those formative years, and it's interesting looking back to his time beneath the Blackpool tower because It's hard to imagine a time when Brady wasn't a London resident or part of the shop team. He made his move to the city over two decades ago now, ushering in a whole new chapter that would bless us with some era-defining skateboarding.
From starting out in his hometown of Cleveleys to his busy existence now, he has always been driven by an insatiable desire to skate. Even while looking after the varied needs of the Palace Skateboards squad as TM, the skate rat in him finds joy in every opportunity, and when UK winters mean there aren't so many, he is busy creating them. Brady will always be an inspiration to everyone around him. We are proud he is part of the Slam shop team, and stoked he took the time out to entertain this interview. Enjoy what he had to share with us.

Words and interview by Jacob Sawyer. Brady mastering the Marseille Metro PH: Alex Pires
First time you ever saw someone skateboarding?
It was in Blackpool and it was this kid who I later found out was called Pritchard. He had on camo cargos and he was skating through the middle of Blackpool right under where the tower is. He was skating along and he just looked amazing cruising through all the people.
First skateboard?
It was from a shop in my little town of Clevelys called Dan Sports. It had a jaguar or a cheetah on the bottom, it was kind of a dodgy setup. I had that for six months while I was learning and then I got a Blind reaper setup for Christmas and took it out skating on Christmas Day in the snow.
First skate crew?
The proper original crew would have been my friends from school, Adam Hardman, and Dan Wild. Then my cousin Paul who skated quite a lot. After that I started going to the bandstand. There I hung out with Nige Cowell who filmed everyone, Scal, Ted Moyle, and Nimrod, who was a big cultural figure in our scene because you could go to his house and smoke weed. A Blackpool legend. I hadn't spoken to him for about ten years but I'm back in contact with him. He lives in Switzerland and he's a Buddhist monk now who only gets high from meditation.
There were loads of other people too. Dave, Clive, Graham, Grundy, so many people. Martin the GOAT, RIP. We had some weird spots too. The bandstand was the amazing spot where everyone would go. Then there was a spot called 'The Hot Potato' because it was next to a baked potato stand. Pretty legendary. That was my favourite spot.
First love before skateboarding entered the picture?
Before that I was well into football but never played properly for any teams. I didn't like that structured, competitive side of things. I preferred doing kick-ups in my back garden or playing with my mates.
First job?
I was a waiter in a hotel in Blackpool called The Norbreck Castle. I would have to go in there at 5am and do breakfast. My email still involves 'TCT' which stands for tea, coffee, toast. That's what I had to say to every guest in the morning. "Tea, coffee, toast?" I would say it so many times and it's always just stuck with me. I was always good in the mornings, then we would finish by 11 or 12 and have a five-hour break. During that time I would go to Nimrod's and get super zooted and then have to do dinner from 5 to 9. By that time I was super shit; I'd literally get every order wrong.
First coverage?
I had a First Light in Sidewalk when Leo Sharp came down. My friend Ted Moyle from one town over was shooting with him, and I went along that day and ended up shooting a photo too. It was an amazing spot which I think they've got rid of now. There were some big steps like the Lloyds set in Bristol but they went into a bank. It was right on the promenade and went into the beach, basically. I guess it was built to stop flooding. I always wanted to do a front blunt into it. On this day I kickflipped into it, from the stairs into the bank.

Brady's first mag appearance was this New Blood for Sidewalk in the year 2000. PH: Leo Sharp
As far as video my friend Nige used to film me all the time. Lots of that footage ended up in Viewfinder so that would have been the first time in a video anyone else would have seen. My first ever trick was in Northern Lights which was a Blackpool scene video. I kickflipped the seven at the bandstand. Check out his Instagram Blackpool Roll full of all of that footage. It's all on the Nige Cowell Youtube channel too. It's interesting seeing what that scene was like in small English towns during that time period. It was solid, there was a massive scene in Blackpool. No good skatepark just the bandstand, you could go to that spot and there would always be people there skating.
First skate video you rinsed to death?
Weirdly the first skate video I ever owned was a Blueprint video. I bought a Hookups slick deck from a shop called Bernie's Blades in Cleveleys, a rollerblade shop. I bought this slick deck and got a free video which would have been the Blueprint video Anthems. After that it would have probably been Shorty's Fulfill The Dream which we watched the most, me and my cousin watched that endlessly. That was before I had even met any of the Blackpool skaters.
First trick you were stoked on learning at the bandstand you are still running today?
Actually from some footage I was recently sent it was probably accidentally the backside 180 to fakie 5-0. There was this kerb that went off a two stair there. Kind of double sided, wide enough to be a block. I used to always do front blunts on it. My mate Nige sent me this old footage where I was filming one of those but it went over, almost to switch front crook on the other side. It's definitely a grind. I didn't know I was doing it but I did one. I probably didn't know what that trick was back then. I didn't know it was 'the move' but I was doing it. That's one of the tricks I still like to do and depend on. It feels the best when you do it which is why I like it the most.
"I probably didn't know what that trick was back then. I didn't know it was 'the move' but I was doing it."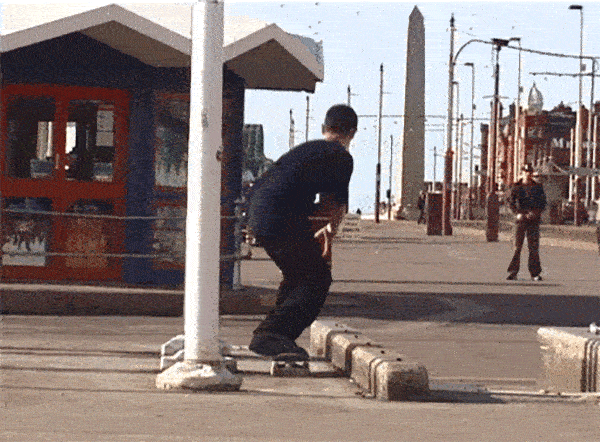 Earliest record of a Brady special move. Bandstand Backside 180-Fakie-5-0. Filmed by Nige Cowell Below right: Blackpool tower on his first pro board for Blueprint. Below Left: The Bandstand
First time you met the Blueprint squad?
I would have first met everyone in London. I first got sponsored by meeting [Paul] Shier at a demo. It was a DC demo in Bolton. After the demo I was skating. I remember speaking to him and I asked for his T-Shirt. It was a sweaty, yellow, DC tour T-Shirt in XL. I wish I still had that. That was the first time I met Shier and I started getting flowed stuff from there. Then I came to London and met people, I met [Nick] Jensen, [Dan] Magee obviously, and everyone else. I would come on little trips in between working at The Norbreck Castle. Then we all went on a skate trip to Mallorca which was my first ever skate trip away. I have been there about twenty times now I reckon.
First thing you filmed in London?
I think the thing that got me on or the first thing that was any good was a frontside flip I did over this pavement gap. It was a pretty high loading bay with a gap over a pavement into a road. It was a pretty stinking spot, the most horrible landing. Quite a big gap, I don't know why anyone ever skated it. When I frontside flipped that it was a bit of a turning point and I started to film more from there.
First person you used to watch who made an impact on how you skate?
Tim O'Connor and Kerry Getz.
First piece of good advice you got from Magee?
As far as life advice, early on I'm sure I wouldn't have taken any because I was so stubborn. I only learned as I got older, when you're a kid you don't take advice from anyone. I'm sure there would have been good advice from Magee and other people. The only advice I would have taken would be about skating, what was good, and what wasn't. Maybe advice is the wrong word, he would rinse you for doing something stinking. I learned a good work ethic from him. If you are enjoying doing a trick when you're filming don't settle for one, get it exactly how you want it to be or have a few versions of it. He was always pushing you in the right direction.
First pro board?

My first pro board was the Blackpool Tower graphic by Magee and Justin Atallian. Getting turned pro back then wasn't such an ordeal. There wasn't a big party or anything. I think I was at Southbank when I was given the board. I remember being next to the tree, sat by the river, and someone giving me my board and being hyped. Nick [Jensen] went pro at the exact same time.
First visit to Slam City Skates?
Some people say that slam was quite intimidating back then but I only remember being hyped to be there early on. I can't remember the first time but I used to go in there a lot. I would stay at Cawdor Crescent in Boston Manor when I came to visit. That was where [Dan] Magee, Chris Massey, Marshall Taylor, and Adrian French lived. From there you would take the tube into London on the Picadilly Line. No matter where I was going I would get the tube to Covent Garden, I still kind of do that now. I had been taken to Slam and although I didn't know my way around I could find the shop from the station. That was where you would meet people. Then I learned the route from Slam to Southbank. I can't remember the first time but it was definitely a place I enjoyed being, always the first stop on a trip into town.
First trip to the US?
My first trip to the US was to go and visit Benny [Fairfax] when he was living there. He was just recovering from an injury, he had broken his leg and ankle really badly. I went on my own and stayed with him. I remember getting straight off the flight and having a big night out. I had a really good time, I was on my own schedule and there was no special plan or expectations. Benny really looked after me and introduced me to loads of people which I'm forever grateful for.
At that point Benny would just skate flat because he was coming back from his injury. The only downside was we would literally only skate flat but I guess that was good for us. It was definitely good for him because he went on to win that game of S.K.A.T.E. at the Berrics. He got so good at flatground because he had been hurt. When Benny was coming back all we would do is go to the Courthouse and skate the marble floor for hours. I have a lot of good memories from that first trip out there.
"When Benny [Fairfax] was coming back all we would do is go to the Courthouse and skate the marble floor for hours"
First thing you were involved with for Palace and remember fondly?
I guess that's a hard question because when I first got on properly It was more a matter of Lev saying "you're obviously doing this now". It was so seamless making that move after Blueprint ended. We went on a little trip. Even before it became a company we would all film those videos and Lev would make little edits. We were all at Southbank together all the time. They are my best memories of the early days of it. That was before I was on but I still felt part of the whole thing. That's why it worked so well, I was already part of something but then it was made official. Forever grateful to Lev for being understanding back then.
First thing Palace put out there that blew your mind?
The early stuff is still sick. I remember Tres Trill coming out and that being a notable point. It was everything about skating that's good. It's what Lev would say skateboarding was missing at that point in time. The way the videos were made, the music, the skating, everything.
First truly challenging situation as a TM?
There are moments; other people doing crazy shit, staying out all night, crashing cars or whatever. When we go on trips now I try not to drink or party too much. When you're away somewhere you do want to do that but it's so stressful if you are the person sorting everything out, my hangovers are so bad. I remember going on a crazy trip to Japan, and basically, I go to bed because I have to wake up and get everything sorted out.
But on this trip, on the last night we all got so mash up. I remember getting everyone back to the hotel at 3 or 4 in the morning. Then for some reason I ended up carrying on and going out for another two hours. I hadn't taken my own advice. Then the next morning I had to get everyone together still pissed out of my head. I didn't have to drive but it was such a nightmare. Being responsible for other people travelling and not being in the best state was one of the worst things that's happened. That's happened on a couple of trips but I've learned my lesson now.
First defunct spot anywhere you would bring back and re-visit and with who?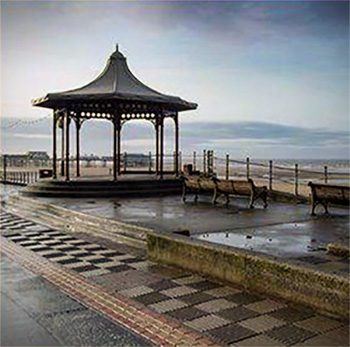 The bandstand with Nimrod one hundred percent. It was such a legendary, amazing spot. It was right next to the sea. Sometimes the tide would be right up to the promenade and the water would be really still, almost like being next to a lake. The spot itself as really smooth but everything was a bit awkward, weird, and really fun to skate. I feel like it shaped me as a skateboarder. I'd be interested to see if I still had the lines I had back then too, lines I would do everyday. You would just skate for fun as much as possible and do the same tricks.
It was such a long promenade too and I knew every bit of it. I used to skate home from there quite a lot which takes nearly an hour. I would stay out late in town and then skate back. I knew every stone, where the good surfaces were. There were benches I would grind on the way home every time. I had it dialled in and was confident on my board, it would be great to reconnect with that. It was so fun skating that promenade. Then with Nimrod because I haven't seen him for so long. He disappeared for a long time but when I got in touch with him he told me he has just started skating again.
First trick that comes to mind right now when you think of Southbank?
The first trick which came to my mind was [Andrew] Brophy's frontside 180 up the stairs. Rattray's front blunt on the beam, I always remember that really clearly.
Then before my time Clive [Daley]. The first time I ever went to Southbank, Clive was there. I was a little tiny kid who had been dropped off by my parents. I remember this crew came through and tried to rob loads of kids. He chased them off with a copper bar. I remember them saying they were going to come back and he was just sat there hitting this copper bar into his hand.
I don't remember him skating that day. But I love the stuff he used to do on those ledges right next to the river though, the backside 180 to fakie 5-0 that's tweaked into switch crooked grind. Those things are so horrible to skate but he made them look amazing.

Brady's first ad for Blueprint was a Mallorca noseslide from 2002 (recreated for Quartersnacks). PH: Oliver Barton. His first ad for Palace was a backside nosepick in archway in 2017. PH: Sam Ashley
Last skate video that warranted a re-watch from you?
That's a hard one because I don't watch that many skate videos. I really enjoyed that Limosine I Just Took a Bite of Dirt video. That's my favourite thing. Also all of the other videos they have put out since it started. I like how persistent they are with putting stuff out there.
Last trick you made you were stoked on?
Probably skating with Ville [Wester] recently. It's a very simple trick but I did a pop shove it noseslide and 180'd into a bank. It was a bit of a mission. It was more about the session, it's really fun skating with him. It was the bank on the river in Fulham near the football ground. It's a horrible brick bank, it was muddy and wet, and raining. We had to stop for the weather and then start again, kind of a hellish session but I really wanted to do it, and I did it in the way I wanted to.
Last film you saw?
Indiana Jones and the Last Crusade.
Last book you read?
I recently re-read Fear and Loathing in Las Vegas.
Last album you played from start to finish?
LTJ Bukem, either Producer 01 or Journey Inwards.
Last thing you saw happen in the flesh which blew you away?
Nick Michel did this 50-50 stall in Mallorca on this tiled wave spot that's there. It was mental, he did it so easy. No grab, 50-50 stall and pop in, he did it twice.
Last Palace project you worked on that was a lot of fun?
I think the trips I enjoy the most are when the video comes out soon afterwards. So the Hawaii trip for Betamaximum or the Normandy trip for Normcore. I like it when you're a big crew on a trip and then the video comes out. As far as advert projects the Calvin Klein one was an interesting one to be part of. That last Vans advert with Rory was hilarious, watching Rory do that performance. Those ads are always really fun and more in-house. Rory needs an Oscar or something for that.

Last time your TM skills saved the day?
I'm not sure if the TM ever saves the day. The best way to save the day is to pay for everything. Sometimes if you try and be too involved, you don't really need that. It's better being less of a TM and letting everyone do their own thing. That's something I'm starting to learn recently. You don't need to push everyone and try and save the day. I like to think I sort everyone out with what they need, make sure they have good flights, see that everyone is happy and has product. That's standard stuff but I feel the main thing you should be doing is just paying for everything.
Last purchase which enhanced your life?
Lame one to say but gym membership. I've got a fancy gym where it's completely empty. I hate going to the gym but pay a bit more and it makes it bearable. That means I'm able to skate more and better. At my age now I can't afford not to do that. If I want to really enjoy skating still I need to train and keep myself fit. I have extra training sessions with Korahn Gayle too, Functional Patterns and Training Interntionally. I was there at the gym with him this morning at 6:30am, I hadn't done it for a while so it was a hard workout.
Last random encounter that made your day?
It's someone I speak to quite a lot but probably bumping into Stuart Hammond and his adorable kids at the Tate the other day. #stuarthammondupdate.
Last restaurant menu food gamble that paid off?
I don't really take risks with food, I always order the same shit.
Last thing that made you trip on how much Palace has achieved?
I think every time I see it randomly in the street. Obviously there are achievements like doing all of this high-end stuff with massive brands is mental. So the answer people may expect to hear is collaborating with Gucci, or Calvin Klein. But I look at it as that being an achievement for those brands. Maybe that is a marker, and a reward for what Lev and those other guys have done.
"the answer people may expect to hear is collaborating with Gucci, or Calvin Klein. But I look at it as that being an achievement for those brands"
For me it is the general appreciation people have for it. I love seeing random people wearing it out and about. When you see someone on the tube wearing some Palace clothing and you can see they have worn it loads, it's not some fresh kid. It's become such a staple in some people's wardrobes and they've worn it to death. It's become such a big brand that it's everywhere.
Last thing being a team manager taught you?
The boring answer is Excel and becoming really good at spreadsheets. On the other side of it is learning not to get too stressed personally, and not stressing other people about stuff that doesn't really matter. You can work yourself up about stuff that is not important sometimes. Instead of getting a bee in your bonnet about something I've learned to take a step back and consider how I would want to be spoken to about something for instance. Learning to take a breath to consider other perspectives. Not everyone is the same and people have their own way of doing things. One thing I need to work on is learning how to switch off and better manage my time.
Last time you saw any live music?
I went to see Yung Lean, I hadn't listened to any of his music before, was expecting not to like it, and ended up really enjoying it.
Last time any hardware tweak made a positive difference.
I'm in the midst of a battle right now, I've gone back down to riding a 7.75" board. When I first went down a size I just set up one of my old Blueprint boards that I've got a stash of and I really liked it. But then I don't like other 7.75" shapes so I don't know what it was. When I first got on Palace I just went to riding a bigger board straight away. I think the Blueprint board is slightly bigger, maybe it's a 7.875" which seems like it wouldn't make a difference but it really does.
So I really liked skating that shape but I don't have an unlimited amount of them. I need to find out if I can get that shape copied. For me, I just don't skate nollie or switch, so it's almost like I could have a fishtail board. I can have a board that's designed to only be popped on one end. I do believe that in the end you can get used to skating anything really. There is a golf element to it too, some boards are better for some tricks more than others, you need that middle ground. Ultimately I need that old shape again because it made a difference.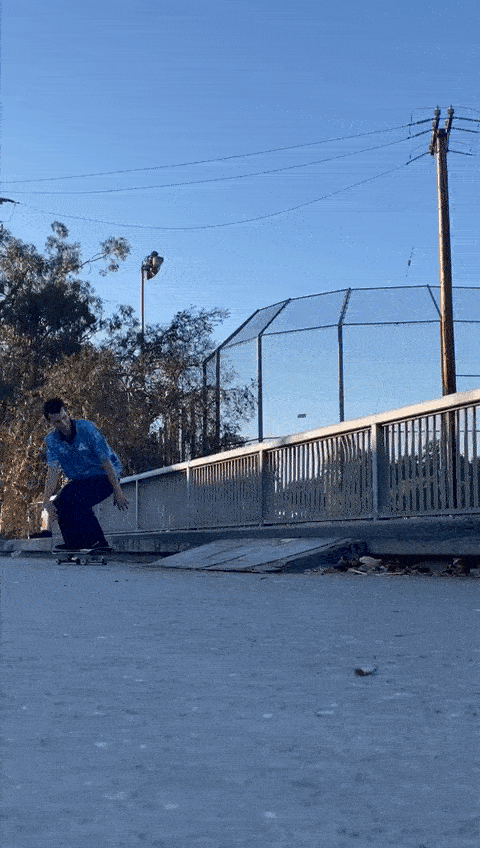 signature quick feet on this Backside tailslide-frontside 180 out
Last new spot you visited you'd like to spend more time at?
I've been going to that new skatepark in Portsmouth which is amazing, it's needed at this time of year. I'd love for there to be a park like that in London we could go to all the time.
Last person who made you get your camera out?
Paddy Jones.
Last time Lev Tanju surprised you?
All the time. The thing with Lev is you think you can predict what he wants, especially as someone who works with him and makes suggestions. But he never wants what you think he wants, and the thing he wants is always right. It proves that he has his finger on the pulse, he's bit of a genius with that stuff, or I'm always wrong and I'm an idiot. Hahaha! No-one questions it now, you can't predict what he's going to do. That's what talented people do, they're already working out things people haven't thought of.
Last words?
Tea, coffee, toast?

---
We would like to thank Danny Brady for taking time out of a busy week and dedicating it to working on this. Thanks also to Alex Pires for the photo short shortly after the interview. We would also like to thank Neil Macdonald (Science Vs Life) for the board photo from his collection and the scans from his archives.
Previous First & Last interviews: Jarrad Carlin, Colin Kennedy, Henry Sanchez, Mike York, Amanda Perez, Mark Gonzales, Lance Mountain, Brian Anderson