This First & Last interview with Brian Anderson is a special one for us as it coincides with our new Anti Hero collaboration, a pairing we're honoured and excited to be a part of. The last time we spoke to Brian was during the first few months of lockdown for an Isolation Station piece, our attempt at offering some inspiration during those difficult house-bound months of 2020. So much has changed in the world and in our lives since then that it almost seems like a lifetime away, so when the opportunity arose to speak to Brian again in a different context altogether, we jumped at the chance to explore his story through reflections of the past and insights to the present.
We began by talking about formative experiences in Groton, Connecticut, ones which would inform the rest of his life. Then we meandered through the decades right up to the very-near present day, discussing him skating almost fifty miles for an excellent cause in September. Charity also brought Brian to London a few weeks ago when he took part in an important Q&A for the brilliant Ben Raemers Foundation. His impactful and candid telling of his addiction to alcohol for their SMiLe series is a powerful, inspiring watch. We spoke about this, and we spoke about his celebrated VICE piece on being a gay professional skateboarder. Both of these films required some real soul-baring, and an openness and honesty rarely seen from a person in his position. He's learned just how far those conversations go and witnessed firsthand the good they've done.
His kindness, his capacity for sharing, and his attention to detail runs through every one of his projects. It was incredible just how much care and time he put into answering everything that we asked. From '80s board graphics to handling Hubba Hideout, he was down to explore his history in real depth and we appreciate how just much he shared with us. His first trip to London was way back in 1997 when Toy Machine was distributed by Slam, and his 50-50 at Southbank is embedded into the Undercroft's history forever. It was meaningful to be able to acknowledge our collective history.
Fast-forward a quarter of a century and Brian is gearing up to get stuck into filming for the next Anti Hero project. Seeing him skating our Anti Hero X Slam board and wearing the shirt before we'd seen them in the flesh is going to remain an inbox high. We hope you enjoy the conversation…

Words and interview by Jacob Sawyer. Brian Anderson out test driving the Anti Hero X Slam City collaboration
First pro board you chose everything for?
I chose a Sure-Grip International Steve Steadham mini with black Tracker trucks. I had OJII Teamrider wheels. The board was dipped black and I got either neon green or neon pink griptape. I got a guitar for my birthday and after 3 or 4 days I realised it was a mistake. I put that in the newspaper and sold it then went to the bike shop and bought the Steve Steadham. That got stolen about five days later from the candy shop. I wanted to be a good kid and I left it outside, this was in about 1987. That was my first board.
First time you witnessed someone skateboarding and it blew you away?
Probably seeing the McGrath brothers, Matt, John, and Dennis. They were with the most radical, punk rock skater with blond dreadlocks (which were probably Alva influenced), Steve Maisch. It was like he had fallen out of the sky from a Nude Bowl session. Steve Maisch was the best skater in our town. He had a ramp in his yard called The Mansion Ramp, and there's an old photo of Fred Smith doing an invert there.
Steve Maisch is an awesome human, he always skated with the McGrath brothers who were from Texas before they were relocated to our small town. He was just four years my elder, which is a lot when you're twelve. So I saw the four of them skating a ramp to wallride in an abandoned tennis court by Eastern Point beach one day, and I was blown away. That was it, these guys were street skating just like in Thrasher. It was the next level to anything I had been exposed to.
Before this, there was a neighbour across the street who let me borrow a board, that's how I found skating. I used to roller-skate too because there was a roller skating rink in our town called Roll On America, it was huge in the 80s. I already liked that motion and we had a dead-end street we could learn on. So I already knew about skating and my neighbour had a banana board. Another friend had a skateboard but he didn't use it much yet. It was a brand new Sims Kevin Staab, he had the Thrasher too, he probably got it all at the same time. I eventually got a Variflex board at Benny's hardware store in Groton, Connecticut before I saw the wallride session I just described.
"That was it, these guys were street skating just like in Thrasher. It was the next level to anything I had been exposed to."
First graphic you obsessed over?
I was thinking about this last night. It was hard because I didn't have an old Intensity Skates page to look at, that was my page. I'd look at that and imagine… if I had to pick a Schmitt Stix what board would it be? Or if I had to pick a Vision which one would I choose? That was hard because I thought Vision was wack. My neighbour had one, I never liked the shapes, I thought they were corny for some reason.
What graphic did I obsess over though? For a person who was heavily influenced by rock 'n' roll, I was definitely intrigued by the Santa Cruz Corey O' Brien, that skeleton holding a fireball. Once I had watched some Santa Cruz videos it would have been Eric Dressen's board that I wanted. As for the main board I coveted, I don't remember tripping too hard over that when I was young. I knew we couldn't afford it so I feel like that came later. When I was first staring at Thrashers I knew I couldn't get anything out of there, I was so focused on learning how to ride it instead. It was super interesting to look at them all though.
When I could afford one I got the Steadham which was stolen. Then I got a Powell Peralta Mike McGill mini from the bicycle shop because it seemed like the best fit. I chipped the nose on that board, it was Boneite. I broke that board vertically from the nose, the bottom three plies all the way to my back truck. At that age I was such a big kid, of course I broke that Boneite mini. After the Mike McGill I had to go back to the Variflex because there was no money for a new one. I'm trying to imagine what board I would have wanted at that point. One friend had a Vision Gator with the points which stuck out by the back wheel, it was super ugly. It was the board that had his name from nose to tail inside diamonds and the old Gator pattern behind it. I remember thinking it was hideous, he had clear griptape too.
I remember getting a Joe Lopes Schmitt Stix with the Beatnik poets on the nose, the BBQ board. I remember my sister identifying the poets, and that's a Neil Blender drawing. All of the first professional boards I got, I acquired slowly. I took what I could get and I didn't have any videos. My friend had a Natas board and I was turned on to how important he was but hadn't seen any videos yet. I suddenly thought of that Claus Grabke smashed clock graphic and how ugly that was, now I think it's kind of cool.
JFA always looked cool to me too, I liked the font of the initials and my sister thought they were cool. They had that awareness of Reaganomics and what was really going on. Jodie Foster's Army was named after an attempt on Ronald Reagan's life. Even at that age I was in touch with the Dead Kennedy's and other punk rock stuff like the Circle Jerks because my sisters turned me on to them.
But I came to a conclusion last night. The board I really wanted and finally got, having learned way more about skating over time, was the Schmitt Stix Chris Miller. The dog graphic, the dog had a kind of Christmas tree on its nose. There was a wonderful skater in our town called Talbot Prey who rode that board. I loved the way he skated and everything about his style so I thought that was the board for me. I wasn't trying to become this guy or bite his style. But I saw that he skated in a super interesting way and the board had cool art on it. At this point I had been exposed to videos, I'd seen Chris Miller skate and thought he was so amazing too. The crossbone, nobody did a crossbone, that was his trick. So I really wanted a Chris Miller and I remember the one I had pretty well. That was the first major one on my radar. Somehow I got G&S trucks with that board. I had a pink paint pen for my griptape but it didn't look feminine. I was psyched, pink and purple on the grip.
First elder who took you under their wing?
At first, my friends and I who were all the same age were just helping each other. My friend Jason Case would be the first elder. He had a ramp in his yard and Donny Barley skated with him. I would say Jason because he showed me the couple of completes that he had. He would also let us come into his house eventually and he had a VCR and some videos. He had Sickboys, the Gullwing video Inside Out, and the Vision video with Red Hot Chilli Peppers performing on the deck.
Also a guy named Pete Calabro. He took us everywhere, he had a little red Ford. He would take us to the New London parking garage when it was raining. We would listen to Paul's Boutique by the Beastie Boys on repeat. Another friend who took me under their wing was my good friend Paul Tootell. I would skip school in 1990 or 1991 during my freshman year and go to his house. He had a VCR and the Blind video and he would let me skip school and hang out with him. He went to the technical school where Donny Barley went. He was a few years ahead of me and didn't have to go in every day, he may even have been going to night school at that time. He was a very important person to me. He was goofy-footed and I'm regular. We would make spots behind grocery stores in the day time and he would skate things frontside while I skated them backside.

Hubba Hideout History. Frontside Bluntslide in 1997. PH: Bryce Kanights. Hurricane in 2010. PH: Gabe Morford
First time you visited Hubba Hideout?
Visiting Hubba Hideout for the first time would have been when I was living in Sacramento. I went to skate San Francisco on the Greyhound bus with Judd Hertzler and we skated with Mike Rafter and Matt Rodriguez. I'm going to say that would have been in 1996. So I would have been there and noseslid it, railslid it, ground it, and smithed it. When I was living in Sacramento we would always skate this school called Sutter. I would frontside bluntslide this ledge there all the time which was about knee height. I could land that 9/10 times on this ledge so decided I was just going to go to Hubba Hideout and try it there.
Mike Rafter was down to come out there with me and he called Bryce Kanights. Then Mike drove me to San Francisco to try it and we landed it. I don't talk about this one a lot but I'm really proud of the fact that I skated the top of Hubba too. I do two lines there in the Sheep Life Of Leisure video. I don't get sick of people referencing the frontside bluntslide at Hubba, the image has become iconic in unison with me. It's what people will always bring up when talking about me and it was a glorious, fun, rewarding feeling to roll away from that.
"I could land that 9/10 times on this ledge so decided I was just going to go to Hubba Hideout and try it there."
But I'm psyched on those lines. Skating the top part means you have to roll over a metal grate first. I figured it was more powerful to just ride over it and ignore it, knowing you're not going to clack your tail on the concrete until you're over it. It means in one motion your front wheels have to cross it, then you have to lift your front wheels up and hit your tail on the last patch of concrete possible after the grate. It was the kind of grate they would use at a concert to cover the leads, it was loud and it messed with you. I'm just proud of those two lines and I don't think I ever talk about that when people mention Hubba.
First mag you ever saw?
I think it was a Thrasher, I can't remember the cover. There was also a Transworld with somebody skating Mt Baldy on the cover. My friend Joey had both of those mags. The Thrasher had a white cover with Brian Brannon skating a backdrop for shooting cars. The main thing I remember about the Thrasher was the black ink from the pages would get on your skin.
First time you felt like you were expressing yourself on a skateboard?
The very first thing I thought of was doing a judo boardslide on one of my railslide bars we would set up in the street. I was so psyched to be able to do a railslide, bend down, grab my nose, do a judo and hold it for a sec. I also thought of working on your griptape, writing what you wanted to write on there. That's your board, that's your guitar man, it's what you're playing. It's how you share who you are with the world, it's like getting dressed. Your griptape back then was a huge expression of who you were if you were lucky enough to have a paint pen. It's not that if you didn't do your griptape you were boring it's just that lots of people did. You wrote what you were about on your grip.
First coverage which truly lit the fire?
My Check Out in Transworld which I shot with Geoff Kula. For my portrait, we rolled up some newspaper horns for Toy Machine and taped them to my head then lit them on fire. I was doing a backside ollie over a big granite pillar in Boston. Then Theo Hand shot an Am Jam for Slap with me. It was a sequence of an ollie over the rail at SF State to wallride where my knee almost hits the ground on the landing.
The first major thing though would be my Welcome To Hell video part. That's how everybody found out who I was because I didn't have a name in skateboarding before that. The video came out and we went straight on tour. I would like to say something here. I want to thank Josh Stewart for filming us for Welcome To Hell. I feel like he isn't thanked enough for that. He also drove us around in his own car for that whole tour. I want to thank him for everything he did for us during that whole time period.

Am Jam in Slap Magazine Sept 1996. PH: Theo Hand. Check Out in Transworld Magazine July 1997. PH: Geoff Kula
First board graphic you were super happy with?
Ed Templeton let me do my first board. It was an owl with a snake in its mouth, I drew it with Cray-Pas. Jamie Thomas nicknamed me Dhalsim when I 50-50'd that big ledge in Welcome To Hell, the one Jeremy Wray noseslid. When I landed that I bent my knee and he started saying I looked like Dhalsim from Streetfighter. So we had a Brian Anderson board with a guy who looked like Dhalsim and I thought that was pretty funny.
I feel bad that I don't remember the name of who drew up another graphic too. I had an idea of a giant person using a station wagon as a skateboard and doing a shifty ollie over an overpass, with concerned children, passengers, and a dog inside the car. I remember explaining that to Ed and drawing it on a napkin. Then somebody drew it and it became a board graphic. I wish I could remember who did it, thanks whoever drew that. I was really happy with that one. They're the first three I remember having
First time New York felt like home?
In 1991 when I first went there with my friends to skate, for real. Growing up in Groton, Connecticut we were right in the middle of Boston and New York. It took two and a half hours to get to either city. I had been to Boston once or twice, but it was New York city we really wanted to sneak away to. I'm not trying to be clever with that answer, I think I realised that I wanted to live there someday way back then.
I've lived here for ten years now and I was going to jokingly say that it felt like home the other day. Last week I was walking around Jackson Heights, Queens where I live. I'm lucky to always be travelling and doing different things. I have walked all around my neighbourhood, I love it, it's really interesting and it's beautiful. It's also one of the most culturally diverse boroughs in the world. But last week I had a moment walking around where I felt so grateful to live here. I remind myself often that I live in New York, looking up at fire escapes and everything the city has to offer. I try to never take it for granted.
I'll tell you this though. When I went to move to New York Julien Stranger said "you're not going to wear a Yankees hat are you?" The answer was no, that cap is never going around my skull ever. I grew up in a Red Sox house, I've worn a Cleveland Braves hat in my life, a Detroit Tigers hat in my life, and a Boston Red Sox hat. But now it's just the Giants, I'm SF for life.
First time you recognised the positive impact of sharing your story with others? 
When Roger Bagley, Giovanni Reda, and I finished the Vice piece and put it out to the world. After that just walking around New York City was when I realised the impact it had. It wasn't just ego-based to make that, it was a massive exercise after what I had been through in my life. I had been holding all of those things in. Then when people hear that who are queer for starters, they can relate. Or maybe now people who have experienced depression can relate after I spoke about my alcoholism. People will walk up to me wherever I am in the world and share their experiences.
After we did the Vice piece four or five people would walk up to me every day, thank me, and tell me a little bit of their personal story. I would hold in my tears. I'm just this person born from my mother and father. Because I'm gay I felt like I had to hold that in my whole life. Then I decided to speak about it on camera and now strangers are compelled to walk up to me and say thank you. That was when I realised how much it helped so many people, and that continues to happen so often. People come up to say thanks, all kinds of people. Most people who come up to me, I can tell they are what you would describe as a straight Cis male. They will thank me for what I did and sometimes use the expression "for changing skateboarding". There are so many lesbians and other queer people who were out and proud way before myself, let's be clear about that. I'm just a part of it.
"After we did the Vice piece four or five people would walk up to me every day, thank me, and tell me a little bit of their personal story."
I'm proud of that story though and I feel like a lot of people needed to hear it told in a certain way. I didn't know originally that Reda was going to interview all of these friends of mine. I'm glad he did though, a lot of these bonehead idiots in the middle of nowhere needed to hear my friends say "he's our buddy, it's okay". My opinion is some people need to hear that first, that lets them calm down a little bit with their opinions of queer people. People need to hear it from my peers, even if it wasn't the most appropriately worded at times, they were their words, and I watched the edit and approved it. I thought people needed to hear it that way, the way these men and women spoke about me.
Sometimes people can be very intense, they tell me they were in a dark place and considering suicide. I'm always grateful they feel they could share that with me. That's the nice thing about not drinking. I used to go home after that and fall on my bed and just cry. In New York when it first happened I would hold it all in. Someone would grab me in Soho and tell me this really intimate story where it sounds like I may have saved someone's life. I would be calm and humble and engage with them, and it would happen again and again. I would hold it all in, go home and cry, and because alcohol is a depressant it was even more intense. It can be quite a lot sometimes for a person to be informed of. Then to learn that something you did turned it around, it's quite unusual.
After the Ben Raemers piece in London, I think the employees were tired of people hanging out because we were speaking in the foyer for ages. One girl said to me "I went on holiday to Australia, came back and my mate came out to me and everyone in our little village all because of you!" That kind of story happened about ten times and I'm there sober just taking it in. Like I said earlier my parents created me, I happen to be a gay man, I speak about it into a camera, and because of technology, strangers all over the planet walk up to me and say "hey thanks you helped my friend have a way better life now because they can be out of the closet". That's the bottom line.
"That was when I realised how much it helped so many people, and that continues to happen so often."
After the Ben Raemers SMiLe piece premiered we left, and ate pizza in an alleyway. Then I was on a double-decker bus with a bunch of drunk Saturday night people, trying to listen and talk still. I got off the bus with Colin Kennedy, I adore him. I had a five-minute come-down walk from the bus stop to the hotel with him. We had a hug at our respective hotel doors and said goodnight. Then I went back to my room and had to turn on BBC and watch old Top Of The Pops stuff from the 70s. Then I turned on music on my cellphone and got my journal out. I wasn't about to cry from all of that, what I'm trying to say is that I had to come down from it. Like when a musician plays a concert, all of a sudden you're just back in your hotel room processing a crazy, emotional evening. The old me would have already been drunk and have some beers in the room so I could drink through how I was feeling. It's funny, it's a different life now, I have to do my own come down without a substance.
First spot which catapulted your progress?
Mostly the street I grew up on, and the ramps my friends and I built. I had a railslide bar and a little ramp. Also, a bunch of my friends had launch ramps, we were just skating that stuff in my hometown. My dead-end street is where I learned everything after watching Matt Hensley and Ron Allen. That's when we started doing one foots. We had a spot called the Rat Hole too, it was a drainage ditch that led to the river. It was knee high, we'd bring bits of coping there, pieces of wood so you could roll out. They were our stomping grounds.

Brian grinds the top rope at Southbank in 1997 before guiding a frontside 180 into the bank. This ended up as a tiny photo in a CCS catalogue but should have been a cover. PH: Wig Worland. Below right: Phil Frost painting still running
First skate trip outside of the US?
Probably Canada for a contest. I don't remember if that was a drive or on an airplane. The first proper trip outside the US was just after I turned pro. I went on a tour with Brad Staba who I had never met, Josh Beagle, and Donny Barley. We went to London, Amsterdam, Brussels, and Prague. Brad and I were vegetarian and liked smoking weed, Josh Beagle and Donny Barley liked to smoke cigarettes and eat meat. So Brad and I became best friends. That was my first overseas tour, that's the one that sticks out.
When we got to London the Invisible team were there on a trip. Laban Pheidias, John Reeves, and Brian Young. They were in the same hotel as us and Brad and Josh stole their key. Those guys hid poo in their room. They also ran into their room in the middle of the night with sheets over their heads screaming 'naked ghosts, naked ghosts". Brad and Beagle were so funny together. I remember that tour because Beagle was riding my pro board for Toy Machine. I thought that was so cool because I really loved the way Josh Beagle skated. That was the trip where I had the photo grinding the top bar at Southbank.
First ad or visual you think of when you think of Anti Hero?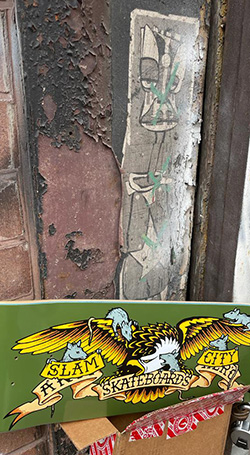 I think of when I first bought an Anti Hero board at the Groton Schwinn bike shop. I remember buying a grey [John] Cardiel board. It was a Chris Johanson graphic. I don't have the poster anymore, I lost it over time, but it came with one. I remember unfolding the poster that came with it and there were people in the Tenderloin in San Francisco with speech bubbles saying things like "wanna date?" It was that board series and I hung the poster up. I already liked Cardiel from Black label and hadn't seen Fucktards yet.
That's the first thing I think of though, buying that board. Then meeting John [Cardiel] and Julien [Stranger] when I finally got to California. So those two guys, and Chris Johanson's art.
First thing you think of when you think of Slam City Skates?
I can still see the lighting and the shop a little bit in my memory, I can picture the narrow streets around it and flowers hanging off the buildings. But the main thing I think of is the Phil Frost artwork that was outside. I showed my friend Matt Terwilliger who works for Labor the Slam x Anti Hero board and we started talking about the shop. He told me about a Phil Frost piece which is around the corner from Labor and he walked me over there the other day. It's awesome, there is a Phil Frost piece in this little street right by the skate shop and no one has gone over it with graffiti. It's twenty-something years old for sure.
First concert?
I know the answer to this! I was going to say Dinosaur Jr or The Pixies because my sister took me to see them when I was younger. But my first concert ever was when my friend's dad took us to see INXS on the Kick tour because it was his sister's birthday.
First defunct spot you would resurrect and revisit?
So easy to answer. The Brooklyn Banks in New York City. I got to skate there in 1990 when I was a kid. I would bring that whole place back as it was. I wouldn't even close the street off, you would still have to watch for traffic.

Tailslide for the cover of Thrasher December 1997. PH: Gabe Morford. Thrasher April 2000 SOTY Cover. PH: Gabe Morford. Below right: Brian about to skate 47 miles
Last skate video which warranted a re-watch?
Honestly, the last video I re-watched was Mouse.
Last artistic project you are stoked on?
I do a lot of stuff by hand, I think I did things pretty well when I was drinking. Now that I'm not I can spend a different amount of detailed intensity. I want to be skateboarding so much of the time that it leaves less time to devote to it. I have a fear of not doing enough on my skateboard all the time, I never want to feel like a professional who is milking it. This means I love it and I care about it passionately, I know I'm not a freeloader.
Right now I'm finishing converting our sunroom into an art studio, I've never properly had my own desk. I'm doing a bunch of hands-on footwear and apparel for Nike and I'm really excited about it. I created something during lockdown which I think is really simple and iconic for that brand. I finalised my sneaker designs in the last couple of weeks and I'm looking forward to presenting that to them. This winter I'm going to be making paintings which will be shown in the spring. I'm going to be playing guitar too, I've been recording song lyrics. I'm psyched about learning chords on my acoustic guitar and making paintings this winter.
Last trick you battled for?
I'm currently battling. I want to do a line where I Barley grind a handrail, that's what I'm working with. I've never done one on a handrail and I'm doing two flat-ground tricks before it so I can call that a battle. I've scoped it out, I just need to get three of my friends to watch for traffic.
Last thing which made you proud to be a skateboarder?
I was skating down the street in New York City the other day and saw somebody trip and fall. I stopped and got off my skateboard and made sure they could walk away from their injury, it was an older guy. I walked away with my skateboard in my hand and thought anybody who saw that whole situation saw us all help that guy who fell. I thought they maybe thought "that guy was pretty nice for a skateboarder". We're not all here to upset your dog, make noise and break windows.
"We're not all here to upset your dog, make noise and break windows."
Last good skate you had?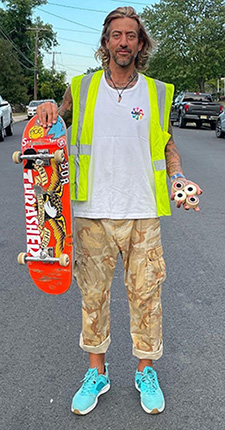 The last good skate I had was skating 47 miles around Washington DC for charity. First of all, when I first started skating I pushed mongo foot, which means I can push switch easily like Mariano. So my last good skate was 47 miles long, it was quite fulfilling.
I got to meet people along the way, you'll skate for five or ten minutes right next to someone and get to know them. Then a hill will approach or some cyclists and you'll go your separate ways to navigate a little twist and see each other again at the bottom. There are little bridges, you'll go through a town and then be back in the woods.
Halfway through it I was thinking that I'm definitely going to do it again next year. I met new friends like Jimmy Pelletier and stayed at their house, they're just good people. Jimmy started the DC Wheels charity and the first 47-mile skate he did by himself. I miss flipping my board around and I'm about to start doing a lot more of that but that 47-mile skate was so cool.
Last thing you saw which blew you away?
Transferring a plant into a bigger pot in my house and seeing it become so much happier in just two days. Everybody needs a home and some attention, that new pot made it come alive again.
Last concert you went to?
I don't remember and my friend would hit me in the arm for it. The last epic thing I saw was Lady Gaga play in Boston. I saw The Jesus and Mary Chain play at The Stone Pony in New Jersey. I wasn't drinking or doing drugs so I watched each band member carefully. I went to see Morrissey when my friend Alanna was still alive. I saw Tommy Guerrero perform last year too just after Thanksgiving. I'll tell you this though, I'm going to see Black Flag on November 11th with Mike Vallely on vocals.
Last album you played all the way through?
Joni Mitchell for sure. Last night I listened to Hejira all the way through.
Last time you surprised yourself?
When I did four pull-ups on Tuesday, I did four pull-ups twice and said thank you adrenalin.
Last purchase which enhanced your life?
I'm going to go ahead and say the Vitamix because it directly enhances your life. You can mix up goji berries and flax seed, and whip up kale. It's an expensive purchase but you can make some beautiful stuff to keep your body moving. Who wants to eat walnuts? They're kind of waxy and weird but I'm trying to repair my liver and they are good for that. I put them in the Vitamix with honey and olive oil and then put them back in the container I bought them in. If I have a sweet tooth at night I'll just have a couple of tablespoons of that, it's got to be good for your liver.
Last good movie you saw?
It was such a date night movie I saw with my husband. I have difficulty sitting in movie theatres, the popcorn chewing. There are also huge commercials that make you blow your load, so to speak before you even see the film. I put my headphones in recently before a film started, they take all of your attention away. The movie we saw was about a modern-day genie, it was with Tilda Swinton and it's called Three Thousand Years Of Longing. I saw it with my husband and recommended it to Stefan Janoski and his wife because you don't want to tell your single friends about it. This movie made me cry a little, it was good to see with my partner. It started with a huge CGI genie and I started to shift gears in my brain anticipating a Marvel-style movie but it wasn't. It was really cool, some escapism from what's happening on our planet.
Last thing you implemented which makes skating more enjoyable?
Making a shape with DLXSF. It made skateboarding so much more enjoyable making a shape that is tailored to my height and everything.
Last time a random encounter made your day?
Every time I see Mark Suciu in Manhattan. I bump into that dude all the time. I still wear my mask on the subway because the air is just gnarly down there. I remember going through a turnstile and seeing Mark with a mask going the other way, I could see it was him.

Brian and Jake Phelps on tour in Australia. PH: Ben Colen
Last thing Jake Phelps said to you?
A few weeks before he died he was texting me cool stuff, a photo of him on the beach. We talked about what our next trip may be and when I may next be in San Francisco. This is what I'll tell you and I may have said it to another person in an interview. A couple of months after he died I had a dream with him. I was at this Ranch House with all of this lush green grass outside. I was looking through some Polaroids and then I heard a noise and went out into the foyer. It was a middle room with a front door and a back door. There was a table set up with a black sheet over it in the middle of the room, a merch table.
Jake was there at this table and I asked him what he was doing there and he replied that he was just there getting ready. I asked him how he was there and he said "I'm not dead yet dude, I'm dying tomorrow, we're having one last party". Then he went to go through the other door because he was getting ready for the night but I made him let me hug him. I would give him hugs and stuff, Jake's a maniac but we got along great. I hugged him and pressed in and I could feel his ribs. It was a really beautiful dream for me, it was like a proper goodbye because I was pretty devastated when he died. That was my last encounter with Jake. I'm glad I wrote it down. I'm fortunate enough to have dreams. To see anyone who has passed in a dream is so beautiful.
"A couple of months after he died I had a dream with him… To see anyone who has passed in a dream is so beautiful."
Right when Covid started happening I spoke to Jeff Grosso too. He was telling me that LAX was closing and things were getting weird. He was telling me how serious it was. Then during lockdown was when he died, I was drinking at the time too and I was extra devastated because I had the sauce running through my system. I love Jeff and I miss him.
In New Jersey we don't have a working television. So every night I light candles and use my phone for news. At the end of the night when I blow out the candles I say goodnight to every person I can think of who has passed away. I think of those people often, Mark Waters, Sasha Steinhorst, HUF, so many people. I'll go through all of them and picture their faces, reminding myself of these great people who are no longer living with us.
Speak of the devil, I have a Dylan [Rieder] board by the front door I'm taking to New York with me. I'm going to put four people in our kitchen. Grosso's been in my kitchen for a while. One of my old pen pals gave me the Grosso board with the leather daddy and the big bear guy with glitter all over it. I have a Harold Hunter board and I had a P-Stone Anti Hero board that doesn't even say P-Stone on it, it just has some BBQ cooking utensils. Dylan's going to be in the corner. I love recognising our friends who aren't physically here anymore and saying what's up a little bit.
Ruben Orkin, Curtis Hsaing, and Phil Shao are three who were in Thrasher in the beginning. I was lucky enough to meet Ruben, and Curtis, I knew them a little bit. Phil Shao came to mine and Brad's house to interview me once. When I say goodnight to those guys I picture their faces, cheekbones, and everything. Some nights I will just say goodnight to my brother and sister who died and my dad. Or I'll say "everybody, you know I'm thinking about you". That would make them laugh thinking about it.
Last thing skateboarding brought to the table you think the world needs more of these days?
The first thing my mind thinks of is a DIY spot and what people see going on there. Different people bring whatever materials they can afford. Skateboarding involves people from so many different ethnic backgrounds, everybody comes together to do whatever they can with one common goal. That's the definition of community. I think it could help young people have the tools and mindset required to help, during a national disaster for example. You see younger people working together to keep a skatepark clean and maintain it, or learning from each other to build a new one. They will bring that with them out into the world.
Last words?
Turn the faucet off when you brush your teeth. I always forget.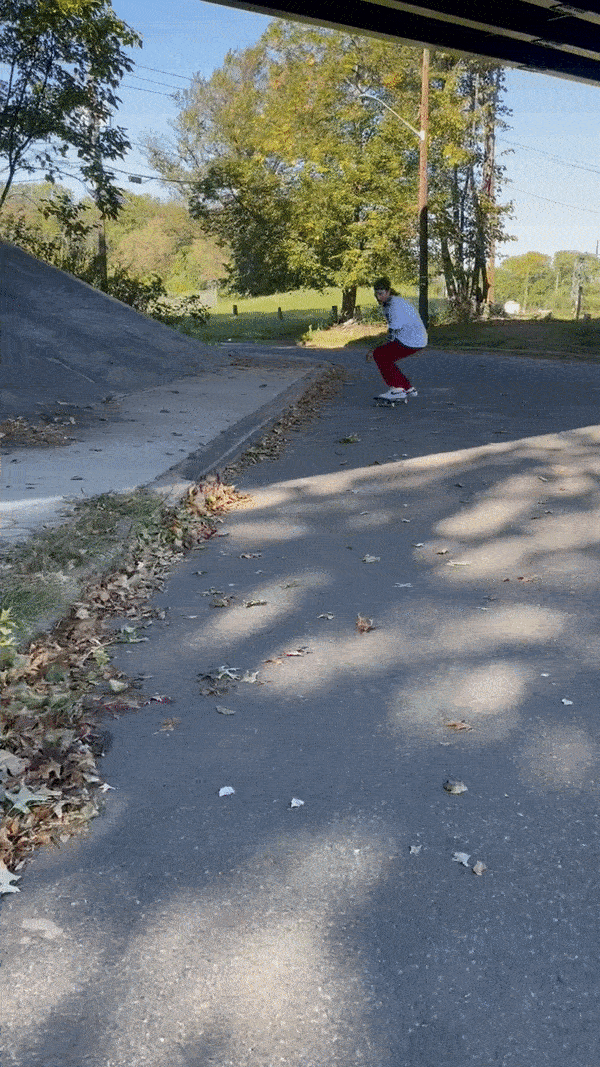 ---
Be sure to check out the Anti Hero X Slam City collection.
We would like to thank Brian for his time and for working closely with us on this one. Thanks also to Jim Thiebaud, Mikel Garmendia, and John Alden at DLXSF for putting the wheels in motion.
We would like to thank Bryce Kanights, Gabe Morford, Wig Worland, Geoff Kula, Theo Hand, and Ben Colen for photos. Thanks also to Neil Macdonald ( @scienceversuslife ) for the mag scans.
For more Brian Anderson related content please check out: Isolation Station: Brian Anderson, Isolation Station: John Cardiel, SMiLe Interviews: Brian Anderson, Brian Anderson on Being a Gay Professional Skateboarder, Epicly Later'd – Brian Anderson
Previous First & Last interviews: Jarrad Carlin, Colin Kennedy, Henry Sanchez, Mike York, Amanda Perez, Mark Gonzales, Lance Mountain