Our opening First & Last interview is with Slam team rider Jarrad Carlin. Jarrad took a trip to England from New Zealand four years ago which thankfully evolved into a permanent residence. London, in turn, gained another powerful skateboarder whose nonchalant style makes him a joy to watch. This new interview format focuses on Jarrad's early experiences and the more recent, from his first board through to the last trick he learned. Enjoy finding out more about one of our favourite skateboarders who you are guaranteed to be seeing a lot more of.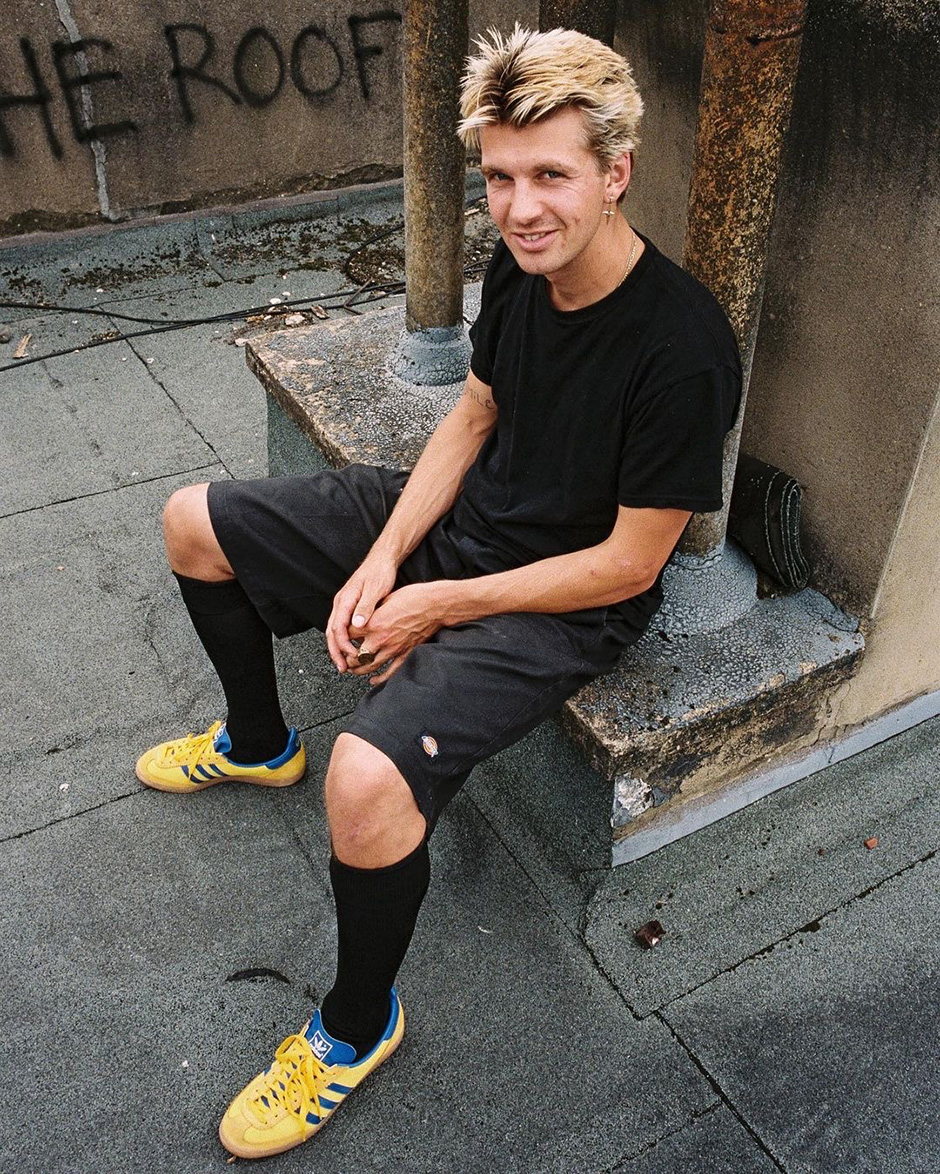 Words and interview by Jacob Sawyer. Jarrad Carlin on the roof shot by Finlay Flint.
First time you ever witnessed skateboarding?
I think it was actually a kid skating at my school after school had finished. He was skating in the tennis courts and I was just infatuated by it.
First skateboard?
I had a cheap toy one which I got when I was about nine but my first actual skateboard was a Toy Machine board a few years later. It was the landscape graphic with the Toy Machine monster on it. The monster was red and the ply behind it was blue, it was super nice.
First video you ever saw?
That would have been enjoi Bag Of Suck. It was on Google video around the time YouTube was happening but there weren't that many skate videos on there. The full version of Bag Of Suck was on there and I just used to watch that all the time. My favourite part in that was actually Jason Adams, him and Jerry Hsu were the standouts in that for me. I loved the intro to Jason Adams' part where he's mowing the lawn and his kid brings out the cookies spelling his name. He does that line with a 360 no-comply at the end. It was kind of like seeing your cool uncle skate or something.
First mag you ever saw?
It would have been a copy of Manual, a magazine from New Zealand. Bjorn Johnson was on the cover nosegrinding this big red rail and I had the poster on my wall.
First sponsor?
It was a skate shop in the town I'm from in New Zealand called The Good Room.
First video appearance?
My friend Donovan and I just used to make videos. We bought a camera to film with because there wasn't much of a scene around. We'd both just film each other at the skate park nonstop. We used to make little clips all the time.
First mag appearance?
It was in that same New Zealand magazine called Manual. I had a photo of a tre flip down some stairs shot by Mark Barber.
First trip to London?
I was actually born just outside of London in Colchester. I came here for a summer to see some friends about four years ago and ended up just moving here, so technically I'm still on my first trip to London.
First spot you skated?
One of the first days I was here I met up with Benny [Fairfax] to go to Canada Water and Korahn [Gayle] and Mike Arnold were there. It was mid-summer and there were just loads and loads of people skating there. You don't really see big groups of people skating together in London at all these days. There were probably about twenty or thirty people skating there that day.
First impression of the London scene?
I'd always loved British skateboarding but just before I moved here Austin [Bristow] was making those Regulate edits that were on Jenkem. Those videos just seemed like loads of fun, skating around the city at night. Everyone in those videos were the younger guys, my age or a bit younger and so I loved watching those. Then I kind of did that with Austin for the first year or so here, it was super sick.
First visit to Slam?
It would have been to the Covent Garden Endell Street shop with Mike O'Meally. I had just moved and he was in town so we did the tour, spent some time in Slam, went to the Cross Keys and then got Fish & Chips at the place next door. It was lovely.
First time London felt like home?
It was just one of those moments, maybe a year or so into be being here. I was going to work one day and it was when the excitement had worn off. It was a realisation, I just live here now and I'm going to work. The excitement of getting the train or a double-decker bus or skating down the street had worn off. It was when things became a bit more mundane, I think that's when you know somewhere is home, when it's just normal.
First unvisited destination on your bucket list?
Lagos in Nigeria. I have some friends from there and I really want to see what it's like. My friend Nick who does the brand Always Do What You Should Do, he has found this amazing surf beach there so I really want to go and hang out there.
"I came here for a summer to see some friends about four years ago…technically I'm still on my first trip to London."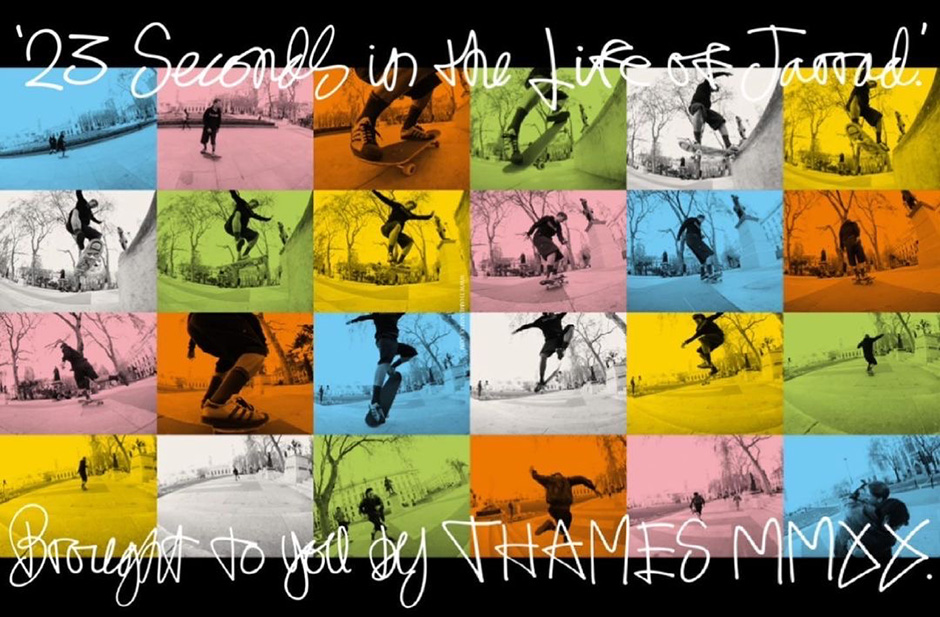 '23 seconds in the life of Jarrad' Perfect Parliament square two piece for a Thames ad
Last board you set up?
It was a THAMES one, one of the Brian Clarke 'NIght Orchid' flower boards. It's probably my favourite board I have ever had, it looks so nice, all black.
Last skate video that warranted a re-watch?
I don't actually watch that much skating unless it's people that I know or are friends with. I just rewatched my friend Simon Zuzic's part, he's from Melbourne and I watch his skating all the time. I probably rewatch his footage every week at least. He skates for a board company called Hoddle, he's fucking amazing.
Last skate trip?
That was to Lisbon a the start of the year, it was an adidas trip with Tom Snape, Benny [Fairfax] and Blondey [McCoy] and it was really good.
Last trick you battled for?
Every single one I've ever done probably. In Lisbon there were definitely a few but I battled this backside flip over this kicker thing in an estate there for quite some time. I had a bad ankle so I couldn't really skate at all on that trip.
Last trick you learned?
Straight pressure flip, the heelflip kind of one, I learned that a few weeks ago. I'm terrible at them but I'm counting it as a learn. It's one of those tricks I think is cool, you don't see too many people do them, a good one to whip out I think. I love it when you see someone do a line or some tech ledge trick and then do something like a pressure flip like it's nothing. People who are good at that trick can do it with their eyes closed.
Last film you saw?
I actually watched the new Batman a couple of nights ago at the cinema. I didn't think it was very good.
Last book you read?
I haven't read for quite some time now but the last book I finished was The Wisdom Of Insecurity by Alan Watts. It took me fucking forever to read it because it's so intense. It was really good but it was a lot of information to take in.
Last purchase which enhanced your life?
I bought a Contax G2 camera recently which would have to be my favourite thing that I own.
Last thing you saw in the flesh which blew you away?
Tom Snape skating in Lisbon, unbelievable!
Last creative project?
I made a zine in November called School Holidays. Now I've nearly finished a second one, just the finishing touches left on that. I'm looking to try to do them every six months or so as a kind of Instagram dump but a physical one containing everything that's going on in my life.
Last time Blondey surprised you?
Every time I see him basically.
Last adidas shoe you stockpiled?
Any Superstars I can get my hands on I stockpile. Just the shape of that shoe and the toe cap really works.
Last time you missed New Zealand?
Pretty much any time it's raining over here because the seasons are opposite. Any time it's bad here it's really nice over there. Throughout the winter I really miss it and then in the summer I don't think about it as much.
Last time a random encounter made your day?
I ran into some people from New Zealand at the Always Do What You Should Do launch at Dover Street Market which was really nice. A lot of positive reinforcement which was very refreshing.
Last words?
Thanks for doing the interview and thanks to Slam.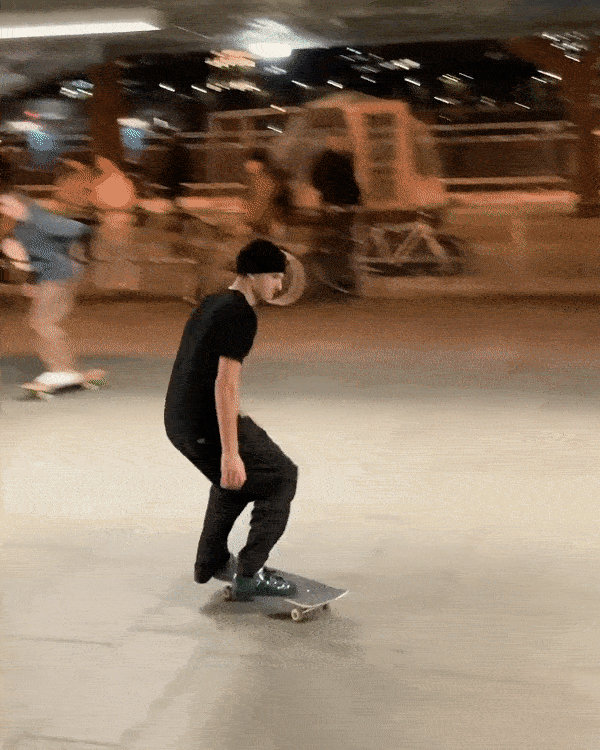 Southbank Seven symmetry. Switch backside bigspin mirrored on flat & cauptured by Jack Brooks
---
Previously by Jacob Sawyer: Daewon Song Interview: It's never too late to progress and never too late to come back when you think that's it", Benjamin Deberdt: London / Paris / New York, LIGHTBOX: Karl Watson by Mike Blabac, Catch Up with Pontus Alv, Ode To Victoria Benches with Dan Magee, Nick Jensen and Toby Shuall.