Our latest First & Last interview is with Slam team rider Amanda Perez. The following questions dip into her past and present and will help to better acquaint you with one of our favourite London residents whose skateboarding journey began across the Bay of Biscay.
Amanda originally lived in Uruguay before relocating to Madrid when she was young. It was in Spain's capital city that she would first encounter skateboarding. This is where her world opened up and her life course unfolded. Madrid would be where she honed her skills when not studying. One visit to London was all it took for Amanda to realise that another city was destined to become her home. Once her studies were finished she made the permanent move here and we're pleased that she did.
Like many before her, Amanda found a second home within the city at Stockwell skate park and was quickly embraced by London's skateboarding community. It was seeing her shred at this soon-to-be-revived South London oasis that first made us want to add her to the Slam team. Being an integral part of the Blast Skates team, while working and skating for Vans makes for a busy schedule. This interview even took place while Amanda was on the road in Munich so we're grateful that she took some time out to entertain these questions.
To have hopped cities and achieved so much in a short time is testament to the good energy she puts out there, you can't help but notice it any time you're blessed to see her skate. We are stoked to play a part in her story and glad we can share some of it with you here.

WORDS AND INTERVIEW BY JACOB SAWYER. Amanda Perez at Stockwell Skatepark with her trusty Honda. PH: Grant Sorrell
First time you ever witnessed skateboarding?
It was a few years after moving to Spain, I think it was in 2009. There were some kids in an abandoned street behind my house that would go there every day to skate, I thought there had to be something special about it for them to go there 24/7 and play with a skateboard. I had to give it a go and I haven't stopped since.
First skateboard?
I received a second-hand board from a Cash Converters. My grandpa bought it for me when he came to visit from Uruguay. It was basically plastic and the graphic was this kid with very baggy clothes doing graffiti.
First video you ever saw?
I think it was the Strange World video by Zero. The Marisa Dal Santo part was, and still is my favourite, I can't even count how many times I've watched that, she's rad.
First mag you ever saw?
That would have been a Dogway magazine in Madrid. That magazine has been around for over 20 years in Spain.
First time English clicked as a language you could have fun with?
When I could put more than two words together and have a conversation with someone who didn't speak Spanish.
First trip to London?
I came with my parents a couple times before starting to come on my own. I think we would stay in a cheap hotel in Notting Hill and do all the tourist stuff. We would go and visit all the museums while my dad was taking loads of pictures. We couldn't believe we were here.
It had always been a dream for my parents to visit London. It still feels like it's the first time whenever they come to see me. It always felt so far away when I was living in Uruguay and now I'm lucky enough to live here.
First sponsor?
I was getting flowed adidas for a while but that didn't really fit me. Then Bromley from Blast started giving me boards and it was like a whole new world.
First mag appearance?
Not long ago actually. It was 2 years ago for a Blast ad in Vague. Thanks Bromley and Reece!
First video appearance?
Probably in some silly videos I used to film with my friends on my GoPro in Madrid about 8 years ago.
First impression of the London scene?
The first park I started going to was Stockwell and it was probably the best decision I ever made. I felt so welcome and everyone was so friendly, it just felt right.
First place which changed skateboarding for you?
That would be a tiny mini ramp in an abandoned tobacco factory in Madrid. It was my first introduction to transition and it was so fun. I would go there every weekend with my friends and it was always such a rad session learning something new.
First skateboard shape which opened your horizons?
That would have been an 8.75″ Blast board! I had just found Blast Skates online and saw their videos on Youtube, the riders and the whole brand looked so much fun. I just emailed them to see if they would ship to Madrid and bought my first Blast board. Who would have thought I would end up skating for them? It's a dream come true.
First visit to Slam?
Slam was actually the first skate shop I visited when coming to London. It was the one in East London and the guy behind the counter was super welcoming. Usually it's a bit intimidating going into a shop but he was very friendly.
First spot you would import from Madrid to London if you could?
Escombro DIY without a doubt.
First trick you would like to borrow from someone else for the day?
Handplants!
First time London felt like home?
That's the weird part it's always felt like home and I've always been so welcomed. I couldn't have asked for more.

Amanda squeezes a wallie between emails at the Vans shop. PH: Rafal Wojnowski | Nosepicking for her Welcome to Slam advert which ran in Grey Skate Mag. PH: Rich West
Last board you set up?
It was a 9.75″ Blast Skates board. The classic yellow one with the mascot.
Last skate video which warranted a re-watch?
Ben Raybourn's Cold Call, I hadn't seen him skating for so long. When that came out on Thrasher I had to watch it a few times for all the time he's been off-grid.
Last skate trip?
I just came back from Munich with the Girls Rule Project. They invited me to join them for a weekend of skating and workshops. They bring skateboarding and arts together and get a big group of girls basically to take over a city, there were so many of us from different parts of the world.
Last time you went back to Spain?
Last Christmas.
Last trick you battled for?
Probably every trick I try to do, but recently this wallie grind-bean plant out. It was so simple but for some reason took me ages to land.
Last trick you learned?
A sort of layback disaster revert, I don't even know what it's called, sorry haha!
Last book you read?
Hell's Angels by Hunter S. Thompson.
Last film you saw?
The last episode of Stranger Things was so long, I think you could count that as a film.
Last purchase which enhanced your life?
Garden furniture, god bless Facebook marketplace.
Last motorbike adventure?
It wasn't really an adventure but I went for a nice ride around my area in Surrey a couple of weeks ago.
Last album you played all the way through?
Setagaya Deep by So Inagawa.
Last creative project?
On pretty much any project with Vans I get to be creative and make silly ideas come true.
Last person you saw skate in the flesh who blew you away?
One of the girls from Austria that came to the Munich trip called Steffi Hofer, she's sick.
Last project for Vans you were proud of having a hand in?
Every single project we do but one of my favourite ones was recently the Lizzie Armanto Wear Test.
Last Vans shoe you stockpiled?
The Ben Kadow Sk8-Hi.
Last words?
If you've made it this far thanks for reading and thanks to Slam.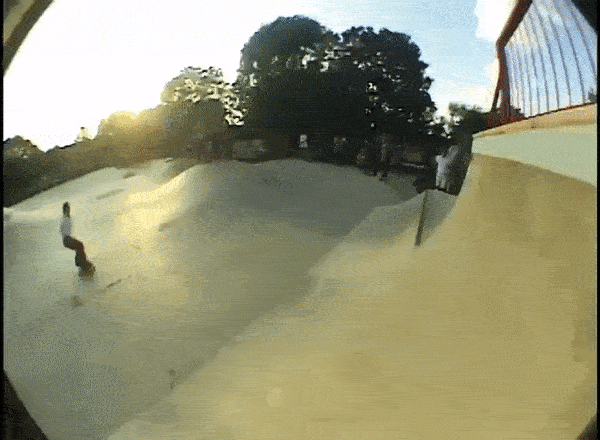 Frontside Rock 'N Roll through the tiles at Hackney Bumps from the Blast Skates x Slam City video filmed by Morph
---
We'd like to thank Amanda Perez again for taking time out of her busy schedule for this one. Make sure you follow Amanda on Instagram for consistent stoke from her world. Also check out our most recent footage of her from this year's Go Skateboarding Day and stay tuned for more coming soon.
Previous First & Last interviews: Jarrad Carlin, Colin Kennedy, Henry Sanchez, Mike York