Our second ever First & Last interview is with Colin Kennedy. Colin was always ahead of the curve and his talent encompassed and drew from many elements. His technical skateboarding was fine-tuned at Bristo Square, infused with a powerful East Coast approach and backed up by the transition skills and confidence only a proving ground like Livingston or the mean streets of Glasgow can provide. Through Dan Magee's lens, and via multiple Blueprint videos we got to witness the progress of one of the UK's finest.
Colin's mark on UK skateboarding and the pages of London folklore is indelible. While sleeping on floors after overnight Mega Bus trips he would be out there unlocking what was possible in our playground of a city. He saw the potential in what would later become benchmark spots, explored them and laid down tricks that stand up decades later as some of the best things ever done there. Working on this naturally sparked us to reminisce about his back catalogue and led to the accompanying 'Chalky Ledges' clip being assembled for us by Dan Magee. We are glad to have met Colin on one of those trips all those years ago and hyped that we got to catch up with him about then and now in this interview.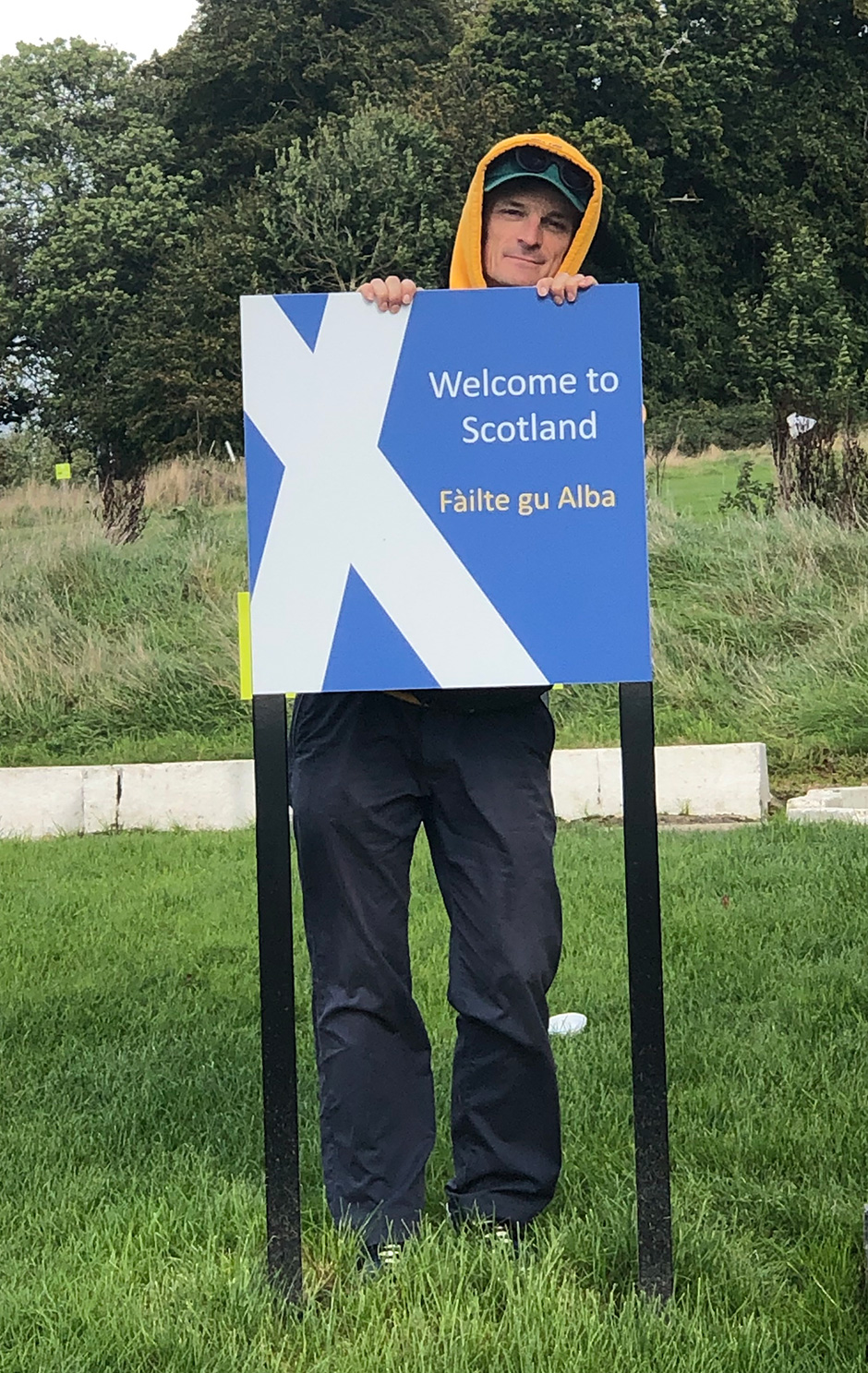 Words and interview by Jacob Sawyer. Colin Kennedy Welcomes us to Scotland while referencing the opening of Make Friends With the Colour Blue
First time you ever witnessed skateboarding?
It's difficult to pinpoint a definitive moment, my instinct was that it would have been some neighbours in my street just riding around, nothing more exceptional than that. Latterly in my early days my parents took me to the original Kelvingrove skatepark in Glasgow.
First skateboard?
The very first board I had I bought from the local newsagent, it was in the window display and my mum made an arrangement with the shopkeeper to pay it up every week with a pound or 50p or whatever. It was actually a wooden deck and looked like an ancient skateboard, like the 2 by 4 with roller-skates connected, very rudimentary. It had the Polyprop dimensions but was actually wooden.
When I became more invested in it I upgraded to a 'Dominator' from Greaves Sports in Glasgow, the generic kind of entry-level board you'd buy made by a sports company. It was one of three options, you could get a 'Gnarly Charlie' a 'Beach Dudes' or a 'Turbo 2', I was reminded of that one by listening to Neil Urwin yesterday on Joel Curtis' Skate Creative podcast.
First video you ever saw?
The first video which made a big impression on me was probably The Search For Animal Chin, I saw The Bones Brigade Video Show after that. Out of chronological order but I saw Animal Chin which was the most marketed video at that time. I would have seen it at the skate shop Quarterback and then there was a dub/re-dub of the video going around, a low-quality VHS to VHS copy which probably had four videos on it and everyone had a copy of it.
First mag you ever saw?
The one I have the most memory of was a copy of Thrasher, and I do believe by a twist of fate it had Mark 'Gator' Rogowski on the cover. That was the first skate mag I owned, I remember because I went on a Scout trip to Holland and it was the only form of entertainment I had with me on that trip, my mum bought it for me to sweeten the deal because I didn't want to go on the trip. It was a two-week jamboree in Holland when I was 13 or 14.
First elder who took you under their wing?
I would say Mick O'Neill who was the manager of Quarterback which was the first proper skate store in Glasgow. There was Clan Skates too and you were kind of with one shop or the other and I chose Quarterback and generally it was due to location, I lived in the south of Glasgow whereas if you lived in the west end you would go to Clan. Mick really took me under his wing, once Quarterback closed he opened his own store called MBC.
First sponsor?
That would be Quarterback and I think the first thing I received was a Quarterback hooded top which was pretty cool. They had a sick QB 'fire' logo at that time they had some really sick skaters riding for them like Tattie and Colin 'Cubic' McInnes so I was really stoked to be even close to or associated with those guys. Cubic is still one of my long-standing friends and one of my biggest mentors,
First video appearance?
Wayne Fenlon started filming all of the skate videos from Bristo Square and I think the first one he did was called Who Cut The Cheese? That's the first time I had footage in something we hadn't just filmed ourselves. We all owe a lot to Wayne for what he did for all of us in the scene, all praise to the videographers.
First mag appearance?
That was in RaD magazine. It was a photo at The Church skate park in Glasgow, I was doing a fakie nosepick over the spine, wearing a QB long sleeve.
First pro board?
The first pro board after the Dominator was a Rob Roskopp mini, with the ugly face graphic, pretty ugly indeed but the perfect sell for a kid like me at the time, it had Hosoi rocket 'cd' wheels (cosmetic defect) and Indy's. My first actual pro board with my name on it was with Panic, the graphic was beige and grey with a woman's face put through some sort of rudimentary photoshop filter, but all in all not too bad.
First phone number still logged in your memory banks you would call from a payphone if we were transported back to the early nineties?
It would be my mum and dad's Glasgow phone number and it's still the same number.
First trip to the states?
I went with a bunch of the Edinburgh crew to San Francisco and LA. The crew was great, Benjie Bateman, Ewan Bowman, big Neil, Andy Rae, Kenny Thompson, Fuat Yilmaz, Ches even came and it was the first time most of us had met him, he was friends with Benjie. We were all around 17 years old and we stayed at the Green Tortoise hostel in SF and spent two days in Los Angeles at the end of the trip. It was a pilgrimage to skate Embarcadero and everything else there, the classic trip, it was amazing, an eye-opener. I'm 47 now so that was thirty years ago!
First trip to London?
My first trip to London was with Toby Paterson, we went there with really nowhere to stay, however for the first two nights we had booked a youth hostel and we had planned to go for five days. We wanted to do all the classic London pilgrimages, skate Southbank, try to do tricks down the seven, anything that we saw in RaD basically. We met this guy James at Southbank one night and stayed with him a couple nights. We met a really OG Kennington bowl local and we stayed at his one night in a tower block in South London somewhere.
I was quite young and got mega-homesick after four days, I told Toby I had to split early and go home so I bailed out or maybe Toby accompanied me. Toby was more well-traveled and mature than me and probably bummed I crashed the trip but great friends are great friends through the good and the bad. Those four days in London were a seminal experience for me because I knew after that I wanted to be better prepared and never bail on a trip again. It was definitely a dream to go to London, I remember us having to bail out of a restaurant because we didn't have enough money to foot the bill. Toby was a rock.
Trips to London following that were different, when I first joined Panic I stayed at Magee's UNI halls in north London. Then I spent a ton of time with Paul [Shier] in Croydon, we would just skate Fairfields every day, rarely visit the city. I would also often stay with Flynn Trotman when he was living in Streatham. Latterly I would stay with Vaughan [Baker] when he was living in Clapham. When we were filming for WFTW and beyond I would stay at [Dan] Magee, Marshall Taylor, Chris Massey and Adrian French's place in Boston Manor. I'd ride the city link to London which was a £15 return ticket. An overnight express, you'd arrive at Victoria coach station at 7am feeling almost jet-lagged.
First visit to Slam?
When I was spending all that time in London we'd be in Slam every day probably, seeing you and Seth [Curtis] and everybody in there, Pulman, Toby Shaull.. too many to mention. On that very first trip to London I am pretty sure we would have gone to Slam, Toby knew more people. It's like the classic scenario, you go to SF with $500 in Traveller's cheques and probably spend $350 of your allowance in FTC getting some Half Cabs, Ventures, and a World board. We would have gone and spent 70% of our money in Slam and figured things out afterwards, hence we had no money to pay the bill in the restaurant.
First defunct spot you would resurrect and re-visit?
That's easy, the original Bristo Square. The spot is still there but it's been refurbished, it's still skateable and the ledges without stoppers look good. The original monument is still there but it's been moved from the back left corner to the front corner. It still has pretty good floor and there are locals that still skate there. When I'm passing I'll take a moment there but of course it's not the same for me. It's not about me though, the only constant is change.
"I'd ride the city link to London… An overnight express, you'd arrive at Victoria coach station at 7am feeling almost jet-lagged."
;

Colin Kennedy's assault on 'Chalky Ledges' at St Paul's began in 1997. Captured by Dan Magee and Adam Mondon and spliced together for us by @meetatbenjys
Last skate video that warranted a re-watch?
This wasn't motivated by the fact that Jason Lee was a recent guest on the Nine Club but I recently revisited the Stereo video A Visual Sound to remind myself of the music in J. lee's video part. I reached out to Andy Rae to find out what the song was because he is a fountain of knowledge on everything of that era. I referenced it to remind myself of the music and then rewatched his part. The track is by Ululation, I played the song a bunch of times which satisfied my longing for that part. Jason Lee was phenomenal at that point in time, the skills, style and the board control.
Last skate trip?
I went to Barcelona about a month ago for a Nike SB shoot for this collaboration Dunk we have coming out with Polaroid. I've not really been skating much at all but of course I brought my board with me, I had to. I have an OG 80's shaped Max Geronzi Almost board with reissued Rat Bones that Alan Glass hooked me up with. We were just out there for two days with Brian Anderson and Sarah Meurle, they were both skating and we went to an incredible DIY spot and another classic spot we managed to get a permit for. Great weather, it was so great to be in the sun and just roll around.
Last trick you made you were stoked on?
I was on a work trip in the U.S. and extended it by a few days to visit Paul [Shier] in Los Angeles. I went skating with Paul and the other Colin Kennedy one day. We went to this classic LA spot in a park, a little ditch with ledges on top. I hadn't been skating much then either but I had my board with me, I did a back tail on the bank to kerb and Shier filmed it. That was really satisfying because Shier was adamant that we went out skating. From having the same name, Colin and I have become friends over the years. It was great, an old dudes meet up.
Last film you saw?
I didn't finish it but when travelling back from Holland recently I watched Terminator on the plane, that's a great movie.
Last book you read?
Last book I read cover to cover was a golf mental strategy book, haha. Currently I am reading a Garry Kasparov book about Vladimir Putin called Winter Is Coming.
Last hip-hop album you played from start to finish?
It's admittedly so hard and embarrassing to say but it's really difficult to do that these days, however I would say Sean Price, I've listened to him more than any other hip-hop artist over the last ten years. The album would be Mic Tyson, I play that from start to finish because it's such a strong album.
Last purchase which enhanced your life?
Probably a golf lesson I had last week.
Last thing you saw which blew you away?
I wasn't there in person but I have to say Kyle Wilson doing that switch heelflip over the corner at Southbank. I was at the premiere and I had seen footage of some of the attempts beforehand but not the make. Seeing him land it for the first time at the video premiere and people's reaction to it was pretty incredible.
Last Nike SB project you had a hand in you were stoked to see come to fruition?
The thing we just launched which was Oski Rozenberg's Dunk with the Oski and Friends / Bit About Sharks video part. I worked pretty closely on that one with Jacob Harris and Oskar, getting Jake on board again was great and he did a fantastic job.
Last golf accomplishment?
After that lesson I've got a new golf grip which is feeling like it is going to be a game-changer. Learning that is an accomplishment that will be helpful in the season coming. I was dead against having lessons forever but having now had one or two it's really made the difference.
Last time you made any music?
I've gone off the boil in the last few months but at the beginning of the year I was working on a lot. I added a bunch of stuff to my Soundcloud at the start of the year. I have a few open projects which need finishing.
Last time a random encounter made your day?
That happens every day at the moment because I hadn't really seen anyone for so long. Post-Covid I think seeing anyone makes your day.
Last thing skateboarding brought to the table you think the world needs more of these days?
I would say female participation and inclusivity, that's the most exciting and inspiring thing. There are of course people like Sarah Meurle who I have worked with through Nike for some time with who have been skating and in the scene for decades but the exponential pick up of females gravitating towards skateboarding is really exciting. If you're asking what it needs, it needs that, more inclusivity in general.
Last words?
Be so thankful for the community you have around you through skateboarding, speaking from experience it's given me so much in my life. Everyone I have met through the skateboarding community, all the way through to my wife and life partner Caroline. I have friends I still see to this day and we have known each other since we were 13 years old, that's incredible to me, it has given me so much and I'm so grateful for it.
"Be so thankful for the community you have around you through skateboarding… it's given me so much in my life."
;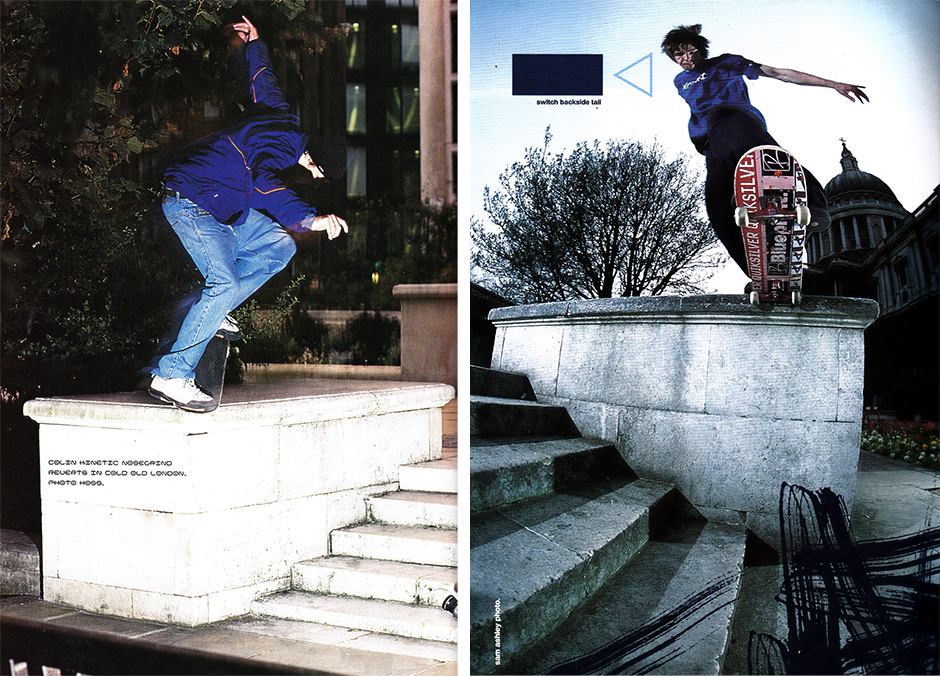 Colin Kennedy's stamp on London street skating folklore is indelible. He took skating 'Chalky Ledges' to a new dimension. Backside Nosegrind revert from 1999 PH: Andy Horsley / Switch Backside Tailslide from 2001. PH: Sam Ashley
---

Massive thanks to Colin for taking the time out for this interview. Hear much more about his story on the podcast he did for Skate Creative.
Thanks also to Science Vs Life for the scans and Dan Magee for working his Meet At Benjys magic.
Check out our opening First & Last interview with Jarrad Carlin
Previously by Jacob Sawyer: Paul Shier Interview: "There Was never a dull moment in that three-year period of our lives…", Daewon Song Interview: It's never too late to progress and never too late to come back when you think that's it", Benjamin Deberdt: London / Paris / New York, LIGHTBOX: Karl Watson by Mike Blabac, Catch Up with Pontus Alv, Ode To Victoria Benches with Dan Magee, Nick Jensen and Toby Shuall.