We caught up with Mike York for this, our latest First & Last interview, and it was a true pleasure. Mike already has Slam connections, since the shop handled distribution for Freshjive and DVS—the clothing and shoe companies he skated for and worked closely with in the nineties. His FJ Seditionist action figure would have been behind the counter while the DVS models he was filmed skating in flew off the shelf. We clearly remember him arriving to skate PlayStation skatepark on his first trip over here; his switch 360 flip over the driveway on that day is such a keen memory that we spent some considerable time looking for a photo of it – which doesn't seem to exist. We assure you that it would have been a good one.
Mike's flawless back catalogue of footage remains an inspiration to this day and his parts for Chocolate family productions are deeply embedded in our psyche. His trick bag is a carefully curated package of pure style, and revisiting any of his video parts is guaranteed to stoke the fire. He's a big part of the reason the Slam shop VHS copies of Mouse and The Chocolate Tour ended up being too worn-out to watch. Many of his tricks, fine-tuned at Embarcadero and exported to the Pier and beyond, are perfect examples, how-to guides implanted in videos, the go-to example of that trick.
There's an infectious energy that shines through in everything he ever puts out, the fun Mike's having is tangible, motivation in itself. He's still out there skating on the regular and making it look as fun as it ever did, and we're stoked that his unique energy continues to inspire. We got as much joy, if not more, watching him do a switch 360 flip last week as we did seeing him loft one over that driveway underneath the Westway back in 1999. Thanks to Mike for taking the time out to answer these questions and keeping our Instagram feed lit.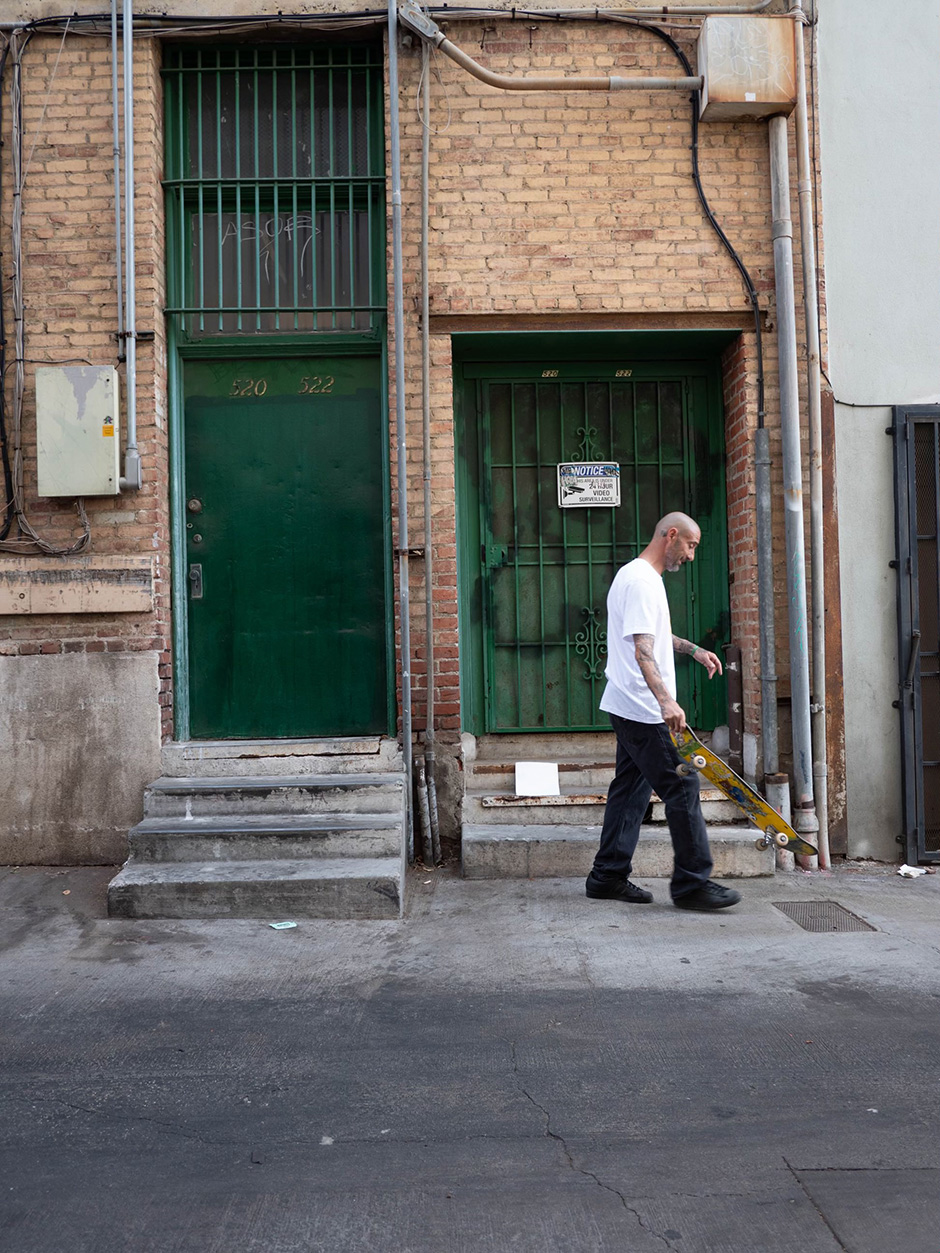 WORDS AND INTERVIEW BY JACOB SAWYER. Mike York captured hard at work by a Santa Monica Philly step. PH: Brett Sube
First time you ever witnessed skateboarding?
I was in the 6th grade. I saw some skaters put a jump ramp up to a wall and do wallrides.
First skateboard?
My first board was a California skateboard. Then I got a Vision Jinx.
First video you ever saw?
Future Primitive by Powell Peralta.
First mag you ever saw?
Thrasher with Steve Caballero wearing the Batman tee.
First skate crew?
Just skaters who lived in the area.
First time you ever visited Embarcadero?
I was in skate heaven when I went for the first time.
First elder who took you under their wing?
Too many. I was blessed to be around some good folks.
First sponsor?
Greg Carroll put me on Venture trucks.
First video appearance?
FTC, Captain Dookey.
First 360 flip?
On a Natas SMA at Embarcadero off the block.
First thing you saw go down that made you think skateboarding would never be the same afterwards?
Henry [Sanchez] and Mike [Carroll] at EMB.
First pro board?
It was for Chocolate and it was crazy! Still is!
First trip to the UK and Europe?
DVS trip. So much fun!!!
First skater you think of when you think of London?
Curtis McCann and Carl Shipman.
First defunct spot you would resurrect and re-visit?
Brown marble benches in SF.
Mike York frontside bluntslides onto the cover of Thrasher in 1996. PH: Luke Ogden. Switch ollie from the Girl/Chocolate Fall 1998 catalogue. PH: Mike Blabac
Last skate video that warranted a re-watch?
Last trick you made you were stoked on?
Switch 360 flip.
Last trick you battled for?
Switch 360 flip. Ha!
Last kerb trick you learned?
Slappy noseslide to 180 grind pop over.
Last film you saw?
Some bad horror movie on Netflix.
Last book you read?
Mountain Man, a zombie thriller.
Last album you played from start to finish?
Frank Sinatra.
Last purchase which enhanced your life?
PT equipment.
Last board you set up?
An 8″ iBun from Palace.
Last thing you saw which blew you away?
My son making a game-winning shot in basketball, and my daughter defending like a dog.
Last person from the Embarcadero days you saw?
Lee Smith.
Last time you surprised yourself?
Relearning tricks.
Last time a random encounter made your day?
They all do.
Last time you felt blessed?
At every moment.
Last words?
Thank you for this fun opportunity. Thank you to Palace Skateboards. Anything is possible. Be nice, smile, and enjoy the moment.
Mike York enjoying the moment and inspiring us to do the same. No Comply to Fakie Manual filmed by Brett SUbe
---
Another thank you to Mike York for taking time out for this one. Make sure you follow Mike on Instagram for regular hype. Thanks also to Science Vs Life for the switch ollie scan.
Previous First & Last interviews: Jarrad Carlin, Colin Kennedy, Henry Sanchez