Words and interview by Jacob Sawyer. 
All photos by Benjamin Deberdt. S
elf portrait by Benjamin's camping ground on the floor of Alleged Gallery, 1995. 
Benjamin Deberdt's first exposure to the ceremony of taking photographs would come from his father, planting the seed in his young mind. However, once skateboarding entered his life, photography 101 would come courtesy of TransWorld. A yearly subscription guaranteed a copy of the magazine, instead of a train ride to scour the city's newsstands for remaining issues as Benjamin began poring over the images. The notion of reverse engineering what he saw also began; mimicking scenes of sunny, Californian backyard pools was off the table but once Gonz and Natas Kaupas entered the picture, the possibilities of his Parisian playground were wide open.
Little did Benjamin know that TransWorld photographer Thomas Campbell, whose images he analysed and revered, would be a guiding light in his own journey – or that one day he would be shooting photos for the publication which made such an impact on him. His decision to be a skateboard photographer coincided with trips to New York City in 1995 and 1996, changing not only his life but how he thought about living it.
Quickly immersed in the scene, he spent every day at Aaron Rose's Alleged Gallery during an exciting and pivotal point in its evolution. The Ludlow Street institution served as a cultural hub, breeding ground and launchpad for a band of emerging artists including Mark Gonzales, Chris Johansen, Barry McGee, Margaret Kilgallen and Harmony Korine. (This is a book in itself, as we'll later discover.) He was also out in the streets and with Quim and Mike Cardona as city guides, Benjamin had front row seats to skating in the city that never sleeps.
This closing chapter of our three-part interview is most interesting because of where it finds him in his timeline. Mostly taken during only his third trip to NYC, one night Benjamin is with Thomas Campbell honing his skills and shooting the crew skate a kerb cut – another he's capturing covers to be. Two amazing photos are from more recent trips to New York but all are equally wonderful. We're grateful that this chapter includes photos of Keith Hufnagel, Mike Cardona and Keenan Milton – all of whom are sadly no longer with us but their legacy lives on. We hope you enjoy the stories from a moment in time Benjamin has preserved and now shares with us all.

Keith Hufnagel motivating the missions. 50-50 in 1996 – the first cover of a successful night.
"It hit me, years later, that he had to really trust me to just go for this."
This is a poignant one. You've previously mentioned it being an important moment for you; being entrusted as a photographer and possibly feeling overwhelmed?
By now I had a fisheye and two or three flashes in my bag. Meaning, at this point, I'm a 'skate photographer' and magazines will actually run my photos but I'm still a French guy visiting New York.
I'm sure I brought copies of some European mags I had photos in. We used to send mags to Supreme, but people had to trust that when I shot a skate photo, it was going to be decent. Also, they're likely not going to see the end result. It would be shot on film, maybe processed in New York, but brought back to Paris and ran in a French magazine. Huf was always super friendly and also quite serious about what he does. He was always on a mission, totally down to have fun with friends but be productive; down to shoot a photo, down to film and motivating other people. I have memories of people setting up boards at Supreme, people who were supposedly pro skaters, living in New York, who didn't have a board set up to skate. But with Huf coming they needed to get a set up ready because they knew they were going to be skating without question, almost complaining about it, like they're going to have to get dirty or something.
That night we were on a mission to shoot photos, I don't know why. It was Keith, Mike and Quim Cardona, and a couple of other guys. I was with Seb Charlo, who was travelling with me. We had dinner in this small, Mexican joint where you buy one big burrito and have enough food in you for two days. Then everyone left to go skate and Huf suggested we go push one certain way, but I later realised he already had a plan because this bar was one or two blocks away from where we were. He suggested we skate it, like it was just a small ledge or something.
I walked past that spot a couple of years ago when I was in New York and it's big, scary and not easy to skate at all. It hit me, years later, that he had to really trust me to just go for this. I'm sure he had already filmed it but it's not a grind on a nice, small ledge – he's trying something that could fuck him up. Funnily enough, this photo ended up being the cover of Flat, which was a Swiss mag. Also, a photo we shot the same night with Quim Cardona – literally a block away – ran as the cover of the French mag, Freestyler. Two covers, shot on one night, on one block, is a pretty good ratio.

Clark Hassler fakie nosegrinds a metal waveform, 2010.
This is a rad photo of Clark Hassler, What's the story behind this and what found you back in New York in 2010?
I think when Mark [Gonzales] came to Paris, to do the Circle board thing, I get an email or a text saying he needed someone to film it. Typical Gonz moment. I don't film but I can get someone to and I'll do my thing which is to take photos.
There was literally no-one filming in Paris in 2010 so I got this kid from the suburbs who was doing all these projects for Nozbone and making his own videos to come film it. Also, Mark has always been into skating and working on things with young people, it kind of frees him from the idea of being Mark Gonzales and having to do what Mark Gonzales does around people his age, fans or those who have expectations of him, so I knew it was going to work. Mark came and he filmed it for an exhibition and I shot the photos.
The exhibition [from that] was months later. I managed to time a trip for it and got to spend a couple of weeks in New York. Vivien [Feil] was in town, trying to film as much as possible with Josh Stewart for the Static video he was working on. Clark was sort of in the mix but also doing his own thing. Somehow we ended up being at the same spot a few times and I actually got a couple of skate photos with him which is rare because he's not a big photo guy.
This, he wanted to do specifically. He was filming for an underground project with a young filmer, did a line and I shot the photo. It's not the craziest trick but I really like the photo. He's one of those skaters who you see in real life and just know he's got it, he has this presence which I don't always think translates to video or photo but I really wanted to take photos of him. He's a super nice guy, he was skating a lot with Jack Sabback and those guys, I loved going out on all of those days. I ended up getting photos of Jack and Bobby [Puleo] on that trip and some with Clark Hassler. Pretty good going for a short visit.
Good snapshots of the Static movement in progress.
Yeah good times with Jahmal Williams and Josh. They'd go to work and meet after their shifts at 7pm, on a winter night when it's already dark and cold, film for four hours, then the next day they had to wake up, go to work but would arrange to meet again the next night.
It wasn't a one-off thing, it was a constant mission to get a part filmed. Nobody is getting paid, they just want to do it and they're going to. That's always great, it's a common thing in skateboarding but it's always great to witness it, to feel that energy. That's what makes me want to shoot photos: they're doing something important and it's amazing to be around it.
"The London scene really worked for me back then with the 'Side Effects' energy. Then Josh Stewart with Static projects, I've seen him go through blood, sweat and tears filming at night."
The same reason the Alleged Gallery and Side Effects timeframes were exciting.
Yeah, documenting a scene and a moment. I'm sure I've documented many people, and moments, which didn't go down in history or skate lore. Sometimes you have this gut feeling which motivates you. I'm not always motivated, I can be lazy and easily get stuck into a routine, it's part of my personality, so being exposed to Alleged, at that point, was a crazy world for me.
We'd go and skate ledges in really busy traffic, then go to the gallery because someone was coming by, then go to a club and do this and do that. Whereas at home, I'd be doing the same thing every day, skating the same spots and drinking water, then going to bed every night. Being exposed to their work made me see that you can actually live another way. It wasn't a destructive lifestyle, you just said "yes" instead of being complacent and going home.

Someone asks you if you want to paint something and you end up doing it with no idea what you're doing but you're still going to try be a part of it. After that time, it was something I subconsciously looked for. The London scene really worked for me back then with the 'Side Effects' energy. Then Josh Stewart with Static projects, I've seen him go through blood, sweat and tears filming at night with no money, knowing he has to wake up and go to work, and the skater he's filming is in the same boat. It's skateboarding versus everyday life.
"This shouldn't work but we're going try make it work. If it doesn't, we're coming back tomorrow."
I've always been inspired to document that and now I know it. Back then, I didn't have a clear vision but you get older and see things come and go: people, spots and capsules of time. Maybe the café you would meet your friend at closed and you can't go there anymore, so maybe that photo you took of people drinking coffee is an important time stamp. Maybe people who never went there look back on this photo and are inspired by it in some way.
I've had that a lot doing Sugar, Kingpin or any of the media I've worked on. You're living in a big city, meeting these famous or semi-famous people doing things. You can easily get sucked into that scene which isn't bad, but it's good to go back and visit a scene or a place that's not under the spotlight. Skateboarding is life, it's kids in the countryside building something in their back yard or the carpark of the supermarket. It's always been and always will be like this, I hope so at least. Now, it's even better. There are loads of female skaters which adds another layer. I'm more aware of these things, where someone may not be the best skater in the world but maybe the scene or moment is important to document.

Dave Caddo backside tailslides amidst the roar of many Queens highways, 2008. 
"Bobby Puleo drove us there! It goes against every preconception you may have about skating in New York."
This looks like a pretty hectic situation.
What's even more hectic is that Bobby Puleo drove us there! It goes against every preconception you may have about skating in New York. I believe this is when Kingpin was about to move from bi-monthly to monthly. I realised this was the last time I was able to go anywhere for a long time because I'd have to be back every two weeks to work on the mag. I spent a month in New York, I was skating often with Bobby when he was on enjoi and skating with Dave Caddo a lot.
This day, my friend loaned me her car. Instead of getting a ticket to park, she said we should use it. I didn't want to drive in New York so Bobby volunteered. He had all these spots including this one, obviously. It's not been skated that much because it's difficult to skate and also it's so far away from anything.
You're basically on the intersection of three highways. You can see the three lines of traffic, there's another highway on top of the bridge, then to the side is an entry or exit to one of those. You're under the bridge so the noise is insane and bounces off of the metal structure. I remember walking away after Dave got his trick and Bobby gave up on his. We got to the car, which was only a block away, and when I got there and the sound returned to normal it was such a relief. The noise whilst focused on getting the photo was so intense. You're on autopilot but the when your body and brain relaxes again, you're like, "What the hell was that?" Dave Caddo was on a mission back then, he's still on a tear now.
This was also Bobby on a filming mission for enjoi?
Yeah, Bobby was on enjoi and they were filming a video. For his own reasons, he wasn't that into being in that video. He wanted to have a filmer in New York all the time so he could do what he does: find weird shit and skate it. I think he'd been asking for that because he didn't want to go to San Jose, which is fair enough.
At this exact time, for a couple of weeks, they managed to find and send him a young filmer who was from Philly to stay in New York and film with him only. But I think by this point he was over the whole thing. The filmer was very motivated but Bobby didn't want to be filmed. It was funny but sad for the kid filming because he would make it impossible. He'd be skating a spot, the filmer would suggest a line but Bobby would have all these reasons not to. Bobby was skating really well, he just didn't want to film and made it difficult for him to even get his camera out. 
He followed us all over New York and was with us here so he got Caddo's back tail. Bobby was trying a backside 5-0 and the flat on the run-up to that ledge isn't flat, it's kind of round. That's another trick he didn't get for that video but he was still ripping. It was an interesting time to be sucked into Bobby's world for almost a month.

Chris Keefe instigates Benjamin's first stealth operation. Frontside boardslide on his Capital pro model, 
1996.
More NYC royalty. Tell me about shooting with Chris Keefe at this time? It's a great photo.
This was my second trip to New York. With the Huf photo, I knew what I was doing but here I'm still learning the ropes.
I'd started skating with the Cardona brothers regularly, they were always taking the train from New Jersey to New York and skating all night so this would have been one of those with Mike and Quim. Chris said that when everyone was done, he'd like to go to this one spot, just the two of us. He knew we'd be kicked out in five minutes so I'd get ready and then we'd start trying for the photo. This was the first time I was exposed to the idea of the stealth mission.
We had three to six tries so rolling in with a crew wasn't the way to go. I'm stoked we got this photo. Chris was always really cool to me which is funny because he was known as being grumpy and easy to get mad. I only had good experiences with him, I guess I was on the good side of Chris Keefe. I saw him a few years ago in Paris, probably at some shoe event, when he was there for his store [DQM]. I bumped into him at a bar one night, then the next day I bumped into him at the park. He was with his lady and kid and I'm there with mine. It was a funny moment, like, "What happened?" Twenty years ago we were running around in the middle of the night, trying to shoot a skate photo and now we're running after our kids in the park.

Mike Cardona boardslides to fakie in the middle of NY traffic, 1996.
"I have great memories of Mike and Quim skating. We were more-or-less the same age and we just clicked."
How was it shooting this, on the floor, in the middle of the madness?
I'm actually on the safe side here. I think this is the highway that follows the Harlem River. There are three or four lanes of traffic on both sides but I'm in the middle, probably between two ledges. It was more dangerous for him.
I have a photo of Huf skating the same barrier, doing a frontside boardslide, on the same night I got this photo of Mike. It's nice to have this now because Mike is gone and it's a good memory for me.
All the stickers on his board are from these drinks we used to drink. Hippy drinks, juices with Spirulina in them. Quim and Mike drank these things all the time, being hippies. They convinced me it was very important to drink them and I was a closet hippy from Paris, I guess. They came in a plastic bottle with really thick stickers on them that you could easily peel off and put on your board. They even helped sliding so it was best of both worlds. I have great memories of Mike and Quim skating. We were more-or-less the same age and we just clicked.
It's rad that you have photos of them from the same sessions.
I have a couple of good portraits of Mike, which also I'm happy that I found. I remember shooting a lipslide with him on a tall ledge but I still can't find it. Maybe it was sent to mag and never returned. This one is special for sure.

Keenan Milton didn't need to dress up to make this backside 180 look good, 1996.
We were with the who's-who of New York street skaters: Keenan, Harold, Huf
This photo of Keenan, the shadow and everything about it, this looks like it could have been shot on the same night almost.
Same time, but not the same night. Actually, it might be… This came about through Thomas Campbell, I was staying on his floor at the time so he was still shooting for TransWorld. One night, he told me Keenan was in town with Huf and we were going to take photos. We had access to at least one car and drove all the way uptown to this weird kicker. Thomas said TransWorld had never run a photo of a kerb cut, so I should just shoot everyone and practise, basically. He gave me some of his flashes so I could do it and that's how I have a photo of Keenan, doing a backside 180, and not a switch trick which is quite rare. He probably did it in a few goes, it's not a crazy trick but it's still nice to have. I also have a trick of Harold Hunter from the same night.
I have flashes of memory from that night. Everyone was at Supreme and the plan was to get some food then drive to some spots. Thomas went to get his photo bag with me and we skated to where we were going to eat. It's 1996, so you can imagine what everyone is wearing: baggy jeans and windbreakers, grey and maroon.
Thomas and I were both on the Tony Cox side of life, wearing jumpers which would be considered tight and weird and some clothes we got for cheap or stole from a girlfriend. Thomas was all about making images that are crazy colours. I remember him looking at me and suggesting he grab some clothes from his place to get them to wear them so the photos would be better. We were with the who's-who of New York street skaters: Keenan, Harold, Huf and whoever else was there that night. They're all dope looking skaters and I had to tell Thomas I don't think that's going to go down. Us turning up with some weird bright neon jumper and them jumping at the chance to wear it was not going to happens, they're not going to want to be on the cover of TransWorld wearing that. I convinced him otherwise.
Very early on, Thomas introduced me to thinking about the colours of clothes with what you're shooting, it's more than just a dope skater doing a dope trick. I've seen him mess with a couple of spots, having a barrier in the back so it makes for a nice colour and things like that. I started introducing people in France to this idea, doing things to make it look better and people were like, "What the hell are you doing?" Later, they'd see the photo and realise it looks better but they're confused the first time you do it. Here I'm just learning. Thomas kind of lined it all up and I pushed some buttons but it's great to have.
To this day, I don't know if this was a really good joke or Huf being efficient. I've seen him say and do really funny things but always with that deadpan delivery.
Another memory from this night is Huf driving the car and we're travelling uptown, past Grand Central station. If you've never been there, this is where all the metro lines and everything connects. It's a giant train station and the main building is like this giant cube, very tall and empty, then all of the connections are at the bottom of it. I remember Huf driving by, looking at it, and he was one of those guys who you never knew if he was joking or not. He said, so matter of factly, "Such a waste of space," and nothing else. I'd never been inside so I didn't get it – then a few weeks later I went inside and laughed. Why would he be bothered about how this building was designed?
To this day, I don't know if this was a really good joke or Huf being efficient. I've seen him say and do really funny things but always with that deadpan delivery. After the Paris premiere of SkateMore, some friends had a house party – nothing to do with skateboarding. We grabbed the people we knew and took them there. It was really fun. At one point, early morning, Huf and his friends were walking away, maybe Gio Estevez too, and Huf said: "Benjamin, this is the best party I've ever been to in my life, thank you." He said it in the exact same tone [as the Grand Central remark] and just walked away. I think he was actually happy but that was the delivery. That's Huf for you. Nothing but good memories with him for sure.
I'm very happy I recently found a few photos of him I thought I'd lost or just imagined shooting. It's a sad and scary thought but the more time that passes the more people will be retouching photos of those who aren't with us anymore. The Huf ones are strange because I found a box of colour slides at my parent's house about a year ago. I knew that Huf wasn't in a good place at all, I was basically retouching the photos for this book when I knew he maybe wasn't going to make it past the next few days. It was a very weird feeling.
That's when you realise that all of these photos, that maybe aren't, the best trick, really do matter in the end. Just like you were saying about the photo of [Chris] Massey with his cat, I don't think we ran the photo but it's one you're so happy to have years later. This photo of Keenan is before I knew him, he was in town for a week or two hanging out so I'd seen him around. When he was in New York, he was just hanging around with his friends and skating a little bit but for fun. There was no-one around to document stuff back then. Huf would be the one motivating everybody, making the connections. He made things happen, you could be the best skateboarder in the best place but you need to be someone like that because if you don't try, it's not going to happen.

Quim Cardona's switch 180 pole jam became the second cover from the same night as Huf's 5050, 1996.
"You start the night thinking nothing is going to happen and get two good photos in one hour which both become covers."
This is the Quim photo which ended up as your other cover from the night with Huf, right?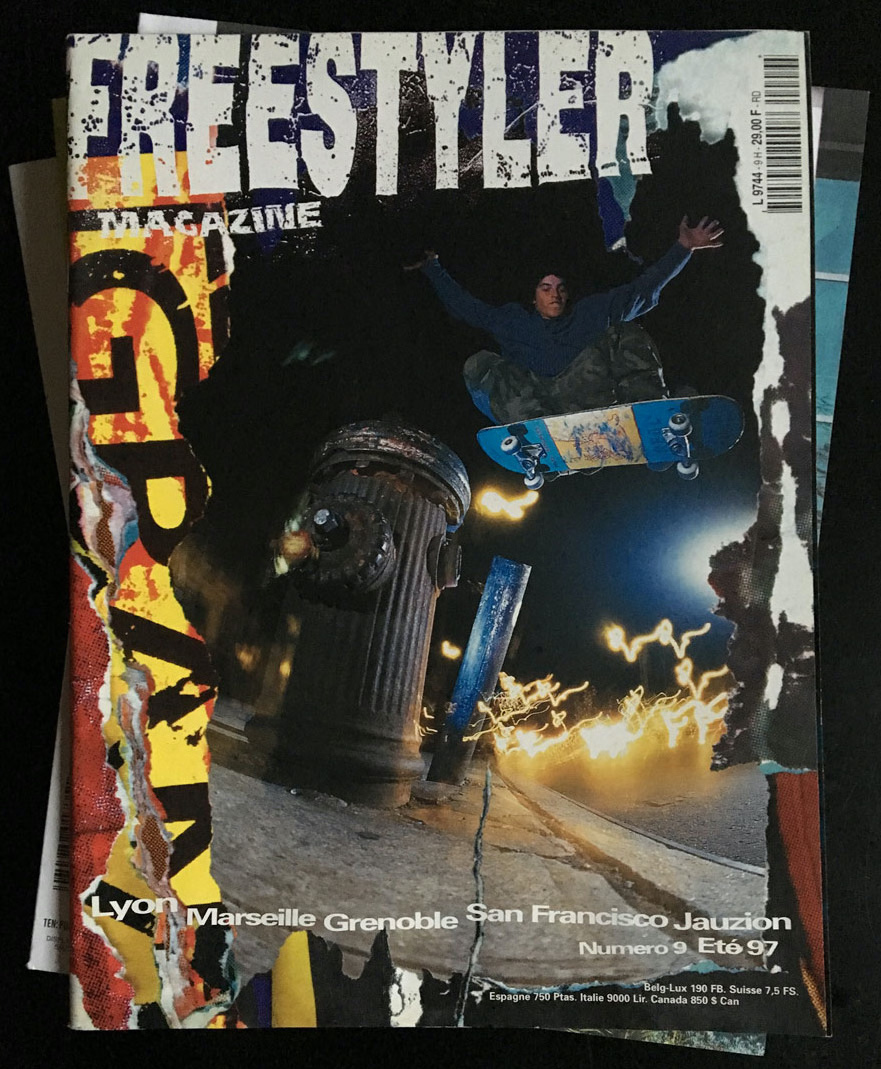 Yeah, after we shot the 50-50 with Huf everybody was super stoked on him getting the trick and photo. Quim told us he had a spot and it was literally at the beginning of the block we were on. He's doing a switch 180 pole jam out of the pole next to the fire hydrant. Same thing, we got the photo fairly quickly and it was freezing. One of the flashes is being held by Seb Charlot who was travelling with me. It was so cold that he ended up moving and being slightly in the frame so I can still give him shit about it to this day. It's always good to have a little leverage on your lifelong friends.
"Remember fucking up that photo for me in 1996?"
Nah, the photo came out good and it's another great memory: start the night thinking nothing is going to happen and get two good photos, in one hour, which both become covers. You can never plan for that but it was a very successful night.
Everything about this photo checks a lot of boxes. The Gonz board, Quim's shapes, the fire hydrant.
Back then, Quim's nickname was "Mini Gonz" – at least that's what Huf always called him. That totally suited him for sure. He had that thing where he'd see something in nothing. The ground is terrible, there's crazy cracks in the floor, there are cars and whatever it is doesn't look possible but he'd say "It's fun" and still manage to do it. I have a few more of Quim I really regret shooting fisheye now but that's where you learn.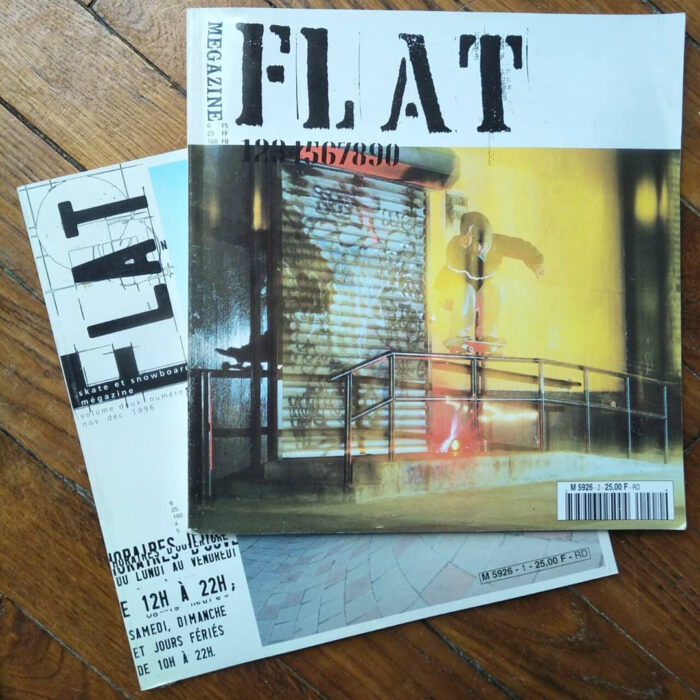 Wrapping up where we began, the cover mounted version of Huf's 5050 shot by Benjamin in 1996.
Thanks for taking us through an amazing selection of photos and digging so deep in your archives, Benjamin. Let's speak a bit about what you're working on now.
Lots of my New York photos haven't been lost but ended up in various boxes at my apartment. A year and a half ago, I was thinking about doing a zine so I was digging through all the photos from those trips. I realised I had way more than just a zine sitting there and that I could maybe do a book. That's when I went out of my way to find everything I could.
There are a few photos I think are missing but, again, I could be imagining having shot them. Although, I pretty much have everything and I've been working on a book from those three trips, three months of me going to New York in '95 and '96, learning the ropes of being a skate photographer but also documenting peoples lives. Different scenes, between Alleged Gallery and the skate scene with the Cardona brothers and others. It was like two worlds colliding and everyone was friends. Alleged was it's own world of artists who happened to be skaters. They'd be respected as skaters, but their scene and art may not be every skaters' cup of tea. I was lucky to be involved in both through being friends with Thomas Campbell. I quickly realised I had to document what was happening there.
On those type of trips, it's a very steep learning curve. You're so motivated. In Paris, there was no magazine. There were sponsored skaters but no-one had anything to gain from shooting photos other than for fun. No ad, no videos, no reason to put your body at risk so you're just going to fun spots with your friends. Then I'd be in New York and people want to skate something more serious so you're keen to shoot and know you can't mess it up. That's when I basically learned how to be a photographer, I wanted to acknowledge that and I'm really psyched on the project.
Soon I realised that I had way more photos but then you're wondering whether the photos are good enough. Some photos may not be the best but they're of a person who may not be there anymore and a time that has passed. Certain photos should be in for whatever reason but you still need to put it all together so it makes sense. Maybe you don't have every single skater in the book but you still get the vibe. You want to present it in a way where someone who doesn't know every single skater from the '90s, or all of the artists, can still identify with it and find it interesting.
I'm working with this skater, Margaux Saingolet from Bordeaux. She lives in Paris now, she's designing it with me and I think we've found a way to make it work. It's not a glorified skate magazine, it's not a New York street book but it's kind of in-between. It's going to be two parts but we've found a way for it to work for everybody and I'm quite content with where we are at with it. During the first confinement, I really started getting it all together.
I didn't want to go to publishers with no idea and have to start pitching, explaining to them, then work with a designer who has completely different ideas. I was kind of torturing myself with how to make it happen. I'd be in touch with Nick Sharratt at Palomino about my zines. At one point, I told him I was working on this book and wanted to know what he thought about the demand and numbers if I was to publish it myself. He was really psyched on it and it just made sense that we would put it out together so it will be the first Palomino-published book. We're in the final design stages. Now we need to find the right paper and printer – which is another story – but it should happen by 2022.
Benjamin's current work in progress station.
The book sounds awesome. I'm glad we managed to talk to you at this point, as far as your archiving goes.
I'm not going to pretend everything is sorted. I've pretty much edited and scanned everything that needed to be but what's interesting is that there isn't a huge amount. I was so broke that I was holding back on shooting, being conscious that I just spent five frames on one trick.
For all the kids out there: buy film, shoot it, pay for it to be processed, then pay for it to be scanned to be sent to a magazine – that was the process and it still is to this day. Every time I shot a roll, I knew I spent a certain amount of dollars so I would be getting a smaller veggie burrito that night. The good thing was that New York was cheaper for film photography back then, way cheaper than Paris anyway so you'd get excited and be happy to shoot another roll sometimes. When the book comes out, I should take a photo of all the film and contact sheets together.
It's insane thinking back to how selective you had to be. Get the camera out of the bag, make sure everyone was feeling okay with it and then shoot a photo. I was young back then too. Now, I'll shoot a photo and if anyone has a problem with it, they can tell me and we can talk about it. But I'm not asking permission at this point, it's what I do and people know. Back then, the equipment I had was bulky. I'd have to get out the camera, get everyone together, step away because I didn't have the lens to shoot close. I was like a dad shooting a Christmas photo so I would do it with people I was familiar with and confident enough that they wouldn't have a problem.
That's where, when editing this book, I realised so many stories or moments that I've lived don't have photos to accompany them. I wasn't equipped, equipment-wise or mentally, to decide, "This moment is a photo" and I need to go out of my way to get it no matter what people think.
"When editing this book, I realised so many stories or moments that I've lived don't have photos to accompany them."
One story I always tell is that I don't have a photo of Steven Cales talking on a cell phone, in 1995, in front of Supreme. Everyone was spooked out that he just skated by and said, "What's up guys, let's go skate." Everyone was wondering what he was doing there, the sub-text being that he wasn't in jail, I guess. Everyone who was someone in New York was looking in disbelief. Me not knowing anything was even more weirded out by what was going on. Then he pulled out a cell phone in 1995. I don't think I'd ever seen a cell phone before in my life, especially not a skater with one. Even the Supreme guys were surprised. The only two groups of people running cell phones in 1995 New York were businessmen and "street businessmen" – let's say. And you're guessing that Steven Cales wasn't working on the stock market. Basically, me taking a photo would have been me saying, "Hey, what's up", grabbing this big camera and stepping away to very obviously shoot the photo of him. I wasn't ready to put myself through that thing where you put yourself out there to shoot a photo. This photo would be my most prized possession right now but, obviously, I don't have it.
The story is even funnier because everyone was like. "Let's go to the [Brooklyn] Banks!" I had a shitty, small camera bag with side pockets. We start skating towards the Banks and it's a short, fun cruise. Then Steven Cales yells at me from the back and I'm instantly terrified. He wanted to put his phone in the pocket of my bag and I'm not going to say no. He screams back at me, "Yo, don't drop it!"
I remember being scared shitless of falling the whole way there. My camera stuff and Steven Cales' cell phone in my bag – what's going to happen to me if I do fall? I remember getting to the banks, I think it was the Cardona brothers, Steven Cales and a bunch of other guys, and I have my photo bag. I'm thinking, "This is it, I'm going to be shooting photos."
Seconds later, a guy drives over in a pick up truck. He's probably from New Jersey – a skater, a friend of theirs. He was shouting something and I never heard what they were saying. Then everyone jumped in the truck and drove away. Nobody really knew me so I was left on my own at the Brooklyn Banks. I thought I'd just skate the Banks on my own, that was good enough for me. I wish I'd had a little point and shoot that day.
Wow, that's more story gold dust.  So the New York book is happening next year and there's another publication more imminently, right?
There's another book I'm involved with coming out now. It's called Artisan United and it's about artists involved in the skate scene like Todd Francis and Thomas Campbell. NHS are putting it out this week and I'm the only photographer involved. It's a pretty crazy line up so I'm stoked to be a part of that too, for sure.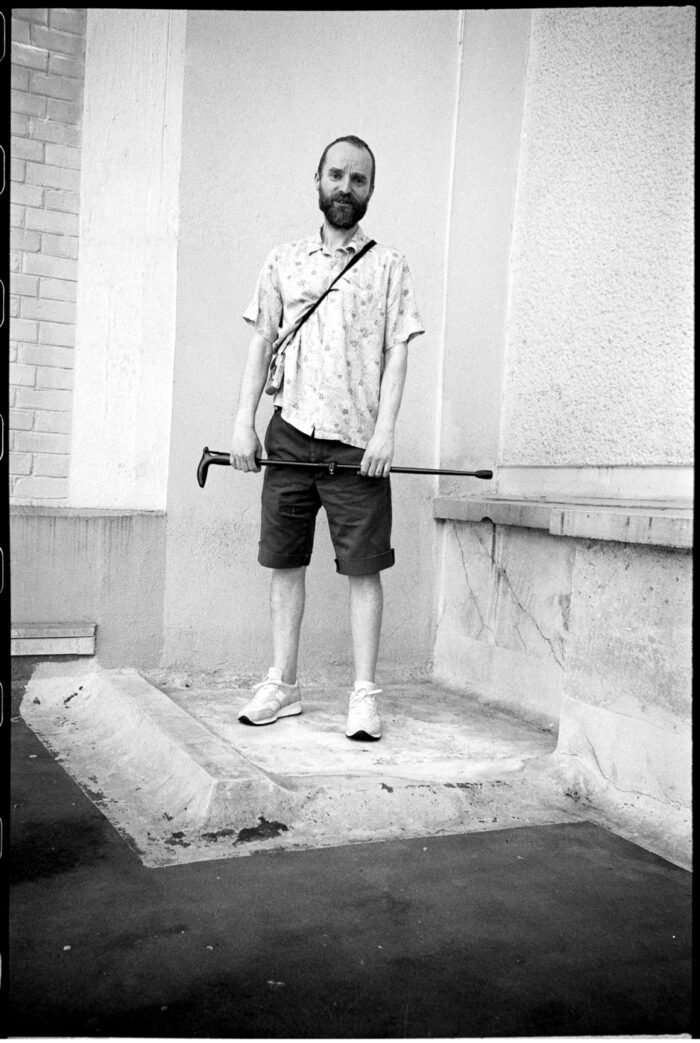 Benjamin Deberdt by George Booth Cole.
---
It's been a pleasure connecting with Benjamin to explore his time spent in three cities which have produced so many incredible skateboarders over the years and continue to do so. We can't thank him enough for the time he spent on this with us.
Follow Live Skateboard Media for original content and a reliable overview of what's happening in the skateboard world from Benjamin and his team. Follow Benjamin on Instagram for more photos from the past and present. We look forward to seeing his new book next year.
Previously: Benjamin Deberdt's Paris, Benjamin Debert's London
More photographer stories: Sam Ashley Interview – "I think things are moving in the right direction", LIGHTBOX: Jake Johnson by Jonathan Mehring – "The talk of the town", LIGHTBOX: Karl Watson by Mike Blabac, LIGHTBOX: Gino Iannucci by Ben Colen, Andrew James Peters Interview, Pete Thompson Interview, Tobin Yelland Interview, Seu Trinh Interview: Creative Destruction, Dominic Marley – 5000 Words, Milton Keynes Skateboarding History with Leo Sharp and Wig Worland