For our first Industry interview we talk Vans with David Atkinson who is now Senior Global Category Manager for Vans Skateboarding Footwear. This is a new feature that will expand on people's roles within the industry, what they entail, and the path that led them to where they are today. Hopefully, these conversations will offer food for thought for younger readers who dream to work in skateboarding but don't know where they could thrive. Dave's role for Vans has evolved and found him in different locations. We spoke to him at his new home in Long Beach to find out more about his journey…

Words and interview by Jacob Sawyer. David Atkinson outside his new office in Costa Mesa. PH: Claude Leco
Dave's obsession with skateboarding began when he was thirteen, the classic story of an unloved board in a garage capturing imaginations. This would lead to a Menace Joey Suriel board and some Sal 23's kickstarting his pavement-bound trajectory in the small village he grew up in south of London. This evolved into pilgrimages to Fairfields in East Croydon, the spot synonymous with Paul Shier's career. This training ground would expose him to a wider world of inspiration and prove formative. Welcome To Hell and Trilogy would serve as a further guide, two videos his best friends bought from Slam. Playing Fields would be another VHS tape in the mix, adding the balance of a British perspective. These powerful blueprints retain relevance, cultural cornerstones we are still reminiscing about now. Tricks, approaches, styles, clothes, music and favourite skateboarders for life are covered. All a young mind needed to become ensconced in the culture.
From thirteen to working is a quick leap when you need to replace boards and shoes regularly. Dave did some time in different trenches, moving boxes for a courier service, selling ski holidays over the phone, and washing dishes for a restaurant in Winston Churchill's old house. Eventually, a spot in general retail opened up for the Ski/Snowboard shop Snow + Rock. This company offered him training and he used it to become a staff trainer, travelling to stores and training staff up on products. He then set up a physical skate shop for another skate & snow retailer which involved buying and beyond. It was from this position he interviewed for the job at Slam which would set him on the course which now finds him in America.
Slam has been a starting point for so many people and companies. Palace Skateboards, Heroin, Landscape, Silas, and Unabomber are just a few of the companies with Slam City Skates at the core of their origin. It has also been a springboard for many people who have important roles in our industry. We are proud to have played a part in many stories and Dave's is one of them. Our conversation with him starts when he first began working with us…

David Atkinson behind the counter at our old Neal's Yard address in Covent Garden
What was your role at Slam and how did it evolve?
When I started it was just as manager of the Covent Garden store. You were doing days there still so I remember asking you about what was going on. I took a kind of backward move to come and work at Slam and a pay cut. Slam has got its history, and its reputation, it's from London, and it's a shop people know around the world. I definitely wanted to try and make something in skateboarding. I didn't know what that was but even though I was already a buyer at another no-name skate shop, that was never going to get me anywhere other than running that shop. Working at Slam came with so many more opportunities. Brands would come through and you are in contact with people who had something to offer, both creatively and business-wise.
So this was about eleven years ago?
It would have been. At the time I was desperate to get out of retail but chose to go back to pure retail with a pay cut. I just tried, I didn't know anyone there and it was a total gamble. I had an interview with Pizzer [Chris Pulman] around the corner from the Covent Garden shop which was cool. I also had an interview at the old warehouse in Bethnal Green. This was when Gareth Skewis from Palace was in charge. He shot me some difficult questions. I was surprised to get a chance and then I was managing the store. Originally staff were yourself, Luigi [Andrew Khosravani], Paddy Jones, Sam Hughes and Jin [Shimizu].
The second wave were the Bromley crew: Darius Trabalza, Oscar Artini, Joe, and Jakub. Vinny. Jak and Pure holding it down in the warehouse. Dan from Yardsale and even Blondey managed to scrape a day or two. I'm sure I am forgetting some people. I went straight into buying for the store and e-com as well. I would sit on a stool in the minuscule stock room out the back trying to build a Nike order or whatever on the laptop. However many hundred pairs of Janoski's we were gambling on at the time. That's how it all started.
"There is an art form to catering to cool and ordering for the customer that is actually paying your bills."
You had done buying previously though?
I was doing buying but it was for a much smaller shop and a different customer. I will often say this, buying is such a thankless task. If you absolutely nail it the product sells out quickly, and then everyone asks you why you didn't order more. If you get it at all wrong everyone asks you why you bought something in the first place. It's impossible to win, major respect to anyone who is good at buying because it's never an easy one.
It's not an exact science and things change so quickly.
Yeah, it's intimidating. Imagine being an unknown entity in that store and walking into such an opinion-based environment. It was an amazing learning experience. There is an art form to catering to cool and ordering for the customer that is actually paying your bills. That includes tourists and people just starting out, it's understanding what that balance is.
While maintaining good stock of staple stuff.
Exactly, the organisational side to that. Making sure there are Bones Reds and Indy 139's available at all times.

Details of the Slam City x Vans Native American Pro and Lampin Pro Dave worked on
What are the projects you were proudest of working on while you worked there?
That was the dream come true part of that job. Collaborative projects had been quiet for a while so I thought I would try to bring some dreams to reality. I was super grateful that Marshall [Taylor] and Gareth [Skewis] told me to go for it. They weren't looking over my shoulder to check on things during that process, they just let it rip. The collaborations I worked on were Spitfire, HUF, Dickies, Vans, and DC. The Vans one stands out massively for me. No one from Vans or Slam management were telling me what to do at all so I just went for it. I remember when the first samples arrived at the Slam office and people were sitting around. I knew the box was going to be opened and I hadn't shown anyone a drawing even but everyone was stoked. That was incredible.
It was so fun to work on everything that surrounded them too.
Yeah the DC one was amazing. This was a time when marketing money was flowing. Josh Kalis came to London and we built the replica Philly kicker to can. Brian Panebianco had been to Love park and taken the measurements for us. He sent us drawings so we could replicate it perfectly. It's interesting looking back to that time and the people there skating that thing. Blondey [McCoy] skating that thing at a DC event, that's not happening now, it's a nice little time capsule.
It's cool to look back on the size and regularity of those events, especially now when they are much more of a rarity.
The Vans launch was great from top to bottom. So much has happened at House of Vans but when we had that show it was relatively new. The exhibition of the Slam advert archives – major shout out to [Mark] Jackson for the sourcing, sorting and scanning of those, that was a monster job, but so worth it – the zine, DJ Odin and Rory DJ'ing, and the edit playing in the cinema. It was all so sick. Again it was such a different time but everyone would come out of the woodwork for those things and make the effort.

Launch party for the Slam City x Vans collection at House Of Vans in London in 2016. PH: Maksim Kalanep
What did your stint in retail teach you that you feel were transferrable skills?
It was so important. People tend to think that retail can be a dead-end job. Obviously, it could be a massively dead-end job depending on what you do with your time there. If you are working in product, the industry side of things, especially skateboarding, it teaches you so much. First of all shopping habits and what people are buying. A lot of people look at skate stores and assume they know what sells, what pays the bills – the coolest stuff and the special projects etc. But this is usually just a tiny amount of what's really happening when you look at things globally.
Retail helps you understand who the skateboarders are, who your consumers are, what they are buying, and why. That's so important when you are trying to build product. If you don't know who those people are, you're just guessing. It teaches you a crazy amount. How much money skate shops really have to spend, what they can afford to do – the challenges they are facing buying product – this also helps you make decisions. There is so much to be learned from being in a shop day-to-day.'
"Retail helps you understand who the skateboarders are, who your consumers are, what they are buying, and why…There is so much to be learned from being in a shop day-to-day."
In skate shops you get to touch a little bit of everything. You could get to do a little bit of buying, do some of the social media, some marketing, maybe work on an event or two. You pick up this mini eco-system of so many different jobs. At Vans I was hired straight into a job that I had zero actual experience for which proves how valuable that retail experience is and that it counts. What I had done in that retail environment was deemed enough. It's definitely essential, you need to understand who it is that's buying your stuff. What better way to understand that than being in the place where they are buying it.
Do you think it teaches you to have a kind of out-of-body taste experience too?
Yeah that's a good phrase. You're not just buying for yourself and your friends. Once you are buying or building product you have to put aside your taste and preferences completely. A portion of that can influence what you do but you have to put yourself in a consumer's position.
It's interesting to look back at those buying years to now. What is on the market and what people are gravitating towards now is wildly different to back then.
It is. Once you are out of that shop environment, or you no longer skate and walk in a city every day, you have to figure out how it is that you can continue to understand what is happening. That's where I always try to lean into people who are in the stores, or certain people who are on the team. Obviously one thing you have now you didn't back then is social media. That is almost a skewed version though, it's marketing in itself, somebody else telling you what you're supposed to be doing vs what kids are actually wearing. You need to have those touchpoints to understand what people actually want. Like you said five years is like a lifetime in product, in regards to what styles people would wear. At one point Nike SB Janoski's or Vans Era's were all we sold, super slim shoes, good luck selling a more chunky shoe back then.
Even our DC Kalis collaboration for instance was a slimmed-down version of that silhouette.
I was thinking about that, the only way we could think of making it work was to slim it right back. Now they are taking it and puffing it up to the max. Five or six years later everything is completely different, it's great, I love it.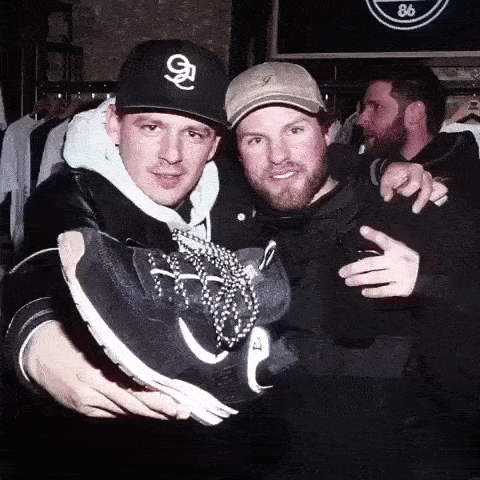 How did managing Slam segue into starting at Vans? What was the process?
I partly got that opportunity by having a relationship with Juss Apivala and Darryl Charles who did the Vans job before me. Darryl went from being Slams Vans rep which is how we got to know each other and he moved up to being the Euro skate merchandiser. It's what I was saying about working for a more influential account, he became someone I would work with closely. We would work on things to do with the store – obviously the collab – or be on trips together, I actually remember getting a Byron Burger with him, and just straight up asking if we could work on a shoe and he was down straight away, so major shout out to Darryl for that opportunity. Through him and Juss I met some of the other dudes from the global team.
That Vans collaboration for Slam definitely got me on the radar. So when any jobs came up my name had already been put in the hat. Working on the video with Mark Jackson for that project where I talk about the history of the shop and Vans would have helped too. It may be embarrassing for me to look back on that now – Jackson still gives me shit for it almost every time we see each other – but from a brand perspective, hearing someone talk enthusiastically and knowledgeably about what you are doing goes a long way. So some good timing, some relationship building, and enthusiasm. I'm as passionate about Vans now as I was then so that helps, I think that's a major part of it.
I have seen from an industry side of things though how difficult it can be to find these people for different roles. Lots of bigger businesses like Vans aren't pure skate businesses, so the majority of employees don't skateboard. They are trying to find someone who understands skateboarding, is ingrained in it, but also has the right business acumen, professionalism, and experience. That really narrows things down. So if you can get your name out there into that potential list it's a great start. If you're a buyer or a manager, doing a good job, who likes the brand, chances are you could be in the running.
The video for the Vans x Slam City 'Lampin Pro' & 'Native American Pro'
"from a brand perspective, hearing someone talk enthusiastically and knowledgeably about what you are doing goes a long way."
The role involved a move to Switzerland. Was it intimidating at all moving into that new environment?
Yeah, it was insane. I had been thinking of how I could move out of retail. At the time the only real options were the big guys. Vans was in Switzerland, Nike was in Amsterdam, and adidas was in Germany. I remember thinking even if a job was going I couldn't do it because I was in the UK and my wife Bonnie was too. Then the phone call came in, Juss [Apivala] was asking if I had ever thought of working for Vans, and if I would consider it. Your whole perspective shifts. I remember thinking "I guess I'm moving to Switzerland." It was too big an opportunity to pass up. I moved there on my own because Bonnie had a fairly new job too. I was moving to Switzerland, they speak Italian there, and I was going to be doing a job I had zero experience in. If I'm honest I didn't even really understand what it entailed. My skillset was my skateboarding background, my time at Slam, and my time in shops previous to that. So going straight into that definitely involved some sleepless nights.
Very soon after arriving there, they told me I had to present a new shoe, it was the Chima 2 shoe. I hadn't worked on its development so didn't know it as well as if I had been part of the process. We were flying to London to present it. It was my job to present it to all other countries, all the sales managers, so roughly 300 people. I had never done any public speaking and hated public speaking. But you're obviously not going to let being freaked out about something stop you from doing it. There were again genuinely some sleepless nights leading up to that. Then I did it and realised I could manage it. Having done some more I realised I was talking about what I know, and what I love, and I started enjoying it. Then you realise that maybe you're quite good at it even though you hated it for many years. It's a strange learning process. It's like going to school or university.
That growth mindset is all about putting yourself in uncomfortable positions.
Yeah you learn quickly and even when there are things that freak you out you know you can do them. The beauty of working in skateboarding, if you truly think you are a skateboarder, is that you know what you're talking about. Everyone at Vans prioritises skateboarding and regards it so highly. So when you realise that you are the expert in the scenario and the person everyone in there is looking to for answers something clicks. Your opinion is qualified by knowing about skateboarding.
"My number one skill is my tireless interest in skateboarding."
It's not like I joined as a merchandiser for Lululemon or Volkswagen. I know about skateboarding it's almost my key skill. I don't have any specific design, marketing, or merchandising background. My number one skill is my tireless interest in skateboarding. I'm never tired of skate gossip, video parts, new products. That's obviously completely useless if you end up going in another direction. Your brain is just storing endless information about what team changes there were in the 90s or something. Then suddenly a space opens up where it's useful, it's amazing luck to be in that situation.
Were you working with Juss Apivala? We interviewed him years back about the Wafflecup when it first came out.
He held the position before me and then he left so I took his spot. He became the manager of snowboarding in America and then moved to manage skateboarding in America. He eventually shuffled to North Face. He skated when he was younger but he is an outdoorsman at heart. I remember him flying to London and coming to the office to ask our opinions on a new Rowley shoe. I have to give credit to Gareth Skewis for this: Gareth knows a shit load about footwear and has a lot of opinions but he would always say "Dave what do you think?" before offering his thoughts. He wouldn't take the stage as it were and then ask you to join, he would put you on the spot. So I think having my opinion put in front of those key Vans people would have made a difference.

Danny Brady and Rory Milanes inspecting the Palace x Vans Sk8-Hi. Dave went from working above the Palace office while designing the Slam collab to being on the other side of the curtain for this one
What were you proudest of achieving during the three years you were in Switzerland?
At the time Vans Europe had a bit of a void when it came to proper skateboarders involved in product. The culture of skateboarding had slipped a little bit there. I'm super proud of the European collaborative product that we made during that period and got over the line. We did Yardsale, Pop Trading Company, Sour Solution, Civilist, Street Machine, Lovenskate, Rassvet, Palace. In my opinion we worked with the best European skate brands so getting to work with them was amazing. It was also awesome doing a project with Slam from the other side of the curtain as it were – Matt Warder who is a close friend had filled my spot at Slam and was designing the project, we lived close to each other in London at the time and were skating a lot so it was so fun cooking that up together.
I also arrived in Switzerland at roughly the same time that Alex Forbes did, he was my marketing counterpart. He's just like me, he cares about skateboarding, and is obsessive about it. The two of us tried our best to improve things and keep skateboarding safe at Vans Europe. We certainly feel like we made a difference, I hope we did. He worked on re-building the team, we aligned on the brands we were working with and tried to maintain meaningful relationships with all the stores.


Above: Dave and Alex Forbes at a European Skate meeting, building & giving away completes to kids in Malta. Below: Dave performs a Swiss crooked grind while Alex Forbes films. PH: Patrick Duff
The Vans back catalogue is one our collective consciousness references often. Did you have access to unseen or well-kept archives?
There kind of is. It's a bit of a weird one because the internet is a place where everything is somewhere. In the US office there is an archivist, there is a lady whose job it is to document and organise old catalogues, get together samples, everything. That's pretty insane. But I will say that just knocking around are tons of crazy old catalogues, skate ones, outdoor ones, ones you didn't even know existed. When stuff is happening or being talked about you can just go and have a flick through.
In the skate workroom where I will work with my team, on one whole wall of that room is every Slap, Thrasher, Transworld, every VHS tape there is. There are obviously other nerds on the team so somebody will mention a shoe colour Julien Stranger wore on the cover of Thrasher. Then we will go down a rabbit hole, root around the archives and find the picture of Julien Stranger wearing Half Cabs on the cover in 1993. That element is amazing, a treat but also a resource.
"Then we will go down a rabbit hole, root around the archives and find the picture of Julien Stranger wearing Half Cabs on the cover in 1993."
Your were promoted to senior merchandising manager and moved back to the UK for a stint. What further developments did the new job involve?
It wasn't much different apart from some further responsibilities. The move back happened just before the pandemic which was coincidental. One of the reasons the move happened was that I had been out in Switzerland for three years. At that stage how was I meant to know what is actually happening while in a small Swiss town. I was back in London, I could pop into Slam, and I could see what kids were wearing while out and about. I would go into Slam and speak to Mikey [Patrick] or Josh [Nice], a different touch point. I worked out of Soho so just walking around made such a difference. That was an important part of continuing to understand what's going on.

Dave checking in with key accounts. Visiting our friends at Civilist in Berlin. PH: Maura Iemma
You kind of absorb developments via osmosis just by being in London.
Yeah you wouldn't even have to go to a skate shop. Just walking around Soho you see so many people and you're absorbing what everyone is wearing. After three years in Switzerland you're trying but you are not absorbing anything in that same way. I think about walking to get lunch from Camisa & Son on Old Compton Street from the Vans office. You literally walk past the Palace shop, Supreme, Carhartt. You are walking past places and people who are the tip of the skate spear in one of the most forward-thinking cities in the world. You're kind of instantly clued in, it's very important.
It's interesting that now I'm in California, skateboarding and skateboarders are everywhere. So I know what's going on in California but I'm damn sure it doesn't line up with what's happening in London right now. I'm in a parallel version of it. I need to figure how to get myself and the design team to London, Berlin, New York, Philly, to see what's happening elsewhere. You can't just cater to people who were born into a culture that is pure skateboarding day in and day out. It's 25° all day and there's a skatepark on every corner. That isn't normal for most skateboarders! It's an important part of the business but there is a lot more going on out there.

The SK8-Lows Dave helped Civilist realise back in 2021
So the best part about the years before this move was checking back in with the city you left?
I absolutely love being in London. Especially when you have been away for three years, it's such a treat to be back. You realise how fortunate you were just to have all of these things on your doorstep, and how good they were. Your food spots, your amazing coffee shop. Walking around, seeing people and feeling that you are part of something that is happening. Coming back from Switzerland I realised just how much I had missed it. It's always good to leave somewhere and realise how much you love it.
When the role as Senior Global Category Manager arose in the US was this dream job territory?
Yeah it is. As I said, I don't have any obvious discernible skills. When I was a teenager I couldn't say my dream job was to be a merchandiser or a Product Line Manager because I didn't know they existed. For any Category Manager or Product Line Manager role, the skillset really is teenage dream job territory. The skillset hinges on you being massively obsessed with something. That defines what a dream job is right? You are paid to be actively involved with the thing you are obsessed with.
"What I have picked up is a kind of weird career path situation. It's unconventional but has all informed what I'm doing now."
The experience I gained working in shops, my role as manager at Slam, buyer for Slam, merchandiser for Vans. What I have picked up is a kind of weird career path situation. It's unconventional but has all informed what I'm doing now. One other skill I have is that I'm quite good at connecting people and that's super important. The designers, the developers, the wear test dudes, the market research team, the salespeople, and the merchandisers. Having everyone connected is vital. That's the thing that makes it work for me.
You're the conduit…
Yeah and I guess that is a skill. I'm not a trained anything really. I've got a Geography degree which is an essential component of my skateboarding career, haha.
What does your work life look like day to day now? What does your job entail?
It's a bit of a time-traveller role. You're constantly jumping between different seasons. Anyone who works in product will understand that can be pretty insane. You're beginning to kick off the process for a new model that will release in two years time. You're going through line reviews for the one before that. You're finalising pricing on one that's in a different season altogether. You're helping to get a shoe that's in production over the line and checking there are no errors. You are often looking at an overview of two or three years and multiple seasons within that so it can be intense.
My job encompasses a lot of things. I'll work with design on new product briefs, and I'll work with the colouring team on building a line and what it looks like. I work with marketing to make sure we align on what we will be talking about outwardly. Honestly there are so many other things. If it crosses skateboarding or skateboarding touches it, I will probably be in that conversation in some way.
Maybe if I wasn't so into it, if it was the equivalent role but for something I don't care about so passionately about then maybe then I would let some of that stuff slide under the table. But I think that is often the thing in common with people who work in skateboarding. Because they care so much about it they can't let anything go. It's intense in that sense but it's intense by choice. I'm choosing to plan things and make sure they are really working the best they can be. I'm not very good at switching off.

Landing at LAX on a one-way ticket
Having uprooted and returned was it a difficult decision to emigrate to the US or a no-brainer?
I think it was a no-brainer really. I'm lucky that my wife Bonnie has always been interested in California and has been so supportive throughout all the moves – love you! It's a bit like the Switzerland thing. When it is actually there on the plate, a reality and not a theoretical discussion, we had to say let's do this. I kept thinking about it as certain doors open, and if you don't go through them, they may never open again. Moving to the US is absolutely one of those. It's so complicated, you don't get to move to the US, it's so hard legally. If you say no to that you have to deal with possibly regretting that decision for the rest of your life. Our view is that we could always come home anyway.
What are the upside and downsides of your new city?
We are living in Long Beach. It's LA County but not Downtown LA. The upside is it's December and it's 20° outside. Coming from England and being a skateboarder, you are always navigating what day you might be able to get out and skate. What days are raining? What days are you working? What days are you with your family? Here, every day is a potential option to go and skate at any time of the day. That is a dream, just being outdoors any time you want to be is the best shit ever.
Also skate culture is just in the air, people have grown up with it, it's not weird to anyone. There are skateparks everywhere and you see kids pushing around all the time. Maybe there is a little part of me that thinks that makes it less special in a way but the reality is that it's awesome. I go to my local bar here and James Craig is just there having a drink, Rowan Zorilla will pop into the office to check in, One of the people I work with most closely at Vans is Evan Schiefelbine and he lives near me so I'll go for a little skate with Evan here and there – All of these little things. Maybe it would be the same for an American moving to London in a different way. I have the kiddy excitement of California. Driving to work and seeing a famous skate spot is still a treat.
"I have the kiddy excitement of California. Driving to work and seeing a famous skate spot is still a treat."

Dave and his team visiting the Berrics before work. From Left to right: Dave Atkinson, Dazman Primus, Richie Lopez, Neal Shoemaker, David Garcia, Evan Schiefelbine, Will Hayward, Mikey Klein, Dan Rhoades (not pictured Scott Warneke & Claude Leco)
Yesterday we went on a little trip with my team, the designers, the developers and the wear test guy. We went to Downtown LA to drop into some stores and check in on the market. At the start of the day we went to The Berrics at 9am just to skate for a few hours before we got into it. That definitely wasn't happening at home you know what I mean? That fantasy-level style of thing being part of my reality is still really exciting.
Downsides of being here would be missing my family and friends. I was thinking about winter a little though, I miss pubs. They just don't exist here in the same way, it's just different. But going for a skate in the winter and then getting wedged in at the pub and chatting shit with your friends is special. You have to drive everywhere here too. I don't think I drove to have a skate in London in my entire life. You would cycle or take a tube and then go to the pub afterwards.
What projects have you already got stuck into?
Because everything works so far ahead I have inherited a lot of stuff. I'm finishing up what a lot of people started. I'm actually just starting 2024 to put into perspective how far ahead it is. I'm involved in 2023 still, finishing off projects.

Dave and Rowan Zorilla shortly after the launch of Rowan's signature shoe. PH: Maura Iemma
What team riders have you been working with directly?
Anyone who is on the signature Vans team is someone who I will be directly in contact with. It depends on the project. Some of the team live really close to the office. AVE lives just down the road in Newport Beach. If I go out skating with the crew we will quite often see AVE at the same spots or at the park which is pretty unbelievable when you think about it. Rowan [Zorilla] is around quite a lot as well. We are working on bits with Rowan and AVE right now. Rowan is the man, he is obviously incredible but he is such a professional when it comes to working on product. He is so involved and has always thought things out.
AVE is as well in a different way, he has an incredible amount of attention to detail. I guess you can tell that from the way he is skating as an older guy. His approach is the same to product, he is so invested in the details. At the moment those two are the main ones I am working with. I have been speaking to [Danny] Brady and Rory [Milanes] too which has been super fun. We are working on some potential bits which is amazing. It's nice to have some English accents on the airwaves.
I guess AVE's attention to detail and requirements are what really ushered in a wave of new technology at Vans.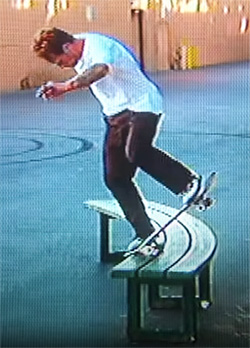 Yeah totally, his willingness to try and keep pushing it forward is definitely refreshing. He wants to do more, it's really nice how that is parallel with his career. His recent footage for Fucking Awesome is still on another level, an insane tier of real street skateboarding. Obviously the AVE bench had a bit of a weird moment recently. But just prior to that, the Switch Backside Noseblunt slide he did is up there with anything that has ever been done on that thing.
As a side-note the first time I ever went for a skate with the crew here they took me to a local spot in Huntington as a welcome to the team thing which was super nice. There are two of the benches, the original one, and the replica one. The replica one was at the spot we went to. So the first time I went skating we saw the AVE bench and I was desperately clamouring to do a trick on it. It was the following week when it got pinched and that story started spiralling. I'm stoked I got to skate it.
Is there anything on the cards you are excited about that you can talk about?
I'm not sure what I am able to mention. I think the Mike Carroll stuff will be pretty exciting – his Vans shoe is definitely cultish, so it's exciting seeing that come back to life. There are some really exciting Palace projects on the horizon too. Honestly there will constantly be stuff cooking. Next year there will be a lot of new Vans products, skate product that is a little less familiar. More innovation and products aligned with skaters you are not so used to seeing in the spotlight which will be a nice refresh for everybody. The product team are killing it too, it's amazing. The guys are pushing Vans product to places it has never been before and it's cool to see it happen.
"The guys are pushing Vans product to places it has never been before and it's cool to see it happen."
You must have worked with Reynolds briefly, was his move to New Balance a shock?
It was kind of before my time. I think his contract ended the month I arrived in California so I never saw him in the office or anything. I had him on a Zoom meeting once with a bunch of people. He was the best when we had him – so open to product – Like he said in that Village Psychic interview, he tried everything. He's so interested in skateboarding and skateboarding footwear. Obviously he's everyone's favourite skateboarder, so it's tough to see him go. He alludes to it in that interview, at Vans we already have AVE, and we already have Geoff Rowley, and they both have shoes in the line. He found a company where there is the perfect space for him. We are sad to see him go but whatever is good for him to remain the inspiration on a skateboard he is, is good for the rest of us who love seeing it. It's all amicable though, he rode for Vans for three years.

The Gore-Tex Half Cab created by Humidity sandwiched by the Vans X Timberland Half cab. Two of Dave's favourite Vans releases of 2022
What was your favourite Vans release this past year and why?
There have been so many. I think the one that pops straight into my head if I don't think too hard is the collaboration with Humidity skate shop. It had a GORE-TEX Half Cab upper and a crazy outdoor cupsole. It was big outdoor boot outsole on a Half Cab and they are still skating it in the footage. Another release linked to it is probably the Half Cab on the Timberland Hiker bottom. After a year of the Half Cab getting so much attention, seeing it completely flipped at the end of the year was amazing.
What is your favourite Vans shoe of all time?
The thing with me is that answer continually changes. I love the Old Skool. When we did the Slam collaboration I chose to work with the Lampin which is a rogue one I really like. The Half Cab for sure. I really love the Mike Carroll shoe, so maybe that one right now as an all time favourite. It's definitely one that's been on my mind for a long time.
It sometimes happens that an industry job or being surrounded by skateboarding on a daily basis causes that original spark to fizzle out. How do you keep the flame burning?
That's a really good question. I think first of all continuing to skateboard, continuing to try. Trying to skate in different ways. I get bored if I go to the skatepark and do the same stuff. Even though I've never been very good at skating I love the challenge of skating street. Trying to figure something out, finding a new spot. I love that element. I'm not sure if that's keeping the spark but I'm lucky enough that has kept me interested. That, and surrounding yourself with interesting people who are also passionate about it and have different perspectives about it.
I also think like with anything, you get out what you put in. If you're just sitting back, banging out the same stuff, and doing the bare minimum, it's going to dry up. But if you care about it and want to make a difference, understand how things are changing, and want to change with them. All of those things are necessary, you need to put that in to get out any excitement. The traditional view of Vans involves California, it's an integral part of it's identity and heritage, it always will be. But there is so much unexplored territory still at Vans. Who, where, and how, as well as the product. There is timeless product that isn't going anywhere but so much space to try new things.
Going skateboarding, trying to progress, going with new people, going to new places is key. Staying on top of what's happening. Who are the new names? Who are the new brands? What's happening out there? Skateboarding is such a creative space that if you are engaging with it you will inevitably be interested. Skateboarding involves, and is connected to so many other things that it's never boring. I think some people who maybe get burned out on skateboarding having started to work in the industry, have joined the workforce off the back of professional careers. They have already done that, they are never going to be skating enough to be at the level they used to be at. So maybe it becomes dryer and they fall off. For me there is an element of if I'm going to be here, I need to at least be competent. I need to prove that I skate so it does the opposite. It motivates me to skate more. I want to make sure I am still a skateboarder.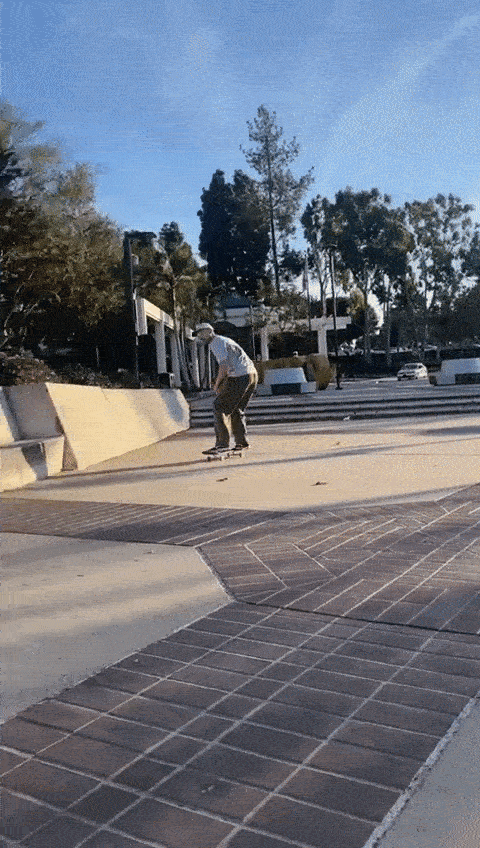 Consistently shredding. Sunny December tailslide shuv at Cal State University filmed by Neal Shoemaker
What advice would you give to a young skateboarder with notions of working within the industry?
For a start working in a skate shop is not a dead-end. There are incredibly valuable things to be learned from working in a skate shop. The contacts you will make from that are the people who are going to help you find a way in. That is the contact point. I think being a regular staff member in a retail environment, the temptation is there to treat it purely like a fun job. With some of the high jinx and games being cooked up it's easy to treat it as a fun place to be that pays for your beer money. If you really want to make something of it you can still be part of that but take it seriously too. Show interest and it will be instantly noticed.
If you are the manager of the skate shop and one of the dudes turns up on time, makes suggestions to improve things, and is keen, then that is the guy you will make the buyer. In turn they will be the guy talking to reps. If you are trying, making the effort, reaching out to people, and being proactive, it is going to make a difference. I don't put aside the fact that I'm incredibly lucky to be where I am now, there is a lot of chance in there. Looking back though, some things I could write off as chance maybe weren't so much. It all began with me making that decision to work for Slam, an active decision to be somewhere more meaningful where things could happen.
"Looking back though, some things I could write off as chance maybe weren't so much. It all began with me making that decision to work for Slam, an active decision to be somewhere more meaningful where things could happen."
Another thing I will say is that if there is ever a way for me to help someone up, or connect them with someone else, I will always make a point of it. I'll make that effort because that is what helped me and it could end up helping you later down the line too. If you're a photographer or a filmer, take photos, make that independent video and make it as banging as you can. Make a shirt brand, do the thing and go the extra mile because those are the things that will count, help you stand out, and make you learn skills that will help down the line.
I also just wanted to take a second to say thanks to the people who helped me get that lucky break – in no order at all, Pizzer, Gareth, Marshall, Jackson, Stephen Mullen, Juss and Darryl, Chris Marshall – I'm eternally gratefull – and everyone else I've worked with along the way it's been banging!
---
We would like to thank Dave for taking time out of his schedule to talk about his new reality across the pond. If the conversation has alerted you to a waffle sole void in your life then shop with us for Vans Skate Shoes.
More Vans Skateboarding staff and team related reading from the last two years: First & Last: Amanda Perez, Offerings: Helena Long, Tony Hawk Interview, Justin Henry Interview, Offerings: Ray Barbee, Isolation Station: John Cardiel, Credits Interviews: Shari White, Una Farrar, Fabiana Delfino, Breana Geering, Rowan Zorilla Interview, Andrew Allen Interview
Slam City Skates x Vans collaborations: Slam City Skates x Vans Winter 2020, Slam City Skates x Vans 2016, Vans Syndicate x Slam City Skates 2013