Words by Mackenzie Eisenhour. Self portrait and all photography by Seu Trinh.
I subscribe to both the defining ethos espoused by the two major skate mags (Transworld and Thrasher) since roughly 1983. I don't view them as mutually exclusive. Quite the opposite—I believe they are the Yin and Yang of our pastime. We must Skate and Create, but we cannot completely do so without at least a speck of Skate and Destroy—lest there is no room left to create. Conversely—those adamant about Skate and Destroy must also at some point embrace a speck of Skate and Create—lest they land at the dead-end of outright nihilism. Neither can fully exist for long without the other.
Seu and I were co-workers for nearly a decade at TWS. Before that we had been unwitting co-workers under Dwindle Distribution's former overlords Kubic Marketing (Before Globe bought the farm in 2002*). I first met him in 2000 when he was squarely World Industries golden boy—shooting ads for what seemed like a million of the most popular teams in skateboarding (World, Axion, Blind, enjoi, A-Team…), and hanging out with all my favorite pros (Daewon, Kareem, Creager, Shiloh…)
Seu is a rare breed; A fervent creator—almost dangerously addicted to creativity via his photography—but he is also 100% skateboarder to this day; an unrecovered and unrepentant skate rat. In his own words, all skateboarders are destroyers by default. Harnessing creative destruction over two decades—Seu rose to and remained one of the most imaginative (and often lucrative) photographers in the industry.
That said, I had never really heard his whole story—from first Birdman Boneite setup sans-grip to first domestic tour at 18 with Julio de la Cruz and no driver's licenses. Well, here it is. Create and Destroy.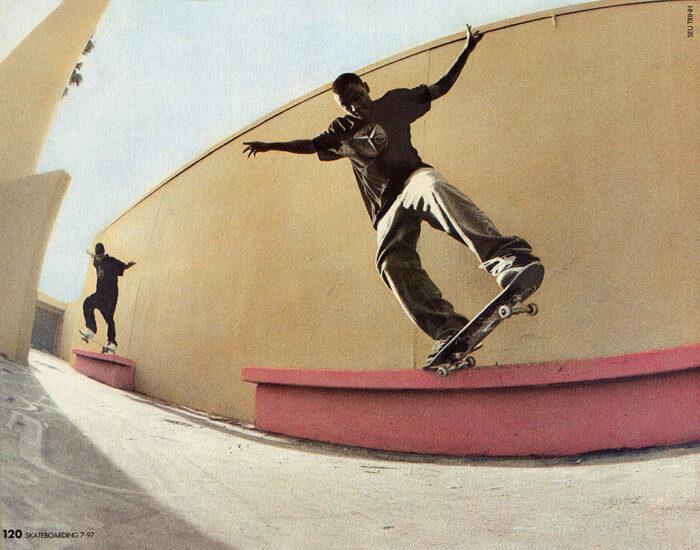 ENRIQUE LORENZO AND MARCUS MCBRIDE TAG TEAM A GRAFFITI-LESS VENICE PAVILION. COLOURIZED BLACK AND WHITE for TWS VOL. 15, NO. 7, JULY 1997. "THAT WAS PRETTY MUCH MY FIRST PHOTO FOR TRANSWORLD" — SEU
Let's take it back, when did skateboarding enter your life?
Late 80's—I lived in Boston as a little kid. '86 maybe '87 I would ride my brother's board that he made in woodshop with the other homies that had legit boards. I got money eventually to buy my first legit skateboard and it was a Tony Hawk Boneite, Gullwing trucks, black Streetstyle Bones wheels, but then I didn't have enough money for griptape (laughs). So forever in the beginning I was riding a board without grip.
When did you guys move to CA?
Maybe a couple months after that. I moved to Rosemead with my mom and dad and started skating with the local kids in the San Gabriel Valley. At that point there were only a few kids in the whole neighbourhood who skated. If you saw a fellow skateboarder, especially people wearing skate shoes at that point you connected. I met these kids that had a miniramp and started skating with them in their backyard. I skated through high school, by then it was the early '90s and everybody quit. The three people that did skate all ended up quitting.
When did photography come into the picture?
I started doing photography and video stuff in 7th and 8th grade. I was in a video class and we did filming and editing. Somehow I became the director in charge of the video class. Every day the school principle would do the morning announcement via video. So we would film that and then shoot and edit in footage of whatever topic she was announcing almost like a mini newscast. It was pretty cool.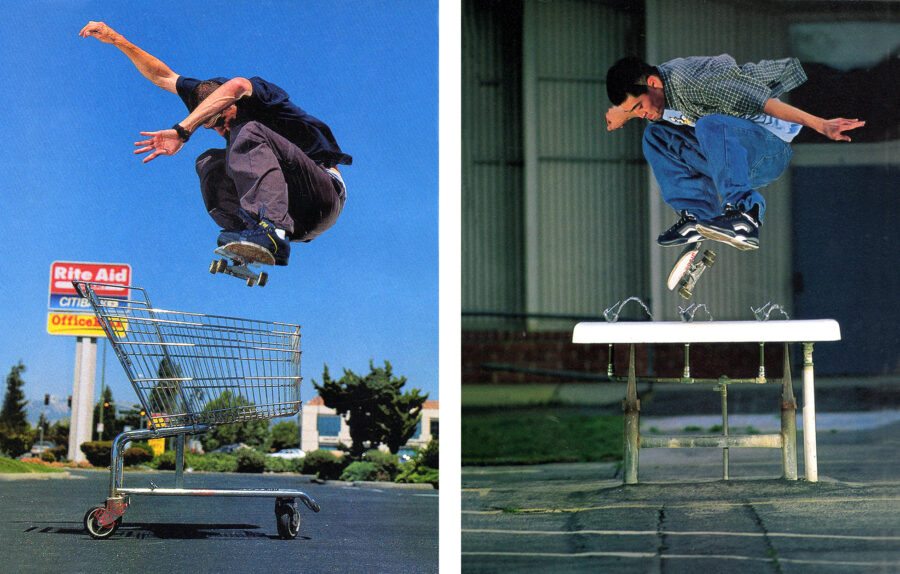 LEFT: PAUL SHARPE, SWITCH OLLIE, TWS VOL. 19 # 2, FEB 2001. "HIM AND PAULO DIAZ."  —  SEU. RIGHT: GIDEON CHOI, KICKFLIP, TWS VOL 18 # 11, NOVEMBER 2000.
When I got to make my own prints and see the photos come alive in the darkroom, I was hooked. It was like voodoo or witchcraft. Watching the photo come alive in the chemicals—I was hypnotized
You had seen skate videos by then and were interested in the medium?
Yeah. Exactly. I loved taking all the art classes in school and the video class and then my dad always had a point-and-shoot so I would bring that to all the skate sessions.
Was there a moment where photography got more serious?
In high school I again took all the art classes but then I also took a photo class. In junior high I had just had the video class. But it was in the photo class where I got to use the darkroom for the first time. The darkroom was what made it so magical. I got to see what you do after you shoot the photos. I got to process them. When I got to make my own prints and see the photos come alive in the darkroom, I was hooked. It was like voodoo or witchcraft. Watching the photo come alive in the chemicals—I was hypnotized. To anyone who has never witnessed that in real life, I suggest that they do it.
You fell in love.
Instantly. I would be in that room for hours and hours. The teacher would let me stay there longer because he saw how much I dug doing it. From then on I would always bring a camera with me any time I went skating.
Who were some of the first known skaters you got to shoot?
After shooting all my homies I got introduced to some sponsored skaters. After San Gabriel I moved to Azusa—right near Chaffey High School.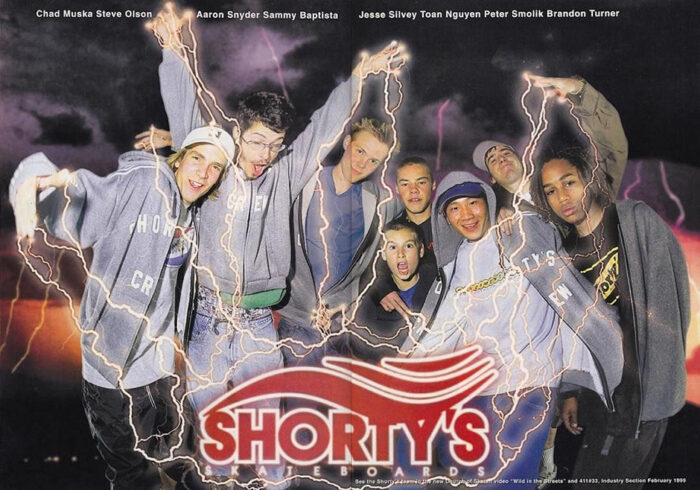 "I SHOT THE GROUP PHOTO OF THEM WITH LIKE LIGHTNING BOLTS COMING OUT OF THEIR FINGERS. I KIND OF DIG THAT PHOTO FOR SOME REASON. THAT WAS THE SAME NIGHT I SHOT THEM IN A CIRCLE, LIKE NWA STYLE. BOTH OF THEM WERE SHOT IN THE PARKING LOT OF THE OLIVE GARDEN IN WESTWOOD. IT WAS FUNNY BECAUSE RIGHT AFTER THAT STEVE OLSON JUST DISAPPEARED FOR DAYS SO IT WAS THE ONLY TIME THE WHOLE TEAM WAS TOGETHER" — SEU. SHORTY'S AD 1999
Oh shit. Okay. That was the spot for sure.
After skating at Chaffey I would go to the skateshop called Outhouse. Outhouse turned into UBS (Utility Board Shop), and UBS turned into Pawnshop. None of the same owners but at the exact same location. Hanging out at Outhouse I started shooting their teamriders. Tony Briseno rode for them, I met some of the Media Skateboards guys when it was still called Bike Skateboards.
Krauser and those dudes?
Yeah, Tom Krauser, JP Jadeed, Josh Neher, and then from skating at Chaffey I met Richard Mulder, Joey Brezinski and it just snowballed from there. The other big break I had was while I was at Outhouse they had hung up a handful of my photos of the teamriders in the shop. One day I was hanging out there and Julio De La Cruz came in. He came in, I happened to be sitting in there, he saw the photos blown up and asked like, "Hey who shot these skate photos?"
They pointed right at me and I was just sitting there on the miniramp. He comes up to me and goes, "Hey do you want to go on tour with me? I own Neighborhood Skateboards and Stamina Clothing." I had never met him in my life but next thing I know I'm saying, "Yeah, I guess I'll go on tour with you."
I gave him my house phone as there weren't cell phones yet. Shortly, a few days later he knocks on my door out of nowhere. "Get in the van, where going on tour." With no warning! I got in the van with just a pair of shorts and zero money and a sleeping bag.
No cell phones. No map. As crazy as it sounds, it was one of the purest, most fun and innocent times of my life. You just had no plan. No agenda
Who else was in the van?
Oh man, Robert Douglas, Petey Martinez, Dylan Gardner, Julio obviously.
Armando?
No. Armando Barajas wasn't there. Shorty Gonzales was there and some kid with red hair, Jeremy. They called him 'Red". I was barely 18. I get in the van and none of those dudes had a driver's license!
Holy shit, not even Julio?
No. None of them did so they're like, "Hey, do you have a driver's license?" I had just gotten mine. I was 18. I was like, "Shit yeah." He's like, "Well you're driving the van." I was like "Okay." I had barely even driven a car (laughs). So I drove them all around the US. We had zero money. No cell phones. No map. As crazy as it sounds, it was one of the purest, most fun and innocent times of my life. You just had no plan. No agenda.
We just drove to the first skateshop, used that guys phone to call the next skateshop, write down some funny instructions like "Get on this freeway, get off at this exit, take a right at the red rock, and when you get to the gas station call me"—it was so fun. They would charge like $400-500 for each demo and then use that money to buy hotel rooms, gas, and food.
JASON DILL, SWITCH BACKSIDE SMITH (TWS VOL 18 #11, NOV 2000) AND DANNY GARCIA, SWITCH FRONTSIDE BLUNTSLIDE (TWS GOOD STUFF, VOL. 19 # 2, JULY 2001)
How did you get first get involved with Transworld?
Neighborhood was connected to Transworld via Tracker and Climax Dist. down in Oceanside. So at that time I was submitting Neighborhood, Media, Stamina and local skater photos to TWS. I would be hanging out down there with Grant Brittain and he started giving me film to shoot photos for them around '97. One day I drove down maybe in '98 and he told me like, "Hey man, you live in LA. World Industries is hiring a photographer. I'm going to call Rodney [Mullen] and tell him to hire you." So he picks up the office landline and calls Rodney. "Hey I got the perfect kid for you guys to hire at World Industries."
Damn. You must have been tripping.
Totally. At the time I was making maybe $50-300/month at best. It was just a hobby. My rent was $150 a month. My girlfriend and I shared a 1 bedroom for $325/month. So I got an interview with Rodney, I brought all these samples of portraits, skate shots, and even product shots—and he hired me that day.
Had you ever met Rodney before?
No. I had never met him. But I knew Socrates [Leal], Enrique [Lorenzo], Daewon and Shiloh [Greathouse] and they all put in a good word beforehand. Rodney hired me and my start date was Jan. 1, 1999. My job was to shoot all the Dwindle ads every month and at that point they owned like 6-9 companies.
That was right when I met you through that Antix site—they had so many brands—World, Blind, Axion Shoes, Duffs Shoes, A-Team, Shaolin, Darkstar, enjoi, Droors, Dub, Speed Demons, Tensor, Deca, City Stars, and onwards. I tried to shoot as many as I could but it was crazy.
Did you just start raking in money at that point?
Pretty much [laughs]. It went from like 50 – 300 a month to like five-to-ten Gs.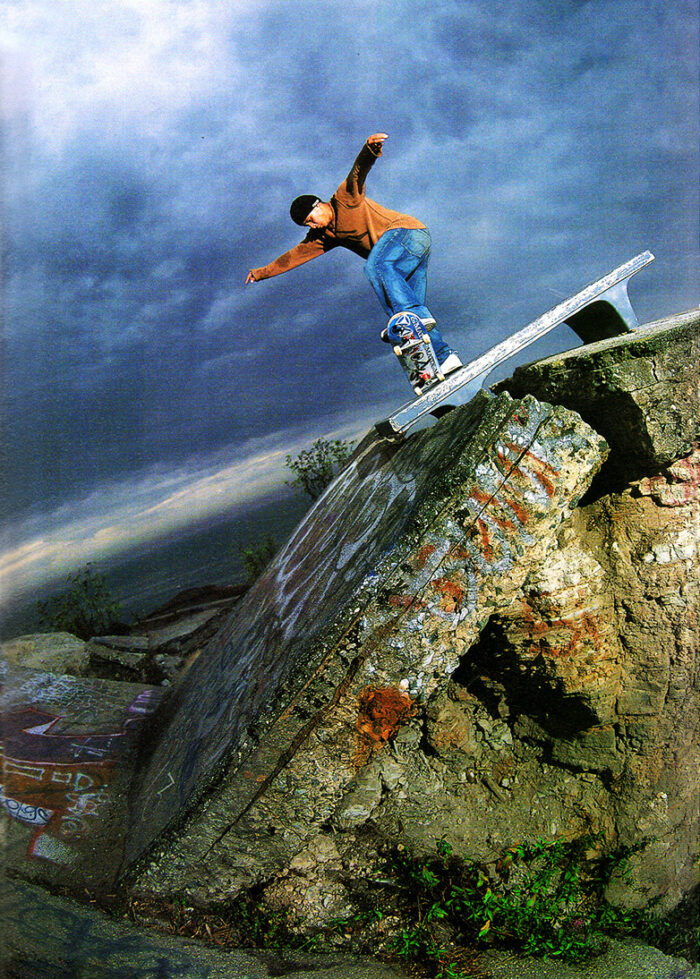 DAEWON SONG, NOSEBLUNT SLIDE WHICH RAN AS AN AD FOR ARTAFACT, A SHORT LIVED COMPANY BEFORE ALMOST, TWS VOL 21 #2, FEB. 2001
All I did was sleep, eat and breathe skateboarding photography
You could sell the extra photos to the mags and other companies too right?
Exactly. And for some reason at that moment nobody lived in LA County to shoot photos. This was still the film days (pre-digi) and there was a very limited number of photographers. You had some guys like [Chris] Ortiz in Orange County, a lot of San Diego photographers, and a bunch of SF photographers but the only guy in LA really then was Kosick. So I was like the newbie.
I remember going to meet you for lunch at Le Petit Café there at that El Segundo mini mall with the Antix Marketing Director. He was like, "This is their big photographer". You were like the big man on campus already. I was fanning out.
[Laughs] It was so pure and innocent. Because I was so excited. All I did was eat, sleep, and breath skateboarding and photography. It was one of those times in my life, and I bring it back to that now because I haven't been drinking or smoking—so I have been 100 percent into skateboarding and photography again. But back then it was like, you wake up, you barely even took a shower and brushed your teeth. You instantly jumped in your car and went skateboarding and you wouldn't be home until midnight. Then you'd do that same thing for years.

DAEWON SONG, PIVOT FAKIE. TWS VOL 22 #3, MARCH 2004 – SEU'S FIRST ISSUE AS STAFF.
When did you get on retainer at Transworld? Did you work for Strength for a second?
After World Industries, right around the time Daewon had his TWS cover doing a pivot-to-fakie [March '04, above – ed.] that was my first month at TWS on an actual salary. If you back pedal a year is around when Dwindle downsized and I was let go. That was before Globe bought it. They fired like 30 people on the same day. I started hanging out with Eric Stricker (RIP) after Strength Magazine moved form Ohio to LA.
Exactly. When I worked at Skateboarder, Strength moved in just up the block by the Peterson Museum. We had like Strength, Skateboarder, and Big Brother within a few blocks there.
Yeah exactly. That's when I started hanging out with those guys. They asked me if I wanted to start working at Strength. I was like, "Sure. I just got let go from World Industries." Then the second they were going to hire me at Strength, all that drama went down at TWS. Grant Brittain, Dave Swift, Atiba, and Kevin Wilkins left to start the Skateboard Mag and Stricker was the first guy Skin hired to rebuild Transworld. Stricker and Skin then asked me to come down to an interview there and they hired me.
Those TWS staff photographer retainers were still pretty hefty at that point correct?
Yeah, they were huge. four to five grand a month and all the free film and processing.
As the staff writer I was always a little jealous of you guys. You had that huge retainer as a minimum then you could probably double or triple that number every month selling other ads on top. You guys were killing it.
Those were truly the golden years for skateboard photography. The turning point for all of that as far as what I saw was when the digital camera came in. That changed everything. Also, more and more people moved to LA after that. For a second, I think it got overblown and LA kind of died out.
I remember at the peak, Blair [Alley] telling me stories of you living in Echo Park in these houses with no furniture and just collecting all these cars and trinkets. It sounded like you were living the dream.
Yeah, I had bought these two houses. I started buying houses and they were completely empty. I would just buy all these dumb toys. I got into bicycles and I had like five or six bikes that were so expensive [laughs]. I would buy camera equipment up the ass. It was weird too because at that time, if I got into something I just went so hard at it.
LEFT: MIKE YORK, KICKFLIP, L.A. HIGH, TWS SUBSCRIBE AD, VOL. 22# 5, May 2004. RIGHT: SHILOH GREATHOUSE, CRAIL WALLRIDE, TWS POSTER BOOK, 2004
I didn't understand how it was possible until I called them and they told me it was 1K per frame
What was a ballpark peak month for you? Like 30-50 Gs?
Dude, it was a lot. I remember one time I shot for Sports Illustrated and they told me they paid $1000 for each frame—even in a sequence.
Jesus. 20 shot sequence would be 20K.
[Laughs] Exactly. I got a check one time and I thought it was for $2,400. But then I realised the number said $24,000. I didn't understand how it was possible until I called them and they told me it was 1K per frame.
Those were the golden days for sure. Even for the mag editors and writers.
The Internet was already big, but the money was still in the print media. It slowly switched over but as it did a lot of those big money opportunities disappeared. Everything was also at a much slower pace before the Internet takeover. You weren't in a rush to produce and I think that led to more well thought out concepts than now. There was more quality stuff then.
You did a bunch of those creative concepts like the Rodney Mullen primo slide on the Plexiglas manny pad. I always loved those Skate and Create type concept articles. Did you consciously gravitate towards those?
I always loved the concept articles and shoots because it added that extra level of creativity. It gave it a little twist. I did one called "Boys In The Hood" — guys in the inner city gang neighborhoods. Another one was "There Goes The Neighborhood" with guys living in this one-mile radius. We did the "Neverland" article. I thought that skateboarding was always in a dreamscape, we are always trying to live this Peter Pan lifestyle—so I wanted to shoot it like that. There was also the "Six Degrees of Separation" article—where we connected all these skaters up that had never met but had mutual connections.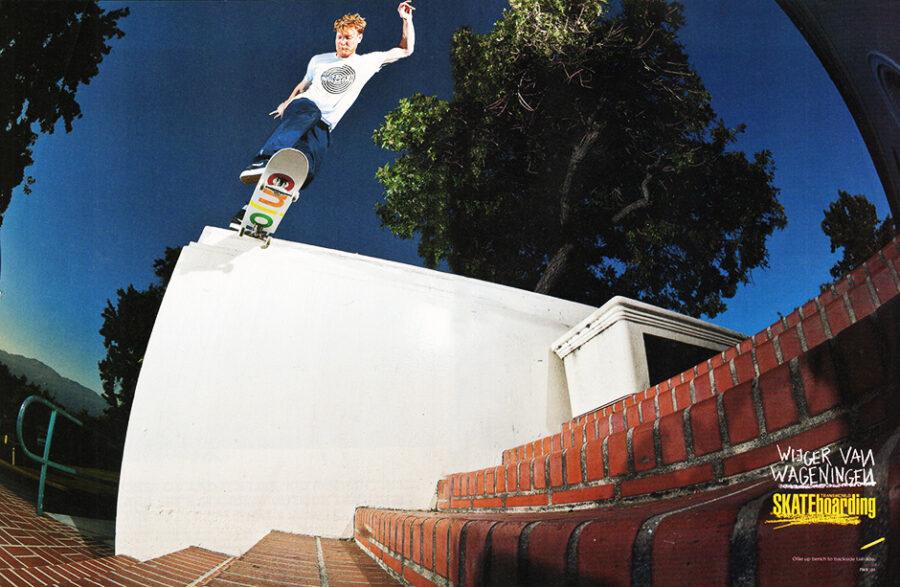 WEIGER VAN WAGENINGEN, BACKSIDE TAILSLIDE FROM HIS 'PRO SPOTLIGHT', TWS VOL 29 #12, DEC. 2011. INSET BELOW: OPENING PORTRAIT FROM THE SAME ARTICLE
Do you have a favorite interview you shot? I still love that Weiger opening portrait with the dunce hat.
[Laughs] That was when I was hanging with the Nike guys a bunch. Weiger and I somehow just clicked. They would always give him a hard time. He was like the troublemaker of the crew. So we made him the dunce and stuck him in the corner.
Any good John Thomas ['80s Alva pro, later Dwindle in-house graphic designer] stories?
When I met him he drove this two-door Mercedes. It was so amazing. I had never even seen one of those. I would talk to JT a lot. He was completely self-taught on the computer. Had taught himself Illustrator and Photoshop and the design programs [Quark X-Press] and he was just so advanced with all that.
I posted this '98 Kareem ad recently to my Instagram and everybody was commenting, like, "Great layout by Marc McKee" and Marc chimed in: "No, that's all JT."
He was super advanced. Everything he did was really high end and tasteful. But that's how everything about him was. His look. His car. His clothes. His design. It was all consistent. His skating had been like that too. The JT air! I looked up to him. He would also make anything work. I loved that about him. He didn't give you direction. And if you didn't deliver what he wanted—he wasn't mad. He would adapt that to his idea and flip it. He would come up with a new concept based on what you gave him to work with. For anybody that does art, that's a good lesson. Instead of being bummed out when you didn't get what you wanted and calling the whole project a failure, JT would bring it new life by flipping it.
Instead of being bummed out when you didn't get what you wanted and calling the whole project a failure, JT would bring it new life by flipping it
 
Best Rocco story?
Dude, I just remember Rocco walking around and he never seemed like he was stressed. He was just the happy-go-lucky dude. He was everybody's homie. He didn't have the boss mentality to tell you what to do. I think that was more Rodney's role. But even Rodney would do it in a nice buddy way too. But when Rodney wanted to put down the hammer, he would let you know. He didn't beat around the bush when it mattered.
Best Kareem story?
I wouldn't see him that much in the office. Actually JT handled a lot of Kareem's stuff. He handled Axion and Menace/City Stars. Kareem would pop in and out at times but he was mostly on the skate sessions.
That's funny, I would never have guessed that JT, the '80s Alva pro was behind Menace and City Stars. You and Daewon have always been linked in my mind. Can you describe your relationship and what it means to you today?
I hung out with Daewon, Shiloh, and Enrique [Lorenzo] a little before I even worked at World. Once I got a job at World Daewon was just the person that skated the most. He elevated and just blew past a lot of the other skaters in terms of progression and how hungry and dedicated he was to skating. I would wake up in the morning and I would call the dudes. They had like 70-80 riders. So I would call them all pretty much and leave messages every morning. Whoever called back was who I skated with that day. But Daewon was the dude that would always call you back. I would turn in my gas receipts, and when I turned those in I could tell who I skated with based on where I went and with whom. Almost all of them would be like "Daewon/San Pedro" or Daewon somewhere else. I remember them at one point asking like, "Is Daewon the only guy that skates on our teams?" But anybody that ever asks me about Daewon I say this. That guy loves skateboarding. He could skate an empty parking lot for days. That's his deal.
DAEWON SONG, TAILSIDE, 2005 AND REPRINTED IN THE TWS 30TH ANNIVERSARY ISSUE, VOL 3 #1, JANUARY 2012. INSET BELOW: JORGE RAMIREZ DIAMOND AD, THRASHER, APRIL 2015
That guy loves skateboarding. He could skate an empty parking lot for days. That's his deal
The skate photographer gravy train seemed like it started ending over the course of the 2010s. You also went through some changes you mentioned stopping drinking/smoking. How did you manage that transition?
It was gradual. My downfall was when I let the drinking and smoking get in my way. This was probably around 2012 to 2014. I started losing it. I got extremely lazy. I basically lost my position in the skateboarding world. I didn't care to shoot photos. A lot of things were changing. I was getting older. I was in my 40s going out with the 20-year-old relevant hot kid of the day. It's hard. You have very little in common. It was a reality check. But honestly after I stopped smoking and drinking I was able to re-spark it. After that, I worked at Diamond for six years.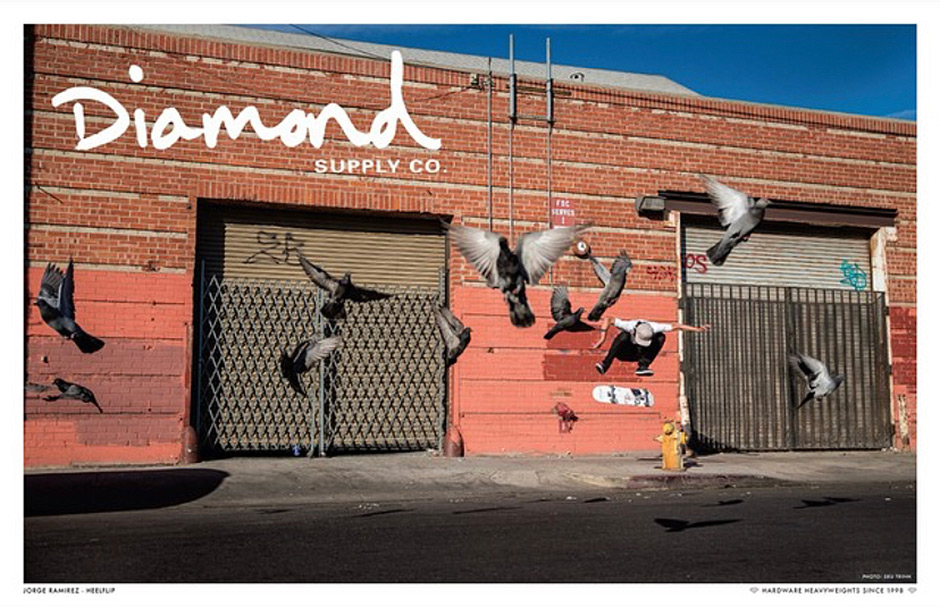 The brands became the content creators as the mags faded.
Yeah, they kind of took that role over. I realized I could still play a role. The people who hang out the most with the pros in the streets are the photographers and filmers. So we always get to see firsthand the lifestyle of the pro skater. So I think we always have a good eye for what's relevant and cool and hip.
Is it still a rush seeing a photo of yours on a billboard?
Absolutely. Even just something printed still makes me excited. Especially nowadays, where everything is on social media. When you actually see your photo printed today that means somebody wanted to spend the extra money and time on it. It means that much more. That's why I never really had any art shows or photos shows. Every month was a photo show for me when my photos got printed in the magazine. The only show I ever had was with the Almost dudes at Kingswell. Even then it wasn't only about me. It was about me shooting their team for all those years. I didn't want it to be all about me. I didn't want all that weight and stress.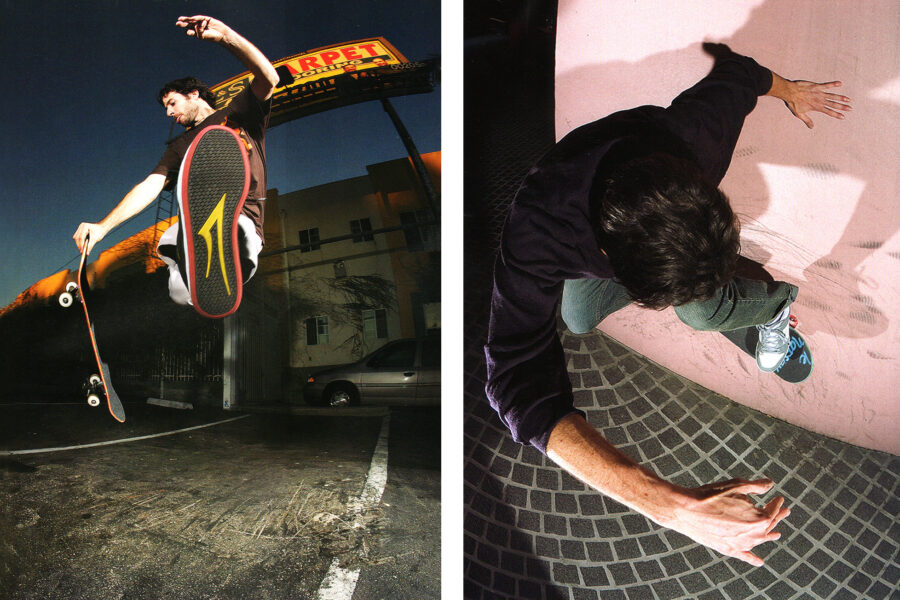 MIKE CARROLL, AIRWALK (" THE FIRST DIGITAL PHOTO I HAD PRINTED." — SEU) AND BRIAN LOTTI, BACKSIDE WALLRIDE BOTH FROM THE TWS PHOTO ANNUAL, 2005.
Best/favorite guest trick you have had in a video? I know you rip.
[Laughs] I'll go with this one. In one of the Logic videos, there's clip of me smashing one of my flashes on the ledge after it didn't go off. Danny Garcia does a noseslide nollie heel out. I'm shooting a flash sequence and the flash didn't fire so I just smash it into pieces. I have a shaved head, so young and innocent.
All-time favourite board graphic?
I was always into Natas. So I loved all those Santa Monica Airlines graphics. In high school one time I drew the Satanic one where he's on the pentagram, holding the dead bodies for art class. Somehow the English teacher saw it later—it wasn't even for his class—and he was so proud of me. To this day I trip out on it. I brought it into his class to dry because the paint was still wet and he was like, "This is amazing!"
Maybe he was a Satanist. Favorite Dwindle employee?
Rodney. I have to pick Rodney. He was the guy I dealt with the most. I love Rodney.
Favorite Dwindle brand?
Menace. I loved the fact that they were the underdogs. They had so much flavor. I loved hanging out and shooting photos of those guys. Eric Pupecki—I tell people to this day—I didn't shoot too many photos of that guy but he was the one that had the most photos shot that got used. Almost any time I shot a photo of him—it got ran. It was guaranteed. It was the little details too. Like that one clip of Pupecki doing a backside 180 fakie 5-0 at Lockwood on the picnic table in Trilogy ('96). He's wearing a beanie and the beanie has those little balls hanging off the top. Somehow even that detail just made me think it was the sickest clip ever.
All-time favourite skater?
I can't do one. I'll do six: Natas, Daewon, Rodney, Gonz, Koston, and Guy.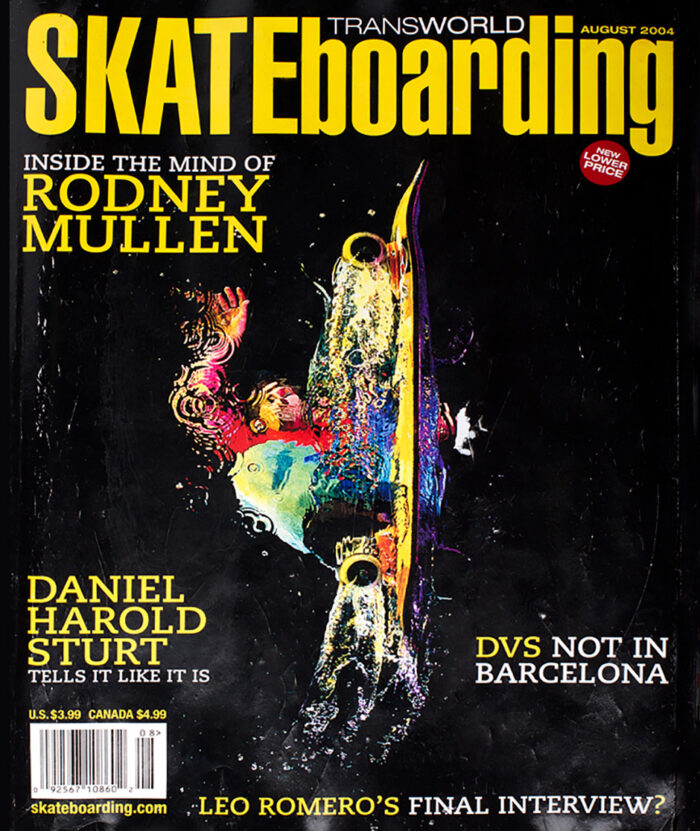 RODNEY MULLEN, PRIMO SLIDE, TWS VOL. 22, # 8, AUGUST 2004. THIS WAS THE ALL-TIME BESTSELLING ISSUE OF TWS. SEU FAMOUSLY LAID UNDER A PLEXIGLAS MANUAL PAD COVERED IN WATER AS RODNEY SLID ABOVE HIM (OUTTAKE INSET BELOW)
He looked at it and eventually said, "Who shot this?" They told him I shot it and apparently he told Skin: "Tell that kid that's the only skate photo I wish I would have shot.
All-time favorite skate photo?
Oh man. Probably something by Dan Sturt. It's so hard. Maybe [Matt] Hensley—the ollie on the freeway overpass [TWS Pro Spotlight Aug. 1990] or the cowboy hat [TWS 1992]. When you see art created you can see the reflection of the person who created it. Sturt didn't shoot too many photos. But he thought everything through. As a person he must be very meticulous.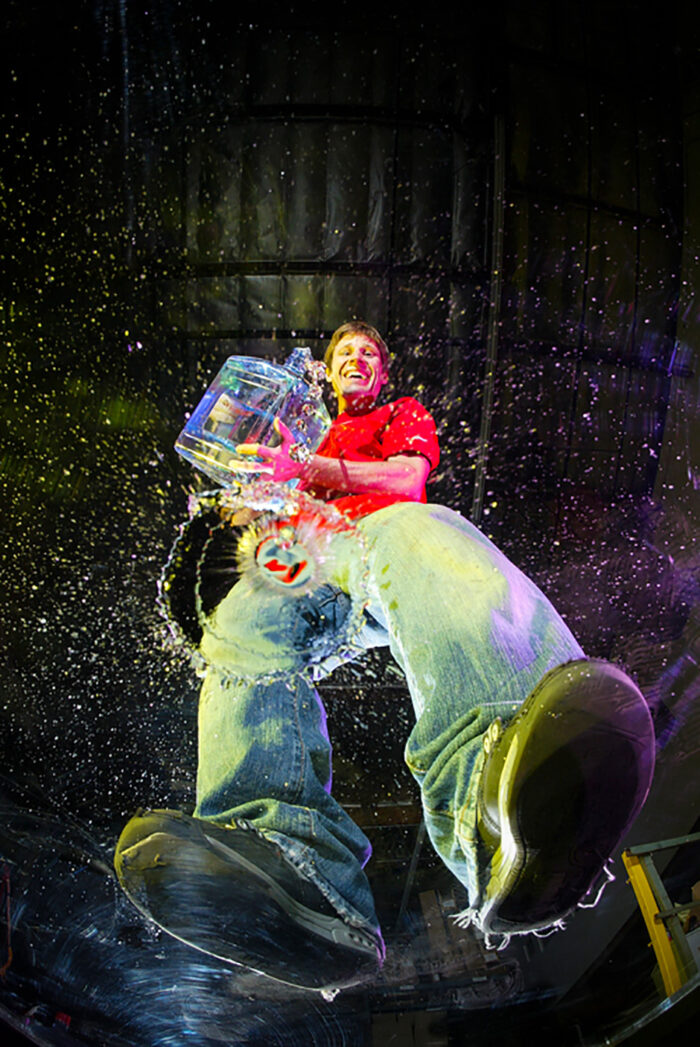 All time favorite skate photographer?
Sturt. Anything that that dude shot is magical. He actually gave me the biggest compliment of my life—at least skate photography-wise. In that same issue as the Rodney cover, Sturt has a portfolio interview. So during that issue he came into the Transworld office. Apparently he went in and was like, "All right, let me see my article laid out." They showed him the article. Then he was like, "All right, now let me see the cover." He assumed he got the cover you know. So they told him, "Oh you didn't get the cover." And he was like, "What? Who got the cover? What photo got the cover?" So they showed him the Rodney photo and Skin (Phillips) said he was silent for a bit. He looked at it and eventually said, "Who shot this?" They told him I shot it and apparently he told Skin, "Tell that kid that's the only skate photo I wish I would have shot."
Wow.
I guess he walked out of the room and Skin was like, "That's the biggest compliment anyone could ever get." I was so flattered. I didn't hear that story until years later when Skin told me.
I loved your recent post at the Venice park with the dude pushing mongo giving the nod to the girl skating in the long dress there. There is something magical in seeing us all coexist. Can skateboarding save us?
I think skateboarding can distract us at times from all our stress and problems. It's an activity that can burn off bad energy. You burn off the stress and you won't be overwhelmed by the politics of life. It's an activity for everyone. All ages. All races. Skateboarding to me was also always an outlaw thing to some degree. If you're a street skater, you're causing damage to people's property in some way or another. There aren't that many groups willing to go against the law and create destruction. I put skaters in the same category as bikers, and graffiti artists. But when you have a group of people that agree to cross lines like that, I think that's where the unity comes from.

NATHAN KO, BACKSIDE TAILSLIDE, JANUARY 23rd 2020
There aren't that many groups willing to go against the law and create destruction… But when you have a group of people that agree to cross lines like that, I think that's where the unity comes from
We're already a little outside the norm so that bonds us?
Totally. 100 percent. And that's what strips down the prejudice and the judgment. We're already trying to do something that we shouldn't be doing. Let's not judge each other on the petty stuff like race or sex or this and that.
It's really hard and dangerous too. So even if it's legal in a skatepark, gravity is still sort of telling us not to do it. We are defying the laws of gravity too.
100%. And I feel like even skating a curb the other day. I went to do a lipslide on a curb. The curb is no more than three/four inches high. I got stuck and flew right onto my tailbone. I was like barely able to move for a day. It's a reality check though how dangerous skateboarding is and how really we aren't supposed to be doing it. But again, we are all united in our defiance. At the end of the day, skateboarding is defiance.
---
* Globe sold Dwindle in 2019 for an undisclosed amount.
 
Huge Thanks to Seu for all his contributions to skateboarding and skate photography.
Follow Seu on Instagram at @seutrinh, Mackenzie at @deadhippie and Transworld at @transworldskate. 
Previous articles by Mackenzie Eisenhour: Sebo Walker Talks Quarantine / Dressen at Southbank 1987 / The Suzuki Banks with Jeff Hartsel & Ed Templeton
More photo stories: Andrew James Peters: Mentors, Heroes & Monster Children / LIGHTBOX: Gino Iannucci by Ben Colen / LIGHTBOX: Karl Watson by Mike Blabac