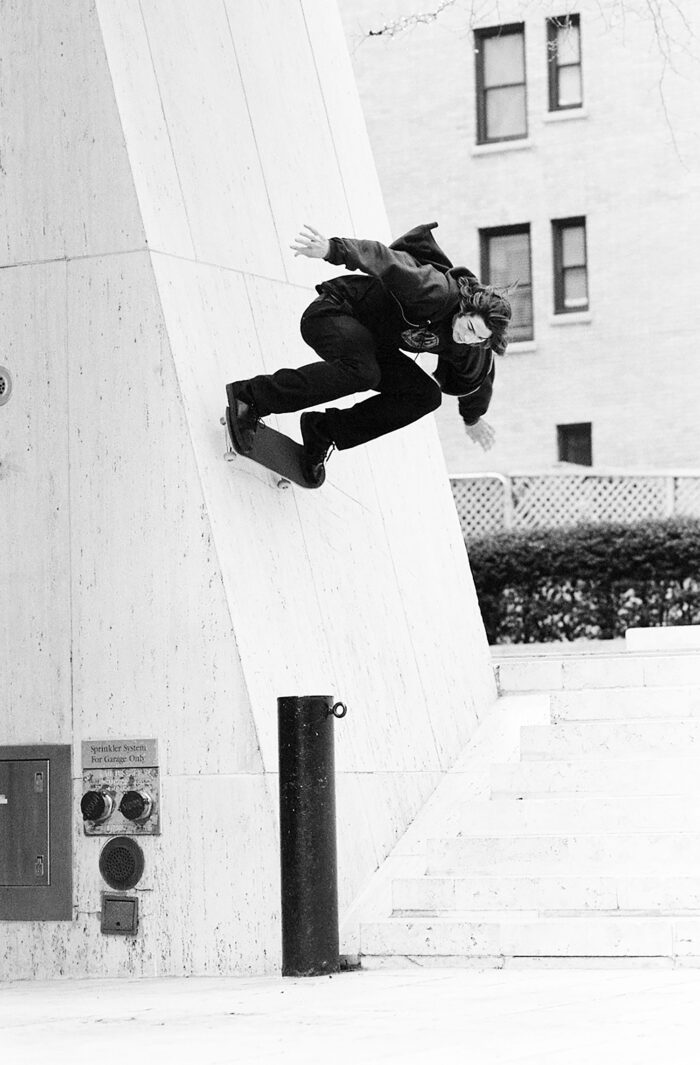 Jake Johnson by Jonathan Mehring – switch wallride, New York, 2008
Words by Farran Golding & photography by Jonathan Mehring
It's easy to view our personal heroes as definitive figures who – without which – skateboarding couldn't exist as it does today. While our culture is a widely subjective one there are contributors to the timeline whose impact is gospel amongst folklore. Whether through style, progression or because they simply encapsulated how it feels to skate in a certain city, at a certain point in time; their lasting echoes are perhaps the truest reflection of their cultural stature. Years pass and video parts become 'classics', photos become 'timeless', tricks become insignias and even silhouettes tell all. Careers turn into legacies as new generations cite the influence of their predecessors who were often at their prime, or at least emerging, by the turn of the century. 
2009 and 2010 are pivotal years in skateboarding, especially to me as a skateboarder now in my mid-20s. That final period of storied full-length videos and print rule – when skateboarding had a fledgling existence on the internet – feels like only yesterday. Certainly not past tense in the same vein as the '80s or '90s; the influence of notable parts and people which emerged across those two years are ubiquitous to the point of still feeling fresh. In that instance, if a skateboarder came into prominence not all that long ago, broke ground and guided their contemporaries, is their stature on par – or even paramount – to those whose impact has had decades to marinate? The person I'm alluding to reshaped the idea of skating, "as far as a career and the process of filming video parts" goes, for Gilbert Crockett. "He was like a mythological creature", "a thinker" and the author of an "influential, timeless part" to Brad Cromer. And "the kind of skateboarder that people want anything out of", according to Tom Knox. This is a story about Jake Johnson, and it begins with a photo.
Around two years ago I came into possession of a framed, signed print of Jake. Locked in a switch wallride high above a stairway below, the setting's geometry could pass for a Blade Runner backdrop but this moment finds us in Manhattan, New York – seconds before he rolls away from his ender in Alien Workshop's Mind Field. It was shot by Jonathan Mehring, photographer and mainstay at Skateboarder Magazine, renowned for his National Geographic published tome, Skate The World.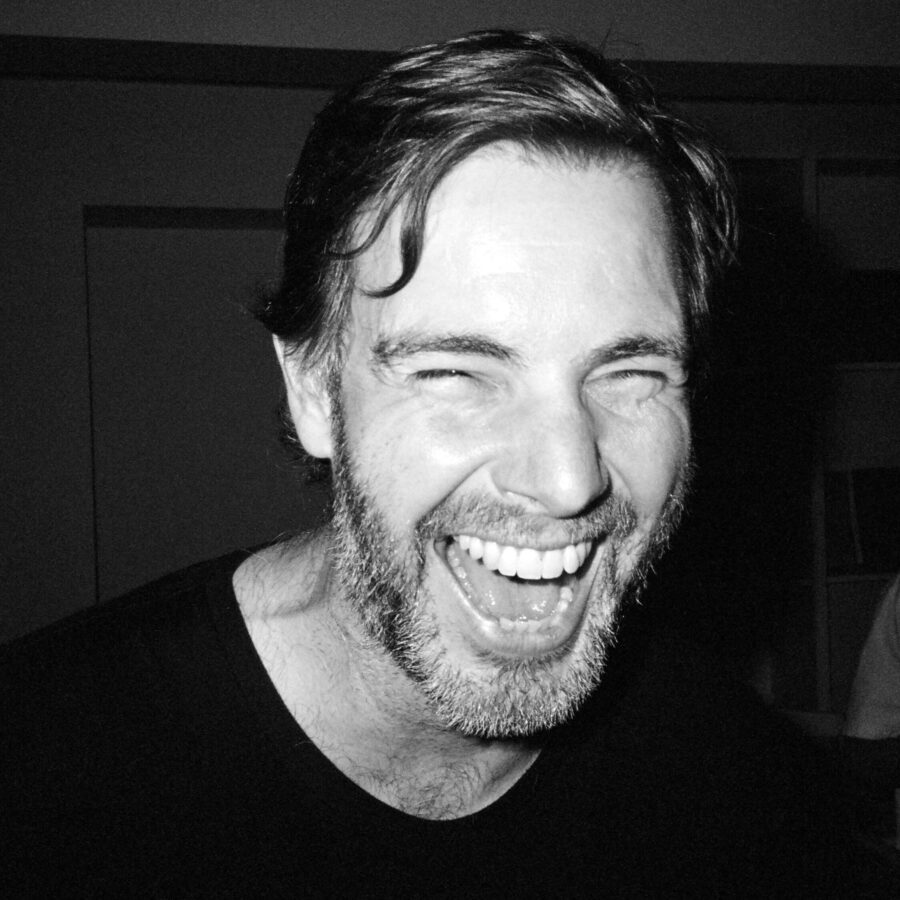 Growing up in rural Virginia, Jon was already infatuated with skate photography by the time he picked up a camera in high school. "I was always reading the photo credits and wondering, "Who are these guys?" – namely, Giovanni Reda and Mike O'Meally – "and thinking, "Man, they're up in New York and it looks so awesome." I was into urban decay, sneaking into abandoned buildings and taking photos of that throughout school and I guess you get a lot of that on the East Coast." He always aspired to move to New York, but believed he couldn't without knowing anyone beforehand. So, there were a couple of pit stops: first, after graduating from Virginia Commonwealth University in 2000, Jon moved to Washington DC where he'd spent weekends during his studies, shooting for Slap Magazine.
"I did an article on DC called 'The Forgotten City', that was the first thing I did for Slap and how I got on a retainer, actually. It was right when I figured out how to expose slide film and I knew that I could nail it. Suddenly I had it dialled then I got really motivated and I was hungry as fuck. It was exciting," says Jon. He enjoyed shooting with friends and locals who'd had some notoriety during the days of Capital Skateboards and Nicotine Wheels, whereas Slap were keen for Jon to get out with the likes of Kerry Getz, Mike Maldonado and "guys who were super relevant at the time," he says, generally speaking. "Which makes sense, but I had to learn that." Although New York was still in the back of his mind, the release of Photosynthesis made Love Park the place to be. After talking to Mark Whiteley and Joe Brook at Slap, Jon's retainer got a small bump and he was on his way to Philadelphia less than a year after arriving in DC.
"It was really tough at first because I didn't know anyone," says Jon, although he adds that Rich Adler and Jack Sabback – still close friends to this day – made him feel welcome quickly enough. "So I ended up shooting with those guys and then Slap are like, "Where's the Josh Kalis photo?" Jon recalls, chuckling. "It was a weird Catch-22 situation because those guys [like Kalis] were aware of me but they wouldn't shoot with me because they hadn't seen me come out with anything from Philly. They'd seen me shooting with Jack, Rich and guys on that kind of tier but those guys weren't going to give me the time of day without seeing something first." 
Slap acquiesced and ran a photo Jon shot of Rich Adler backside lipsliding a block of ice. It sparked his reputation, leading to him shooting with Kalis for the first time alongside scoring his first cover. "That really established me and suddenly everyone would shoot with me after that," says Jon. Over the next two years, he continued shooting in Philly and going on tours for Slap. A couple of which standout because he feels lucky he wasn't let go after both of them. One, to Europe, which Jon came back from with a three inch stack of negatives of "the worst street photography you could imagine" but enough tricks for an article, thankfully. The other, to Hong Kong, where a miscommunication about his photos being "too dark" led to the majority of them getting overexposed. Although, one great image came out of it: a photo of Kenny Reed which (unintentionally) became an ad for his iPath pro model, 'The Traveller'. "I'd said, "I kind of need that for the article, dude. It's like the lead image," and he went into Slap, stole it and sent it to iPath," laughs Jon. "Actually, I think he just took it to Dan Wolfe's house because he lived in S.F. and he was laying out their ads. Slap were super bummed about that but it didn't kill the article, luckily, and it actually started Kenny and I out on a great relationship."
There's this kid, Jake. You've got to shoot with him.
Back in Philadelphia the shine was wearing off, partly as a result of the city's hostility towards skateboarding at Love Park. "The first time it got shut down Kalis moved back to Chicago, a lot of people went to L.A. and it was just a shitty time to be in Philly. Philly was kind of a negative city to be in anyway and I reacted poorly to that," says Jon. "The glory days were over. Ryan Gee wasn't shooting as much, it was just time to move on and I figured, "I've always wanted to move to New York since high school… I'm fucking going to New York."" He headed home to Virginia and began saving money from shooting ads until a friend, who also wanted to move to NYC, got in touch as he'd found a place in Fort Green, Brooklyn. They'd go on to share a single room within a three bed house, by way of a mattress on the floor and $600 of split rent – until enough nights hanging out at Max Fish brought about a better living situation. "It was so awesome. It was a very lawless time in New York," says Jon, regarding the spring of 2003 when they moved into a 2500 square foot loft consisting of shanty bedrooms, a wall of windows and an industrial heating unit that hung from the roof by chains, dubbed 'The Face Melter''. The following year, Jon left Slap to work for Skateboarder Magazine; orchestrating grand scale trips and shooting in the city during the interim periods. Then, around late 2007, a fresh face from Pennsylvania came to Jon's attention thanks to Bill Strobeck. 
"He was like, "Man, there's this kid, Jake. You've got to shoot with him." By this point I felt I was already established, even though I'd only been in the game for maybe three years, but I'd been on a bunch of tours and most people knew my name. I was keeping an eye out for the up-and-comers even though I was probably still considered one myself," says Jon. He speculates that he hadn't seen Jake's debut part in Chapman's Short Ends, or even heard of him aside from Bill prior to them meeting. "Anyway, Bill says, "Meet us at the Brooklyn Banks, we're going to try and shoot this trick," and that's when he did the wallie to frontside tailslide on that flatbar. I think I shot it twice so Bill could film it, once long lens and again fisheye, and he did it at least two or three times. No problem. That was mind-blowing for all of us – or for me and Bill anyway," laughs Jon. "Like, "Holy shit, this kid is a fucking unicorn." 
They became good friends from there and quickly got to work on an interview for Skateboarder, with Jon capturing much of Jake's part in Mind Field along the way. One of them being his ender: that unfathomable switch wallride. It's the stuff covers are made of but, strangely, it wasn't a cover and it wasn't in Jake's interview either. It ran as an advert for his shoe sponsor, Gravis. For all the nostalgia which is unearthed and archived nowadays, late '00s skate media hasn't enjoyed its digital second coming like the preceding decades have. For as long as Jon's photo of Jake has hung on my wall, it's puzzled me that this image – so symbolic of one of the most noteworthy skateboarders and video entries of the last twenty years – seems to have flown under the radar a little. Seeking to rectify that, I got in touch with Jon to talk about that day with Jake, and in the process I got to vicariously live through an era of New York skateboarding which I've spent a chunk of my formative years admiring from afar.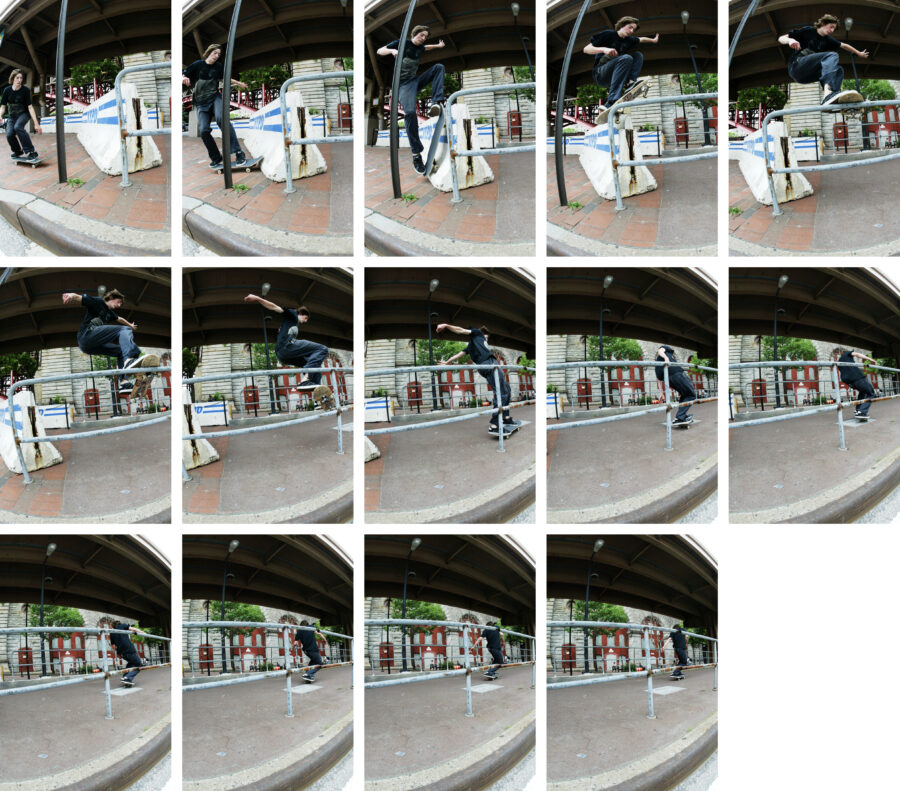 Jake by Jon at the Brooklyn Banks on the day they met / Inset above: Jon by Quentin De Briey
He was super focused and seemed really aware of his capabilities and value from the start.
Obviously Jake made some first impression at the Brooklyn Banks but did anything stand out about his personality right away?
Not at first, but once I got to know him I was very impressed with how he was super focused and seemed really aware of his capabilities and value from the start. He's a unique person. It's almost like he understands reality on another level than most of us do. He just sees the world so differently. You can tell that from his skating but it's on every level. 
I remember he got a Ducati racing motorcycle at one point. I was like, "Yo, that's sketchy. Have you ever rode a motorcycle before?"
"No, but I just know how to move through space on it."
"Alright, dude. I guess you do then. I'm not going to doubt you."
As far as I know, Short Ends premiered in late-2007 but wasn't released until mid-2008. If you come out of nowhere riding for a local brand, then by the time your first part gets seen you've been picked up by Alien Workshop, while they're working on their first video in a long time, then people are going to be intrigued. There's a sense of mysticism surrounding Jake, do you think the circumstances of how he came about created that from the get-go?
Yes, for sure, but I also remember that some of the Workshop were unsure of how he was going to do. I don't know if they meant with the team, or in terms of his skating, but there was some doubt and I was like, "You guys are crazy. I've been shooting with this guy for the last six months and he's on fucking fire." Obviously it worked out but I remember being surprised about that, although it might have just been a comment I'd overheard. 
Anyhow, he went on a trip and he didn't even skate. They're like, "What's wrong this kid, he's supposed to be amazing," but it was because he hadn't found a spot he wanted to skate. This is what I'm talking about when I said "he knew his value". He didn't feel the pressure to be the young skate rat on a trip, to get a trick at every spot, to prove something or show how gung-ho he was, you know? 
I wasn't on the trip, I just heard about this, but I believe it was the last day and he did that tailslide [in Mind Field] on a ledge, off of some stairs, with a slightly sloped wall underneath it. It's like ten feet high. That was the only trick he got on the whole tour but it was obviously heavy as fuck.
He was so mature in a way. That's like a move a veteran pro would make. They'd wait until they find the right spot and then do the best thing ever on it.
A Heath Kirchart approach.
Exactly, and he was probably influenced by dudes like that. Less is more, you know?
It was 2007, into 2008, that we shot so much and did an interview for Skateboarder. That was Bill's idea, he was adamant we shoot it on film and at the time I had just switched to digital.
Let's see… I did the Trans-Siberian trip in 2007, and that was the first trip I took a digital camera on, so it had to be '08 when we finished up his Skateboarder interview. I was using my old Nikon F5 film camera, and it was actually quite fun, but I remember he did a kickflip back lip on Black Hubba which I shot as a sequence. I don't know if you can tell in the magazine but every frame of the sequence was a different exposure and it was because the camera was breaking [laughs]. 
Maybe a few days after that, I shot a sequence of Tino Razo at Columbia University. It was a weird combo trick on this transition wall. Like ollie up, do a trick, and then a trick off. It was like a thirty frame sequence and something was going wrong. I opened up my camera and all the shutter blades fell out. I didn't have a film camera for a very long time after that.
The swan song for Jon's Nikon F5. Jake kickflips to back lip on Black Hubba, 2008. ph: Mehring
Apparently the first time Jason Dill met Jake he told him that: "You could ride for the Workshop or you could ride for some other company that's barking up your tree, but if you do, I won't ever talk to you again." Any idea of how he came to Dill's attention and do you know if other companies had Jake on their radar?
I think a lot of people had Jake on their radar once his [Short Ends] part came out. I also know that Dill really wanted him on the Workshop, because Dill was a big fan, but I think he was playing hard to get and messing with him a little. As Dill does. I also heard another story that they were skating at Tompkins and Dill said, "If you do a nosegrind nollie flip out on the flat bar – first try – then you can ride for the Workshop." And he did it [laughs]. It was like a six inch high flatbar, but still.
So the photo you shot of his switch wallride from Mind Field, I know this is basically the same place where Dylan Rieder frontside kickflipped over a planter in "cherry" but what's the geography of the place? Was this area getting skated a lot back then?
I mean, it's a spot because right in the beginning of the run up for the wallride is this hubba…
Where Jake also did a nosegrind revert, right?
Yeah, that fucking thing [laughs]. That thing sucks. There's a crack at the top of the stairs, there's a tree planter about four feet away from the ledge, meaning you have to ride up right next to it, you can't get an angle at it so it's awkward as hell. Then in the landing there's a hydrant and a telephone pole. The hubba itself is great but everything about the surrounding area is awful.
The wallride, I feel like he had already tried it. He said, "I'm going to do this switch wallride" and I remember talking to Bill and I don't think I understood exactly what he was talking about – because I always looked at that spot as the hubba. I don't think I'd really looked at the wallride. I don't know if anyone had even done a wallride on it then, maybe before the pole was there?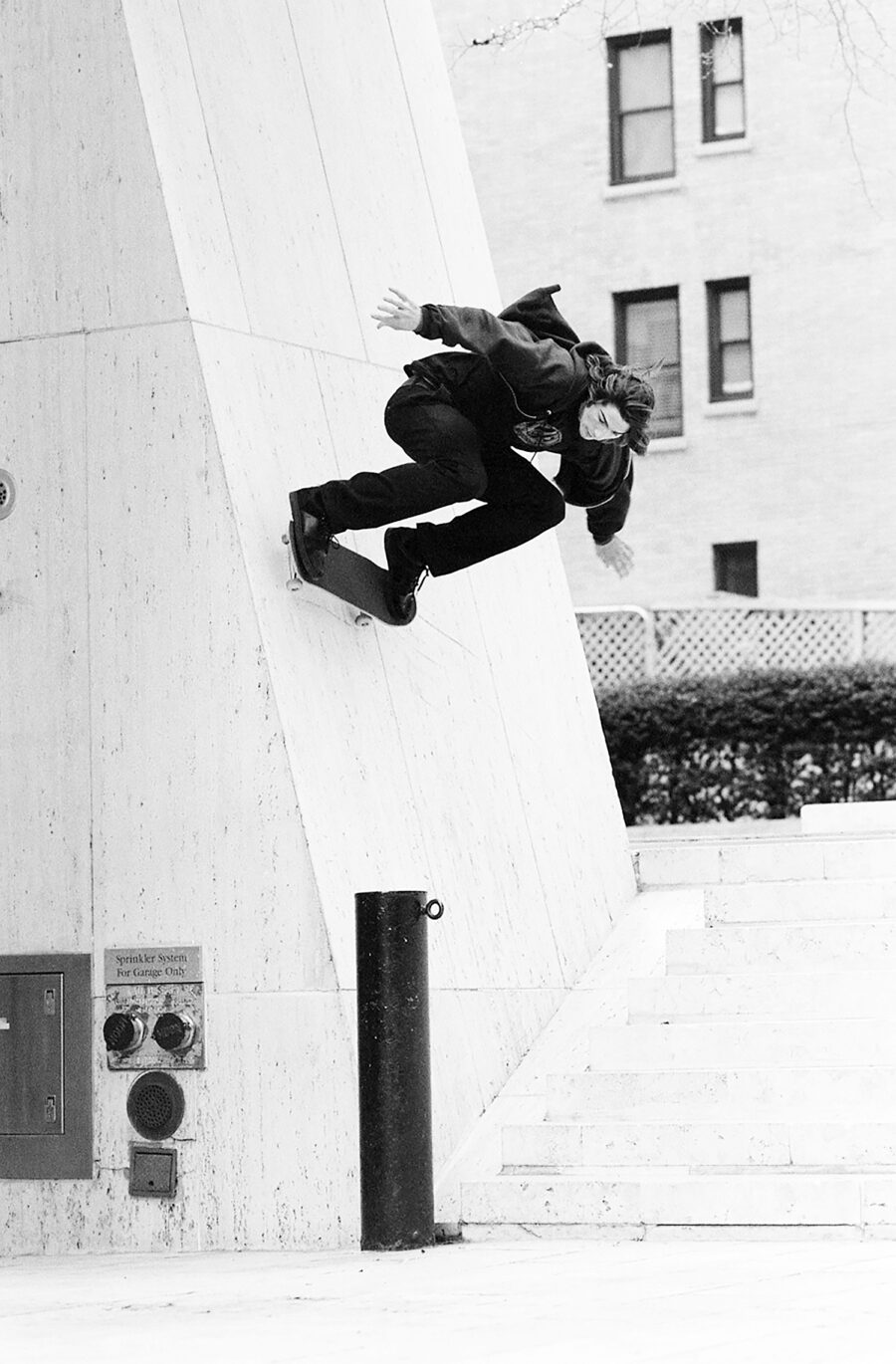 Switch wallride, Manhattan, 2008. ph: Mehring
It was the talk of the town but so much of what Jake did was the talk of the town.
Kosta at Quartersnacks told me that nobody had hit the spot in that way before Jake.
That's what I thought, so I don't think I was even sure of the wall he was talking about, but we went up there and he just fucking did it. Honestly, there wasn't much to it.
The thing about that spot was: it's a bust. The geography of it is that it's right below Central Park, on 58th Street, but 59th is also where the tourist traffic is. 58th is quite calm but the security is gnarly and they come out the second that they see you. That's why I shot it in black and white with no flashes because you can't really set up there. I had a long lens and I was hiding behind one of the pillars so the security desk couldn't see me. The whole run up isn't visible from the security desk but as soon as you land on the ground you're directly in front of it. Anyway, yeah, it didn't take long. Just a few tries. He did it and it was so mind-blowing that I don't know if we even said that much. I don't think I shot more than ten frames.
It was the talk of the town but so much of what Jake did was the talk of the town. The wallie tailslide, the wallride down the double set, the switch wallride, almost everything he did was like, "What the fuck! I cannot believe this dude."
How did Jake react when he rolled away?
I think he was just happy. We shot a portrait or two afterwards, real half-assed, and I think I have a photo of him sitting on the stairs where the Apple store now is on 59th and 5th and he's eating a hotdog or something [laughs]. Like it was just a regular day of skating. "You got a trick? Alright cool, let's get something to eat."
Before this, I hit up Ryan Allan for some insights because he shot for Gravis, where the photo ended up. Here's a direct quote from Ryan: "Pre-Mind Field, Jake was this mythical being I'd hear Arto [Saari] and Dylan talking about. I remember one of them saying he was changing skateboarding. He could imagine tricks we weren't really thinking about yet." 
Oh yeah, I mean a switch wallride was unheard of. A wallride itself was like a trick an old schooler would do. Switch? No-one had thought of it. I'm sure it had been done but it wasn't 'a thing' people thought about doing.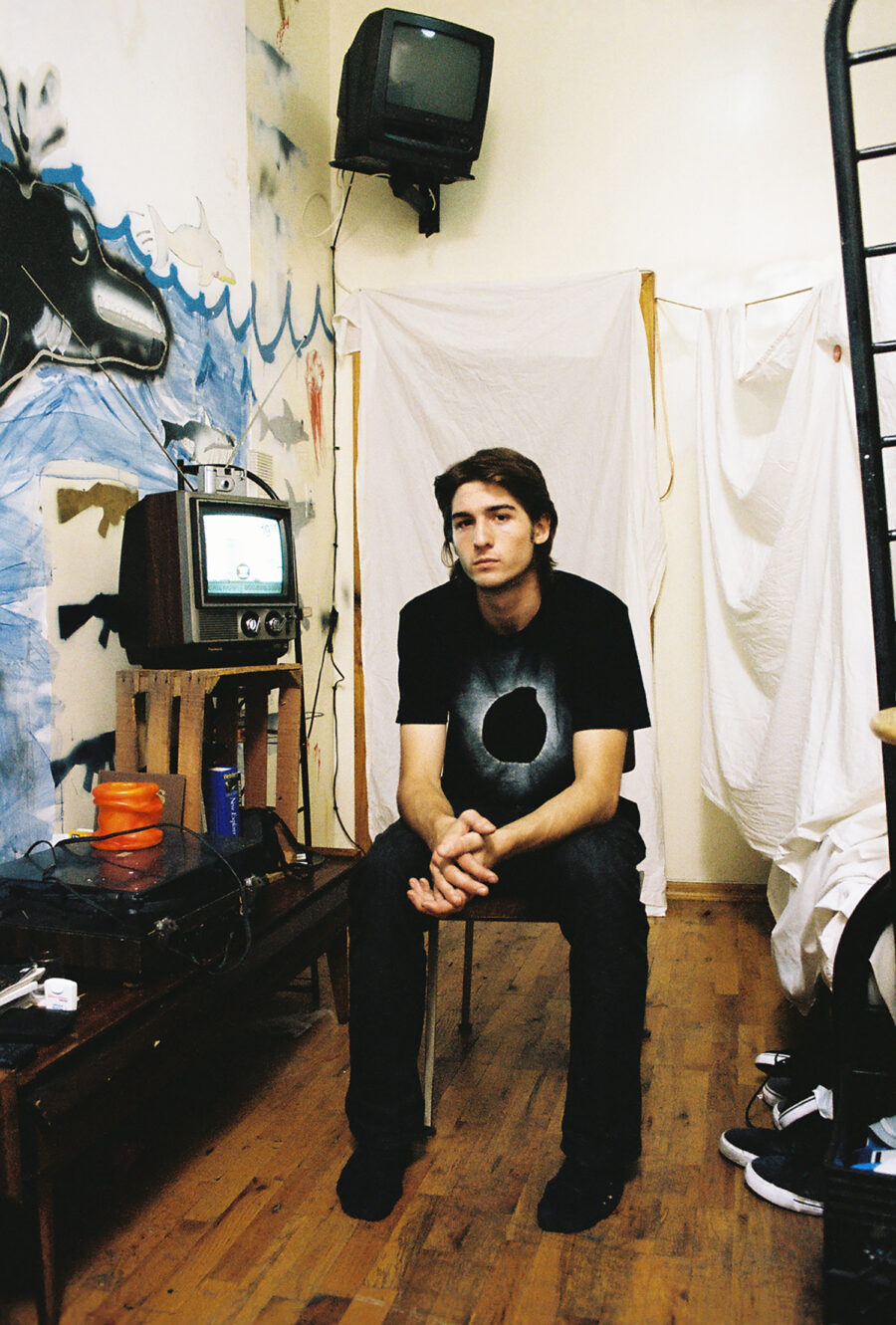 Was the weight of what he was doing apparent at the time or has it hit you in retrospect?
No, I was blown away. The gravity of it was definitely not lost on me [laughs]. It was so exciting to shoot with him because I knew he was going to do something groundbreaking every time.
Kosta also told me that people would see that kid, Brengar, at Tompkins after he'd been filming with Jake and the speculation of what he'd been trying would fly from there. Do you remember catching wind of any rumours and staying quietly amused rather than confirming anything?
Oh, I don't know, maybe. That was, like, Autumn Skate Shop days and I was just with Jake a lot at the time, especially when he was skating in New York at least. I was travelling a ton for Skateboarder, so we'd always try and link up when we could, but I feel like I did shoot a lot of the stuff he did back then.
I'm really happy you've brought Autumn up. There's this shot in the opening to Jake's Mind Field part where he's wearing an Autumn shirt and it's always stuck with me for some reason. Tell me about the significance of Autumn during those years?
It was major, kind of like what Labor is now but in a different way. It had more of an artistic vibe to it, I think, because of the guy Dave [Mims] who ran it. It's hard to pinpoint exactly what it was. It was right next to Tompkins, which was great, and they made these awesome t-shirts [laughs]. But the vibe of the shop was so mellow, it was one of those shops where you could go and shoot the shit all day long and not get bored. 
Literally everybody went there and you were guaranteed to bump into a friend to hang out with, get some food, skate Tompkins for a little bit, go on a little mission, maybe try and get a trick. It was just a nice, relaxed time of skating in New York. It was an exciting time too, I guess because of Jake and a handful of guys who were rad to see skate. Dill was around and I think Danny Renaud was up here. Anyhow, the whole period from 2004 to 2009 was really the golden era of skating in New York.
Would you say the influence resonates to this day though?
For sure. For a certain generation it definitely does, if you started skating and Autumn was your shop, like people of Jake's age, really. It was the core shop, basically. It was the shop that was accessible for people who were into the granular details of skateboarding's inner workings. It was before Supreme had made their comeback and there was KCDC in Brooklyn, but they were a Brooklyn shop, you know? They did cool stuff but it wasn't put on the same pedestal. I think a lot of that had to do with proximity for Autumn.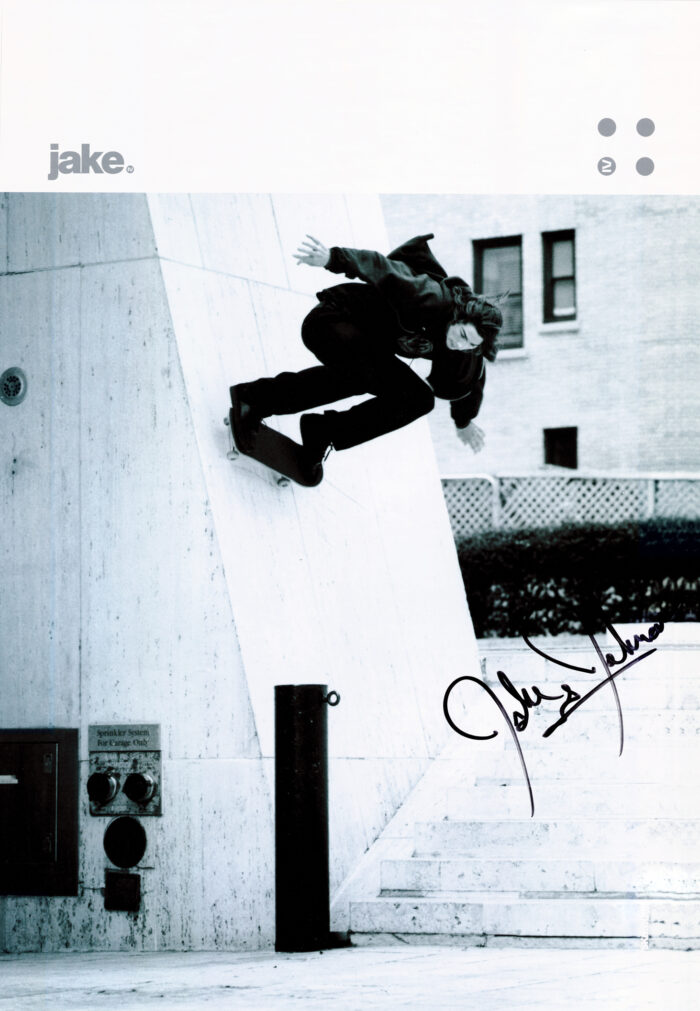 The poster of Jake's Gravis ad which set this thing in motion
Anyway, back to your photo. Maybe it's because I'm looking at it through such a retrospective lens but I'm baffled this wasn't a cover. Especially considering that you were with Skateboarder and working on an interview with Jake. How come it ended up as an ad for Gravis?
[Laughs] They were super bummed at me. Basically, I didn't even tell [Skateboarder] about it because, before we went up there, Jake said "I want this to be my Gravis ad."
Was that his first Gravis ad?
I'm not positive. Maybe Ryan Allan shot his first one but it was one of the first, for sure. 
So yeah, he was like, "I need a Gravis ad and I want it to be this" so that's why. Later on, Jaime [Owens – then editor of Skateboarder Magazine] was like, "Dude, that could have been a cover!"
"Sorry, defer to Jake on that…"
Would you often let the person you've shot with have so much say in where a photo ends up or was it just because you guys had a good relationship?
I mean, ads paid extra. I was on a retainer so if a skater wanted an ad from a photo, after being in the game for several years, and especially paying New York rent, I was like, "Let's get the ad!" [laughs]. Early on I'd say I would have fought against the ad like I did with Kenny. I was actually bummed about that [photo becoming the] 'Traveller' iPath ad but in retrospect way more people saw it because of that and it was actually pretty cool.
Was there any thought that Jake could do something just as good, which might make for a cover?
I wasn't trying to get a cover at the time, I was just down to shoot. I think there was a subconscious thing of thinking "This dude is amazing so what's one more? Of course I can let one go for an ad because he's going to get something else which is equally as crazy."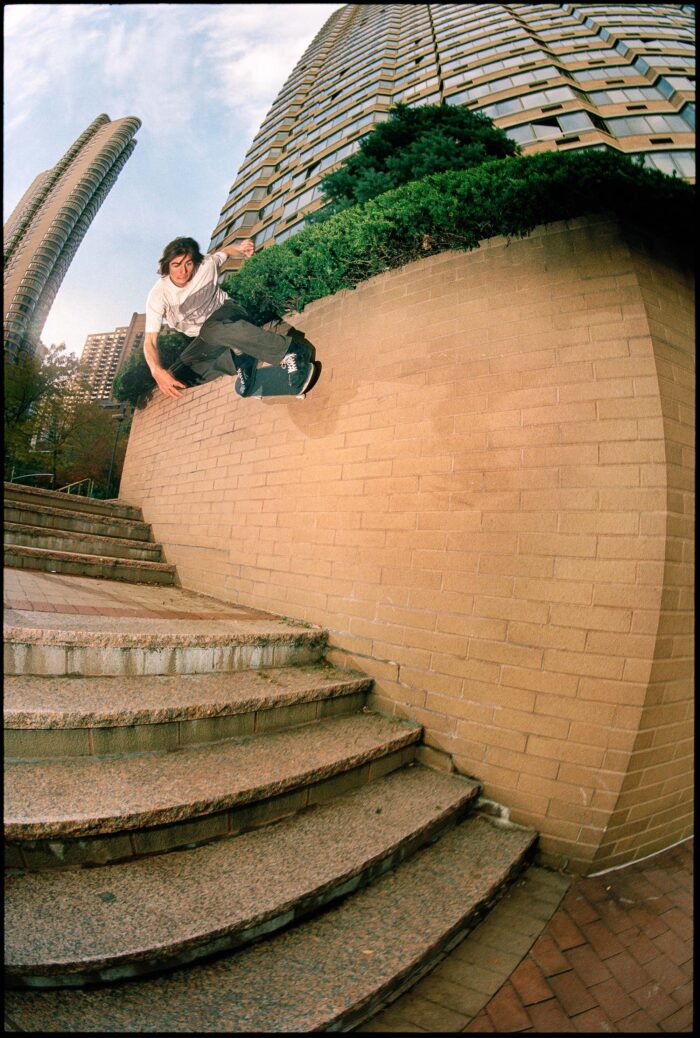 Jake's other wallride from Mind Field. ph: Mehring
How far apart from the switch wallride did his regular wallride down the brick double set happen? That one did run in Skateboarder.
I actually shot that [regular] wallride after he had filmed it for the video. This dude Zach Moffa shot it originally but his foot was hanging off his board on the one he made. I don't remember if he did it again for the photo but I feel like he did do it twice.
He's pretty damn solid in yours. It's hard to imagine he didn't take that to the ground.
He definitely took it to the bottom but I can't remember if he rolled away, I feel like he did though. Anyway, the one in Mind Field is the first one [Jake shot] because his foot comes off real crazy. I remember seeing Zach's photo, he shot it with a long lens – and it was a beautiful shot – but his foot's just not quite on his board. I don't know why he didn't reshoot that with Zach? Maybe because he was working on the interview with me and I worked for Skateboarder. Zach was a freelancer at the time so I think he just had to say "Okay" and there were no hard feelings there. But that's how it went down, he had to go back and reshoot it.
How about his nosegrind on the tall out-ledge?
I think that was all 2008. There are no leaves on the trees so that tells you something. I shot it on film so there's no exact date on that but that was another one of those tricks where he just said, "Oh, I want to nosegrind this thing." It was like he had everything so planned. "I'm going to do this trick on this spot. And this one here. And this one here." And then he went and did them all.
Jake had interviews in Skateboarder, The Skateboard Mag and Transworld all around the time of Mind Field. Was that a standard amount of coverage for someone with a breakout part in a big video or was he an exception?
That was definitely the goal for a lot of people. I don't want to say he definitely was [an exception] because there were other dudes who had interviews in all three mags but the goal was that you're going to do a video part and shoot an interview for every mag. Everyone wanted to do that, it didn't happen all the time, but Jake was on it enough.
Nosegrind with a drop that would make most go weak at the knees. ph: Mehring
It was like he had everything so planned. "I'm going to do this trick on this spot. And this one here. And this one here." And then he went and did them all!
What was the dynamic like between Skateboarder, The Skateboard Mag, Transworld and Thrasher back then? Was there much communication so you wouldn't end up with similar coverage in the run up to a video like that?
There was an awareness but it was mostly through people on the ground, like me, or the skater themselves. I don't think the magazine editors were emailing each other. They were cordial but I wouldn't say "in communication". I could be wrong about that, actually, but I never heard of it. I remember being like, "The Skateboard Mag is doing this thing so we're going to do something different" and making sure there was some creative separation in the style of article which maybe featured the same guy.
I don't think full-length videos will ever die but Mind Field, and subsequently Stay Gold, marked the end of their heyday. Magazines used to be our only insights into videos of that calibre which created anticipation for them. There was a symbiotic relationship whereas now, as those magazines have dwindled, I think skate videos have become less mythologised. Although the internet shook things up for videos faster than it did for print, did you see a knock on effect in publishing as skateboarding shifted away from full-length releases?
It became more difficult because videos were being put out as quickly as possible. Magazines were a slower beast. They came out monthly, you had to wait for publishing and there was a backlog of coverage. As [online] videos became more prevalent especially, there were more filmers and photographers so there was way too much material to fit into a magazine. All of a sudden your photos are coming out six months later and you've got companies, skaters, filmers and everyone else waiting, waiting, waiting for the damn magazine to come out. 
At a certain point people thought, "We're just going to put this out so you can publish it beforehand or not" so a lot of stuff started to get dropped. That was the beginning of the end for magazines really, the speed of things. Also, people are more inclined to look at their phone than to buy a magazine or get a subscription. No-one really does that anymore. It was just the changing technology, basically.
What can you remember about seeing Mind Field for the first time?
I think Bill had been secretive with some of the footage. He wanted there to be surprises, which was cool in retrospect, although at the time I was like, "I want to shoot everything!" I had seen a lot of Jake's part in person so I was happy to see all of that come together. I remember being completely blown away by his switch grind over the back of the rail [at Columbus Park] and AVE going over to nosegrind on it because I had no fucking idea. I may have heard a whisper of Jake doing something on it but I had no idea AVE had too and I remember being super hyped after seeing all that.
I don't think it's exaggerating to say there are few video parts from this century which get the amount of praise Jake's in Mind Field does. Why do you think it became so revered?
It was groundbreaking. Almost every trick in there had never been done or thought of. He was so far ahead of his time but not so much that people didn't realise his talent. He raised the bar and brought an East Coast sensibility to skating with these wallie and wallride tricks but in a way that hadn't been thought of and, definitely, never been done. That East Coast sensibility coupled with a skill level and gnarliness; put together that was such a refreshing and unique thing that resonated with everyone. It was creative skating at its best.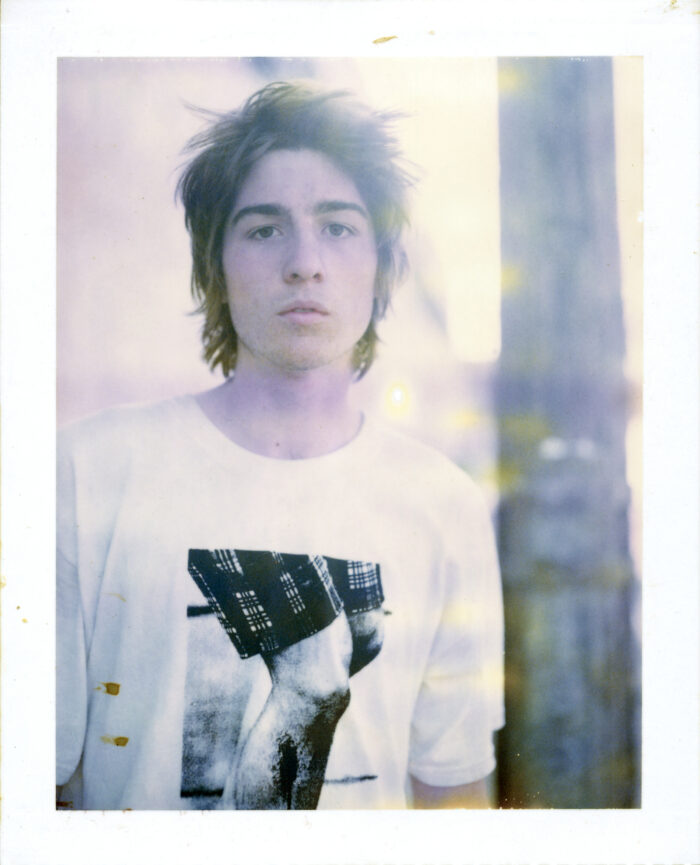 Jake Johnson by Jonathan Mehring
He raised the bar and brought an East Coast sensibility to skating with these wallie and wallride tricks but in a way that hadn't been thought of and, definitely, never been done … It was creative skating at its best.
Personally, what's changed about being a photographer based in New York in the years since you shot all this with Jake?
Oh man, well one cool thing was that Jake and I got on so well. I did a trip to the Amazon and he came on that which I was pleasantly surprised about; getting A-list dudes to go on these wild adventures. New York is awesome but it's a tough town. It's hard to get from A to B, it's so dense, there are so many people, it can be really fucking annoying and that's why most people move to L.A. after a while [laughs]. I love it, but it does grate on my nerves, but I think my travel-based work is a priority. Also, around that time, I had a meeting with National Geographic about my book, Skate The World. It took seven more years for it to actually happen but that's the point where I started thinking I was going to do a book and I started pushing the travel side. I focused my attention outside of New York. I still shot there all the time, and still do, but I would say from 2008 or 2009, until Skateboarder went under in 2013, I was focused on travelling more than anything else. 
That's what got me going. When I was here I was producing a trip, and would go out a couple of days a week and shoot, but most of the time I was constantly on other stuff. Then I would travel for like a month, three to five times a year so that was very consuming in a lot of different ways. They were all good and exciting things, those wild trips were a golden era for myself as far as my work, but it was cool to have Jake be a part of that to some degree.
I haven't seen him too much lately, because he lives in Central PA but a year and half, maybe two years ago now, we went on a trip to Nova Scotia with Cons for Transworld. It was awesome to be on a trip with him again. He's the same dude for sure.
There's a motif in Mind Field of him pointing at things. Greg Hunt told me he worked that in there because he felt that was "very revealing of Jake's character." Any thoughts on that?
I'm sure that's part of how he sees the world differently: pointing things out and looking at something in a way you've never thought of [laughs].
Sometimes people have a breakout part which is so heavy that their ensuing output just can't match it. Take PJ Ladd and A Wonderful Horrible Life for example. While I don't think Jake's had the part since Mind Field – yet – everything which has followed has still been very impactful in it's own right. I think he's quite unique in that way. It's like he's broken a paradox. Do you think that's part of the mysticism which seems to surround Jake?
For sure [laughs]. Also the fact that he lives in Central PA, you know? He's just in State College, Pennsylvania doing his thing. He's not affected by the rest of society. Everyone says "follow your own path" and I feel like most people do but are influenced by the rest of the world: where they should live, what they should do and how they should do it. Jake just isn't affected in that way.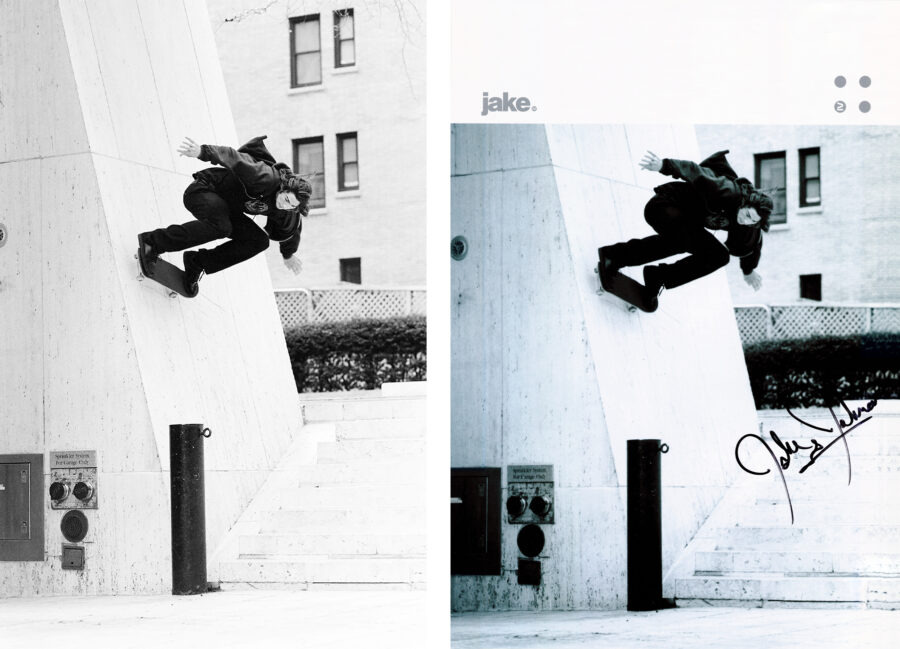 ---
Keep up to date with Jon's work at @mehringsbearings and www.mehringphoto.com
Previously in our 'LIGHTBOX' series: Gino Iannucci by Ben Colen / Karl Watson by Mike Blabac
Other interviews by Farran Golding: 'Lineage' with Tom Knox / Mason Silva / Andrew James Peters / Andrew Allen / Bobshirt's Tim Anderson / Mark Suciu