Renowned photographers Leo Sharp and Wig Worland grew up in Milton Keynes across two different generations. With their work now encompassing the MK Skate project which  highlights MK's rich skateboarding history, Farran Golding speaks to the two lensman about their photos, charting the story the hometown where both honed their craft.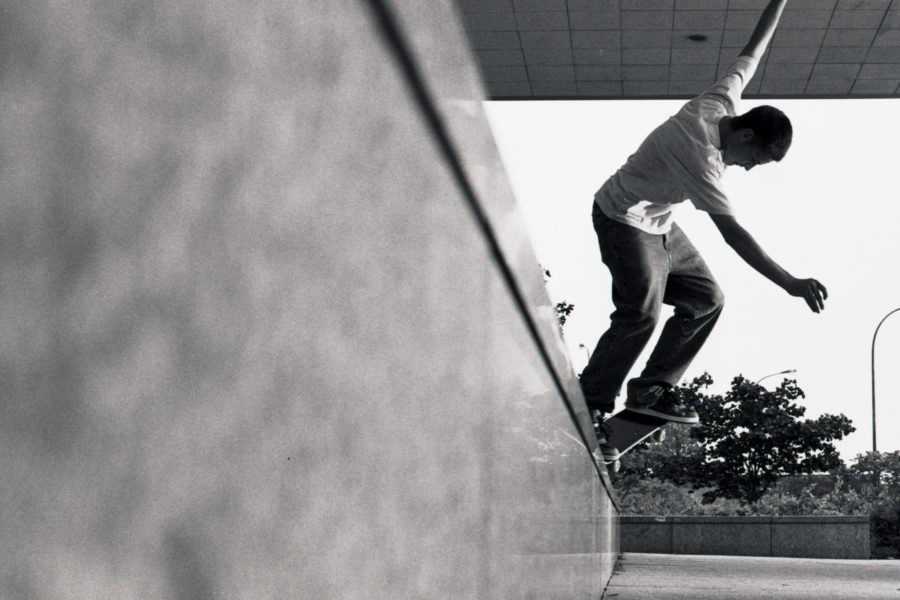 Colin Kennedy, switch backside 5-0, Milton Keynes Central Bus Station, 1994. Words and interview by Farran Golding, photography by Wig Worland and Leo Sharp (above: Wig).
Although skateboarders naturally gravitate towards architectural oddities, some of our most beloved spots are simply flat open spaces with a few geometric obstacles. The Buszy in Milton Keynes, London's Southbank and Urbis in Manchester all fall under this description and wherever in the world that skateboarding exists you'll find an equivalent to these hubs of progression.
The TF, the vortex, the "I've skated there for years and I'm over it but I couldn't imagine life it without it" – type of spot. More often than not, these locations are also both warm-up and return destinations. Point A and Point B. Landmarks which the distance to every other attraction in a skate scene is mapped to and from. This idea of a skate scene's lynchpin has informed MK Skate, a celebration of  Milton Keynes' skateboarding history supported by The National Lottery Heritage Fund and MK Council.
MK Skate installations located by Station Square (left) and Saxon Gate (right).
Launched in September, MK Skate takes the form of a walking tour and exhibition space. Underpasses along Midsummer Boulevard document the story of the skate spots adjacent to them through a series of installations in a route which travels directly from Milton Keynes' transport stations to the Centre: MK shopping complex. Here, a unit has been outfitted as a mini-museum of MK skateboarding history which hosts Rob Selley's original handmade model of The Buszy, a one-off tribute pair of DC shoes owned by the spot's designer and publications documenting MK amongst many other artefacts. However, a more immersive history lesson can be learned by visiting the tapestries of folklore installed around Milton Keynes. A journey which begins at The Buszy.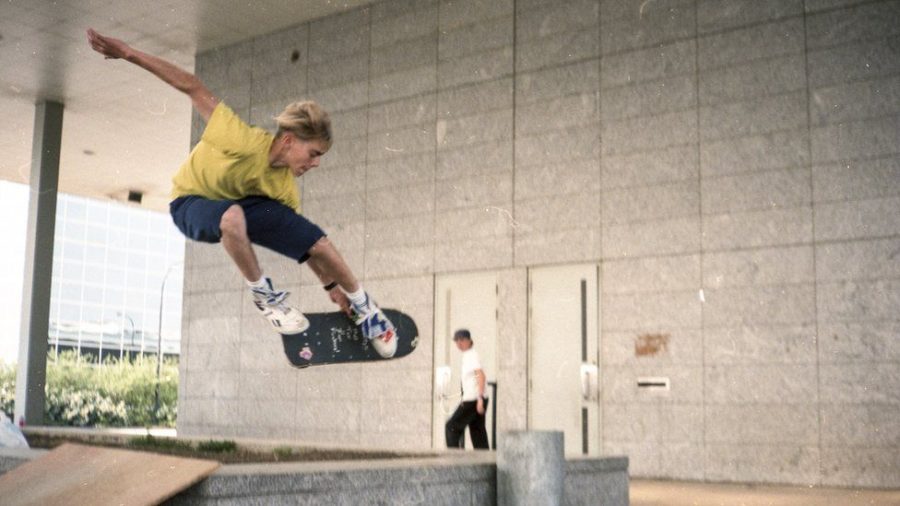 Leo Sharp channels Natas Kaupas at The Bus Station in 1989.
"I find it difficult calling it 'The Buszy' because I called it The Bus Station. It's one of those colloquialisms. And now it's almost 'The Buszy TM', isn't it?" says photographer Leo Sharp, who began skating there in 1986. Having rinsed every kerb his neighbouring village had to offer; shopping trips with his parents quickly became an excuse for an 11 year-old Leo to get driven to The Bus Station. "Pretty much all of the people from my school who I skated with gave up but because of the massive influence Milton Keynes had on me, I had lots of other friends from skating at The Bus Station. That took over my life, really, from that point onwards."
"The original bus station building is, in itself, a magnificent thing," says fellow photographer and Bus Station alumni, Wig Worland. "It has a huge cantilevered roof that was originally designed to protect vast crowds of people from the elements but the truth is that public transport was never a very serious thing in Milton Keynes so the building was always over specified." As a result, skateboarders didn't have to contend with dodging civilians and, according to Wig, the excessive space without anyone to fill it was reflective of the surrounding city. "Into a vacuum like that came the city's youth looking for somewhere to go. That was us on our skateboards during the post-Back to the Future resurgence in the mid-to-late '80s."
Exploring the stories behind Leo and Wig's photos of Milton Keynes reveals how an unremarkable new town in Buckinghamshire staked a claim in British skateboarding history during the turn of the century. Here's a selection which have been contributed to the MK Skate project.
[Editor's note: Although the terms 'The Bus Station' and 'The Buszy' are used interchangeably throughout this article, 'The Bus Station' predominantly refers to the Milton Keynes Central Bus Station prior to it being redeveloped into the world's first purpose built skate plaza in 2005, henceforth called 'The Buszy'.]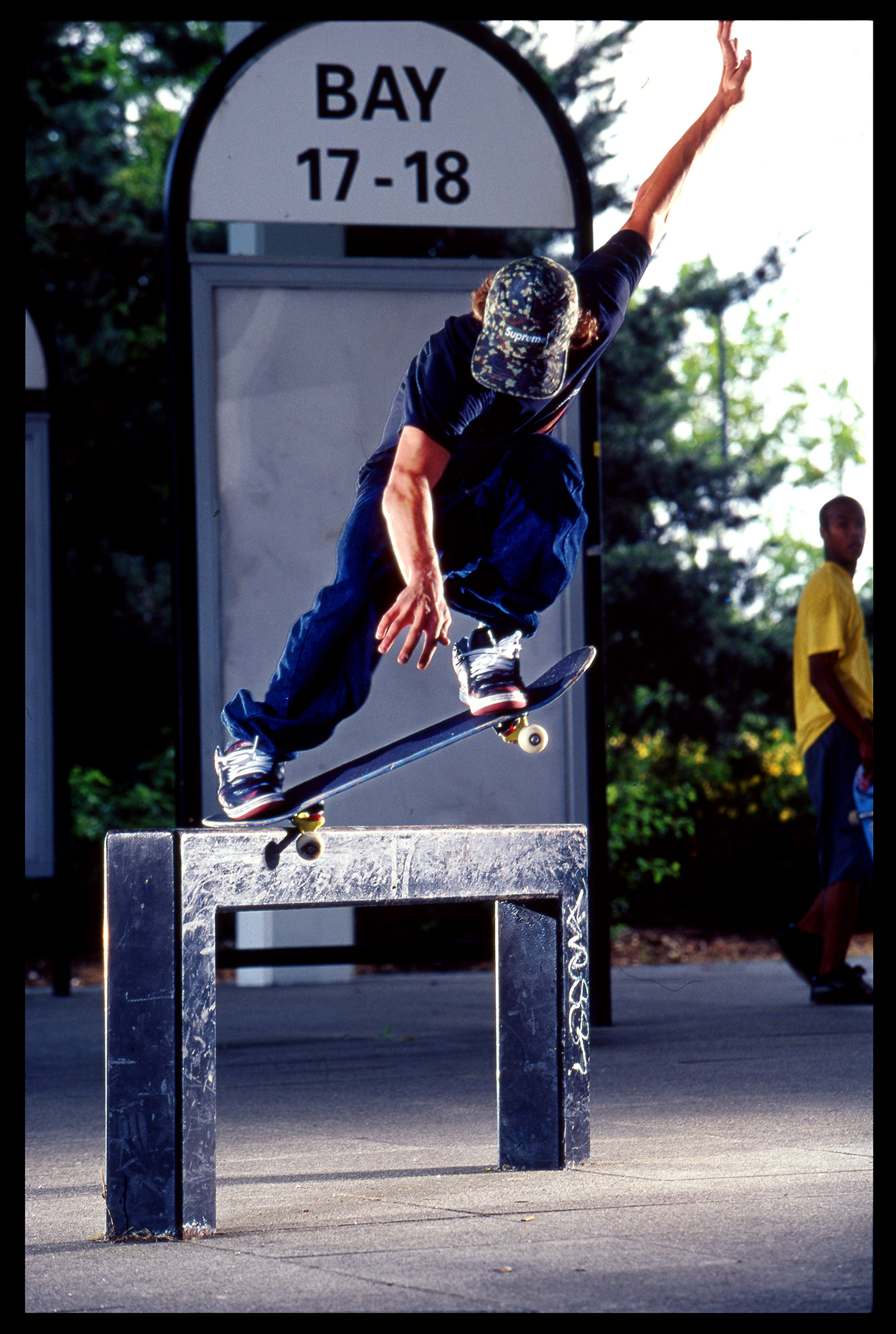 Zered Bassett, switch crook, The Bus Station, 2002. photo: Leo Sharp
Let's start with your photo of Zered. I'm guessing this was shot during a Zoo York tour?
Leo: Yeah, that was one of the last big New Deal Distribution tours. We had a rockstar style double-decker bus with beds on it that cost £700 – £800 a day, reputedly. There was loads of money thrown at that tour and we went to a lot of places in the UK and one of them was Milton Keynes. We were staying in London and I think we just went to The Bus Station on a rainy day. No-one really knew about Zered Bassett on that trip. He was in his late-teens and he was just the best skateboarder you've ever seen. He could do anything on anything.
What had changed about scene at The Bus Station between your days there, the late '80s and early '90s, and the early 2000s before the plaza was built?
Leo: Well, Milton Keynes took an anti-skateboarding stance for a bit because they removed the planter ledges that were in the middle of The Bus Station [see opening photo of Colin Kennedy – ed.]. They removed those before they built the plaza and it wasn't because they were making space for the plaza, it was because people skated them. When Zered did that trick it probably would have been just empty space in the middle. I imagine we went to skate the area of undercover ledges that have been there the whole time at the other side of the bus station. Although, they would get wet quite easily if it was raining whereas the central ledges wouldn't. With the prevailing winds, the black bars he's doing the switch crook on would usually be dry as well.
Zered must be a treat to shoot with. He's got some of the most distinct and photogenic shapes.
Leo: That's the thing; he looks good on a skateboard, he's fun to shoot photos of and he does stuff quickly but he was quite small. He's not the tallest guy now but back then, a teenager and maybe not fully grown, the fact he could switch crook this… It's not a small bar to get on to, especially to grind, so he had a lot of pop back then as well. Thinking about it now, it's mental.
Have these bars always been at The Bus Station?
Leo: Yeah, they were for people to sit on while they're waiting for buses. They had the bay numbers on which corresponded with the particular bus which you would get to wherever. Bay 18 was the iconic one because it was the one nearest the end and you could get a good run-up for because you weren't obstructed by the other black bars.

Jason Dill, frontside 5050, The Bus Station, 2000. seq: Wig Worland
How did you and Jason Dill find yourself together in Milton Keynes?
Wig: Jason was bought over by the UK distributor for Alien Workshop to promote Photosynthesis. The first time we met was as I walked into the auditorium at the BFI for the UK premiere. I sat next to him and when the intro for his part came on, you know – the phone call with [Chris] Carter, I knew I was in for an interesting week. As part of that trip we went to Victoria Benches, Southbank and Milton Keynes. All the golden greats of UK street skateboarding within a week. They were crazy days and I consider myself very lucky to have met him at all, especially at that moment in his skateboarding career.
What's your enduring memory of Dill from this trip?
Wig: He's an amazing talent on a skateboard, of course, but he did love to party. He's free to behave however he wants to but, when I'm faced with something like this, I imagine how much more he could have achieved if he wasn't in self-destruct mode. Maybe the booze and supposed self-destruction are all part of the cool? I don't know. I say 'supposed' self-destruction because look at him now! I shouldn't think he cares about my opinion of his drinking habits in his 20s. He's a very successful businessman running one of the coolest brands on earth. He's made it.
The first time we met was as I walked into the auditorium at the BFI for the UK premiere. I sat next to him and when the intro for his part came on, you know – the phone call with Carter, I knew I was in for an interesting week.
– Wig Worland
This is delving further into The Bus Station's pre-plaza years but can you explain the connection between the café/skate shop at the station and Radlands?
Wig: The cafe at the bus station used to be a spot for bus drivers to sit, meet and recover during, before and after their shifts on the city's limited public transport. Chris Ince and his wife somehow got the job of running the café and Chris had two young boys who were drawn to skateboarding. Chris was a bit of an entrepreneur and realized he might be able to sell a few boards to the locals who were turning up to skate and breaking the odd board so he opened what became known as One Stop Skate Shop. Which, given the circumstance, was a great name. Chris loved the scene so much that he thought it was a good idea to find a warehouse in his home town of Northampton and open an indoor park. There were very few indoor parks around at the time and he obviously thought it was a money making idea. He wasn't daft, he was a business man. The whole of history of Radlands would make for another longform piece. I lived nearby and I consider myself lucky to have witnessed so much of what happened there in the glory days but I don't know it all by any means. I'd love to know if they ever actually made money, for instance? I just can't believe it ever did. It must have cost a fortune to keep it running and they let everyone in for free. They kept the street course updated through the years and they must have been responsible for keeping '90s vert going in the UK. That ramp took up so much room for only a handful of people to ever use it.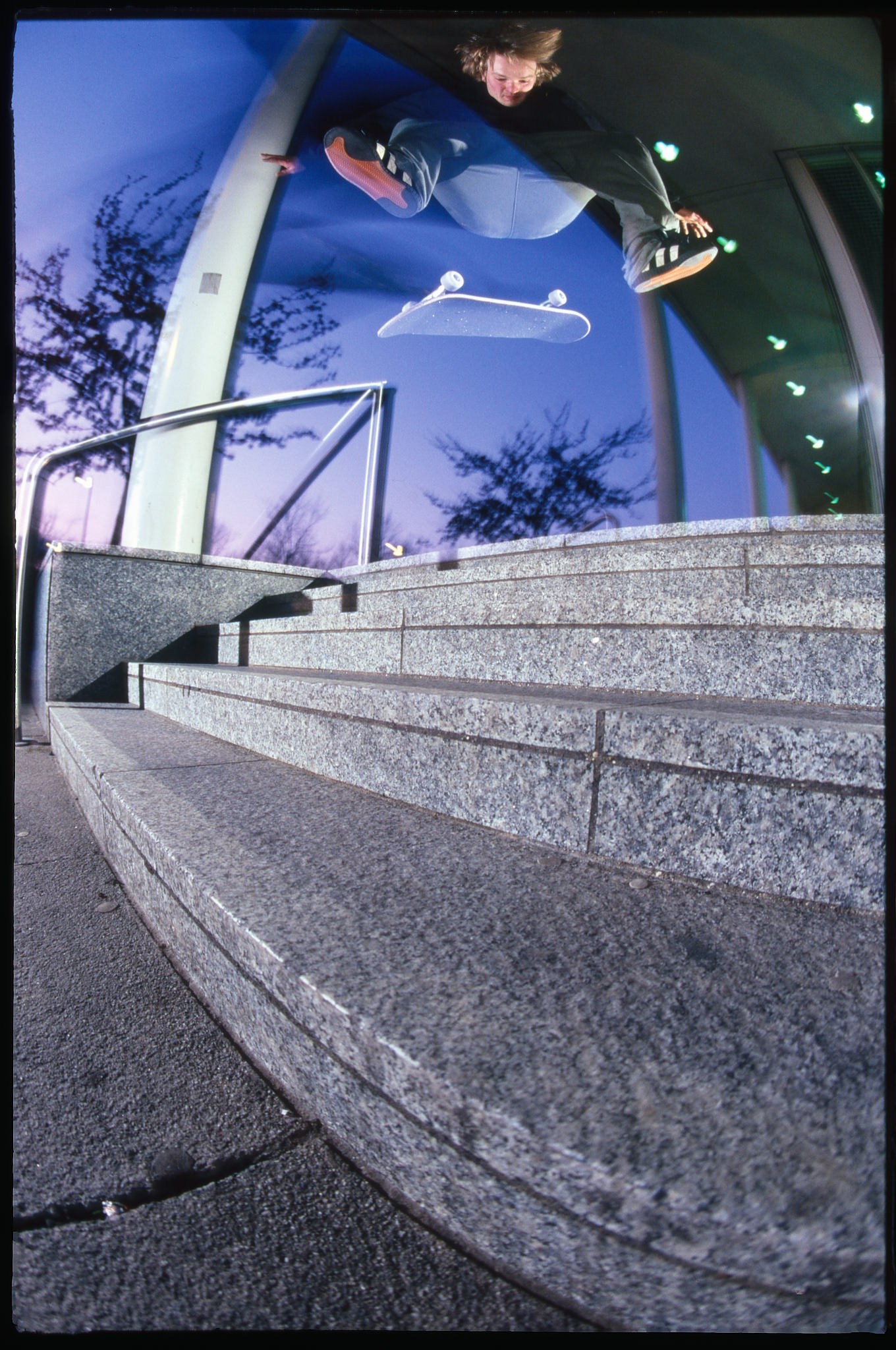 Rob Selley, nollie heelflip, The Food Court, 1997. photo: Wig
Rob Selley could be considered quite an overlooked figure in British skateboarding. Give us a brief introduction for the sake of those who he has slipped past.
Wig: Rob Selley is one of the most important skateboarders in the history of street skateboarding in the UK. While most of the country was learning how to tailslide on a ledge, Rob was watching 20 Shot Sequence and getting busy learning how to flip into a switch tailslide. He really was that far ahead.
Rob was involved in with the design process of The Buszy and Richard Ferrington, the landscape designer of the plaza, speaks fondly of Rob and Sean Smith too. Could you shed some light on that dynamic?
Wig: The people at MK Borough Council knew they needed to do things properly so they started a public consultation. This was led by Andrew Armes, the City Architect. Rarely does this process happen in such a way when local authorities want to invest in a skatepark. I always refer to Richard Ferrington as a perfect storm because alongside being in the landscape architecture department of the local authority, he was a youth worker so he knew how to talk to young people. He found his way to Rob Selley and he found his way to Sean Smith. As part of the deal, Sean went to work for Richard in the landscape architecture department at MK Council.
Richard intrinsically understood that one of the fundamental things that would guide the success of the new 'plaza' was that it needed to retain the look and feel of the original local architecture. People came to Milton Keynes for the blocks and the street, to have a transition based skatepark in the middle of that would have been wrong. I think it's a pity that people now see The Bus Station as a 'skatepark' and somehow put it lower down on the importance scale than 'real street'. It should be considered the real thing. It was designed to be as close to the real street of its surroundings but it's made of better materials that are designed to last longer. As you walk around there you can see how that was born out, with lots of the original marble [around Milton Keynes] being broken and/or missing.
Rob was a brilliant person to have involved in the project because he's a perfectionist. You can see it in his skateboarding and you can see it in his contribution to that plaza. There's actually one part of his design that wasn't implemented. If you go to the exhibition you can see what is missing. It was left out due to safety concerns but it would have made the plaza even better. Answers on a postcard, etc.
Rob Selley is one of the most important skateboarders in the history of street skateboarding in the UK. While most of the country was learning how to tailslide on a ledge, Rob was watching 20 Shot Sequence and getting busy learning how to flip into a switch tailslide. He really was that far ahead.
Brian Wenning, switch backside tailslide shove, The Buszy, 2005. seq: Leo
This DC demo would have been one of the first big events after The Buszy's redevelopment. It always springs to mind when I think of Milton Keynes too.
Leo: Wenning would though, wouldn't he? The quintessential ledge skater from the East Coast of America comes to meet the quintessential ledge spot in the UK, [laughs]. He was one of the first uber talented ledge skaters to come and skate that t-block. Everyone knew the DC guys were coming. There was a heavy prescence and everyone was hanging off of his every move.
Just how much of a hotspot was The Buszy for demos from the mid-2000s onwards?
Leo: [Laughing], it was on pretty much every tour. You had to go to it because companies knew they could do a demo and film a bunch of lines to pad out their tour videos, I suppose. Anyone you cared to mention and pretty much every tour went there. When you pulled up there on most tours, and with it being fairly new at the time, people were just like, "Whoa, is this a skatepark?" and I'd say, "I guess, but it's more of a skate spot." Wenning was all over it.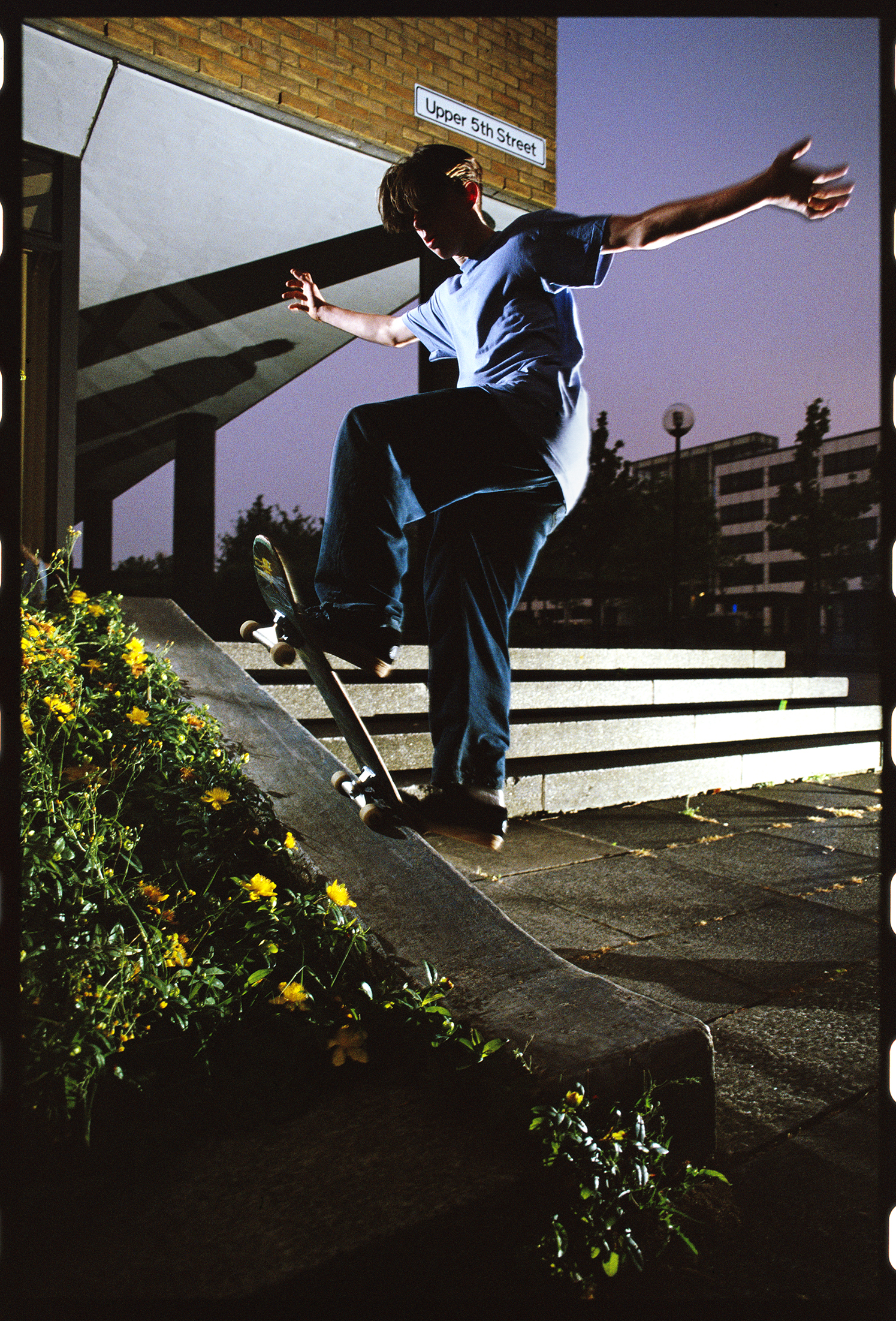 Tom Penny, frontside bluntslide, Upper 5th Street, 1993. photo: Wig
You were living in Tom's hometown of Oxford when you shot this. What prompted you two to venture over to MK that day?
Wig: Milton Keynes is around a million times better than Oxford is for street skateboarding. Honestly, have you been to Oxford? There were about three skate-able spots back in the '90s. The rest is rough tracks between colleges and cobbled streets. It might be better now with all the money that has been poured into it but back then? Terrible.
The lighting, the way Tom's hair is covering his face; there's certainly something about this photo which fuels the enigma of Penny, as it were. Even though this hubba is small, it's really awkward to skate, let alone place a frontside bluntslide on. Did Tom really approach everything as nonchalantly as he's renowned for?
Wig: Literally everything. To be honest, I don't think many of us really knew what was happening back then with Tom. Skateboarding was in this weird transition from just finding out what was possible on a skateboard to trying to do it with any style whatsoever and at the same time seeing how far, high and long it could be pushed. This trick would be considered worthwhile now because it's done stylishly but also because it's Tom.
Watching Tom skate was a delight but he was also a taste of the future. Back then, nobody landed tricks consistently and you needed the patience of a saint to photograph it. Tom landed pretty much everything all the time. To say he was 'magic' should be an understatement. When Tom arrived in America he was used to skateboarding in Oxford where there are no spots, as discussed. There's a great picture that Andy Horsley shot of Tom kickflipping off a tree bump in Oxford in the early '90s. Imagine going from pre-Victorian era rough pavements to the streets of LA where pretty much everything had been built in the last 50 – 60 years. It made the job of being a street skateboarder easier and if you've got that much talent, it's going to come together.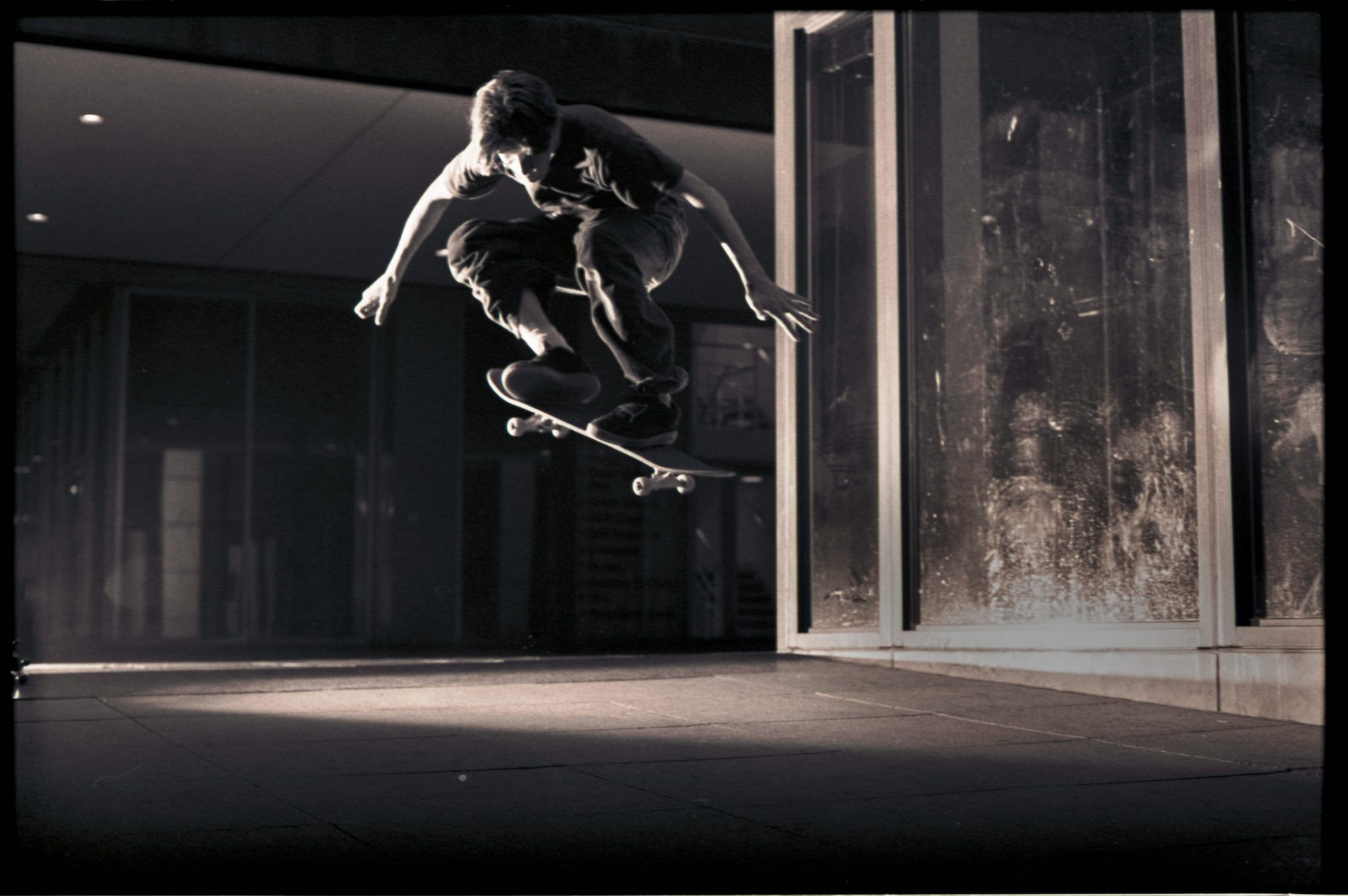 Tom Penny, pop shove-it, Milton Keynes, 1995. photo: Wig
Watching Tom skate was a delight but he was also a taste of the future. Back then, nobody landed tricks consistently and you needed the patience of a saint to photograph it. Tom landed pretty much everything all the time. To say he was 'magic' should be an understatement.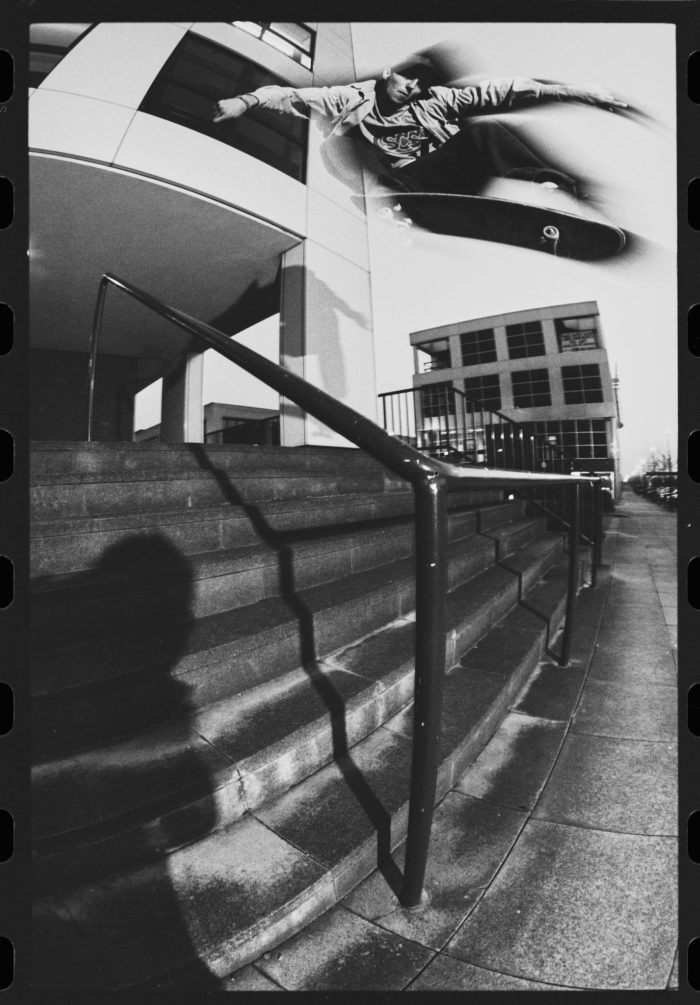 Mike Manzoori, ollie, The Brown Bar, 1994. photo: Wig
I don't think Mike would object to me saying he pretty much wrecked himself by jumping over anything he laid eyes on during the '90s.
Although, Manzoori isn't from Milton Keynes he's played a part in its skateboarding history. For example, he was first person to ollie over this bar which is a pretty notable MK spot. Tell me about his connection with Milton Keynes.
Wig: Mike lived in Hillingdon at the time and would travel around with Mark Channer. I think Mike's travel was covered by Santa Cruz as he would always be out there. We talked on the phone before he arrived about the kind of stuff we could seek out in the city. This was the first time Mike had seen this. Other people had looked at it, some had done chuck-on boardslides on the rail beside it – which is huge. The run up for the larger of the two Brown Bars takes in a bit of a chicane around a couple of pillars. There really was no stopping Mike back then though. This was the beginning of the golden age for him. I was lucky enough to be there to document the skateboarder at the beginning of his prime. An incredible talent.
Before he become a well-known cinematographer, Mike was pretty notable as a sponsored skater. What are your thoughts on his transition from one side of the lens to the other? I wouldn't call it 'wasted talent' by any means but it's fun to speculate about about where sponsorship might have taken him.
Wig: [Laughs], I don't think Mike would object to me saying he pretty much wrecked himself by jumping over anything he laid eyes on during the '90s. I'll double check on the injury calendar with him so I don't say anything out of order. At the same time, he obviously had an interest and talent for photography and videography and he was already producing videos of his own alongside skateboarding himself, Sound and Vision [1994] being the first. I don't know how many he has made now but it must be a whole lot.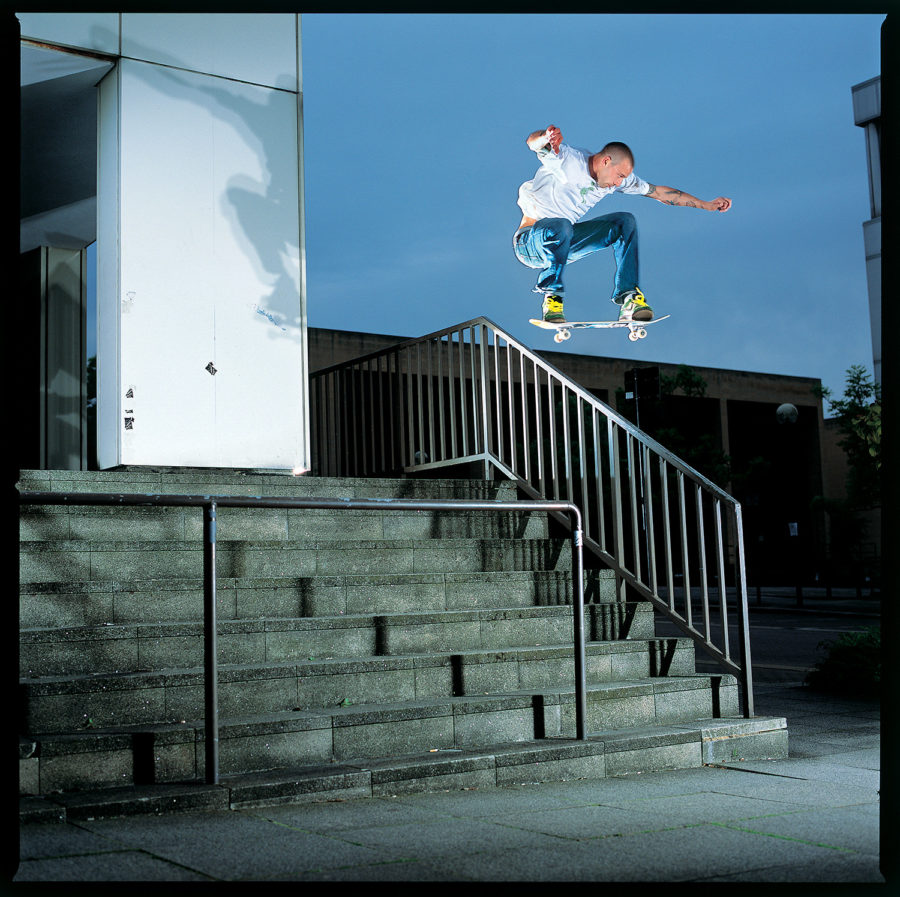 Brian Anderson, ollie, The Brown Bar, 2004. photo: Leo
"Brian Anderson talked about ollieing over this rail and said that if he was going to do it, he was going to do a line from further up the hill. He's one of the few people who has taken a line from the little Brown Bar to the big Brown Bar. It doesn't look like they're very far apart but it's a good 100 metres from the beginning to the end of the line. He's quite big and deliberate, so his movements look fluid, but he's actually going fast towards the end to get the distance needed to gap out from the pillar over the rail. I've taken so many people there who know he's done it. Nobody has ever claimed they're going to do it, they just stand there and look at the distance and say, "Fuck me, how did he do that?" He had three or four attempts at the line but when he got to the ollie over the rail he did it first try. As far as pressure on me as a photographer: I'm shooting Brian Anderson and it was the first photo of him that I'd shot on that trip. I'm stoked that it came out okay but witnessing something that heavy from such an iconic skater is a privilege." – Leo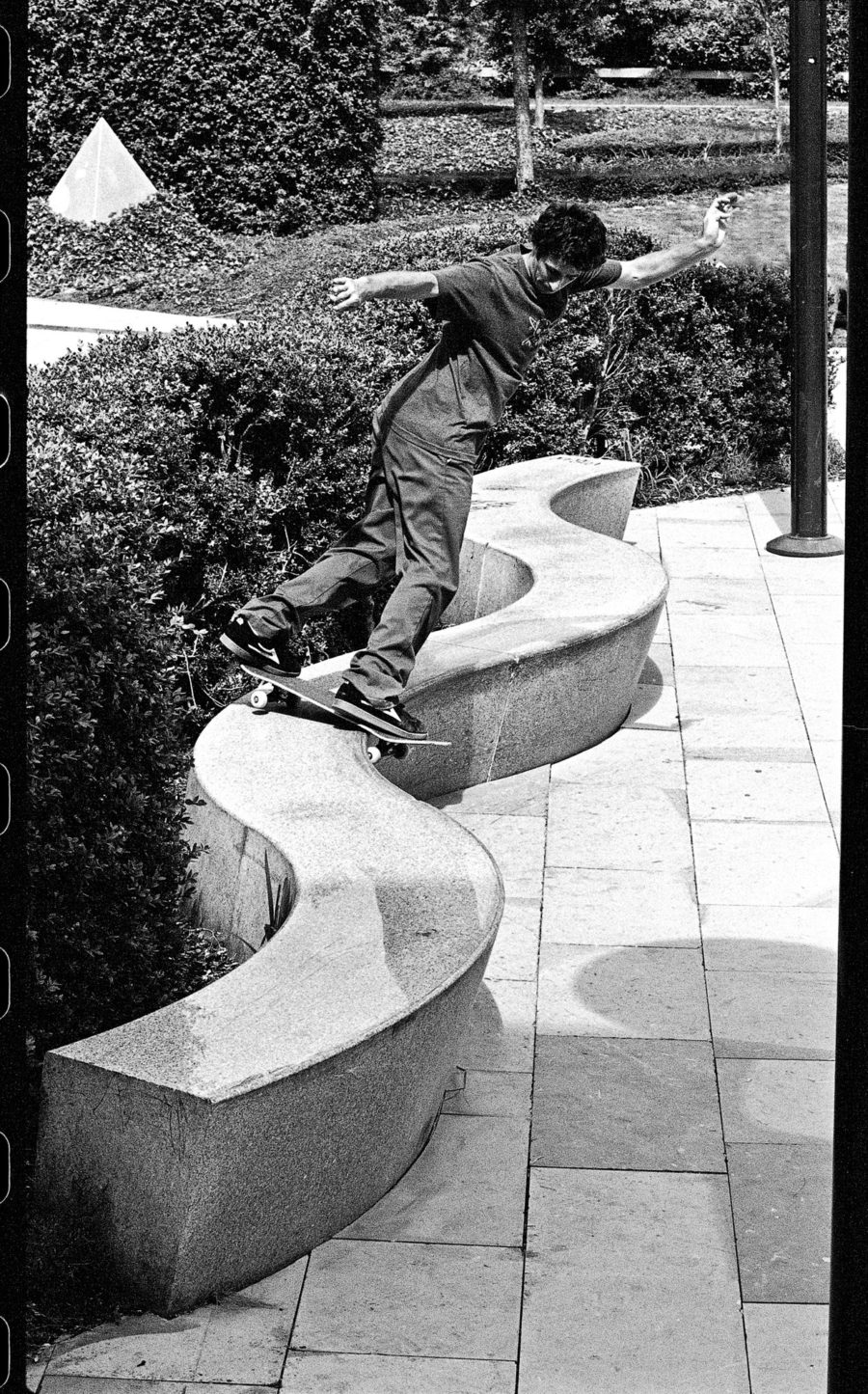 Mike Carroll, backside lipslide, Curvy Bench, Theatre District, 2004. photo: Leo
"That would have been the day after [BA's ollie]. The Theatre District is at the other end of the city centre's grid iron road system and, generally, it's smoother. Although, this wasn't that easy to skate because the lip disappeared diagonally into the floor. You always wanted to shoot it straight on and from above so you could see how curvy it was. Once you were on it, you would fly around that curve really quick. Carroll's a perfectionist. I think everything about the trick mattered to him. It didn't matter that he did it smooth. The push up to it, the ollie into it, the stance as he was going round – it all had to be perfect. Claim to fame: I dragged one of those big industrial wheely-bins from the theatre's back entrance to stand on to shoot that because I couldn't get up above it. I got up first and then Ty Evans came and stood next to me and we both nearly went through the flimsy lid a couple of times." – Leo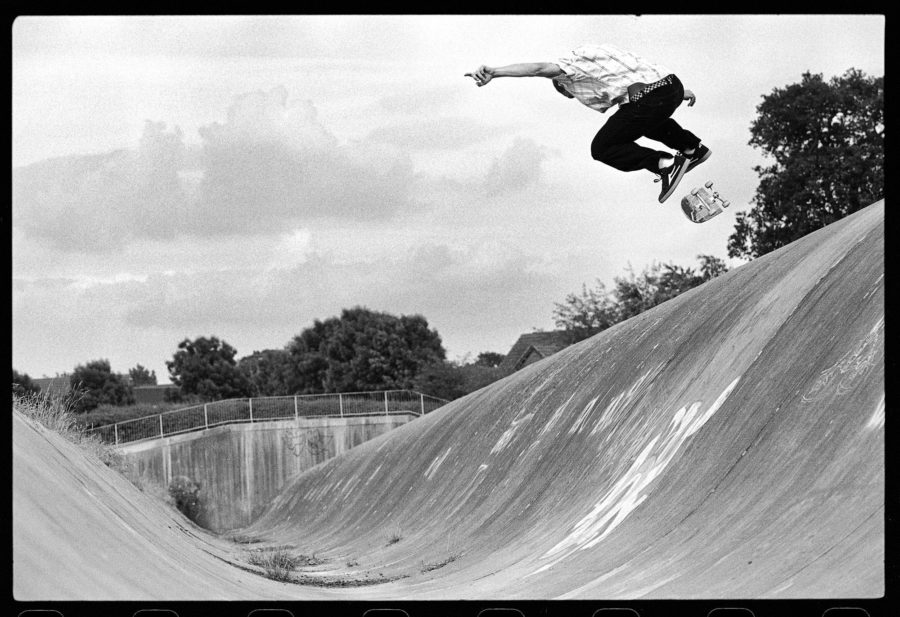 Rick Howard, kickflip, Caldecotte Ditch, 2004. photo: Leo
"Again, that was the second day we were in Milton Keynes. I got so many photos on that trip. We'd exhausted the city centre spots and they were looking for something a little more photogenic. It was kind of a go-to spot for tours as well. There are two ditches in Milton Keynes: Willen Lake which is tighter, smaller and the benefit of that one is if your board shoots out the top, on the high side, it doesn't go straight in the lake because there's a walkway. Caldecotte, this one here, is mellower but if your board shoots out the top it's in the water for sure.
"People have been skating that for a long time. I can't remember if anyone in particular has been given the kudos for discovering it but it's been there as long as I've been skating Milton Keynes. I remember being dropped off by my mum at The Bus Station and getting a bus for 44p to go to Willen Lake to see if anyone was skating there because it was such a hotspot one summer. If no-one was at The Bus Station you'd get the bus up and skate around Willen Lake and if nobody was there either you'd be like, "Looks like I'm getting on the bus back then…" – Leo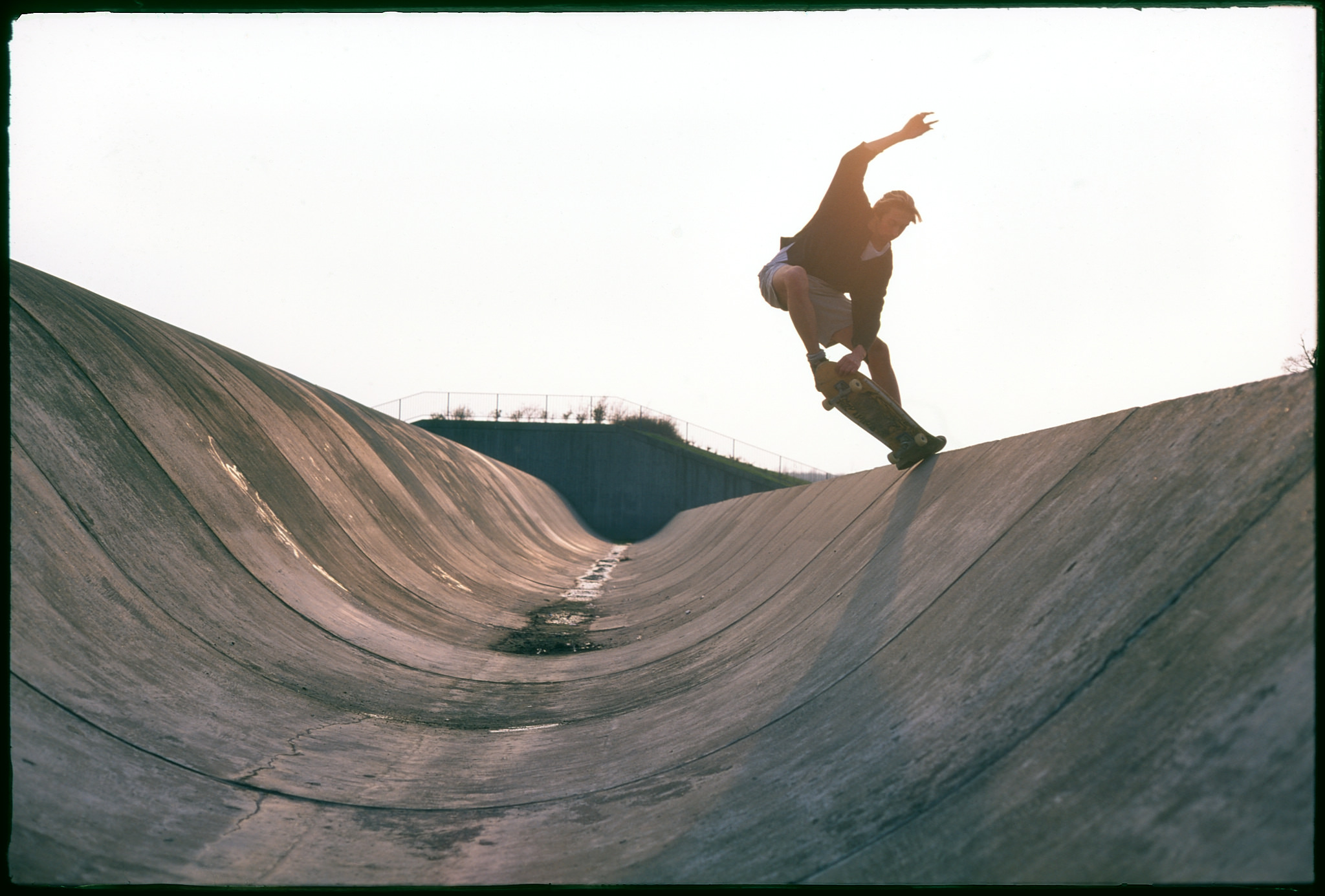 Phil Chapman, tailblock, Caldecotte Ditch, 1989. photo: Wig
Doubles from our venerable lensmen with Mark Baines and this switch frontside flip. The Beige, 1996. ph: Leo (left) and Wig (right)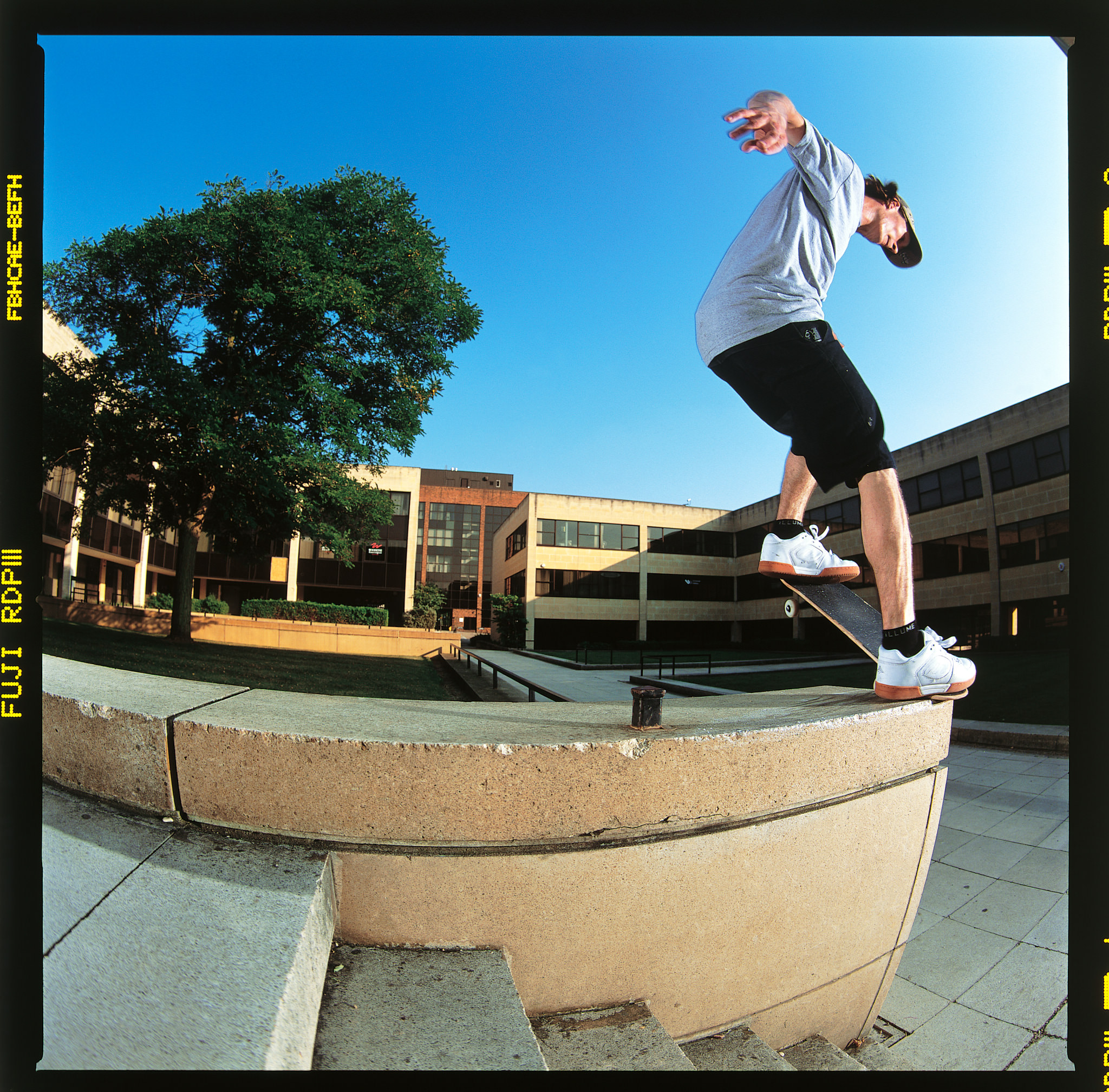 Brendan Ryall, backside blunt slide, The Beige, Milton Keynes, 2002. photo: Wig

Cairo Foster, nollie hardflip, The Beige, 2005. photo: Leo
'The Beige' has been subjected to a number of skate-stopping attempts over the years with these bars being one of them. Tell me about the area's history.
Leo: This was our second or third go-to spot. We had the bus station, the train station and then The Beige was somewhere we would go to skate around the offices and the city centre. It was called The Beige, obviously, because it's that colour but also it had a completely different floor to the other places in Milton Keynes. There were slightly rougher two-foot by two-foot blocks around the rest of the city centre but The Beige had this smooth consistent floor. We'd go there to skate flatland because it was poppy and you could learn fliptricks. We skated 'the big beige stairs' in the middle – this long six before they had any skate stoppers – and there was a three at bottom. We'd learn tricks down the three and then, if we could, we'd take them to the bigger ones at the top. I can't remember what year they put the first skate-stoppers in at the bottom of the three which then became 'The Pritchard Gap'. It would have been 1993/94 because that's when Matt Pritchard first came to Milton Keynes and ollied it and we coined the phrase but that was the first skate-stopper to go in.
I remember that day vividly because we took him around. Pritchard was incredible for the time. If he was a 17 or 18 year-old now he'd still be a highly revered skater because of the skill level that he had. I think we had skated from the other end of the city centre so we came to the top of The Biege first. We didn't mention that there were skate-stoppers at the bottom because we were excitedly telling this guy who has come from Wales, who we know is amazing, about all of our spots. He ollied the six, easily, then started pushing towards the three at the bottom and we all looked at each other, like, "He doesn't know there are stoppers at the bottom…" And it's a big gap over those concrete spikes.
We thought he was going to eat shit. We were all shouting as he was pushing up but he couldn't hear us. Then he ollied, landed and rolled away and we were like, "Fuck, he's just ollied that gap." The first person to do it didn't even know there were skate stoppers at the bottom, [laughs]. That's Milton Keynes skate folklore right there.
Going back to the Cairo spot, those bars where the first skate-stopper to go on [after the three]. The stairs became a bit thinner but you could do tricks over the bars so it kind of reinvigorated the spot. In that session Jody Smith switch flipped it, and no one had done anything switch over it, and obviously Cairo nollie hardflipped it. It was insane that he could pop it that high over the bar. A load of tricks went down in that era; 2005 to 2006. I think towards the end of the 2000s is when they put some concrete spikes at the bottom of the six and that finished it for them.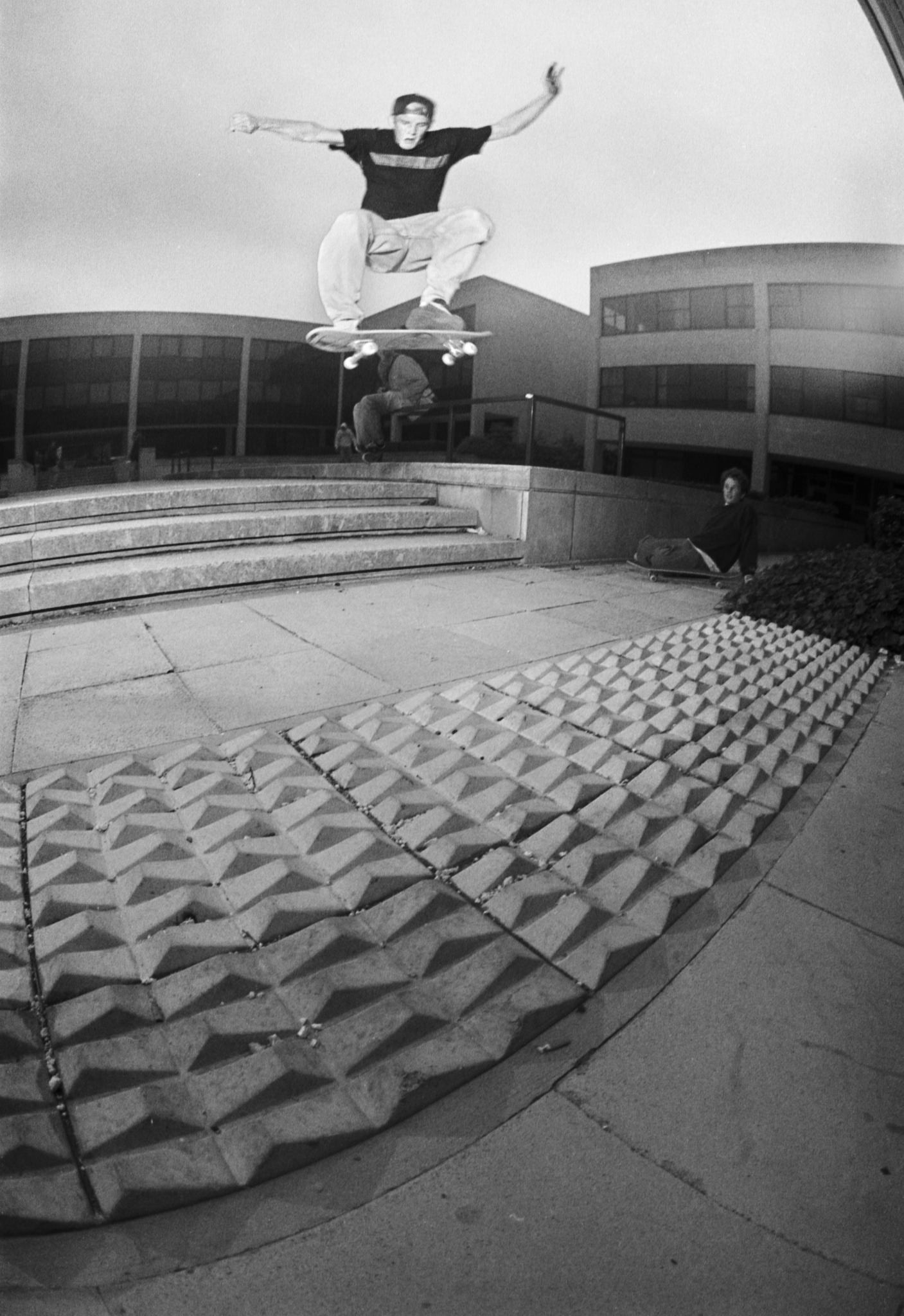 Matt Pritchard, switch frontside 180s 'The Pritchard Gap' at The Beige, 1994. photo: Wig
Matt Pritchard, ollie, The Trusthouse, 1994. photo: Wig 
Like Manzoori, Pritchard isn't from Milton Keynes but he's ingrained in its skateboarding history. 'The Pritchard Gap' and this double set being perfect examples. To this day, only a handful of people have ollied it but had anyone stepped up to this before Pritchard?
Wig: Nobody had looked at this before Pritchard spotted it. Rodney Clarke ollied it a few months later which I've also apparently got a sequence of. I can see what Matt was doing earlier on in the day because I have the 36 exposure roll from this Saturday afternoon. He warmed up at The Beige first by 360 flipping the stairs and doing a switch 180 over 'The Pritchard Gap'.
This is genuinely huge and although he was young and hungry to do this it was/is really scary. He came to Milton Keynes recently and did an up to date interview about the way he felt about it. The run up is terrible. Even though it was in the middle of the new city, the paving slabs had been laid in quite a rush. Although [Milton Keynes] is relatively new compared to much of Britain, it's still fairly rough in places. From my roll of film, he only had around five attempts. I don't think any human could try more.
What was the general consensus from the heads at R.A.D. when you sent this in?
Wig: We were all pretty blown away by this. As I said, it's huge. As big as anything that had been in the US mags at the time. Dan Magee, who is in the background of another picture from this session, recently said something along the lines of, "Pritchard was incredible while he was a virgin," implying that as soon as he was more of a hit with the ladies he was no longer hungry for madness like this. He had other stuff on his mind. Makes sense if you want to take the Raging Bull thesis at face value.
Did anything stand out about Pritchard's personality from your time shooting with him? In hindsight, are you surprised that he went on to become a celebrity?
Wig: He's a very particular type of character but he didn't seem like an extrovert to me, back then. I'd even say that about him now. He's a very kind, thoughtful and lovely guy. I think his friends and his surroundings pushed him out of his shell and into the limelight. I don't think he has gone that way willingly, to be honest. He's got a struggle with himself, an inner battle, if you will. He always wants to push himself to the next level in whatever he's doing but I don't think he's doing that for anyone other than himself.
He always wants to push himself to the next level in whatever he's doing but I don't think he's doing that for anyone other than himself.

Sean Smith, Milton Keynes, 2007. photo: Leo
Here we have a fresh faced Sean Smith in one of the underpasses which have been incorporated into the MK Skate exhibitions. We can't talk about Milton Keynes without giving this credit where it's due to Sean.
Leo: For me, he's one of the seminal three. If you had to pick three skateboarders from Milton Keynes' history you'd pick Rob Selley, Sean Smith and James Bush. He's the middle chosen one. [Laughs]. I always think he isn't as revered as he should be amongst the UK skate scene because he didn't get around as much as he should have done. He lived in Barcelona and skated for Motive and had a bit of kudos from that. I think he got an offer to ride for Blueprint but he wanted to stay with Motive whereas with Blueprint people would have known about him a little bit more. But he's just incredible. There's nobody with his style and the same sort of pop on nollie flips and switch tricks. He did a switch flip backside tailslide up the t-block from the flat [at The Buszy] . There are probably only a handful of people in the world who could do that and not many of them could do it as stylish as Sean so need I go on? [Laughs].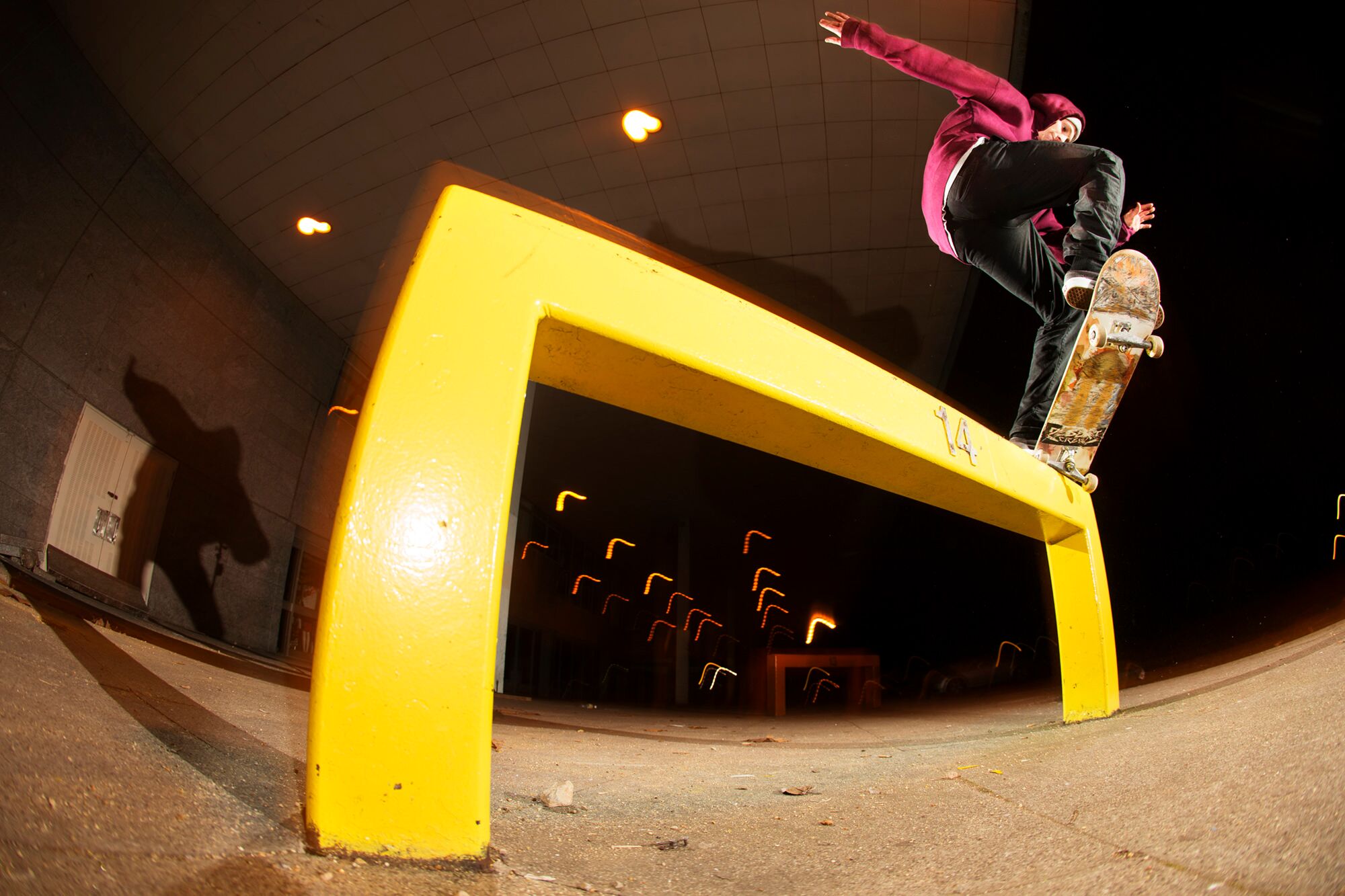 Citizen Smith switch crooks for Zered Bassett over a decade later. photo: Leo
I shot this photo of Sean in 2014. He wanted to switch backside smith it but he hadn't skated in 18 months. "Yeah, I'm just going to do a switch crook, mate." Just going to do a switch crook?
James Bush, heelflip, The Buszy, 2019. photo: Wig
When I heard it had gone ahead, straight away I thought, "I'm going to go up there and shoot a picture of somebody overcoming that obstacle." It's ridiculous. You can't contain skateboarding. You can't fence it off in in that way.
Although this photo hasn't been included in the MK Skate project, I think it's worth rounding off with it for a few reasons. 1) riding away on those bumps is no joke. 2) James Bush is, as Leo put it, one of Milton Keynes' "chosen three." And 3) because it's barbaric that a purpose built plaza has been skate-stopped to an extent. Especially as the idea of purpose built skate spaces is beginning to be embraced around the world. What's the crack here?
Wig: The bollards are an attempt at curtailing skateboarding at a sanctioned skate spot and it isn't correct that they're there. It's quite possibly illegal in the way they've been constructed as well. The [bus station] building is now a multi-user space and the person who owns the building has decided to rent the top half of it to a dance school. It appears that some of the skateboarders have run into or been 'bothering' those going into that space in some way.
These bumps and bollards are on both sides of the building, right? Meaning you can't take lines from the other end of The Buszy and into the plaza, or vice-versa.
Wig: That's right. Originally it was all open and that was part of the spot, really. This problem of people coming in and out of the doors in close proximity to the skate part never happened before. It was a nightclub for years but it was never used during the day so now you've got this conflict of usage. That's the problem.
According to Richard Ferrington the bollards and bumps don't comply with the Design Disability Discrimination Act 1994 so, beyond being pointless, it's a genuine violation.
Wig:Basically, that style of bump is to indicate to blind people that there's a road coming up and they should stop, slow down and be prepared for danger. Those bumps are constructed in a way that indicates the completely wrong thing to a blind person and it isn't a road that they get to, it's some bollards which they then can't get through because the gaps between them are way too narrow. Also, because the bollards are too close together you can't get a wheelchair through there. You can't even get an ambulance stretcher through those gaps if somebody hurts themselves.
Does the MK Skate project seek to challenge this intervention?
Wig: It isn't really the aim of the project, the aim is to record, celebrate and raise the profile of the MK skateboarding story. Through doing this, hopefully there's a way to communicate with the local powers, to reassure them that the skateboarding scene in Milton Keynes is alive and well; that it's an important part of MK culture and still worth backing, like they did in 2005 when they built the plaza. It still needs to be celebrated and thought about, not pushed to one side. I think those bollards begin to say that kind of thing and that's not cool.
Has there been good response from local councillors and the general public?
Wig: I think so. Through it, we've been able to show the value in it. On the whole it has been really positive and we've been able to show the people of Milton Keynes that the culture of skateboarding gives the city something to celebrate.
As unfortunate as it is, there's something to be said about how this has created a new way to skate this part of The Buszy.
Wig: Indeed. That's something I wanted to talk about when I heard about this. I signed the petition against it and when I heard it had gone ahead, straight away, I thought, "I'm going to go up there and shoot a picture of somebody overcoming that obstacle." It's ridiculous. You can't contain skateboarding. You can't fence it off in in that way. Basically, somebody has created yet another obstacle for skateboarders to overcome.
I was flabbergasted by the size of the area of the 'tactile paving' after the bollards and thought it was game over as soon as I arrived. It honestly took me longer to set up the my lights on that January afternoon than it took James to land that heelflip off of the OG block and over the new bollards.
There's this philosophical reason for me wanting to show that skateboarding continues no matter what. Also, this issue has this parallel to The Beige. For years and years the people who owned the building have been fighting against skateboarders using the spot and every time they did something, the skateboarders pretty much found a way to overcome it. So, it's happening again but at The Bus Station, I suppose. I'm sure many more people will jump those bollards.
On a brighter note to round this off, the MK Skate project has led to Milton Keynes truly recognising skateboarding as part of its history. Interviews with various skateboarders have been included within its archive and skateboarding is going to be included in the Milton Keynes Museum in some way. Do you think this provides a good jumping off point for other towns and cities to celebrate their own skateboarding heritage?
Wig: Milton Keynes is still a new town, it doesn't have city status, but for a place like that which doesn't have lots of culture and history as part of its fabric, it's really useful to take the culture it does have and turn it into something positive for itself. It would be a drop in the ocean in the history and culture of a city like London and maybe it wouldn't work for other major cities in England. But for places which don't have huge amounts of history and culture it's something to really celebrate. People being healthy and creative while jumping around on skateboards? Brilliant.

The MK Skate exhibition is displayed at Centre: MK until 22nd December 2019 (Centre: MK, Unit 8 Sunset Walk, Milton Keynes, MK9 3PD). The street exhibition carries on until 6thJanuary 2020. To learn more visit 

www.mkskate.org
---
Photography by Leo Sharp and Wig Worland as credited throughout. Installation photos courtesy of Zip Design and any uncredited images courtesy of MK Skate.
Previously by Farran Golding: Caleb Barnett Interview, Brandon Westgate Interview