Following his departure from Blueprint Skateboards, the rest of the team followed suit. We spoke to our friend and Paul Shier about his time with the company and what comes next.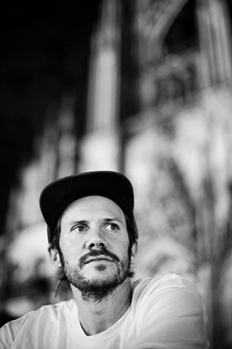 Interview by Jacob Sawyer, portrait by Sam Ashley.
Earlier this month, the Blueprint Skateboards team we all knew ceased to be. This sparked our curiosity as to what lies ahead for the riders involved. It also caused a few of us to reminisce over old video parts, premieres and company's impact on UK skateboarding. I caught up with Paul Shier from base in L.A. to get his side of the story. We're proud to have this exclusive interview see us in the New Year.
Textbook Shier trick coupled with a Barcelona backdrop around the era of First Broadcast which featured riders from the Blueprint, Unabomber and Organic (which would become landscape) teams.
Your pro career for Panic and then Blueprint spanned a fair old period of time. Of that, what would you say was the most exciting? What video was the most fun to film for?
There were so many exciting times but when I think back to the fondest memories, it has to be the old summer days. We were skating and filming all the time at Fairfield Halls in Croydon. The scene was so alive, everyone was learning so much new shit, the energy was incredible. 
We'd just smoke weed and skate all day, into the night. The crew I can remember, to name a few was Colin Kennedy, Mark Baines, Dan Magee, Flynn Trotmann, Jake, Ben Dominguez, Peter Lee, Ray, Billy, Lee, Skinner…
Regarding the funnest it had to be Lost and Found. I was living in Spain and traveling all over, filming. It seemed to come together just right and it was a rad time of my life. I ended up visiting so many new places at that time. Romania, Bulgaria, Egypt – it's a time in my life I look back at fondly.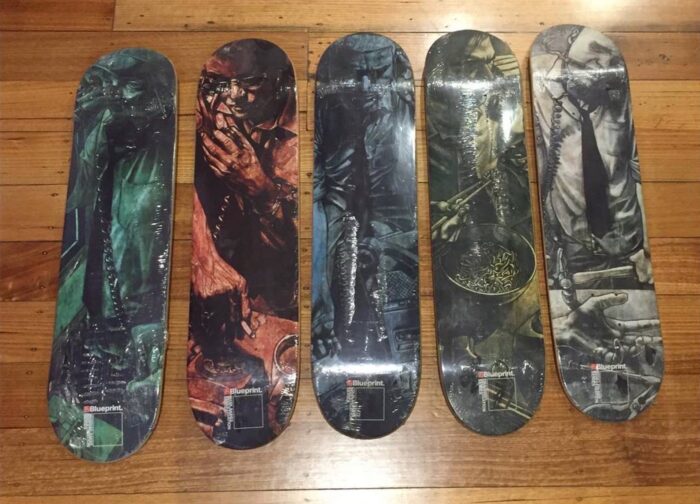 Blueprint's 'Investigation' series, 2002. ph: Unknown

What period of Blueprint was your favourite graphically and when do you see the company's aesthetic at its height.
I don't have an actual time but my favourite set of graphics had to be the 'Investigation' series. I remember being so hyped on getting those in my box. It still stands as the only full series of Blueprint boards I wish I'd held onto. I have mine but not the series. Anyone out there got it? I know Dan has the original artwork in his house which is real sick.
Magee took care of everything aesthetically for the longest time. Looking at what he did around the Waiting for the World era, no one could fuck with what Blueprint was doing.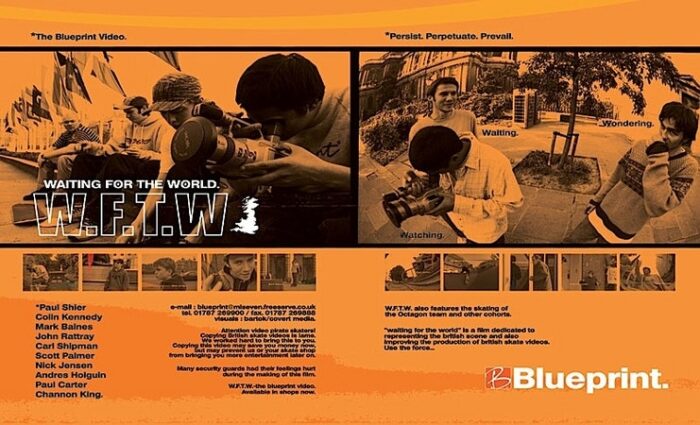 Double page advert for Waiting For The World featuring the same artwork as on the Blueprint VHS.
Waiting For The World broke down barriers and furthered British skateboarding. Describe that time and turning point compared to how things are now?
Blueprint was one of the very first brands out of the U.K that was willing and able to man up and pay skaters a wage we were able survive on without having to hold down another job. Before that, hardly anyone was getting paid anything solely being a U.K. pro. It was the standard, over the whole of Europe, to just receive product. The skateboarding industry was all about what was going on in the U.S. and everyone was strictly buying those brands. If you were lucky enough to be sponsored in the U.K., it would usually only be something like a flow deal from a distributor. 
For us to break that mould and be successful with Blueprint was pretty great. I still remember when we first started to grow. We got hated on pretty hard from people under this illusion we were just a London-based company and not a representation of the whole U.K scene – even though we had riders from Bath, London, Sheffield and Edinburgh. It was a funny time in British skateboarding with what seemed to contain a lot more beef and shit talking than there is now. But it was a rad era to be a part of.
When we dropped Waiting for the World at our premiere in Sheffield, nothing out of the British scene had ever looked or been presented like that which took a lot of people by surprise and made Blueprint a force to be reckoned with. It really helped push British skateboarding in the right direction and changed the way it was perceived outside of the U.K.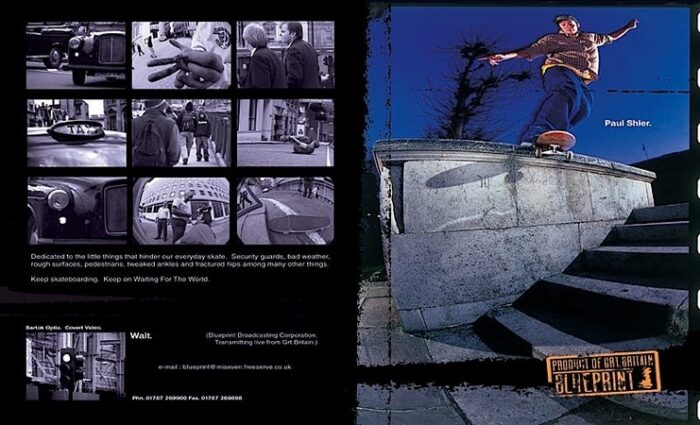 Paul Shier backside lipslides at St Paul's Cathedral during the Waiting For The World era of Blueprint. photo: Oliver Barton / design: Dan Magee
The difference between now and then spans outside of just the U.K. and onto the rest of the world. Everything has become saturated. Unlike the older days, it's rare to actually come across something refreshing and different you're stoked on. If you do it's usually forgotten in the sea of other brands, YouTube and Vimeo within days. 
Back when Waiting For The World was released, there was no such thing as online video "content" at your fingertips. It was a time when you bought a video and watched it religiously everyday in your VCR until the tape got fucked up. Which, by that time, the next best thing was being released anyway.
Even though it's harder to find anything that really stands out these days, there are of course always exceptions. This is why Nick Jensen and I are pushing forward to bring you something we believe in. I like what the guys at Polar are doing and enjoy what they bring to the table. Pontus [Alv] has a great way of presenting everything he does. I'm real stoked that my boy Jerome Campbell found a home there.
"I really miss the hustle and bustle of London, there's no city like it in the world. The people, the architecture, the spots, the chaos."
You've carved out agreeable living situations in Barcelona for a number of years and now the U.S. What do you miss about your London roots?
When I think of the U.K, what I miss stems back to what I've always missed when living in Spain or now in L.A.: friends and family. 
Spain worked out a lot easier. I had a big apartment for anyone and everyone to come stay at. It was only a two hour flight from London which kept me in good contact with friends and family either coming or going there.
I really miss the hustle and bustle of London, there's no city like it in the world. The people, the architecture, the spots, the chaos.
With L.A., it's a little harder. I miss a lot of my close friends since but when I'm back I try to make it a point to see as many people as I can, however long I'm staying. Once or twice a year I have Sylvain [Tognelli] and Jensen stay with me in L.A. which is always amazing. Seth Curtis tries to make it out too. I guess with all the travelling I do, it always works out well and with the life I have with my lady in L.A., I'm very happy.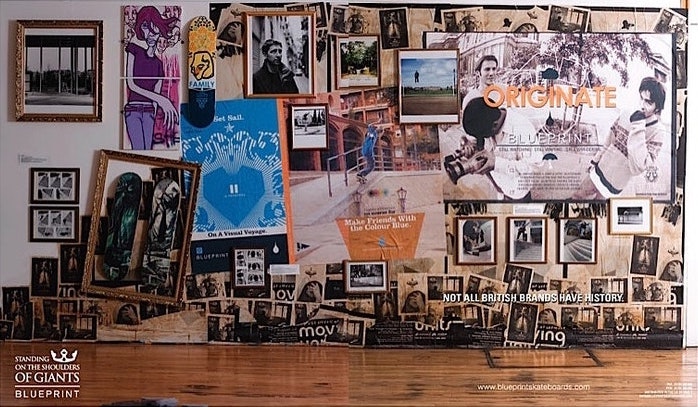 "I speak on behalf of everyone who was involved over the years when I say this: Blueprint as you once knew it is dead."
After a terrific innings, you decided to no longer ride for Blueprint, pre-empting a rider exodus. Knowing your drive and vision regarding the company, I doubt that was easy.
That had really been playing on my mind. It was a rough place inside my head for some time. I tried to keep it all together but it came to a point where I just needed to work out what I was going to do in the future. 
For four years, I'd been running a lot of the operations at Blueprint. All the way through from skater, salesman, marketing, team management, production – the list goes on. It was too much on my shoulders. I was on a mission to make everything work the way it should have but, with what I was dealing with from above, that was never able to happen. Unfortunately. 
There were a lot of aspects behind the scenes at Blueprint that I could never agree with. When I tried to question or change, it just fell on deaf ears. When you're working with someone who doesn't know the history or passion that has been put into a brand for so many years, you get tired and can't carry on.
I was looking at it and there was no sense for me to carry on all this work for the brand, team or myself. The team and I were unhappy with Blueprint for some time. For a brand to succeed it needs to be striving, right there. Everyone who was part of Blueprint until I left were out there, smashing it daily, and had seen no benefit for far too long. I couldn't continue to support a brand that wasn't supporting the people who build it to what it was.
"No one from the team wanted to be a part of it after I cut my ties, that loyalty meant so much to me."
Will a different version of the company continue to exist?
Apparently the owners of Blueprint have decided to keep the brand alive and start fresh. No one from the team wanted to be a part of it after I cut my ties, that loyalty meant so much to me. I thank everyone for everything they did for the brand and I love them all. 
Although I'm slightly intrigued in what will happen to Blueprint, I wish they would just let the name die. I know I speak on behalf of everyone who was involved over the years when I say this: Blueprint as you once knew it is dead.
Managing the DVS team must take up a fair amount of your time. Will the Blueprint team all be finding new homes or do you have other projects in the pipeline you'd like to talk about?
I'm really hyped to be a part of DVS. They've had my back since 2001 and to be able to skate for them and help out behind the scenes is perfect. 
It takes lot of time but there are a lot of hours in a day. I'm in the process of building something with Nick Jensen. I've been fortunate to become good friends with Nick over the years we rode for Blueprint and I really look forward to what is coming next. 
What I've seen so far on the creative side, the brand is forming fast and coming together so sick. I'm excited about getting everything rolling and the product out there to you.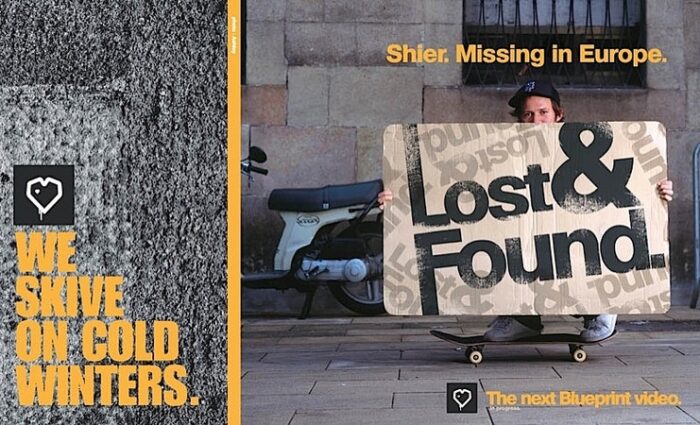 A Blueprint advert from the video Shier's favourite era, Lost and Found, with a brilliant pun on the company's tagline. ph: unknown / design: Dan Magee
"Anyone fortunate enough to be paid to skate and travel the world should feel so lucky and never take it for granted."
What direction do you feel British skateboarding is headed? It seems like an exciting time with a fresh batch of companies, a new generation coming through.
It's always an exciting time in the U.K., I'm hyped on what's been going recently and stoked to see friends starting and being a part of new brands. This is how it should be and it promises a good future for the scene.
In regards to the skateboarders in Britain, it has never been better. There are so many people that I watch and am stoked to see what they're doing and how they do it. To name a few I'm hyped on right now, it has to be Nick Jensen, Rory Milanes, Joe Gavin, Chewy Cannon, Jerome Campbell, Tom Knox, Chris Jones, Lucien Clarke and Luka Pinto. 
All those guys are what I want to see and how I appreciate skateboarding.
You've maintained enthusiasm whilst being immersed in skateboarding for so long, on the business side as well. How do you manage to do that? Most people emerge a little more jaded.
I love skateboarding, whether doing or watching it. These days, there are aspects I think are pretty mundane but that doesn't take away why I'm into it. As long as there are skaters like Vincent Alvarez, Nick Jensen, Stevie Perez or Maders Apse, I'll always be stoked on skateboarding. 
Anyone fortunate enough to be paid to skate and travel the world should feel so lucky and never take it for granted. The past 17 years have been incredible. That keeps me positive and stoked on the future. Most people work their whole lives without knowing what's outside the box of a regular 9-to-5. Being a skateboarder allows you to experience so much more.
Paul's well-travelled part in Josh Stewart's Static 2: The Invisibles filmed between the Blueprint videos First Broadcast (2002) and Lost & Found (2005)
What trips have you got on the agenda? Can we expect your next video part to have a decent amount of U.K. spots?
I'm coming to London to sort some visa paperwork in January so I'll be skating there which I'm looking forward to. Hopefully, I'll get a few more clips for the upcoming Grey video which is sure to be amazing. 
Following that is a trade show in Berlin, then a short trip to Valencia with Grey for something me and others are working on. Next video part, not sure when that will be but I hope to get something going. As always footage will be from all over the place.
Your trips home always include a decent stint spent in Slam's Covent Garden store. I think you've even done a full day before. How does the shop figures in your daily plan when you're here?
I've spent more time in Slam than a lot of places in London, that's for sure. For one reason or another, it just became my destination when I arrived at the airport from the States. I'd get off the plane, head straight there and then off to the Cross Keys to catch up with everyone and drink Peronis. 
It's always good to see whoever is in there from yourself, Jake to Paddy to Sam. Friendly faces, always. I ain't never done a day of work there – well they did not pay me for it – but for I've spent a lot of full days talking shit while it rains outside. 
Slam has been like a community centre for a large percentage of the London scene. It being so central makes for a great meeting place to start any skate day.
St Paul's again with some classic Shier footwork around the time of Lost and Found. ph: unknown / design: Dan Magee
What are your favourite memories of skating the city? Who stands out for you as a fully-fledged London skater both back in the day and in recent years?
When I first started coming to London from Croydon, we'd meet up at 8am at East Croydon Station and head up to Southbank and London Bridge skate park. 
Back then, the scene was way smaller than and being a skater was something that was looked down upon. We were hated by most people in society. This made it special to me at the time. It was really rare to see any sponsored skaters but when I did, I'd be hyped mostly on Curtis McCann. Then a little later, Simon Evans. These guys were way ahead of their time and no one came close to what they were doing in my eyes. Curtis looked like he was born to be on a skateboard. His style stood out above everyone else. Even though neither of them skates anymore, to me they personified the London skater of the past. In regards to who I think are the most legit, London skaters today, it has to be Nick Jensen, Lucien Clarke and Tom Knox. 
Born and raised in London, still living there and heavy representatives for years to come.
---
Related: Waiting For The World (Full Video), Ode To Victoria Benches, Lineage: Tom Knox, Auteurs: Jake Harris, Stimulus: Nick Jensen, Driving South by Mark Baines (Full Video)