For Go Skateboarding Day 2022 we enlisted Slam team and family to see what we could gather on a simple trip through the city. Our day was blessed by a heavy crew who were out in full force. Jak Pietryga, Darius Trabalza, Neil Smith, Helena Long, Jeremy Jones, Amanda Perez, Jamie Arghhh, Tom Tanner, Nick Stansfield, Jarrad Carlin, Nick Jensen and Rob Mathieson were our squad on the road. We were also excited to have legendary lensman Wig Worland with us shooting photographs.


Neil Smith meandering through town with a purpose
This mission evoked many memories of countless weekends spent exploring the city having met at the Slam shop first. All of the following images were captured by Wig Worland and our gallery closes with the video shot to accompany them. To view a wealth of other selects from our day out make sure you check the article published by Grey Skate Mag.
We were truly invigorated by how Go Skateboarding Day made us feel this year and we hope it inspires you to go out there and do the same. London is your playground, pick a direction and see what surprises it has in store for you.


Jarrad Carlin finding some shade with a frontside bluntslide while the traffic queues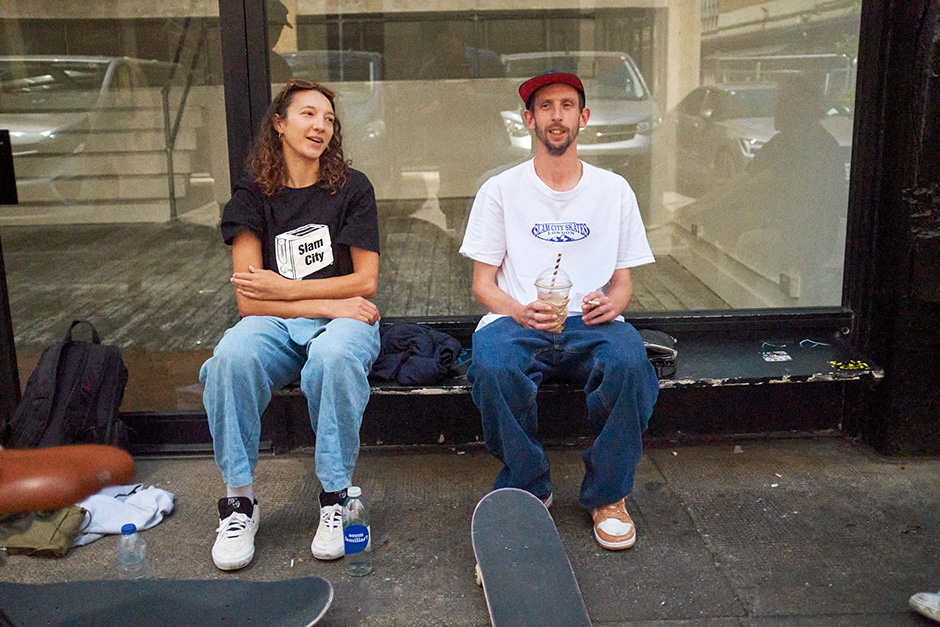 Helena Long and Jak Pietryga taking in some refreshments
Tom Tanner taming an escalating backside tailslide before shoving it into submission
Jamie 'Arghhh' Morley took his lengthy backside 50-50 behind a lamp post before releasing it
Helena Long and Amanda Perez on the sunny side of the street
Amanda Perez front feeble on an instant bust water fountain spot
Neil Smith ollies out past the skate stopper and backside nosegrinds the distance
Jak Pietryga put his signature switch front bigspin down a couple of times at this classic spot
Jak Pietryga and Jeremy Jones killed it all day long
Jamie 'Arghhh' Morley frontside wallriding some Barbican bricks
Darius Trabalza makes use of a set up assist for this tall frontside noseslide
The accompanying video from our Go Skateboarding Day expedition

Thanks to everyone who made this year such a memorable one. Thanks also once again to Wig Worland for taking photos and to Grey Skate Mag for covering this on their site.
---
Check out some Go Skateboarding Day action from years gone by. Links to the galleries and videos appear below…
Go Skateboarding Day 2019: Gallery / Video | Go Skateboarding Day 2016: Gallery
Go Skateboarding Day 2018: Gallery / Video | Go Skateboarding Day 2015: Gallery / Video
Go Skateboarding Day 2017: Gallery / Video | Go Skateboarding Day 2014: Gallery