You read it here, Slam City welcomes Ben Raemers to the shop team.
Slam City Welcomes Ben Raemers. Video by Mark Jackson with music from Life Drawings courtesy of

Permanent Slump Records

. Supported by

Converse Cons

and enjoi.
Ben Raemers has joined the Slam shop team. Ben headed over to the Tottenham Hale DIY spot to celebrate, regardless of what the weather was saying.
Since he received his first "Goosebumps" board when he was 8, Ben has been focused on becoming the amazing skateboarder he is today. His transplant from Walton On The Naze to the city made Ben a welcome face and a regular visitor to the shop where his enjoi board is always on our wall.
We're proud to announce that he's repping the shop while he's out there smashing it, on a daily basis. Photos from this session will appear in the latest Grey Skate Mag.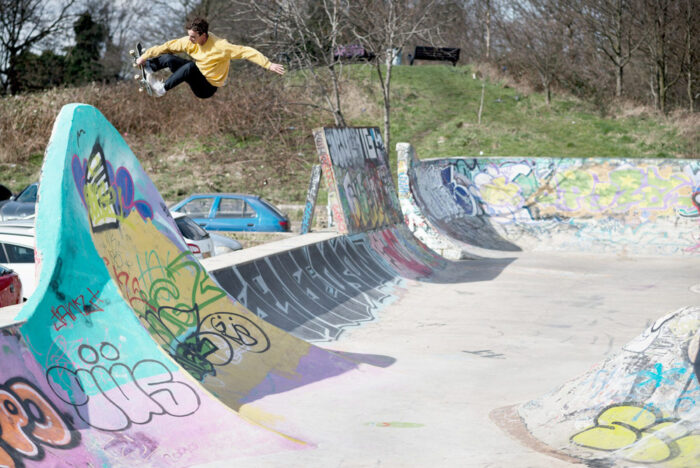 Ben Raemers at Tottenham DIY by Henry Kingsford for his 'Welcome to Slam City' ad in Grey Skate Mag
---
Further reading: Ben Raemers Interview
---
Ben Raemers and The Ben Raemers Foundation
Ben asked to ride for Slam City as he wanted to get involved in the shop where he spent so much time hanging out.
In April 2018, he put together a welcome clip with ease at one of his favourite spots, Tottenham DIY. We're all grateful for the time we spent with Ben and were devastated by the news that he had taken his life in May 2019, aged just 28.
Many of us here at Slam spent a lot of time with Ben and had no idea of his inner turmoil. We all wish, as many do, that we could have done more, or seen the signs. The Ben Raemers Foundation was set-up in his name to create awareness of mental illness and the wellbeing of the skateboard community, to stop this ever happening again.
'Skating and Talking', a film profiling Ben's life and the work of The Ben Raemers Foundation was released on marking November 4th 2021, marking what would have been Ben's 31st birthday. Please take some time to watch the film, remember Ben and reach out to loved ones if they or yourself need support.
He was a shining light, an inspiration to so many and will never be forgotten.
Ben, we all miss you everyday.
You can call the Samaritans UK & Roi Hotline on 116 123 (free from mobile and landline phones), their service is available any time (24 hours), every day of the week. For more information go to: samaritans.org
Mind's Infoline is also available on 0300 123 3393 and can be reached between 9am and 6pm, Monday to Friday (except bank holidays). For more information go to: www.mind.org.uk and find your local Mind service here.
www.thebenraemersfoundation.com
contact: [email protected]
instagram: @thebenramersfoundation
'Skating and Talking' by Liam Martin