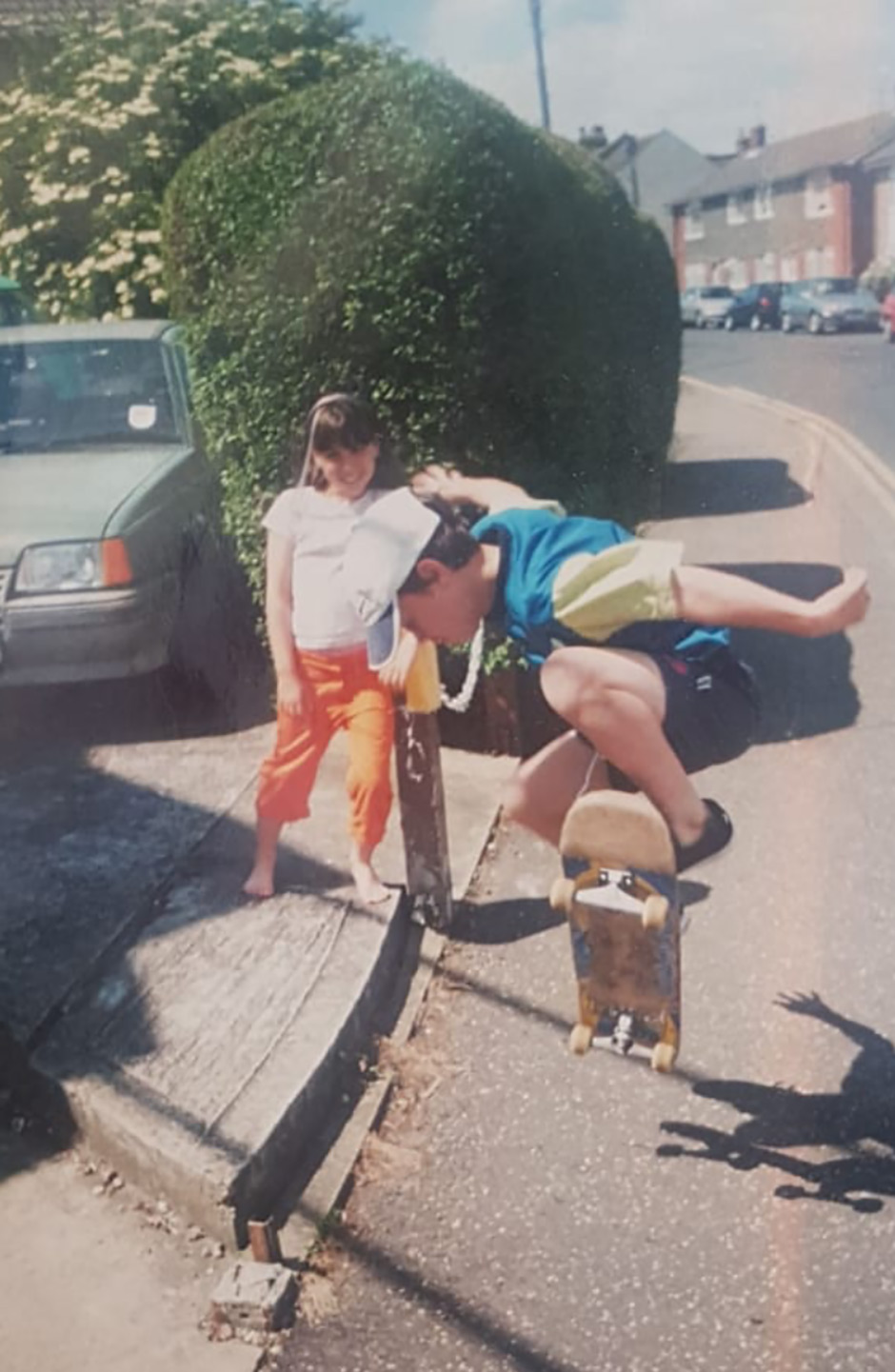 Lucy Raemers watching her brother Ben beginning to harness his magic
Thursday 14th May will mark a year since we heard that our friend Ben Raemers had taken his own life, news which shook us and the entire skateboarding community to the core. With this anniversary in mind we reached out to Ben's sister Lucy to speak about how she is doing and the challenging year she has had. We are grateful that she was eager to speak to us about something so heartbreaking and the work she has been involved in ever since.
Lucy's voice, her honesty and willingness to share her experience is an essential part of The Ben Raemers Foundation which was created after Ben's passing to combat the stigma and burden that so often clouds issues of mental health. The Foundation is already affecting the culture in a positive way, not trying to tell people what to do or how to behave but exposing options and alternatives people may not be aware of as well as offering valuable support to the community as a whole. We are glad we could also speak to Lucy about the busy year the Foundation has had and the important work it aims to do.

Hey Lucy thanks for speaking to us. As we approach the year milestone of Ben's passing we thought we would check in with you. How are you doing?
I'm doing okay, I'm doing fine, thank you for talking to me. It has been probably the craziest year of my life but having the Foundation has pretty much saved me really. Putting my energy into that has been kind of a life line in many ways but I'm doing really good.
So many people loved Ben including so many who had never even met him. It always comes up in conversations that we wish we could have all told him…
It's quite a strange way to put it but the most beautiful thing to come out of this is just how many people have said how lovely Ben was. People would meet him, skaters, they would be at a skate park and approach him like "Oh my god, it's Ben Raemers". They are writing to us saying that they went up to him and he was always so polite and stoked to speak to them. That's the sweetest thing, everyone has said that he genuinely was a really lovely guy. He was a bit of a sweetheart really.
What do you miss most about Ben?
I's really funny you say this because I've been writing some stuff down lately and I wrote a list of things down that I miss about him. To be honest the thing I miss most is when we would meet up. I'd come to London all the time, we would put weekends in the diary and I would come up. He would love it, we were super close.
I would always book a train ticket to go home, the thing I miss most is he would say "Why don't you stay, we'll get one more pint". I'd end up buying about 6 train tickets then end up missing it and having to get the train first thing in the morning. I probably miss that, just hanging out together really. We genuinely loved to be together and his sense of humour was pretty funny.
Our Go Skateboarding Day last year was rightly dedicated to Ben at his favourite park. Hundreds of people had an amazing and emotional day, how was it for you seeing and being part of that?
Oh my god, it was amazing! It was completely overwhelming. My two brothers were there and some family members. I couldn't get my head around it. I knew with Ben being my brother that he was big in skateboarding but I didn't realise how big, that day really was an eye opener to how great he was. Just the sense of the skateboarding community coming together, it's an amazing thing that it could happen and did happen. Skateboarders pull together with love and that is so beautiful in itself.

It's an amazing thing that it could happen and did happen. Skateboarders pull together with love and that is so beautiful in itself
On that day we included Grassroots suicide prevention info in all the tote bags we gave out and aimed to involve local mental health charities to approach constructively what felt a difficult conversation. I spoke to Susie Crome [Foundation trustee] about that day and she felt the feeling in the air was that people didn't know really where to go with the grief, stress, anxiety and the fallout from this tragedy. Which made her think that there was a real scope to do important work around mental health and suicide awareness, something really aimed at creating this space for everyone to grow together and help each other…
When Ben died, me and one of my brothers spoke about starting a charity, doing something positive with his legacy. My brother Ollie said it would be hard to figure out, figuring out what it would be, some kind of call centre? When Ben's best friend Rob Mathieson and I spoke to Susie about it she said it could easily be done. She has worked with charities and when we met up with her she could see at Go Skateboarding day that it's an important area that hadn't been explored yet.
It was something that was missing but with her knowledge and expertise it has happened which is amazing and it's just the start. People die from suicide all the time and it's horrific, but with Ben and the skateboarding world I think it tipped an edge where something really needed to change and so many people have been on board with it.
What does being involved in the Foundation mean for you and everyone else involved there?
When we started the Foundation and put on events I have said to the guys that I don't know if I'm very useful at times. But Ben and I used to call ourselves "twins'. I'm basically like Ben's twin and I said in my funeral reading that I promise I'll carry half of you through life with me. I think that by being part of it I feel like I'm carrying Ben and Ben is with me. We are doing this together and we're making him proud. It gives me such a purpose that it's kind of saved me, it's the best thing in the world.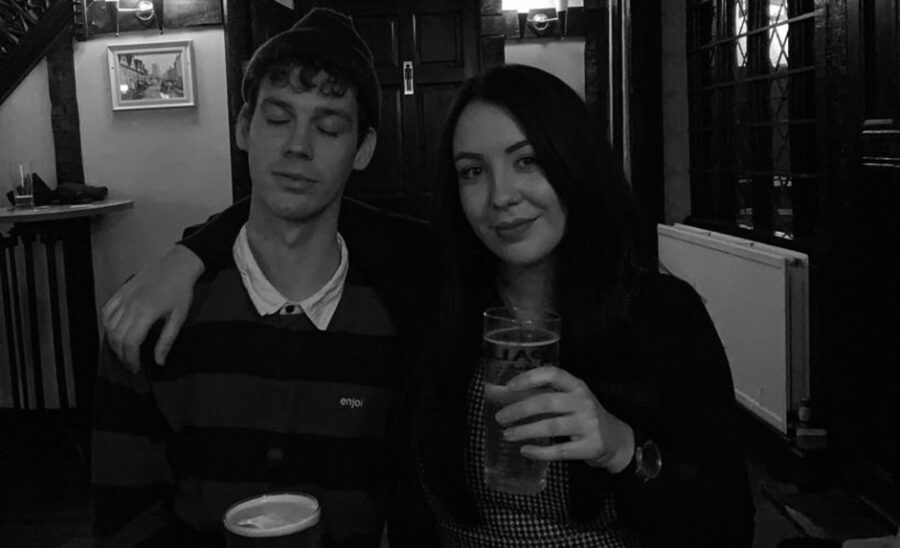 I think that by being part of it I feel like I'm carrying Ben and Ben is with me. We are doing this together and we're making him proud
How has the reception been to everything the Foundation has accomplished so far?
It's been amazing, the amount of people that have opened up has been overwhelming and incredible. I've had people message me on social media, people reaching out from all over asking for advice. I have to be really careful and I'm not a professional but I can give my opinion with what's happened with us losing Benny. People are messaging to say they haven't opened up before but we have given them space and awareness and now they have spoken to their family for the first time. Everyone is so hyped and excited this Foundation is happening because it is so different and needed.
It feels like in the current Covid-19 Lockdown situation, mental health awareness is more important then ever, how have you been coping?
Yeah it's more important than ever. I've actually been much better than I thought. Me and my cousin live in a flat, a family flat my cousin Tom owns. We've got a peace, love and harmony place. We're both looking after each other, I'm eating nice food every day and exercising loads. I'm just trying to do everything I can to keep myself in a good place mentally.
It's obviously given me a lot of time to think about Ben and last year. With it coming up to a year I'm finding it a bit harder now but mentally I think it's given me some time to heal from him. When he passed away I moved to London and everything was happening at a quick pace but I've had time to get to grips with things and heal which has helped.
We are excited once this lockdown has alleviated to have staff receive the Suicide Awareness training the foundation is offering. That's a really powerful move, skate shops have always been community hubs and so much more than just retail outlets…
Absolutely, I think that was one of the first ideas. One of the first times Rob and I met with Susie she asked what kind of things we wanted to deliver. We weren't sure but Rob suggested the idea of training staff in suicide awareness and we were really hyped on the idea. When I think about Ben and when he was suffering and finding things tough, going in to doctors surgeries or places that are really clinical wouldn't have suited him.
But walking into a skate shop like Slam with you guys, people that he loves, knowing that someone was there who genuinely knew their stuff I think it would have made such a difference and I think it will make a massive difference. Having a safe spot in somewhere that you feel comfortable has got to be the best thing in the world right?
Yeah for sure, a skate shop can be a real sounding board and it's a hub for so many young people, that training is really valuable.
Yeah what a thing to be able to deliver and if it makes a difference to just one person it will be amazing, worth every second of it.



The SMiLe Interviews are really important. It's incredible that well known Pro skaters like Nick Jensen and Aaron Herrington are putting themselves out there like that and making others know they are not alone.
Yeah the response to those has been insane and we are definitely going to do more of them. Sometimes you see someone famous or in the public eye, a singer or an actor. You seem them on social media and they appear really happy, they have a huge following and you assume they won't be affected by mental health problems. But it can affect absolutely anybody, these conversations normalise it and make you take a step back and see that it has happened to someone you may think it wouldn't have. We are doing everything to normalise it and stress that it's okay to not be okay which the Smile interviews have been amazing for.
The beauty of the interviews comes from people like Aaron and Nick who are admired because of their skateboarding being given a platform in a really different way. To open up and share their experiences of dealing with their mental health, particularly within the context of skateboarding. By opening up and sharing, what is normally seen as vulnerability becomes really powerful and resonates.
Do you feel like the stigma surrounding mental health issues is slowly dissolving?
I genuinely think so since losing Ben, and I'm not sure if it's just because people are seeking to me about it. But I feel like mental health is being spoken about so much more across the board. Just because you can't see these problems doesn't mean they're not there. I feel a lot more people are talking about it which is incredible.
What was the Q & A like after the SMiLe screening?
That was amazing. We were talking beforehand and wondering whether we should plant people with questions just in case people were too shy to put their hands up. But it was incredible how many people put their hands up and asked questions. We had a panel of people answering questions like Nick and Aaron, our friend Andy and Colsum from Mind who helped and advised. I couldn't believe how many people put their hands up, girls and boys of all different ages.


We just want everyone to do something positive on that day using that hashtag and we will share it on our story. It will be a day filled with positive things around the world even with this madness going on

Tell us about the #SMiLeForRaemers hashtag.
Yeah my older brother Ollie came up with the idea. We were talking and saying that it's something we would really like to do for Ben. As a family especially it's going to be hard for us and tough, the one year anniversary. He is running the Berlin marathon and he came back from a run and said he had an idea. He thought that on that day we could think of a hashtag and do something really positive on that day which was a great idea. We just want everyone to do something positive on that day using that hashtag and we will share it on our story. It will be a day filled with positive things around the world even with this madness going on.
The stuff on the site like Korahn Gayle's training tips and the physiotherapy tips with Ben Rowles are an amazing gift to everyone self isolating.
Absolutely, we wanted to deliver something and were discussing what it could be. Rob put out the feelers to some different people and the guys who have done it have been amazing like Ben and Korahn. It all flowed really well and it was amazing how happy the guys were to do it for us. The next one is a yoga session with Dakota Hunt, everyone loves yoga. It's one of those things these days where if you buy a fruit blender and go to yoga you feel like you're winning at life. I think it will be really good and I'm going to give it a try myself. It's good for the mind, body and soul.
It's a really good one to get into, a great discipline for want of a better word. Finding a way to take some time out for your own mind and body is definitely important.
Yeah and I don't think we do it enough so this could be the start for some people doing more of that. That's something that should come from this isolation, realising that your head space is way more important than anything. This time can make or break people and I think if we can help with these live videos by breaking up some time in between then that's definitely a positive.
Also congratulations on the foundation being awarded charitable status from the charities commission meaning you guys can fundraise to do projects with wider outcomes and bigger impact, getting the message and the aims of the organisation out there. The ball really has just started rolling.
That was amazing, I couldn't believe it when Susie said it had all happened, she made miracles happen with that. It's all thanks to her, I was bloody overwhelmed, these things can take years! Sometimes it can never happen for charities. The fact that we have charitable status now and being able to tell people who want to do fundraising that we have a charity number.
Jack Brooks did the initial bit of fundraising with the bench. My cousin Louie did an ultra marathon, he ran 86 miles in 24 hours for the Foundation and completely battered himself the poor boy, he is a legend for that. This was all when we didn't have a charity number. But now we have one the possibilities are endless.
What advice would you give to someone who feels they are unable to talk about what is troubling them? It's still an incredibly hard and brave thing to do to open up.
Yeah I think it's so difficult, especially when you're having these dark thoughts and you don't want to talk. Trying to get yourself to say something feels borderline impossible. After Ben I hit a really low point and shut myself away from my friends and wasn't really speaking to anyone. The best advice I can give is that when you are really at the point of despair to remember that picking up that phone and calling anyone, even if you can't call the Samaritans. Calling anyone can make it so much easier, only good is going to come from it. I remember thinking I can't do this! But all that is going to happen is someone is going to pick you up with just a few words, a hug in some words to tell you it's all going to be okay.
Once you make it to that, the road can be so much easier. People sometimes, we try to battle these things on our own because you can't see the problem. With broken leg you can see that it needs to be fixed, a headache you take paracetamol but with mental health it's so hard, you're inclined to battle it on your own because you can't see it. But there is always someone there to help. People love you, never forget that. I think that's one thing with Ben, at a point he felt worthless and didn't realise how loved he was. There's always someone to turn to and someone who loves you so talk and reach out to absolutely anyone.
And for those of us who may be worried about someone? One thing that really struck me in your F-Word interview was advice to keep talking, keep asking. Especially in Britain with the stiff upper lip if you ask someone if they're okay and they respond "Yes I'm fine", that's the end of conversation. But the advice really is ask, ask again and prompt these difficult conversations.
Oh my god one hundred percent. Do you know what, that's my biggest regret. I think we are so British sometimes and you don't want to come across as rude. But actually the thing I should have done with Ben is keep on asking, just keep asking the question "are you okay?". Someone is only going to turn around and say they are fine but you'll know from their tone of voice.
Seeing Ben I knew there were problems but I didn't want to embarrass him I suppose but I would take a day of Ben being embarrassed a million times over and him still being here. Keep asking, someone is only going to turn around and say no, what's the worst that could happen? But the best thing could happen and they tell you they're not okay and you move on from there.


Beautiful shot of Ben taken by Rafski
Finally can you tell us a funny Ben story that we may not have heard?
I have a lot of funny Ben stories. Ben and I went to Field Day with some friends a few years ago, we were having the funnest day partying. I needed to go to the toilet and Ben insisted on coming with, he was always super protective. We were standing there and I really needed a wee and knew there was no loo roll. Ben was like "hold on a second", he pulled his Clark's shoe off ripped his sock off and said "have my sock".
There was a big queue of people behind us, a girl came out of the toilet and said there was no loo roll. Ben said "don't worry she's got my sock". Everyone started absolutely cracking up. Then for the whole day he'd go "Hey" and then pull his trouser leg up and show his ankle, it was really funny.
Any last words?
I think in the last interview I didn't stress enough how Rob, Susie and Francesca have just been incredible. As trustees they have been amazing, the biggest shout out to them. Massive thanks to all of the skateboarding community and the wider community who are on board and supporting this. It's been incredible.
Interview by Jacob Sawyer.

Make sure you follow The Ben Raemers Foundation on Instagram.
Donate to the Foundation HERE.