In an exclusive Ben Raemers interview, we catch up midway through a Volcom London tour to talk sponsorship, travels, favourite London localities and – of course – Alan Partridge.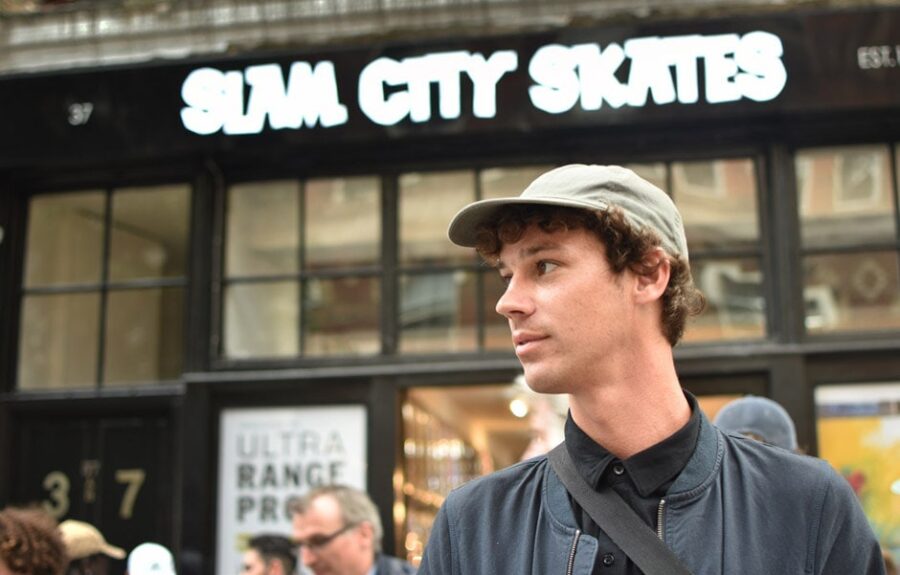 Ben Raemers outside our Covent Garden store. Interview and portrait by Jacob Sawyer, introduction by Kevin Parrott.
About 15 years ago, a photographer friend rang called as he was heading into the city with a kid I'd met a few times, Ben Raemers. He was a park rat, from out of town, who wanted to skate it all but needed help as he didn't have spots.
Later that day, I was told by a couple of people that they'd seen Ben rolling away from tricks at the Liverpool Street double set. A few years later, we ended up hanging out more and eventually came together over the last decade through Volcom.
We've lurked, travelled and filmed for years. Right now, Ben is off trying to work on a project with some other filmers and, once again, the spot calls have started. He's said directly that he just has a couple of places he likes to skate regularly and that's it.
His world may have changed externally, now he's a made man with his name on a board. But that self-driven need to fully charge, the moment he sees something which takes his fancy, is still a huge part of what makes Ben an exciting character to bear witness to.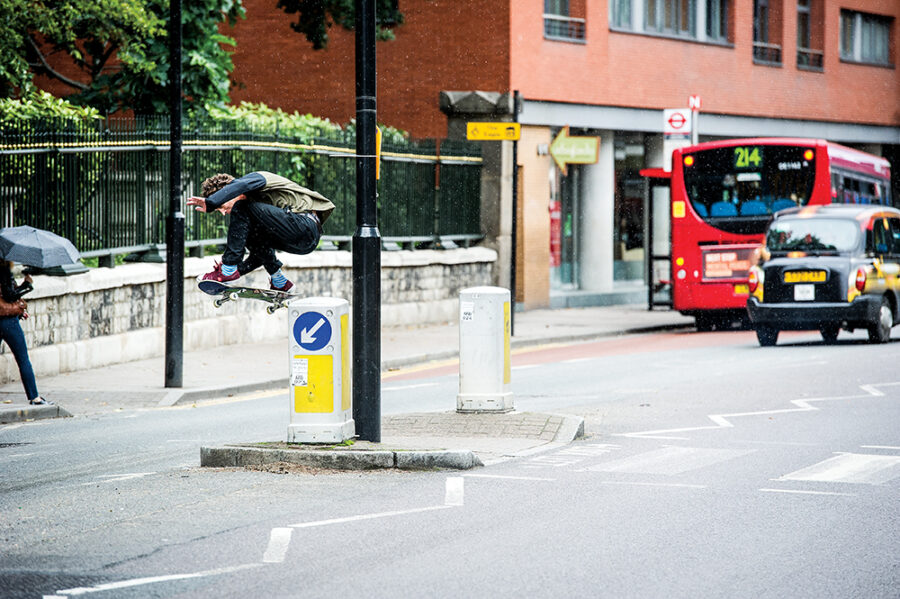 Wallie in London shot by Jaime Owens and courtesy of Transworld Skateboarding
Hello, Ben. How's it going?
It's going good. It's the last day of this Volcom trip.
How long has the trip been?
It will be a week, today. It's nice to be on a trip where I can actually be at my own house and the hotel everyone is in is five minutes away. It's very rare. It's been great showing them spots, witnessing them skate stuff I didn't think would be possible. People like Alec Marjerus, skating rails out here that people don't hit that often.
When did you get your first skateboard and do you remember what it was?
I was 8 years old. I woke up on Christmas day, opened this thing and I had a Goosebumps skateboard. It was the best. It had a mummy on a skateboard on the back of it. It was so banging. That was the first.
Do you remember the first time you ever saw somebody else skating?
This is pretty crazy. We would go to my uncles' in Croydon all the time. We'd go past Fairfield Halls because there's a big shopping centre nearby. That's the first time I saw a big group of people skating something. I remember being like, "Wow, this is sick." That was my first encounter with skating.
Who was the first skateboarder you looked up to?
I think because I grew up in Walton On The Nazewhich is in Essex, Ipswich wasn't far from where I grew up. Like a thirty minute train ride. That was the nearest good skatepark and Frank Stephens is from Ipswich. He was my first pro encounter.
I went down there and he was killing it, just killing it, and I hadn't seen [someone skate like] that before. I'd just been skating with my mates. We'd gotten to the age of about 12, where we could get trains together, and seeing someone on that sort of level was just the best thing ever. So good!
Ben's 'Mechanically Reclaimed' part, a collection of unseen footage for Volcom from his early days to 2014.
"I'd just gotten a massive box of Volcom clothing. That was around the time when Flip's Sorry had just come out so there was all this footage of Rowley wearing sick Volcom stuff"
When did you first get on Volcom?
When I was 14 years, which was 12 years ago. I was so stoked. I was at school and I'd just gotten a massive box of Volcom clothing. That was around the time when Flip's Sorry had just come out so there was all this footage of [Geoff] Rowley wearing sick Volcom stuff. Even just having the sticker… I'm still stoked now but it was really surreal.
Where's the best destination a Volcom trip has taken you?
Probably the Cayman Islands which is next to Jamaica. It just so happens that they built this massive concrete park on the beach. There's a lot of footage of Grant Taylor skating there. We were swimming with stingrays – stingray city. The sea is see through, you go snorkelling and you can see tropical fish everywhere. It's like a dream. It's the sort of place you'd see in a movie where they're drinking cocktails on the beach. I'd go back there anytime.
Where have you been on this trip so far and where are you off to, after today?
We went to some spots around East London on the first day, like the Birdcage Banks. We kept it local around there. The next day it just rained so we went to Southbank. Daan did a fucking crazy trick there, he did a 540 on the new quarter so high out of it.
We then skated that big, cut off rail that Barney Page had a Sidewalk cover feeble grinding. The day after, we went to the Clapham Junction spot and skated all of that stuff. Yesterday, we drove to Bristol and went to a skate park to do this thing. We ended up getting home at about 2:30am in the morning. Today, everyone went skating and I couldn't do it because I pulled a muscle by where my heart is. I'm going to America in two days.
Who is your favourite person to skate with on the Volcom team and who is the best to watch?
I'd say Jackson Pilz or Caswell Berry. They both ride for enjoi and we've been friends for a long time. I don't see them all that much so it's always a treat. To watch, I would have to go with Grant Taylor or Daan van Der Linden. It's not even real when you watch them skate, it's something else. Everything they do, if they go to a spot, you need to get a camera out before you've even sat down. They could just do something first go and not again
Have you been keeping up with Dustin Dollin in your down time or is that impossible?
It's pretty impressive because he can put down some beers. Whenever I get to the hotel to meet everyone, he'll be at the bar getting a beer. He's bringing good energy the whole time. When people are skating, he's yelling at them and getting them to do stuff.
He did some classic Dollin tricks too. At the Clapham Junction spot, he somehow did a frontside flip three feet out of that transition which is pretty much impossible. It was classic Dollin, like in the Baker videos. His whole personality you see in movies and stuff, there's not an ounce of fake in it. It's genuinely what he's like. Having a good time, all of the time.
Ben's ender from enjoi's Oververt (2013)
Quite a lot of things seem to happen to you on your travels. What is the best and worst situation a tour has found you in?
It's not the worst situation but it's definitely not great. I was in L.A. for a bit and I was walking to Walgreens to buy something. My bank card was inside my passport in my back pocket. I get to Walgreens and realise I 've somehow lost both of them on the two minute walk there. I was completely fucked. It's like $500 for a new passport. Luckily I had friends around, who took care of me, but it was rough because I had a few more trips while I was there. I had to live off no money for another five weeks. Bumming it was pretty harsh, luckily some good friends helped sort it out.
When I was a kid, I think the best decision I have ever made was in America. I was on a homies trip and I'd met Louie Barletta before. I didn't think it would happen but I hit him up, told him I was in America, and that I wanted to stay a bit longer because everyone else was going home. I asked if he minded if I stay and skate with them for a week. If I could, I'd extend my ticket.
I didn't know him very well but he was down. When the trip finished, everyone left and took a flight back to England and I flew down to his place. I ended up having the sickest week. I skated with all of the enjoi team, I was only 15 or 16. Looking back, it was an amazing time. That's the best, I'm stoked on that.
You're straight onto an enjoi trip after this one and you have a pretty heavy summer schedule. What exactly do you have lined up?
After this, I'm going to San Jose just to skate with them boys for a week. I'm going to go to Baltimore when we get back from there.
Have you seen The Wire?
We've skated that spot a few times, the one from The Wire. It's fucking banging! It's pretty gnarly though, you're skating there and it's the real deal. I've never actually watched The Wire but I've been there a couple of times and everyone wants to keep it cool, just get a trick, be cool to the locals.
We're doing something there I think, then I'm coming back here to work on a Converse thing. When enjoi come on a Euro tour, they'll be here towards the end of September. Newcastle Manchester, London – that's going to be good. I think Louie will stay at mine afterwards, for ten days.
There are trips after that and it just goes on. It's good, it's tiring sometimes, but I appreciate everything.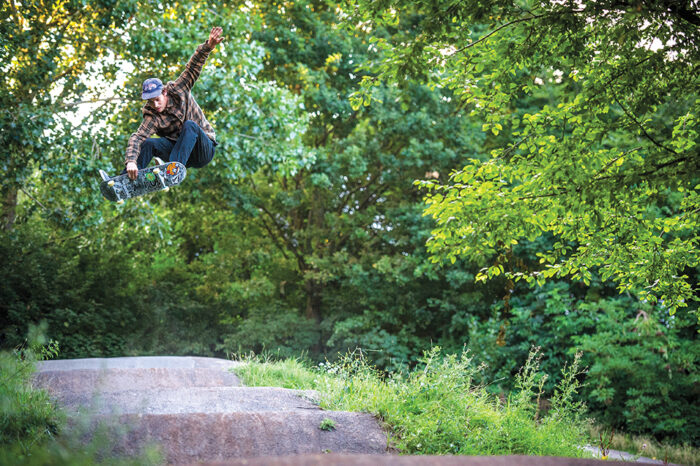 Bike track tweaker, photo: Jaime Owens
Will Colchester remain home in your heart or can you see yourself relocating somewhere sunny permanently, some day?
It's a tough one. l lived in California for a long time, I moved to Barcelona for a bit and I couldn't handle the party scene so I had to leave. It's phenomenal, wake up and drink a Damm Lemon.
It's hard to say really. When I'm old, I'm definitely going to be living in England. Essex or somewhere. It's where you're from you know. I'll definitely be going to the States and will spend a lot of months out there though.
Are you stoked to be getting your London roommate back?
Tom Tanner? Yeah, I'm stoked. He's is one of my best friends and Nick Stansfield is also moving in with us. I've known Nick since I was 13. It's going to be a good trio.
The place we're trying to get at the moment is really nice as well. Big kitchen and living room and nice rooms. We just want to make a nice house, it's not going to be a skate house, more a place we'll cook dinners together. I'm hyped.
Ben doing what hadn't been done before at Victoria Park for the cover of Kingpin #100, April 2012. ph: Sam Ashley
"I try and drag everyone there all the time"
What's your favourite park and street spot in London?
I try and drag everyone there all the time but my favourite park is Victoria Park. I quite enjoy it but nobody else is really into it. I like Viccy Park and I enjoy Stockwell. I like the whole Clapham zone as well and the Clockwork Orange banks. I like going there because, as a kid, I would watch that all the time. It has that history.
Also, I'm amazed that I'm literally being taken to spots everyday that I didn't know existed here. Kev Parrot on this trip is, showing us these cutty street spots. He's got the knowledge, he's been skating in London forever. People say London doesn't have the most amount of spots so it's good to know there are things you never knew existed, untapped. Daan skated a rail here, he did a 50-50 down a big rail in an estate in Tottenham that I never knew existed.
What's your favourite of your pro boards, a Rob Mathieson graphic?
I'd have to go with Rob's Alan Partridge, 'Cock Piss Partridge' board. I've always been a massive Alan Partridge fan. To have that on a board is next level, I'm stoked. The only other thing I would be really stoked to have would be a Del Boy board.
Have you guys got more ideas in the pipeline?
Yeah, he comes up with ideas a lot. I don't hear all that much, him and Louie talk about ideas and do it all. I quite like that because it's a bit of a surprise when it comes out. Sometimes, I'll be going through a new catalogue and see a new one. It's quite a surreal feeling to see your name on the bottom of a skateboard which still hasn't really kicked in. Every time I see it it's crazy.

Is it true that Rob beat you in a game of Connect 4 in four moves?
It could be true but the reason I can't remember it, and was so bad, is because I was probably wasted at a pub.
You were caught up in the riots which happened in Dalston the other day. How was that?
It was pretty mad. Basically, we were walking from my house to go play pool. Me, Smithy [Neil Smith] and Tom, walking from Haggerston to Dalston.
All the roads were shut off and it was getting kind of sketchy. There were Police everywhere, we carried on walking and there were all these people in balaclavas. We walked through and no-one paid any notice to us. We thought it was sketchy but carried on and played pool at this mini-golf place. We got a pint afterwards and it all started kicking off!
We were heading towards Haggerston and it was heavy. Riot police, police on horses, bottles getting lobbed – hundreds of rude boys lobbing bottles at the police. It was like something out of a movie. The crazy thing is, I watched that whole thing happen and I didn't see it on the news or in a newspaper. Which makes me think there are things like that going on all the time in London and you don't even hear about it. In Ipswich, if someone's newspaper is taken from their front garden it's front page news. Here there are mad riots with shop windows getting smashed and there's nothing. I hate to say it but it was quite exciting, to be there and seeing it all zoom by.
Do you have a new video part in the works or any other personal projects?
I'm filming for the Converse video and the deadline is the end of the year. I think it's meant to be coming out around December time. It's been pretty tough so far, you put so much pressure on yourself sometimes. Going on trips with some of the other guys can be overwhelming. It's really sick to see the level people are skating on these days but sometimes it can be intimidating and I feel very self conscious. I'll get to a spot and feel I could skate it but would rather watch what they're doing.
How do you combat that?
Recently, I've been trying to forget about it and think that we're all just skateboarders. No-one cares, so just do your thing. I went on a trip with Bobby De Keyzer, who is filming towards the video, and the talent on that guy is something else. It's amazing to watch.
I go on these trips and it's a treat. Sometimes I wish I'd done more but I will leave the trip thinking I've seen some amazing stuff and I was hanging out with my friends the whole time. I need to crack on with it and see what happens.
Where's the best place to barbecue?
Previously it was London Fields. Good atmosphere and people watching is always a treat, with shops nearby. The place I think I'm moving out of is banging too, on the canal. I'll go with London Fields.
Final words of wisdom for someone starting out?
When I got my first skateboard, that Goosebumps one, it was the best thing I could have possibly got in my whole life. If someone else who has never skated before gets that same feeling from it, then I would just go with it.
---
Ben Raemers and The Ben Raemers Foundation
Ben asked to ride for Slam City as he wanted to get involved in the shop where he spent so much time hanging out.
In April 2018, he put together a welcome clip with ease at one of his favourite spots, Tottenham DIY. We're all grateful for the time we spent with Ben and were devastated by the news that he had taken his life in May 2019, aged just 28.
Many of us here at Slam spent a lot of time with Ben and had no idea of his inner turmoil. We all wish, as many do, that we could have done more, or seen the signs. The Ben Raemers Foundation was set-up in his name to create awareness of mental illness and the wellbeing of the skateboard community, to stop this ever happening again.
'Skating and Talking', a film profiling Ben's life and the work of The Ben Raemers Foundation was released on marking November 4th 2021, marking what would have been Ben's 31st birthday. Please take some time to watch the film, remember Ben and reach out to loved ones if they or yourself need support.
He was a shining light, an inspiration to so many and will never be forgotten.
Ben, we all miss you everyday.
You can call the Samaritans UK & Roi Hotline on 116 123 (free from mobile and landline phones), their service is available any time (24 hours), every day of the week. For more information go to: samaritans.org
Mind's Infoline is also available on 0300 123 3393 and can be reached between 9am and 6pm, Monday to Friday (except bank holidays). For more information go to: www.mind.org.uk and find your local Mind service here.
www.thebenraemersfoundation.com
contact: [email protected]
instagram: @thebenramersfoundation
'Skating and Talking' by Liam Martin