We are stoked to bring you a 'Visuals' interview with Dave Mackey. It was great to speak about his selection which opened up a discussion about many different things from our shared timeline, a conversation which continued beyond what was on the menu…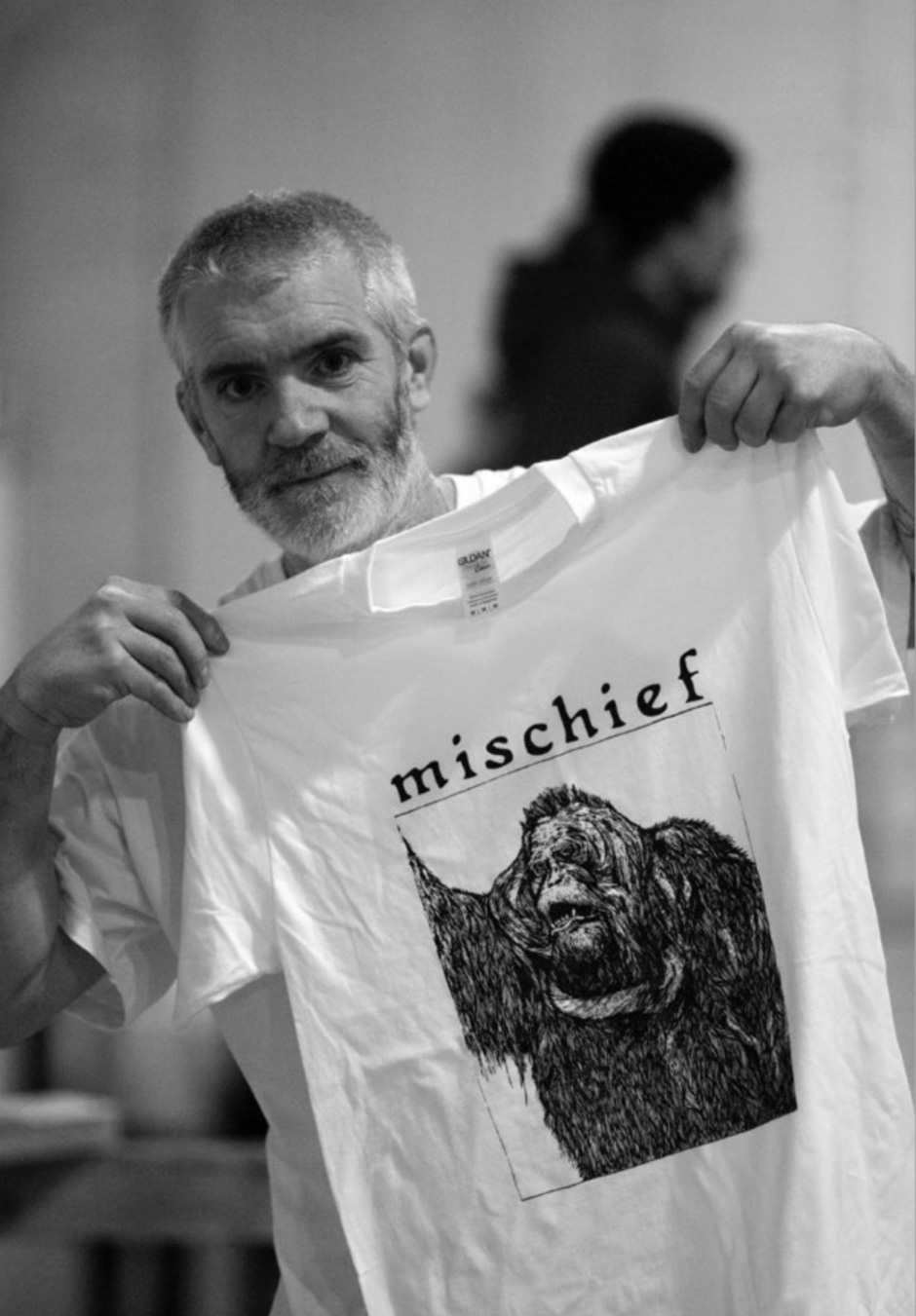 words and interview by jacob sawyer. Dave Mackey repping Mischief/ Bingo forever. PH: Johnny Haynes
Dave Mackey is a national treasure. Whenever the brotherhood of British skateboarding is mentioned, Mackey's face is one of the first I think of, and I'm sure that's the case for many. His positive impact has been reverberating around his scene and many others, long before Lost Art first opened its doors. He has always brought the same infectious enthusiasm to every situation, whether that's reminiscing about days gone by, discussing the latest video, or skating whatever is in front of him.
The New Balance Numeric camp couldn't have a better barometer of what is good on board. a lifer who doesn't need much to tap into that well of stoke, it's always bubbling away. When we connected recently to work on the Tom Knox New Balance launch it was such a pleasure that we wanted to try and bottle some of that Mackey energy and share it with you all. What better way to do that than through a Visuals interview, this format gave us an opportunity to talk about some things that are dear to his heart, from different moments in his story. This involved discussing the impact of Dan Wolfe's seminal Underachievers video and the world of inspiration it opened up. We then fast-forwarded to a guest trick from Mike Carroll's part in Modus Operandi, before going back in time to a Skateboard! cover from 1991, and a board graphic which was released two years previously.
We also digressed at the end to talk a little more about the recent demo for Tom Knox at a London institution, finding out more about Mackey's involvement behind the scenes, and in the mix. Read on for some insights from one of the best…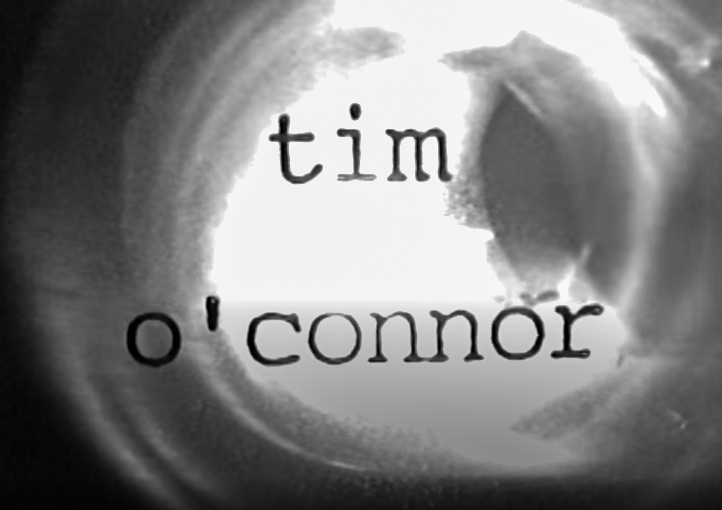 Tim O'Connor – Underachievers by Dan Wolfe (1996)
It was super hard to narrow this down to one video. This is Eastern Exposure 3, and at this point I'm not sure if I had even seen the Sub Zero Real Life video. Underachievers came out in 1996 and I started skating in 1986 so I had been skating for ten years when it came out. I had fallen in love with skateboarding already, and had watched pretty much every video that had come out on the lead up to seeing this. 411VM would have been our first exposure to East Coast skating outside of magazines. There was something about that architecture that really drew me to enjoying watching that skateboarding more. It looked like the shit we skated, that was pretty much it. It was obviously colder, people were wearing hoodies, and beanies, and it looked dope as fuck. Everyone would be dressed so fucking dope.
It seemed like a lot more East Coast skaters were into hip-hop, I was as much into hip-hop as I was into skateboarding, as many of us were. 411VM showed us from a video perspective what East Coast skateboarding looked like, outside of Mike Vallely, and Sean Sheffey. The New York Metrospective, and the Zoo York Industry section were the ones, with Bobbito as the unofficial member of the Zoo York squad. I was way more into New York skaters, and East Coast skaters, Fred Gall, Matt Reason, and Ricky [Oyola], his skateboarding anyway. I was definitely more influenced by those skaters, the spots they skated, and their trick selection. By the time Underachievers came out in 96, and ten years had past, that felt like the moment for me, and for our group of skaters in Liverpool. That was our video. I called it ground zero the other day, that's what it was for me. Every skater in that video is incredible, every part is incredible, and because it is all black and white it seems so much more cohesive. There's a consistency throughout so even the Tampa footage, or the vert stuff sits in there perfectly.
"By the time Underachievers came out in 96, and ten years had past, that felt like the moment for me, and for our group of skaters in Liverpool. That was our video"
All of the music in Underachievers is incredible, but this Tim O'Connor part with the Artifacts is something else, they were the dopest crew, El Da Sensei, Tame One, and DJ Kaos. I love The Artifacts, and hip-hop for me back then was everything. Also within Tim's part you've got two more of my favourite skateboarders, Quim Cardona, and Bobby Puleo. They have as many tricks as Tim O'Connor does. I was looking into stuff surrounding the video, and Dan Wolfe in particular, he talks about how he intended for there to be a full Puleo part originally, or maybe a Quim part, but neither of them were travelling much. Tim O'Connor would travel more, so he ended up having more footage, and it became his full part with those guys in it. My favourite Quim Cardona line of all time is in this part, it's so dope, and they're all friends from New Jersey. I've always loved group parts, or shared parts which ties into my trick choice from Modus Operandi in the same way. I feel like things flow better, it gives you more of an understanding of who the person is, who they skate with, the spots they skate, clips in the background. This Tim O'Connor part, the music choice, and whether it's him, or Quim, or Puleo skating, it's perfect. I'm not sure who picked the song but it suits all three of them, they all could have skated to that track, they're all into hip-hop, and you can tell.
The Zoo York Mixtape video came out the following year, and in here you've got Tim O Connor wearing the Zoo York tag shirt in the first line. Tim "dope pants" O'Connor we used to call him. I met him actually years later, in Liverpool, when he was on a Habitat tour with [Jason] Dill and those guys. I got a chance to actually say that to him, I told him we all wanted pants like his. He told me they were dress pants from Ross or something like that. He always looked fucking good on a skateboard, and he would have been about 17 at the time, so he was younger than we were. But his style, trick selection, and flow, was all there in that part. He's never really had super long parts so any time you saw Tim O'Connor footage it was golden. This all looks like it was filmed over a couple of weeks, he's skating in the Airwalk J. Lee's so the footage may even be from 1995, and it looks like it was filmed in a quick burst. That's kind of how skate videos once were, and it's the shit I really like, the same way Powell vids had parts filmed over one weekend. That always made the skateboarding feel more rad to me, more spontaneous. Your parts were structured by what went down over a whole day of filming.
"I went to New York the following year, purely off the back of this video. I just wanted to skate those spots, I wanted to immerse myself in all of that stuff, I wanted to go to Fat Beats, and just feel what they were feeling"
We spoke about the possibility of talking about a few different parts but as soon as this one popped into my head, I knew I had to choose it. This is the part that really solidified my love for East Coast skateboarding. I went to New York the following year, purely off the back of this video. I just wanted to skate those spots, I wanted to immerse myself in all of that stuff, I wanted to go to Fat Beats, and just feel what they were feeling.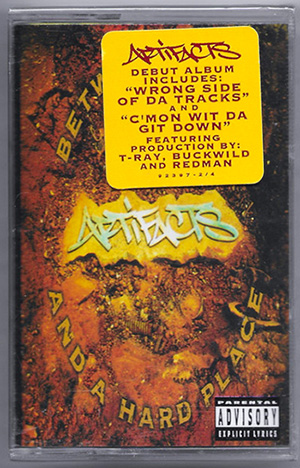 The thing that really drew me to this part is the Artifacts track, the outfits, the Zoo York sweatshirt, the T-Shirt with the tag, it's all so dope. The music in the video is incredible, but as much as I like the Metallica track Ricky's part is edited to I wouldn't call myself a Metallica fan. That Artifacts track stands out all the more, it's insane that it's an Artifacts track because it fits so well, it's underground, and it's the dopest. Both of their first albums are incredible but this one, the subject matter, the content, the fact that they're both graffiti artists, and they talk about it. It was maybe not the life we were kind of living, but the life we loved. Lots of my friends were graffiti artists, we all loved hip-hop, and collecting records, hanging out in bedrooms trying to freestyle, and listening to Stretch and Bobbito. That timeframe for me is the one for sure. I would have owned that album at the time this came out too, those days of recording music from Skypager off the TV were long gone. It's really hard to skate to hip-hop music, especially with the lyrics, it's hit or miss. The next thing we are going to talk about, Scott Johnston's trick in Modus, it's edited to a Kurupt track, unbelievable hip-hop track. You can't separate that video from the music, funnily enough that part is up on Youtube without the music, and it's playing in your head anyway. Hip-hop was quite underground at the time, lots of my close friends loved it, but it wasn't the go to musical choice for skateboarding. It was rare to have a hip-hop track in a skate video, and super rare for there to be one as perfect as that Artifacts one.
Everything in this is fast, and proper, the kickflip over the rail at the start, he's flying, this may be where my love of fast as fuck kickflips comes from. It's the only trick I can do with any kind of consistency where I don't feel like I'm gonna take a slam. There is one great line where he does a quick ollie down some stairs and then lipslides a rail straight away. That always stood out to me, that quick-footed style, and big pop, I always loved that.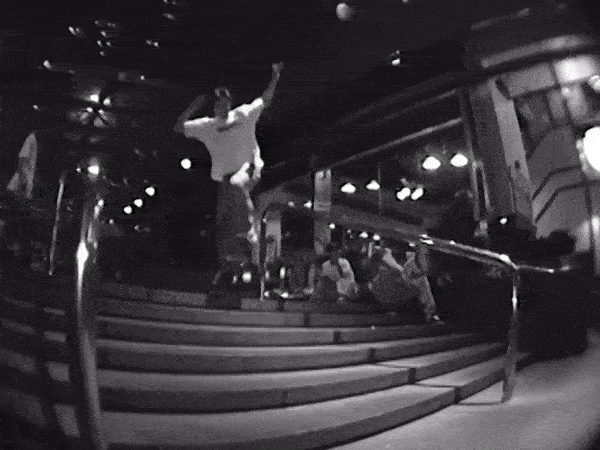 Tim O'Connor's quick feet facilitate a lipslide in Eastern Exposure 3
I would have bought this from the Fleapit in Liverpool, the skate shop in Liverpool at the time, from Robbie Reid, and Adam Cooke. They used to take the piss out of me no end for liking Hip Hop, and having a Fat Beats key chain hanging out of my pants, hahaha. I would have bought the video from them and watched it at the 'Mansion' my mate Ade Newton's house in southport. We would always hang there after skating town or over at my mate Jim Kay's house.  His back bedroom was tiny but we'd fit twenty of us in there, turntables, records, and all of us drinking and smoking all night. I've still got the video, and the poster which came with it. The poster is colour which is incredible because you were able to see the outfits, and spots in colour. You can see stuff in colour now but it was only watchable in black and white at the time.
I watched the whole video back again before talking to you, I even watched Closure, that video was dope, and it's crazy to think that came out twenty years ago! It popped up on my YouTube timeline so that was my night sorted. Closure came out in a crazy time where lots of people had stopped skating, only so many of us remember it, and much of that stuff didn't exist on the internet for years. It was great watching that back and hearing Dan Wolfe's story, it's funny how the videographers story echoes our story as the watcher. The way he came up, he was a skateboarder and his mum and dad wanted him to go to college, he just wanted to film, and didn't want that time to ever end. We were all kind of there at that same time, not knowing how things would pan out, skateboarding didn't seem like it could last forever, there was no career in it, but here we are. It's really interesting.
"The poster is colour which is incredible because you were able to see the outfits, and spots in colour"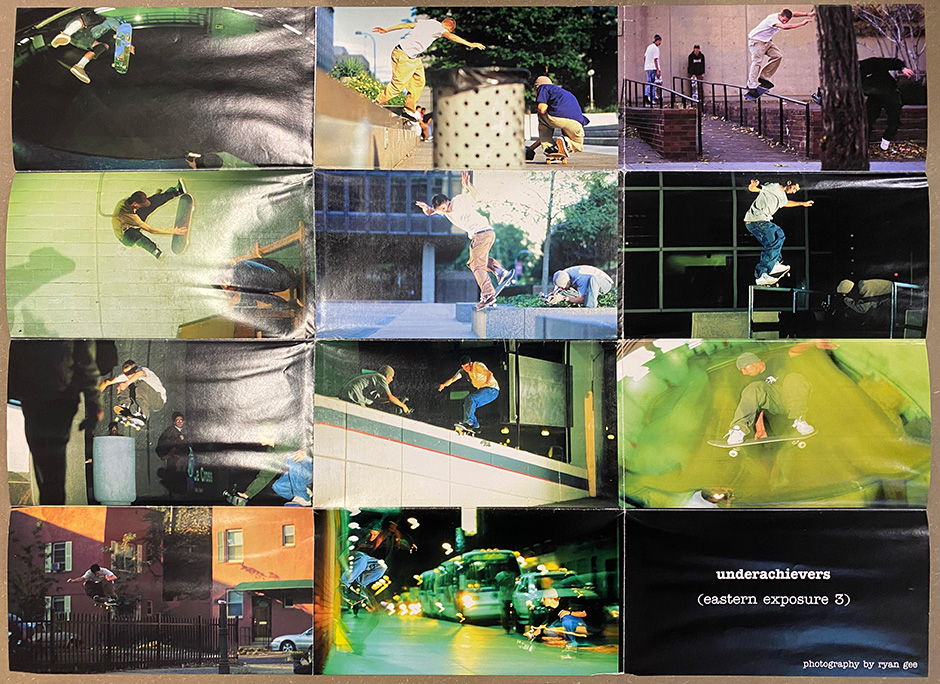 The Original Eastern Exposure 3- Underachievers poster in pride of place. Lost Art, Liverpool
It's funny that when I think about what the standout trick in Tim's part is and all I can think about is Quim's line in Philadelphia. That Philly bar that Bobby and Quim skate made us want to skate stuff like that as well. We had bars in Liverpool that were just like that too, these red bars in the South end out by John Lennon airport. There was another spot we used to skate, Olly Todd had a photo there doing a frontside bluntslide transfer on this black bar on top of a brick wall. Olly was living in Liverpool at the time, we were all so into that style of skating, and that video. Whether we skated like that because of seeing that East Coast footage, or we were already skating like that, I don't know. I think it resonated because we were skating like that around the city already, pushing from spot to spot like they did, hitting one spot, and moving on to the next. I wasn't even young when this video came out, I wasn't a kid anyway, I was about 23. I was working, I had money to buy fresh gear. You'd be out wearing your Tommy Hilfiger jacket, or your Nautica, wearing dope shit was as much of a part of skateboarding to me as the act itself, it was part of the whole package. That video definitely made me want to skate, definitely made me want to listen to The Artifacts, and probably tag in my sketchbook. I meant everything that video.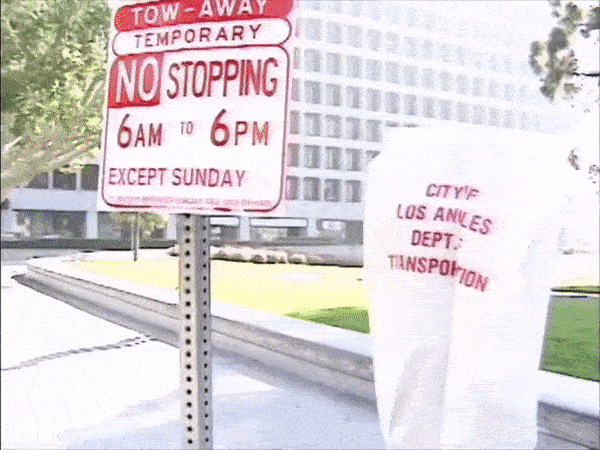 Scott Johnston – Transworld Modus Operandi (2000)
This is in one of the most memorable video parts of all time with Scott Johnston appearing as a guest, the same way the Tim O'Connor part featured Bobby, and Quim. It's a Mike Carroll part, and we're talking about a guest skater-Scott Johnston having, for me, the most standout single move, outside of Mike's line at the start. Having recently watched it back, it just never ever dates, it's just fucking perfect. It's the best example of that trick. Rick [Howard], and Mike [Carroll] talk about it in that recent Bobshirt interview. He doesn't go over the top to it, he gets on it from the side, in the middle, grinds forever, and pops out in the middle as perfectly as you could ever do it. They said that he landed one but Mike Ballard missed the landing. He was shooting a sequence, didn't know that he was going to grind as far as he did, and ran out of film as a result. He ran out of film, and Scott [Johnston] had to do it again, imagine that! This is the second one he landed.
What a trick, and by one of the cleanest, and best skateboarders to ever do it, who is also East Coast royalty, so there's a pattern emerging here. Scott Johnston has the speed, and the power. Someone like Brian Anderson has power but it's different, Scott Johnston has this finesse mixed in where that power looks almost effortless. An incredible skateboarder, and an incredible trick which I have never done. It would be the dream move, if I could do that trick it would be the best thing ever but I don't think I'll ever do it this point. This example for me is the most impeccable version of that move, and I think that's undisputed.
"This example for me is the most impeccable version of that move, and I think that's undisputed"
When this video came out we had just opened the shop, we opened in June 99, and I think this came out quite early the following year. This would have been on in the corner on the TV/VHS Player, and we used to watch it on loop, non-stop. Then we'd be out skating afterwards humming that Kurupt track during every trick we'd try.
This was at the time when they were just starting Lakai. I was going to be getting flowed lake through Warrior distribution, and I was on Fenchurch clothing, so I was quite close with those guys at the time. I think Mike Carroll has a pair of his Carroll 1's on in the video at the start, but he's also got a pair of DC socks on, that shows you that this is at just that crossover. Rick Howard is in this part too, also one of the best skateboarders ever, I love watching him skate, and all of his tricks in this part are incredible, he even does the frontside 180-switch crook on a handrail. Scott Johnston does a tailslide on a kinked rail which is insane, he slides across and down and pops out to fakie. You don't see that too often now, and you certainly didn't then, you also definitely didn't associate Scott Johnston with handrail skating, it was always ledges.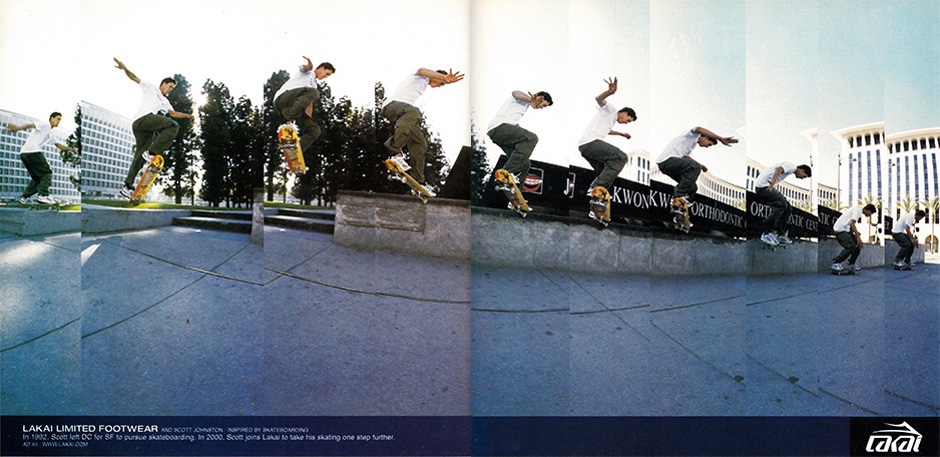 This sequence shot by Mike Ballard ran as one of the first Lakai adverts. Scott Johnston did it twice
What a video, and what a part, it is hands down one of the best, and you'll never tire of watching it because of the song, the skaters, and the tricks. All of the last tricks from everyone are absolute enders in any video. Rick Howard frontside noseslides that curved rail, and Mike Carroll backside lipslides that massive rail which is insane, he is another person you wouldn't instantly associate with rails either, certainly not around that time. All of Scott Johnston's tricks are off the charts, he does another great frontside 180-switch crook at the USC ledges in a line. Everything in that part is the best it could possible be. It's incredible that it marks the start of their journey with Lakai, whether they meant it or not, it was probably the first thing you saw of anyone wearing them. Rick Howard's probably got his shoe on somewhere in this part as well, and obviously SJ was part of the company from the jump too.
"Imagine Mike Carroll wanting you to be a guest in his part, what have you got to bring to the table? He's just one of the best skateboarders ever"
Then there's the Kurupt track, a track that I had never heard before that video part. I searched for it forever. I wasn't aware of Kurupt at the time, other than him being part of Snoop's crew, but that track is incredible. The opening part of that track to Mike Carroll's opening line is just goosebumps time when you think about it. But going back to the Scott Johnston guest trick, it's 100 percent the best guest trick in any video part ever, it's as close to Quim [Cardona]'s line in Tim O'Connors part in Underachievers as you can get. Imagine Mike Carroll wanting you to be a guest in his part, what have you got to bring to the table? He's just one of the best skateboarders ever. The sequence Ballard shot ran as an advert for Lakai too, you couldn't have that shot as a single, so it's good that Scott Johnston did it twice. Sequences are gone from skateboarding for the most part but there was always something special about them, I always loved them because they gave you a better insight into what was happening. All of the ads with sequences were my favourites for some reason, this one especially, top of the pile.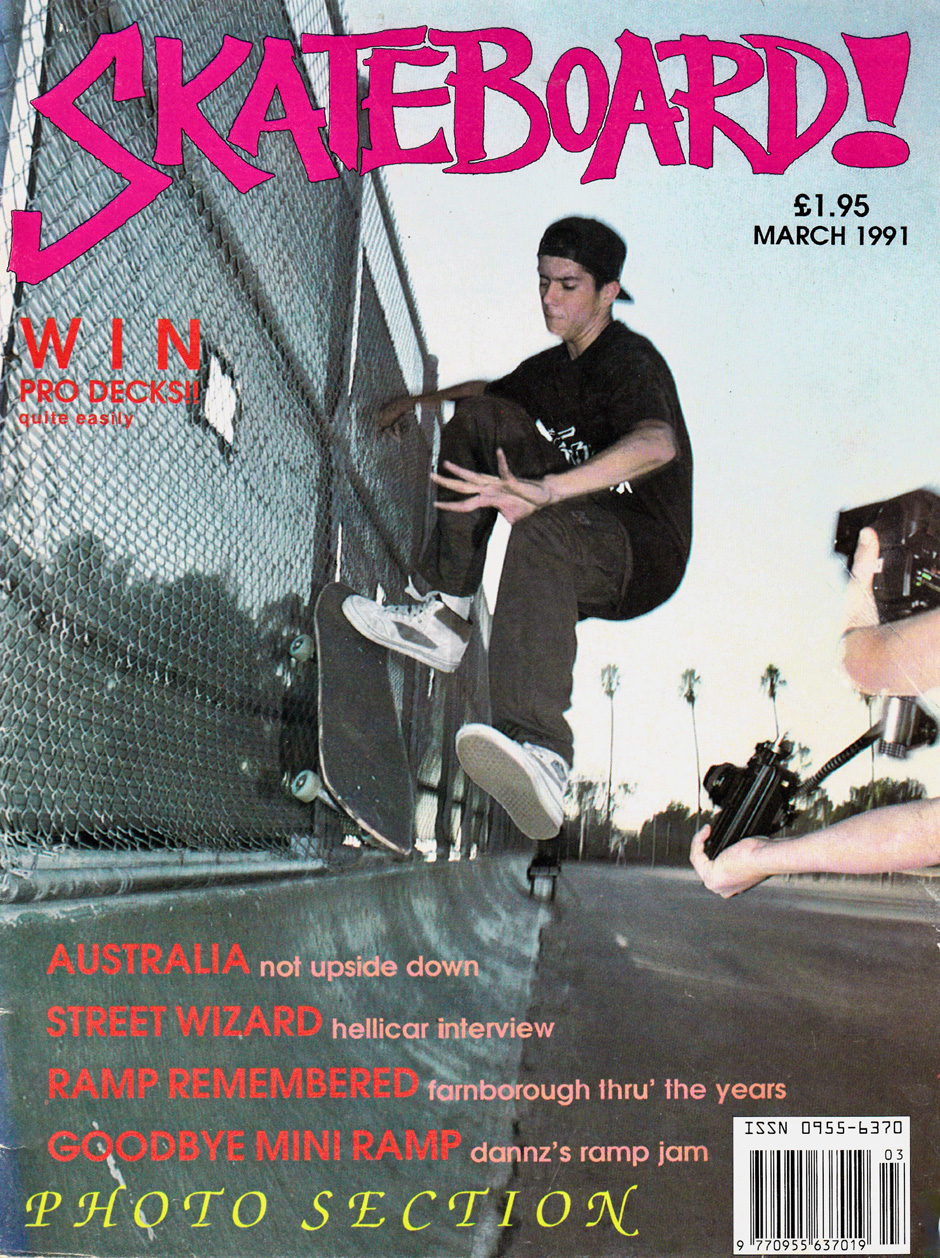 Rudy Johnson. one foot ollie. PH: Brad McDonald (1991)
When you asked me about this and it jumped into my head I realised that I hadn't seen the photo forever, I'm not sure what drew me to this cover so much. Lots of mag covers at this time, especially covers of Skateboard! or other UK mags, were mostly of vert tricks, there were lots of vert covers. So you were instantly drawn to any street cover. I grew up learning to skate everything, I learned to skate at a 70s skatepark in Southport, that was my first introduction to skateboarding. Although I skated a lot of shit, I always considered myself a street skater. It's funny, I used to look outside of that 70s park, and the people who are my friend group now, would be skating the kerb outside and I'd be in the park looking at them thinking "street skaters". I wasn't part of their group yet. I was stuck in a 70s skate park with all of these 80s wannabe skaters. I started in 1986 and a lot of these other guys started in the early 90s so they had a slightly different perspective on it to me.
But this Rudy Johnson cover, I don't even know if Video Days had come out when this did, it's from the same year. He's got those Vans Full Cabs on, I don't think they're Mountains, the shoes look so dope. The one foot ollie on that tranny bank spot is so sick, and there's another cameraman in the picture. Rudy Johnson was definitely one of our favourites, He was definitely Ash Wilson's favourite, along with Alex Moul. We would talk about this Brad McDonald photo, and this cover a lot, it's something that has always stuck with me. It's quite a rarity to find in the ether too, I haven't found an uncropped version online. This was a rare moment, where one of your favourite skaters had a cover of a magazine. I'm assuming Rudy is aware of it.
"The one foot ollie on that tranny bank spot is so sick, and there's another cameraman in the picture…This was a rare moment, where one of your favourite skaters had a cover of a magazine"
He is an incredible skater, we absolutely rinsed the L.A boys part in Ban This. Rudy is the same age as me, and his part in Video Days was definitely outside of Gonz's part. The Mark Gonzales part was too far out there, the level felt unachievable. It was so much, and so good, that you looked at that part like it was magic half the time. That's what Gonz is, and that's how he skateboards. Then Guy Mariano's part was amazing but he was a little kid, it felt like a little kids part to us then. You watch it now and it's obvious he's going to be the best skateboarder, and his Mouse part is going to be the most talked about, and most watched part of all time. But Rudy Johnson's part was the one for us, he did one foot ollies, and I love that trick. I loved one foots because of Ed Templeton, and Jason Lee, and I remember doing a one foot-boardslide on a five-stair rail in Southport. It had a little lip at the top where the flags had sunk down from the top step so you had to gap into it. We called it the wobbly rail because it moved the second you got on it, and it was dead thin. That was probably inspired by Ed T, but in Video Days Rudy Johnson does a one foot-lipslide on a handrail, and that is bonkers! Such a treacherous move, flipping your board is probably easier than the one foot ollie version, one foots are a dangerous trick, so that always stood out for me.
He also does a one foot-manual roll, which is a trick I still do to this day inspired by that part. The polo shirts he would wear, the striped ones, we would call them "Rudy shirts". We would go to C&A to get our Rudy shirts. Gear was definitely a big part of skateboarding for us, and we were influenced by the shit people were wearing. I would go to get mags at WHSmiths, I had a local paper round too so I would get the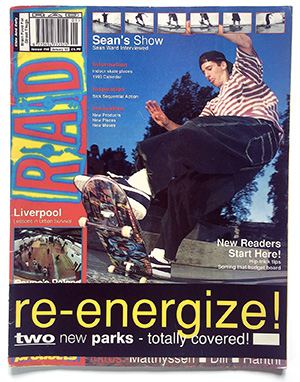 mags ordered there. I would get Skateboard! before RaD came out. There was also Arcade Sports in Southport, the first skate shop, or a shop that sold skateboards. It was a sport shop that did everything which is kind of how everything started here. I would go there and they would have Thrasher mags but they were always six months to a year out of date, there was never the latest issue so we were always looking at past issues. Looking through those mags was so distant from our reality. Maybe it's because me and Ash [Wilson] talk about it a lot, but this Rudy Johnson photo is the one we always go back to. The cover after this I always thought was sick is the Mike Carroll cover of RaD magazine in 1993, he's doing a 180-nosegrind at EMB. My first ever photo in a magazine was in that issue too so it's pretty sick.
Skateboard! was always full of a lot of British skateboarding which I was never all that totally into. It's weird to say that but maybe we were all drawn to US skateboarding, and what was happening on the West Coast. Outside of my friends, and people who I skated with, I was never that influenced by UK stuff. Spirit Of The Blitz had come out at that point I think, that was a video we would watch, and I remember liking Alex Moul's part for sure, but for the most part I wasn't really following British skateboarding. So I think that is why this cover meant more to me at the time. It was a US skateboarder, the trick itself was crazy, and the shoes for sure made it. White Half Cabs were the holy grail and this was the predecessor. So there was that shoe, and the beige Vans Mountain Edition that Gonz wears in Video Days, if you could ever find those two pairs of shoes, they were the grails for sure.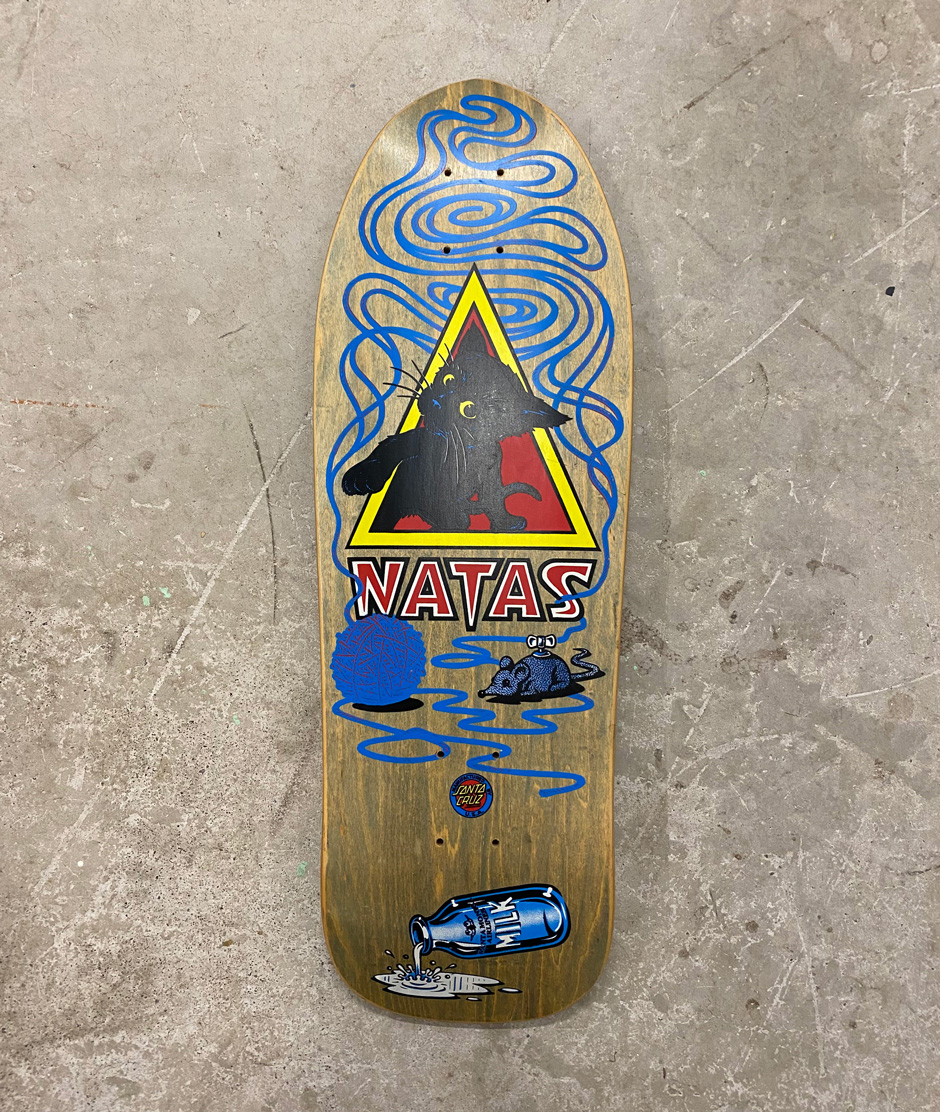 SMA NATAS KAUPAS KITTEN. Graphic by Jimbo Phillips (1989)
This is sat right here in front of me, I dug it out. When I was talking about Arcade Sports, and leafing through Thrasher mags. I would always look at the ads in the back, they were black and white, most of them. The graphic that instantly drew me in was the SMA Natas [Kaupas] panther graphic. This was way before I had seen any footage of Natas, way before I knew who he was. That was instantly my favourite graphic out of everything. A lot of graphics at the time were just skulls, popular brands at the time would be Toxic, or Brand-X, Skull Skates etc. As rad as that is it just wasn't me. My first ever board, and a board I still love, was Jeff Kendall's Santa Cruz graffiti board, and that was purely because of the graffiti. That was also before I knew who Jeff Kendall was.
It's funny how when you get a board you get into the skater, now I'm going to learn everything there is to know about Jeff Kendall. Turns out he was an amazing street skater who could skate everything. Tom Knox would probably have been my favourite skater on Santa Cruz but that Jeff Kendall graphic was, and is, amazing. That Natas panther graphic though, it was just so different to all of the skulls. I loved Gonz's graphics too but there was just something about that Natas board. I didn't even think it was a name if that makes any sense. The word Natas was just dope. I never saw the Satan interpretation, never saw it, never thought that. It was years later when that On Video came out talking about the boards being banned everywhere because parents thought it was Satan backwards. I never saw that, I just loved the graphic. Natas is a Lithuanian name, the male version of Natalia, such a dope name. It's his first name on the board, imagine if your board just said Dave. I'm gonna get a Keith board, no I'm holding out for a John, hahaha. It's wild that it's his first name, I never really thought about that.
"The panther board for me was the one, and especially this particular version of it, the kitten…It's so clever, it's a mini, so it's a kitten instead of a full sized panther"
The panther board for me was the one, and especially this particular version of it, the kitten. It's so clever, it's a mini, so it's a kitten instead of a full sized panther. All of the parts to it are amazing, the wind-up mouse, the ball of string, and the spilt milk. The graphic is so sick, I remember seeing it for the first time, my friend Kev Whelan from Ainsdale had it. He was like the Gonz, anything he did, Me and my mate Haggis just wanted to skate like him, everyone did. It was either Kev who had it or Phil Morris, he'd probably bought it and it was too small for him cos he was tall as fuck. The board was brand new so it had to be Phil. Another thing was that everyone had rails so the graphic wasn't destroyed. It took you two days to set a board up because you had to put your risers on there, your Cell Blocks, drill your rails in with Sex Bolts which you hammered in from the top, and screwed in from the bottom. You had to get your Rip Grip in the right spot where you grab, it was a process, so dope, kids don't even know what the hell's up nowadays. It also took forever to get your nuts off your bolts because they would bend from being too long. It's a good jog down memory lane this. I can remember my big clear plastic ice cream tub full of bolts, rubbers, dead bearings, spacers, and risers in my dad's shed, things I was never going to use but had to keep just in case.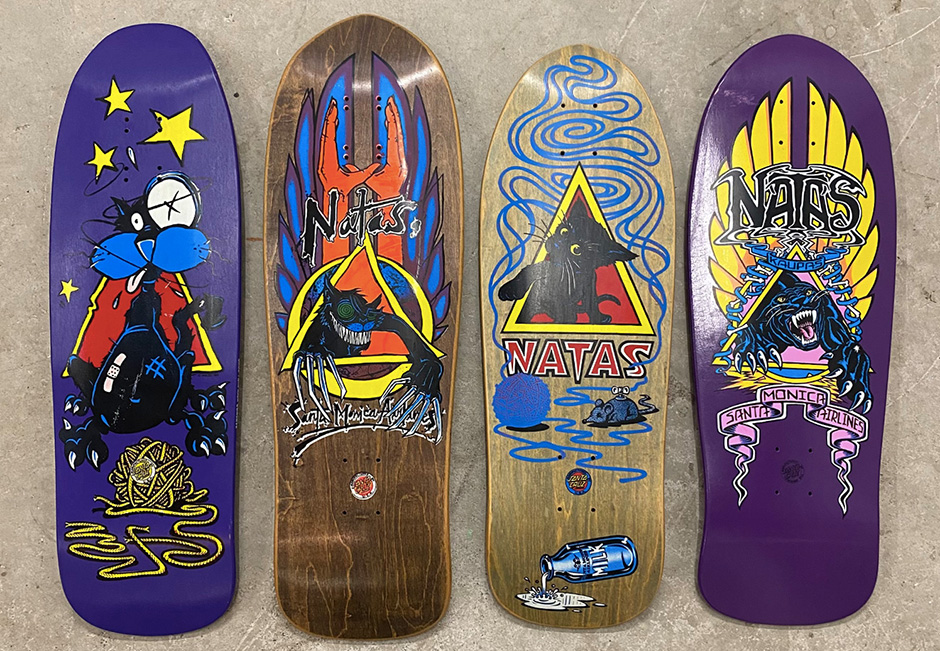 The fistfull of natas kaupas panther boards in Dave mackey's collection
So I remember getting this secondhand board, I probably had to pay for it but couldn't afford a new one. I had this instant feeling of excitement, it was my first Natas board. I had loved Natas graphics forever but never owned one, this was the first one I had and could skate. Looking at it now, it means the exact same thing to me now as it did then, I absolutely love this board, and at the time I didn't want it to end. We were talking the other day about re-drilling the truck holes. I definitely did that with this. When the tail got down to being four fingers long, I drilled the truck bolts back so it was six fingers long. It's a mini in the first place so that wheelbase is getting smaller and smaller, and the tail was nearly flat with just a little bit of the milk graphic left.
"Looking at it instantly transports me back to skating at Southport train station, on the little kerb out the back of Toymaster"
I got a Rocco II after this and set it up, and I remember the nose feeling huge because the Natas kitten had that mini, pointy nose. Half an hour after setting up that Rocco I was taking it off and putting my Natas kitten back on, I couldn't skate it. I just love this board, I'm looking at it still, and mine is an original. When I first opened the shop Shiner distribution were having a massive clearout sale of old stock, and I managed to get this board again, in the same woodstain that I had originally. Looking at it instantly transports me back to skating at Southport train station, on the little kerb out the back of Toymaster. We would skate this kerb all winter, it was tiny inch high, white, marbly step in a doorway. It wasn't like you could grind it and come off the end, you had to get on in the middle, and come out in the middle. We would skate that thing all day, mad to think that now, but it was probably the only dry spot in Southport we could get any length of time at.
This graphic represents that time for me, trying to learn kickflips, and skating fakie. It was never switch for me, always fakie, probably because there was no nose on the board in the first place. This was the one foot board for sure, I was definitely one footing the shit out of it, hahaha. Every ollie was a one foot by default, I'd try stairs and was never going to land what I was trying. No tail for one, no nose, and griptape that was probably past being anything more than black tape. No hope of landing anything down stairs, but still trying, still giving it a go. I haven't thought about any of these things for so long, thanks so much for asking me.
---
We closed out Koran Gayle's visuals interview by talking about his favourite personal board and the one he picked as a fav graphic was your pro board, does that have a special place in your heart?
Not as special as it is for Korahn that's for sure. It was my company EAST so having a pro board on my company felt like a bit of a cop out. I think the reason why we did it is because the team were telling me I had to have the first pro board that we do. It ended up being the last board we ever did, EAST kind of ended after that for various reasons. It was my board company so it definitely means something to me, and I love the fact that my friend Kev Grey drew the graphic. The fact that Korahn chose that graphic when you spoke to him for one of these, and you asked me to get a photo of it, was the first time I have looked at it again in a different light. It was mad hearing Korahn's words about that board because I never thought about it in that way. It was really nice to hear
Ben Grove snapped his board once and came to the shop to get another, and he said he just wanted to skate that one. He got a photo skating it and I remember being stoked because he was meant to be the first rider on EAST but it took us longer than we anticipated to get started. By then Blueprint had already asked him to ride for them, and that was a no-brainer, he had to do it. He wanted to get a photo on the board though and he did, I remember him being stoked he did it on that board. I love Korahn, and Ben, they're amazing skateboarders, and amazing human beings. I'm glad I can call them my friends, so to have heard them speak so nicely, and passionately about that graphic means the world for sure. But like I say, it never meant that to me, hahaha. I didn't want to skate it, and felt weird having a pro board on my own company. I think we made it in an 8.5" for that reason. But, looking back on it twenty years later, it does mean a lot for sure.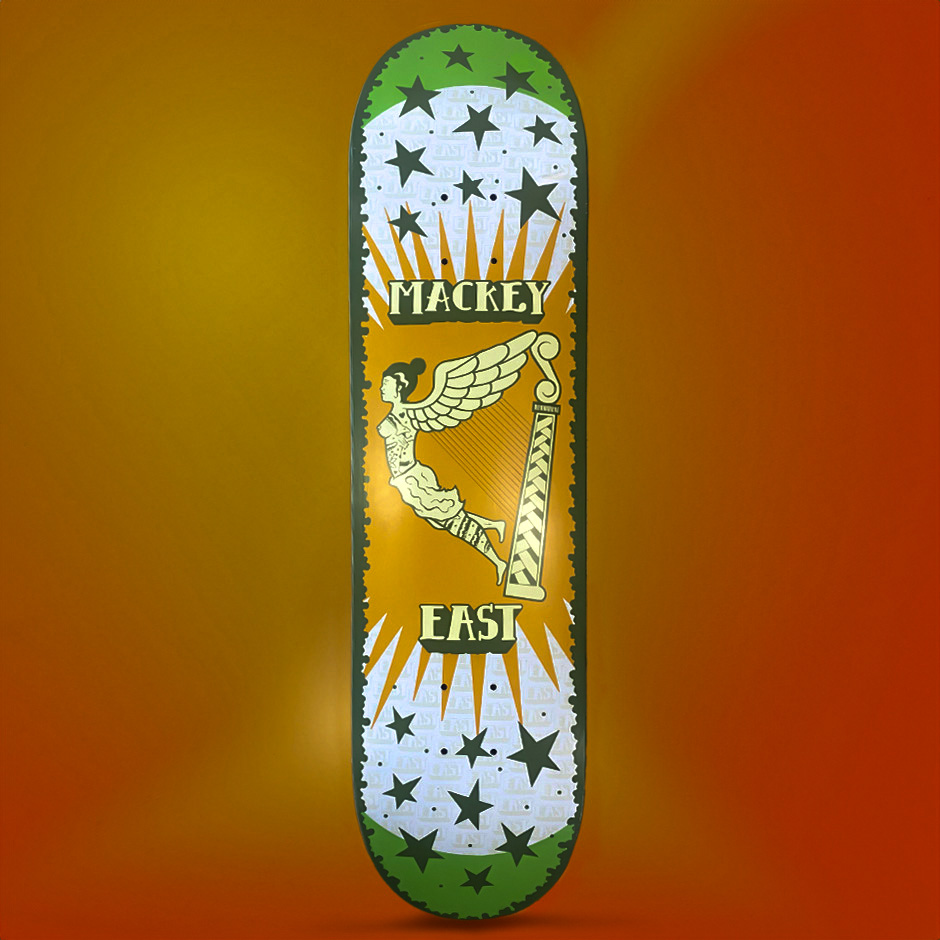 Dave Mackey's EAST pro board designed by Kev Grey
EAST was something very special to me, I love the fact that I was able to start something, and give opportunities to some of the best skateboarders I had seen who weren't getting hooked up by Blueprint because the team was already filled to the brim with the best skateboarders. I could see talent, and potential, skaters who were being overlooked, Korahn [Gayle] in particular. His Bristol In Bloom part was incredible, I watched it and thought who is this kid? The same feeling as watching Natas' part in Streets On Fire for the first time because it's so him. It was his friend who produced the video so he's chosen a song that fits Korahn, he's edited the video in a way that represents who Korahn is. At that time especially he would jump from subject to subject, he was in the moment, it was spontaneous, there was an energy, and you felt that watching the video. It's the same with that Natas part, the same energy jumps out the screen, at least it did for me. So to be able to give Korahn an opportunity to be a sponsored skateboarder, and to watch from that point for him, to where he is now, it means a lot. To hear him speak so fondly of those memories, that time, and that EAST board graphic, was so nice.
"I didn't want to skate it, and felt weird having a pro board on my own company. I think we made it in an 8.5" for that reason. But, looking back on it twenty years later, it does mean a lot for sure"
Really I could have picked any of those EAST boards as my favourite graphic because I had my friends doing the artwork. My favourite artists, and the art I had seen the most. Kev Grey, Kid Acne, or Akro in France who they turned me on to. He has done incredible stuff with brands in France, he even signed the logo for Colette, it was great having him do stuff for us, all of them. EAST the name was obviously a nod to East Coast skateboarding. Originally Slam were going to be the distro for the company. I met my friend Paddy Young through a mutual friend at the time who suggested he could do some graphics for me, and design me a logo. He sent me over a logo pack so I felt more professional when I went down to London to present the idea for the company to Fos [Mark Foster], and Paul Sunman at Slam when the warehouse was on Latimer Road. We were going to discuss Slam as a distributor or possibly helping me start it up. I was just a skateboarder who knew nothing, but I had this logo pack to make me look more professional,
I thought Paddy lived in Liverpool but he had moved to London. He was living in Mortlake so I went down before the meeting to stay with him. I remember it being such a long journey from there to Ladbroke Grove, it felt like forever to get there. The journey was long enough for me to start doubting everything I was about to be talking about. I started thinking I shouldn't call it EAST, and convinced myself it was a shit name. I started panicking about what to call it, and drawing in my book. I was really worried, it was before I had a mobile phone, I certainly couldn't call Paddy. I remember getting to Slam and being so scared of saying anything about it. I didn't know Paul [Sunman] at all but I had Lost Art so they knew who I was, that was the reason they were giving me the time I think. I walked to the back and there was a table with all of the latest Zoo York stuff. Zoo was my favourite brand on Planet Earth, I loved everything about it, and it was the reason I wanted to call the company EAST in the first place. I had this serious moment of doubt about the whole thing. I remember on the way there I saw a train that was heading Eastbound on an Eastbound platform and decided that was a better name.
"Really I could have picked any of those EAST boards as my favourite graphic because I had my friends doing the artwork"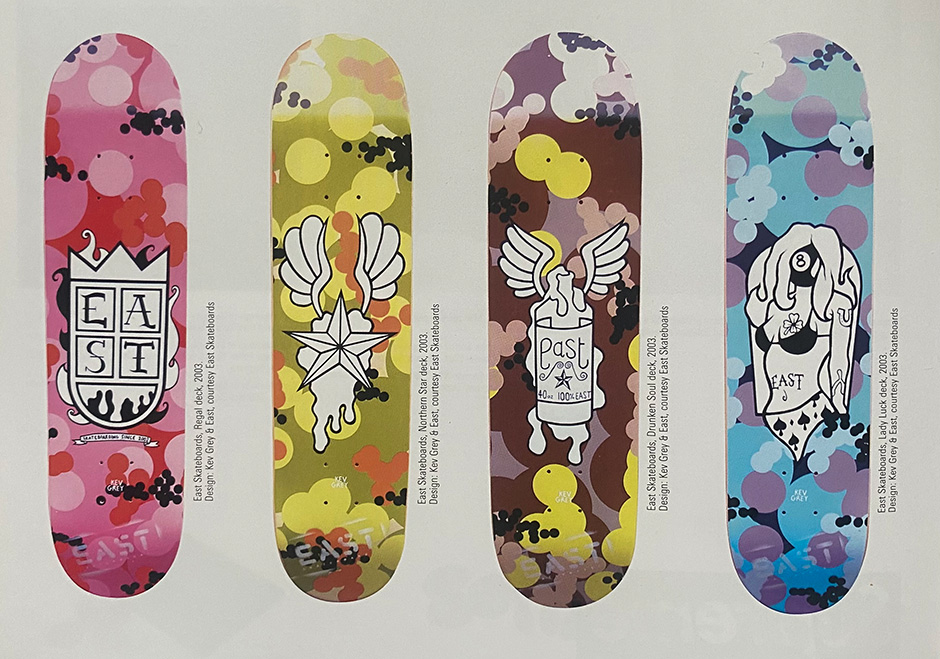 The first series of east Skateboards designed by Kev Grey
I went into the meeting about starting a skate company, and I told them I was going to call it Eastbound. I remember Fos just looking at me and asking me why I was going to call it that, he asked why I wasn't going to call it EAST because that was what the whole graphic pack was based around. I said I thought it was a better name and he said "I think it's a shit name, you should call it EAST". He then said if Zoo York were going to start a sister brand they would call it EAST. I remember him saying that to me and thinking fuck yeah, I'm gonna call it EAST. Fos was cool as fuck to me, he looked out for me in so many ways with opening the shop, he was the guy, and I owe a lot to him. Slam didn't end up distributing it in the end, we did things ourselves, did it with 50-50, and got close with Tidy Mike, and Dykie. That's how I met Korahn, and everything else came from that.
I could have put any of this first EAST boards, especially the first series Kev [Grey] did because they mean a lot to me. But the Natas kitten is the one for me still. It was on the floor this morning when Baxter came downstairs and he said "I love that board". It used to be hanging in our old flat so he knows it well. I told him it was my favourite board graphic ever and told him he could have it when I'm dead, hahaha. I told him I would pass it on to him to keep, and he was super stoked, it was a nice moment. I never tire of looking at that Natas graphic. From not knowing who Natas was when I was looking at those ads in the back of Thrasher, not having seen Streets On Fire, and not knowing who Natas was within skateboarding. The gods of skateboarding looked at Natas as the god of street skateboarding, he is ground zero for street skateboarding pretty much. It's quite fitting really that this graphic is the one that means the most to me, having spoken about all the other stuff we covered.
---
Hearing Mackey speak so passionately about everything we discussed it would have been an oversight not to use this opportunity to speak about the Tom Knox launch which happened recently. This was an event Mackey played an integral role in bringing to fruition. If you were to ask our friendship group right now to think of a favourite trick that has gone down recently, it's highly likely a majority would land on the noseslide we speak about next, another example of the energy he brings to everything he does. We wanted to find out a little more about what was going on that day…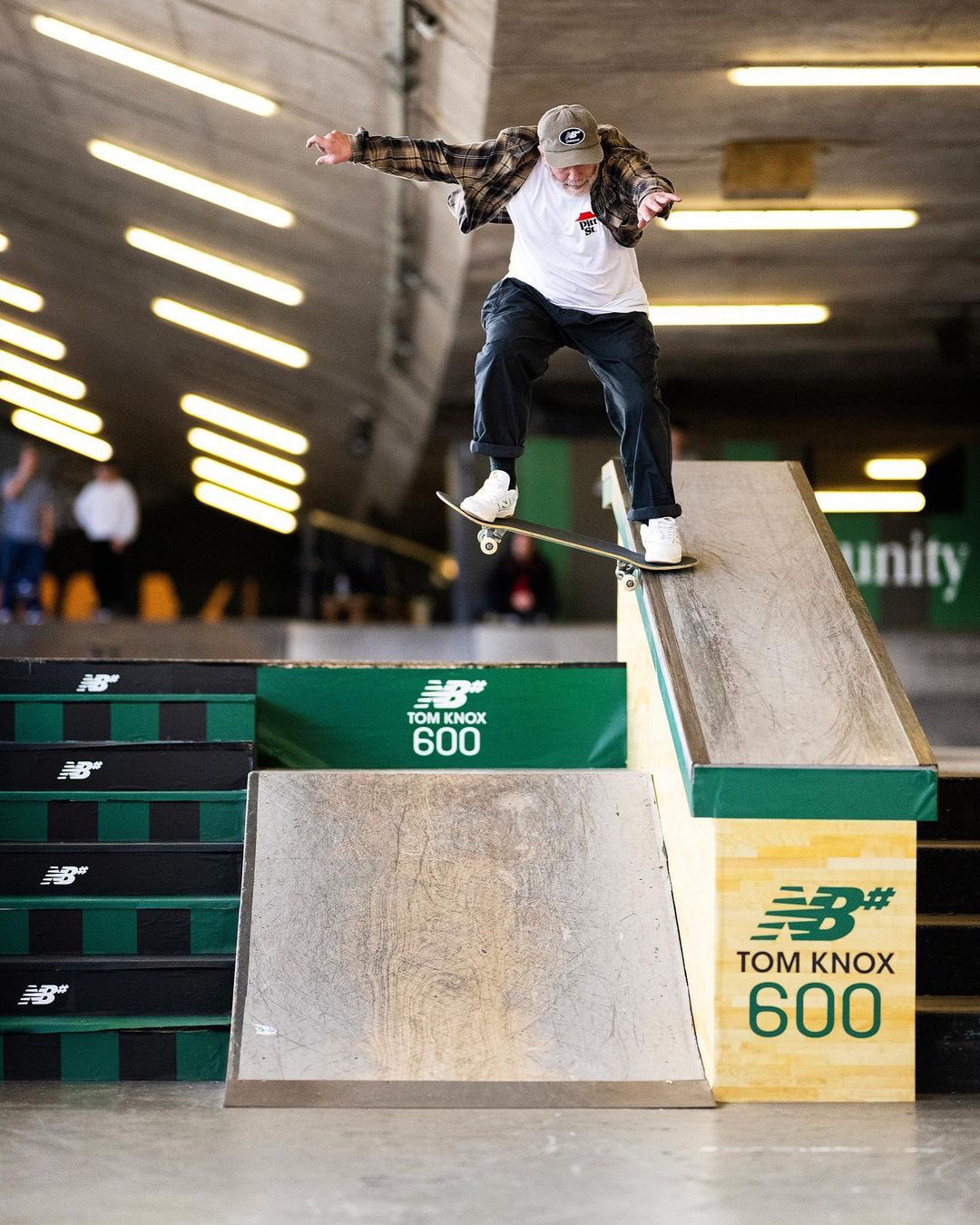 The noseslide that lit up our screens from the Tom Knox launch event. PH: Jake Darwen
It was a mad day, we got there early. I always call the park Playstation, it just falls out, but I hadn't been to BaySixty6 forever. When we were talking about Tom [Knox]'s shoe launch, and London, I was trying to think about the timeframe and what would mean the most to Tom. I remember discussing with Seb [Palmer] about doing something at Playstation. Tom obviously grew up skating there, his brother Sparrow is in the Video Radio video when [John] Rattray does a frontside grab. It just seemed to make sense. I said I was going to go over there and see what it looks like.
I took the train out there again, that same Ladbroke Grove train, and all of those memories started flooding back to me. I met with Paul [McDermott] who has been running the park for years now. I remember all of those feelings of walking from the station to the park to go and skate that park. I walked in and I had all the same feelings as years ago, It felt super sick. As a skateboarder you feel that energy, it's real. I  called Seb excited and said we had to do something at Playstation., Seb began to get excited about it and said "right we're going to do a demo, I'll bring [Andrew] Reynolds, and more of the team". I couldn't believe it, no fucking way, it's going to be like Video Radio. I got so amped on this idea of doing a demo at Playstation.
People don't really do demos anymore, certainly not at that park. Paul [McDermott] was super hyped on letting us do it too. It meant so much, it was Tom's first pro shoe, it was in London, it was at a park he skated forever as a kid. Casper [Brooker] had started skating there again, I saw some footage of him there. I spoke to him about it at Southbank, and he had been loving it. We took the buses out there on the day, and Reynolds was on the bus. We had this Video Radio vision of pulling the buses up at the park. Unfortunately roads were closed so that part of the plan didn't transpire. Instead we walked about half a mile with the whole team. The two buses of people walked there, and there was this collective excitement, everyone who is part of New Balance skates, we had all the shops, and the media, there was a great energy. As soon as we got there everybody just jumped on their boards, and we were there for two hours before the demo so the team could warm up, and the shops could skate the park with them. That's what it was all about at the end of the day.
"I remember all of those feelings of walking from the station to the park to go and skate that park. I walked in and I had all the same feelings as years ago, It felt super sick. As a skateboarder you feel that energy, it's real"
We were there for two hours, and everyone was skating, everyone was trying stuff, I was so stoked, and started skating around. I don't even know why I thought I'd try and noseslide the hubba. I remember skating up to it and thinking "fuck, this is tall". I haven't skated anything that tall for a long time, and I've definitely not skated down something for a long time. Then I just thought I'd had a go, I remember ollieing up onto it, missing the nose completely, and landing on my hip on the top, I had a big hipper for weeks afterwards. I figured I could get into it though, and after a couple of tries I was sliding it to the floor all the time. That floor is like ice, if you land slightly off you slide out, so I slid out a few times, and then I just fucking did one. I was so hyped that I did it, I did a kickflip fakie on the quarter pipe straight after. This is before the demo, as I was rolling backwards Reynolds was there and he gave me a high five. I had to jump up to high five him because he's so tall. I didn't even think about it at the time, but that was a moment. I was so hyped to be skating with everyone.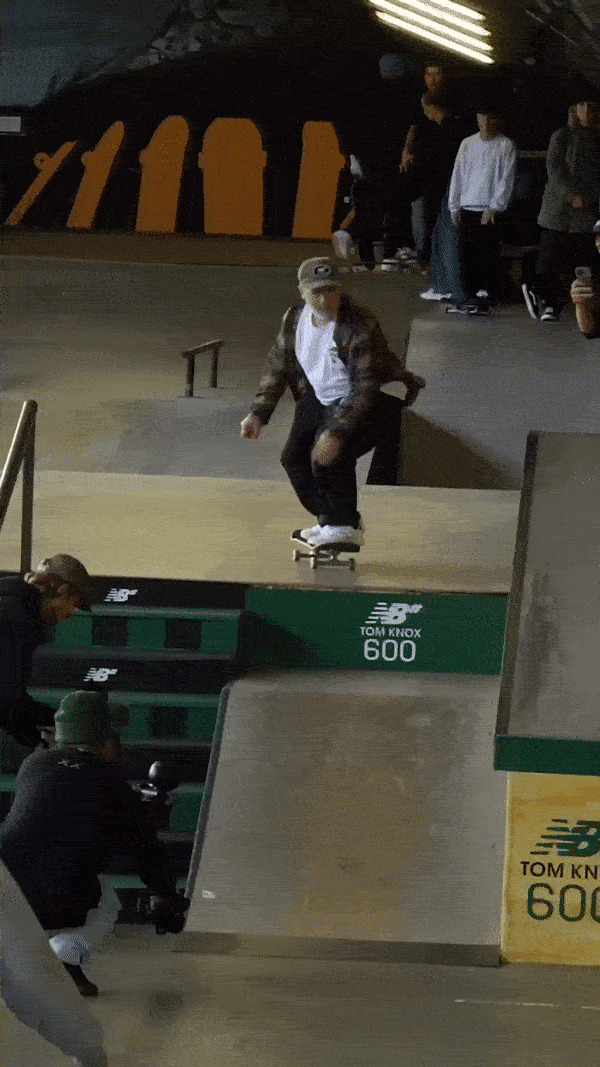 Dave Mackey channeling that Playstation energy with his second noseslide of the day
Then the demo was about to start and we didn't have any water for the guys, the caterer had mostly brought soft drinks. Myself, Seb [Palmer], and [Mark] Baines walked back to the Sainsbury's by the train station to get some packs of water. We were carrying these cases of water back to the park, and had one of the most magical moments. Something the three of us shared was walking back up to the park and in the distance you could hear this voice ringing out, and It was Ben Powell on the microphone. Ben's voice is basically skateboarding to me, British skateboarding. At any demo he's the funniest, and the most articulate, he's the best announcer for me, ever. We could hear Ben's voice, we were walking past the railings looking in, and could see everyone skating. We put the waters down to figure out getting them to the team, and the only thought in my mind was where's my board?
"I was so gassed that I landed the noseslide that I didn't even know what I was doing at that point in time"
I had to get in there to skate the park. I had no idea how many people were in there at this point, there were queues as we were leaving but I hadn't seen inside. I threw my board down and started skating, I hadn't really paid attention to the fact there were about 400 people watching. I threw my board down and skated across the park and instantly Ben Powell was shouting "it's Dave Mackey, he's 75 years old", taking the piss out of me. I love that shit, it really puts me at ease. I was skating around and decided to skate that hubba again, a couple of tries later I landed that noseslide again, and everyone was buzzing. I even did a noseslide on the block after it, hahaha, a two noseslide line. I was so gassed that I landed the noseslide that I didn't even know what I was doing at that point in time.
"I wanted to do it for Ben Raemers, and for all of of our friends who can't skate anymore"
I was just skating about, being in that moment, it's an energy. I'm just a skateboarder, that's it, and I feel the same about skateboarding now as I did when I started in Southport skatepark. I still get the same feelings, still being able to jump about on a skateboard, there's just something about it. I wanted to do something for Tom [Knox], he was stood in the back looking like he'd had a good night before hahaha, it was his thing and he didn't need to be skating, we were skating for him. I wanted to do it for Ben [Raemers], and for all of of our friends who can't skate anymore. I didn't think about not being on the team, I wasn't thinking anyone wants to see me as part of the demo. None of those thoughts were in my head, It was spontaneous, I wasn't afraid, I wasn't embarrassed. I just wanted to skate, that's why I was in there. After the fact people were hyped, it was so sick. Reynolds was hyped, as if Andrew Reynolds is hyped on me skateboarding, whatever. I was definitely stoked though, to put something down at Playstation, for Tom, and for all our friends.
---
We would like to thank Dave Mackey for entertaining this interview and giving it so much attention. We would also like to thank Neil Macdonald (Science Vs Life) for the scans we used from his archives. It feels like a big thank you to skateboarding is warranted too. Mackey would like to recommend that you follow this by listeng to the Artifacts
Related reading: Catch Up With Tom Knox
Previous Visuals Interviews: Jack Brooks, Korahn Gayle, Will Miles, Kevin Marks, Joe Gavin, Chewy Cannon