Our second-ever Visuals interview is with Joe Gavin, one of Manchester's most gifted and prolific sons. Dip into this article for some incredible moments seared into Joe's grey matter…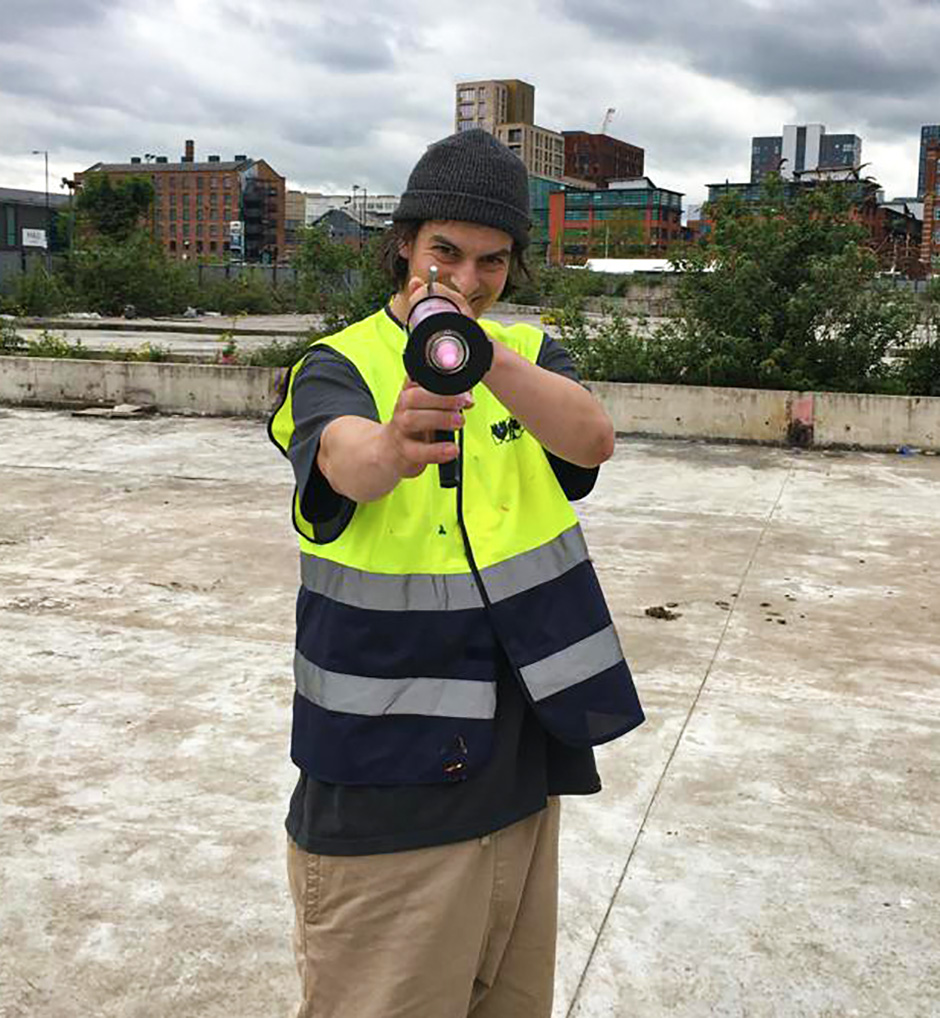 words and interview by Jacob Sawyer. Joe Gavin on a ledge-building mission at Goose Side. PH: Mani Haddon
Joe Gavin is a creative force of nature, a Renaissance man responsible for many contributions beyond the body of work his thirty years of skating has gifted us. He has played a crucial part in galvanising, and advancing the scene in Manchester and is still consumed by all aspects of skateboarding. Even his Maybe Hardware brand has become an inspiration for him to put in more time behind the fisheye, leading to him producing amazing zines in addition to creating consistent video content.
This interview found Joe with a morning window before heading out to shoot photos for NOTE, and right in the middle of grafting for their forthcoming full-length video. When not working he has still been finding time to keep his own skateboarding practice keen, and produce artwork. On top of this demanding schedule, he has also just welcomed his second daughter into the world. In short, he is an inspiring and productive human being. Joe has been one of our favourite technicians for many years, and his personal output has always been punctuated by powerfully executed, aspirational ledge maneuvres. It was great to have a Gino Iannucci-heavy conversation about some direct inspirations which remain a barometer of standards he still uses today. We are grateful that he found a moment to talk about the following visuals that have made an impact on him and why.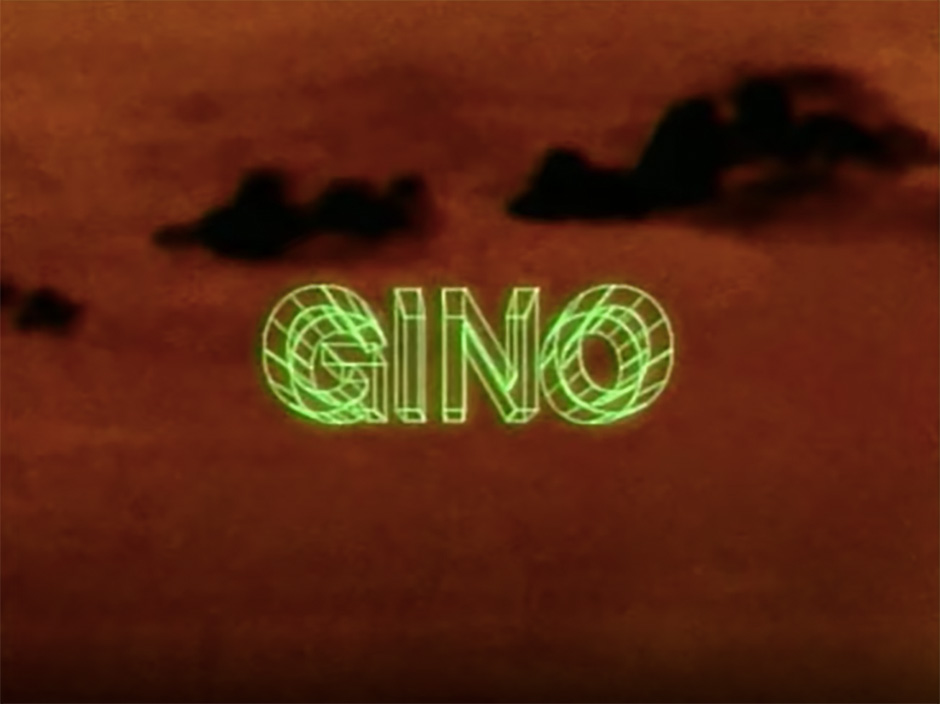 GINO IANNUCCI – WORLD INDUSTRIES: TRILOGY (1996)
I started skating in the summer of 1993 when I was ten so by the year this video came out I was all about it. My sister was going out with this skater who was fully legit, he used to skate with all of the old Manc heads. He fully schooled me on all the good stuff, gave me boards, and hooked it up. Back in the day, there were lots of mixtapes circling around me and my mates with videos dubbed onto them. I never actually owned Trilogy but I had it on one of those tapes. I fucking loved it man, I was completely obsessed with hip-hop as well so it kind of went hand in hand.
I fully rinsed this video at the time but to be honest it's not one I go back to that much. I'll sometimes watch Gino's part for instance, but I need to go back and watch the whole thing some time. I was definitely more of a Mouse guy but this video part stands alone. For me, those three tricks on the table are so powerful. The switch back 180 back nose grind, nollie 180 nosegrind shuvit, and the switch back tail shuvit. I just thought that was the coolest thing ever, the way his arms go, how crazy he lands shit, and how fast he skates. I was just hooked from that, unbelievable style, next level. Even the front nose he does in the first line, it's a little bit sketchy but his sketchy shit is always so dope. There's not many people who can pull that off. He's going so fast that even the way his body looks when he's rolling away from things is so cool, and not in an afterbang way. It always looks like he's been trying for a while and then that's the one, done.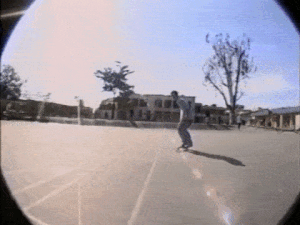 One thing I've always loved about Gino and switch skating, in general, is when people look like they're skating switch. I like it when it looks backwards and a bit awkward. He's probably got the best example of that in the world, especially at that time. The switch backside 180 backside nosegrind is the pinnacle move you can do as far as I'm concerned, in a line or just as a single.
I'm so stoked to have even done that trick. Everytime I've done it was hard, and I've never had it down. I was always pushing for that trick to be called the Gino-grind too, me and Dom Henry were backing that. [Eric] Pupecki never did one switch, so it's Gino's. It's like Steve Caballero with the nollie cab, he admitted that he'd never done a nollie cab so it should just be called a nollie 360 or whatever. So yeah, that's the Gino-grind man.
The way Gino dresses too, the way he looks. Even wearing a white tee, big jeans, and whatever those Nikes were, he just looks so cool. Not many people make skateboarding look that good. He wore that Nike Challenge Court shirt once, and I remember getting that at the time. Up until very recently, you didn't really know much about Gino which I always thought was sick, like a superhero vibe. You don't need to know any of the bullshit, you'd see a glimpse of his skating here and there and it just held more weight. Less is more.
"You don't need to know any of the bullshit, you'd see a glimpse of his skating here and there and it just held more weight"
Obviously, the music is sick too. Alongside Mouse another favourite video of mine was Mixtape. That was absolutely my shit, we obsessed over that video because it was the best of both worlds. I just loved hip-hop. I couldn't always really relate to some rappers but I found them so interesting, and intriguing as a kid. Even the names, Ghostface Killah is like a superhero name, or a graff writers name. Gino Iannucci has the same power to it as a name, like a character.
It was great to see that Thrasher Out There thing he did. I feel for him in a way, it must be so much pressure. Everyone thinks you're the best skater in the world, and the coolest dude, it's a lot of pressure that. I totally understand why he only puts out certain things, and I really respect that. So many skaters today are putting out stuff all the time. I respect his artistry, he may have only had 20 tricks in Trilogy but they're an incredible selection embedded in my brain forever and we're talking about them now. The way he did those tricks, the speed, the clothing, it's just so classic.
Gino Iannucci – GIRL SKATEBOARDS: MOUSE (1996)
With Trilogy, I never officially owned the video or bought it and figured it out for myself. But Mouse was different. Christmas that year my grandma bought me Mouse and handed it to me, and it was so cool. Tom Henshaw was working in Wisdom at the time and he told me that he had sold Mouse to my grandma. Obviously, my grandma had no idea what Mouse was but he told her she needed to get me that video and sorted it out, and that kind of changed my life in a lot of ways. I was at an age where Christmas was a bit boring but that year I must have watched that video 25 times on Christmas Day back-to-back. I was blown away by it and that just became the Bible for however long.
All of these questions were super hard to narrow down, there are so many tricks. I think my favourite trick is actually the Gino-grind we spoke about but it's from the same part so I wanted to pick something from a different video and this is it, same year, different company. People do tricks like this nowadays, Mark Suciu for instance. Back-breaking tech where you spin in, and spin out. But at that point when Mouse dropped you'd never seen anything like that. That good, that fast, that well done. It was unusual as fuck, it was filmed like it was in a line but cut like a single.
"He has the appeal certain vert skaters have. There are a million people who can do a backside air but certain people do one and it's just timeless"
I skate switch a lot and I think Gino and Keenan [Milton] are why. Keenan only has one regs trick in the Mouse part this trick is from. It was amazing, that just blew my mind. All switch, and all so dope. You know what I was thinking about, there isn't a photo of Keenan's switch flip over the table, but in my head there is, it's that classic of a clip that I can picture the photo in my head. That's a clip there, when the photo doesn't exist but you can see it in your mind's eye.
I rewatched Mouse the other day because of this and one thing stood out. It's not Gino actually it's Keenan. He does a line which is simple in a way, he does a switch front tail and then a switch back tail. The flat ground trick is basically him adjusting his pants but the switch back tail is so sick, the way he bounces out switch. When I do switch back tails I want them to look like that. It's probably one of the best ever, even though it's super short and he doesn't slide for ages, it's fast and it always gets me.
But Gino's nollie 180 switch back tail is incredible, I don't think you ever saw him do that again. I can fully envision it on loop in my mind. It's crazy that there's such a small amount of footage in this shared part, it's 56 seconds, and Gino only has two tricks. He has the appeal certain vert skaters have. There are a million people who can do a backside air but certain people do one and it's just timeless. Gino has that, he could do a front nose and it will make you want to grab your board and go skate.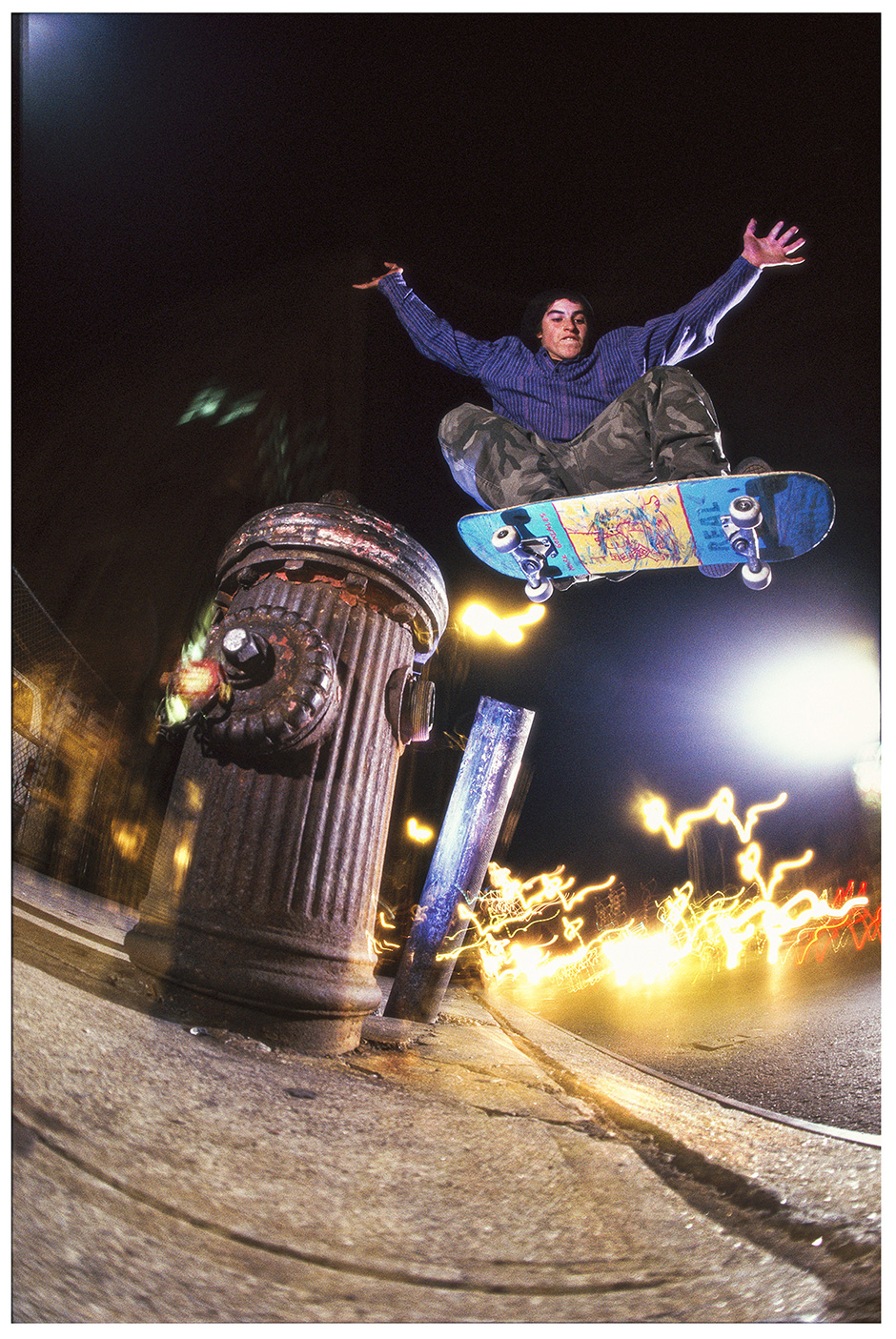 QUIM CARDONA SWITCH 180 POLE JAM. PH: Benjamin Deberdt (1996)
This photo is so sick. I feel a bit lame that I wasn't aware of this photo the first time around but it was the cover of a mag [Freestyler] I wouldn't have seen. It's nuts when you think about it, the most New York photo I have ever seen was the cover of a French mag. You could imagine this being a REAL ad or something.
I think my skating has always been influenced by two different styles in a way. On one hand, you have Gino [Iannucci], Keenan [Milton], and Guy [Mariano], for ledge skating and tech stuff. Then there is just New York street stuff, I was so influenced by it all, I suppose going back to Zoo York Mixtape which was also a Bible to me too. I guess I always tried to emulate that in a way. I loved seeing it when Gino was skating in New York for instance but Quim skates totally differently and It was so influential to me.
I have also always been such a fan of spots that exist in the street one day but are gone the next. I actually think that's one of the coolest, realest forms of skating in a way. Get it done, it's there one day and it's gone the next. Happy accidents, gaps in the street made by some builders they will fix the next day so you have to get it that night. Pole jams are always going to get fixed. It's really exciting when there are spots you have to chase in a way.
Quim was always a big switch ollie influence. I put in a lot of effort learning how to have a bit of power skating switch. He had that, and once you can do a good switch ollie you can switch pole jam pretty good. It's the same mad, bendy pop you need to have. Quim is one of my favourite skaters ever for sure and this photo is so dope, it just sums up what I was after. It's so funny reading the backstory behind this, that Benjamin Deberdt's mate was holding the flash and kind of blew it and made it into the shot. I didn't even notice that at first. It's so sick that he's still giving him shit about it to this day, so cool.
I also think I'm still obsessed with fisheye and how it looks. I was completely obsessed when I was a kid, I guess that was the way you saw skating, through that vignette. There's something about it that still excites me to this day. I shoot photos now and I pretty much only ever want to shoot fish. It was interesting to hear him say he was gutted he shot this fish and wished he had shot it long.
"It's cool to have a new favourite photo that isn't recent. It's like hip-hop, thousands of albums made in the 90s and you probably haven't heard some of them"
It's cool to have a new favourite photo that isn't recent. It's like hip-hop, thousands of albums made in the 90s and you probably haven't heard some of them. I just discovered the UMC's, I didn't know they existed back then but now I'm a fan. It's the same sort of thing, millions of skate photos, and some you have never seen that would influence you now. This photo is so sick, it's at night, he's doing it into the road, there are probably cars flying past him. It ticks every box for me.
I know we are going to sound old here, but they made some pretty good things in 1996, there are incredible albums and skate videos from that time period. Quim is like a Gonz figure to my generation. He was on some wild shit and looking like he's just making it up. So many amazing tricks, parts, and eras of him. Shout out to his brother Mike too, he was just as dope.

For me, this board is just very nostalgic. It might be a Fancy Lad board which could seem super random but it sums up all of those boxes of skate videos in my loft. They are things I can't really look at often but they're kind of there in one board. It represents part of my life that is in boxes. I have loads of boards saved too, I have Gino [Iannucci] boards and I collected Guy [Mariano] boards for a while. This one really speaks to me though. I don't have many boards up in my house but this one I see every day. The spines of those videos communicate so much.
I would love to have a skate VHS collection on my shelf but right now it's full of kids' toys, The Tiger Who Came to Tea, and stuff. I can't warrant having that out there with limited space. It's become a bit of a thing I think about though. I have one of Dom [Henry]'s boards on my wall, a Guy Mariano board, and this Fancy Lad board. I have maybe fifty boards stashed away that mean everything to me. It's all good though, sometimes I go up there and have a little look. There will come a point for a man cave, Alan Glass has a good one, I think that is the goal for all of us old skate geeks. I have the two Gino Chocolate portrait boards that connect together. I asked my missus about putting those on display and she was like "Who the fuck is that? " hahaha.
But as it stands the Guy Mariano graphic on the wall is a pile of books and this VHS collection graphic is kind of next to it, so it's pretty cool, a video shelf, and a bookshelf. There are mostly good videos on that Fancy Lad board. I love how it has Welcome To Hell three times. It's also so sick that it has Portraits in there, and Waiting For The World. Nervous Breakdown isn't really one of my favourites and I'm gonna call something else out. I was fucking gutted when I bought Freedom Wig. It was about £25 for some Super 8 of dudes skating mini-ramp on ships and stuff so I wasn't really all about that one either.
"I don't have many boards up in my house but this one I see every day. The spines of those videos communicate so much"
I am a fan of what Fancy Lad are doing too. I absolutely love skating in all forms and enjoy seeing all kinds of things. I love that shit, the mad boards that guy Matt Tomasello makes are so sick, I'm feeling it, he's amazing. There's that guy Abe Dubin who only wears orange too. I also like the way they all seem to live together and do all of this as a unit. Some pretty wayward dudes, it's almost like a gang, or a cult or something. Skating had a lot of rules when we grew up, it's cool to see people just having a laugh. I just really like this board graphic.
As a bit of a disclaimer, there are a lot of things I like that have come out since the stuff I selected but you asked me what's been the most impactful stuff, the things I like the most. That's just always going to be the old stuff. However I'm also a massive Jake Johnson fan for instance, I think he is one of the best skaters of all time, and Tiago Lemos too. There are people who have made an impact on me more recently. I would hate for people to read this and think I just listen to Wu-Tang and watch Trilogy all day which I totally don't. I will always hold those things up as a measure of how good something is though.
My favourite or most memorable boards would be the ones I saved up to buy myself with my pocket money as a kid. I remember I had this Fabian Alomar Menace board with a cartoon graphic and I was so stoked on it. I got surrounded by about nine dudes and robbed for it. It sucked, I managed to kick one of them up the arse as he was running off and he fell over. My dad took me out in the car to look for them. We found a bunch of them playing on a skateboard, so it was obviously them. My dad shouted "Oi!" out the car, they ran off and that was it, I never got it back. There's one more I need to mention. When I was super young, one of the first boards I ever got my dad bought me. It was a Tim Gavin board and he said I had to have it because it just said Gavin on it. He was trying to get me to write to him and say we were probably cousins, hahaha.
I think my favourite personal board graphic would be the first Liquid Swords board. I remember being in bed one morning and having that GZA album next to me. I was just looking at the cover and I cut out a little stencil of a board shape and placed it over the album cover. I found the best bit and sent over a picture of that asking to have that as my first Landscape board and they were down. I was obviously stoked on that. I always wanted the other half but it never really happened and then The National hooked it up which is amazing. That is basically my last pro board as well so it's nice to have that last piece of the puzzle.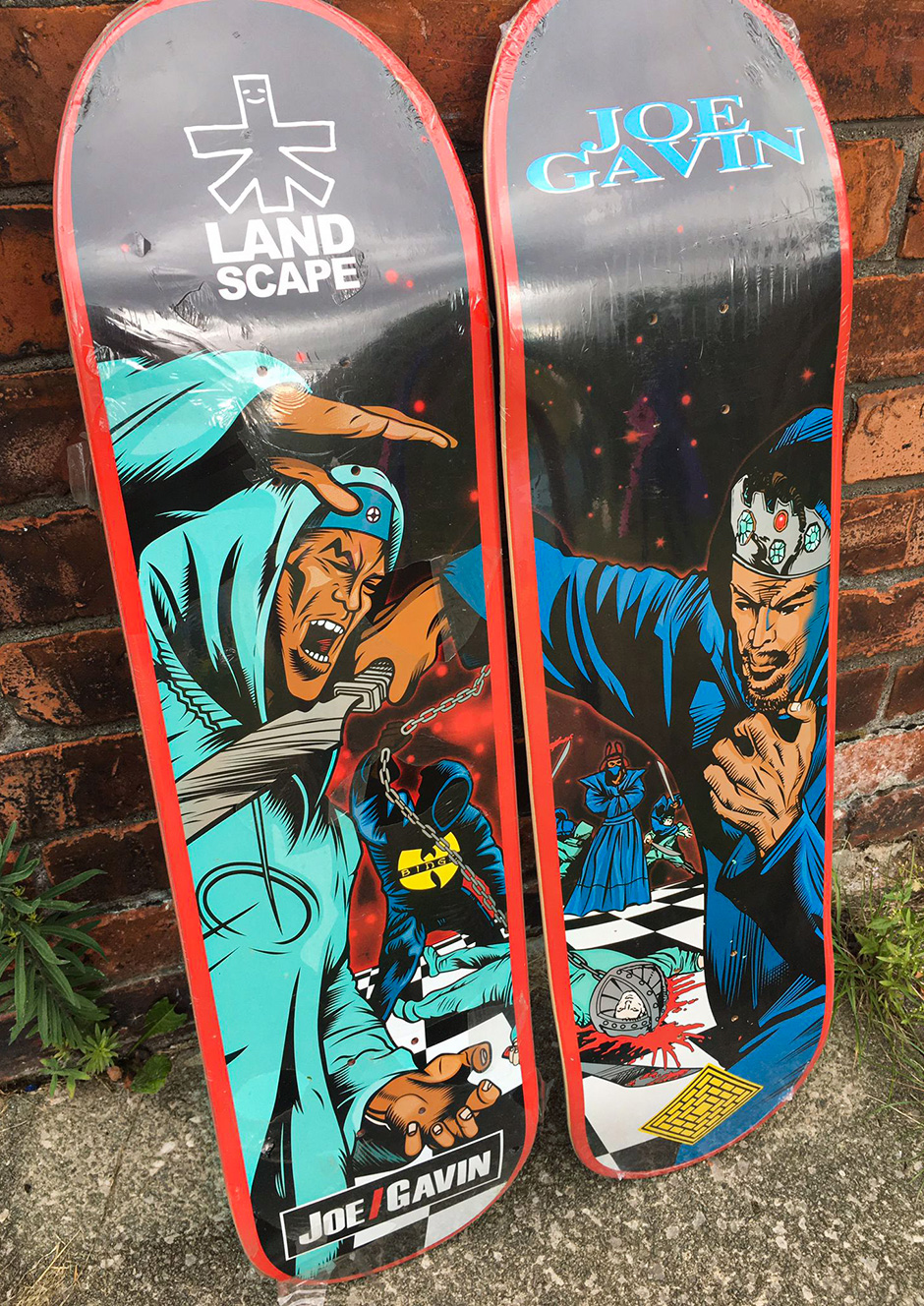 Joe Gavin's Landscape Liquid Swords board next to part II from The National. There is a decade between these two decks which make up the cover to GZA's seminal LP from 1995
---
Huge thanks to Joe Gavin for taking time out of his incredibly busy schedule to entertain this interview. It was a pleasure speaking about some unforgettable moments which make up our shared history. Make sure you're following @snakeeyesdie and @maybehardware for regular visuals of Joe's own design.
If you enjoyed this be sure to check out Visuals: Chewy Cannon. This was the first interview of this format and it includes some further discussion about the Girl Skateboards classic Mouse. To find out more about that Quim Cardona photo and other photos shot by Benjamin Deberdt during his time in NYC read Benjamin Deberdt's New York.