It was a pleasure talking to Korahn Gayle for our latest Visuals interview. He has a rich history from which to pluck the visual stimulus that has made an impact on him, and he came back with a thoughtful, interesting selection that spans different time periods. Find out more about what he has selected for you…
Words and interview by Jacob Sawyer. Portrait shot by Rich Smith
Korahn Gayle is one of the most prolific, impressive, and interesting skateboarders out there, putting out footage on the regular from his base in London. On video, on Instagram, or via the mags, there are always new clips, and shots of him on our screens. He plays an important part in UK skateboarding and beyond, working always to the standard of technical prowess set by his Bristolian elders. Spending time on this interview provoked the realisation that he has been doing that for two decades. Twenty years is a long time to be pushing it on a skateboard but Korahn continues to. Even a serious knee injury last year didn't stop him from having many memorable moments in the Nike SB 7 Ball video that were captured after rehab. The energy he brings to everything he does, including rehab, is why he is still one of the most exciting pros to watch, and also why he has maintained his status as the longest-serving Nike SB team rider. We are stoked that he brought that same enthusiasm to our conversation.
Korahn's work outside of our culture has seen him become a specialist in human biomechanics, regularly helping others work on training their bodies. This knowledge can obviously be applied to skateboarding, and has been. As we found out, it also makes for an elevated conversation when it comes to talking about videos, unpeeling an added anatomical layer of analysis and appreciation. It was great to hear him share a little of that next level of understanding.
His selection includes a video part which made an impact on him while crafting one of his own, and a trick stamped in his memory from when he had only recently stepped on a board. He also puts into perspective the influence of one of the people pushing his scene when he was coming up, and talks about his first sponsor and the reason he's here doing what he is all of these years later. His well thought out selection gave way to us covering some ground and dipping into his career through some of the visuals that have played a part in it. Enjoy reading these thoughts from one of Bristol's finest…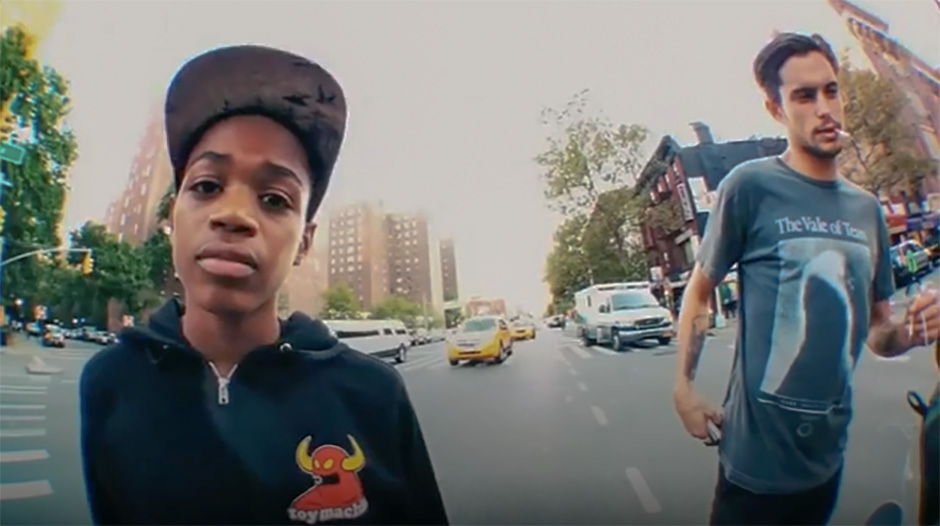 Tyshawn Jones – Supreme: Blessed (2018)
It wasn't easy to pick one video part, when you've been doing this for 22 years there are obviously a lot of video parts in the running. I thought of a lot which had an impact on me back in the early days. Baker 2G was an early video I watched a ton of, P-Rod's part from In Bloom was a close one too, there were just so many. I decided to choose a more recent one that stuck out in my mind as being crazy, that I had watched a lot of times, where pretty much every trick in it was a hammer. This Tyshawn part ticks all of those boxes, it's definitely one of my favourite parts, and it's more recent whereas some of my other choices are more nostalgic.
I went to the Blessed premiere with my wife who was my girlfriend at the time, we got to the cinema by the river but it was so rammed that we just snuck off in the end. When it came out I just bought it straight away. It came out when I was filming for my Cover Version part and I remember [Dan] Magee kept asking for more from me, I started wondering how many tricks you need for a video part. I counted how many tricks I did when that part came out and I think there were 60 different clips in it which I realised was a lot. I tried to think of a mega part I loved with a ton of tricks in it, so I counted [Tom] Knox's Vase part and he had 54 in that. I was surprised that there were even more clips in mine than in his. Then I counted Tyshawn's part and he only has 32 tricks in Blessed which was his SOTY part. It made me realise that it's not necessarily the quantity of tricks that makes a part good. I was going through that thought process after this part came out, it came out the year before Cover Version, and his part was definitely inspiration at the time.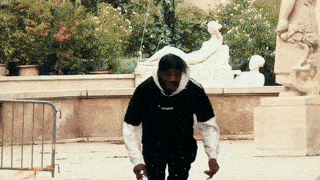 Tyshawn is gnarly and tech at the same time and it's just impressive isn't it? That switch tre flip at the end! I still really want to switch tre flip a set of stairs, I've never done it but I feel like it has to be a nine set or it's not completing the switch tre challenge. Hopefully one day I'll do that and he definitely inspired me with that one he did down Le Dome double, it's just insane. The music in that video part is banging too, that Rick Ross track, then how that goes into the Bob Dylan song after the switch backside heelflip, and the Dylan Rieder clip. That final montage is fire, it's so good. It's not in this part but the switch inward heelflip he did down that marble set is so good, it made me want to try and learn that trick and just copy the way that he does it, I still haven't been able to. I have studied other tricks because they're great examples of how to do them, he just did a nollie heelflip boardslide down the rail at Brooklyn Banks which is mental.
He fakie flips a massive road gap in this part, a dream trick over a road gap, he also does a switch back 270 lipslide down a handrail too which is something you maybe don't think of him as doing. He also does a switch ollie over a massive weird cone in a school yard and it's crazy. The way he pops stuff is interesting, his pop is ridiculous, and the stuff he does over cans is impressive. I love watching athletes move to see how they get their power. Tyshawn is a great example of an athlete on a skateboard, it's fun to watch, and it's impressive. He has a unique technique, his knees come together quite a lot when he bends down and he explodes when he comes up. You see that in a lot of basketball players, there's a difference between your knee falling in, and your knee pulling in to create an elastic recoil back up, he does that in the best way. It's mad how he gets that pop over shit, it blows my mind. Tyshawn is a man on a mission, he knows [Bill] Strobeck is going to do an incredible job, and he goes in, he won SOTY with that part and he deserved to.
"there's a difference between your knee falling in, and your knee pulling in to create an elastic recoil back up, He does that in the best way"
It's always exciting when someone is more athletically gifted in terms of pop, you get to see them skate spots in ways other people can't. He fakie hardlfips the block at Pier 7 for instance. They'll skate the same spots as other people on another level. It's exciting to see someone like Tyshawn skate, it's not even human how he can float over shit. The year after this came out there was that Keep LDN Clean adidas event and Tyshawn was in town. It was sick to see him skate in the flesh, he wasn't trying to go crazy but it was mental seeing him half cab flip over one of the bins. I remember thinking there and then how next level his pop was. I ollied the bin which felt quite tough at first, and managed to do a switch ollie. Then I tried to do a few switch frontside 180's, he was standing next to me and said "switch front three". I just said "I can't man" but in my head I was thinking "you're tripping!". I couldn't believe he thought I could do that.
That day was incredible because the GOATs were there, Tyshawn Jones and Kyle Wilson. The switch ollie Kyle did over the four bins was such an incredible thing to see. You know I'm slow mo-ing that shit, it was like a leant back high jump where he whipped his legs up. They both move different, it's sick to watch and I could slow mo that shit all day. I want to see what muscles they're using to propel themselves, and leverage themselves into the air. I'm a real geek when it comes to human biomechanics so when I get to watch my favourite skaters who are super athletic, and I can see how their muscles are working, especially if they've got their top off, it's super useful!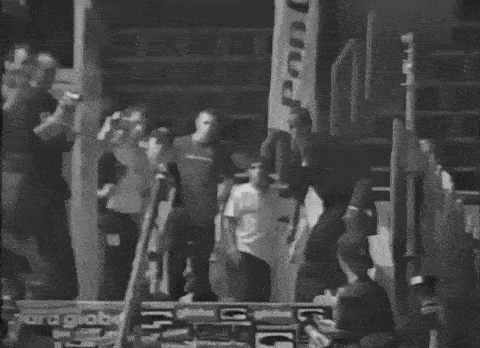 Bastien Salabanzi – 411VM Europe (2000)
I would have been skating for about eight months when I first saw this trick, it took me that long to learn how to kickflip, so I learned to do that and then I saw this. I think the video this was in [411VM Europe 2000] would have been playing on the screen in Fifty Fifty. This kickflip frontside boardslide to fakie was just insane, it looked so dangerous, but he did it so smooth. After seeing this I got the Lordz Wheels Conspiracy video which was one of the first videos I rinsed and Bastien [Salabanzi] had a part in that. When you're that young you're looking to other people closer in age as a gauge to how good you could be by the time you're their age. That never came to fruition but he was a big inspiration. He was super young when he did that flip front board, maybe I can do flip front boards as well? That was my thinking.
The way Bastien skated was different, he did a lot of tricks I liked too, fakie flips, backside flips, fakie tre flips. Everything he did was inspiring, even his ledge game, switch heel back 5-0 shuvits, fakie flip switch crooks. It's funny to think now looking back, but the tricks he was doing back then on ledges are my favourite tricks to do now. When I think of any of the early FLIP videos I think of Bastien, his parts were what I would watch over and over again. His flip front board ender in Sorry down that 16 stair rail in SF was just so incredible too, that one and this one are very memorable.
"It's funny to think now looking back, but the tricks he was doing back then on ledges are my favourite tricks to do now"
Back then contests looked so fun. You're seeing Rick McCrank, [Eric] Koston, Ogi De Souza, Bastien, and all of these people just killing it. It seemed like all of the best pros went to all of these contests. There were stickers all over the wooden course, it's probably nostalgia but it all just looked so sick. It was inspiring to see, back then if you went to a park that looked a bit like that you would try to emulate those videos. I remember trying to backside flip this hip as fat as I could at Epic in Birmingham, they had a big hip there and I definitely had Bastien in mind while doing that backside flip. I skated in a comp once where Bastien was on fire, he was in some kind of prime. He cab double flipped the double set and all that stuff, barefoot switch heels and shit. It was just crazy to see, I've been lucky enough to skate a few contests where he's been there just doing his thing. It's good to see footage of him skating in Paris now, he looks like he's having a nice time skating at République.
Matt 'Stalker' Keal. backside tailslide. PH: Leo Sharp (2005)
It was difficult to narrow it down to one photo but this was a special one I remember making an impact on me. It just summed up how good Stalker [Matt Keal] is. I always thought he was the best when I was growing up. Zak [Pitter], [Dan] Wileman, and Stalker were the youngsters who were coming up. We had seen them in the older videos when they were even younger and because of them we had aspirations to be the kids in one of the Fifty Fifty videos. We always looked up to them. Stalker was getting better and better, and gnarlier. Because I was so young I hadn't seen firsthand how people continue to progress. We saw among ourselves that we had been improving but had never seen someone go from skating for six years to ten, or even from three to six.
We always knew that Stalker was sick, we had seen him do switch back tails off third at Lloyds and stuff like that. But especially in Bristol, and in the UK in general, we didn't skate rails. We didn't have any to skate, and there weren't skateparks with rails to practise on. If you wanted to skate a rail you had to go and jump on one, that's how you had to get involved, so we just didn't do it. I hadn't really seen any footage of Stalker skating rails, maybe a little one here and there that was short enough you're not going to sack yourself, like that Cheltenham rail for instance. Then suddenly there was this photo of a back tail. At this point everyone was a bit older, Fifty Fifty was doing it's thing and it was sick, there were people like Will Ainley in the mix. I remember seeing this back tail photo and I couldn't even believe it, my brain couldn't comprehend it. It was the best thing I had seen. In my mind it's a back tail, my favourite trick. It's a handrail, gnarliest thing, don't go near them, and it's a big one on top of that. It was insane.
"Often when people do that trick to fakie their front arm will kind of go backside so it looks less steezy…"
The photo is super cool too, in the dark. The footage is in the Fifty Fifty Promo video and it's perfect, so crazy. The shapes on it as well, this should have been a cover. He did it so perfectly and he's so locked on top of it, it's dangerous. He's stood on top of it, pure Stalker steeze with the hands. There's a nice rotation of the upper body. It's a classic back tail but it's interesting, he's in that classic position but he's going to fakie. Usually when you're in that position you come out back to regular, your arms are like that and then you pull it back. Often when people do that trick to fakie their front arm will kind of go backside so it looks less steezy, but he's stood like that all the way through it. It's one of the best back tails ever to go down I reckon.
"but he's stood like that all the way through it. It's one of the best back tails ever to go down I reckon"
We called the rail London Life. I think this is because of the building that was there. Classic space cadet skaters though, we'd talk about going to London Life but never look up at the building that was there. I never skated that rail but I did do a fakie tre flip down the stairs. I was really stoked on that one, it was at night as well. It was at a point where I wasn't skating much at all, I probably hadn't skated for a month, I'd been playing loads of football. I remember Louis Marshall saying to meet there. He told me to fakie tre the stairs first go for a pound or something. I bet him I'd do it in three goes just joking but from the first go I could feel it was fully possible. I think I had a perfect setup, I'd switched to a bigger board so it just span slower. I had nice shoes on and everything felt good, I even had some new thick LRG trousers so I probably felt some shinner protection. That was a good night for me at the same spot.
Stalker was definitely ahead of his time, and I think for a UK skater, bar Geoff Rowley, [Danny] Wainwright or someone like that, hitting a rail and back tailing it was one of the gnarliest things. [Dan] Wileman was doing some crazy stuff on rails at the time too. We always felt like Stalker was the future and then this photo made it feel like he was the present. Then he stopped skating a while after this. We couldn't wait to see more then he stopped and moved away to Australia. You think of it as being a shame but it's not, that's what he wanted to do with his life and it's great. For the rest of us selfish bastards who wanted to see more it's a shame though. He was a massive inspiration. Bristol is still popping, there are all of these young rippers doing their thing which is amazing. Mike Arnold has moved back there and he just brings an energy wherever he is. Lloyds is going crazy with Mike, and Henry Gibbs, all the kids. I need to get back there for a week but I feel I've missed my summer window this year. The skate scene is as strong as ever down there.
East Skateboards Dave Mackey Pro Model (2007)
I picked this one because it's [Dave] Mackey and Mackey along with others has been such an enabler of me having a skate career. Back in 2003 I had a part in the Bristol In Bloom video. There was an East Skateboards trip going on and Mackey, Dykie [Matt Ryan], and everyone watched that video. Mackey saw my part, asked who I was, and wanted to give me some boards. Fifty Fifty were distributing East boards through Defiant distribution which was next door to the shop. I remember Syd [Justin Sydenham] telling me that Mackey wanted to give me East boards and asking if I would be down. I remember seeing the boards, it's almost a memory I had forgotten but this has brought it back. It is such an amazing memory, I went next door to Defiant distribution and saw all of these East boards, and the graphics were so sick. There was a series with a minotaur, and a centaur, this is making me nostalgic and I want to be back there almost. Seeing those boards and being able to go in and take one myself was incredible, to me at the time they were the coolest boards there were.
I skated for East for the next few years, we went on trips, skated together as a crew, and they're amazing memories. I got to know [Dave] Mackey more and he's the nicest guy ever and was super helpful to me. He set up the Nike SB thing for me. Colin Kennedy, and Syd are massive parts of the story as well. Mackey was my link to Nike SB and I can only thank him for everything he has done for me. Seeing his board when that came out just seemed special, his pro board with the stars was just perfect. It looked so well finished and iconic, there was something about it, that Kev Grey graphic reminded me of a stained glass window in a church. I fully remember first seeing that Mackey board in all its glory, the colours are so sick, I want to skate that board now.
"I fully remember first seeing that Mackey board in all its glory, the colours are so sick, I want to skate that board now"
At the time lots of things went over my head, looking back now I can see that they were special. I wish I could have appreciated how special some things were at the time but that's life. You need to have those rose tinted glasses on at the time, I try and do that a bit more these days. I haven't thought about those East days for a while, I've thought about them but not the early ones. I just loved those boards, being able to go to Defiant and set them up. It was the coolest thing ever and that Mackey board was the best one. It was basically the best board from my favourite ever selection of boards. His board came out after the Vapors video, it wasn't meant to be the final thing but it was one of the last boards to come out. I feel like that Mackey board was one of the highest highs of East Skateboards, that's my opinion. It represents East Skateboards at its finest and it definitely has a place in my heart.
I think my favourite personal board graphic is one that has come out recently. Lee Cameron is a friend of my wife and I who designed my last board for Skateboard Cafe. It's a canvas he painted which we have on the wall of our house, that canvas is the graphic on the centre of the board. I had one with Rammstein my cat on which was special too. There's also a new one in the works which will be coming soon.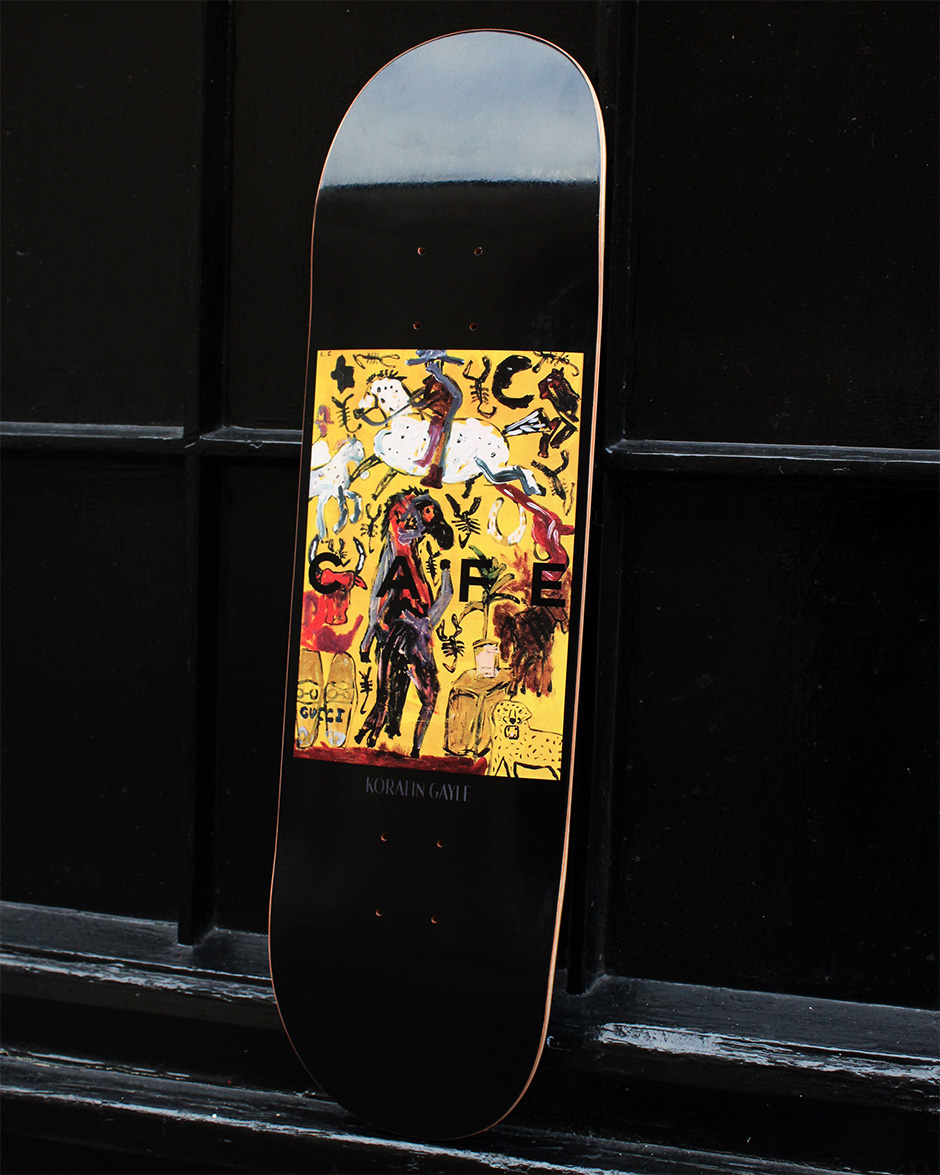 Korahn's favourite personal graphic. Skateboard Cafe 'First Adventure' by Lee Cameron
---
We would like to thank Korahn for taking the time out of his schedule to entertain this interview, it was great having a chance to speak to him. Thanks to Leo Sharp, Neil Macdonald, and Dave Mackey for hitting the archives. Thanks also to Rich Smith for photos.
Previous Visuals Interviews: Will Miles, Kevin Marks, Joe Gavin, Chewy Cannon