In putting together our recent 'Ode To Victoria Benches' article, we reminisced about halcyon days committed to film at the historic skate spot. Eager to immerse ourselves in Toby Shuall's part from Headcleaner, our initial trawl proved fruitless until Ryan Gray assisted, providing the video in full. With the blessing of Pete Hellicar, Unabomber founder and Slam alum, we're stoked to share it alongside a few words from Pete. Enjoy this transmission.
Headcleaner by Unabomber Skateboards, 2001. Introduction by Jacob Sawyer, words by Pete Hellicar.
Slam City were the sole UK distributor for Unabomber Skateboards when Headcleaner was released in 2001. 
Hundreds of VHS tapes were sold over the counter of our Neal's Yard shop. It flickered away on a vintage TV screen above the staircase for many moons. The video features full parts from Vaughan Baker, Alan Rushbrooke, Harry Bastard, Toby Shuall, John Robinson, Pete Hellicar, James Woodley, Daniel Hakansson, Mark Channer, Gustav Eden, Frank Stephens, Ali Cairns and Paul Silvester. Alongside a friends section which features some banging Olly Todd footage.
Slam alumn and Unabomber founder, Pete Hellicar has always had a perceptive, humorous and insubordinate take on what's happening on this island we call home. We reach out and asked him to paint the picture of Headcleaner and the space in time it encapsulates…
Pete Hellicar on Headcleaner and Unabomber Skateboards
Pete Hellicar backside wall rides in West London during the Headcleaner era. photo: Wig Worldand
I'm reading a book called Inner City Pressure – The Story of Grime by Dan Hancox. It's the story of a musical genre's creation, evolution – and ultimate acceptance – set against a backdrop of ever increased draconian laws, Neo-Liberal governments, the privatisation of public space, rampant free-market capitalism and the beginning of the digital revolution that is now all-pervasive. 
The time frame this story begins is pretty much the same as when Unabomber was getting going and we were making Headcleaner: the late 1990's, early 00's. I'd never really considered it but the parallels are striking. The same laws that were impacting the early grime pioneers were also impacting us as skaters.
This was the beginning of private security guards, the privatisation of what were once public spots. Paternoster Square, The White Wall, St Paul's, Shell Centre, The Southbank, Holborn Viaduct, The City… Generally, all spaces that were once free to roam were beginning to be surveilled by CCTV and protected by new laws designed to restrict freedom of movement, cut youth crime and make the Daily Mail reading proles feel a little safer and less scared of these unruly kids. The media portrayal of youth groups as threatening and dangerous gathered pace. The totalitarian tiptoe continued unquestioned and we saw the continuation of the "Problem, Reaction, Solution" approach to world affairs.
Unabomber art by Pete Fowler. Below: Unabomber's (in)famous 'Gimp Mask' graphic.
It sounds like I'm being negative but the reality was that this was exciting! We knew what we wanted to achieve and Unabomber was our vehicle, "Built with no corners to cut." To some extent, we felt like we were representing UK skating. At least that's how I felt. We wanted to make it ours.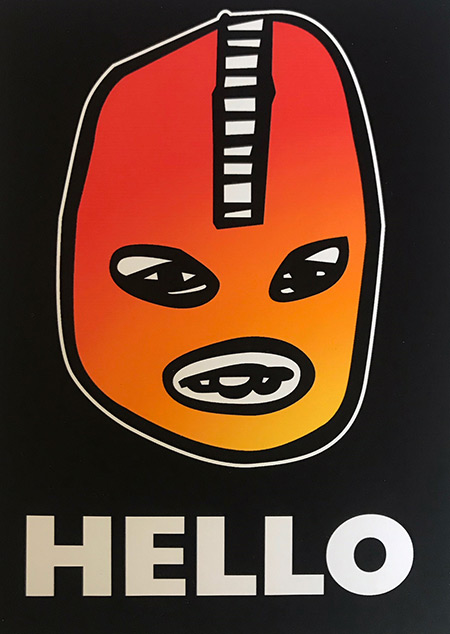 Internationally, there was the realisation that it was okay to be happy with and proud of your scene. With Grime, it came in the form of a new style of music and approach to spitting bars. Raw production, DIY pirate radio and a will to make it happen on your terms. No compromise, no big budgets just loads of heart and youthful focus. The pirate radio stations at this time were epic. With skating, it came in the shape of things like Unabomber. As part of a UK movement that had been in the offing for over 10 years we all felt it in the air. Something was changing.
Eastern Exposure 3 had come out a few years earlier, Fucktards was a favourite. Both had a new exciting perspective and raw style that seemed to pop the shiny California bubble. Anti-Hero was starting to gain traction. There was less floss and more grit to it all. Flip had fucked off to America – Tom Penny was showing the world how it was done. The Radlands competitions were happening yearly and as a scene we all were showing "The Yanks" what we were made of. Dan Joyce was terrorising all comers with his gimp character. Sidewalk was strong and starting to make waves internationally, creating a magazine that was unapologetically "of the island". Overall there was a huge amount of energy being pushed into the wood and wheels.
"There was the realisation that it was okay to be happy with and proud of your scene."
Headcleaner came out amongst all this; something of a visual response to the whole turn of the century angst and fear. It's old news now but we, as a group, were all politically switched on. We knew why the elites were making their move and knew what The Project For A New American Century meant for world politics and how it would play out. We had spent years discussing and dissecting news both mainstream and alternative. Hence the name of the full company 'Virus – Unabomber – He/She/They';  That's Jon Robson's forward-thinking vision for you. We could see it playing out and we wanted to create a space that allowed this to be communicated without ramming it down throats. Wake Up To The Impossible Dream.
This is also all pre mass uptake of the Internet, we had mobile phones but no social media. We were thinking about a website, but overall it all had to happen locally and the results were mostly recorded and broadcast via Sidewalk, Document and a few local scene videos being made. I'm amazed we managed to get anything out there but at the time we were using what we had. In Bow, the pioneers of grime, were doing the same thing but using pirate radio and raves to get themselves out there.
Unabomber rider and Yorkshire royalty, Paul Silvester switch 5050s a tight handrail in Leeds for his last trick in Headcleaner. ph: Wig Worland for Sidewalk Magazine #28
Today it all seems like it makes sense. Stormzy is headlining Glastonbury, D Double is doing IKEA adverts, "Tony Hawks" is a household name. The Olympics are gagging to enrich their tired idea of sport with some skating action. The world is a different place, the landscape unrecognisable to those of us who remember getting harassed for riding a skateboard. At the time it was a case of having to do it. We had no choice. What else was there to do?
These days, it's all tracksuits and collabs. But I see the seed of Unabomber in some of my favourite skate companies. I love the irreverence of today's popular brands, the total disregard for what has come before and hope Unabomber had some play in the wider scene we have today. I hope Headcleaner did what it was supposed to do. Clean heads. – Pete Hellicar
---
Explore more British skateboarding history: Ode To Victoria Benches, 'First Broadcast' 20th Anniversary, Slam City x Rad Archive: Curtis McCann, Benjamin Deberdt's London, UK Skate Mags: A Brief History, Mike Manzoori talks 'Sound & Vision'