Our third ever Industry interview is with Kevin Parrott, someone who has dedicated decades to skateboarding. You will most likely be well aware of his contributions as a filmmaker but this interview delves into the many roles he has performed beyond being behind the lens. If you want to learn more about working in the industry, this is a great place to start, full of insights from many perspectives…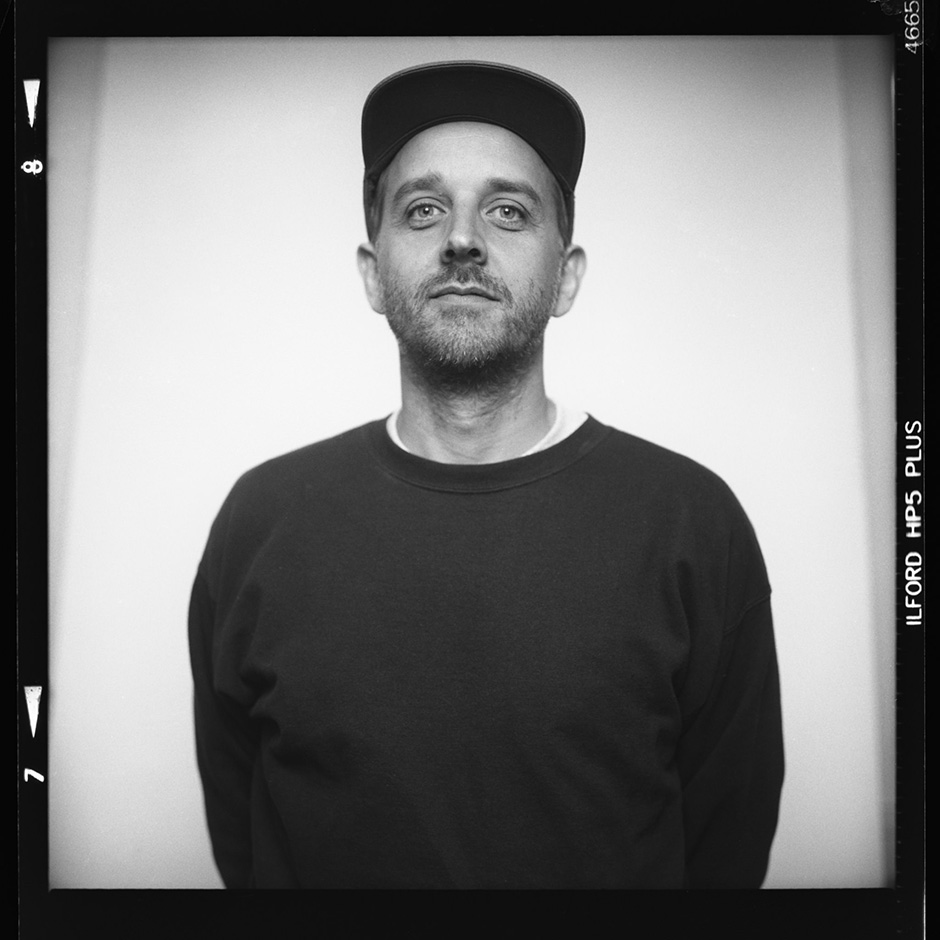 Words and interview by Jacob Sawyer. Kevin Parrott portrait from Everyone On Boards. PH: Wig Worland
Many interviews begin with a life-changing first board moment but for Kevin Parrott a skateboard was simply one of several options early on, something that was always around. When Back to the Future and Police Academy 4 hit the screens he was skateboarding, but playing football, and BMXing in equal measure. He maintains that as much as he was skating during that period in the 80s, it wouldn't be until 1991 that he considered himself a skateboarder. Through his dad's best mate's son, a cousin-in-law by all accounts, the wonders of another world began to reveal themselves. Visits to his house exposed Kev to Not The New H-Street Video and the Tim Simenon Attack video released in conjunction with Powell Peralta. These visits, and learning to ollie up a kerb 90 degrees, also coincided with a visit to a temporary indoor DIY park in Hoddesdon peppered with palette-based constructions. Add some biannual trips to The Rom into the mix and these eye-opening experiences remain pivotal memories.
His first Transmissions complete was purchased from Joe Burlo [RIP] at his Eat at Joe's shop out in Waltham Cross. After that, this was replaced in parts as his cousin Ben received new stuff each birthday, and at Christmas. This meant he inherited early Alien Workshop boards, as well as boards from H-Street, and Deathbox. These hand-me-downs would keep him rolling and his interest didn't wane. By 1993 he would find himself skating solo even if nobody else was around, his path was set. He has remained obsessed, driven, and devoted to the cause ever since.
Kevin Parrott has been capturing skateboarding for many years now, during that time he has filmed, edited, and produced a grip of videos. He continues to regularly deliver video projects for the brands he works for but always has a project of his own boiling in the background. One notable example would be Cover Version, an epic independent release he created alongside Dan Magee. His credentials make him the perfect candidate for an Auteurs interview. However, from our initial chat, it became clear that although he has been interviewed a fair few times, each one has been focused on his filming, and a specific video release. He has contributed to skateboarding in many other ways outside of that so we decided to settle on an Industry interview. This created space to discuss other aspects of his journey as well as his craft.
As anyone who works in the skateboard industry can attest, you can often be found performing roles outside of your remit, as necessity quickly broadens your skill set. Kevin is someone who has worked in many different capacities beyond the roles you may associate with him. He is a man of many hats and has donned more than most. It was interesting to learn about the evolution of his working life, from working for Slam and staffing an iconic London skatepark at a pinnacle point, all the way through to what he does for Sole Technology right now.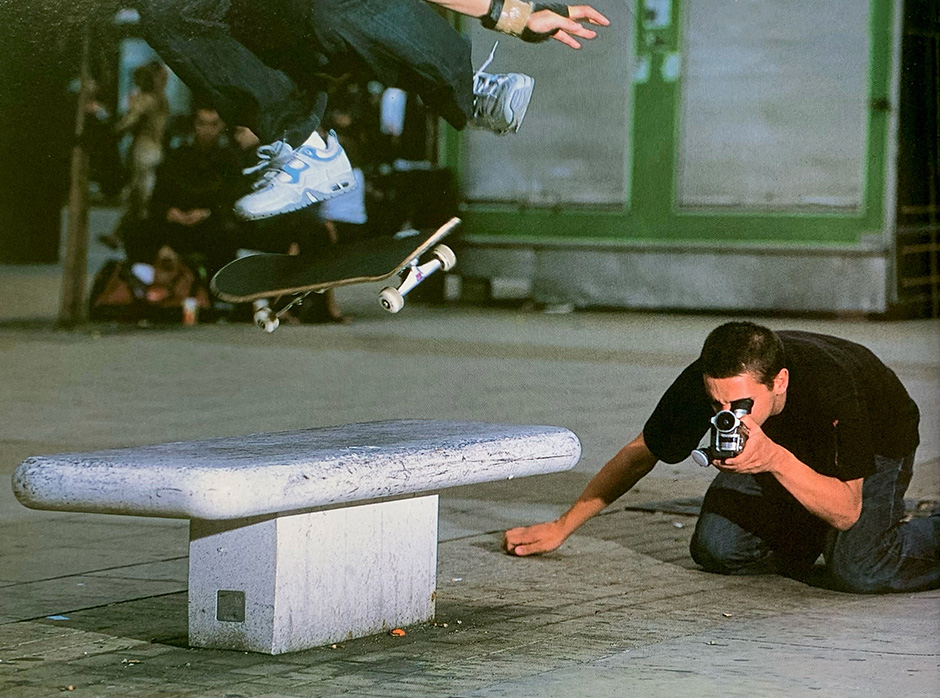 An early filming mission in the city. Mark Brewster switch flips an Oxford street bench for Wig and Kev. PH: Wig Worland
What was your first exposure to filming or a video camera being around in your vicinity?
My dad got a dodgy video camera years ago. We would just film whatever was happening. Then in about 1997 we had our house broken into and our insurance policy paid out. I directed my parents towards this Sony Hi-8 thing. We were making videos; not even skate videos. We would just film each other like we were in a sketch from the Young Ones, or Bottom or something. Just filming daftness from being bored. I have no idea where any of that stuff is now. I'm kind of glad the internet didn't exist because I'm sure all of that stuff would be deeply embarrassing. So we'd film jumping off roofs or whatever.
Interestingly that side of the skate video, high jinx, and skit based stuff has never really leaked into the videos you have made.
My friend Jamie who I went to school with would always want to make these videos. We also had an art teacher who would let us borrow the school camera, but only projects within the school grounds. He would always encourage us to film and use the mixing desk they had there. So Jamie was always super motivated to film stuff but he died when we were sixteen tragically. We'd left school, he had gone to work at a building site with his dad and was killed on his first day of work. He was crushed under a scaffold tower that fell over. We were close mates so it was the gnarliest thing. All of a sudden there was no-one with a camera, so I took out the old camera here and there but wasn't really feeling it. But when the house break in happened and I got a better camera was when I realised I could do some cool stuff with it and it became a regular fixture.
Did you have a eureka moment with that camera where it clicked? Where you either felt encouraged by your filming or editing style?
I was editing tape to tape. My brother DJ'd Jungle for years and still does. Back then I would always nick his mixer out of his bedroom. I would use the video player from my room and my parents one, his mixer helped with the skate audio. It was learning the timing, pressing play on one and un-pausing the recording on the other and a final run where I mixed the audio over the top. You had to have the whole idea in your head. Not like today when you can play around with things as you go.
Those old videos stick in your head more I think because of clunkier editing.
Totally, it wasn't a finely tuned thing. It felt more lived. The media deteriorated too, so the more you recorded over it the more weathered it became, tricks became harder to see because of the re-recording and watching back.
So how did your work life evolve from leaving school?
I guess this is how I ended up shopping in Slam's bargain bin often. I got a job at what is now CEX, it was just called Computer Exchange back then. It was at their first ever store on Whitfield Street and I lied about my age to get the role. I worked there for four years. It was a mad place to work and pretty eye-opening. You could sleep in the store overnight, so I could go out in Central London and crash there. Charlie Brooker – who is doing Black Mirror now – worked there, I worked with him for the entire four years. He was also one of the funniest people I have ever met. So, I had all of these other influences which was really cool.
That's where I first met Fos [Mark Foster], he would come into the shop to buy PC Engine video games when he had just moved to London. That's when I first bumped into you and all sorts of others. I was skating Paternoster Square at St Paul's regularly with friends like Tom Ball. I was just Central much more often as I could skate after work. Then a friend from there said if I ever wanted to work at Playstation Skatepark, let him know and he'd hook it up. So, I left the shop and went there.
Then filming changed?
Yeah we would point a Hi-8 camera at each other around where we lived and places like Paternoster Square. Never Southbank because that was too sketchy. As good as it was to skate, it was that weird era where it was just empty most of the time there.
So CEX was concurrent with college and Uni?
Yeah. I was studying Computer Systems at University. I did badly at school and didn't really leave there with much in the way of GCSE's, I found school boring but got on okay with college. As far as what I wanted to do when I was older, working in skateboarding would have been laughed off instantly by anyone, it just wasn't a thing. The only thing that was engaging for me was computers so I found a way to study that. I figured I could work with them somehow. I went to Southbank University. I got into Westminster University. I then found out that the Westminster campus was in Harrow, and that was a nightmare journey, so I settled on Southbank. The admissions team laughed at me when I told them I was choosing Southbank over Westminster. So anyway, I did this Computer Systems degree at University but it was really boring and repeated a lot of what I had done at college.
"Then a friend from there said if I ever wanted to work at Playstation Skatepark, let him know and he'd hook it up. So, I left the shop and went there"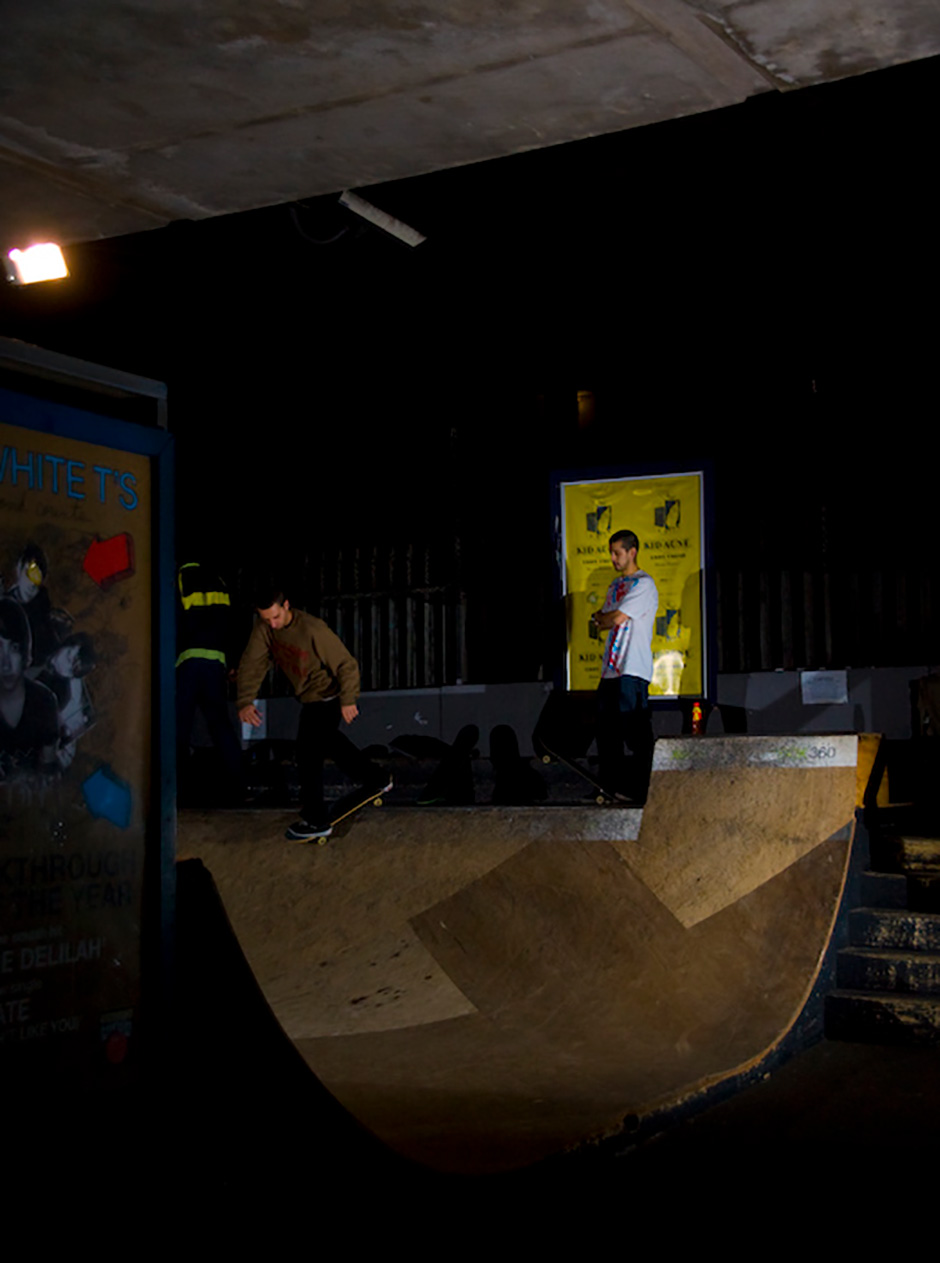 Kev backside lipslides on the well-loved Playstation mini while Mark Brewster watches. PH: Gorm Ashurst
But the skatepark took over studies.
Yeah. People were constantly passing through. The Robinsons, [Mark] Brewster, Mike Manzoori would always stop by, Pete Hellicar would be there a lot, Fos, Pete Turvey, Simon Skipp. I'd witness such heavy sessions on the big mini ramp there and began to bring my camera in with me. At the same time Hellicar started to give me work at Slam, so I would work packing boxes at the Slam warehouse until four and then go and start my shift at the skate park. If you have a PAL VHS copy of Misled Youth or Jump Off A Building, then that was me who put the VHS covers onto the cassette and shipped them to your skate shop. So, Slam were giving me work, discounted product and I had my job at the skate park. It felt like it happened very quickly.
What was working at the skatepark like?
As much as I was filming, I was also trying to skate as hard as I could at the time too, I just wanted to learn stuff every day because I had the opportunity to skate a lot. There would be these quiet sessions there where there were just three of us in the park maybe. I remember meeting [John] Rattray on a mini ramp. He is an incredible mini ramp skater so I was in awe watching him but he's just a bloke I'm skating mini ramp with while I try to learn my little thing, y'know? He's trying to learn his little thing too. Because of that, it was easy to get talking to people. I had the same situation with Alex Moul. I was always quite bad at recognising people too, so I'd just talk and then maybe ten minutes later, I'd figure out that was Rattray, or someone.
"With skateboarding, you occupy the same space as very talented, or professional skateboarders. Whereas if you're into football you don't get to do that. That's fairly unique"
With skateboarding, you occupy the same space as very talented, or professional skateboarders. Whereas if you're into football you don't get to do that. That's fairly unique. Some became friends as you are skating with them, too and it all happens from there. Harry Bastard was coming through, [Mark] Channer. You were forced to interact with these people because they aren't coming through on the busy Saturday session, it was always the quiet midweek spot, and they were always trying to blag their way in. We had all of these big demos come through, too. Vans, DVS, Circa/Videoradio, A-Team, Creature, etc. I remember Sean Sheffey skating the whole DVS demo switch and I asked why is it that he only skates switch now. It didn't land very well. Ha ha.
How long were you working at Playstation?
I started in 1998 and I think I left very early in 2002. I entered Playstation while doing a degree thinking I was going to build computers for a living. Four years later I left knowing that I could maybe make some money from filming skateboarding. Working for Slam and filming pros at the skate park was a step closer to the industry, I guess. One big thing that happened is that I was introduced to Wig through Dave Chesson and Mark Brewster. Simon Skipp was also skating Playstation a lot but he was always itching to get out onto the streets, which for me was such a draw. Through Simon and Wig, I met Chris Oliver and so on. I started to coordinate my workdays so I could go out alongside Wig to capture what went down while he was shooting.
Then one day we went on a mission to Leigh-on-Sea with Matthias Nylen. He had a couple of tricks he wanted to do there and our friend Tom Ball drove us. Tom and I went to get some food and we left Matthias at the skate park. We walked back into the park to collect him but in the time that took, someone had broken into Tom's car and stolen the camera. The tape had that whole day's footage, and the day before at Rom. That sucked, but again, that new for old thing on the insurance meant I could get a mini DV camera. So at this point I'm 22, I'm on my third video camera, but I've never paid for one of them.
"So at this point I'm 22, I'm on my third video camera, but I've never paid for one of them"
Going out with Wig became a regular thing. He was shooting everyone. One time we were at Ladbroke Grove Handrail with [Mark] Channer and Chris Oliver. I went with my new DV camera and one of the Puzzle guys was there filming. I have a feeling it was Paco [Sebastain Raban]. I gave them space to film and didn't just poach it all. After that, Wig mentioned that if I were down to come out a load that he could probably get me money for some of the footage or link me up with people who would be down to pay for it. Literally to this point I didn't realise that anyone got paid for any footage. That's how naive I was about it. That was a big moment for me.
Another person who opened my eyes was Alan Glass. Alan worked for this company called DVC who sold computer parts for video editing. This led to me buying Alan's old editing card off of him which works basically in the same way everything works now. Connect the camera up and capture it to disc. It made things so much easier. I ended up on half hour phone calls with Alan, regularly. He was cool and would field all of my questions. He was just finishing Viewfinder 2 when I met him and talking about a follow up. I offered to send him loads of tapes for it. I sent him everything I had ever filmed, six or seven Hi-8 tapes. The originals. Some of the footage got used, but the rest is long gone as the tapes never came back.Anyway, after speaking to Wig I was in a new mode where I was determined to film as much as I could. I was motivated to orchestrate missions, and it was so much fun.

one of the first trips to Malmo with Matthias Nylen, Gustav Eden, and Simon Skipp
This is 2000. Now you are working at the park and filming as much as you can. What led you to choosing that camera?
I got this halfway decent DV camera but the policy wouldn't get me something really serious. It was an upgrade but I knew it wasn't where I really needed to be. At the time everyone was telling me I needed to get a 3-chip camera. So I educated myself on what that meant and just started to save money. I knew then that I needed to save really hard to get a proper camera with a fisheye. Misled Youth had come out, and Waiting for the World. These were all filmed with a Death Lens; the Century Optics fisheye.
I had begun to travel. Chris Oliver and I went to Tampa Am in 1999, the following year I went to Sweden, and Paris. Then Terence [Anthony], Joey Pressey, Toby Shuall, and myself went to SF. All of those trips were skate missions. At the same time, I was driving up and down the UK and my world really started to expand. I ended up on a whole Osiris tour helping shoot that, too. Jerry Hsu was on that, Josh Kasper. Lots of Americans, and then [Andrew] Horsley, Stu Graham, so just more world expansion. But I knew my camera wasn't really up to the job. I ended up buying one of those Canon XM1's and a Century fisheye. Magee still won't let me live down the XM1 purchase but there you go. He's right on the terrible audio, though. I'll give him that. The thing is, that camera was £1800 and the VX1000 was £2800 which was out of my reach then.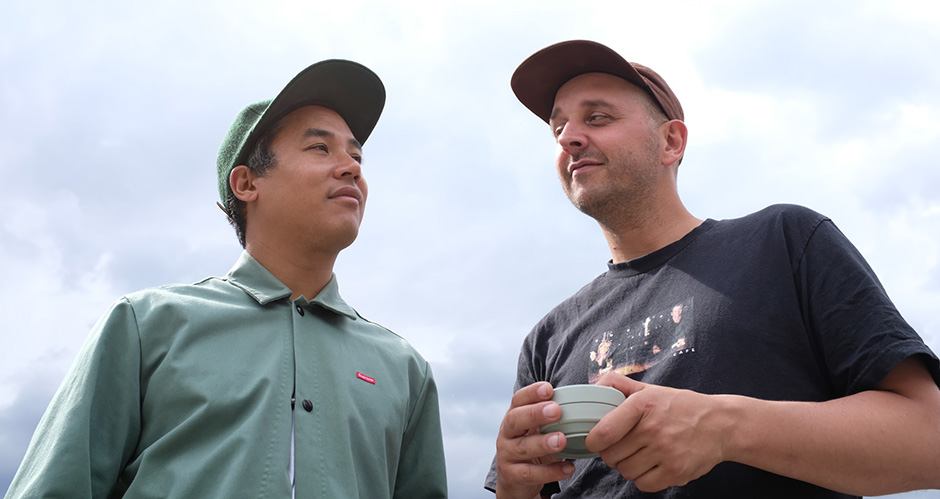 Still getting heat from Dan Magee about that Canon XM1 two decades later. PH: Korahan Gayle
From filming those to leaving Playstation what was the next gig?
I got a little bit of money here and there. Wig [Worland] came through as he'd offered. I also made a sort of proper mixtape video. Two sections with a segue of hijinks and Matthias [Nylen] dancing around drunk. It was all of my pre-death lens clips just so I could have a fresh start with a new setup. I made 80 copies and just handed it out to friends the same way people hand out mixtapes. It was called 12:15 because that's how long it was. It always makes me smile seeing those Jante episodes that Free have been releasing because they're named after the timeline length too. Those videos are insanely good. Big up Fritte!
So, things started happening. On one of our many Malmo visits, Kingy asked me if I could write up the Swedish etnies Euro Cup contest for Document magazine. On another, [Si] Skipp and I had gone street skating for a week before the contest. Simon got my flight paid for by etnies so I could film him. Ben Powell was out for this contest, too and we got on really well. From there, he'd ask me to write stuff for the mag. I figured if I could get flights paid for, then if I could find a skate house to stay at I could film, and maybe Puzzle or someone else would take some of the footage. Plus, Ben wanted me to contribute towards In Motion – the first Sidewalk video – as well.
project
I went to Australia a few times over the years but I think it was the first trip that set me on this path of being comfortable enough to leave the skatepark and earn money off skateboarding. Sort of. There was a large amount of giving footage away happening too, or receiving a board and a hoody for it. That was the norm for newcomers building up, I guess. My bank were calling me constantly about consolidating my overdraft into a loan. It was a struggle. Puzzle vids came out every three months and I'd maybe get £600 if I'd filmed tons of it, but it would be more likely to be £150. I was also painting houses for my dad to top up my bank account, too. A few days work meant I could survive for a while.
But Australia was cheap at the time and the pound was strong. They had these massive Globe World Cup contests and everyone from Europe was there. I would go out with all of these different Europeans in Melbourne, film them, send the footage to Puzzle in the post and get paid. I'd be there for months. Globe distribution there who looked after DLX, and Flip, and all these other brands, always needed stuff too. Random skate filming work came in, Morgan Campbell would pay me to film for a video series he ran there, too. I filmed for anything. At the same time, Ben Powell also sent me a decent cheque for all the stuff I'd filmed for In Motion, too. All of a sudden I had a way to split my time between the UK and Australia and avoid the worst of winter. I think I avoided winter for four years because I would just go and do that. Ironically it was also the last trip there that forced me into getting a "real job".
Freelance but enjoying it.
I was freelance, I wasn't making more than just enough to get by though. I did rent a place in Melbourne for a while, but in general I'd just sleep on sofas or floors. When I was in the UK I would just go and stay with people or at my parents. My mum would always joke about me coming back to grab a change of clothes and then they'd see me a week later.
Contact sheet of a filming mission at Bank with a very young Rory Milanes. PH: Wig Worland
Four years on that program, what signalled the next change?
Do you remember Crème Skateboards? Nic Powley was their distributor and had got me in to film a trip for them, too. I'd made my first full length called Never Been Loved for his distribution which had all their crew in it. It was the first cover-mounted full length DVD. Sidewalk put it out. Up until that point, it'd just been promos released that way. I just figured cover mounting was the best way to get it seen across the UK and directly into skaters houses and not just have it used as coasters in skate shops. Anyway, Crème now wanted to make a proper video. I couldn't survive any longer constantly being at the bottom of my overdraft so I pitched it to them but they wanted to do a test project first of all. This felt kind of odd as I'd already done stuff which they seemed into. The plan was to go to Melbourne with the whole team and film them for three weeks and we'd make something out of that.
All of the skaters got their flights paid for by their shoe sponsors and I covered mine. Crème were meant to reimburse me for my plane ticket. We all flew out there and still no-one had a reply about where this apartment is. We called in favours. We were all fine and sorted places to sleep. By the second or third day of the trip no one was hearing much and then they got back to Flynn to tell him they were no longer renting us a house. We're already in Australia, It was lame. Flynn quit riding for them there and then. I then suggested we just keep filming and Flynn's footage could just go elsewhere. Then two and a half weeks into it they got back to me and told me they weren't going to pay for me, my flight, or cover any of the trip. Dick move. I flew back to the UK and I was screwed for money. The bank was heavily onto me so I had to find a fix. I got a job at a marketing company called Kinc who looked after Nokia, Nike ACG, and some other brands.
What did your role entail from a marketing standpoint?
They wanted me to split my time between working on teaching kids how to skate at schools in Islington during their PE lessons and I was also hired as a skate marketing consultant and a team manager for two brands. One was Plan B. It was at the point where Danny Way and Colin McKay had made some noise about that coming back. It was just launching with P-Rod, Ryan Gallant, and PJ Ladd. It was still a highly regarded heritage brand at that point. They also hired me to manage the European skate team for Hurley. I feel like Colin Kennedy may have still been riding for them at that point, Ricardo Fonseca was on the team too. So I started and went through all of the skate school stuff the first morning. I got told Plan B had gone quiet, apparently. I asked about Hurley too, and they'd just informed him they were pulling their skate team. At this point Nike had ditched their surfing program and 300 of their Nike surf contracts moved over to Hurley which was a subsidiary company. When Hurley got that huge surf team they pulled out of skateboarding. Hurley ended up dropping most of those surfers fairly quickly afterwards, too.
"They wanted me to split my time between working on teaching kids how to skate at schools in Islington…I was also hired as a skate marketing consultant and a team manager for two brands"
So, there was a weird period where I was there for two weeks in August before the schools started, writing up this program for skate lessons, fully aware that 50% of the job I was hired to do has gone. I was waiting to be told this was now a part-time job but to his credit he never did. I used the spare time to learn about the mechanics of marketing. They worked with big brands so it felt like a place I could learn how this Dark Arts world works. Ha ha.
The guy who ran it was really supportive of that, he gave me books to read and I would just sit in on the meetings. I could see how Nike ACG were working, I saw all of the Nokia snowboarding activations take shape. Everything from contracts and team, salary, to events and advertising. Even down to what they were doing in stores. On the Nike ACG side, I'd see them build out their retail marketing strategy, then develop sales tools for staff. There were all these different facets to the businesses and it interested me. I just had to keep my mouth shut, listen, and learn. That was such a blessing. Suddenly I had an income and was learning about this world I'd only skirted around previously. It came along at such a good time.
Did they at any point take advantage of your skills with a camera?
I didn't shoot anything for them. I was kind of filming for Puzzle but mainly just working on my own video as I now wasn't reliant on a salary from filming. I'd also finally gotten rid of that Canon and switched to a VX1000. While I was working for Kinc, I was also working for Sidewalk. I'd had a phone call from Ben Powell to say that Ches [Neil Chester] was moving on from the mag. I'd written freelance for the mag for a few years at this point. They needed an Assistant Editor to replace him and Ben asked me if I wanted to do the job.
"I went from writing bits and pieces to writing about a third of the mag a month"
I started working for the mag in the summer of 2006, I think. I went from writing bits and pieces to writing about a third of the mag a month. I would write in the evenings or during downtime at Kinc. There would be specific feature articles to write. There would also be two interviews per month and I would usually do one of them. I'd do Trick Tips, the letters page, the Whispers intro to the mag sometimes. I guess Ben and Andy [Horsely] would just figure the mag plan and then I'd get my job list call each month. It was solid and fun.
Did you find writing came easily to you?
I had always written here and there. From that Swedish contest article in the fifth issue of Document which I mentioned earlier onwards, I'd just carried on for whoever needed it.
What else were you doing at this time?
I also started up the UKSA [UK Skateboarding Association] with a few others around 2004. I guess that would be the precursor to Skateboard GB. There were quite a few people involved, Ben Powell was involved in it, Tez Robinson from Bolton, Wingy [Steve Wilkinson], Bingo [Steven Binks], Nic Powley, Lucy Adams. Chris Oliver and I had stayed with a guy who was actively involved in the Canberra scene. That community of skateboarders were discussing the new park they were about to have built. It impressed me that they had influence with the council and they weren't being shut down. The council were fully listening to them as they came as a group. At this point the UK was filled with red tin mini ramps and there was barely any new concrete here. The UKSA was a good initiative and it played a big part in getting the ball rolling for more concrete parks getting built. It was just something we all did off our own backs outside of our jobs.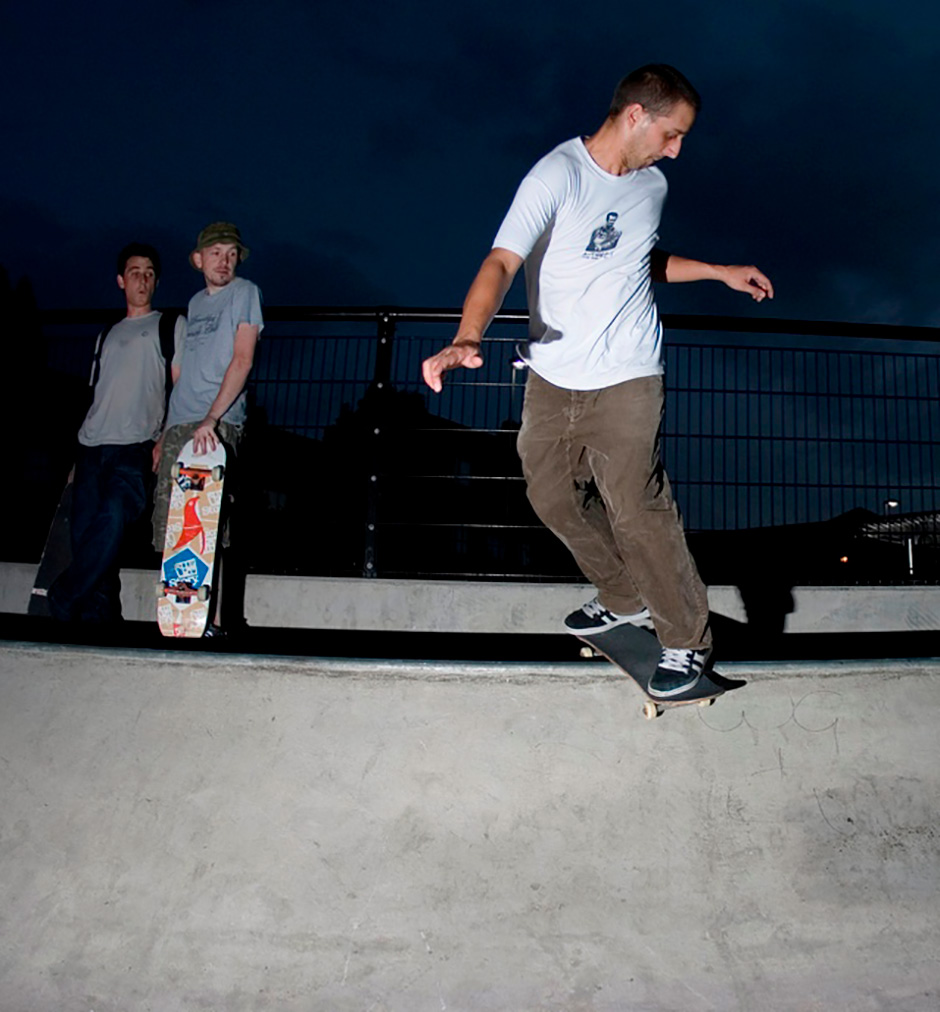 Another backside lipslide at a newly built Mudchute park, part of the first wave of new concrete parks to open in London. PH: Gorm Ashurst
A bit further down the line, we were being pushed by UK Sport to make national competitions a thing so you could rank people. I was involved in the first National Championships. It was actually sick. We did all we could to make it feel like an old Radlands contest. So many people showed who just hadn't been bothered by contests for years. Even Karim [Bakhthoui] came and entered! But that wasn't enough. After that I wrote this huge document for UK Sport about skatepark build guidance. It was all getting pretty big, but it was at this point that I left. I love the social side of contests. I have no problem with the Olympics at all, I mean, I felt like my parents were amazed by skateboarding for the first time. Ha! It's just that dealing with these huge governmental bodies just wasn't for me. I cared about developing UK skateparks. The build towards the Olympics was for someone else, not me.
You had your own project on the go at the same time so evenings were taken care of too.
Ha ha! Yeah, I was making another full length called Savoir Faire. It was all pretty simple to me, I love skateboarding. It became all encompassing at this point. With Savoir Faire I rang filmers I knew in Scotland, Manchester, Bristol, etc, to see if they were up for working on a video. I had already made a more local scene video by then but my friends were based all over the UK now. I wanted to do something that was more national. There was a lot going on at that point.
So it was in the middle of your gig as Assistant Editor that Ben Powell also helped line up a job at Volcom?
They needed someone to look after their marketing in the UK and Ireland. So, I left teaching and worked freelance for Volcom and Sidewalk. I carried on with the Sidewalk job for about eight more months but eventually had to move on as the Volcom job became a full-time employed role. I actually saw the hire email from who would eventually become my boss and it was quite nicely worded. It said they were looking for someone in the UK who skated, not just someone who owns a skateboard. That made sense to me. The view was that anyone can learn the marketing side of things but what can't be taught is what skateboarders know about skateboarding.
"The view was that anyone can learn the marketing side of things but what can't be taught is what skateboarders know about skateboarding"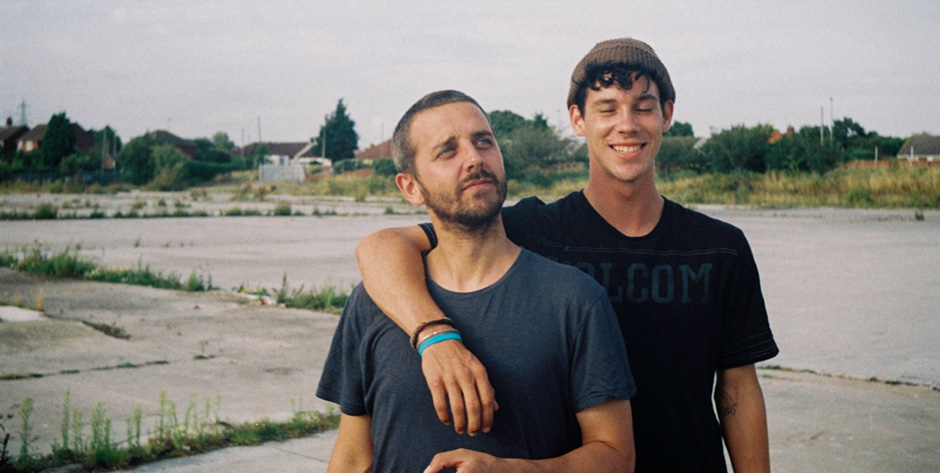 Kev with Ben raemers during his days working for Volcom. PH: Scott 'Horsey' Walker
Would you say that was a learning curve or did it follow on from the marketing role before?
From the start I was straight in at the deep end. "Here's your budget. Do what you need to, to support and build Volcom". That said, there was support. I don't want to put across that I was left to my own devices entirely. I went on a couple of tours and to European events straight away. I was given examples that needed to be replicated and built on. Without the marketing stuff I had learned from the job before I think it would have been a lot scarier. Mike Mailman – who became my boss for 11 years – was really good to work for. He was very hands off at times. I would ask for input about certain things but he'd tell me it's my call, and to trust my judgement. If it fucks up it's on you essentially. I was given a decent sized budget each year and built a list of things that needed to happen. I needed to quickly figure out what I knew, and what I needed to learn. More keeping quiet and listening.
Who were you looking after?
It wasn't just the skate marketing, I was also looking after surf, snow, music, the retail marketing and then the non-endemic stuff to the brand, too – so trying to push the brand out more to the general public and to get them to walk into skate stores. If I didn't know how certain things worked, I had to figure it out. As an example; I didn't know anything about surfing but the European surf team manager was my support there. I would ring him, tell him what I had to deliver and ask his advice. I had a surf team rider who was part of the RNLI so I would bounce stuff off him all the time, too. Surf was a weakness so I just had to ask for support from the right people. The surf crew would tell me they appreciated me not coming in guns blazing and pretending I knew what I was on about. It seemed to work really well doing things that way.
"The surf crew would tell me they appreciated me not coming in guns blazing and pretending I knew what I was on about"
What was the most rewarding part of that job?
Harry Lintell and [Ben] Raemers going from flow to pro. I went to Amsterdam Am with Ben two weeks after I started. That was an easy sell-in to get the ball rolling. The right people were there, and by day two the view was just "we've got to get this kid paid!" Ben's skating sold him in right away from that initial step. A few years later, Rye had met Harry Lintell and had just begun to film a few clips with him for what became the Sidewalk In Motion video. I met Harry and jumped in to support. Harry took a longer time and was pretty hands on, but moving him onto Cons through Ches [Neil Chester}, and later onto Real Skateboards (with the help of Will Harmon) via our friend Nate Alton, meant we had all of these heavier brands aligned with him. Harry had to do a lot through video parts because at first, he didn't enjoy travelling on his own.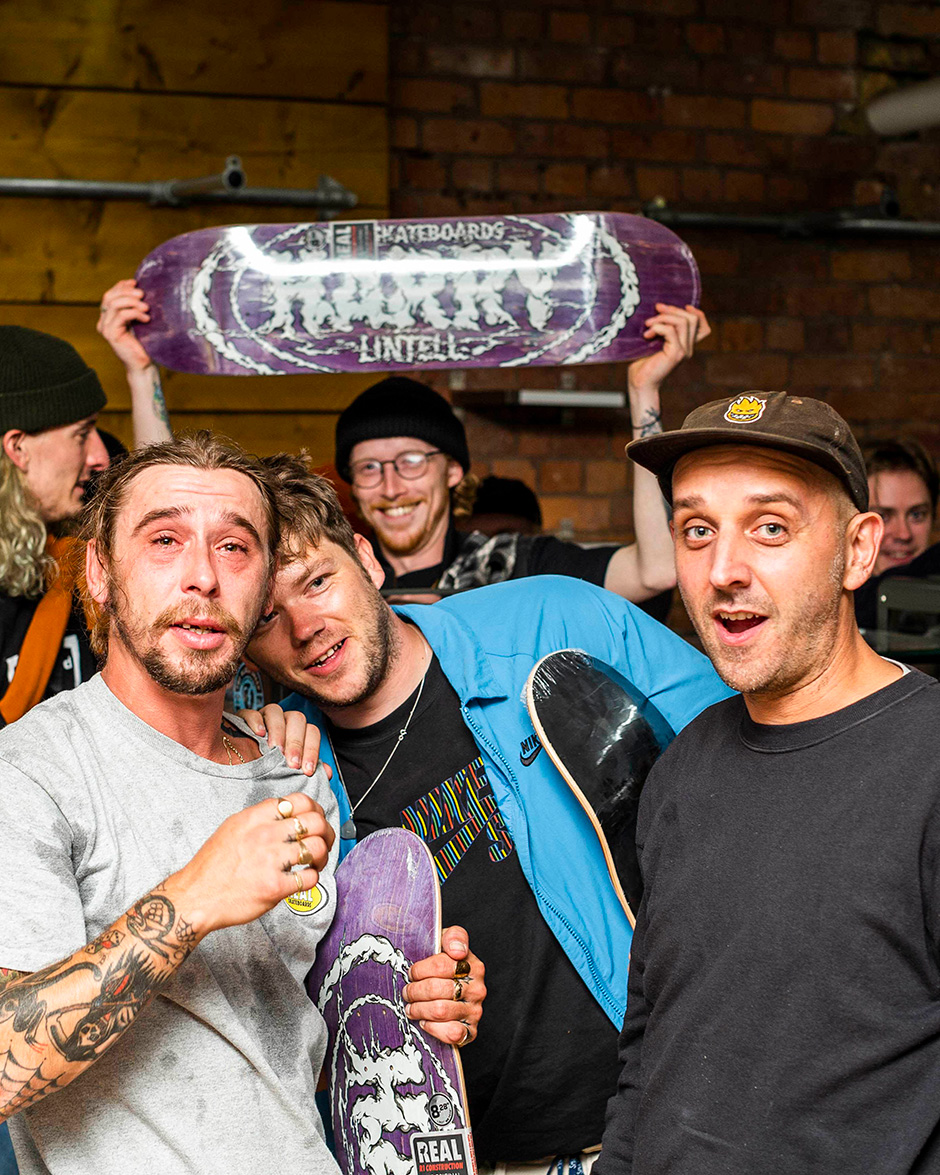 Kev with Harry Lintell when Real surprised him with his first pro board. PH: Reece Leung
I think that is something which all happened faster and in a more simple way for Ben [Raemers] as he'd just be down to go everywhere. I'd filmed Ben previously, but when I first started to work with him, he was riding for Consolidated, Shiner Distribution, and Duffs. Mark Munson at Duffs was doing loads for him and we both wanted to further that; To build him up and take him from being a really good UK skateboarder to a global platform. Ben and I did loads of trips together. I'd also help him with things like his other brand contracts and things like that. We worked on a Tottenham DIY part for the Berrics In Transition series which was a tough gig but I'm proud of the end result.Ben eventually turned pro in my office, which was amazing.
I did a trip with Geoff Rowley. We did a five skate shop tour around the UK in two and a half days. [Ben] Raemers came on that too. We were hand-screening shirts for hundreds of kids at every store. I got Lovenskate Stu [Stuart Smith] involved. This was before Stu was doing that for Vans and I needed him in there because I didn't know how to do it. I needed to learn from him. Things like that were great to work on. I hired a PR company called Canoe Inc and managed them. That was a new world to me. I went to a lot of cities in a lot of countries, worked on some amazing projects and helped get eyes on them as best I could. There was a hell of a lot to that Volcom job.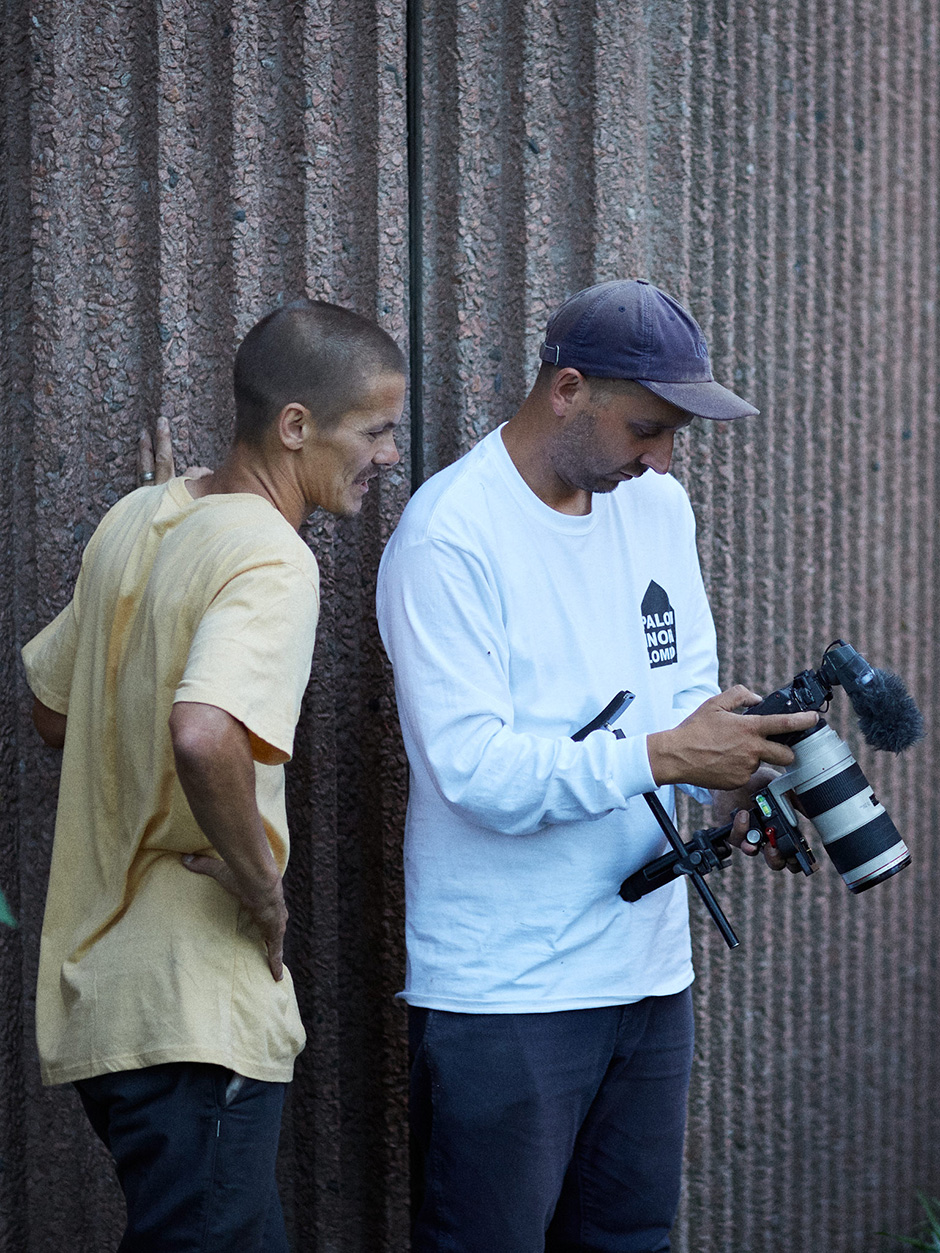 Kev and Geoff Rowley have worked on a few projects over the years. PH: Wig Worland
I once had a band who were in jail because they didn't have the right work visas. It was a Sunday night and I was having a Christmas party at my house. Mid-evening, I had to get them out of jail and get their visas sorted so they could play a show the next day. You need to be registered to fill out these certain visa forms, I ended up finding someone who worked at the Underworld in Camden who could do it. On a Sunday night. It was so gnarly but we had it sorted in about five hours. That's not a world I know too much about but you were thrown into it and it was kind of cool when you'd come out the other side with everything in order.
Acquiring a wider set of skills.
Definitely. Taking the skill set you have and growing it constantly. Whether it was where we are opening new stores, how we were going to launch certain products, how to promote different riders – it all boiled down to problem solving and keeping up with the world out there.
What changes were you a part of?
The company changed a lot. It grew hugely and then was bought out by Gucci. At that point, the changes coming in weren't always for the best. Mike moved on along with some others. The brand plateaued and then shrank in the last couple of years whilst I was there. In hindsight, I probably should have moved on about three years before I did. That said, I think the biggest change was the global transition from print to digital which every company faced. When I started we advertised in Sidewalk, Document, Kingpin, Sugar, MSM …every skate, surf and snow magazine. We weren't early adopters to digital, so it was more of a push than a decision. It was a massive disruptor. The print mags were working it out at the same time as we were, so it was an era where you just had to be really figuring things out day-to-day as the landscape was changing quickly. Most of those mags I'm mentioned are gone now. That's how gnarly that transition was.
"if you aren't moving forward you're getting left behind"
When I first started doing this line of work, you couldn't even upload a video online easily. Youtube didn't exist. Suggesting using Instagram as a brand because it looks pretty good or proposing we build some stuff out just for Youtube – those things are always initially met with resistance as they were so new. But without being adaptable, you get left behind pretty fast. One good example is that a video part has value, right? Initially, the idea that you would put that video part online for free was insane. People were testing ideas on how to monetise that. Shane O'Neill had that part you could buy for a couple of quid. In the last fifteen years, how that video part value is perceived has totally flipped on its head, it's all about views and not monetising now. Videos are 100% a marketing exercise now. So that was one change in how we worked. And with digital, the touch and feel side of things became even more important. Attending an event or knowing that someone in your hometown reps this brand or that brand. That is an important way to get your product on people and out there. I remember Renton Millar talking about skate tricks and saying that "if you aren't moving forward you're getting left behind". That's a saying that stuck with me.
With the changing landscape of social media tools available I feel that the role of a marketing manager requires different voices or modes of writing. Do you think that improved your communication skills?
It's bad when you look at an Instagram account and can figure out who has posted on a shared account. It really should be a consistent voice. And then, if that tone is wrong, it can be a total turn off, too. Lev's Palace captions are a perfect example of where things probably need to be. That's not saying anyone should try to rip off that style – it's just that it is one consistent tone. At the same time, text for social media can often be quite bland and boring which is something they've obviously overcome. It's tough. How many ways can you sell-in a t shirt? Equally, skateboarding can take itself very seriously. I'm sure I am guilty at times. But it's just skateboarding, keep that tone fun. We always talked about trying to write with the same kind of hype you would feel in the van.
Were there any video projects for them where you felt your filming or editing evolve?
We did these submission based art events. We'd then interview the artists and took a selection of them from all over the world to Texas to put on this big art show and music event. I was in on the interviews and production but once in Texas, my job was to shoot all of the content. I shot them working, playing instruments, walking around thrift stores, swimming in rivers. No skateboarding, surfing, or snowboarding. Everything I was filming felt like B-Roll. It wasn't until I edited and tied together the narrative story from interviews that it really opened me up to how that storytelling works.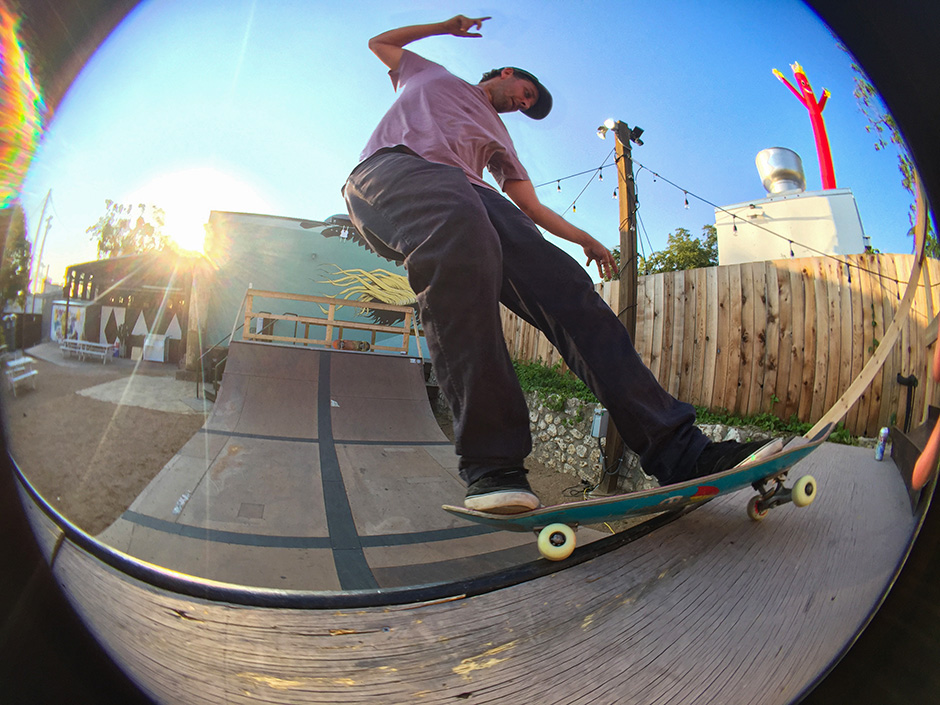 Carving out time for a frontside feeble on a Volcom mission to Texas. PH: Armando Santos
It would have been a hard sell to get clicks on a piece about emerging artists so my plan was that we cut it into one minute edits for Instagram which then slotted back together for YouTube. I feel like no one had really done that before and it really meant we had a lot more eyes on what we were doing. Not all of the ideas are original. We did a Volcom collaboration with Spitfire and Harry and I just went around the city hiding wheels and product in the same way as [Ronnie] Creager did in that old 411VM. We'd post where we were hiding stuff to Instagram and people would rush out to find it.
Another was a bit of a happy accident. I had to shoot for Russell Houghton's Holy Stokes video. The video was all to be filmed 4K and they wanted us to use tripods all the time and avoid shooting fisheye. I had always been all about my fisheye. I love it. So, that's one part where I had to learn on the fly because to me, some things just don't work without that lens. We had done a two week tour in the UK and a two week tour in France to shoot. I'm not going to throw anyone under the bus but none of that UK footage ever made it to Russell from their office. There were some heated moments after the video dropped, because there was a lot of heavy shit in there and the skaters didn't know until they were at the premiere. The team were not stoked with the person responsible, understandably.
"Booted out of the spot? Hurt? Raining? Standard. How are we going to make today productive?"
It was a bad situation, but then I sat there looking at all of the leftover stuff from France and the entirety of the UK stuff and made a rough video and put it in front of the crew. That was the happy accident. I tidied it up and made this Euro Stokes video for basically nothing and got focused eyes on the crew based here. But through that I was forced to start shooting in ways I wasn't used to, so it pushed me when it came to filming. Even the editing, too. That long, cinematic footage can feel far less personal so I had to figure out that side, but without being able to really shoot anything more after the event. Plus beyond that, the team were happy once again as their efforts ended up getting a much more public release via Thrasher. The problem was solved. I will keep bringing it back to skate videos because that's where I'm from and there is so much problem solving involved. Booted out of the spot? Hurt? Raining? Standard. How are we going to make today productive? From that very basic level to more complicated problems you're applying the same thinking and just constantly adapting. How am I going to make this work now? And now? And now?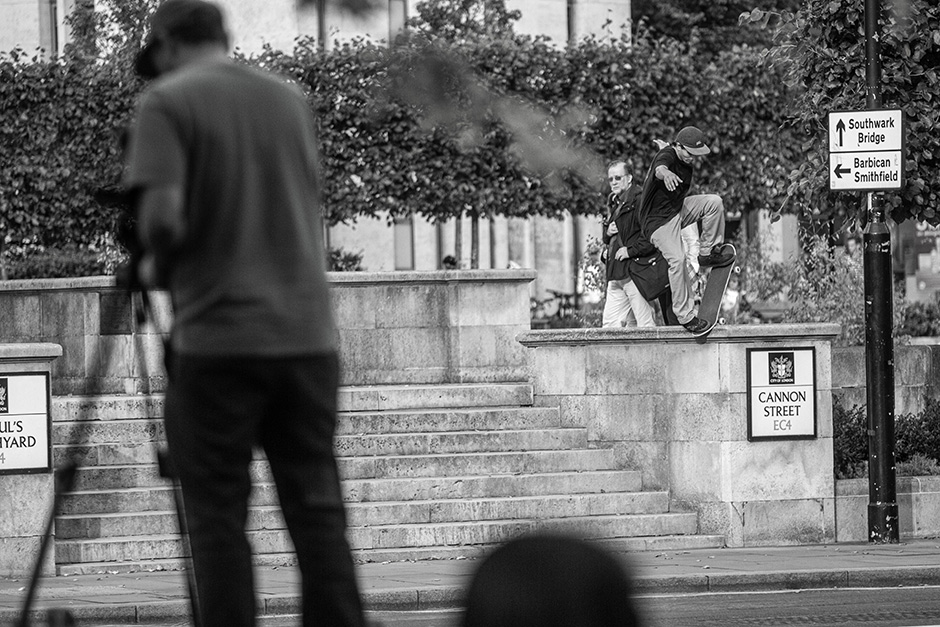 filming an Eniz Fazliov noseblunt slide at St Paul's for what would become the Euro Stokes video. PH: Jelle Keppens
Also a skateboard filmer is inherently way more guerrilla in their approach. Less curtailed by the rules and regulations that have crippled many shoots before they've even begun.
We went to a cross-brand meeting for the company who owned Volcom at the time. There were people from Stella McCartney, Gucci, Saint Laurent, Puma all there. We had to introduce the brand to them. It was three people from upper management and myself there. The high fashion side was a whole different world. We presented a brand video and the questions all revolved around budget. It was a strange moment. We hadn't really budgeted for it. Those pieces are pulled together from other projects, and built with bits and pieces we'd shoot ourselves on the fly. The people in the room just seemed confused that we might hold the cameras ourselves or that the video just came from our lived experiences. Gucci were saying that for a brand identifying video they would allocate a minimum of £30k to build a 30 second piece. We'd run two week massive tours for less than that. From there, the group were asking about permissions to film in the streets, size of camera crews, etc, and as you know, that just isn't a thing. I think for them, as much as they operate in a different world for us, ours is a really alien world from their perspective. But, you work with what you've got. That's how it is.
In the middle of working for them you put out the Albion video with Ryan Gray, and Morph. So that was your labour of love bubbling in the background.
I would be out filming with Ben [Raemers], Harry [Lintell] – or Charlie Birch later on – and we would have mates with us who were skating, so I would film them too. I've always shot with anyone I'm into and not just the brand I work for. Rye [Gray] and I had worked together on a bunch of stuff and Morph [Dane Crook]; I'd helped him a bit with his Yam Dat videos and he'd worked for Volcom when I needed him. After Magee had left Blueprint, Shier had asked Morph to film a new video and Morph wanted me to help there. We just always helped each other out. That Blueprint video idea died really quickly but those few missions along with what Rye had been shooting with his crew naturally grew towards Albion. Making any brand video is really good, but that's their brand video not yours. You can get your own real creative freedom elsewhere and that's what independent projects are for me. Jak [Pietryga] is one of my favourite skaters. I love what he does, and always have. He is such a true street skater to my eye, so having filmed a couple of parts makes me happy. He rides for other brands. Always has, and that doesn't matter. I'm just a fan and loved the idea of being able to help put him out there.
Ben Raemers and Scott 'Horsey' Walker in the Albion video from 2014
Are you happiest when you have something going in the background as well?
Work can be frustrating at times if you give a shit, and really love what you do. Everyone working in this industry can probably understand that. So working on a skate video outside of that is a good place to clear my head and just retains that feeling of why I am are here in the first place.
Just going skating always helps to check in with why you're doing what you're doing.
Yeah, that is still, by far, the best way to centre myself, bar nothing. However, my abilities on a skateboard are limited, but my abilities when I look at skate spots aren't. I almost get to live vicariously through what others can do on a skateboard. It's really cool when you find someone you can work with in that sense and build a bit of a vision. Albion was definitely that for me back then with that crew though.
Did that process leave you hankering for bigger projects?
Not gonna lie, I would have loved to have been able to work on a full-length for Volcom. I was never a team manager on a global level for those guys though. Towards the end of my time there we started to form the new skate department. That was Remy [Stratton], the US and Euro team managers, Daniel Cabral – the staff photographer/social media guy – and myself. That was cool. It was during the last nine months of me working there. The US really began to get their head around 'global' at that point. I think if I had stayed a couple of years longer that opportunity might have come along. I love working with a good art director and building a big project for a brand, I enjoy that process.
"I love working with a good art director and building a big project for a brand, I enjoy that process"
Your time at Volcom came to a close in 2018 and you moved on to do marketing for Sole Technology, a role you're still working in. How did that transfer occur?
I was at Volcom for eleven years. It was a really interesting ride to be honest. They'd been making changes and kind of lost touch with their roots. More and more people from outside were coming in from the parent company and just pulling the brand in all these odd directions. They made a couple of rounds of cuts. I was in the second round. 35 people were let go globally. Everyone based in the UK. The US team manager. Gone. I had a young daughter at this point, too. It was scary. Clare Dean – Percy's wife – called me up to say that she had spoken to Cubic [Colin McInnes] and heard he'd been let go from Volcom. She was worried I had been affected. At the same time Don Brown messaged me to say similar. I had heard that Volcom were letting us go on the Thursday. By the next day, Claire and I were talking about me coming on board over at Sole Tech. So, I had a couple of months off and then started working for them in the January. It was amazing, really. The role began as two days a week which fitted in perfectly with what I wanted to do as a freelancer.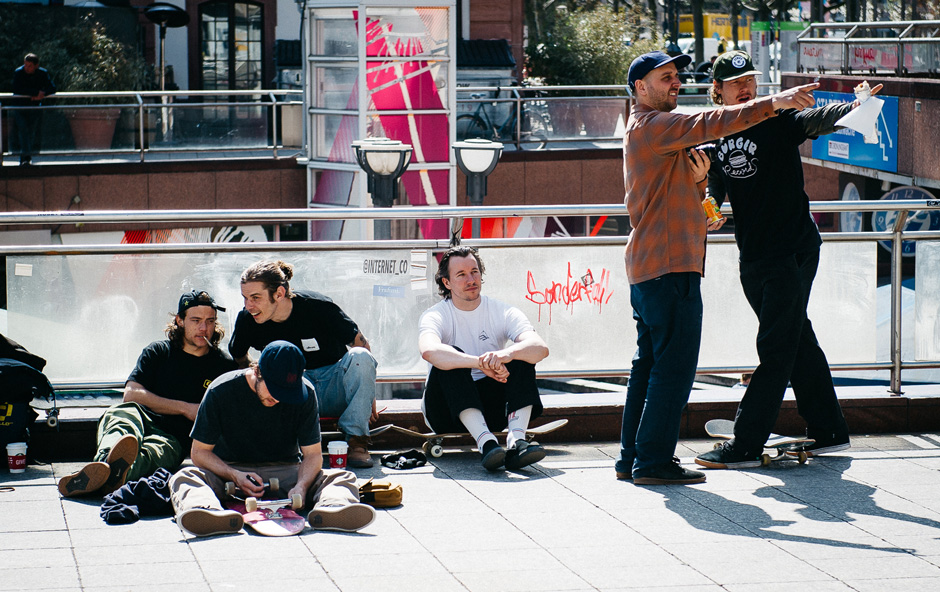 Kev's first etnies trip in 2018 with Chris Joslin, Aidan Campbell, WIllow, Bas Jannsen, and Jameson Decew. PH: Kyle Seidler
What was the role you accepted?
I was EMEA team manger for etnies, Emerica and éS. I was stoked to get a retainer for them for a couple of days but knew that the only brands within skateboarding with money for freelance work were shoe brands. To their credit, Sole Tech were cool about me being able to work for whoever I wanted. I did some stuff for New Balance. I had a retainer from Vans just to shoot Geoff [Rowley] over a few months, which was pretty amazing. There were loads of bits and pieces going on. I worked on that clip for the Slam City Skates x Thrasher collaboration during that period too. The role for Sole Tech could be a few hours of work one week, and seven days the next. It was swings and roundabouts, but as long as I was doing two days on average, we were good.
How did the pandemic affect you?
Having that two day a week retainer was such relief because obviously all of that extra work disappeared. I got myself through that. Just. After Covid I started to shoot a lot of non-skate related stuff. I shot bits and pieces for NEXT with Brendan Ryall and did stuff for other companies. Nothing to do with skating. I would shoot all day, dump it onto a drive, hand it off to someone else to edit, and I would leave and never think about that job again. It was really nice driving home and knowing I was done for the day, send an invoice and I'm all good, but but it goes back to that Albion conversation of ticking creative boxes. It just didn't do that for me. While that was going on I had a steady stream of work from Sole Tech as I began to build the team program there, but booked up doing non skate stuff, too. Sole Tech – in a very amusing way – said they just weren't organised enough to work around the schedule I had been building up as so much comes in from the US last minute. So they suggested the only answer was for them to give me enough work so I didn't need to work elsewhere. That was a nice bit of security and I do some other odds and ends but pretty much work all the time for Sole Tech now.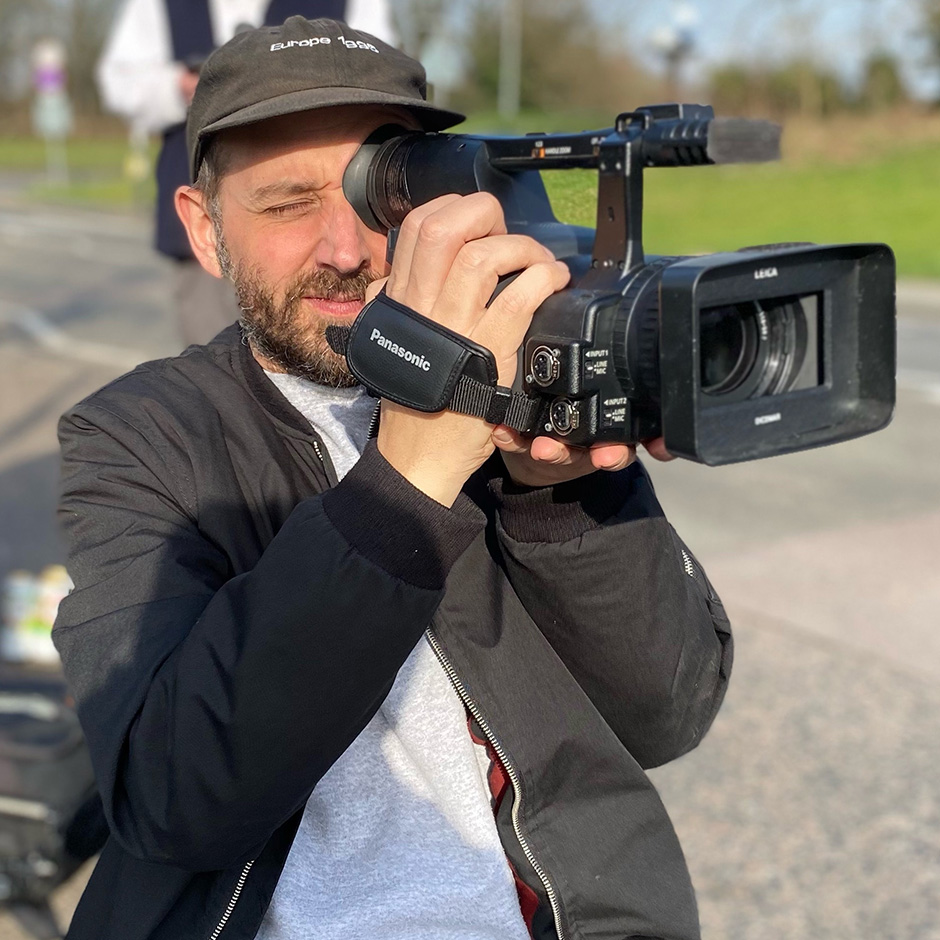 Kev filming some other odds and ends for Levi's skateboarding in 2020. PH: Charlie Munro
During your origin as a team manager what riders did you find, was it a challenging role?
That stuff is always a challenge because there are something like 17 countries you need to pull into a plan. At first, I had no idea who was getting products aside from the Pros. So, there was a lot of work just building relationships with distributors and agents to figure how they were running things there. It's been good finding riders and building with them. Nassim Lachhab is one. My support wasn't the same as it had been for Ben [Raemers] or Harry [Lintell] for instance because he lived overseas, I would only be able to meet up with him maybe three times a year on trips. So everything involved communication, logistics, and linking him with the right people, the right brands and hoping he could do the job. It's been great working with Nassim on things. Paired with Matisse Banc, they make a great odd couple. I love those guys. I really like working with Marcus Shaw when it comes to éS, too. He has a vision of what his skateboarding should look like, and that is really nice to support. Marcus has a colourway coming out soon, actually.
All the crew has had a slew of coverage which we'd work together on making happen whether it was interviews, video parts, contest stuff or the non-endemic stuff like casted TV jobs. Nassim has turned pro and has had colourways out, all these guys are getting ads now and mostly riding for other good brands now who treat them as full team and not just Euro. That all takes all of us working together. There have been losses, too. People like Eetu [Toropainen] and Rafaela [Costa] who both left. They have gone on to ride for Nike SB and Converse respectively; but working to build those guys up was really cool as they could be heavyweights someday. Again, I'm not trying to throw anyone under the bus but I was with a friend who is a team manager for a bigger brand, recently. They were saying that they'd been discussing with another sports shoe TM that they felt bad for us, in that we find these kids who rip, build them up to a certain point, and then they just poach them. Jokingly, I said they could feel better about it if they stopped poaching and found their own. Ha ha. So long as the skater gets the focus they are promised, it's all good. I just don't take that stuff personally anymore. I think I would have a few years ago.
From working initially as a team manager how did your role evolve?
The simplest way was that they just needed me to work more days. We'd grown. etnies, éS, and Emerica are relatively small companies. There aren't a ton of people involved but there are a lot of projects. So the idea of coming in to be solely a team manager is an impossibility in the first place because of the scale. It's all hands on deck. I'm obviously still producing video content, but that is back to being from concept to delivery again. I was managing a team budget before but now the discussions are heading back to include wider skate marketing. Then on certain topics such as skate team, and what our key focus should be for the next years; I am part of the global group working on that.
I've always dealt with annual marketing budget and built plans, dealt with the media partners, catalogue shoots, the PR, the retailers, organised the events, shot photos and video, linked with other brands. You quite naturally end up doing a marketing role even if you are just trying to only work on team, I think. It evolves naturally, so with Sole Tech there was this lovely recognition that they needed more of what I do.
Mike Manzoori frontside ollies at Bloblands. This was Kev's first ever published photo in the Skateboarder's Companion
I thought it was nice to recognise that you've gone full circle from filming Mike Manzoori on the Playstation mini to working with him on video projects.
Mike is freelance these days, too. He is killing it! It's great working with him. One thing about [Mike] Manzoori is that I had a photo published in The Skateboarder's Companion last year. It's the first 'proper' skate photo I have ever had published and it was of Mike Manzoori, so yeah, completely full circle. This time around, he knew I was pointing the camera at him, though.
What things have you delivered for Sole Tech that you are most proud of?
I feel like it isn't easily visible outside of the brand, but when we tour, it is a point to get a whole bunch of assets that you would usually shoot separately. So, we might have twelve people travelling across countries and on the way we'll do the usual demos and shop visits. They get blasted out via social and more, very standard stuff. But we also will shoot towards several other projects usually at once. Last year, on one tour we shot half of this huge etnies x Independent Trucks collaboration content. We needed to shoot [Chris] Joslin and Nassim [Lachhab] for that. At the same time, Barney [Page] is working on a video part, The ams needed to shoot for several projects around individual shoes. Trevor McClung had his colourway coming out, so we needed to build content for that.
It was four video projects, I think. On top of the list of demos and events, we also shot articles for three national skate mags and the Fall '22 and Holiday '22 social images. Finally, we shot most of the catalogue content for Spring '23. While everyone is getting breakfast or warming up at a spot, we're around the corner getting the catalogue done. It's different now. Just so much to tick off. When I was at Volcom we would do specific shoot trips for catalogues, and imagery. Skate trips would be their own separate thing, usually. Now these trips are all-encompassing and that is something I'm proud of making work and delivering in. It's just problem solving again but you are pulling strings left and right constantly to get it all in place.
"Now these trips are all-encompassing and that is something I'm proud of making work and delivering in. It's just problem solving again but you are pulling strings left and right constantly to get it all in place"
That Independent collaboration was great in terms of being an entire project to build from concept to delivery. It's not to say it didn't have its problems – from flights being cancelled last minute to music rights issues, etc. I went and shot the second half of it in the US to cover there, too. But Thrasher put the video out, stores used the imagery to sell through the product, the ads ran and externally you would think it was all smooth sailing as it went down well and was delivered on time. Being behind all of that was amazing, as it was a whole content delivery project really. I've done lots of smaller stuff for them, too. On a skate video nerd side; but I got to make a proper Emerica tour video called Dispatch last year. That's pretty cool for someone who loved This Is Skateboarding and Stay Gold. What Jon Miner did with those videos was incredible so being a tiny part of that lineage is really nice.
Since I started working with Bas [Janssen], Europe now produces most of the content for etnies on the skate side. Even with that etnies collab with Indy; half of it was shot in the US, and half of it was shot in Europe. But I was present for the lot, managing things as we went along. I think it's cool that etnies has gone from being possibly quite Californian looking, to most of the content tied to the brand being produced here. It gives it a little more flavour. I dunno. It's easy to talk about the video and photo side; that's what everyone sees externally but there is the whole back end that no one sees. The inner workings. All of those logistical puzzles are fun to solve. Those are the bits I'm proud of.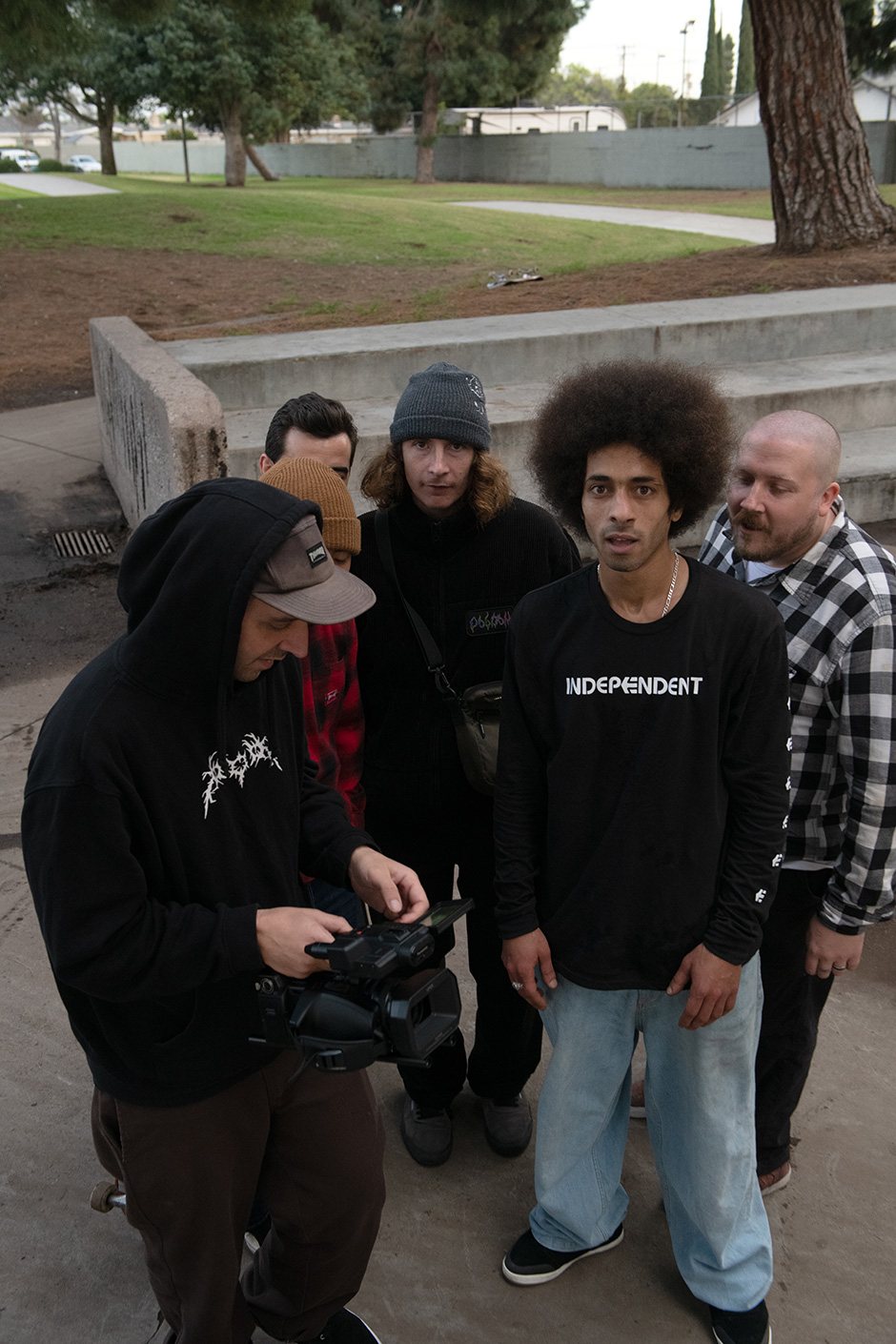 On a 2023 trip with trip with Trevor McClung, Matisse Banc, Aidan Campbell, Nassim Lachhab, and Matt King. PH: Kyle Seidler
You talked about scratching that creative itch. Having those three companies to create for involves an understanding of each brand identity which is distinct. It must be refreshing to be looking at things through three different lenses.
I do get the scratch that itch here a fair bit, actually. I started to produce that Terminal series with the éS guys and there wasn't really a definite as to what an éS video might look like these days. éS throws a lot back to the 90s so I played on that. It was about figuring out what éS would look like currently while drawing from its past. The music all was there for a reason. I tried as best as I could to create the soundtrack as a mixtape you might have in that era. I also threw in Hi8 b-roll, too. All 90's. All day.
Conversely, with Emerica you think immediately of a whole aesthetic. So, it is looking at their video catalogue as a whole and their influences – early [Alien] Workshop videos, G&S Footage – and trying to make something interesting but on brand is fun because within what you might think is just a green tint is actually an aesthetic which has quite a lot of scope for play. etnies has the High Five video but it's so old it's kind of just a video with good skateboarding and no aesthetic. And then Album was very much a Mike [Manzoori] video. Mike has his own way of shooting and both of those videos are so different, so there is no clear distinction of what an etnies video has to look like which allows room to come up with ideas.
"there is no clear distinction of what an etnies video has to look like which allows room to come up with ideas"
As Mike went freelance, we discussed him shooting the more commercial pieces. The team wanted to put out stuff a little more raw, which made it easy for me to shoot. It's quite nice to see that appearing now. I have been able to play around. etnies has heritage but also has this technical angle to its footwear. I wanted videos to reflect that, so I dragged out my old Super-8 camera and also shot HD and some super slow-mo. I always try to include the wind chime jingle from the start of High Five too. A nice little nod back. Each video I have made independently had old tech and new tech mixed. Albion had the footage from a Pinhole camera mixed in there. Video Selek and Cover Version only used one camera, so there was the slow shutter stuff and some other tricks to give that old/new feel. I get to bring a little bit of all that in with working with art directors, and going back and forwards about what we think looks cool. Danny Romansky at etnies seems very down for it all, so it is fun building projects there.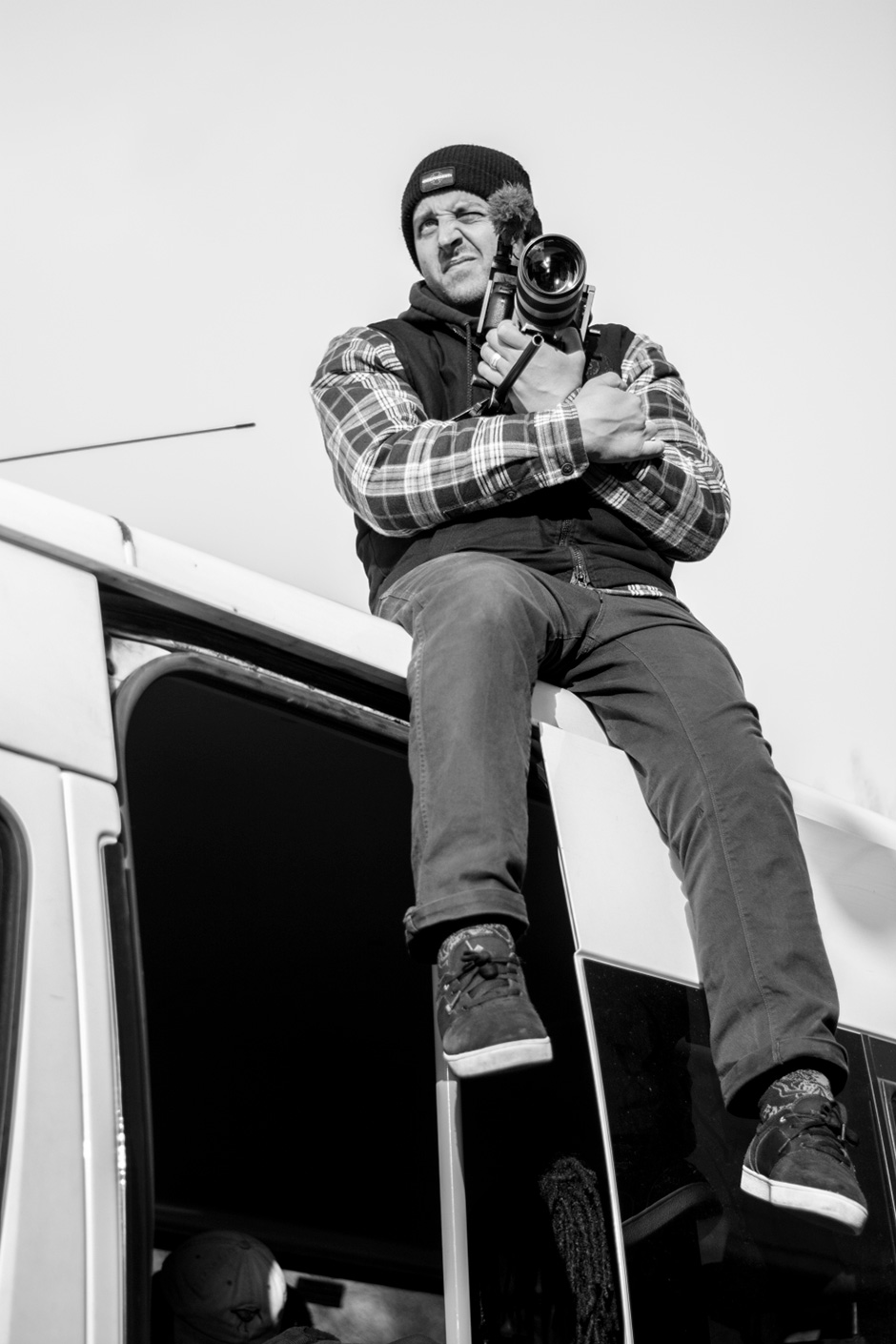 From in the van to on top of it. Filming for Cover Version, another labour of love best discussed in this Free Skate Mag Interview. PH: Korahn Gayle
Is there anything you do regularly at work that nobody probably knows you do?
I'm now talking to other brands about collaborating not just on riders but on product, too. That's something new. And then socials; I don't run them wholesale, but I'm sat on the éS Skateboarding and etnies Skateboarding Instagram accounts. I was up this morning posting some stuff on there. If I am producing projects from top to bottom, I'll usually be posting it, too. That's one thing people might not realise I do. It's a small brand. So if you see a project around a shoe there may be a large hand of mine in there from start to finish on content planning and production.
Have you ever had a hand in any product development?
I am being asked into product development meetings more recently. That's just etnies, really. We have a collaboration we are working on right now coming out in Spring 25. That came from Bas and I as we want to build alignment with certain brands. I am the initial contact, in the meetings and whilst Rick will be working up the shoes, I am present and also am working up a bunch of ideas of what we can do around that product, the riders we can use to activate it, and how it will help build the brand for the future.
"if you see a project around a shoe there may be a large hand of mine in there from start to finish on content planning and production"
What is your favourite Sole Tech shoe of all time?
Weirdly it's one I don't skate in anymore; the éS Accel Slim. I love that shoe. I just really like Vulcs to skate though, so my go to is the Emerica Dickson or etnies Singleton Vulc which is a shoe Barney [Page] is loving. I just thought he looked sick in all the clips wearing it, so I copied him. Ha.
Your portfolio is vast and includes freelance stuff for Slam, Free, Thrasher, New Balance, Independent, Primitive, and many more. Looking back at your body of work is there a certain trip or job stands out as a solid memory?
I almost said the first Flip trip I did, fifteen years ago with Ewen. But that Thrasher UK Vacation wins out. That was pretty incredible. I saw a clip the other day from it. Harry [Lintell], and Ben [Raemers] are in there with Jake Phelps and Preston [Maigetter]. Those guys are in the footage and three of them aren't with us anymore and I have history – or stories – with all those lot from the past couple of decades. That trip was incredible, and not really for the skating. Like all trips, there are a billion stories to tell. Each one has been amazing. But this trip, Harry was on it, Ben was hurt but on good form, Jake and Preston. It just has weight for me.
It was the first time in 20 years P-Stone and I had hung out for more than a day or so. Jake [Phelps] was doing well and would be hanging out with French [Richard Sayer] and myself a lot as we'd talk about music or British history or some old skate stuff. It just felt like everyone was at a really good point. Touch wood, I haven't had a nightmare trip. They've all been good times. But that Thrasher UK Vacation trip just edges out the rest.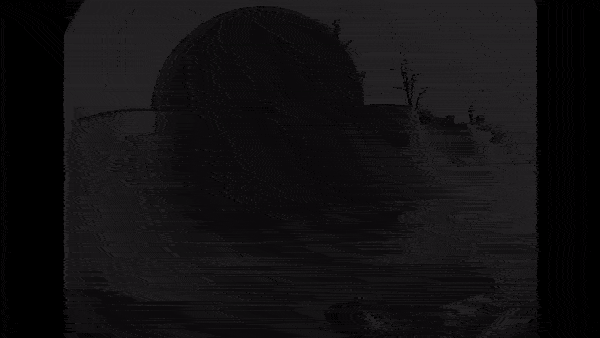 The incredible frontside air Ben Raemers did at Victoria park filmed by Kevin Parrott
Is there a certain trick you've filmed that is your favourite?
[Ben] Raemers. The frontside air he did at Victoria Park. That trick would be up there anyway but in light of Ben's suicide it's become a poignant image around him.
Tell us about the most recent thing you've put out with Barney Page, how long was that in progress?
That was actually a couple of years of filming. Barney is a bit of a nomadic creature. He's like 30 years old and he's never rented a room. I love that. He'd be on etnies tours always where Jack Thompson and I would film him together but day to day, we'd go film around the UK or he'd go out with Jack in Barcelona. Those two like to travel together a lot, so they'd also mission to random countries all the time. So, it was a mix of shooting and managing it from the other side, then working out what he needs to get to the finish line. That's now out, today. Nick Garcia has a bunch of stuff in the too. I hope people like it. Barney skates some really mad spots but is also super powerful. I'm happy with it.
etnies presents PAGE, a new Barney Page part featuring Nick Garcia
Do you have any new projects you are working on that you're excited about?
We're going to do something with Thrasher towards the end of the year for the magazine which will be good. I'm setting that in place right now. We've got this collaboration which I mentioned, too. That's going to be good seeing through that whole process. Quite nicely, fifteen years after first starting to hang around with him Morph [Dane Crook] has started filming his own stuff again. One of the people he is heading out with is Chris Oliver who has been a mate of mine for decades. I've been out with them a few times. So, I'll go out with Morph and those guys and help film a little bit. In the past that's generally been the start of me scratching my head and figuring out what I'd like to do next on my own. So, who knows?
Are you finding time to skate right now?
My daughter likes to skate which is really nice. It's different from skating myself though, we go out and muck about and just play. It's really good fun. I skate Simon Skipp's DIY kerbs with a bunch of people. I'll be out with friends in the city this weekend. I'll skate anywhere. To be honest, I still skate as much as I can but not as much as I'd like.
Kev puts in time on the other side of the lens for this kickflip manual filmed by brendan ryall
What advice would you give to a young skateboarder who wants to work in the industry at this point in time?
Over the last few years there has been a growing expectation for quite a lot from day one with people coming up and that closes potential doors fast. It's really tough when you know someone has potential but they want the world before they've proved it because there is a lot more to all this than just having one single skill, which is what they often come with. You need the entire skillset no matter what position you are gunning for, and there's only one way to find out if you have that, and that is to prove it first. All of the people who spring to mind working within skateboarding and doing well, just got on with it. That's all they did. They made product, videos, photos, and events, or even maybe skated and pushed those boundaries and didn't wait for a salary before they would prove themselves. They did all this stuff off their own back and the scene responded and wanted more of what they offered,
"They did all this stuff off their own back and the scene responded and wanted more of what they offered"
That can sometimes mean it's a difficult entry point for people as you'd need to sustain yourself independently, but showing up asking for the world before you will put the work in just doesn't land, and I'm seeing that a lot currently. Morph had this saying "You weren't in the rain so you can't kick it now it's sunny". All those people I am thinking of, and so many more, were in the rain. They have put in so much graft to build skateboarding for us all, not just for themselves. Eventually the sun shone, and that enabled them to build even further, and create greater things.
---
We want to thank Kevin for taking the time out to discuss his rich history and the many projects he has had a hand in. See more of the video projects he has worked on by trawling his YouTube. For further related reading see another interview with him about the Then & Now Exhibition Showreel he made for Everyone On Boards.
Huge thanks also to Wig Worland, Reece Leung, and Jelle Keppens for sending photos.Thanks to Korahn Gayle, Gorm Ashurst, Kyle Seidler, and all other photographers featured. Thanks as always to Neil Macdonald [Science Vs Life] for the mag scans.
Previous Industry interviews: Vans with David Atkinson, Seth Curtis