To coincide with welcoming Come To My Church to the rails we decided to do a company profile to help acquaint you with the brand. In order to do so we seized the opportunity to speak to company founder Jake Church about all things CTMY and the inspiration behind it…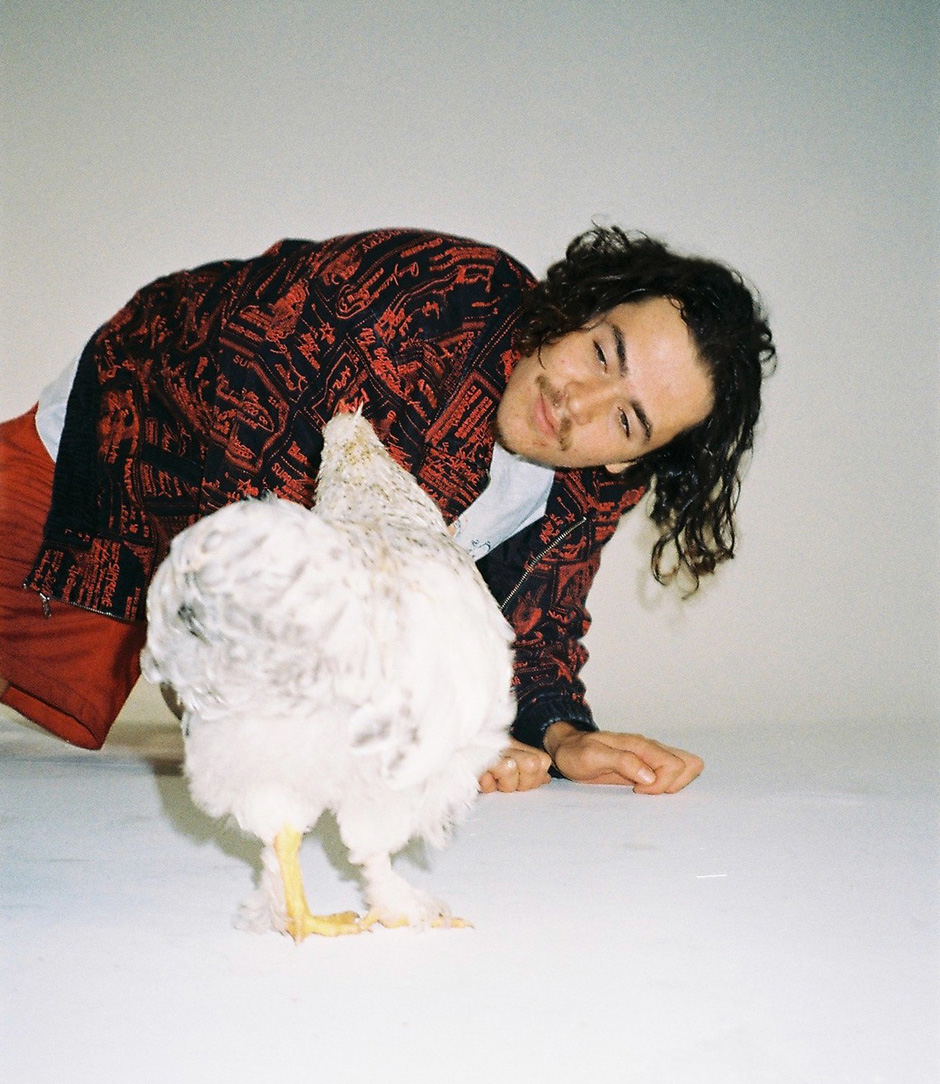 Words and interview by Jacob Sawyer. Photo of Jake Church and a chicken by Josh Church
Jake Church is one of our favourite skateboarders to watch, he has a refreshingly creative approach, and a spot radar that is opened up by his unique view of the world. He has been channeling that perspective, and his boundless energy, into Come To My Church since 2018. This vehicle for his imagination is always interesting, and we're stoked to have just received the Autumn drop of clothing.
It is obvious from speaking to Jake that this company needed to exist, and was organically willed into being. It is more than simply a clothing company, it's a guiding light, somewhere that all kinds of projects can be realised, uncurtailed, and on his own terms. With Jake steering the ship, and nobody telling him what to do, what lies ahead is guaranteed not to be boring. We're glad to be along for the ride. Find out more about this homegrown enterprise, and join the congregation…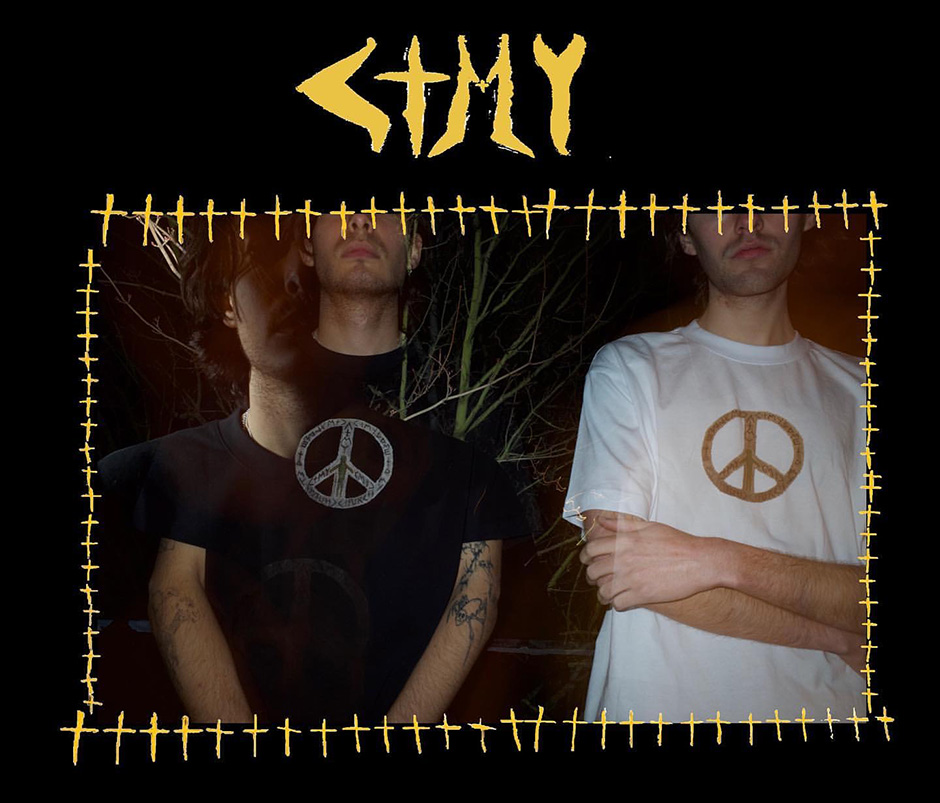 Come To My Church Fall 23. The Alien Peace T-Shirt in two colours
At what point did you start creating artwork? What motivated your practise?
Many things led up to me painting and creating cometomychurch, but the thing that really kick-started it was when I broke my ankle back in 2017. The peacefulness, and feeling of satisfaction, and the wonders and horrors of the world motivate me.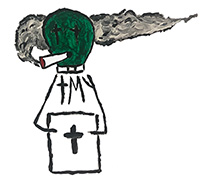 What was the first painting you were happy with finishing?
i think the first was the Alien Priest,
Did you know from the outset that you wanted your work to appear on clothes? Were you envisioning each piece of artwork working on a shirt as the final canvas?
I visualise most of my work in my mind for a few weeks, usually sitting on the idea and painting it inside my own head
Was it hard naming the company?
The name was already there and always has been.

How is the evangelizing work going?
Slowly, and not surely
If CTMY is the faith who is the higher power?
A curious question which I'm sure many of us will search our entire lives never truly knowing; everybody could be wrong, nobody could be right.
Can you name some key members of the congregation?
Of course my brother Josh Church for the amazing videos, and his own genius, and unique approach to life in all.
What's the craziest place skateboarding has delivered you to?
Back when i was skating for Yardsale, Dan Kreitem would always take us to many uniquely smoked areas.
How did you feel when the Pentagon launched the website of declassified UFO files?
I was quite suspicious of it and also a little disappointed about how it didn't really lead to anything.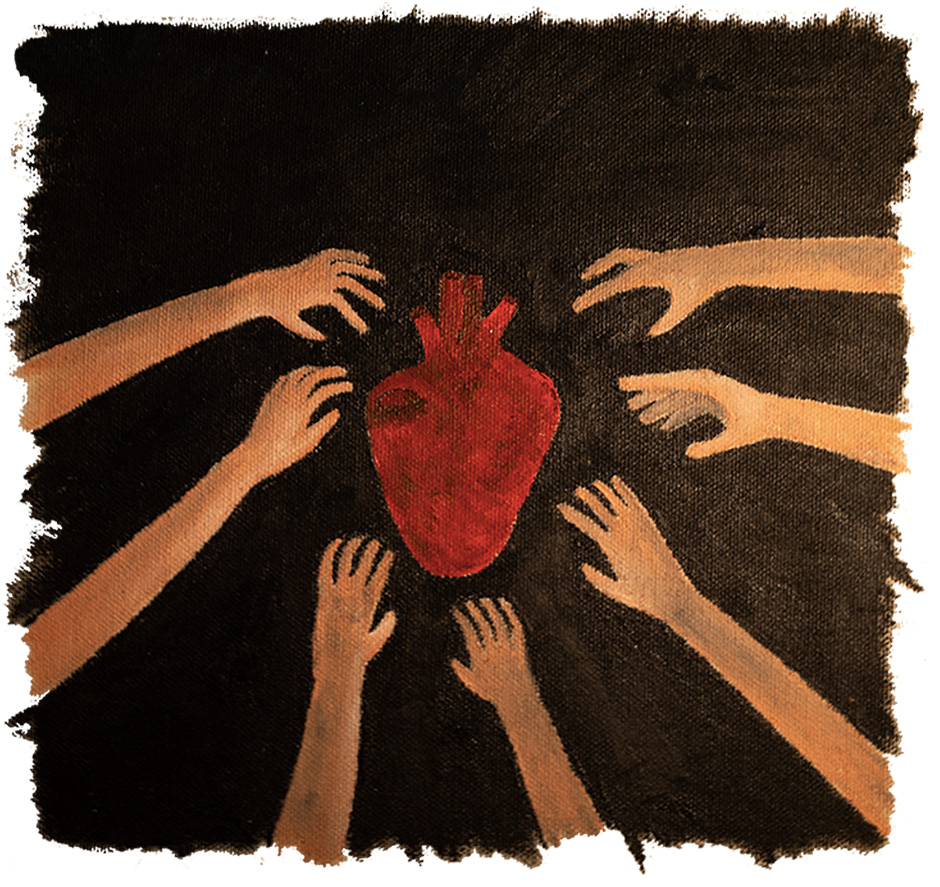 Original Jake Church artwork for the 'Hands To My Heart' T-Shirt and Hood
Where is your current base of operation?
London
What was the best Come To My Church party you put together?
They were all madness.
Can you think of an image which made the biggest impact on you growing up?
The images from my own history, the images of my future desires and nightmares.
You began the company with your brother but now it's just you doing everything?
Yes just me now, it's always tricky working with other people especially someone you know so well, and love a lot.
What videos that you produced together are you fondest of?
I love them all! Theresa May's alien baby was super fun, it was funny having a pram without having a child in there. In one scene the pram goes outside the gate, around the corner, and down the hill. After we shot it we looked out and saw some guy running after the pram down the hill! It was super funny.
"After we shot it we looked out and saw some guy running after the pram down the hill!"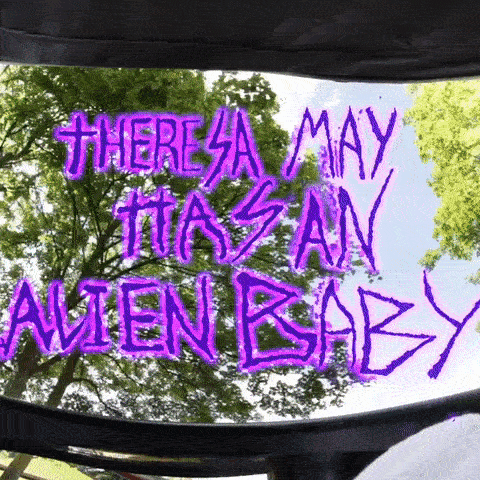 I was also dog sitting that day, and bringing the pram and the dog to the park via a train, hands super full and not really caring about the pram, I just let the pram kinda roll down the stairs and some guy proper leapt for it. If there was a baby in there, he would have saved it. I think he was quite proud of himself for that.
Did you enjoy working on the collaborative process with Palace?
Yes, sure did.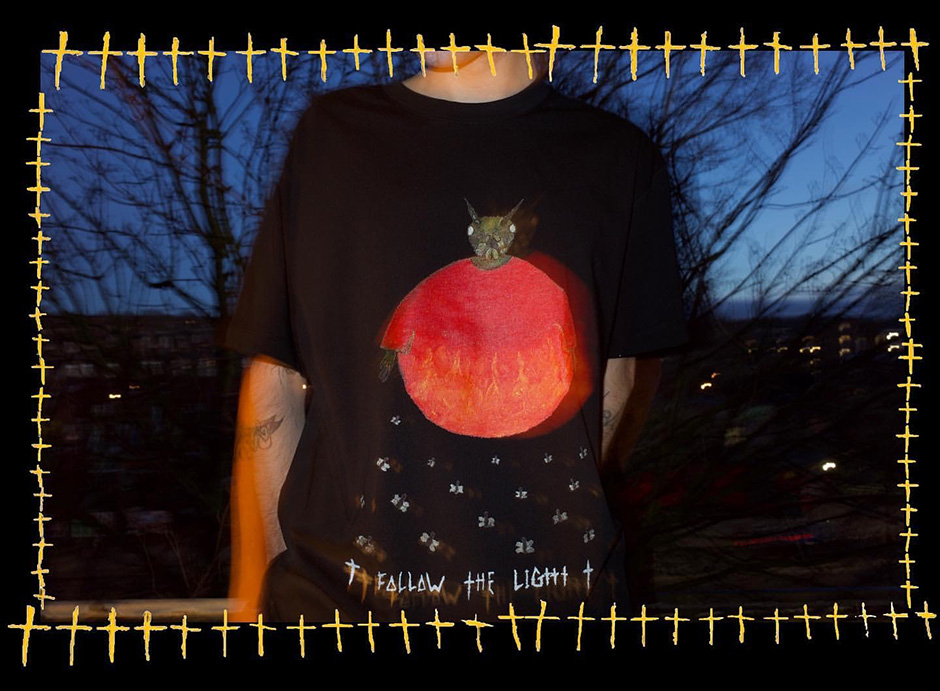 What's the strangest scenario you've seen something you have produced?
I painted "They dont even know i exist" camping around Basque country, a random non-thought-out trip, I just took random buses to try get into the wild countryside. I stopped off at a town and the driver was like "what are you doing?" He didn't speak English but he looked confused as to where I was going, and seemed like he was persuading me to come back as nothing was out there. They had one small petrol station at the edge of the wild there, all they had was like bread and olives and weird petrol station food. So i grabbed a bunch and from there and i just walked for as long as i could, stopping of at times to enjoy the view occasionally.
"In San Sebastian I stumbled into this park on a rock overlooking the beach…I had a view of Christ above me and the open sea and beach in front of me"
The first night was freezing cold, it was really horrible actually, haha. I had to wear all of my clothes at night and I was still shaking. The second night was no better, but before the third night I stumbled upon some cabin, which was for like hikers, so i called that base for the third night. There was no one around, they had a firepit in there, but i guess the vent was broken because it was so smokey inside, I could only see five feet in front of myself but the warmth was the only thing I cared about.
The next day in the evening some guy showed up in his car, a camper. He was really nice, he cooked me some food which was a blessing, i was over olives and bread at that point! He ended up driving me two hours back into San Sebastian. In San Sebastian I stumbled into this park on a rock overlooking the beach. It had a massive statue of Christ, so before it shut I hid in the trees below, where I had a view of Christ above me and the open sea and beach in front of me. I pitched my tent there, I remember there were guards patrolling the park with flash lights. It was kinda scary but super nice too.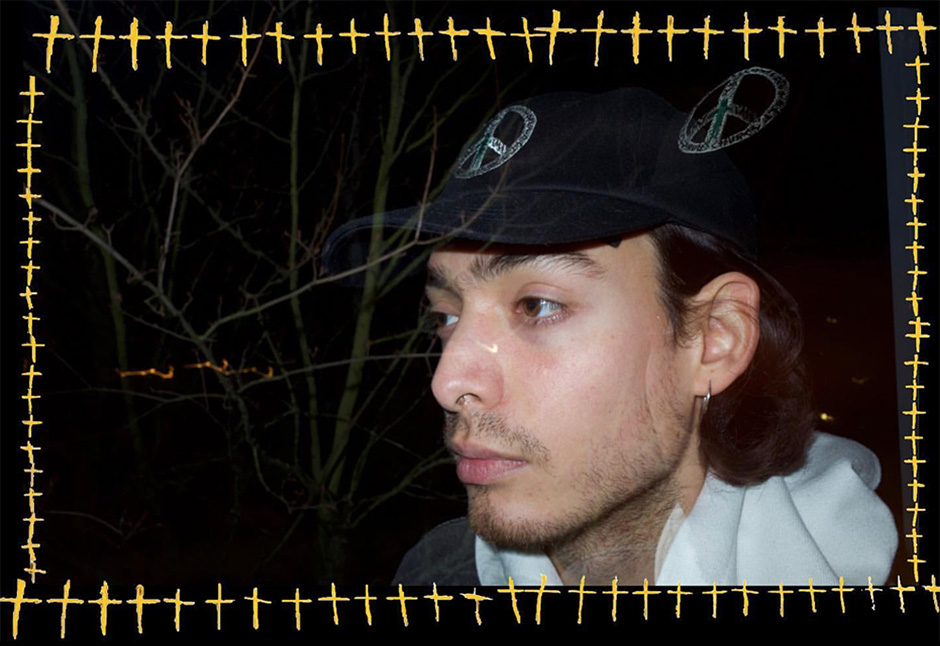 The Come To My Church Alien Peace Cap. This embroidered cap even has ear flaps with pockets
Did your art show last December further feed the need to create another body of work?
The show didn't necessarily further my need, I think that just lives within me, for sure that thing inside me is a blessing and a curse.
What have you found inspiring of late?
The sun, when it beams down upon me, and lights up everything around.
Have you been skating a lot recently?
One of my more positive addictions is getting clips, so I skate as much as I can, I'm really in love with in the streets.
Who have you been filming with? Can we expect to see new footage soon?
I have been filming with Grant Dawson mainly. Yeah I've been getting clips, i can't leave that addiction untouched!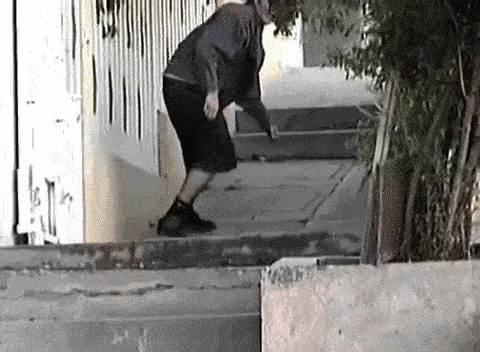 Jake Church finding his way. switch wallride on mexican backstreets. Filmed by Fito
Any last words or advice for young artists inclined to create their own company?
Just have fun with it, think about it but don't other think, allow your self to be yourself and take everything as a learning curve, it all starts with an idea (idea = zoot).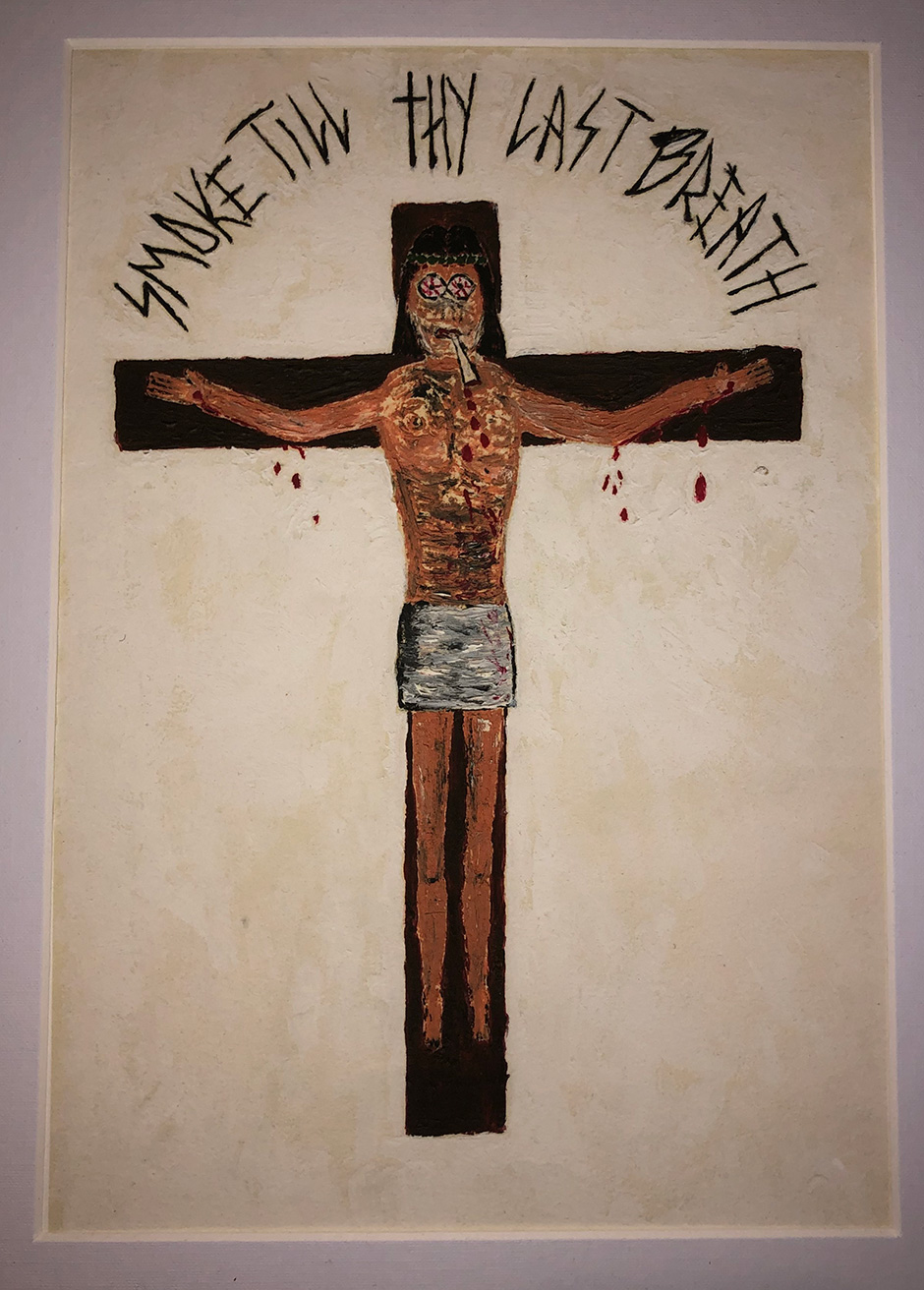 Smoke Till Thy Last Breath, an original Jake Church painting
Tell us something about the company nobody knows…
My mum and dad were missionaries to some extent, they met on a boat sailing around the world preaching the word of god. They never pushed it upon me though, but always welcomed me if I were ever interested. My mum is also super stoked on my stuff, haha, even the one with Jesus on the cross. I think she knows I'm not trying to mock anything too harshly, only take a different perspective on it. I should become the new marketing advertiser for the church, hopefully God or Jesus will reach out to me after reading this
---
We want to thank Jake Church for his time, and the lookbook photos. We look forward to seeing new footage, and are excited to see more of his artwork on various clothing items in the future. Be sure to visit us to shop for Come To My Church.
Previous Brand Profiles: Dancer with Hjalte Halberg, Life is Unfair, Alcohol Blanket, Catch up with Diego Bucchieri, Catch Up with Pontus Alv, Skateboard Cafe Profile, Rassvet Profile