This Rassvet Profile is the second company profile we have published. It is designed to familiarise you with the newest brand on the shelf…
Here is the second company profile we have released. These features are designed to shine some light on brands you may not be familiar with and will give you some further insight into their background even if you are. We were hyped to speak to Tolia Titaev, the creator of Moscow based company Rassvet about the history of the brand and more…
Tolia Titaev. Photo by DVL
We are stoked to have our first drop of Rassvet and to be releasing this interview with you alongside it. Where does this interview find you?
Hi guys! Actually I'm on the plane from Moscow to Paris hahah..
This profile serves as an introduction to the brand so bear with us if we are re-treading covered ground. When did Rassvet begin life?
We launched our first collection in September 2016.
How long did it take from the idea of starting the company to its inception?
I started thinking of creating my own skate brand in 2014. I wanted to show the Russian skate scene, build a skate company to let people know we are from Russia and how there are many possibilities for skaters here. At the time, no one thought of Russia as a skating destination and it really bummed me.
I shared the idea with Gosha, explained everything I wanted to do and how I wanted to make this underground scene visible to the world. He really liked it and we worked on the project from then.
One big element for us was the name. We wanted something very strong and symbolic. It took us a while but after a year and a half we had our name and first collection.
Now we have gone further and included riders from LA, Ukraine, Paris and Helsinki in our skate team. And it's only starting!
So this is what I was thinking about, to represent Russia as a skate brand so people know that we have a strong skate scene here. And it actually worked quite well. Then we opened a skate shop and now all the main teams from all over the world are coming to Moscow to skate, to meet us.
They know the guys skating for RASSVET too. It changed the dynamics of skating in Moscow for sure. Now all the brands are coming to us because they know there are some good spots and good people around.
Tolia Titaev Backside Blunt. Photo by DVL
The last collection we received is the 5th so far. Has it been a trip watching the company evolve?
I love what we do. It has been a real trip, for sure. Sometimes I have to pinch myself to check if it's real or not! Haha It is a great experience to see your ideas come true.
What is your daily role there and what aspects do you enjoy the most?
I work more on the creative side specifically for the boards program, like the board shapes and details. I'm also working on a new project regarding our skate team and I'm the team manager. My daily role is communicating with riders, to make sure they are doing good and have stuff to skate.
Now we finally have our full skate team and I'm so stoked to see how guys are communicating with each other. I talk a lot with the boys, I mean with the riders from Moscow we see each other every day, and I try to call the others, from Saint Petersburg, Paris, or LA, every week.
For those who don't know explain the meaning of the name and its Cyrillic origin? Many people pronounce and ask for Paccbet…
Yes, it is Cyrillic. The pronunciation is Rassvet. It means Sunrise.
Sunrise is one of nature's boldest images. Do you feel the brand is ushering in a new bright future for the Russian youth? Or are we reading too much into this?
Our logo and motto can be translated as: "The Sunrise is never far behind the mountain". It's a very optimist way of looking at life and we think this is really important today. It's a strong message to send out to kids.
It's not only about the Russian youth. We want to show people what we are doing and how we succeeded in creating this brand and team. Other people have their own dreams, and they can see our stake brand and think "Oh I could also go out there and make my own thing happen".
Our logo and motto can be translated as: "The Sunrise is never far behind the mountain". It's a very optimist way of looking at life and we think this is really important today
We want to show people they shouldn't be scared to follow their own dreams. We have our skate team and we are super proud to be examples for younger kids, showing them who they could become with their own skateboarding.
Since the brand began you have also opened the OKTYABR shop in Moscow. Describe the impact of this?
The OKTYABR skate shop was an idea I developed with Gosha. We wanted to make our brand stronger and create a place to bring the skate community together. OKTYABR is the second chapter to the project as we go further in showing our vision of Russia. We are part of the skate scene. We organise events and do stuff for the skaters, so the shop has become a place where people hang.
We work on our RASSVET collections, but our day to day is really spent at the shop, organising events, giving riders a place to hanging out, like the other day we held a Converse shoe signature just for the little kids for example.
This was affectionately named after the Oktyabrskaya station meeting spot. Has the shop replaced the spot as a hang out?
The name for the skate shop came to us as we wanted to do something very strong and symbolic for Moscow. Basically, the only meeting spot for skaters was the Lenin Monument at Oktyabrskaya station at the time, which skaters call OKTYABR. It's a slang word for the spot that only skaters use. If you ask someone random to meet there they will have no clue what you mean.
Since our store opened, many people meet at the shop and then head to the spot. That way they can get their grip tape or something before heading out and doing tricks.
How has the skateboarding scene changed there in the last five years?
It has changed a lot. There are so many new faces, great skaters and little kids skating. You can see these kids that are amazing and that just seem to come out of nowhere. Guys coming from other cities to skate in Moscow. It's super exciting times! There are also people coming over from the US, the UK, all around the world, even Japan, to check out the Moscow spots.
The other day I was in our skate shop and this guy from New-Zealand showed up. I was super surprised and happy. He just like came to the skate shop straight from the airport. It's really cool to see skaters from all over in Moscow and even more in our shop.
There are also people coming over from the US, the UK, all around the world, even Japan, to check out the Moscow spots
You must be stoked to have introduced a new outlet to the next generation…
Yes, it's great.
What's the most exciting thing you seen emerging from the scene of younger skaters?
The big thing I would say is when you are young you just live for skating. These young kids only think about skating nothing else. For me, who has been skating for a long time, it's different now. But it's great to see the skater I used to be in this new generation. I also used to live and breathe only for skating.
These kids, they are just skating every day, they don't think about anything else, and that's the best thing you can see. I'm just like "Enjoy the moment guys!".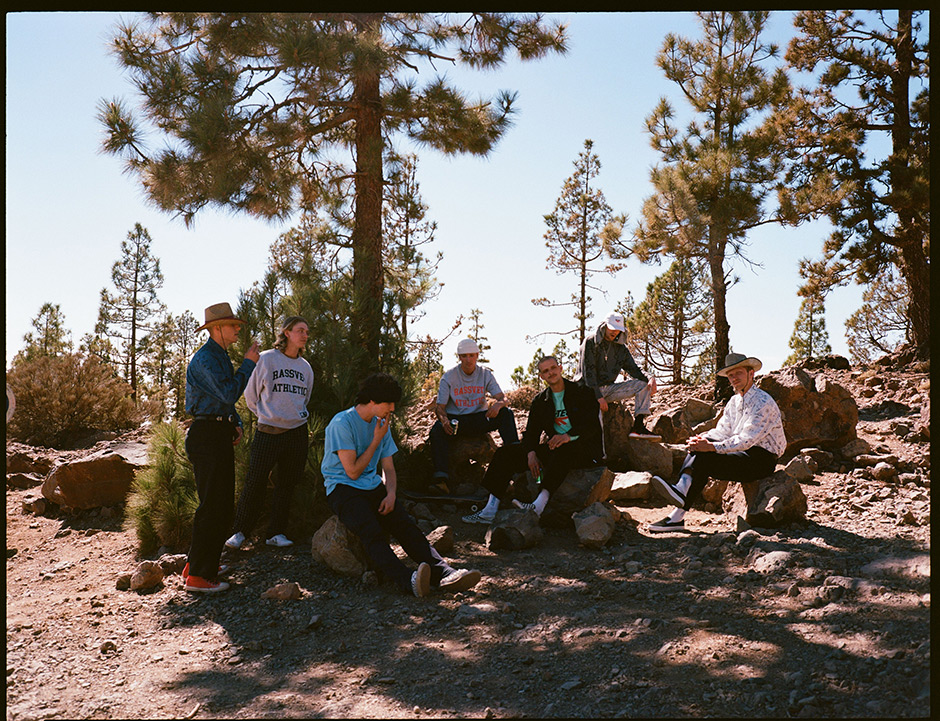 Rassvet team on tour in Tenerife
Introduce us to everyone on the team?
Igor Smirnov – Moscow
Gleb Bugholts – Moscow
Ignat Mazurin – Moscow
Andrey Lyamtsev – Moscow
Yaroslav Kondratev – Saint Petersburg
Val Bauer – Paris
Joseph Biais – Paris
Cambryan Sedlick – Los Angels
Sasha Groshevoy – Kiev
Jacob Sundell – Helsinki
Who should we look out for you think we will be seeing a lot of in the future?
Our whole RASSVET team! The whole team is going to kill it!
Do you have any plans for a full-length video or projects in the pipeline?
We're not thinking about full length at the moment but a couple more skate projects around the whole skate team is in the works.
Valentine Bauer 180 Fakie Nosegrind. Photo by DVL
What was your first connection and attraction to fashion and design?
Meeting Gosha when I walked in his first show as a model back in 2008.
How did the Russel Athletic and Hi-Tec collaborations come about? Was it fun working with those guys?
We were thinking of doing a collaboration with a cool but unusual sportwear brand. We wanted to do something different so that's why we thought of Russel Athletic and Hi-Tec. It was great working with them. Such cool teams!
Tell us something about Rassvet we don't know…
Rassvet team is actually not behind the mountains. Haha
Advice for skaters wanting to make Moscow their destination?
Don't be scared! And come to OKTYABR store!
---
We hope that answered any questions you might have about this Russian movement. If you were inspired by Tolia's tales then shop for our latest arrivals from Rassvet and all of the latest Skate Clothing.