Welcome to our first-ever Isolation Station interview with Dom Henry. Dom is one of our favourite technicians and he came through with a great selection…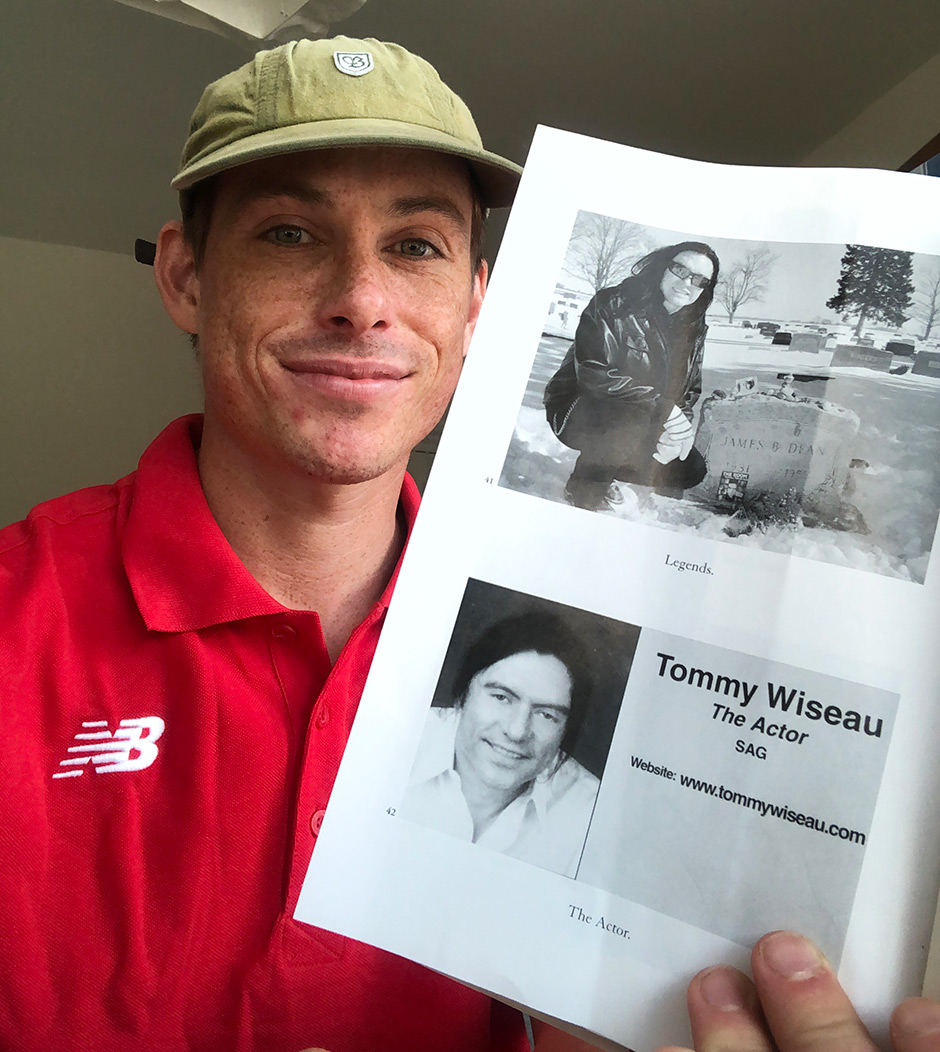 We hope you're all keeping safe and well out there and the biggest trial you're facing during these uncertain times is how to fill yours. That is where our new feature comes to your aid, a public service designed to aim you at some life enhancing material. Isolation Station will see some of our favourite skateboarders recommend a skate video, film, album and book that has enriched their lives and we will talk to them about why each creation is so important to them. From there the quest is yours.
The first person we spoke to is Skateboard Cafe pro Dom Henry. We have wanted to have Dom here on the blog for a while now and had talked about doing an interview but his episode on the Bunt and his interview in Free were fresh at the time so we waited. As soon as the idea for this formulated we reached out to Dom and the amazing recommendations below resulted. We are stoked to bring you the first in this series from one of the best. It starts with one of our favourite videos of all time…

Words and questions by Jacob Sawyer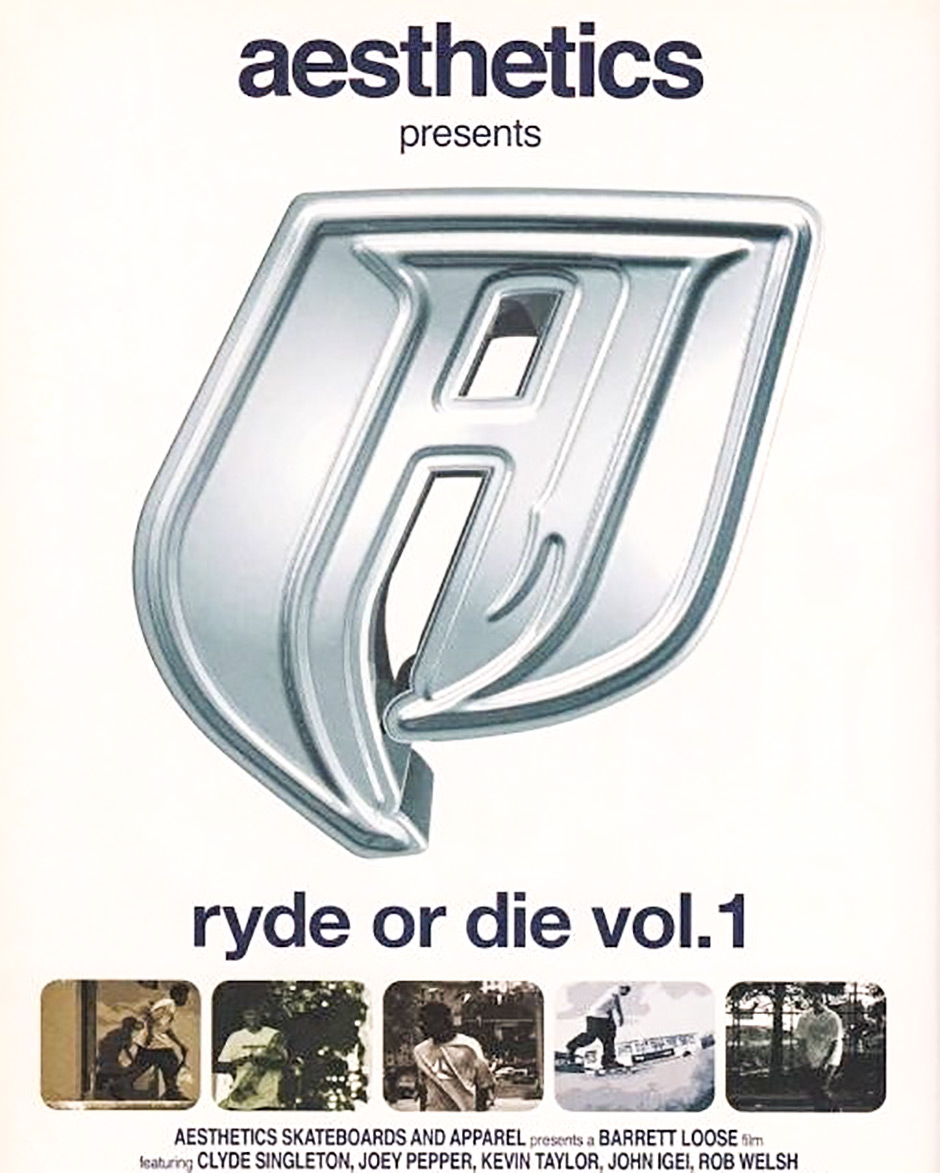 AESTHETICS RYDE OR DIE VOL.1

Where were you and what was going on when you first saw Ryde Or Die Vol.1? It came out in 2001…
I would have been 14 or 15, still living in Reading at my mums house. I somehow acquired this on DVD – around the time skate videos were starting to coming out on DVD as well as VHS – and it was just one of the best vids I'd ever seen. It's just perfect, the perfect team. John Igei, Kevin Taylor, Clyde Singleton, Joey Pepper, Rob Welsh. What's not to like?
Such a good mix of styles. The soundtrack is banging, and I guess it was ahead of it's time in that it was a company vid but not super long, it was like twenty minutes. It was guaranteed to get you stoked to go and skate and still have it all fresh in your memory.
Kevin Taylor with the GZA track on the second half of his part. Joey Pepper's chink chink salad grind…
Oh yeah, there are loads of rare moves in it, haven't seen that Pepper move since and he's skating to Iggy Pop Passenger. I think it was the first time I'd heard that song and probably the first time I'd seen Joey pepper or Rob Welsh and they of course became some of my favourites. Kind of a perfect company right?
Yeah and a perfect time. Welsh owning nose blunts of every description
Yeah and the nose slide pop outs!
Nollie front nose down Hubba
Oosh too good!
Lakai Staples
There's some good guests in it too. Kalis in Kevin Taylor's part switch Crook and backside over crook on the crowd barrier springs to mind.
Love Park, Pier 7, it's the perfect video and everyone should see it.
Yeah exactly. I think that it was around the time I was beginning an obsession with both Love Park and Pier 7. You've got Welsh and Igei at Pier 7 and Kevin Taylor at Love with the Stevie guest tricks. It was the sickest, most appealing type of skating I'd seen at that stage.
You've got Welsh and Igei at Pier 7 and Kevin Taylor at Love with the Stevie guest tricks. It was the sickest, most appealing type of skating I'd seen at that stage
The Welsh opener at the Pier too! The half cab flip nose wheelie nollie back heel out
Ah man so sick. It's all tattooed into my mind. Haha that's corny.
You have a Kevin Taylor board in the quiver too right?
I never had an Aesthetics board at the time to keep. But when I was working at Note in Manchester this strange guy came in with photos on his phone saying he wanted to sell a batch of complete skateboards. We flicked through his phone and they were all these super rare golden-era boards but with plastic trucks and wheels. I noticed one was a Kevin Taylor Aesthetics board and said "whoah whoah whoah can I just buy that deck?"




He wanted £50 for the whole set up. But I said he'd de-valued it by putting the trucks on there. I got him down to £20. It's a wall board but it's gripped. I had to seize the opportunity to get an Aesthetics board, a Rob Welsh would be the pinnacle but Kevin Taylor is a close second. Bit of a weird graphic but whatever.


THE ROOM.

Where were you when you first saw this?
I first saw The Room in about 2008 whilst living in NZ and and since that time it's brought me more joy than probably any film ever made. I have friendships that are very strongly intertwined with using quotes from 'The Room' in almost any situation. The Room is a phenomenon, the most bizarre film ever made – probably the worst film ever made but also the best film ever made. It leaves you with a head full of questions because it is just so non-sensical.
The Room is a phenomenon, the most bizarre film ever made – probably the worst film ever made but also the best film ever made
It's surrounded by so much mystery because the guy who created it is such an enigma. He's called Tommy Wiseau and he looks like Michael Jackson with loads more plastic surgery, five belts and a constantly gurning jaw. Just this mysterious bloke who says he's American in interviews but he clearly has this non descript, vaguely Eastern European accent. The credits show up and it's produced, directed, written, starring Tommy Wiseau. He speaks in such a jarring, arhythmic way, its just hilariously unique. Plus it's like the script was written by a baby alien, full of the least natural sentences ever spoken.
The plot is completely bonkers and leaves you wondering how this film was made and what's the story here. The more you look into it, the more the mystery deepens. It cost Wiseau himself $6 Million to make it but no-one can find out where his money came from, or where he even came from. I would recommend this film to everyone and perhaps this isn't great for isolation but it's probably best to watch for the first time with friends. It's so insane and so confusing that it's good to have friends there to be in disbelief with. It's my favourite ever film.
Knowing I was going to speak to you about this today we took in 'The Disaster Artist' last night
Amazing! The Disaster Artist is made by James Franco who is obviously a big fan of 'The Room' , it's a behind the scenes film based on a book by the co-star of 'The Room' Greg Sestero, it's from his point of view. It's almost a whole other bonus version of the film. Franco's impression of Tommy Wiseau is so on point, so you basically get all of this extra Wiseau content, which is a goldmine if you find him as hilarious as I do. 'The Disaster Artist' is amazing, I actually read the book and couldn't believe it when I heard it was being made into a film.
I recommend watching 'The Room' and being confused and not knowing what's going on and then watching 'The Disaster Artist' afterwards. Beware though, it takes a bit of a leap of faith when you recommend it to someone. There are three sex scenes in the first twenty minutes, but I promise you once you get past them the laugh per minute count really ramps up.
My wife and I went to see it at The Prince Charles and Tommy Wiseau and Greg Sistero were there introducing and doing a Q & A. You could have your photo taken with him if you bought merch. He's still on the hustle it's amazing. People were throwing spoons
He's still touring the world. Once he realised everyone was laughing at his film he made a quick but very transparent marketing move of claiming that's what was intended and promoting it as a black comedy which it just isn't, that doesn't make sense. In the same way that Peep Show memes are getting me through this coronavirus situation I have good friends in Manchester and New Zealand who I can't get through a simple conversation with without mumbling some kind of Wiseau or 'The Room' quote.
The Alan Partridge effect
Exactly, it really is solid gold and it retains its funniness forever. I could talk about 'The Room' all day.


SONGS: OHIA. MAGNOLIA ELECTRIC CO

What does this album mean to you? Tell us about this choice…
To be honest I think you know more about this than me. I'm quite sporadic with what sort of music Im listening to from month to month. I heard a song from this album by chance on a Spotify playlist a friend had made. It was "Farewell Transmission" and I just thought it was such an amazing song, I needed more.
Man that song is so epic
Yeah it made me check out the album, I knew nothing about the band and I still don't really to be honest. Im so bad at talking about music, but i guess its like lo-fi folk rock or something like that. It's just really soothing, really beautiful music with heartfelt lyrics and delivery. The lead singer Jason Molina has a really unique voice. It's just a great ride all the way through.
It's just really soothing, really beautiful music with heartfelt lyrics and delivery. The lead singer Jason Molina has a really unique voice. It's just a great ride all the way through
Heartbreaking stuff, the imagery of the lyrics, his voice is nuts
Yeah his voice is something else, it takes you to his world. Also all of the songs on that album are quite different but every single song is an absolute pleasure.
Yeah you could play someone who didn't know the band one single song from that album and they would come away with very different impressions of what they were all about
Yeah its so varied, the album is immersive. I've rinsed that album a good amount in the last year. I know it came out in 2003 so I guess found it quite late in my life.
Berra had that "John Henry Split My Heart" track on his Mindfield part and Gilbert Crockett had a Magnolia Electric Co track on his Propeller part
Damn, wonder if i'd have found them sooner if I hadn't kept skipping that Mindfield part!
Jason Molina lived in London for a little bit and we were lucky enough to see him play solo and with the band Magnolia Electric Co quite a few times. He would come into the shop when Rough trade was in the basement and we chatted to him a couple of times, he skated a bit when he was a kid and liked it. We gave him some Indy stickers for his guitar case.
That's amazing was he a nice guy?
Yeah he was really cool
Amazing, I got into them so late and never had a chance to see them before Jason passed.
Yeah sadly he passed away in 2013. But members of Magnolia Electric Co and Songs Ohia got together and toured Songs: Molina. Live tribute shows and they were amazing so if you ever get a chance to see that if it comes around again definitely do, it was emotional.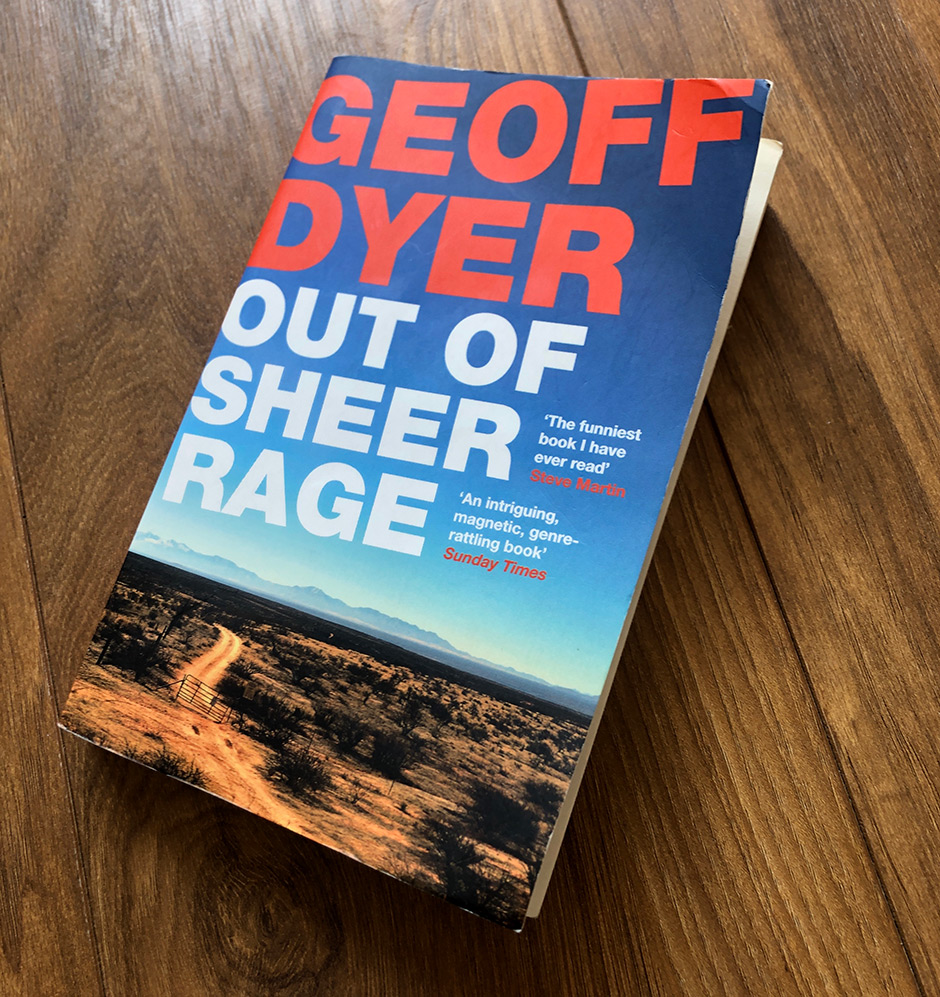 OUT OF SHEER RAGE by GEOFF DYER

What is this book about and what does it mean to you?
This is a book by a British author a friend recommended to me recently and it's one of the funniest books I've ever read. I found so much connection between the way the guy's mind works and my own. I didn't know anything about Geoff Dyer but my friend told me it was about an English writer who wanted to write a book about the author D H Lawrence. I thought it sounded shit because I didn't know a single thing about D. H. Lawrence, so I didn't want to read a book about someone doing a study about someone I know nothing about.
But he explained you didn't need any prior knowledge, as it wasn't really a book about D. H. Lawrence at all, it's more about a bloke finding every possible obstruction not to complete this project he's set himself. It's basically a masterclass in indecision and procrastination, it's sort of travel writing too, all from the mind of this hilarious English bloke travelling around Paris and though Italy and Greek Islands. It's really charming, it made me laugh out loud frequently and it led me to read more by him because his voice seemed really unique. It's a work of art, you really can't tell how much is autobiographical non-fiction. It's almost like a novel.
Every book he writes is so different that it actually makes it hard to find them in bookshops, simply because you don't know what genre to look in. After this one I read one he wrote called Another Great Day at Sea. For that he got permission during the Iraq war to live on a US carrier ship for military aircraft. He just wrote about that, being there among the US military on this boat for a month. Living with people who were going off to bomb Iraq. Just a very likeable fly-on-the-wall seeing how insane this all is, writing about all these Americanisms and these military procedures in the most hilarious way.
Another one was called But Beautiful and yet again it's pretty different. It's about the history of jazz and jazz musicians. Im no jazz expert whatsoever but I liked Geoff Dyer so I just went with it. It's another really unique one because its conceptual, his idea is that the book operates in the same way that jazz is improvised. He takes what he knows about certain jazz musicians and their history, some of which is well documented but other legendary characters where it's more word-of-mouth and ephemeral.
So each chapter he takes the source material, whether it's established historical fact, from photos of the musicians and their environments or anecdotes from people he's interviewed, then he writes a semi-factual, semi-biographical but also semi-fictional story about each one with his unique voice. I'm just really stoked on Geoff Dyer basically. He's really interesting.
So you reckon this book is a good gateway into somebody finding a lot of others to explore then?
Yeah I would say so. It was the first one I read and I still think this would be the one to start with. You don't need to know anything, just think of it as a witty, really funny travel book by a man who is failing to start this grand project. I would start with that because if you're anything like me you'll be hooked to see what else he has created.
You don't need to know anything, just think of it as a witty, really funny travel book by a man who is failing to start this grand project
Thanks Dom. These are awesome recommendations for anyone looking to pass some time in the coming weeks. How is the current lockdown situation affecting you personally. Are you finding it difficult?
To be honest i'm not finding it too bad. I've figured out access to my roof and since I don't have a garden I've been working from home up there. The hardest part is just missing my friends, and I guess it's weird waking up not knowing when it'll be safe to see certain family members again. It's all a bit eerie.
At the same time it's given me time to take stock and hopefully start some creative projects and get round to the boring things I've been putting off. Maybe I can finally force myself to learn switch tre's in isolation.
Any final message, advice or musings for anybody out there socially distancing and reading this?
Don't go meeting all your mates to skate and fuck this up for all of us so the lockdown lasts longer than it needs to I guess! Im not sure i've got much wisdom to end on. How about wash your hands – then use them to pick up Out Of Sheer Rage.

We hope some of these recommendations enhance your life and sand the edge off lockdown. Stay tuned for more of the same soon. Pick up Dom's latest board from Skateboard Cafe and stay safe out there.